Dr. Nina Vasan: mental health challenges facing LGBTQ+ youth
Dr. Nina Vasan, clinical assistant professor at Stanford University School of Medicine offers advice on mental health resources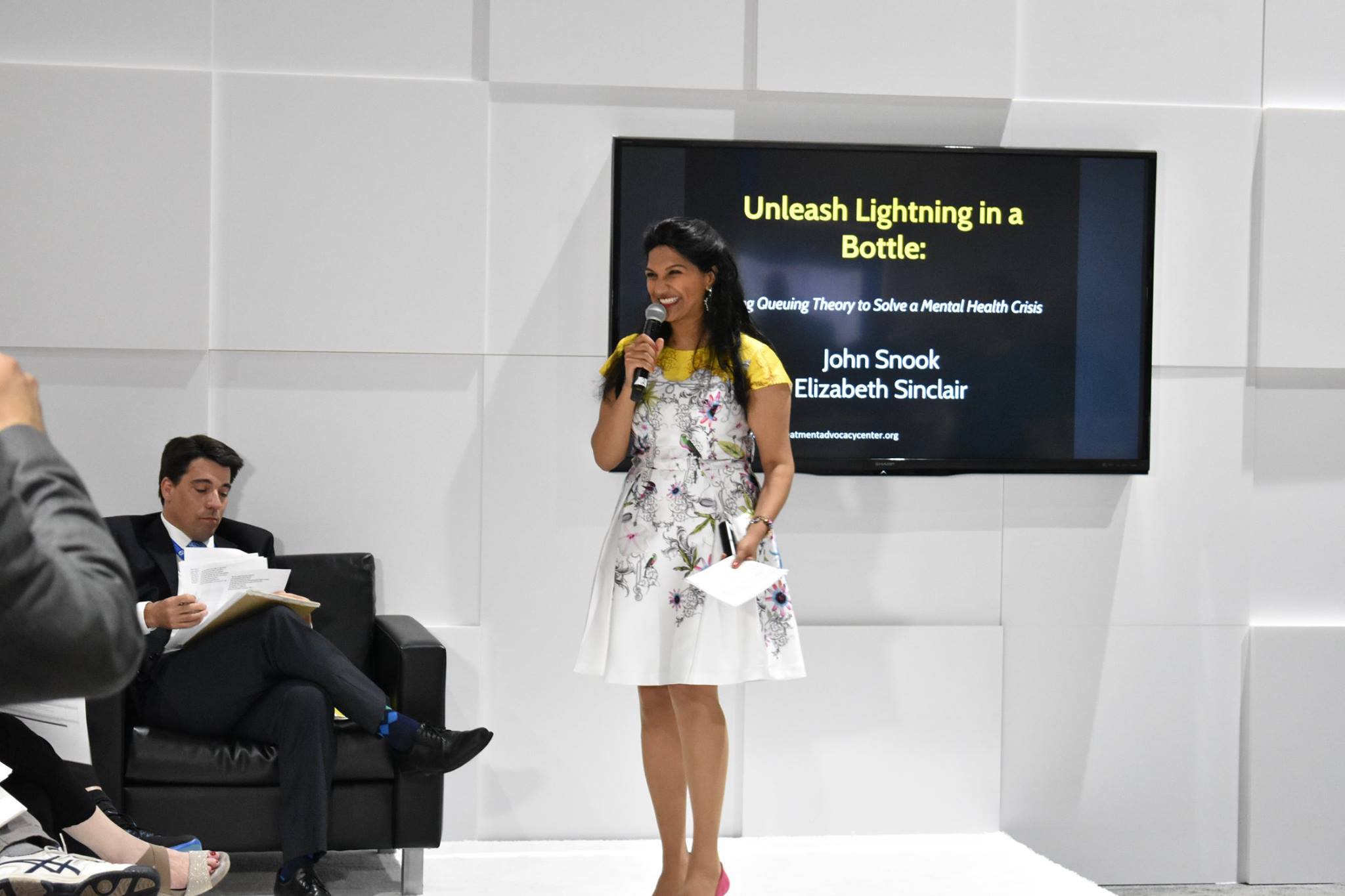 NEW YORK – Over the past few years, right-wing state legislatures and elected public education officials have turned schools across the U.S. into political battlegrounds, ushering in a new wave of policies designed to restrict the rights of LGBTQ+ students.
Dr. Nina Vasan, clinical assistant professor at Stanford University School of Medicine and chief medical officer at Real, talked with The Los Angeles Blade about how LGBTQ+ students and their families can protect their mental health in hostile educational environments, including by seeking help from qualified therapists.
"All kids deserve to not be the target of political issues," she said, and the politicization of LGBTQ+ identities can create environments in which young people will often experience "more open hostility and discrimination."
LGBTQ+ students need adult allies in their schools to "proactively create safe spaces," Dr. Vasan said. Examples may include offering school-based clubs and support groups or hanging "safe space" signs in classrooms and integrating LGBTQ+ people and themes into curricula, she said.
However, some school officials, such as members of the board of Minnesota's Becker Public School district, have enacted or are considering measures to expressly forbid some or all of these activities. So have state legislatures, with Florida's widely derided "Don't Say Gay" bill a notable example.
Students in many cases have responded in kind by voicing their opposition to and mobilizing resistance against such policies and practices. For instance, in Florida alone, among other youth-led initiatives The Blade has covered a campaign to unseat radical right-wing school board officials in Flagler County and demonstrations against the state's "Don't Say Gay" bill, after it was signed into law by Gov. DeSantis in March.
For some students, Dr. Vasan said political organizing "can be healthy and helpful and give a strong sense of purpose and meaning," but she cautioned young people should protect themselves by, for example: (1) finding a trusted adult who can help, including by providing advice on how best to navigate the school or school board's political environment; (2) prioritizing one's physical and psychological health by keeping an eye out for safety concerns or threats of retribution – weighing the pros and cons of each action accordingly; and (3) connecting with LGBTQ+ nonprofit and advocacy organizations whose considerable experience and resources can make political organizing efforts more effective and potentially less risky.
Dr. Vasan said that regardless of whether they choose to lead walkouts and launch petitions, it is critical for young people, particularly those who identify as LGBTQ+, to have ready access to mental health resources. "Proactive and preventive mental health care is so important," and it is crucial for youth "to get professional help if they are struggling with their mental health."
Thankfully, Dr. Vasan has a variety of recommendations on that front.
Advice for LGBTQ+ youth in search of mental health related resources and services
A smart first step for students who may be interested in seeking help from a therapist is to solicit recommendations for providers from their existing clinicians, such as a primary care physician or pediatrician, Dr. Vasan said.
Alternatively, "The Trevor Project is an incredible organization that has a collection of supportive resources, including therapists, counselors, peer community, and educational resources such as articles and FAQs," Dr. Vasan said, adding that Yelp and Psychology Today are also excellent – the latter allowing users to search for mental health professionals who accept their insurance coverage and specialize in caring for LGBTQ+ patients.
Of course, financial considerations are key. Ideally with help from parents or a trusted adult, Dr. Vasan said potential patients should evaluate each potential provider's cost per session, insurance coverage, and whether and how their insurance plan could be used to pay for an out-of-network provider.
"If one on one therapy is cost prohibitive, look at group therapy and other community resources that might be offered by places like your school, community centers, local nonprofit organizations, and LGBTQ+ support groups," Dr. Vasan said.
It pays to do some research online and consult with existing providers if possible to explore all available options. These days, telehealth visits are widely available in lieu of in-person visits, though Dr. Vasan cautioned that providers must nevertheless be licensed in the state where the patient resides. Some clinics offer low-cost therapy or charge patients on a sliding scale according to what they can afford, she added.
One option that affords some flexibility is Real. Dr. Vasan described the service as "unique and effective, providing members with high quality care at a lower price point (for just $13 a month!)" She said the platform operates "outside the traditional 1:1 therapy model," with a
"monthly membership that provides a suite of on-demand, digital tools for some of the most commonly felt inner-struggles."
Dr. Vasan recommends setting up initial sessions with a few clinicians – giving each some background information beforehand, and then evaluating which is the best fit.
"Think ahead of time what your goals are in therapy and after you meet with them, review this and reflect on who you felt comfortable with, who seemed to provide the space that makes you feel safe, who gave good insights into their assessment and plan for your diagnosis and/or treatment," she said.
Federal health officials hold roundtable on opioid overdose crisis
"Deaths caused by opioids like illicit fentanyl are preventable with naloxone," said White House advisor Dr. Rahul Gupta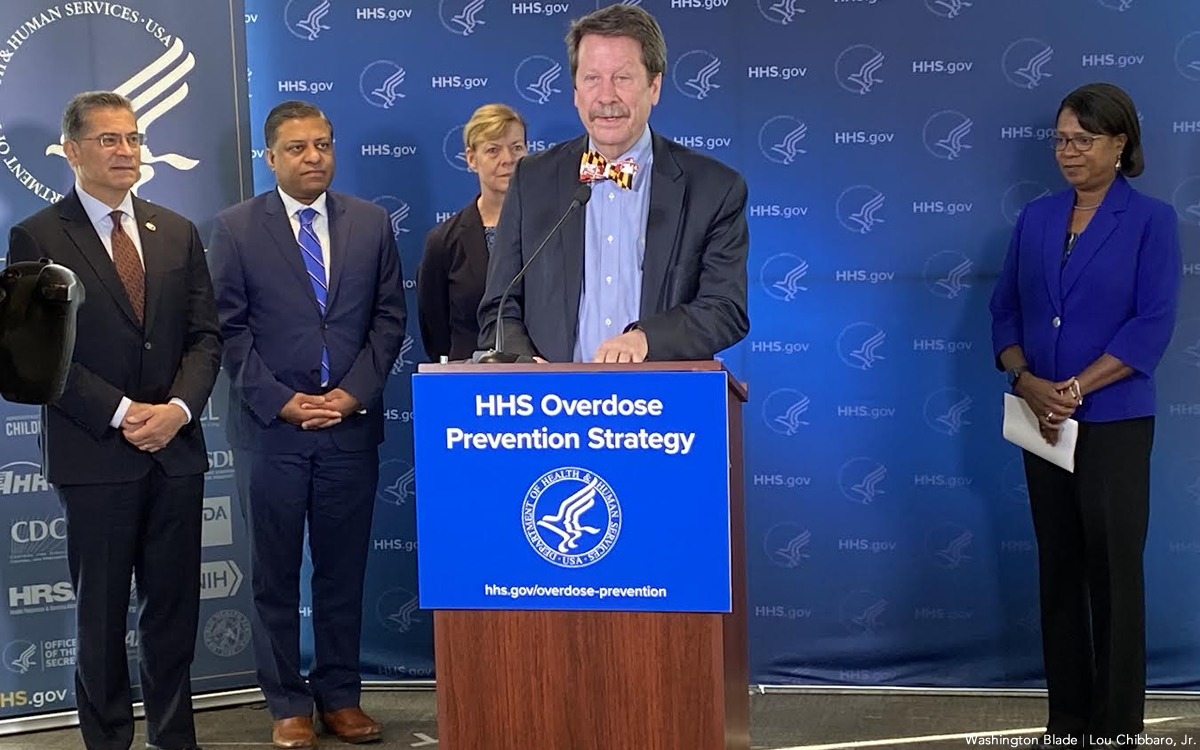 WASHINGTON – U.S. Department of Health and Human Services Secretary Xavier Becerra and four other high level federal health officials held a roundtable community meeting followed by a press conference at D.C.'s Whitman-Walker Health headquarters on Friday to discuss what they said were "groundbreaking" efforts to address and end the nation's epidemic of deaths from the overdose of opioid drugs.
A statement released by HHS says Becerra and the other officials, including Dr. Rahul Gupta, director of the White House Office of National Drug Control Policy, reached out to Whitman-Walker, which, among other things, operates one of the D.C. metro area's preeminent substance abuse treatment programs, to commemorate the one-year anniversary HHS's Overdoes Prevention Strategy program.
"Now, one year after the release of this strategy, our nation is in a much stronger position to treat addiction and save lives," Becerra said. "We didn't get here by accident. Thanks to decades of work by advocates, coupled with an unparalleled people-first strategy and unprecedented investment by the Biden-Harris administration, we have made a great deal of progress," he said.
The officials, including Gupta, pointed out that the Overdose Prevention Strategy over the past year and an updated effort launched this month have focused on greatly expanding availability of the drug overdose antidote medication naloxone.
"Deaths caused by opioids like illicit fentanyl are preventable with naloxone, and today's announcement means more life-saving naloxone will be in communities across the country," Gupta said. "The latest data continue to show a hopeful trend of a decreases in overdose deaths, so we must remain focused on fully implementing President Biden's National Drug Control Strategy that will save tens of thousands of lives by expanding care for substance use disorder, making naloxone more accessible, and dismantling drug trafficking operations," he said.
In addition to Gupta from the White House, Becerra was joined at the community meeting and press conference by Dr. Miriam Delphin-Rittmon, assistant secretary for the Substance Abuse and Mental Health Services Administration (SAMHSA), which is an arm of HHS; Dr. Debra Houry, acting principal deputy director of the U.S. Centers for Disease Control and Prevention and Dr. Robert Califf, commissioner of the U.S. Food and Drug Administration.
Also participating in the roundtable session and press conference was U.S. Sen. Tammy Baldwin (D-Wis.), the nation's first out lesbian member of the Senate.
Becerra said he invited Baldwin to participant in the day's events, among other things, because of her record of advocacy and support for funding of federal substance abuse and overdose prevention programs.
"One area I've championed in Congress is increasing access to overdose reversal medication like naloxone," Baldwin said. "We know that when you increase access to this safe and effective treatment that you save lives," she said. "And I'm thrilled to see the Biden administration and especially the Food and Drug Administration taking steps to increase access to naloxone."
Califf told the gathering one of the FDA's recently launched efforts is to work with drug manufacturers to arrange for naloxone to become an over-the-counter drug that would further expand its availability.
The roundtable discussion session, which included close to 50 participants, including Becerra and the other federal officials, was closed to the press, according to an HHS spokesperson, because among those participating were Whitman-Walker clients and others who receive services and support for what the officials called substance use disorder.
During the press conference that followed, Becerra spoke of how some of those participating in the roundtable discussion were part of Whitman-Walker's success stories in helping people overcome substance use problems
"We're here because a year ago we decided to go in a different direction at the federal level," he said at the press conference. "We decided that we're not moving fast enough, we're not moving close enough to where we need to be to try to help communities and those folks at Whitman-Walker who are trying to not just get folks into treatment but to save lives," Becerra said.
"And that was the great thing about the round table that we just had," he said. "We heard about how people thrive," he said, adding, "And one of the clients, Deborah, spoke about how she's on the verge of getting her degree from college … That's what we want to see … I want to thank the folks at Whitman-Walker for letting us come today to see how people can thrive and be part of that success."
Whitman-Walker Health CEO Naseema Shafi told the Washington Blade after the press conference that Whitman-Walker has a long history of partnering with federal government agencies in addressing health issues, including Whitman-Walker's role as a healthcare facility welcoming the LGBTQ community.