"Hamilton" creators donate monetary damages to LGBTQ+ group
A Texas church performed an unauthorized production of the acclaimed Broadway musical with the addition of homophobic content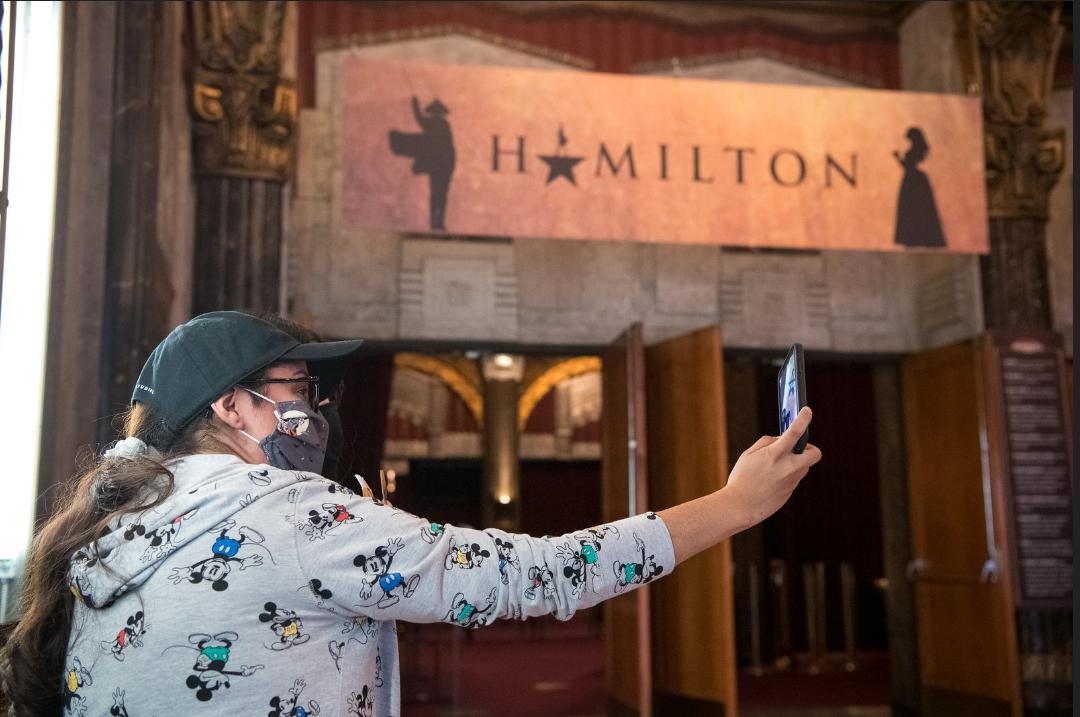 MCALLEN, Tx – Capping a three-week conflict that attracted national media attention, the creators of "Hamilton" said they will donate monetary damages collected from a Texas church that performed an unauthorized production of the acclaimed Broadway musical and altered it with the addition of homophobic content.
A statement published on Instagram Tuesday on behalf of Door Christian Fellowship McAllen Church ("Door McAllen") and its pastor Roman Gutierrez apologizes to the creator and producers of "Hamilton" for using the music and dialogue and changing them without permission.
While the post made no acknowledgement of Door McAllen's choice to liken homosexuality to drug and alcohol addiction in its unauthorized alteration of its unauthorized production on August 5, "Hamilton" affirmed its support for the LGBTQ+ community with the decision to give the monetary damages to the South Texas Equality Project.
The LGBTQ+ group did not immediately respond to requests for comment on its pending receipt of the damages, whose value has not been disclosed.
"Hamilton" fans discovered the performance after Door McAllen streamed the show on its YouTube channel, where it was subsequently cut into clips that were widely circulated on Twitter and other social media platforms – often accompanied by the hashtag #Scamalton and objections to musical's adulteration.
Many of the clips show the scene in which Victor Lopez, another Door McAllen pastor, delivers a sermon in which he says: "Maybe you struggle with alcohol, with drugs — with homosexuality — maybe you struggle with other things in life, your finances, whatever. God can help you tonight."
In addition to its homophobia, the online attention exposed what theater blog OneStage called Door McAllen's "perfect storm" of copyright and intellectual property (IP) law violations: "The church did not have permission to perform the show, make changes to its lyrics, use its logo, use copyrighted music as a backing track, advertise the production, and stream it on YouTube."
"Hamilton" Creator Lin Manuel Miranda was made aware of the unauthorized production of his musical amid the growing backlash against it, issuing a statement where he said, "Grateful to all of you who reached out about this illegal, unauthorized production. Now lawyers do their work."
OneStage noted that Door McAllen's apology on Instagram "does not admit wrongdoing" with respect to the church's unauthorized stage productions of "Disney's Beauty & the Beast," "Despicable Me," and "Elf: The Musical," which contained similar anti-LGBTQ+ alterations.
Jinkx & DeLa's latest holiday show has laughs, heart, & guts
"Add supernatural elements plucked from A Christmas Carol, and you've got more than enough pop culture references to hang the plot on"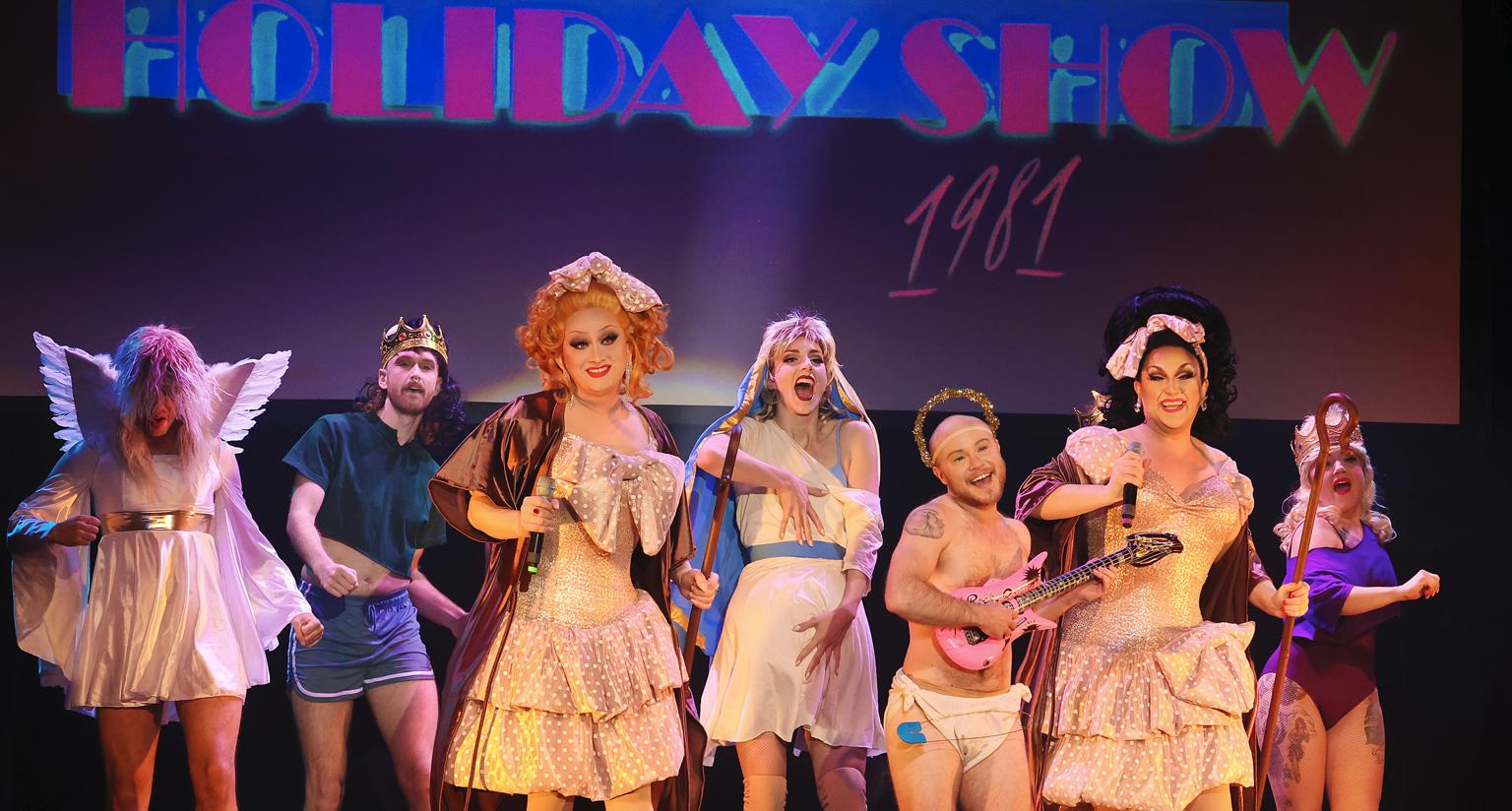 NEW YORK – Marking the fourth holiday-themed touring production from Jinkx Monsoon and BenDeLaCreme, The Jinkx & DeLa Holiday Show could do no wrong with the LGBTQ+-heavy crowd, at the first of two sold-out December 2/3 gigs at NYC's storied Town Hall.
That the show landed at a venue known for hosting progressive organizations and artists such as the ACLU and Bob Dylan was a fitting choice. Although they came to play, not fight, the headliners would cap their wonderfully silly and unabashedly sexual performance with a forceful rebuke of homophobic violence and call for corrective measures powered not by righteous anger, but by radical love.
But enough about the last ten minutes. You came to read about a show by two you know from RuPaul's Drag Race who've used that platform as both springboard and calling card—and that is what you shall get.
Written by and starring Jinkx Monsoon and BenDeLaCreme, The Jinkx & DeLa Holiday Show takes its rightful place in the ever-expanding canonical universe Big Banged into existence beginning with 2018's To Jesus, Thanks for Everything and followed by All I Want for Christmas is Attention (2019), The Return of the Jinkx & DeLa Holiday Show, LIVE! (2021), and The Jinkx & DeLa Holiday Special—a one-hour, made-for-TV program that first ran on HULU in 2020 and became an instant classic, with all the line-quoting, repeat viewing appeal of Rankin/Bass at their batshit crazy best. It's highly recommended at least once a year (handily beating a Hallmark movie for Christmas in July celebrants).
Fans of past Jinkx/DeLa stage shows who crave more of the same while hungering for something new will go home from 2022's installment feeling as if they've eaten the same slice of cake inexplicably cradled in the palm of their hand. In other words, this show takes up residence right along the border separating seen-it-before from ain't-seen-nothin'-yet. Familiarity shows itself exactly as it should—in the bickering and bonding between two wildly contrasting personality types locked in an eternal struggle to convince the other one they're going about things the all wrong.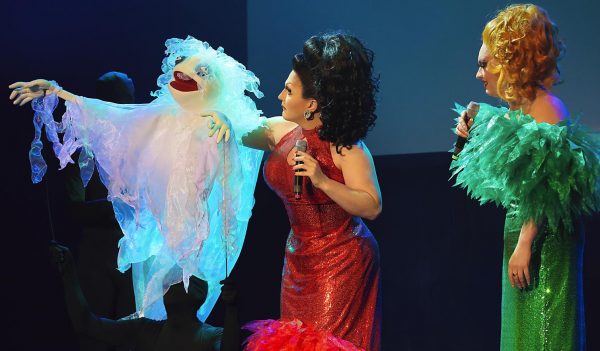 As self-appointed Activities Director of whatever happens to be happening at any given moment, Connecticut-raised BenDeLaCreme is the embodiment of a starchy but well-meaning perfectionist undermined by the very methods she uses to achieve that elusive enlightened state. At the opposite end of the spectrum is Jinkx Monsoon—a booze-swilling, pleasure-seeking, chaos-embracing pagan with a moral code so focused it invites comparison to DeLa's penchant for extremism.
That the duo stubbornly travel different roads but somehow end up at the same destination is a frequent narrative motif throughout their work, one that never fails to pay off. Both queens experience an occasional fleeting awareness of this irony, promptly tucking it away until the plot reaches its inevitable point of détente.
And as the rules of comedy fittingly dictate, they do need to be at war with each other, always on the brink of a nuclear option. In that manner, especially when there's no common enemy to fight, the conflict-prone odd couple milks their classic mismatched comedy team dynamic for all it's worth. Not that they need to. Sold separately, both can hold their own as artists. Jinkx won RuPaul's Drag Race All Stars 7 this year, and DeLa toured with the immensely satisfying matrimony farce Ready to be Committed.
But when offered as a two-for-one, as is the case with these annual Holiday Shows, the strange brew of charisma, chemistry, and unconventional choices supersizes the well-established personas of each performer while mapping some new terrain in a comedic landscape once surveyed by Burns and Allen, Burnette and Lawrence, Randall and Klugman, and Saunders and Lumley. (Don't know some or any of these names? One can easily imagine a steely-eyed Jinkx, in her raspy Smoker's Baritone, growling, "Oh, go look it up.")
As for the premise: It's 2022, and DeLa anticipates the impending celebration of Jesus' birth by working herself into a royal tizzy, having sensed, Princess-and-the-Pea-like, that something isn't quite right. Observing much "planetary pitchiness" and more eggshells than usual "in the global nog," DeLa recruits a reluctant Jinkx to time travel with her into past decades, from the 1960s onward—until they will presumably save Christmas by fixing whatever mistake created "the ever-declining Hellscape we once called our world." Add to that some supernatural elements plucked wholesale from A Christmas Carol, and you've got more than enough pop culture references to hang the plot on. ("More than enough" being the only substantial critic's takeaway: The Dickens classic is such a meaty bone, it deserves its own exclusive piece of satire. The ghosts used as guides to past/present/future could have been substituted by any number of imaginative options, as the writers excel at justifying huge narrative shifts with flimsy, throw-away logic.)
Of course, the large-looming, increasingly convoluted time travel thread itself is a wonderfully constructed conceit, an excuse for the show to stuff its stocking with every imaginable goodie on a diehard fan's wish list. We're talking giant puppets, RuPaul's Drag Race references, filthy jokes, gasp-inducing wardrobe reveals, cutting zingers, and an all-cast production number depicting the Christ Child's conception and birth as if it happened in the 1980s—when Journey rocked the top of the charts and everyone went to the gym looking like they had just seen Flashdance at a movie theater right next to a store that only sold headbands and leggings.
For practically every decade visited, there's an original or parody musical number benefitting immensely from the show's expertly choreographed dance ensemble. These six players—Chloe Albin, Mr. Babygirl, Elby Brosch, Shane Donohue, Jim Kent, and Ruby Mimosa—are on stage more often than not, and bring an actorly approach to the task at hand, whether it involves playing a candy cane, a reindeer, or sweet baby Jesus—fresh from the womb and already one of rock's most gifted lead guitarists. (Pay attention, Grindr bottoms: That's the kind of range expected when your profile says "verse.")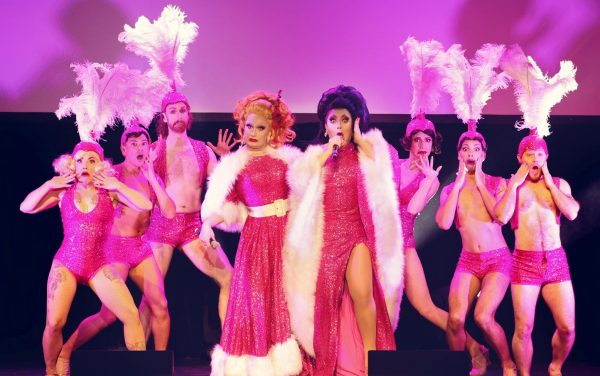 That our gals manage to bring the timeline back into acceptable alignment will come as no surprise. The real appeal of the show is seeing the onetime reality TV stars doing their own thing and doing it spectacularly, without manufactured drama and meanspirited betrayals. Fact is, there's plenty of mud being tossed, but done for the purpose of humor alone, it never lands with much force let alone stains.
What does linger is the potentially jarring—but effectively done—tonal shift during the show's final 10 minutes, serving as a shot of confidence that sends the largely LGBTQ+ crowd back into a world where the weapons-grade nastiness we've laughed at all night long won't be hurled by a member of the tribe or an ally who's in on the joke. After calling out the world they just spent two-plus hours fixing for its ever-present homophobia and potential for violence, Jinkx holds DeLa tight and sings Looking at the Lights, a contemplative number that swaddles the jam-packed, 1,500-seat venue in a blanket of radical love. Maybe enough to survive the holidays at an unhospitable family member's home, or at your own place, all alone. "We don't need to be okay," sings Jinkx, to recovering perfectionist DeLa. "There's no right way to be."
Composed by Major Scales, Jinkx delivers Looking at the Lights in a hushed manner worlds apart from the assertive vocal stylings she's been crushing all night. Lyricist BenDeLaCreme has called the 2021 song "the first I've ever written that's just earnest and didn't break itself with a joke… As someone who's always struggled with the holidays, this is more than just a song about pandemic loneliness. It's about friendship and community."
That sense of kinship is the gift we all hope to get, all year long. As such, it's one Jinkx and DeLa say they'll be touring with at this time of year—every year—for as long as the fates allow. Until then, this empowering nugget from the Jinkx/DeLa-written anthem, Everyone is Traumatized by Christmas:
No matter where you come from, no matter who you are
There's something 'bout this holiday that's sure to leave a scar
An overbearing family, no family at all
Run over by a reindeer or just working at the mall
…
[DeLa]
But, at least they're not alone

[Jinkx]
At least you're not alone

[Both]
No, you're not alone if you've been traumatized!
"The Jinkx & DeLa Holiday Show" has sold out its upcoming performances in cities including Austin, TX, San Diego, CA, and the December 18 show at LA's Orpheum Theatre. Limited tickets remained for the Orpheum's Dec. 19 show at the time of this article's publication. 
For tickets, click here. Super VIP and VIP Meet & Greet packages available. The tour continues through Dec. 30 with stops including Seattle, WA, Portland, OR, and Vancouver, BC. For those unable to see them live, highly recommended is 2020's "The Jinx & DeLa Holiday Special." Rent or purchase via Vimeo on Demand, iTunes, Google Play, VUDU, and Amazon Prime.
"The Jinkx & DeLa Holiday Show" is co-written and co-created by BenDeLaCreme and Jinkx Monsoon, directed by BenDeLaCreme, and produced by BenDeLaCreme Presents, a company comprised of producers BenDeLaCreme, Kevin Heard, and Gus Lanza.