Out & About: Performing arts in Los Angeles this weekend
LA's Theatre scene is back in full swing for fans of queer LA theatre, as Off-Broadway hit "Daddy Issues" plus "(Un)Documents" opens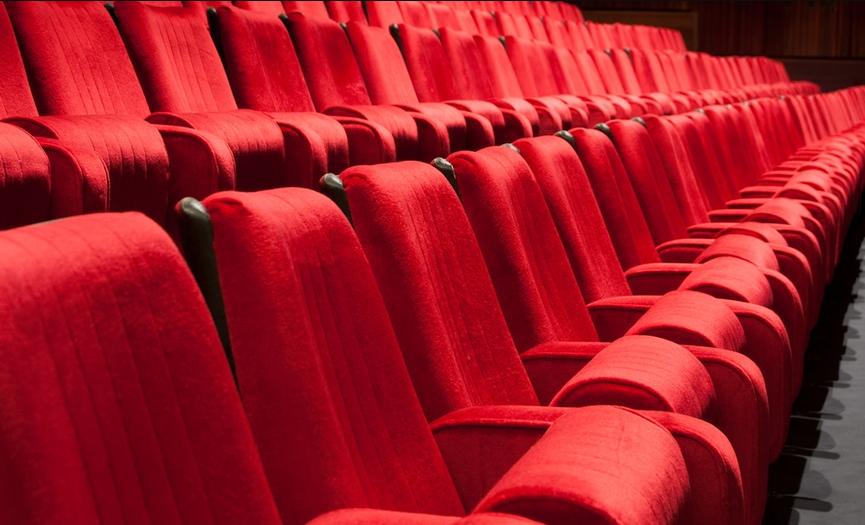 Queer LatinX solo show performance '(Un)documents' to receive West Coast premiere
LA's Theatre scene is back in full swing at last, and that means fans of the kind of small, independent, and edgy productions that can only be found in a city like ours have plenty of plays to choose when going out to satisfy that theatrical itch.

Fans of queer theatre will want to take note of one such show that is opening this weekend (October 14): the West Coast premiere of "(Un)Documents," presented by the Latino Theater Company.
Written and performed by queer actor, theatermaker and poet Jesús I. Valles, who immigrated to the U.S with their family at the age of nine. It's described as "the lyrical tale of Valles's journey across both sides of a river with two names, moving between languages to find their place in a nation that demands sacrifice at the altar of citizenship. In doing so, they create a new kind of documentation written with anger, fierce love, and the knowledge that what makes us human can never be captured on a government questionnaire."
The multiple award-winning solo work – which is directed by Rudy Ramirez – was adapted from a series of 20 poems Valles wrote following their brother's deportation in a workplace raid — poems about their brother, citizenship, identity and the LGBTQ community. premiered at Austin, Texas' The Vortex Theatre in 2018, as part of "FuturX: A New Festival of Latinx Performance," where it won awards for original script, lead actor and direction, and was remounted several times before being streamed live by Latino Theater Company as part of "RE:Encuentro 2021," a virtual, national Latinx theater festival featuring 16 companies and performers from across the U.S. in digital residence at The Los Angeles Theatre Center.
Says Valles, "I learned early on what some people are able to do or unable to do, all based on a few pieces of paper and, you know, some holograms on some plastic. '(Un)Documents' asks the audience to rethink how they watch and talk about migrant communities, queer people of color, systems of oppression – and to ask questions of themselves and those in positions of power."
Performances take place October 14 through November 20 at The Los Angeles Theatre Center in Downtown LA. Tickets and more information (including up-to-date Covid-19 safety protocols on the day of each performance) are available by calling (213) 489-0994 or visiting the Latino Theatre Company website.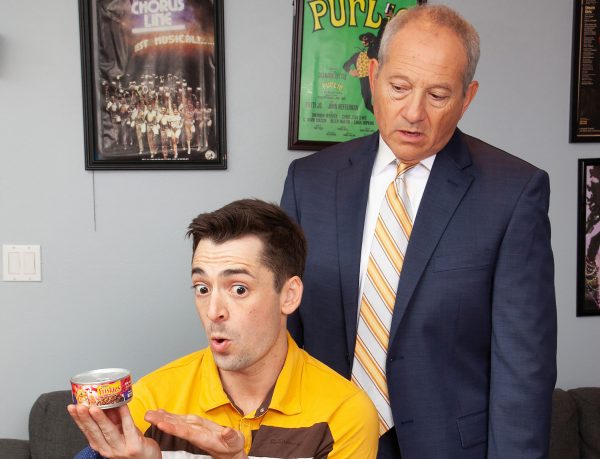 Queer Off-Broadway hit 'Daddy Issues' comes to LA
How far will a gay guy go to please his controlling Jewish parents?
Fans of queer LA theatre can find out the answer to this question beginning on October 14, when the Off-Broadway hit "Daddy Issues" opens for its West Coast premiere at the Complex in Hollywood.

Written and directed by David Goldyn, the play – which enjoyed a sold-out fun at the St. Clements Theatre in New York – is an exhuberant screwball comedy which starts our slow before snowballing into an outrageous farce. It hinges a couple (Mr. and Mrs. Moscowitz) who are in denial about their son Donald's gay lifestyle, disapprove of his career choice, and question his flair for decoration. To get his family to stop kvetching, Donald needs a son – so he enlists the help of his ballsy best friend Henrietta and a rising drag queen named Levi, and hires a ten-year-old kid from downstairs. As the official synopsis asks, "What could go wrong?"
According to Goldyn, his play was inspired by an real-life incident he had in dealing with his own overbearing parents. "All the characters are based on real people," he adds. "Although many of the most outrageous lines may sound like they belong in a sit-com, they actually came straight out of the mouths of my mother, father and grandma."
The Off-Broadway production was called by the Huffington Post, "[a] frothy, whipped gelatin dessert of a show," and the Times Square Chronicles described it as laugh out loud funny."
Goldyn himself directs the West Coast premiere, which stars James Seifert stars as Donald, a gay "everyman" who can only react to all the craziness going on around him. Donald's homophobic father, Sid, is played by Jonathan Fishman, while Pamela Shaw takes on the role of Marion, Donald's funny, somewhat screwy mother who loves to quote Reader's Digest. Noa Lev–Ari and Josh Nadler play his best friends, zaftig Henrietta and drag queen-by-night Levi. Rounding out the cast are Sherry Michaels as Grandma, Hannah Battersby as Donald's downstairs neighbor, and Solly Werner as precocious 10-year-old Johnny Walker. The play is presented by Charles Blondeau.
Performances of "Daddy Issues" run from Oct. 14 through Nov. 13 at The Complex (6476 Santa Monica Blvd., Hollywood). For tickets and more info, go to daddyissuestheplay.com.
Captivating topic, great cast, but falls short on real issue
Rogue Machine Theatre's recent run of "A Great Wilderness" is reviewed by the founder of the Conversion Therapy Dropout Network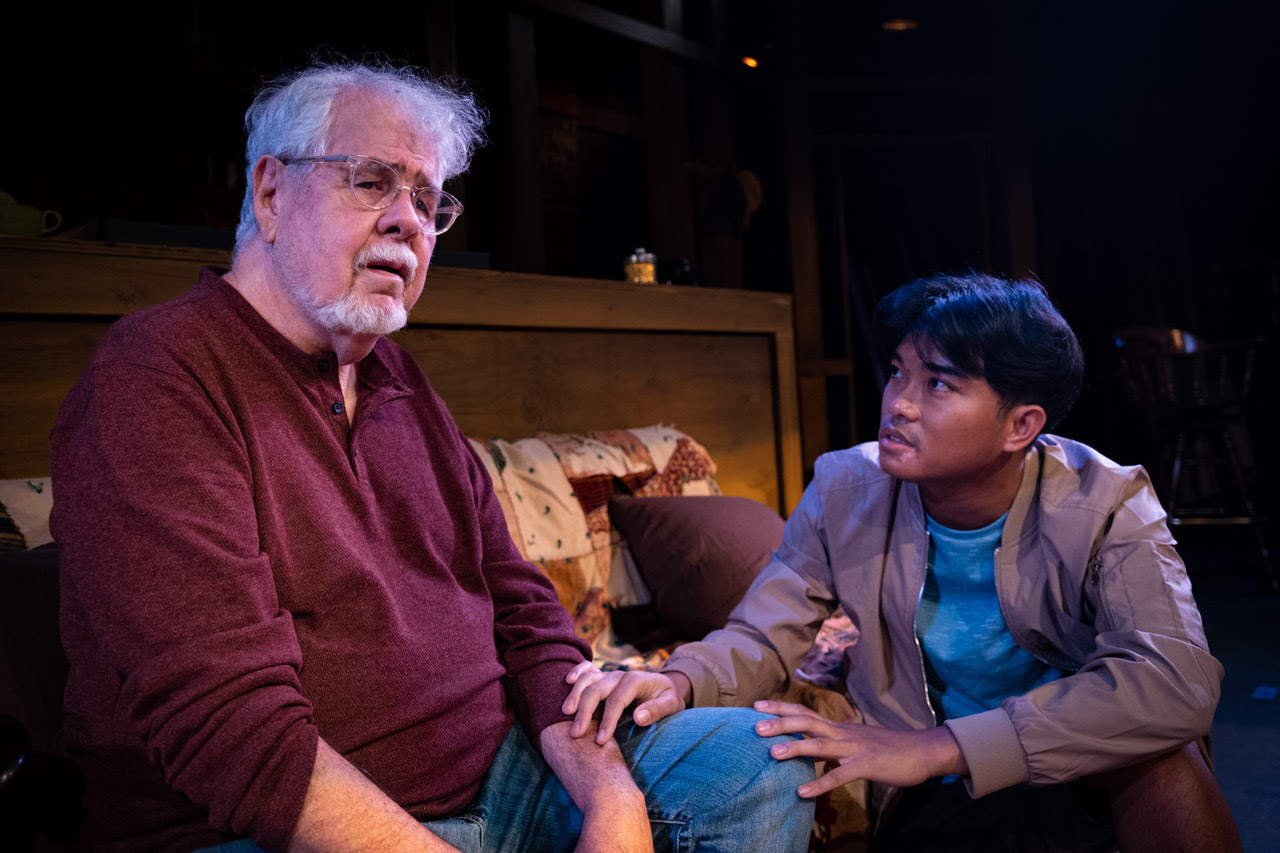 By Curtis Galloway | LOS ANGELES – Rogue Machine Theatre's recent run of "A Great Wilderness", written by Samuel D. Hunter and directed by Elina de Santos, was a harrowing story, to say the least. It explores the complex ideas behind conversion therapy or sexual orientation and gender identity change efforts.
As a conversion therapy survivor, I knew that I needed to see this production as I am always more than happy to see conversations about this topic. While the cast was excellent and the overall theatrical presentation was entertaining and very engaging, I feel that the script itself lacked direction and proper handling of the main topic, conversion therapy.
The show opens in an old cabin, which we will stay in for the duration of the story, with the two main characters, Daniel & Walt, standing off in silent opposition. Daniel, a teenager, has just been sent away to a remote cabin run by Walt, an elderly man that is about to be moved into an assisted living home. We learn quickly that Daniel was sent there by his mother after he was caught watching homosexual pornography, and Walt is known for "helping" kids change their sexual orientation through religious means. To be plain, Walt is a "conversion therapist" and has been running a conversion camp with his friend Tim and ex-wife Abby.
Over the course of two hours, Daniel goes missing in the woods, Abby and Walt reveal that their son was gay and committed suicide due to their attempts to have his sexual orientation changed, and Daniel's mother seemingly prefers her son stay missing rather than face the world that she knows is unkind to "people like him".
There is no doubt, that the show had a fantastic cast. The six characters were neatly defined as their own individuals with distinct personalities and lives of their own. Each action was meaningful and thought out, to the smallest detail. The emotion brought through each character enticed you to believe that it was actually happening before your eyes. It was everything good casting should be.
My main issue with the production sat in the script, specifically the sympathy it garnered for Walt as a conversion therapist.
From personal experience, when talking about conversion therapy and specifically the conversion therapist, we need to be careful not to create a sympathetic tone. A Great Wilderness focused too much on the life and struggles of a conversion therapist that, in his old age, is trying to come to terms with his life, the mistakes he has made, and his past attractions.
This brings feelings of sympathy and emotional connection to the character, that does not deserve sympathy. One character notes that they knew Walt through the community as a weird old man that abuses children in his cabin by trying to make them straight. They noted that as they grew to know him they realized that people will say what they want, but they knew he "never harmed those kids".
Toward the end of the show, we get the initial beginnings that Walt is starting to doubt the conversion therapy he has been providing his whole life, but we never really get to him denouncing it or talk directly about it.
At the end, we finally get to see Daniel stumble back into the cabin after being missing in the woods. He describes seeing flames (from a wildfire nearby) and having a revelation from God that he can change and that he wants to pursue what Walt initially set out to do, make Daniel straight.
For me, this left the door way too open for interpretation that, yes, conversion therapy is bad, but what this guy did really wasn't. It misses the whole point and ideology behind why conversion therapy exists in the first place. Anti-LGBTQ sentiments that something is wrong with the individual are at the heart of all of it, and no amount of feel good cabin, "I just want to help" can cover that up.
Overall, the production of "A Great Wilderness" was captivating and fantastic. The cast did an amazing job and they should all be proud, as should the theatre. I left having mixed feelings, as you have now read, but I stand by my evaluation that it casts too much sympathy on a character that has spent his life making other's lives worse and more confusing.
************************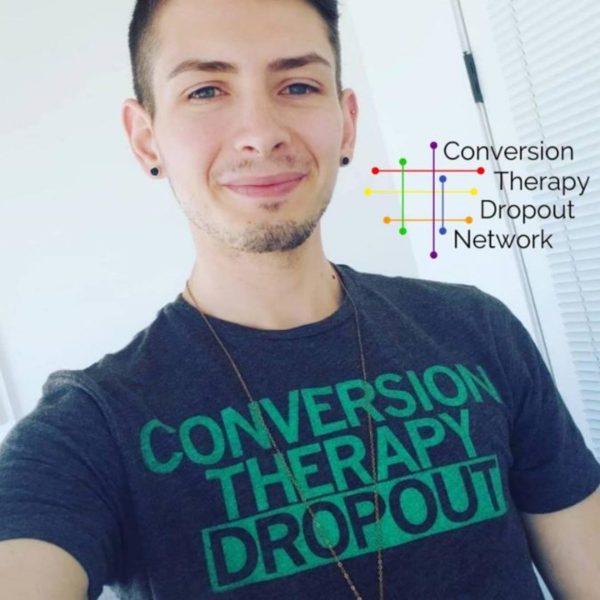 Curtis D. Galloway is the Founder & President of Conversion Therapy Dropout Network in Los Angeles, California. Curtis grew up in a small town in Southern Illinois. When he was 16 years old he was subjected to conversion therapy; an experience he was later able to use to ban conversion therapy in his home state.
Now living in L.A., Curtis has taken his activism to the next level and founded the Conversion Therapy Dropout Network to bring survivors of conversion therapy together in community and solidarity.