An 'Inheritance' we deserve
What I will say instead is that while watching "The Inheritance" I felt like I was watching my own life being enacted on the stage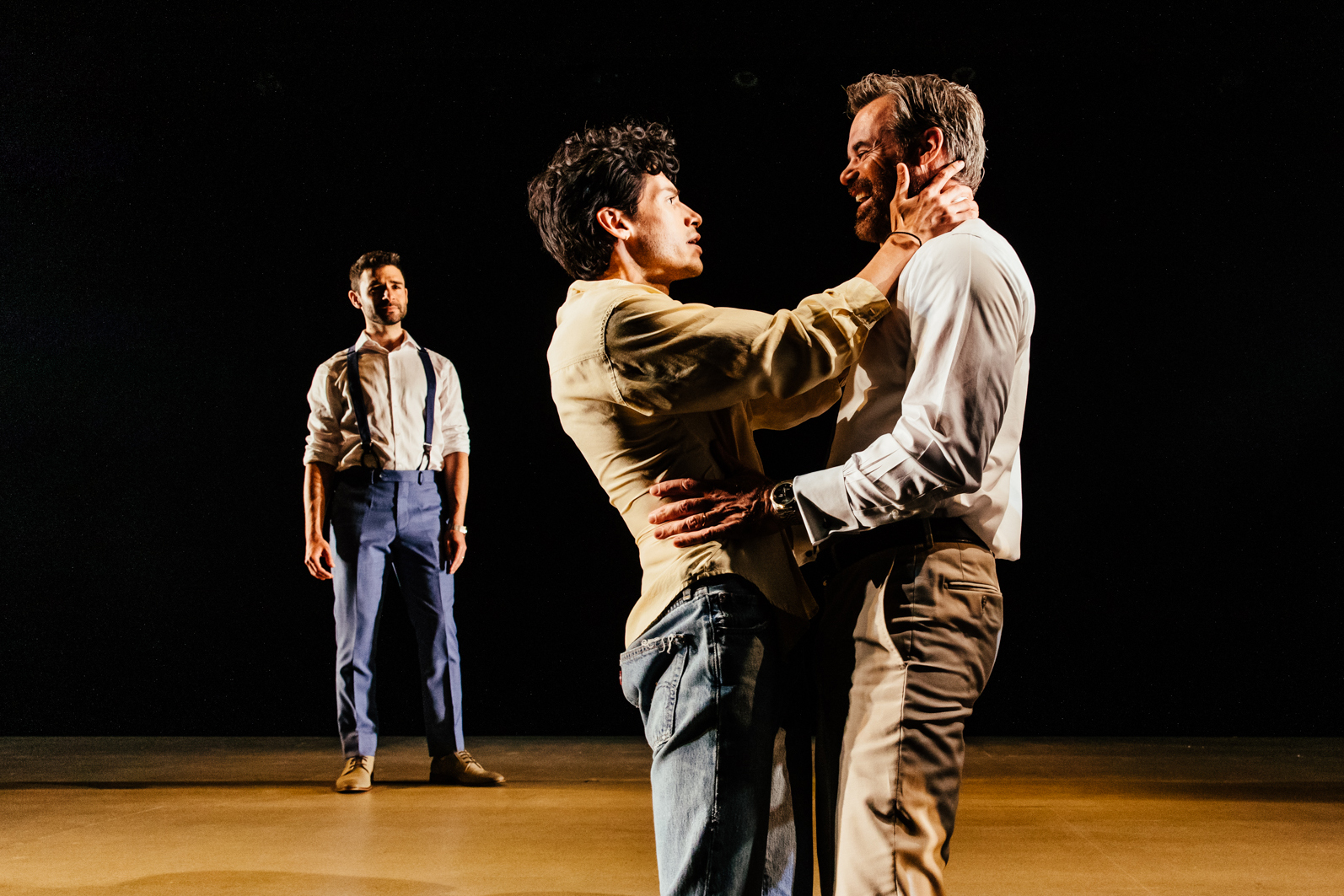 Once in a while, a reviewer can find themselves stymied by the sheer force of the impact they felt from the thing they are meant to impartially review.
For one reviewer, at least, "The Inheritance" is just such a thing.
That's why, in tackling the challenge of communicating my response to this epic play, I have set aside my usual policy of "keeping myself out of the equation" and instead decided to adopt a first-person, subjective voice – for it would be impossible for me to pretend that there wasn't something personal about my relationship with it. I would argue, in fact, that such a pretense would be impossible for any gay man, because "The Inheritance" is about each and every one of us.
Written by Matthew López and divided into two full-length parts, it's loosely adapted from – or rather, inspired by – gay author E.M. Forster's classic 1910 novel "Howards End." Instead of dealing with the mores and customs of Edwardian English society, it's a contemporary story set in New York, focused on a group of gay men living in the years after AIDS decimated an entire generation of their friends and elders.
That's all I knew when I walked in the door of the theatre, apart from its production history – an acclaimed and award-winning 2018 London premiere directed by Stephen Daldry, followed by a multi-Tony-winning transfer to Broadway the subsequent year – and its reputation for inducing a powerful cathartic response from LGBTQ+ audiences. That's all you really need to know, too.
In the West Coast premiere production staged by director Mike Donahue at the Geffen Playhouse, I worried that the New York setting might feel a little out-of-step with the Los Angeles queer community, but it didn't take long for me to attune myself to the vast landscape of common ground lying just beneath the surface details.
As I watched actors assuming their positions on the stage before showtime, carrying laptops and books and getting comfortable in a way that evoked a casual afternoon at Starbucks more than an austere theatrical presentation, I was struck by a feeling of being among them, rather than apart.
When someone on the stage finally spoke, that feeling did not disappear; it lingered and remained a part of my perspective even across the lengthy dinner break between the show's three-hour-plus parts, and even when the players assumed a more traditionally theatrical approach in telling the massive story.
That story, like all great stories, is made up of many smaller stories, each layered and intersecting among the others. Its major figures – long-term couple Eric and Toby (Adam Kantor and Juan Castano), child-of-privilege Adam and down-on-his-luck hustler Leo (both Bradley James Tejada), and older couple Walter and Henry (Bill Brochtrup and Tuc Watkins) – move between past and present, moment and memory, even actor and character, surrounded by an ensemble of others who step in and out of roles as required.
Together, at the prompting and with the guidance of E.M. Forster himself (Brochtrup, again), they enact a sweeping tale that encompasses a hundred years of history and more, in which each of their individual fates is decided by a chain of events and choices that extends far beyond themselves.
To say more about the narrative would be both difficult and unfair. My readers should be afforded the opportunity, just as I was, to let it all unfold as it happens.
When they do, they might find themselves caught up, perhaps even despite themselves. I confess, when I took my seat before the performance, I was carrying a bit of healthy skepticism. Surely, I thought, the play could not live up to all the hyperbolic buzz which surrounded it; after all, hadn't reviews for the Broadway production been mixed? Hadn't some critics demerited the piece for being shallow, or for diverging into lengthy debates about queer culture and political ideology?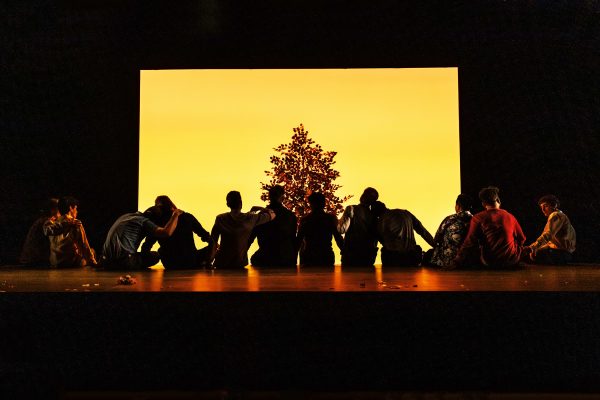 My skepticism lasted only until the first moment I felt tears unexpectedly welling up behind my eyes. It came remarkably soon, over a simple throwaway line that conjured such a primal response that I reacted to it before my critical brain had a chance to understand why.
This was a phenomenon that repeated itself countless times throughout the play; more than that, there were many moments, cumulatively built, that engaged my intellect yet still overwhelmed me with emotional response. It's rare for me, as a longtime veteran of watching theatre, to be fully moved in this way – and the fact that it happened not once, but numerous times throughout "The Inheritance," was an unexpected gift I was grateful to receive.
In expressing that gratitude, I must single out some among the individuals responsible, but it should be acknowledged that, for me, there was not a single weak link in the chain.
Brochtrup, distinctly differentiating his two important roles with the skill of a seasoned thespian, also captures the things which connect them with shimmering clarity; Kantor's Eric is as endearingly real as the best gay friend you've ever known; Castano's Toby is a dynamo, electrifying to watch and dominating the stage – appropriately so – during every scene he's in; Tejada (who joined the production as a last-minute replacement after an injury required a previously cast actor to depart the role) is heartbreakingly vulnerable in each of his dual roles, and compelling in his ostensible position as the central voice of the narrative; Watkins' Henry, who must surmount the challenge of being likable in a role which positions him as an antagonist, succeeds with his understated, close-to-the-chest performance in doing exactly that; and lastly, Indigenous actress Tantoo Cardinal is a blessing in a late-appearing role that gives her a chance to distill the myriad emotions we've felt so far into a single, profoundly resonant monologue –delivered without a trace of manipulative sentimentality.
I could talk about more. I could talk about Jamie Todd's scenic design or Josh Epstein's lighting or Sara Ryung Clement's costumes, but my praise for each of these elements can be conveyed appropriately by saying they are executed with elegant and effective simplicity; I could list all the awards the piece has won in its previous productions, but you can easily look that up yourself. I could discuss themes and literary references, or the metaphoric application of the title to the play itself, but that would be pedantic.
What I will say instead is that while watching "The Inheritance" I felt like I was watching my own life being enacted on the stage. I recognized myself and every gay person I have ever known in every character, and my own history and experience reflected in thousands of ways, both large and small, throughout.
This was more than a play, it was a tribal ritual, an invocation of community connection and shared experience that stretches back across millennia and forward into an uncharted and uncertain future. In seeing it, I felt seen – an expression never fully comprehended until lived firsthand.
It made me proud of my queer heritage; it made me feel lucky and honored to be a gay man.
Who can ask for a better inheritance than that?
Captivating topic, great cast, but falls short on real issue
Rogue Machine Theatre's recent run of "A Great Wilderness" is reviewed by the founder of the Conversion Therapy Dropout Network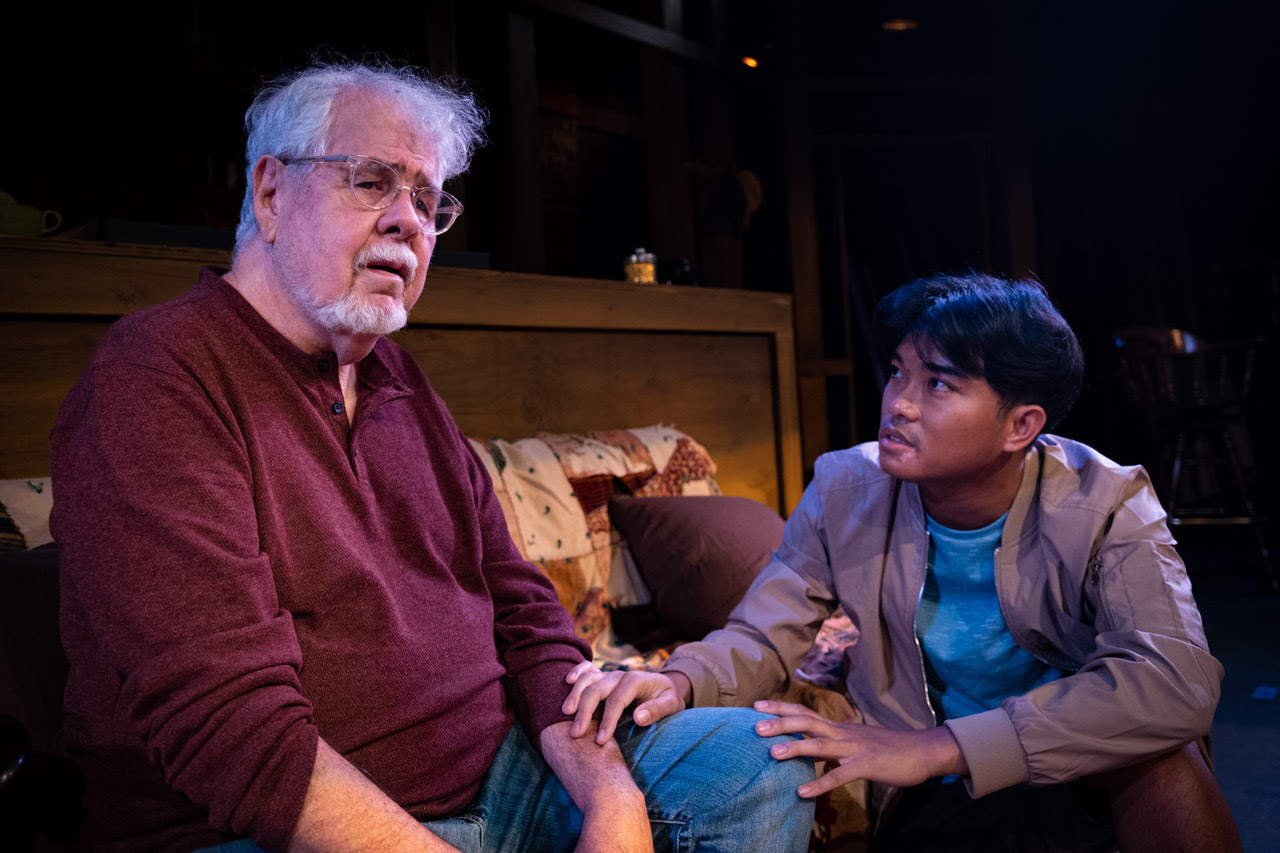 By Curtis Galloway | LOS ANGELES – Rogue Machine Theatre's recent run of "A Great Wilderness", written by Samuel D. Hunter and directed by Elina de Santos, was a harrowing story, to say the least. It explores the complex ideas behind conversion therapy or sexual orientation and gender identity change efforts.
As a conversion therapy survivor, I knew that I needed to see this production as I am always more than happy to see conversations about this topic. While the cast was excellent and the overall theatrical presentation was entertaining and very engaging, I feel that the script itself lacked direction and proper handling of the main topic, conversion therapy.
The show opens in an old cabin, which we will stay in for the duration of the story, with the two main characters, Daniel & Walt, standing off in silent opposition. Daniel, a teenager, has just been sent away to a remote cabin run by Walt, an elderly man that is about to be moved into an assisted living home. We learn quickly that Daniel was sent there by his mother after he was caught watching homosexual pornography, and Walt is known for "helping" kids change their sexual orientation through religious means. To be plain, Walt is a "conversion therapist" and has been running a conversion camp with his friend Tim and ex-wife Abby.
Over the course of two hours, Daniel goes missing in the woods, Abby and Walt reveal that their son was gay and committed suicide due to their attempts to have his sexual orientation changed, and Daniel's mother seemingly prefers her son stay missing rather than face the world that she knows is unkind to "people like him".
There is no doubt, that the show had a fantastic cast. The six characters were neatly defined as their own individuals with distinct personalities and lives of their own. Each action was meaningful and thought out, to the smallest detail. The emotion brought through each character enticed you to believe that it was actually happening before your eyes. It was everything good casting should be.
My main issue with the production sat in the script, specifically the sympathy it garnered for Walt as a conversion therapist.
From personal experience, when talking about conversion therapy and specifically the conversion therapist, we need to be careful not to create a sympathetic tone. A Great Wilderness focused too much on the life and struggles of a conversion therapist that, in his old age, is trying to come to terms with his life, the mistakes he has made, and his past attractions.
This brings feelings of sympathy and emotional connection to the character, that does not deserve sympathy. One character notes that they knew Walt through the community as a weird old man that abuses children in his cabin by trying to make them straight. They noted that as they grew to know him they realized that people will say what they want, but they knew he "never harmed those kids".
Toward the end of the show, we get the initial beginnings that Walt is starting to doubt the conversion therapy he has been providing his whole life, but we never really get to him denouncing it or talk directly about it.
At the end, we finally get to see Daniel stumble back into the cabin after being missing in the woods. He describes seeing flames (from a wildfire nearby) and having a revelation from God that he can change and that he wants to pursue what Walt initially set out to do, make Daniel straight.
For me, this left the door way too open for interpretation that, yes, conversion therapy is bad, but what this guy did really wasn't. It misses the whole point and ideology behind why conversion therapy exists in the first place. Anti-LGBTQ sentiments that something is wrong with the individual are at the heart of all of it, and no amount of feel good cabin, "I just want to help" can cover that up.
Overall, the production of "A Great Wilderness" was captivating and fantastic. The cast did an amazing job and they should all be proud, as should the theatre. I left having mixed feelings, as you have now read, but I stand by my evaluation that it casts too much sympathy on a character that has spent his life making other's lives worse and more confusing.
************************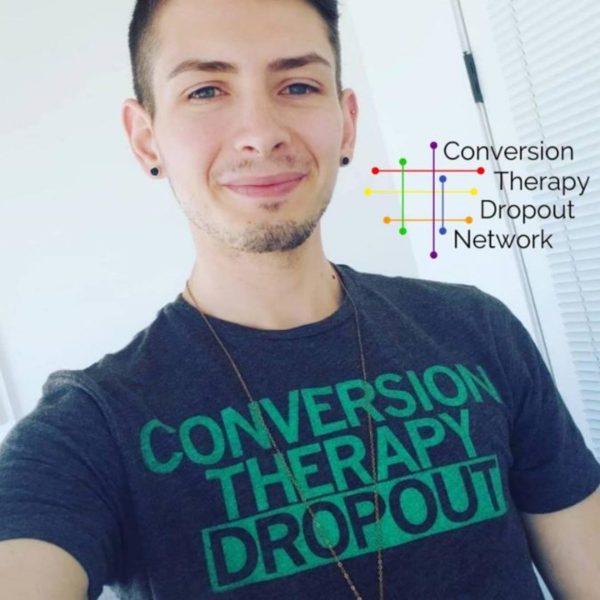 Curtis D. Galloway is the Founder & President of Conversion Therapy Dropout Network in Los Angeles, California. Curtis grew up in a small town in Southern Illinois. When he was 16 years old he was subjected to conversion therapy; an experience he was later able to use to ban conversion therapy in his home state.
Now living in L.A., Curtis has taken his activism to the next level and founded the Conversion Therapy Dropout Network to bring survivors of conversion therapy together in community and solidarity.