Gender-bending icon takes the stage in LA, but don't call it 'drag'
Queer culture may be catching up but don't expect him to rest on his laurels. Show opens at LA's Catalina Jazz Club 7pm Oct. 20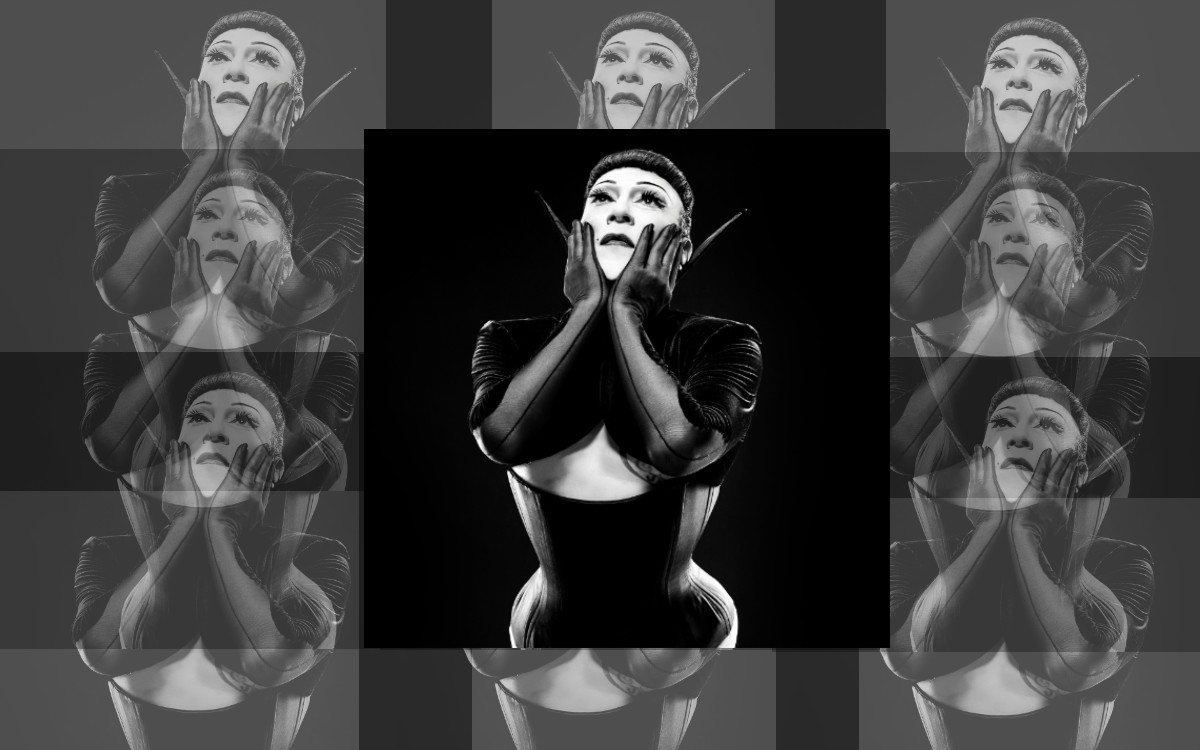 When you ask someone if they know who Joey Arias is, the answer you get will depend on the person you ask.

New Yorkers will likely be able to tell you he's a longtime fixture of the Manhattan performance art and cabaret scene who's been doing his best to make the city queer since the seventies, when he staged and performed fashion shows with his co-workers in the storefront windows at Fiorucci.
Others might know him from his association with queer disco icon Klaus Nomi, or his lengthy stint with Cirque du Soleil in Las Vegas, or from his mind-blowing collaboration show with puppeteer Basil Twist, "Arias with a Twist."
Many will be aware of him as a pioneering drag artist and a regular performer at Wigstock; and most, though they may know nothing else about him, will at least remember him from his appearance on Saturday Night Live in 1979, when he and Nomi danced and sang backup for David Bowie in three now-iconic musical numbers.
"Imagine spending a week with David," he reminisced to the Blade during a conversation we had with him last week. "Rehearsing for hours, and talking and having fun with him. And then, right before we were going on for that first song, we were standing there and he said, 'After today your lives are going to change.' And then we all laughed and we walked out onto the stage, with me and Klaus carrying David."
Arias, who performs at LA's Catalina Jazz Club at 7pm on October 20, is understandably proud of – and still a little starstruck by, perhaps – that experience, but it's not the definitive moment of his career, no matter how famous it might be. Nor does he think of his reputation as a drag pioneer as his crowning achievement – in fact, he tells us, "I always HATED drag."
It seems an odd statement from someone who spent his childhood, inspired by the films his parents frequently took him to see and the cartoons, books, and comic books that fed his imagination, dressing up and recreating them when he was left alone in the house.
As an example, he told us of a time he convinced some other boys in the neighborhood to join him for a re-enactment of "Cleopatra," with him decked out like Liz (with some help from his mother's makeup kit) and the other boys in their underwear, of course. Mom and Dad came home early, that time, he recalls.
Laughing, he recalls, "My mother was screaming, 'Oh my God, you look like Cleopatra, what did I do to you?' And here I am, seven years old, doing all this!"
Dressing up was always – and still is – something he loved to do. "I never thought of it as drag," he insists. "If I liked something, I would dress like that – it could be a cowboy, for instance, only it would be something like an alien cowboy."
Years later, in New York, friends would take him to drag bars and he would want to leave ("I'd see a guy on the stage doing Barbra Streisand and I would be like, 'Let's get OUT of here!'"), but then an opportunity came that he couldn't refuse; he was invited to Andy Warhol's Halloween Party, and the theme was drag.
"My friends helped me get dressed up, and I came up with this character named Justine DeSade. When I showed up, everyone was like, 'Wow, who are YOU?," and Andy came up and he was taking pictures, saying "Wow, wow!" He leaned up and whispered to me 'Who are you really,' and I told him my name and he said, 'You need to stay like this all the time.'"
He was still resistant to it, however, but when Lady Bunny persuaded him to do Justine at Wigstock, her appearance there became an annual tradition. That led to more requests, including a drag calendar, Queens of New York ("All the girls were like, 'What? You put Miss Arias on the cover? She isn't even a drag queen!"), and bookings to perform his popular cabaret singing act in drag. Realizing, finally, that he was being paid less to perform as a man than as a woman, he deciced, "I think I'm going to be doing drag now."
"Then drag became like the punk of the nineties," he says, "and now it's mainstream."
That's why, in the last few years, he's distanced himself from the word "drag."
"The minute you say it, people go to RuPaul," he explains. "They don't see the image of what I do now, which is more, just, androgyny – otherworldly, beautiful, chic, elegant, silhouette-y, you know? I look at it like a Kabuki actor, or a Geisha. That's my influence too, I studied Geisha dancing, I did some Kabuki work in Japan – it's all about beauty, graceful movements, it's other-worldly, it's minimal and gorgeous. 'Drag Race' is incredible, but it's not me. I don't do it like that."
It's this graceful, other-worldly persona he feels most at home in when he performs – when he sings, really, because he has always thought of himself as a singer more than many of the other things for which he has become legendary. "I feel free, I feel good, I feel high on life and imagery, on making people smile and dream," he tells us. "I want them to hear beautiful music that makes you think, with smart lyrics, and to look and the stage and say, 'Look at this beauty, look at this dream!"
When pressed to define this androgynous stage presence as something separate from "drag," he says he prefers to simply call it "Joey."

That's a reflection of the way he's always felt about gender presentation, a rejection of labels that seems very much in tune with the increasing visibility of the trans and non-binary people as a part of the queer community at large. "All that stuff is right out there now," he gushes. "It's right in your face. That's why all these politicians are freaking out."
Yet though queer culture may finally be catching up to him, don't expect Joey Arias to rest on his laurels.
"I mean, I'm older now, but there's so much more to do," he tells us. "I'm still on the warpath, performing and expanding people's minds."
He ruminates for a moment, then reflects, "I feel like I am part of a new consciousness. We live in a different time, everything is going so fast, there are things we don't even know about that are there already, waiting for us. I say, 'Let's go!' It's easy to think about giving up, but there are always more dreams, more hope. Just keep going!
With a sly chuckle, he concludes, "Remember, it's always the last inch that counts."
Captivating topic, great cast, but falls short on real issue
Rogue Machine Theatre's recent run of "A Great Wilderness" is reviewed by the founder of the Conversion Therapy Dropout Network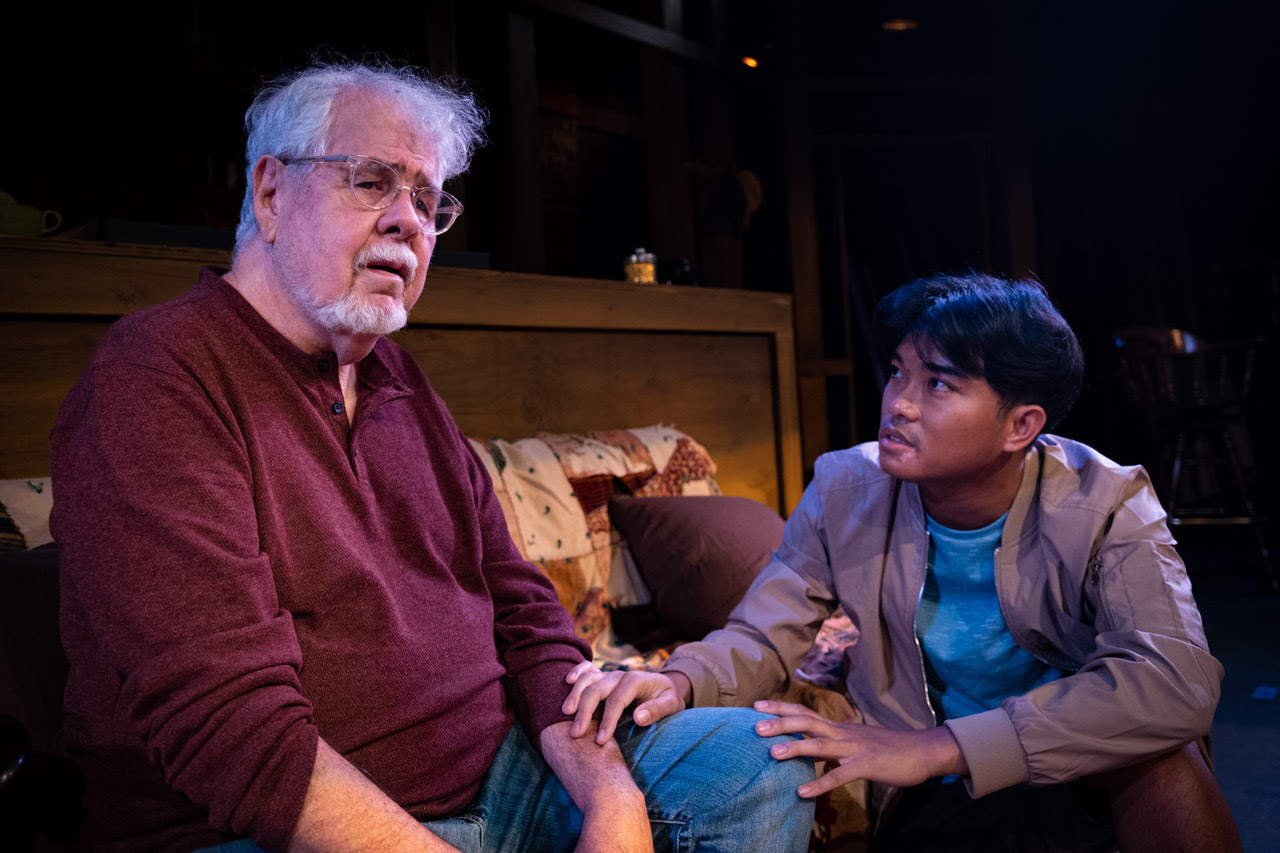 By Curtis Galloway | LOS ANGELES – Rogue Machine Theatre's recent run of "A Great Wilderness", written by Samuel D. Hunter and directed by Elina de Santos, was a harrowing story, to say the least. It explores the complex ideas behind conversion therapy or sexual orientation and gender identity change efforts.
As a conversion therapy survivor, I knew that I needed to see this production as I am always more than happy to see conversations about this topic. While the cast was excellent and the overall theatrical presentation was entertaining and very engaging, I feel that the script itself lacked direction and proper handling of the main topic, conversion therapy.
The show opens in an old cabin, which we will stay in for the duration of the story, with the two main characters, Daniel & Walt, standing off in silent opposition. Daniel, a teenager, has just been sent away to a remote cabin run by Walt, an elderly man that is about to be moved into an assisted living home. We learn quickly that Daniel was sent there by his mother after he was caught watching homosexual pornography, and Walt is known for "helping" kids change their sexual orientation through religious means. To be plain, Walt is a "conversion therapist" and has been running a conversion camp with his friend Tim and ex-wife Abby.
Over the course of two hours, Daniel goes missing in the woods, Abby and Walt reveal that their son was gay and committed suicide due to their attempts to have his sexual orientation changed, and Daniel's mother seemingly prefers her son stay missing rather than face the world that she knows is unkind to "people like him".
There is no doubt, that the show had a fantastic cast. The six characters were neatly defined as their own individuals with distinct personalities and lives of their own. Each action was meaningful and thought out, to the smallest detail. The emotion brought through each character enticed you to believe that it was actually happening before your eyes. It was everything good casting should be.
My main issue with the production sat in the script, specifically the sympathy it garnered for Walt as a conversion therapist.
From personal experience, when talking about conversion therapy and specifically the conversion therapist, we need to be careful not to create a sympathetic tone. A Great Wilderness focused too much on the life and struggles of a conversion therapist that, in his old age, is trying to come to terms with his life, the mistakes he has made, and his past attractions.
This brings feelings of sympathy and emotional connection to the character, that does not deserve sympathy. One character notes that they knew Walt through the community as a weird old man that abuses children in his cabin by trying to make them straight. They noted that as they grew to know him they realized that people will say what they want, but they knew he "never harmed those kids".
Toward the end of the show, we get the initial beginnings that Walt is starting to doubt the conversion therapy he has been providing his whole life, but we never really get to him denouncing it or talk directly about it.
At the end, we finally get to see Daniel stumble back into the cabin after being missing in the woods. He describes seeing flames (from a wildfire nearby) and having a revelation from God that he can change and that he wants to pursue what Walt initially set out to do, make Daniel straight.
For me, this left the door way too open for interpretation that, yes, conversion therapy is bad, but what this guy did really wasn't. It misses the whole point and ideology behind why conversion therapy exists in the first place. Anti-LGBTQ sentiments that something is wrong with the individual are at the heart of all of it, and no amount of feel good cabin, "I just want to help" can cover that up.
Overall, the production of "A Great Wilderness" was captivating and fantastic. The cast did an amazing job and they should all be proud, as should the theatre. I left having mixed feelings, as you have now read, but I stand by my evaluation that it casts too much sympathy on a character that has spent his life making other's lives worse and more confusing.
************************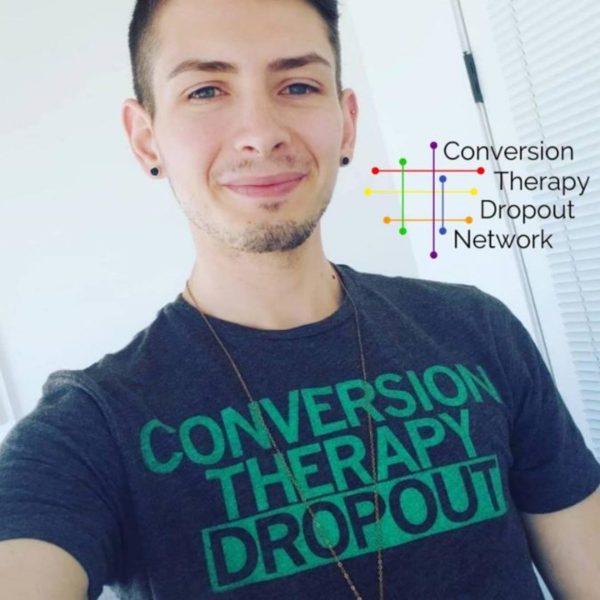 Curtis D. Galloway is the Founder & President of Conversion Therapy Dropout Network in Los Angeles, California. Curtis grew up in a small town in Southern Illinois. When he was 16 years old he was subjected to conversion therapy; an experience he was later able to use to ban conversion therapy in his home state.
Now living in L.A., Curtis has taken his activism to the next level and founded the Conversion Therapy Dropout Network to bring survivors of conversion therapy together in community and solidarity.