Director sheds light on George Michael's struggle with the closet
'Balancing desire for artistic perfection with the struggle with demons'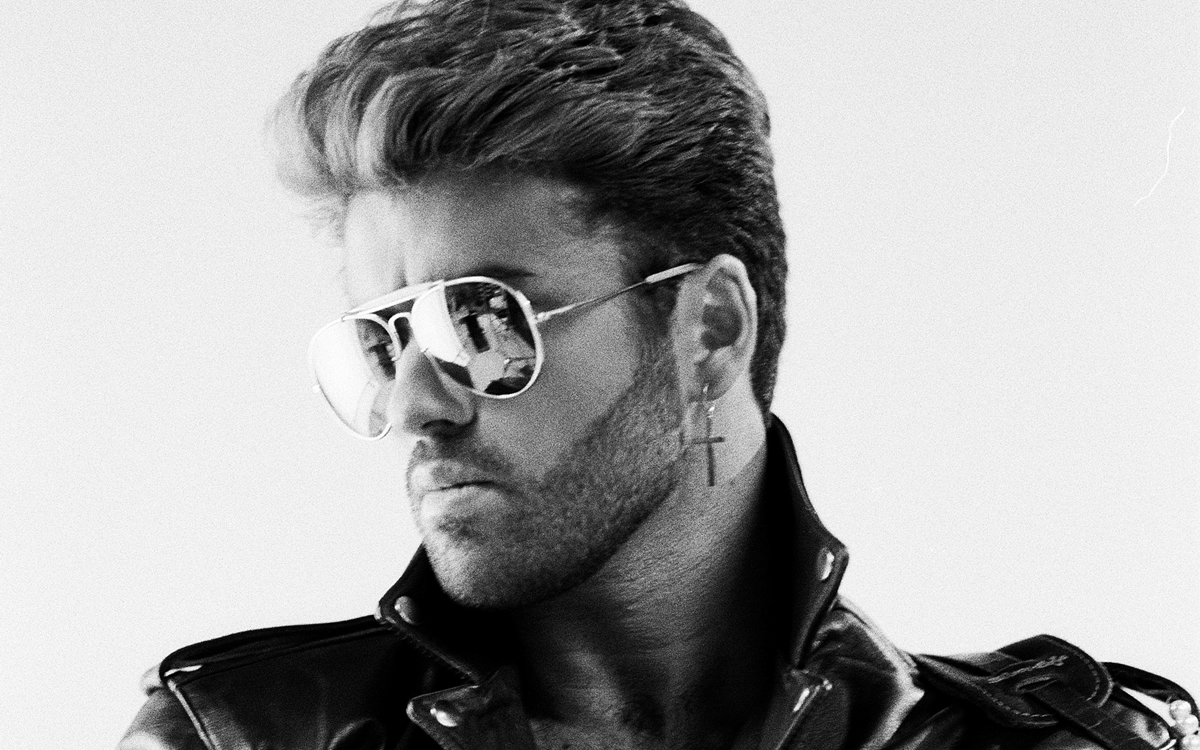 Of all the great songs the late George Michael left as a legacy, "Careless Whisper" is certainly among the greatest – and yet, ironically, he never really liked it.
"He said he was ashamed of it," says Simon Napier-Bell, who was Michael's manager during the WHAM! years. "It had come to him in a moment, and he liked to sit and think about everything he wrote, what he wanted to say. This one just popped out, and it was like, 'Fuck me, I've given away my inner self and I didn't even know I was doing it.'"
Napier-Bell, now 80, is a music industry veteran with a long roster of legendary clients. In recent years, he's turned to making documentaries – and his latest effort, "George Michael: Portrait of An Artist," provides a comprehensive look at the life of his now-iconic former client. And yes, it deals with the proverbial elephant in the room – Michael's 1998 "lewd conduct" entrapment arrest for cruising in a Beverly Hills men's room.
In the film, which documents the musician's public and private lives side-by-side and sheds insight on the difficult balancing act he tried to maintain between his star image and his authentic self, the incident is just part of Michael's larger story. It's a key moment, however. For a younger generation, Michael's "notorious" bathroom incident often overshadows his musical legacy, and some judge him harshly for remaining closeted through so much of his career. As Napier-Bell – an out and proud gay man himself – told the Blade, they couldn't view him any more harshly for it than he did himself – but in the 1980s, if he wanted the level of stardom he was capable of achieving, he had no choice but to keep his sexuality hidden.
"Every artist has the problem of balancing their desire for artistic perfection with the needs of the industry and the struggle with their own demons," says the director. "People say stars are uncompromising, but it's the very opposite – the music industry DEMANDS compromise. George had a dislike of having to compromise, and a lot of guilt for not coming out, which he knew he ought to do."
Though his documentary doesn't get granular about the timeline of Michael's coming out process, the filmmaker claims the singer toyed with the idea in his earliest days of success yet held back when it became clear his record label would not allow it. Instead, says Napier-Bell, he planned to build his career and then come out when he was already a star. But then, as the director remembers, AIDS happened.
"Young people today really don't understand," he says. "I recall standing in the balcony of Heaven, THE huge gay club in London at the time, with Paul Gambaccini [a UK broadcast celebrity and author who appears in the film], and he pointed down at the enormous crowd of dancing people pressed together and said to me, 'Do you realize that nearly half of these guys are going to be dead in five years?' It was such an outrageous thing to say, you wanted to think maybe four or five of them might get it – but he was absolutely right."
With fear of the disease setting back gay acceptance on both sides of the Atlantic – "If you knew someone was gay in the 1990s you stayed away from them," he recalls, "not just straight people but other gays as well" – Michael remained in the closet.
Still, for many in the public, his sexuality was no secret. Despite the heteronormative image he continued to project, millions of queer fans recognized his truth and related to him for it, and many of his straight female followers sensed it, too. Napier-Bell recalls talking to girls at George's gigs and asking if they fancied him. "They would say 'Oh, he's fabulous! But that's not really possible, is it?'"
It was not until 15 years later that Michael's closet door was finally flung open by that Beverly Hills arrest. With his secret exposed, there was no reason to hide anymore. He tried to turn the moment to his favor, seizing the opportunity to come out proudly and advocate against homophobic law enforcement policies that targeted gay men for having consensual sex; the world, however, was not quite ready then to embrace his attempt at a sex-positive stance, and both his image and career sustained lingering damage.
Though he can't know for sure and has no information to confirm his suspicion, Napier-Bell believes Michael intended – "at a highly conscious subconscious level, just near the top of the subconscious, I should think" – to get caught.
"When I was managing him with WHAM!, he was going to gay clubs – and it wasn't because he wanted sex, because he was getting that anyway. He was doing it because he really wanted to be outed – you could see it – but didn't know how to come out."
Later, Michael would often flaunt his queerness in public. "He would be giving an interview, and Kenny [Goss, his longtime partner] would be off camera and say to him, 'I'm going now, darling' and he would say, 'Oh, see you at home, put the kettle on,' and blow him a kiss.' He wanted to show that it was just like being straight, just like being married."
The arrest, intentional or not, may have liberated him from the closet once and for all, but it also tarnished him in the eyes of many of his LGBTQ fans. "He did a huge amount of good by projecting a positive image," says Napier-Bell, "but then he complicated it with defending cruising and not being monogamous. He never got to a simple position on all that, did he?"
Michael would continue to be in the public eye, but his star faded steadily – partly, Napier-Bell believes, because he encouraged it to do so – and he struggled with substance abuse. He died at 53 in 2016, officially of heart disease.
Reflecting now, Napier-Bell believes that Michael's star has "gotten bigger" since his death, something he says is "rare for any musical artist," in large part because of the inner conflicts that haunted his life and found expression in his songs.
"All his struggles – being trapped in the closet, his boyfriend dying of AIDS, his disastrous ending – give us something we can identify with. We project our happy lives when we leave the building, when we're social. He didn't just come out about sex, he came out about being fucked up, about his life being difficult. We need people to talk about these things, and to have all that angst projected through his life and his songs is very comforting, for everybody.
"People say it was sad, but life doesn't have a happy end," Napier-Bell says. "If you've written one of the three biggest Christmas songs in history, it's not a bad day to die. And his overall canon is pretty dang good. I think he would have been happy with that outcome."
"George Michael: Portrait of an Artist" is available on demand from Amazon Prime Video, Apple iTunes, and Google Play.
'Women Talking' is the timely film everyone should be talking about
Filmmaker Sarah Polley explores shocking abuse in culturally significant effort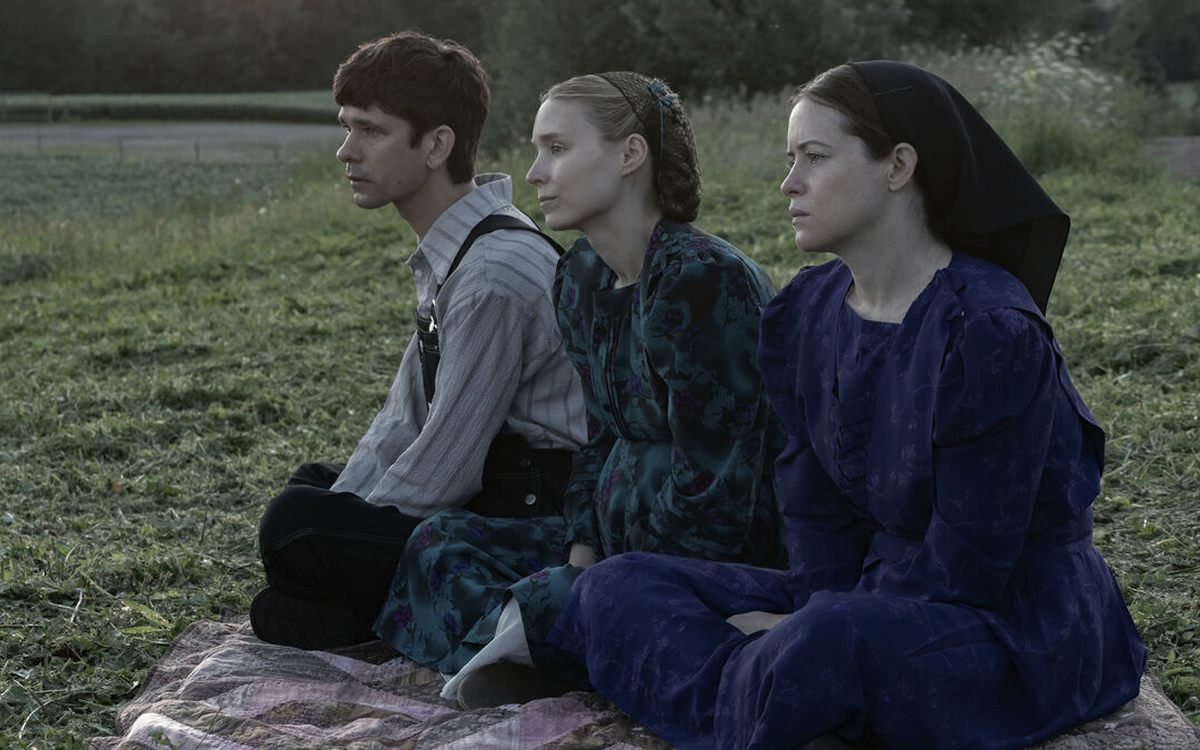 With the Hollywood awards season well underway, the public conversation around movies these days is mostly around the movies that have begun to emerge as early champions.
That makes this the perfect time to bring up "Women Talking," a movie not many people have seen – yet – but that more people should be talking about.
Adapted for the screen and directed by Canadian filmmaker Sarah Polley, it's based on a 2018 novel of the same name by Miriam Toews (which itself was loosely based on real-life events in Bolivia), and set in an ultraconservative Mennonite colony, isolated from the wider world by both distance and strict religious tradition, in which dozens of girls and women have been drugged with animal tranquilizers and sexually assaulted in the night by a group of men over the course of several years – only to be accused of lying or told that their attacks and injuries were perpetrated by "ghosts or demons." Now, they've now been offered a choice – either forgive their attackers and continue living in fear or leave the community and be expelled from the church; with only a few short hours to decide, a group of townswomen convene in a barn to weigh the dilemma, and to make the impossible choice of what to do.
In Toews's book, and therefore Polley's film, the shocking circumstances of the story are reimagined in an American setting, and the scenario is framed – in the spirit, perhaps, of an increasing sense of public conscience that favors commemorating the victims of violence over elevating the victimizers' names in the cultural record – through the eyes of the women; we never see the faces of their attackers, nor hear their names. Their identities, in fact, are irrelevant; for these women, what matters is making an impossible choice whether to brave the unknown evils of a world outside their experience or resign themselves to endure the all-too-familiar evils to which they are accustomed, forced upon them by male elders who seemingly think of them as little more than human livestock.
That's a position that feels unsettlingly relevant in the climate of today's America, and though both book and movie were conceived and executed before the devastating Supreme Court decision striking down Roe v. Wade, the timing of "Women Talking" couldn't be more powerful or relevant. In watching these onscreen women attempt to find justification within their faith to defy the strictures that leave them powerless and without protection, it's impossible not to notice the reflected significance; though the arguments they rehash – obedience to the teachings of their church, accepted gender roles within their culture, the "rightful place" of women in society, and all the other well-rehearsed topics inextricably tied to the ideals of feminism and basic human rights – often feel to us like the antiquated rhetoric of a bygone era, we cannot help but be aware that the principles they struggle to define, considered by many of us to be long-settled and self-evident, are currently anything but.
That's entirely the point, of course. Polley's film derives considerable power from the juxtaposition of an old-fashioned lifestyle into a contemporary setting; most of what we see on the screen – clothing, mores and manners, the quaint routine of a daily life lived without technology and off the grid – belies any connection to the 21st century, and when we are occasionally reminded that we're watching a story that takes place in modern times, it's jarring.
Indeed, there's an unabashedly "meta" effect that permeates throughout, heightened by a theatrical approach to the narrative that spends more of its time on dialogue than on action – after all, the title is "Women Talking" – and takes place mostly in a single location. The movie's studied mix of emotion and intellect, its prominent agenda and its progressive political leanings, all land with us as if we were watching a play, rather than a movie. Yet Polley ingeniously expands into the cinematic realm to connect with us though our eyes as well as our ears, particularly with the use of rapid-paced flashback collages that cut away from a character to wordlessly convey crucial details of their backstory, deepening both our insight and our empathy in the process.
She also takes pains to illuminate the emotional triggers – fear, rage, even guilt over perceived culpability – that bubble to the surface as her traumatized characters try to form a unified front; by tracking the way these lingering psychic scars affect the dynamic among this group of survivors, determining the positions they take and setting them at odds against each other, her movie helps open us up to empathy for those whose memory pain sometimes drives them to act against their own self-interest. Yet things aren't unrelentingly grim, nor are they always somber; there are frequent interspersions of humor, appreciations of beauty, and expressions of love. It's this focus on lived inner experience that keeps "Women Talking" grounded in the human and enables it to indulge in lengthy theoretical discourse about justice, ethics, and theology without feeling like an exercise in aloof didacticism.
To that end, a gifted ensemble of players, each obviously relishing the chance to do work of such substance, turns in a remarkably gripping collection of performances. Standing out in the showiest roles, Claire Foy and Jessie Buckley offer up unforgettable moments throughout the film, while a softer Rooney Mara serves as a warm and intelligent heart; screen veterans Judith Ivey and Sheila McCarthy bring depth and dignity to their roles as elders in this female contingent, with multi-Oscar-winner Frances McDormand leaving her stamp in a brief but indelible supporting turn; out gay actor Ben Whishaw shines as a gentle schoolteacher enlisted by the women to take the minutes of their meeting, a sole reminder that men can be allies, too; and nonbinary performer August Winter, cast as a transmasculine colony member, adds an affirming thread of queer inclusion to the mix, opening the door for one of the film's most unexpected – and powerful – moments.
It's not surprising, given the talents of Polley and her cast (not to mention the expert cinematography of Luc Montpellier and a stirring score by Hildur Guðnadóttir), that "Women Talking" has quietly gained momentum as an awards contender – even though it doesn't go into wide release until Jan. 20. Whether it can pick up more prizes than the buzzier titles currently leading the race remains to be seen. Even in a post-#MeToo Hollywood, female-led films are often overlooked for the big awards, and the industry's supposed progressive leanings rarely prevent it from shying away from polarizing subject matter.
Incredibly, in 2023, the subject of women seeking freedom to have agency over their own bodies feels more polarizing than ever, and women are fighting for it under oppressive regimes from Iraq to Indonesia, let alone in parts of the USA.
That's why, whether it wins any awards or not, "Women Talking" is still one of the most culturally significant movies on the shortlist.