After months of hype, 'Bros,' 'My Policeman' ready to debut
Fall film season offers big-budget rom-com, a trans Pinhead, and more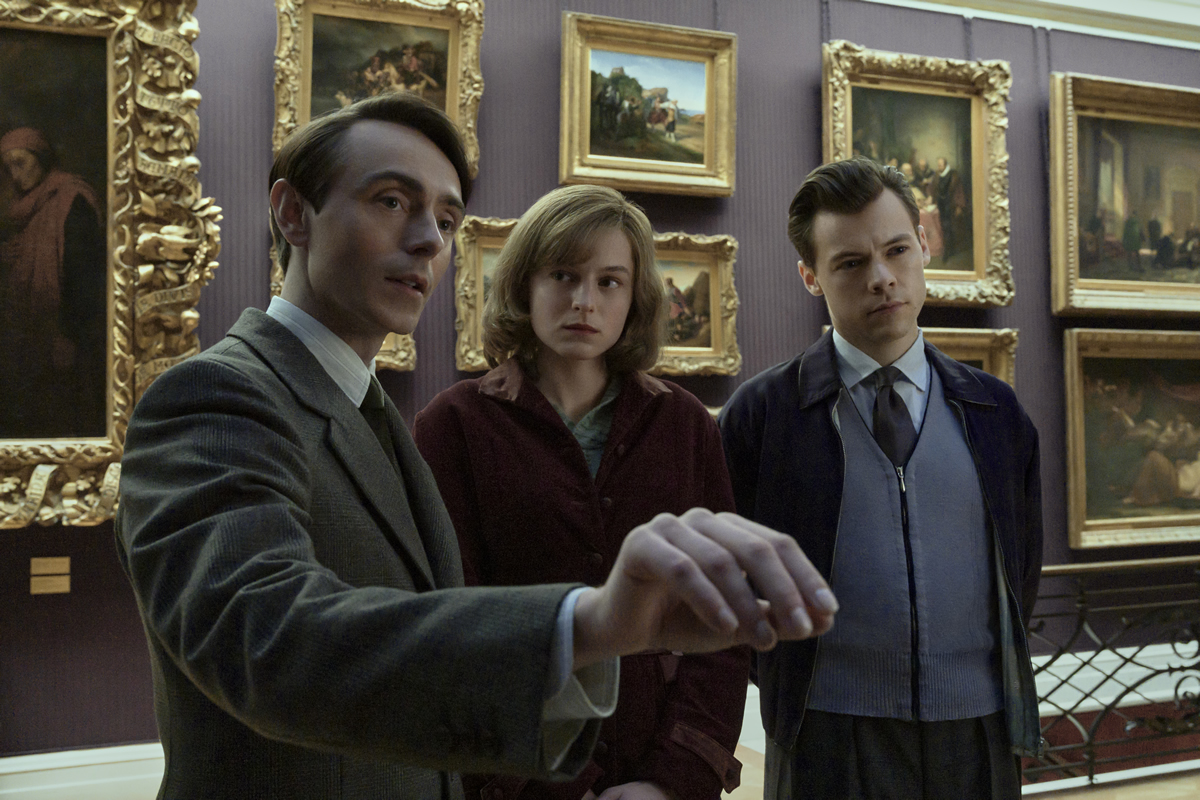 This has been a year with an unprecedented number of big titles featuring LGBTQ characters and stories, and given the amount of regressive backlash our community continues to receive from the socially conservative (i.e. bigoted homophobic) crowd, that's a comforting thing. As we push closer to the year's close, there are admittedly fewer stand-out offerings on deck for queer viewers – but the ones that are on their way give us plenty to look forward to, anyway. Our list of titles to look for is below:
BLONDE (Sept. 16)
Marilyn Monroe is a Hollywood icon who always held a special place in the hearts of the LGBTQ community; maybe it has something to do with being exploited for her talent and beauty while still being marginalized in a hetero-masculine world. Whatever the reason, queer film buffs should be keen to see this screen adaptation of Joyce Carol Oates' classic bestselling novel, which boldly fictionalizes Monroe's life and re-imagines it as a parable about the fate of women in a culture that treats their bodies as a commodity. Following Monroe from her volatile childhood, it blurs fact and fiction as it charts her rise to stardom, emphasizing the ever-widening split between her public and private personas that led to her tragic end. Written and directed by Andrew Dominik, the film stars Cuban actress Ana de Armas as Marilyn, with Bobby Cannavale, Adrien Brody, Julianne Nicholson, Xavier Samuel, and Evan Williams; it premieres in theaters on the 16th, followed by a debut on Netflix – which produced it – on Sept. 28.
PETER VON KANT (Sept. 21)
Already given a limited theatrical release on Sept. 2, this French romantic drama from writer/director François Ozon was the opening film at February's Berlin Film Festival and has been eagerly awaited by hardcore film geeks ever since. The reason? It's a reinterpretation of the play by Rainier Werner Fassbinder, "The Bitter Tears of Petra von Kant," which the legendary queer filmmaker himself originally adapted for the screen in 1972 to create a revered classic of European cinema that broke ground for its depiction of same-sex relationships. Now, Ozon has re-imagined the story by swapping the gender of its protagonist – which changes everything yet nothing in this S&M-tinged tale of narcissistic hedonism and obsessive desire. It stars Denis Ménochet in the title role, with an ensemble of players that features Isabelle Adjani, Khalil Gharbia, Stéfan Crépon, and Aminthe Audiard – as well as Hanna Schygulla, the German film legend who also appeared in Fassbinder's original movie. You might still be able to find a big screen showing somewhere near you, if you're lucky. Otherwise, don't worry; you'll be able to find it streaming VOD from starting on Sept. 22.
THE DREAMLIFE OF GEORGIE STONE (Sept. 22)
We don't often include short films in our preview lists – an oversight we frequently find ourselves regretting – but this one deserves your attention. Spanning 19 years, it tells the story of Georgie, an Australian transgender teen, and follows her on her journey to adulthood as she helps to change laws, affirms her gender, and finds her voice along the way. Directed by Maya Donna Newell ("Gayby Baby") as an effort to push back against Australian conservative voices who pointed at children like herself, who grew up with queer and trans parents, as an argument against the country's movement for marriage equality, it's the result of a six-year collaborative process (with Georgie and her mom, Rebekah Robertson) that only lasts for 29 minutes – but it's 29 minutes of inspirational, queer-affirming content you'll want to experience.
BROS (Sept. 30)
Certainly the buzziest LGBTQ title of the year, the ferociously funny Billy Eichner's rom-com about two commitment-challenged men and their attempt to have a relationship has already gotten us excited for its debut by way of a teaser trailer full of laugh-out-loud moments. Written by Eichner, who also stars (opposite rom-com veteran Luke Macfarlane), it's the first time an openly gay man has been able to co-write and star in his own major studio film; not one to be content with that milestone, he went a step further by casting every principal role – even the heterosexual ones – with queer actors. Apart from these notable points, it will be interesting to see how a queer-themed romance will succeed with mainstream audiences; but there are many purely entertaining reasons to look forward to this Nicholas Stoller-directed romp, which also features TS Madison, Monica Raymund, Guillermo Diaz, Guy Branum, Amanda Bearse, Bowen Yang, Benito Skinner, Matthew Wilkas, Jai Rodriguez, Dot-Marie Jones, and a host of other familiar queer faces. It's worth mentioning that veteran comedy filmmaker Judd Apatow was co-executive producer (alongside Stoller and Eichner), but though his pedigree is appreciated as a part of the joint effort it took to get this history-making Hollywood romance to the screen, it's bursting with so much talent already that his involvement is only icing on the cake.
HELLRAISER (Hulu, Oct. 7)
Clive Barker's 1987 classic horror film (based on his 1986 novella, "The Hellbound Heart") gets a few new twists in this remake by director David Bruckner, which will premiere on Hulu as part of the streaming platform's "Huluween" celebration. In this re-imagined and updated version, the story follows a drug-addicted young woman who comes into possession of an ancient puzzle box, learning too late that its purpose is to summon a group of sadistic supernatural beings called the Cenobites from the hellish dimension they call home. Inherently queer from the start (Barker himself, who serves as one of the executive producers on the new film, has long been openly gay), this iteration doubles down with its casting of trans actress Jamie Clayton ("Sense8") as its sinister main antagonist – affectionately known as "Pinhead" by fans. She's joined by a cast that includes Odessa A'zion, Adam Faison, Brandon Flynn, Aoife Hinds, Jason Liles, Yinka Olorunnife, Goran Visnjic, and Hiam Abbass.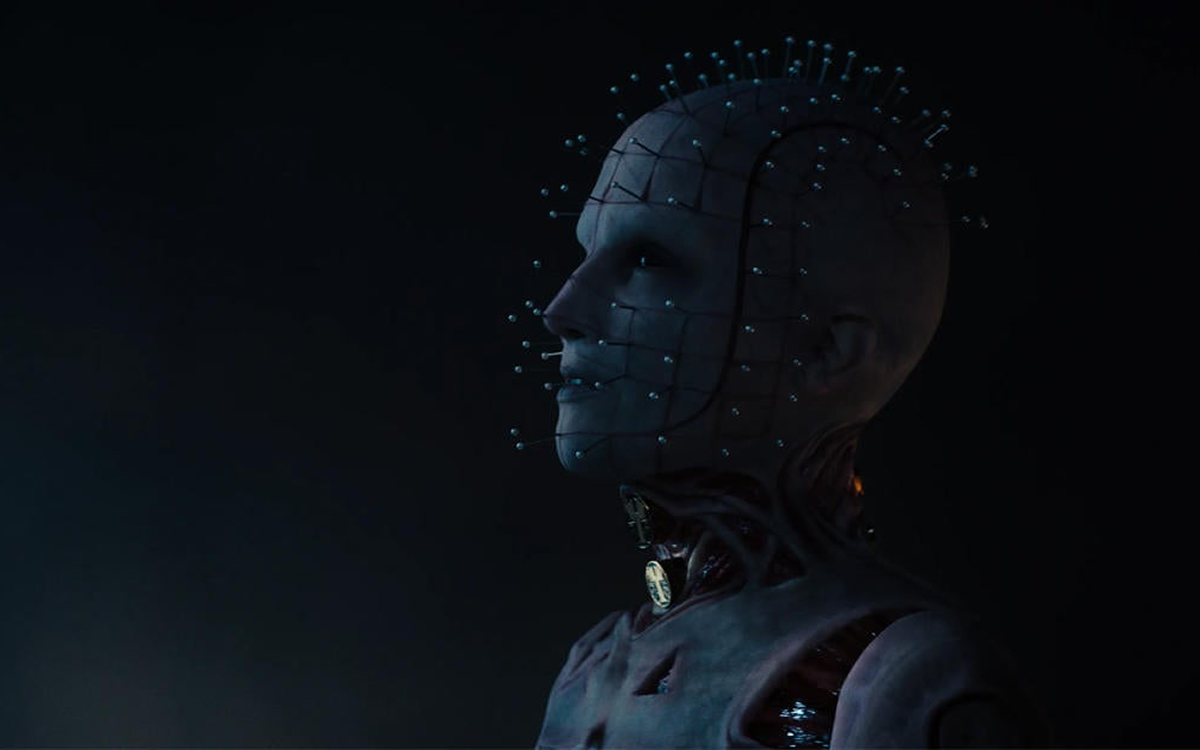 MY POLICEMAN (Oct. 21)
Last up (but definitely not least) is this hotly anticipated adaptation of Bethan Roberts novel about forbidden love and changing social conventions, which stars "It-Boy" of the day Harry Styles as Tom, a policeman in 1950s Britain at the center of a romantic triangle in which he splits his conflicted love between teacher Marion (Emma Corrin) and museum curator Patrick (David Dawson). The story spans four decades, fast-forwarding to the 1990s to give the now-older trio (Linus Roache, Gina McKee, and Rupert Everett) a last chance to repair the emotional damage of the past. Directed by Michael Grandage, this visually elegant, heart-stopping portrait of three people caught in the shifting tides of history might be the most "prestigious" title on our list. Whether or not it's worthy of the hype that accompanies its pop-singer star, whose perceived sexual fluidity (he's never labeled his sexuality, and continues to avoid doing so even two years into a relationship with actor-turned-filmmaker Olivia Wilde) continues to tantalize queer fans, is something we'll have to wait until Oct. 21 – or Nov. 4, when producer Amazon makes it available for streaming on Prime – to find out.
Belgian Oscar contender strikes 'Close' to home
Exploring gender expectations we force upon our children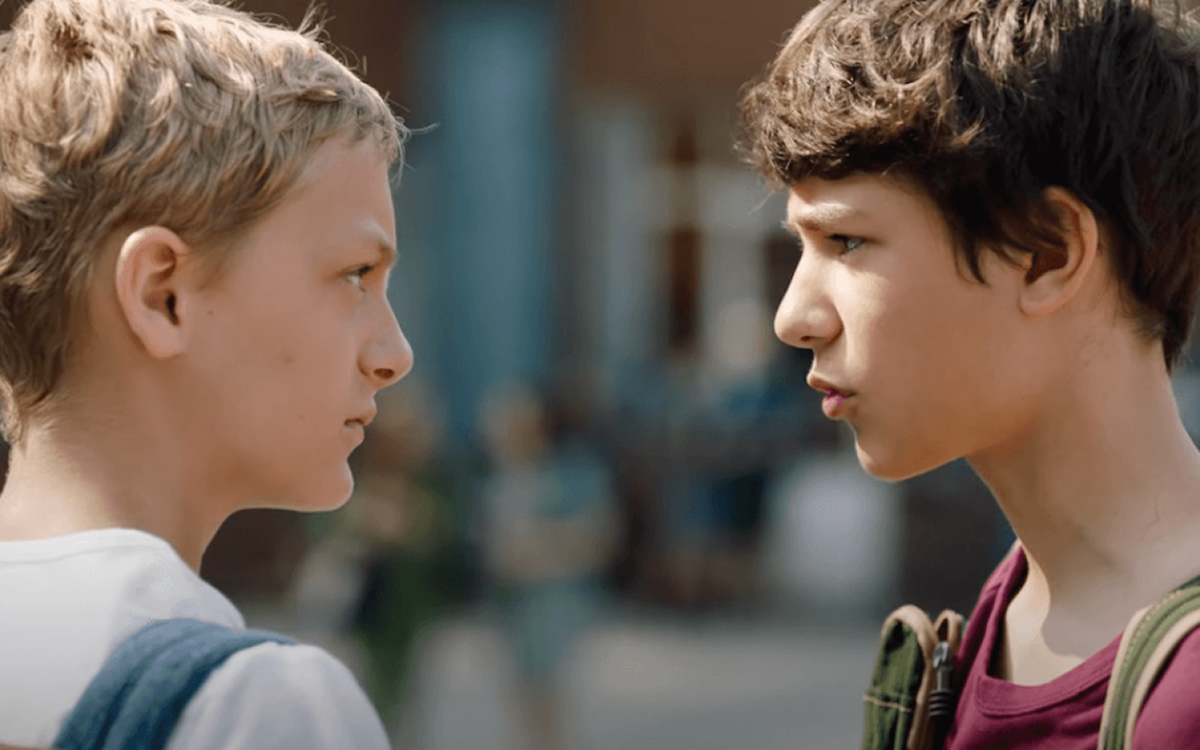 When queer Belgian director Lukas Dhont debuted his first feature film "Girl" at the 2018 Cannes Film Festival, it made quite an impression. As winner of the Caméra d'Or prize for Best First Feature, as well as the Queer Palm Award and a Jury Award for Best Performance for its star Victor Polster, it was quickly acquired by Netflix and catapulted Dhont onto the international cinema scene. He was even named on the Forbes "Europe 30 Under 30" list of business and industry professionals to watch.
Not all the attention heaped on his movie was positive, however. The tale of a teen trans girl seeking a career as a ballet dancer, it raised sharp objections from some queer and trans commentators for what they perceived as a sensationalized approach to gender dysphoria and self-harm, not to mention for the casting of cisgender actor Polster in the leading role; though other queer and trans voices – including real-life trans ballerina Nora Monsecour, who inspired the story and consulted with Dhont and co-screenwriter Angelo Tijssens during the writing process – were quick to defend the movie, the controversy nevertheless created a blemish on its reputation, and that of its filmmaker, too.
Now, Dhont is back with his second full-length film, and while it certainly marks an escalation of his success, it's not without its own detractors. "Close," based on experiences from his own childhood and again co-written by Tijssens, also took Cannes by storm, winning the Grand Prix Award this time, and has gone on to accumulate accolades from other festivals and awards bodies around the world; yet its subject matter, perhaps inevitably, has opened the filmmaker up to another round of criticism from queer observers who are uncomfortable with the story he has chosen to tell – or at least with the way he has chosen to tell it.
It centers on two young teen boys, Léo (Eden Dambrine) and Rémi (Gustav De Waele), tightly bonded best friends who start their first year of secondary school after a summer spent together in innocent but intimate companionship working on Léo's parents' farm. When new schoolmates begin to make comments about the closeness of their relationship, Léo begins to distance himself from Rémi, becoming involved with hockey and pursuing a camaraderie with the rougher, more athletic boys on his team instead; first confused, then devastated by his abandonment, the heartbroken Rémi is moved to a public schoolyard confrontation with his former friend, further driving a wedge between them and setting the stage for an unthinkable turn of events.
The film's provocative title is partly a nod to psychologist Niobe Way's book, "Deep Secrets: Boys' Friendships and the Crisis of Connection," which documents a study of intimacy among teenage boys – frequently using the term "close friendship" to describe their relationships – and was one of Dhont's inspirations for making the film. More than that, however, it's an important clue to what his movie is all about. Though the director revealed before making "Close" that it would be about a "queer character," there is no suggestion, either explicit or implicit, that its two teen friends have a sexual relationship with each other, or even that such a thing has ever crossed their minds; they are simply two boys, comfortable with each other in that tender and trusting way that only boys at their age can be. Likewise, there's no bullying, no aggressive or even "microaggressive" shaming; it's only their schoolmates' perceptions that introduce the suggestion this friendship might be something more – but that's more than enough to sour the sweetness between them, forcing us to question why some ways of being "close" are only OK for boys until they start to become men.
More to the point, perhaps, it begs the question of how this kind of low-key homophobia, so culturally ingrained that it is perpetuated without a flicker of awareness, remains persistent in a community that should know better. We don't see a lot of the adult world in "Close," but what we do see leads us to an impression that most of the grown-ups around Léo and Rémi are intelligent, educated, compassionate, and sensitive; their parents are unconditionally loving, and more than welcoming of the close companionship between their respective offspring. Yet throughout the film, throughout the boys' conflict and beyond, there is no adult figure in their lives who seems willing or able to broach the subject of sexuality, or to show by example that there's nothing about being queer – or even being perceived as queer – to be ashamed of.
These things, of course, are part of the criticism that has been leveled at the movie. Without positive messaging to counter its bleak narrative, some have seen "Close" as perpetuating a bevy of toxic tropes. Though we try to avoid spoilers, it's hard to discuss a movie like this without revealing that something tragic happens, and many have expressed disappointment that Dhont's film "punishes" its gay characters – even if we're never sure they're really gay. Further, in the absence of any affirmation of queerness (or even non-traditional masculinity), some have been troubled by an assumed reinforcement of a homophobic status quo within its narrative.
We can't – and won't – argue with any of those points. "Close" is a challenging film in the same way as "Tár," another controversial title among this year's awards contenders, in the sense that it presents a problem and doesn't offer a solution or tell you how to respond to it – yet unlike "Tár," it encourages us to feel things for its characters, and the consequences here are much more tragic. That might be especially true for queer men, certainly of older generations but still among today's youth, for whom the film may trigger traumatic memories that hit particularly close to home. That means, when it comes to deciding if you're up to the substantial challenges of watching it, you're on your own. (SPOILER ALERT: it's rough going, emotionally speaking.)
Still, "Close" is a beautiful film on a lot of levels. In the most literal sense, it's visually stunning, framed with an almost tactile up-close intimacy and brimming with the preternatural light that glows through Frank van den Eeden's delicate cinematography; in a larger sense, it strikes a resonant chord for anyone who has ever (is there anyone who hasn't?) experienced the terrible pangs of losing a childhood friendship, an unforgettable hurt it captures with heart-rending authenticity. Though we want our coming-of-age stories to be uplifting, there are some kinds of pain that cannot be erased, and it's to Dhont's credit that he doesn't try. He wants you to feel those feelings, and his movie is delicately crafted to make sure that you do, complete with the remarkable performances he elicits from his two underage stars.
That doesn't make it easy to watch, of course, but for those who are willing to take it on, it offers plenty of food for thought; and if the observations it makes about the gender expectations we force upon our children make you uncomfortable, then it's accomplished what it set out to do in the first place.