'Knocking Myself Up' a hilarious, hopeful read
Queer writer Michelle Tea reveals struggle to get pregnant in memoir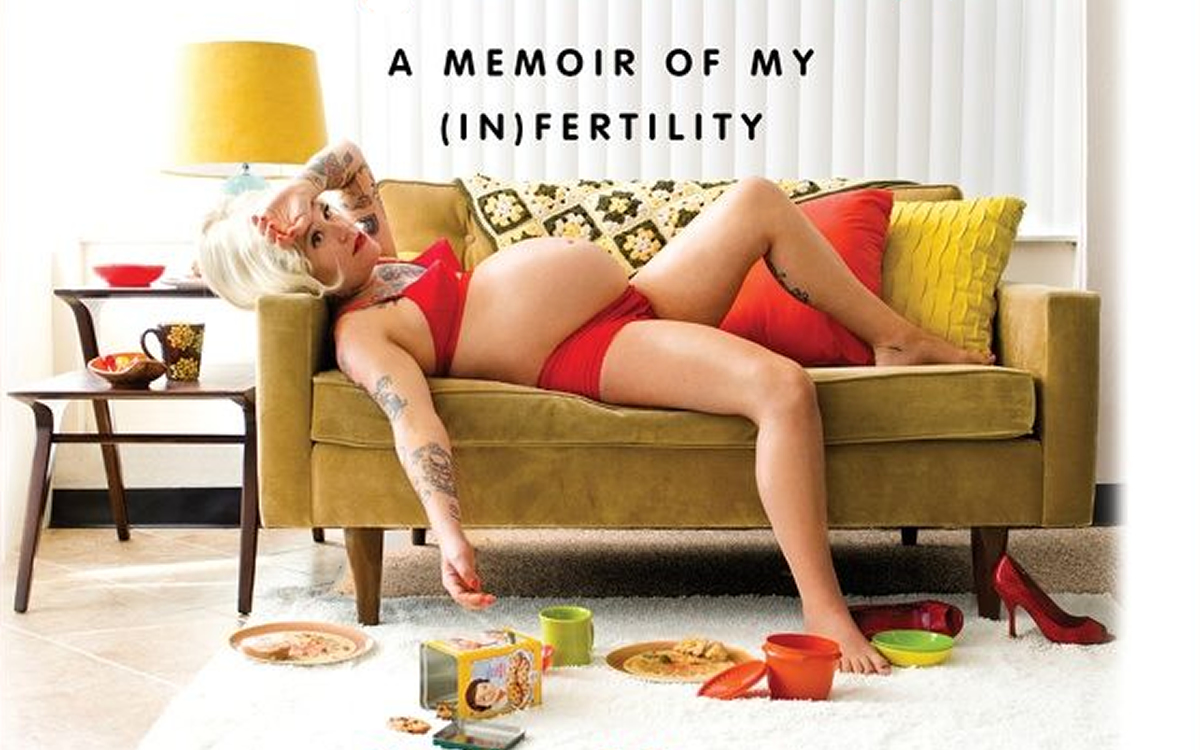 'Knocking Myself Up: A Memoir of My (In)Fertility'
By Michelle Tea
c.2022, Dey Street
$28.99/304 pages
Most books, no matter how fab, can be put down. For meals, naps, dancing, binge-watching – sex.
This isn't how it goes with queer writer Michelle Tea's new book "Knocking Myself Up: A Memoir of My (In)Fertility." Once you start it, everything else will stop until you finish it. Then, you'll still be inhaling Tea's captivating memoir.
Recently on YouTube, I came across the mid-century TV sitcom "Leave It to Beaver." The show featured an archetypal 1950s family – the Cleavers: white, middle-class, straight – with a Dad (Ward) who worked at "the office," Mom (June), a homemaker, and two sons – Wally and Theodore (a.k.a. Beaver). They lived in a house with an immaculate lawn and a white picket fence.
This isn't to dis the Cleavers, who were beloved by many Boomers (queer and non-queer). R.I.P., Tony Dow! (Dow, who played Wally, died last month.)
But June Cleaver, the epitome of white, hetero, middle-class motherhood, would be thunderstruck by "Knocking Myself Up."
After being childless, Tea, 40, and living in San Francisco, single, with no health insurance, after much soul-searching, decided to have a child.
From the first word – Tea sucks us into her story.
"Hello," Tea writes, "This is your narrator, Michelle Tea."
"I'm about to bring you into my inner world," Tea continues, "during a period of time when that space was as wild, messy, hopeful, dizzy, tragic, terrifying and open-hearted as any era I've ever lived."
Tea has become iconic for her queer wit, intelligence and searing interrogation of herself, the people in her life and the culture.
Tea, born in 1971 in Chelsea, Mass., grew up in a working-class background. She struggled with alcoholism, drug addiction, and mental illness (which ran in her family).
Her family members aren't monsters. Tea's mother and sister love her. But growing up for her wasn't a sitcom odyssey.
Her stepfather copped to spying on her (in her bedroom – in the bathroom) through a hole in the wall.
Tea became a scribe when she was in second grade and, since then, has never stopped writing.
She's the author of more than 12 books, including the cult classic "Valencia," the brilliant essay collection "Against Memoir" and the speculative memoir "Black Wave."
Tea has received awards from the Guggenheim, Lambda Literary and Rona Jaffe foundations; Pen/America; and other distinguished institutions. Along with being a prolific writer, Tea has been an intrepid cultural interventionist.
She started Drag Queen Story Hour, co-created the Sister Spit queer literary performance tours, and was the founding director of RADAR Productions, a Bay Area literary organization for more than a decade.
This is just the tip of the iceberg of, what Tea's bio calls, her "cultural interventions."
Tea has helmed the imprints Sister Spit Books at City Lights Publishers and Amethyst Editions at the Feminist Press. Tea produces and hosts the Your Magic podcast where she reads tarot cards for Roxanne Gay and other artists.
But Tea's dazzling literary status doesn't prevent her from running into obstacles when she tries to become pregnant and give birth. Professional cred is no match against heteronormality.
Opting to have a baby is a rollicking ride no matter who you are, Tea writes. "You're setting out to conjure a life," she adds, "and in the process, deeply unsettle your own."
But having a child is a hell of a lot more unsettling, Tea discovers, if you're queer, single and have no health insurance — even if you live in San Francisco (the epicenter of queerness).
Tea finds that fertility clinics are set up for straight people.
During her quest to become pregnant, she finds love and marries Orson, who's nonbinary. Yet clinic forms and personnel refer to Orson as her "husband." Because they're queer, Tea and Orson (unlike straight couples) are required to talk to a mental health professional.
Tea worries that even though she's married, she'll have to legally adopt her baby.
Despite Tea's no-holds-barred stories of these difficulties, "Knocking Myself UP" is far from a downer.
It features a glam drag queen sperm donor, a witch, Tea's loving sister and tons of info on everything from ovulation to implantation.
"Knocking Myself Up" is a hilarious, compelling, hopeful read at a time when hope is scarce as gold and fleeting as the wind.
The Blade may receive commissions from qualifying purchases made via this post.
K. M. Soehnlein's Army of Lovers, a review
Army of Lovers is not just an account of political intervention, it is itself an intervention, a novel that preserves for future activism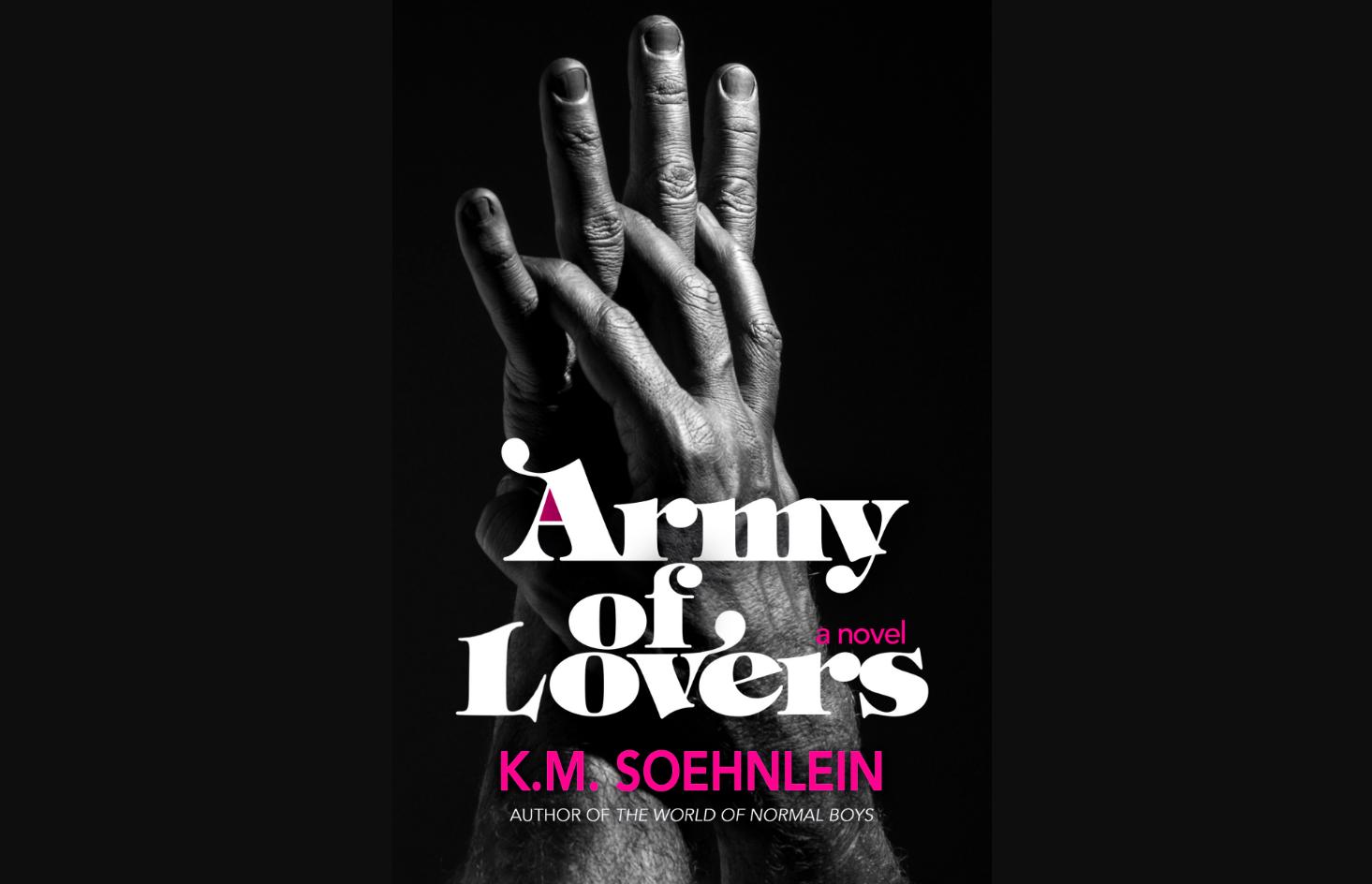 By John Weir | NEW YORK – K.M. Soehnlein's Army of Lovers is a novel of the lost generation. Not the early 20th century generation of survivors of the Great War, called "lost" by Gertrude Stein, their stories told in novels by Ernest Hemingway and Virginia Woolf.
Soehnlein's lost women and men, those who survived and those who did not, are from the last two decades of the 20th century, the so-called American century, when nearly 750,000 Americans died of AIDS. Young Americans: by 1994, and through 1995, AIDS was the leading cause of death for all Americans age 25 to 44.
At the center of Army of Lovers is a German Irish guy from suburban New Jersey, a kid named Paul, just out of college, whose journey to adulthood happens to coincide with a global epidemic – "a fucking plague," Larry Kramer famously shouted – that maybe looks to us, from the distance of forty years and a new century, like a grim dress rehearsal for Covid.
That's if your memory goes back that far. Soehnlein's does, and his novel is a stunning act of remembering. It's a visceral re-creation of the sights, sounds, smells, the feel of Manhattan from Wall Street to Times Square in the late 1980s and early '90s. The bars, parks, restaurants, apartments. Parties and sex parties. The meeting halls where ACT UP New York met. The touch of friends and lovers and comrades, in street actions and crowded jail cells. The taste of ash in your mouth, literal ash, ashes of the dead.
If you were in New York at the time, and involved even peripherally in ACT UP New York, the novel will feel like a series of home movies. (Full disclosure: I think I once shared a jail cell with Soehnlein.) The story starts at a die-in. Soehnlein's narrator Paul and his fellow ACT UP activists are lying on the floor of Albany's state senate building, its brutalist architecture an apt symbol of "the brutal world we're shouting at, brutal and square and indifferent. The brutal indifference of the government led us here, to block the glass doors of the legislation chamber, demanding to be heard."
"This is an action," Paul says, excited, his arm linked through the arm of his best girlfriend Amanda. When his boyfriend Derek, a member of ACT UP's media committee, comes over with a reporter and a cameraperson, Paul and Amanda deliver their sound bites – "Women with AIDS die twice as fast as men" – and then they wait for the police to close in and arrest them. They wait a while.
With documentary clarity, Soehnlein renders the stop-and-start energy of political protest. Not only does he preserve for historical record an account of a series of actions and political interventions that took place forty years ago, he shows how it felt to be there. His characters feel the adrenaline rush of getting into a building that is guarded like a fortress. They hold hands, sometimes with strangers they will never see again, sometimes with lovers or ex-lovers. Rushing, chanting, they head for the marble hallway, or the floor of the train terminal, or the cold, cold ground, worrying they won't get past the police barriers or the phalanx of cops.
And once they have "taken the hill," as it were, like actors in a war film from the 1940s, they wait. Wait for the police to come, for the senators to respond, for the reporters to arrive with camera crews to record their demands. And then, if they are not arrested, they get home in time to see themselves on the evening news. Or not!
It's exhilarating. Soehnlein shows the exhilaration. It's also sometimes kind of boring. He shows that too. Most of all, it changed lives. The novel chronicles the ways activism and AIDS and death and loss change Paul's life. How he goes from being a newly out gay kid learning his way around a city "full of offerings," including art and work and men (his initial approach to sex and love being: "Anything that starts with a guy and ends with an orgasm is what I'm into"), to a queer activist in a shaved head and black leather jacket facilitating ACT UP meetings and talking back to Larry Kramer.
A notable aspect of the novel is Soehnlein's lack of sentimentality about the anointed "heroes" of the AIDS activism movement. "I hold him in awe," Paul says about Kramer, but also, "Larry is the apocalyptic prophet who sees only doom. . . often incapable of hearing anyone else." Soehnlein is equally clear-eyed about problems of burn-out that afflicted AIDS activists:
Issues of racism and sexism that compromised AIDS activism; the painful awareness of many ACT UP members, almost their inability to grasp, that despite their unceasing, ingenious, and fearless activism, their friends and lovers would continue to die.
Most poignantly, the novel shows an aspect of AIDS activism that I haven't seen fully dramatized elsewhere. It happens in a conversation between Paul and his bestie Amanda, an aspiring filmmaker and lesbian activist. Grappling with the question of how to have a life at the same time that you're trying to save lives, Amanda says, "It's confusing to be so deeply identified with a community when you want to say something or make something that's uniquely yours."
How to be a person in the midst of an all-consuming, life-threatening epidemic? How to be queer in America in the Reagan years? How to have a personal life when your life is devoted to the collective? Amanda chooses art as a form of activism. Paul has a life apart from AIDS, but it's no refuge from painful questions of mortality and identity. His is mother dying of cancer. The poles of his life mirror each other, each with death at the center. Is he entirely himself in either community – the churchgoing suburban world where he grew up, and the activist world centering on ACT UP and his charismatic boyfriend Derek?
When he breaks up with Derek and falls in love with Zack, who is dying of AIDS, Paul drifts away from ACT UP. "You're a caretaker now," Amanda tells him. Paul seems almost to arrive at the conclusion that caretaking is itself a form of activism. Or if it's not, what is activism? Amanda decides to channel her activism into "making a movie that affects a lot of people." Paul comes to a similar decision. After Zack dies, he moves to San Francisco and enrolls in a graduate writing program.
Soehnlein would appear to have made a similar choice. Army of Lovers is not just an account of political intervention, it is itself an intervention, a novel that preserves for future activism the history of a group of people struggling to survive an epidemic in the face of a government that was intent on denying its existence.