New book examines overcoming inequality at home
'Equal Partners' may fix status quo in your relationship status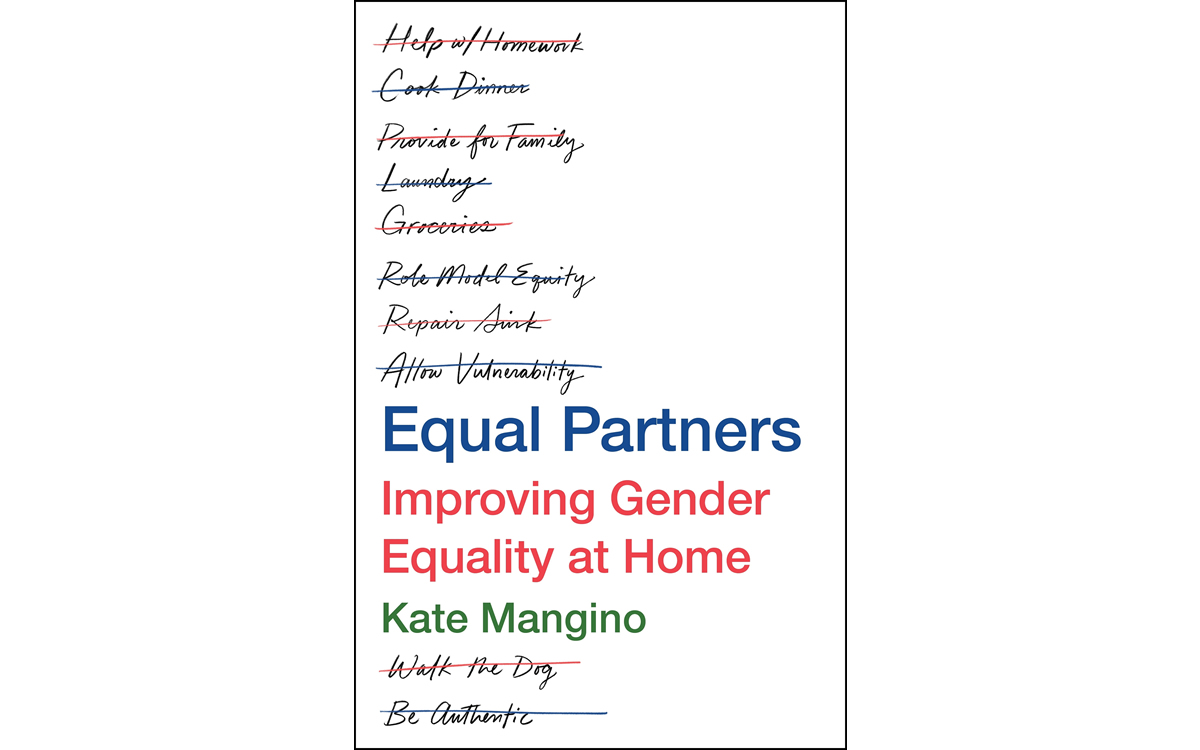 'Equal Partners: Improving Gender Equality at Home'
By Kate Mangino
c.2022, St. Martin's Press
$29.99 344 pages
Plates on one end, bowls on the other, glasses on top.
It's your turn to load the dishwasher tonight, but if you plead ignorance on how it's done properly, maybe you could worm your way out of it. Somebody else will do it, so go sit down. Take a rest and read "Equal Partners" by Kate Mangino, then ask yourself if you could've assumed another chore tonight.
Several years ago, researchers finally acknowledged what generations of women already knew: that many working women were responsible for a "second shift" after 5 p.m. The first shift was the job for which they received a paycheck; second shift included making meals, straightening up, schoolwork help, and all the other things that needed doing at home.
Researchers also noted that the "second shift" is detrimental to men and boys; Mangino says that such gender inequality happens around the world, restricting everyone, perpetuated by "all genders."
Most often, she says, even when we try our hardest to maintain equality in the home, women generally take responsibility for "routine tasks" and men take "intermittent tasks." It's easy to slip into those roles; in fact, avoiding them takes real effort – although, interestingly enough, most same-sex couples do pretty well in "fifty-fifty equality."
Still, no matter what your domestic situation, there are always improvements to seize that can make your household a more equitable one.
First, know that things won't fix themselves. Do a "gender check-up" to determine where you stand in your household and on the equal-housework spectrum. Before launching into a life-altering event such as marriage, having a baby, or starting a business, know what questions to discuss with your partner so you're closest to an agreement. Remember that "women perpetuate sexism, too" and that men generally have "Four motivational themes" for their actions. Pick some role models, and be one, too. And finally, watch your words. They might need to be "tweaked" to reflect more mindfulness.
Flip through "Equal Partners" and if you're a man, you may feel a little on the defensive. Author Kate Mangino seems to side with women on issues of home work, but she vows that she's not showing bias, that statistics confirm her points. Still, some readers may have a lot to overcome before reading this book about overcoming inequality at home.
Fortunately, Mangino shows why this is absolutely worth doing.
Through pages and pages of stories – some that may have you thinking Mangino was peeking in your kitchen window – she systematically lays out how things get to be how they are and what actions couples can take. There are quizzes to tackle and places for notes (a reason to buy this book outright) and if you're still not quite convinced, there are happy interviews with dozens of people for whom satisfaction lies in change.
Though it's not without a little abrasiveness, "Equal Partners" is a good conversation starter for fixing the status quo in your relationship status, regardless of what it is. Find this book, and add another thing to your plate.
The Blade may receive commissions from qualifying purchases made via this post.
K. M. Soehnlein's Army of Lovers, a review
Army of Lovers is not just an account of political intervention, it is itself an intervention, a novel that preserves for future activism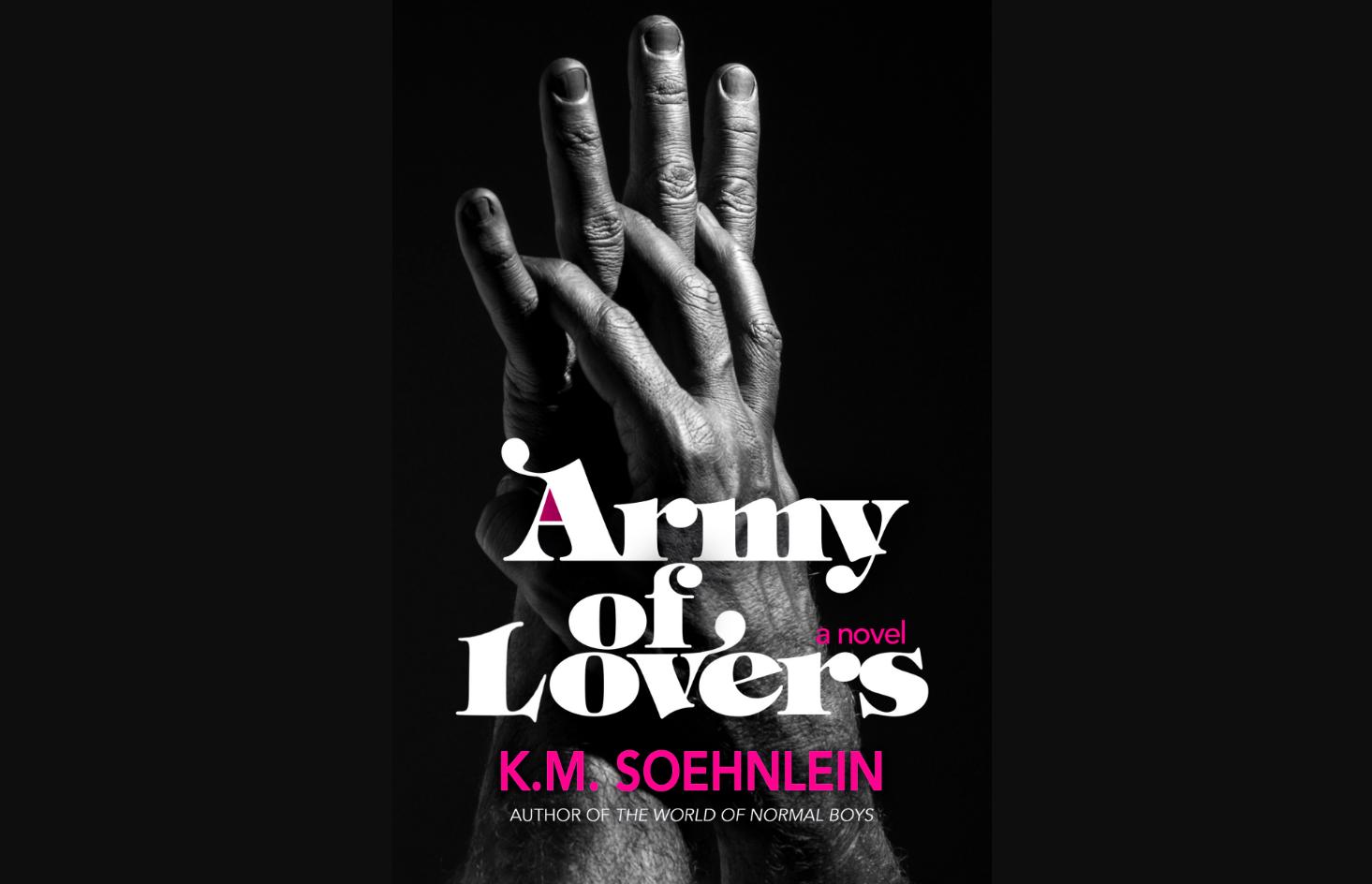 By John Weir | NEW YORK – K.M. Soehnlein's Army of Lovers is a novel of the lost generation. Not the early 20th century generation of survivors of the Great War, called "lost" by Gertrude Stein, their stories told in novels by Ernest Hemingway and Virginia Woolf.
Soehnlein's lost women and men, those who survived and those who did not, are from the last two decades of the 20th century, the so-called American century, when nearly 750,000 Americans died of AIDS. Young Americans: by 1994, and through 1995, AIDS was the leading cause of death for all Americans age 25 to 44.
At the center of Army of Lovers is a German Irish guy from suburban New Jersey, a kid named Paul, just out of college, whose journey to adulthood happens to coincide with a global epidemic – "a fucking plague," Larry Kramer famously shouted – that maybe looks to us, from the distance of forty years and a new century, like a grim dress rehearsal for Covid.
That's if your memory goes back that far. Soehnlein's does, and his novel is a stunning act of remembering. It's a visceral re-creation of the sights, sounds, smells, the feel of Manhattan from Wall Street to Times Square in the late 1980s and early '90s. The bars, parks, restaurants, apartments. Parties and sex parties. The meeting halls where ACT UP New York met. The touch of friends and lovers and comrades, in street actions and crowded jail cells. The taste of ash in your mouth, literal ash, ashes of the dead.
If you were in New York at the time, and involved even peripherally in ACT UP New York, the novel will feel like a series of home movies. (Full disclosure: I think I once shared a jail cell with Soehnlein.) The story starts at a die-in. Soehnlein's narrator Paul and his fellow ACT UP activists are lying on the floor of Albany's state senate building, its brutalist architecture an apt symbol of "the brutal world we're shouting at, brutal and square and indifferent. The brutal indifference of the government led us here, to block the glass doors of the legislation chamber, demanding to be heard."
"This is an action," Paul says, excited, his arm linked through the arm of his best girlfriend Amanda. When his boyfriend Derek, a member of ACT UP's media committee, comes over with a reporter and a cameraperson, Paul and Amanda deliver their sound bites – "Women with AIDS die twice as fast as men" – and then they wait for the police to close in and arrest them. They wait a while.
With documentary clarity, Soehnlein renders the stop-and-start energy of political protest. Not only does he preserve for historical record an account of a series of actions and political interventions that took place forty years ago, he shows how it felt to be there. His characters feel the adrenaline rush of getting into a building that is guarded like a fortress. They hold hands, sometimes with strangers they will never see again, sometimes with lovers or ex-lovers. Rushing, chanting, they head for the marble hallway, or the floor of the train terminal, or the cold, cold ground, worrying they won't get past the police barriers or the phalanx of cops.
And once they have "taken the hill," as it were, like actors in a war film from the 1940s, they wait. Wait for the police to come, for the senators to respond, for the reporters to arrive with camera crews to record their demands. And then, if they are not arrested, they get home in time to see themselves on the evening news. Or not!
It's exhilarating. Soehnlein shows the exhilaration. It's also sometimes kind of boring. He shows that too. Most of all, it changed lives. The novel chronicles the ways activism and AIDS and death and loss change Paul's life. How he goes from being a newly out gay kid learning his way around a city "full of offerings," including art and work and men (his initial approach to sex and love being: "Anything that starts with a guy and ends with an orgasm is what I'm into"), to a queer activist in a shaved head and black leather jacket facilitating ACT UP meetings and talking back to Larry Kramer.
A notable aspect of the novel is Soehnlein's lack of sentimentality about the anointed "heroes" of the AIDS activism movement. "I hold him in awe," Paul says about Kramer, but also, "Larry is the apocalyptic prophet who sees only doom. . . often incapable of hearing anyone else." Soehnlein is equally clear-eyed about problems of burn-out that afflicted AIDS activists:
Issues of racism and sexism that compromised AIDS activism; the painful awareness of many ACT UP members, almost their inability to grasp, that despite their unceasing, ingenious, and fearless activism, their friends and lovers would continue to die.
Most poignantly, the novel shows an aspect of AIDS activism that I haven't seen fully dramatized elsewhere. It happens in a conversation between Paul and his bestie Amanda, an aspiring filmmaker and lesbian activist. Grappling with the question of how to have a life at the same time that you're trying to save lives, Amanda says, "It's confusing to be so deeply identified with a community when you want to say something or make something that's uniquely yours."
How to be a person in the midst of an all-consuming, life-threatening epidemic? How to be queer in America in the Reagan years? How to have a personal life when your life is devoted to the collective? Amanda chooses art as a form of activism. Paul has a life apart from AIDS, but it's no refuge from painful questions of mortality and identity. His is mother dying of cancer. The poles of his life mirror each other, each with death at the center. Is he entirely himself in either community – the churchgoing suburban world where he grew up, and the activist world centering on ACT UP and his charismatic boyfriend Derek?
When he breaks up with Derek and falls in love with Zack, who is dying of AIDS, Paul drifts away from ACT UP. "You're a caretaker now," Amanda tells him. Paul seems almost to arrive at the conclusion that caretaking is itself a form of activism. Or if it's not, what is activism? Amanda decides to channel her activism into "making a movie that affects a lot of people." Paul comes to a similar decision. After Zack dies, he moves to San Francisco and enrolls in a graduate writing program.
Soehnlein would appear to have made a similar choice. Army of Lovers is not just an account of political intervention, it is itself an intervention, a novel that preserves for future activism the history of a group of people struggling to survive an epidemic in the face of a government that was intent on denying its existence.