Fall TV offers vampires, royals, and return to Gilead
'Handmaid's Tale' even more essential after fall of Roe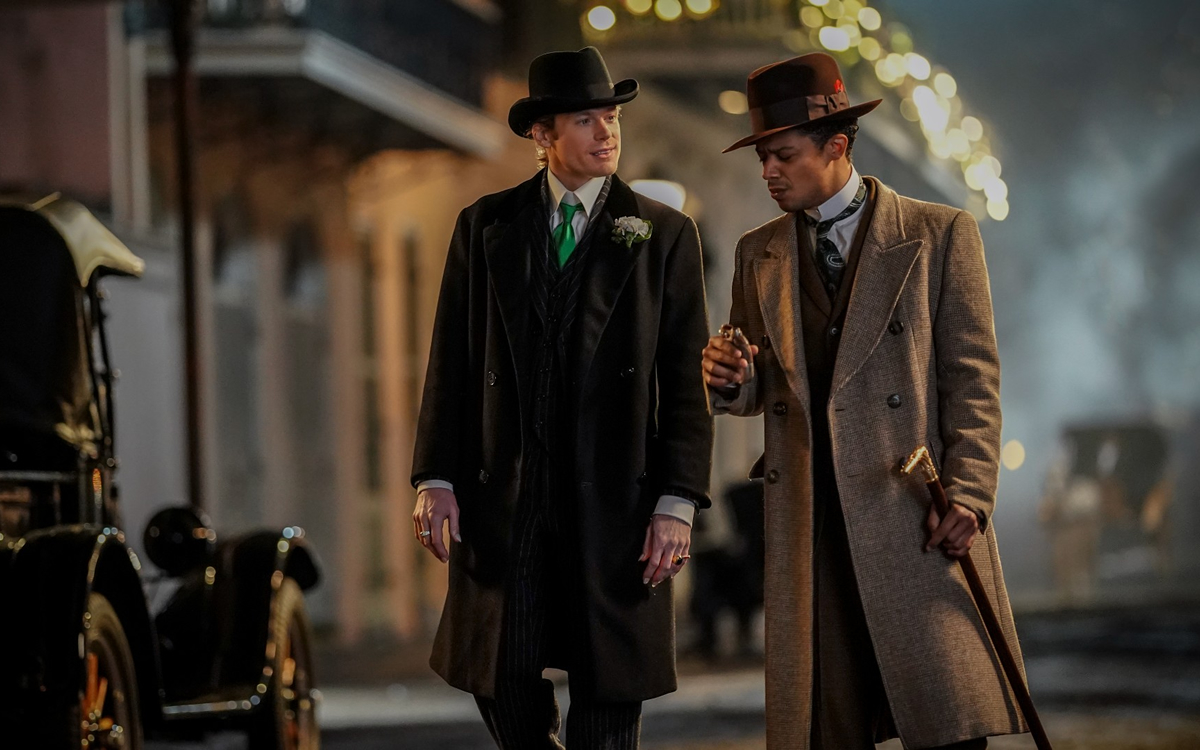 Once upon a time, TV premieres were the province of fall, and there was something exciting about seeing all the new titles unveiled. In the streaming era, of course, new shows debut all year long – but we think there's still a special excitement surrounding the ones that come out at this time of year. Call us old-fashioned.
Here's our list of the shows we think you'll find watch-worthy:
THE HANDMAID'S TALE (Hulu, Sept. 14)
The critically acclaimed and popular series based on Margaret Atwood's chillingly prescient dystopian novel just dropped the first episode of its fifth season, in which now-escaped refugee June (Emmy-winner Elisabeth Moss, "Mad Men," "Top of the Lake," "The Invisible Man") works from afar to be reunited with her daughter, while her co-conspirators in theocratic Gilead find an unlikely ally in Aunt Lydia (Ann Dowd). Meanwhile, Serena Waterford (Yvonne Strahovski), now a widow in Toronto after the violent end met by her husband at the end of season four, attempts to raise her profile as her homeland's influence spreads into Canada. The ominous too-close-to-home quality that made this series tough-but-essential viewing during the Trump years has taken on a renewed power with the fall of Roe v. Wade, which means its latest (and possibly final) installment will likely be a must-watch for more audiences than ever. Also starring Max Minghella, Bradley Whitford, O-T Fagbenle, Samira Wiley, Madeline Brewer, Amanda Brugel, and Sam Jaeger.
MONARCH (Fox, Sept. 20)
Self-described as "a Texas-sized, multi-generational musical drama about America's leading family of country music" and starring Oscar-winner Susan Sarandon "Dead Man Walking," Thelma & Louise," "Feud") as a "tough-as-nails" country music legend, this ambitious new offering from creator/writer/executive producer Melissa London Hilfers features a lesbian couple among its principal characters and looks to be cut from the same guilty-pleasure cloth as all the classic primetime soaps the queer community has always loved. The saga of a fictional country music dynasty with superstars Dottie and Albie Roman at its center, it promises plenty of scandal, sex, bad behavior, and music (both original songs and covers) as it unwinds the secrets and lies at the heart of their success and forces them to protect the family legacy – from both rivals and each other. Featuring multi-Platinum country music star and three-time ACM winner Trace Adkins as Sarandon's other half, the series also stars Anna Friel, Joshua Sasse, Beth Ditto, Meagan Holder, Inigo Pascual, Martha Higareda, and Emma Milani.
REBOOT (Hulu, Sept. 20)
From "Modern Family" creator Steven Levitan comes this good-naturedly irreverent (and queer-inclusive) send-up of the Hollywood entertainment machine featuring "Crazy Ex-Girlfriend" star Rachel Bloom as a TV writer who gets greenlighted on her pitch for a revival of a beloved sitcom from the early 2000s – a dream come true, until her hopes for a more "woke" update of the outdated classic are threatened by the involvement of the show's original creator (Paul Reiser, "Mad About You"). Making things even more unpredictable is the original cast (Keegan-Michael Key, Judy Greer, Johnny Knoxville, and Calum Worthy), whose complicated history of offscreen relationships and personal dysfunctions is part of the package deal that comes with reuniting them to reprise their roles. Fast, funny, and full of the rapid-fire comic zingers Levitan's shows are famous for, it's a shrewd and deliciously "meta" satire that pokes fun of all the usual Hollywood flaws and foibles – not to mention currently raging generational conflict of attitudes and values – while making sure its gallery of goofy-but-lovable characters are always the main attraction. This one is a definite gem.
INTERVIEW WITH THE VAMPIRE (AMC, Oct. 2)
For the many devoted followers of author Anne Rice, who sadly passed away at 80 last December, this one is huge. Ever since it was first published in 1976, Rice's gothic tale of a New Orleans vampire revealing his 200-year history as a denizen of the night has been embraced by queer fans, who saw their own outsider experience reflected in its sensual and sensitive cast of undead protagonists. The novel spawned an entire series of books – "The Vampire Chronicles" – that enriched and expanded the stories of her beloved characters and spread them across a vast historical landscape, and branched off into other sagas populated by more of Rice's supernatural creations; a 1994 film adaptation starring Brad Pitt and Tom Cruise, though successful, felt straight-washed to many of Rice's readers (and the less said about 2002's "Queen of the Damned," the better), but series creator Rollin Jones has already promised his new adaptation – modernized from the original's mid-70s setting – will be true to the queer subtext of the author's original work. The involvement of Christopher Rice (the author's son) as an executive producer bodes well that such promises will be honored. Starring "Game of Thrones" favorite Jacob Anderson as Louis and Australian actor Sam Reid as Lestat, the 8-episode first season will also feature Bailey Bass, Assad Zaman, Eric Bogosian, Chris Stack, Maura Grace Athari, and Kalyne Coleman.
THE YOUNG ROYALS (Netflix, Nov. 2)
The popular Swedish teen drama about the inconvenient romance between young Prince Wilhelm and his classmate Simon (Edvin Ryding and Omar Rudberg, respectively) returns for a second season that sees its protagonist embarking on a plan of revenge meant to win back Simon's trust, giving rise to complications that threaten the entire monarchy.
PLANET SEX WITH CARA DELVINGNE (Hulu, Nov. 18)
For those with a taste for the provocative, there's this promising docuseries, in which model-turned-actress Cara Delevingne goes for a deep dive into some of the biggest questions about sexuality. According to publicity materials, the show is an "immersive journey" in which the star "puts her mind and body on the line in search of answers regarding human sexuality, its joys, mysteries, and constantly changing nature." Delevingne, who appeared in a recurring role on the second season of Hulu's "Only Murders in the Building" opposite friend Selena Gomez, came out as pansexual in 2020, telling Variety, "Growing up, I didn't really see many people like me, so I'm just really grateful to be one of those people representing." We can get behind that, and we'll be watching when the show drops later this fall.
In addition to these, there's A TRIO OF SHOWS from Netflix with TBD Premiere Dates:
EAST-BAKE BATTLE – Season 1 of a new culinary competition show hosted by "Queer Eye" heartthrob Antoni Porowski.
DEAD END: PARANORMAL PARK – The delightful animated adventure based on Hamish Steele's graphic novels about a transgender boy named Barney and his friends, who secretly work as the "demon cleanup crew" at a haunted theme park returns for a second season. Real-life trans actor Zach Barach provides the voice of Barney.
WENDELL & WILD – Animated denizens of the underworld also inhabit this new stop-motion series from collaborators Henry Selick ("The Nightmare Before Christmas") and Jordan Peele ("Get Out") about a scheming pair demon brothers trying to be summoned into the Land of the Living by a guilt-ridden 13-year-old. Voice talent includes Peele, Keegan-Michael Key, Lyric Ross, Angela Bassett, James Jong, Ving Rhames, and trans actor Sam Zelaya.
Trans trailblazer helps queer the sci-fi genre in 'The Peripheral'
Alexandra Billings on increasing representation in Hollywood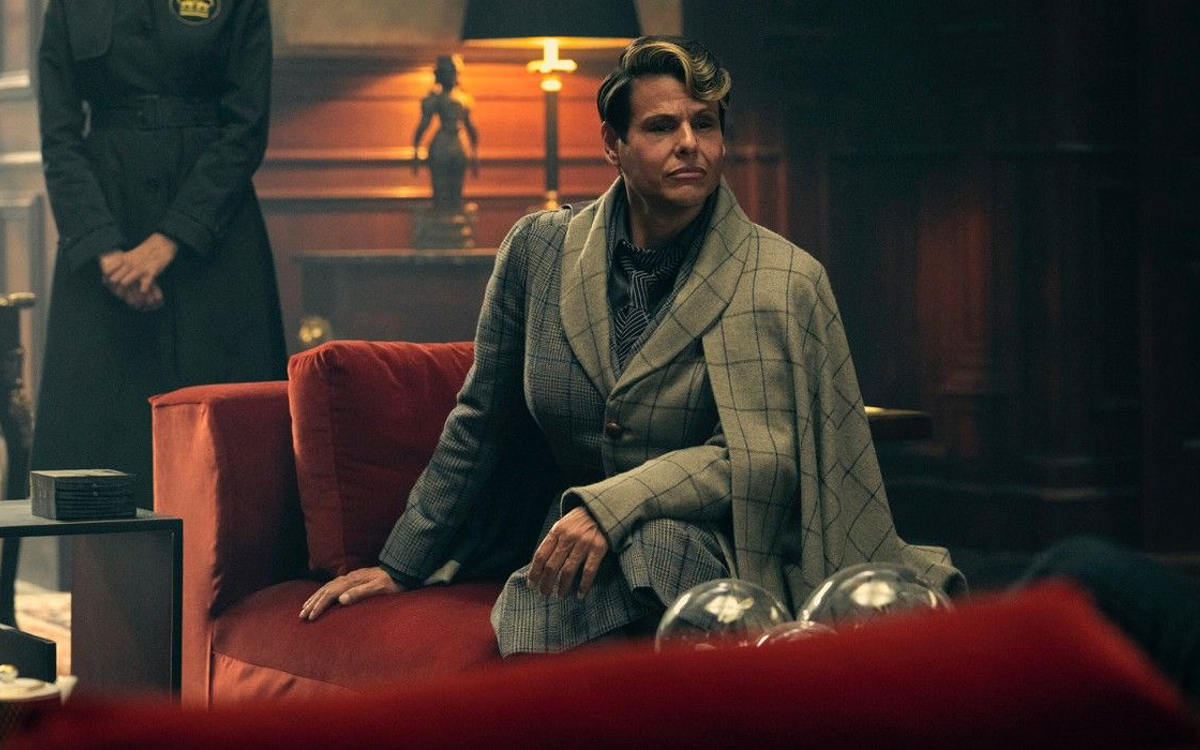 Alexandra Billings has been a pioneering trans performer several times over, but she tells us that her recurring role as Inspector Ainsley Lowbeer in "The Peripheral" – Amazon Prime's series adaptation of William Gibson's 2014 book of the same name – is a more personal first for her.
"I love science fiction! This is really my bag, and I've never done anything like it before!"
Created by Scott B. Smith, who co-executive produced the show alongside "Westworld" creators Jonathan Nolan and Lisa Joy, the show is a mystery-thriller set not just in one future but in two. Beyond the depressingly prescient dystopian one inhabited by protagonist Flynne Fisher (Chloë Grace Moretz) lies another, from which the surviving remnants of humanity employ advanced computer technology to reach back and alter the past. The stakes are high – there's an apocalypse involved — and a complicated, "Black Ops"-style secret war going on between factions struggling for control makes them even higher. Even for someone who doesn't look for these things, the allegorical comparison with our own world is impossible to miss; but then science fiction, done right, has always been a prime genre for making social, cultural, and political commentary – and author Gibson, widely credited with creating the whole "cyber-punk" sub-genre, knows how to do it right.
Billings recently spoke with the Blade about the show, among other things. Our conversation is below:
BLADE: It's refreshing to see you in something like this. We're not used to seeing such strong representation in these kinds of stories.
ALEXANDRA BILLINGS: Usually, if trans characters were in sci-fi in the past, we were plugged in – they were cisgender characters that trans people played and then they turned trans. But Lowbeer is written as a trans woman. That was extraordinary, and it was thrilling to me.
BLADE: She's a very strong presence.
BILLINGS: She's kind of a guide, and she also has great power – not mystical power, or magical, but intellectual. And that's one of the wonderful things about this show that I want to stress – it's very female-centric, very female-heavy. There's gender identity that is addressed, there are women of color that have great power and great strength and intellect. These are smart, witty, competent, capable women. No female depends on any other power except their own to be able to survive in the world of this story, and I think that matters, too.
BLADE: Did you ever imagine you would be playing a part like this in a mainstream Hollywood project?
BILLINGS: Oh no, God, no. When I first came to Hollywood, there were five of us, basically, me and Candis and Laverne and Trace Lisette, and a couple of other people, and that was it. Every time there would be an audition for a trans person – which was usually one of us in the hospital, or going to the hospital, or getting ready to go to the hospital, or something that had to do with the hospital – we would always meet each other. We finally just formed a little brunch club, we were like, 'Let's just get together after the next audition and go out. We might as well have food.'
Back then, there was just no concept of the transgender experience, because trans people were not writing any of these shows. You can't have someone who's never been through a lived experience pretend that they've lived that experience, it doesn't make any sense. Now, with more trans writers, more trans producers and showrunners in Hollywood, things are starting to change. But this was a shock. I was shocked when I heard about this character, and really shocked when I read the script. It really is brilliant.
BLADE: That's just one aspect of the show that feels forward-thinking. Don't you think the whole concept of a future world influencing our present day really strikes a chord with the rise of a younger generation that is primed and ready to take the wheel?
BILLINGS: I think what this show does is that it shines a light. It's a reflection of a human experience that is happening politically, globally, which is the takeover of righteousness, of our idea of what is helpful to the community – and what isn't.
We have a whole shift that is happening in the United States right now, which is a younger generation – the Gen Zs – saying 'I don't like the way a lot of the country talks about female empowerment, I don't like what you've done to take away autonomy for female bodies or choices, I don't like the way you talk about gender. There's a whole bunch of stuff that I don't like, so I want you out." It's why this 'blue wave' happened – because of them. There was this whole conservative movement before the midterms that was supposed to, like, take over, and it just fizzled out and died. I think this is just the tip of the iceberg.
BLADE: Let's all hope you're right. There's such a disheartening backlash in some pockets of our country over queer rights in general. We still even have fight to preserve marriage equality.
BILLINGS: We have this whole group of people out there talking about 'traditional marriage.' That means nothing. I want to tell them, 'Nothing exists inside that container – how far back do you want to go when you say 'traditional', do you still want to be able to vote? Stop being an idiot.'
BLADE: As someone on the battle lines, what would you like to see for the future of trans representation?
BILLINGS: We need to begin to have conversations that are so normalized about the transgender experience that we no longer talk about the transgender experience. We need to have an over-abundance of trans and nonbinary stories, of trans and nonbinary writers, producers, directors, creators, innovators, telling their own stories – so many of them that the cis-white-heteronormative patriarchy finally needs to step aside. That's what needs to happen.
BLADE: That seems like a hard sell to the people still holding onto the reins of power.
BILLINGS: When I say things like that, all of Hollywood takes a huge intake of breath. They think it's impossible. They can't conceive of that to be true because they think, 'What about MY stories? What about me?' As if there was a shortage of those.
Look at Candace Cameron, who quit Hallmark and just came out and said, 'I'm going to honor traditional marriage on my new channel, and those are the stories I'm going to tell.' What she's saying is, 'These two heteronormative cisgender people are the norm, that's what we're going to draw a circle around. Those are the only people that are going to be represented, that's what we're telling every single queer youth on the planet is the thing to be.' That's the message? So everybody else needs to move aside? That doesn't make you a trailblazer, it makes you a coward.
BLADE: There's another "C word" that comes to mind.
BILLINGS: (Laughing) That too.
You can watch "The Peripheral" on Amazon Prime.