"Dr. Jackie: Unlicensed Psychotherapist" premieres on OUTtv
Jackie Beat's new series is just what the (unlicensed) doctor ordered. The show is available exclusively on OUTtv.com & on the OUTtv Apple TV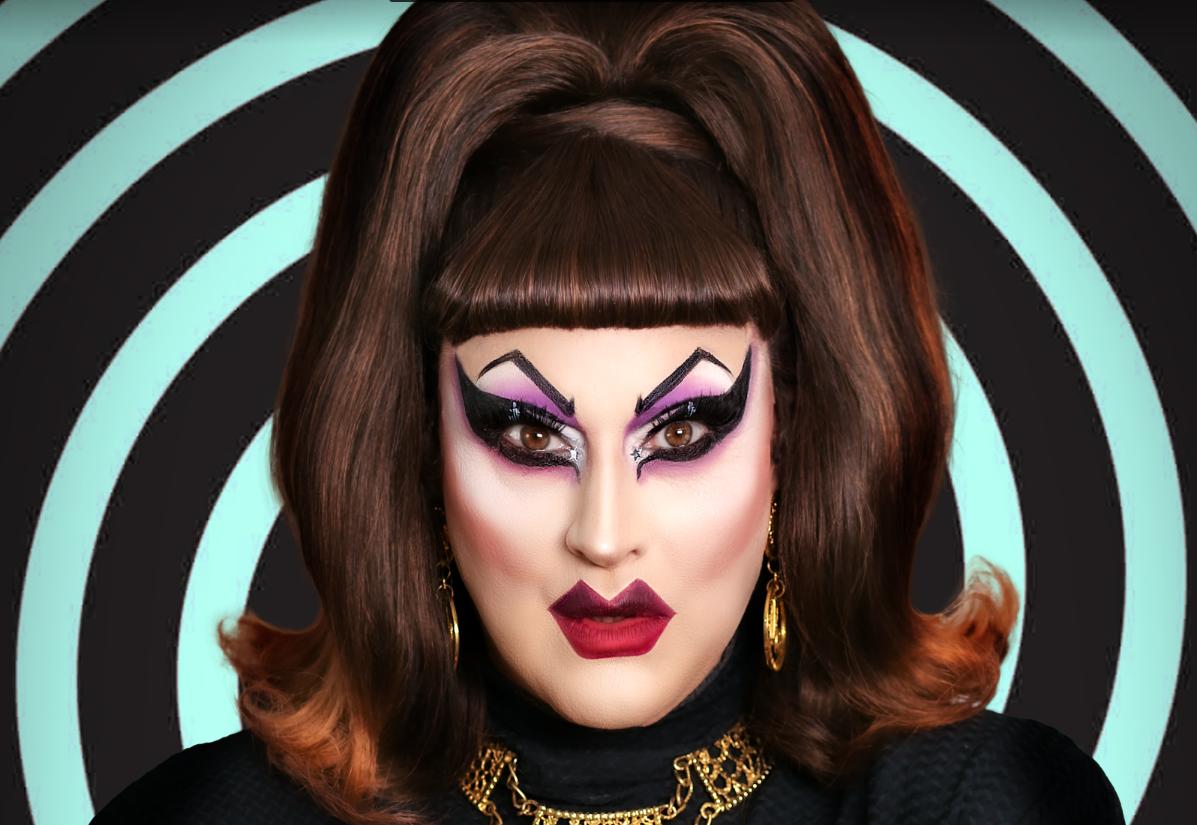 NEW YORK – While much of the world spent the pandemic sheltering in place and binging on Netflix in an attempt to stave off madness, innovative (and already insane) Jackie Beat found herself pounding a different drum.
The veteran drag queen known for belting out hilariously filthy song parodies while hurling cruel insults at delighted audience members immersed herself in online academia, only to emerge several hours later with… no formal education, but a self-declared title that everybody agreed would also be a kickass concept for a TV show, and a pretty good title to boot: "Dr. Jackie: Unlicensed Psychotherapist."
And so, on this day, September 19, 2022, it shall be so: "Dr. Jackie" premieres on OUTtv with new episodes each week through October 24. Watch the trailer HERE. The premise is simple: Dr. Jackie runs her "practice" out of an office managed by her "cute but confused assistant" (played by longtime creative collaborator Sherry Vine, whose ballsy, bonkers variety show had its premiere season on OUTtv last year). Sherry's the dutiful gatekeeper who shepherds a revolving cast of funny, famous people (mostly top-notch drag queens) into their sessions with tough-but-fair, decidedly uncredentialed Dr. Jackie.
"It's such a great feeling to not only entertain people, but be able to help them, too," said Dr. Jackie, in a press announcement for her six-part series. "It's a real win-win. I'm very proud of the fact that I am able to make mental health just a little more glamorous and fun! And if anyone wants to cancel me for 'mocking' pyschotherapy, please do it! I haven't been on THAT reality television show so I need all the publicity I can get!"
Taking a leap of faith that "Dr. Jackie" will be up to the level of quality we associate with the sold-out stage shows of Jackie Beat—and also betting heavily that Dr. Jackie has already figured out a way to dispense prescription drugs—The Los Angeles Blade is happy to generate more publicity for the good Doctor, who along with Sherry Vine took some pre-premiere time to participate in the spirited Q&A you see below.
The Los Angeles Blade (Blade): How did the show come about? Is this a product of your frequent collaborations with Sherry Vine?
Jackie Beat (Jackie): Sherry gets all the credit for making this happen! After being in show business for over three decades, I sort of had the attitude of, "This will never happen"—but Sherry was beyond optimistic and determined. I'm sure the success of her variety show on OUTtv helped. Oh, and my beauty!
Sherry Vine (Sherry): We had talked about this idea for a few years and I said, "Let me run with this and see if I can get it picked up" and Jackie said, "OK." I went to PEG and OUTtv who did my variety show, and they immediately said, "Yes." I worked very hard on the pre-production and filming but was less involved in the post-production. Jackie had a very clear vision of how she wanted it to look and sound so other than offering my opinions, I let her run with it.
Blade: How did the pandemic impact the shooting of episodes?
Jackie: We obviously had to adhere to very strict COVID protocols… Testing, masks, limiting the cast and crew, etc. But once this queen had gotten the green light on her own TV show, no pesky little virus was gonna stop her from getting it done!
Blade: Is there improvisation? If so, discuss how that played out.
Jackie: Yes, and everyone really delivered! We had an outline—a beginning, middle, end, maybe a plot twist or two—but then we just let people go for it. The hardest part, as you can imagine, is not cracking up. There was also quite a bit of stuff that was so out-there and just plain disturbing that we were like, "Oh God, we can't use that!" The brilliant improvising also made it very difficult to edit because there was so much gold!
Blade: What part, if any, did you play in the editing? How did the editing process impact the show's pacing and style?
Jackie: Well first off, the editor, Kain O'Keeffe, is a genius! He really has great comic timing so that certainly helped. I have worked with some editors who are technically amazing but don't really get comedy. Kain's instincts are great. And he also kept his cool—most of the time, LOL—working with this control freak. I was really very painstaking in the editing, because one beat or one moment or one word can change everything. The most frustrating part was having to watch each episode 50 or 60 times. I was like, "Is this even funny?" The answer to that question, of course, is YES!
Blade: With "Dr. Jackie," you enter the pantheon of small screen shrinks. What sets your style of therapy apart from colleagues like Lucy Van Pelt and Dr. Bob Hartley?
Jackie: First of all, I could be the illegitimate love child of those two because Lucy is an unqualified, self-centered bitch and Bob is dry and cool as a cucumber. I think I fall somewhere in the middle. A self-centered cucumber?
Blade: Talk about the role of ensemble and/or guest players.
Jackie: We were so blessed to get so many amazingly talented people—most of whom I consider friends. And I also love that people like Elvira [Cassandra Peterson] or Margaret Cho, who couldn't shoot in person, were able to be involved and get "emergency phone sessions" thanks to modern technology! I have several "Drag Race" stars such as Bianca Del Rio, Alaska Thunderfuck, Bob The Drag Queen, Katya, Trixie Mattel, BenDeLaCreme, Tammie Brown, Kelly Mantle and Monét X Change but I also wanted to include supremely talented friends of mine such as Mario Diaz, Nadya Ginsburg, Daniele Gaither, Drew Droege, Sam Pancake, Calpernia Addams, Selene Luna, Pete Zias, Roz Hernandez, and Muffy Bolding.
Blade: Sherry, you play Jackie's sidekick. Is the dynamic similar to, different than, what we see when the two of you work together on stage?
Sherry: Well the dynamic is different in terms of I'm playing her receptionist and she is the star—this time! Lol. But after 30 years of performing together we have a natural chemistry and play off of each other so well. It was scripted but of course there was plenty of improvisation. We were cracking up the whole time! On stage and on camera we are usually in synch—I know exactly where she's going.
Blade: Jackie, what can decades-long fans of your stage work expect from a show not grounded in parody songs?
Jackie: They can expect to be laugh and be entertained so… Same old thing!
Blade: Jackie, Sherry, what's happening between now and the end of the year, in terms of traveling and performing live?
Jackie: I'm doing lots of writing right now, but I will never stop performing. I will do my annual holiday tour, of course. I'm doing my holiday show at The Palm in Puerto Vallarta on Christmas Eve and Christmas Day!
Sherry: We are now in pre-production for "The Sherry Vine Variety Show" Season 2! Yay! We start filming at the end of October, so I'm writing, casting, recording, etc. Lots of exciting guests and surprises—and Jackie will be returning as my partner in crime.
Blade: How do you find performing and living in the "post-pandemic" era: Has it change the way you do things, creatively and personally? What lessons did we learn or ignore from all that time sheltering in place?
Jackie: People seem very appreciative of live shows right now. It's like they didn't realize just how precious those moments of sitting in a darkened theater or nightclub watching a live performer was until it was suddenly gone. I have also learned that if you are naturally funny and talented you can entertain people no matter what – even on their laptop or phone. I was very happy to learn that my comedy and magic could survive and translate to that format. Again, I ain't never gonna let no pesky virus stop me from doing what I do!
"Dr. Jackie: Unlicensed Psychotherapist"—written by Jackie Beat—is directed by John Mark Hostetler and produced by Producer Entertainment Group (PEG) for OUTtv. As of September 19, the show is available exclusively on OUTtv.com and on the OUTtv Apple TV Channel in the US and Canada, OUTtvGo.com and the OUTtv Amazon Prime Channel in Canada and FROOT.tv in the UK and Ireland.
Follow Jackie Beat:
Website: HERE
Instagram – HERE
Website – HERE
Twitter – HERE
Facebook – HERE
'And Just Like That' ditches preachiness to become addictive TV
Second season wraps Aug. 24 with Samantha Jones cameo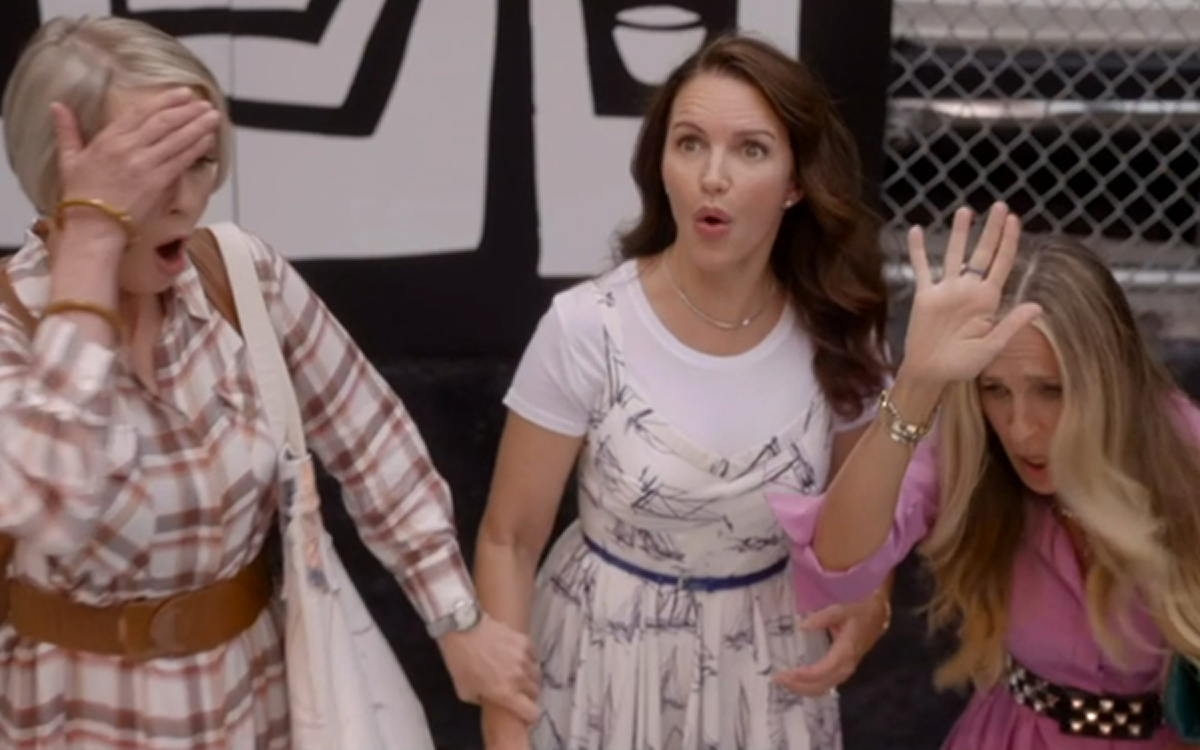 "Do you know where your children are?" New York TV station WNYW asks the parents in its audience every night.
This isn't a worry for Charlotte York Goldenblatt (Kristin Davis) or Lisa Todd Wexley (Nicole Ari Parker) two of the main characters featured on season two of "And Just Like That," (AJLT), the "Sex and the City" reboot, airing weekly on Max through Aug. 24. Their children (from elementary school kids to teens) are safely ensconced at a posh summer camp. While their off-spring are away, Charlotte, who back in the day ran an art gallery, is having sex so good it's like fireworks on the Fourth of July with her husband Harry (Evan Handler), a highly successful divorce lawyer.
Lisa, a distinguished documentarian filmmaker, and her husband Herbert (Christopher Jackson), a wealthy investment banker who's thinking about running for New York City comptroller, devote themselves to their work. And to enjoying the rare treat of having a drink at a swanky bar by themselves (sans children).
Meanwhile, corporate (turned human rights) lawyer Miranda Hobbes (Cynthia Nixon) knows all too well where her son Brady (Niall Cunningham) is. He's living with Steve (David Eigenberg), his dad, in their Brooklyn townhouse. Miranda's relationship with Che Diaz (Sara Ramirez), a nonbinary, bisexual, Mexican, Irish comedian who's making a TV sitcom pilot with Tony Danza (playing himself), has brought Miranda, Steve and Brady into therapy.
Carrie Bradshaw, writer, (Sarah Jessica Parker), Seema Patel, a hot real estate agent, (Sarita Choudhury) and Dr. Nya Wallace (Karen Pittman), a Columbia Law School professor, are so busy grieving, having exit-out-of-grief sex and mourning stolen Birken bags that they wouldn't have time for children. Nya is divorcing her musician husband Andre Rashad (LeRoy McClain) after many years of marriage because he wants kids and she doesn't.
Yes! It's summer in the city, "And Just Like That," the fab ladies are back! With less sizzle than in "Sex and the City," but still fun watch. No matter how hard the writers try, no amount of additional characters could make up for the absence of Samantha Jones, the utterly fabulous PR maven, who was an integral part of "Sex and the City." Even the highly talented Samantha Irby, a bisexual producer and writer of AJLT, couldn't create a character as captivating as Samantha, who is slated to make a cameo in the final episode.
But the sophomore season of "And Just Like That" has its share of style and juice. How can you resist a series that, in the seven episodes that have aired to date, has given us a (fictional) Met gala and a "cum slut?"
The first season of AJLT spent much time trying to make "Sex and the City" (SATC) more diverse.
It succeeded in many ways. Che, Seema, Lisa and Nya, the new featured characters of color, have intriguing stories. They have good chemistry with the original SATC characters. Yet, it sometimes felt heavy-handed and joyless.
The current season of the show, mostly, dispenses with the exposition and preachiness of season 1. In this season, sex and glam fashion are back in the city.
The episode of "AJLT," when Charlotte becomes Harry's Kegel coach to help him with his "dust balls" when he can't ejaculate and Carrie talks of "Casper, the friendly cum," is nearly as good as SATC's "funky spunk" episode.
The women on AJLT are fab. But one of the most enjoyable characters is Anthony Marantino (Mario Cantone), who runs the Hot Fellas bakery. In one hilarious scene, he turns to his BFF Charlotte when he desperately needs to find a Hot Fella to appear with him on Drew Barrymore's talk show. This being AJLT, Charlotte instantly finds a hot Italian poet who more than fits the bill. Dressed in his Hot Fellas uniform, the poet's "package" is so great, that looking at him makes Barrymore sweat.
In another scene, Lisa, wearing a dress (designed by Valentino) with a huge train that won't fit into a cab, has to walk 10 blocks to the Met Gala. "It's not crazy," she says to Herbert, who's holding her train, "It's Valentino."
"And Just Like That" isn't prestige TV. It's more important: it's addictive entertainment.