Historic LA gay bathhouse for sale- looks to be end of an era
Midtowne Spa owned three properties in Southern California- The Los Angeles location is the last Midtowne Spa standing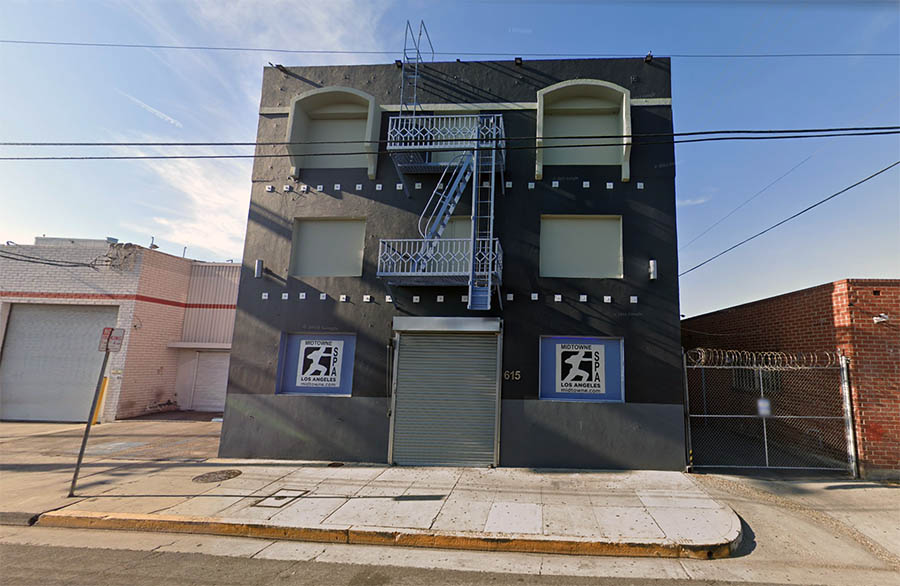 By Paulo Murillo | LOS ANGELES – The Midtowne Spa Los Angeles property, home to the historic sex bathhouse catering to gay, bisexual, and men who have sex with men (MSM) went up for sale earlier this month.
Insiders say this is the end of the last Midtowne Spa standing in Southern California and across the nation. Located at 615 Kohler Street in Los Angeles, the bathhouse was founded in 1972, marking a good 50 years of providing a safe space for men to meet men.
According to sources, Midtowne Spa Los Angeles could be closing as early as some time in October. Vendors who provide towel and linen services allege they have been told their services will not be needed past October. The cleaning crew was told the same according to rumors.
An employee who wishes to remain nameless, said that they are very aware of the sale of the property and that workers sense the end is near although management isn't saying much about what the sale means to their employment. Workers are being told that the owners hope to save the mens spa and transfer the business to a party that is interested in continuing the business name and hopefully save their jobs, but the listing suggests the property will most likely be redeveloped and they may soon be out of a job.
Attempts to reach management have been unsuccessful.
Midtowne Spa owned three properties in Southern California, The Melrose Spa, at 7269 Melrose Ave in Los Angeles, which closed in May 2017, and the 1350 Club at 510 W Anaheim St, in Wilmington, which closed some time in May, 2022 shortly after being shut down by the COVID-19 pandemic.
The Los Angeles location is the last Midtowne Spa standing. The Austin, Texas Location closed in July, 2016. Dallas closed the following year. Midtowne Denver also closed earlier this year. Most of these locations closed with little to no fanfare, upsetting some of their most loyal customers.
Midtowne Spa Los Angeles currently offers private rooms as well a lockers. The facility has an indoor swimming pool, whirlpool, Sauna, Steam room, Sundeck and a TV Lounge. They have adult movie channels, two gay and one Straight/Bisexual and 24 hour secured parking garage right next door to the club. We offer free HIV & STD testing, please check our website for days and times.
A recent guest tells WEHO TIMES that the spa was busy this past Saturday. "The rooms were completely sold out by 7pm, but I went early in the afternoon," he said. "They have raised prices significantly, but they do sell out of rooms, and and they still have plenty of customers."
The customer also credits Midtowne for promoting a clean (as possible) environment and also providing std testing and free counseling, "It's not just about STD/AIDS, but the counselors also will talk to people, like gay people just coming out, which is so important for some people who may be reluctant to go to other places," he said. "This is a safe place for queer expression that will be a loss to the community and also has historic value. The original owner, Marty, really wanted Midtowne to stay open long after his demise as an outlet for the queer community."
The property is listed as a prime Downtown Los Angeles Development site by Major Properties. Built in 1914, the land area is listed at 30,160 sq ft with a property size of 22,419 sq ft. The asking price is a reduced $6,500,000. The portfolio would be delivered empty, which is another sign of Midtowne Spa will not survive the sale of the property.
Major Properties describes the development site as:
• Major price reduction!
• Prime DTLA purchase opportunity
• Mixed-use/residential development site
• 13,380± SF 3-story building is occupied by Midtown Spa; 9,039± SF 1-story building is used for interior parking; additional 3 parcels are parking lots (one is noncontiguous).
• Located at the southwest corner of East 6th St and Kohler St
• Situated 2 blocks west of the DTLA Arts District, and adjacent to the Flower and Fashion Districts
• There is a potential alley vacation that would add 2,340± SF of land to the portfolio. If Seller obtains the alley, the sale price would be increased by $571,000.
• TOC: Tier 3
• Located in State Enterprise Zone; Greater Downtown Housing Incentive Area; and Los Angeles Redevelopment Project Area • Located in Designated Qualified Opportunity Zone (tax benefits)
• Proposed DTLA 2040 Community Plan: Markets
906-910-920 E 6th St, 615 Kohler St and the noncontiguous parking lot will benefit from the proposed DTLA 2040 Community Plan, which will will allow for long-term upside due to a significant emphasis on community growth and development. The proposed DTLA 2040 Plan will increase jobs, housing, transportation, open space, and amenities, adding 125,000 new residents, 70,000 new housing units, and 55,000 new jobs.
• Portfolio will be delivered vacant.
To read the full listing visit: https://www.majorproperties.com/property/prime-dtla-development-site/.
*********************
The preceding article was previously published by the WeHo Times and is republished by permission.
Trans remembrance vigil held at LA LGBT Center
"We refuse to let violence rob us of the possibility to gather, to love each other, and to dream together in solidarity"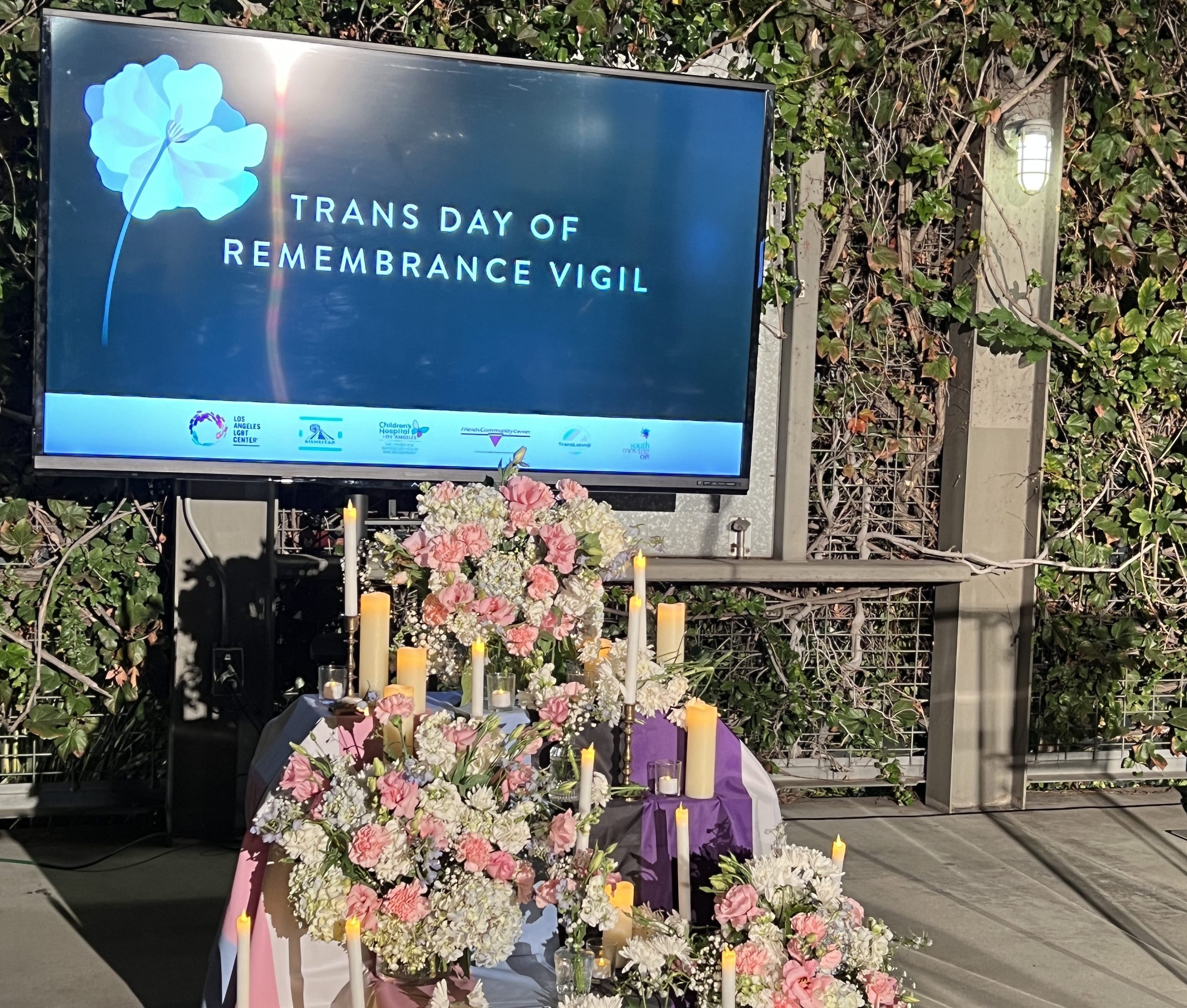 HOLLYWOOD – A Trans Remembrance Vigil was held at the Los Angeles LGBT Center on Monday, November 21st.
Candles and white, pink, and lavender flowers mounted on tiers draped by a trans flag adorned the center stage. A large monitor served as the focal point of the evening above the memorial display.
The Trans Chorus of Los Angeles started the ceremony with an acapella performance. Following the song of hope and redemption, opening remarks were given at the pulpit by the Anti-violence project manager for the LGBT center, Mariana Morroquin, and representatives from the Trans Wellness Center, Bienstar Human Services, Children's Hospital of Los Angeles, Friends Community Center, APAIT, and [email protected]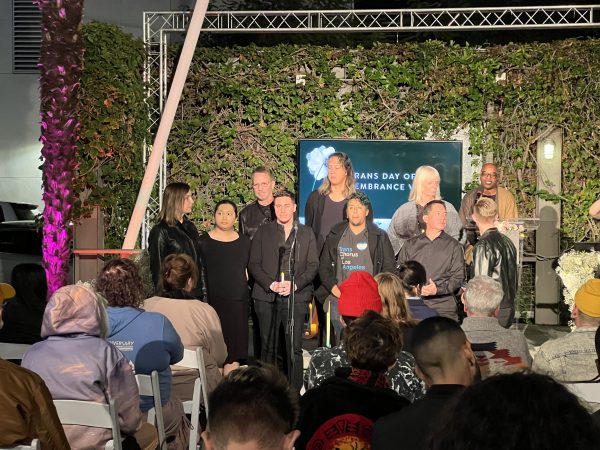 "I think it is very important to acknowledge our partners," said Morroquin, somberly addressing the seated audience of about one hundred and fifty. "We know that hate is real. A lot of us have seen hate pretty close. We are very grateful to have you. We open our arms to receive your love and your support. The way we support each other is by providing jobs, providing spaces for us, and providing opportunities. Because hate is out there. We need this space. We need to welcome everyone. I want you to keep that in your heart. And tomorrow, when we get back to work, let us open our hearts and our minds. Don't make decisions for us. Invite us to those tables. We know what we need. We've been doing this forever. We are going to keep fighting because this is what we do." 
She then added, "We refuse to let violence rob us of the possibility to gather, to love each other, and to dream together in solidarity. We gather because we must remember what is worth fighting for. For now, we commemorate. We tell the stories of the ones we lost. For tonight, that will be enough." 
One by one, members of the audience approached the pulpit to read the names and stories of a multitude of trans people whose deaths were the tragic result of hate crimes. The photos, names, and ages of the victims were displayed on the center-stage monitor.
"My name is Nikai David," said one speaker, the photo of a pale, curly-haired young lady displayed behind them. "I am a model and social media influencer who aspired one day to own my own clothing boutique. I had just celebrated my birthday a week before I was shot in Oakland California, on December 4th, 202. I was thirty-three years old."
Stories of these deaths included shootings by assailants, police, and family members, brutal beatings, and stabbings. The bodies of these victims were found in their homes, in garbage cans, and on streets where they were left, still dying, among other locations.
The final name read was Daniel David Aston, who died in the recent Club Q mass shooting.  This year, TDOR came on the heels of the senseless massacre in Colorado Springs that left five members of the LGBTQ+ community dead and 25 injured. 
Reverend Valerie Spencer gave an impassioned closing speech, first inviting the audience to take several deep breaths in unison.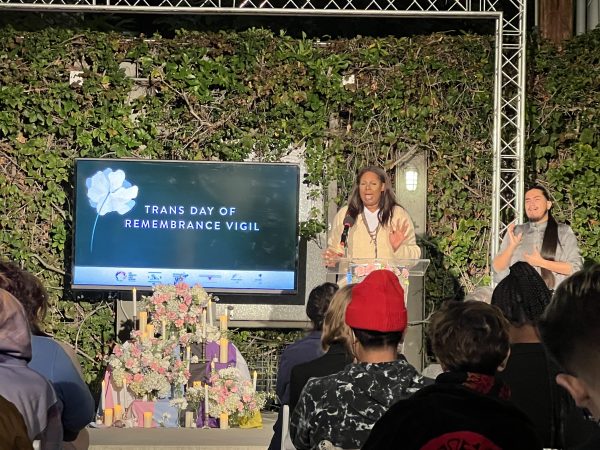 "We will mourn our family, our siblings," said Reverend Spencer, "but we are not having our primary focus on the violent conclusion of their life. We are choosing to see them and know them and celebrate them in the full context of their living. For they were fierce and powerful people."