Newsom signs refuge bill for Trans kids & their families into law
Provides safeguards to block out-of-state attempts to penalize families that come to Calif. seeking medical treatment for trans children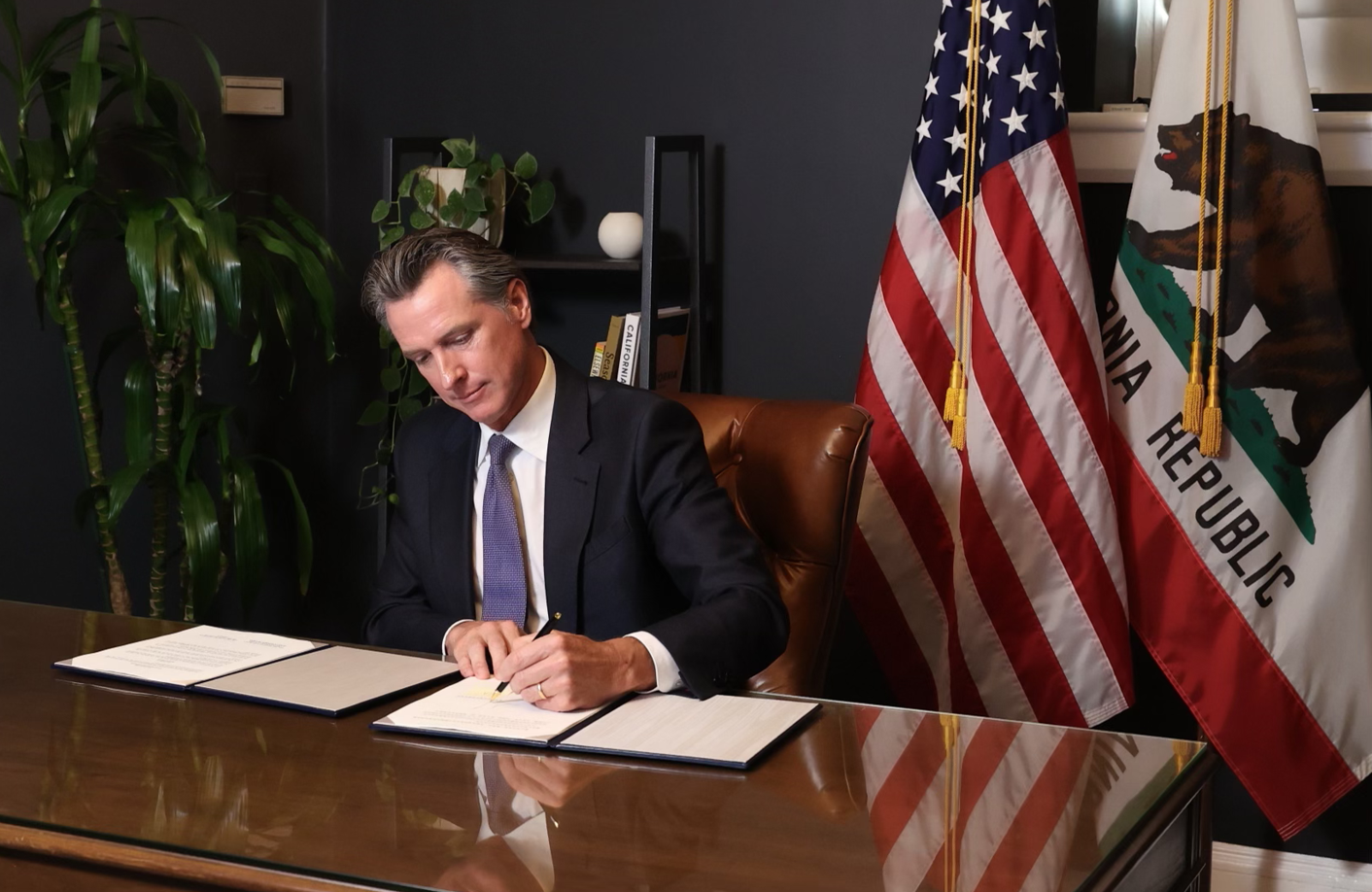 SACRAMENTO – Governor Gavin Newsom signed legislation to provide refuge for trans kids and their families authored by Senator Scott Wiener (D-San Francisco). Senate Bill 107 will protect trans kids and their families if they flee to California from Alabama, Texas, Idaho or any other state criminalizing the parents of trans kids for allowing them to receive gender-affirming care.
If these parents and their trans kids come to California, the law will help protect them from having their kids taken away from them or from being criminally prosecuted for supporting their trans kids' access to healthcare. It will take effect on January 1, 2023.
"As so many states work to erase trans kids and criminalize their families, California must always have their backs," said Senator Wiener. "With SB 107 signed into law, California is forcefully pushing back against the anti-LGBTQ hatred spreading across parts of our nation. The rainbow wave is real, and it's coming. Thank you, Governor Newsom, for standing with our community."
SB 107 was co-sponsored by Equality California, Planned Parenthood, TransFamily Support Services and Lieutenant Governor Eleni Kounalakis.
"While small, hateful men like Greg Abbott and Ron DeSantis attack trans children and their families, Governor Newsom today made clear that California will welcome them with open arms. SB 107 officially makes California a state of refuge for trans kids and their families," said Equality California Executive Director Tony Hoang. "SB 107 will continue California's legacy of leadership in protecting and advancing the health and well-being of LGBTQ+ communities in a time when we cannot take our rights and protections for granted. We are grateful for the leadership of Senator Scott Wiener and his commitment to protecting the most vulnerable members of our community."
"Extreme politicians across the country are openly attacking trans youth and their families like never before, but thanks to today's action by Governor Newsom and the leadership by Senator Scott Wiener, SB 107 provides reassurance that California will be a place where people can get the care they need," said Jodi Hicks, President and CEO of Planned Parenthood Affiliates of California. "We stand in solidarity with our friends and colleagues at EQCA and LGBTQ+ communities across the country. California Planned Parenthood health centers are committed to providing care, including gender-affirming care and LBGTQ+ services, to all who come through their doors – regardless of where they call home."
Senate Bill 107 provides for a range of safeguards meant to block out-of-state attempts to penalize families that come to California seeking medical treatment for transgender children and teens or move to the state to avoid consequences for already seeking that treatment elsewhere.
SB 107 has three main components:
1) It prohibits the enforcement of a law of another state that authorizes a state agency to remove a child from their parent or guardian based on the parent or guardian allowing their child to receive gender-affirming health care. The bill would prevent California's law enforcement from cooperating with any individual or out-of-state agency regarding the provision of lawful gender-affirming health care performed in this state. As a result, families will be able to come to California to avoid having their trans children taken away from them.
2) It bars compliance in California with any out-of-state subpoena seeking health or other related information about people who come to California to receive gender-affirming care, if the subpoena relates to efforts to criminalize individuals or remove children from their homes for having received gender-affirming care. Some states are considering legislation that would extend their criminal prohibitions even to residents who travel out of state to receive gender-affirming health care.
3) It prohibits law enforcement participation in the arrest or extradition of an individual that criminalizes allowing a person to receive or provide gender-affirming health care where that conduct is lawful in California and to the fullest extent permitted by federal law. It will declare that it is California's public policy that any out-of-state criminal arrest warrant for someone based on violating another state's law against receiving gender-affirming care is the lowest priority for law enforcement in California.
Trans youth already face numerous barriers to receiving the health care they need. Studies have shown that access to gender-affirming care for trans kids reduces risk for depression, psychological distress, and suicidal ideation. The criminalization of trans children and their parents leads to increased mental health issues and even suicide.
SB 107 is co-authored by Senators Susan Eggman (D-Stockton), and John Laird (D-Santa Cruz), and Assemblymembers Evan Low (D-Campbell), Alex Lee (D-San Jose), Chris Ward (D-San Diego), Sabrina Cervantes (D-Corona), Matt Haney (D-San Francisco), Ash Kalra (D-San Jose), Rebecca Bauer-Kahan (D-Orinda), and Mia Bonta (D-Alameda). Senate President pro Tempore Toni G. Atkins (San Diego) and Assemblymember Lori Wilson (D-Fairfield) principal co-authors.
Newsom to hold oil industry accountable for price gouging
Governor calls special session to pass price gouging penalty on oil companies, push new efforts to increase transparency & accountability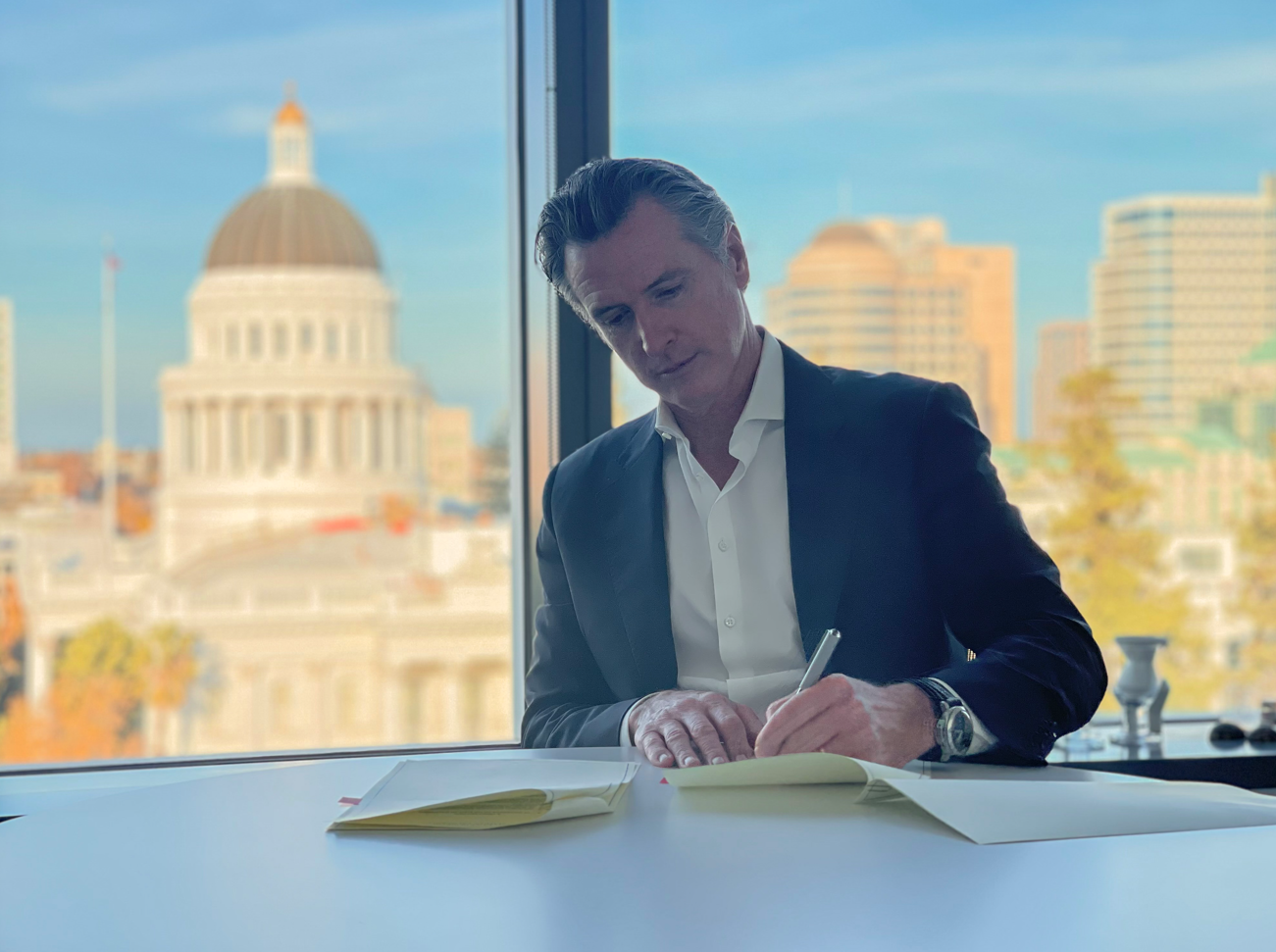 SACRAMENTO – As oil companies continue to evade questions about unexplained gas price increases, Governor Gavin Newsom today convened a special session of the California Legislature on December 5 to pass a price gouging penalty on oil companies that will keep money in Californians' pockets.
The Governor's action comes on the heels of a state hearing yesterday – which five major oil refiners refused to attend – to investigate this fall's unprecedented spike in gasoline prices. This spike in gasoline prices resulted in record refiner profits of $63 billion in just 90 days, disproportionately affecting low- and middle-income families.
"Big oil is ripping Californians off, and the deafening silence from the industry yesterday is the latest proof that a price gouging penalty is needed to hold them accountable for profiteering at the expense of California families," said Newsom. "I'm calling a special session of the Legislature to do just that, and to increase transparency on pricing and protect Californians from outrageous price spikes in the future."
This fall's spike occurred while crude oil prices dropped, state taxes and fees remained unchanged and gas prices did not increase outside the western U.S., so the high prices went straight to the industry's bottom line.
During the special session, the Legislature will also consider efforts to empower state agencies to more closely review gas costs, profits and pricing as well provide the state with greater regulatory oversight of the refining, distribution and retailing segments of the gasoline market in California.
Taking action to lower prices at the pump, Governor Newsom in September ordered the switch to winter-blend gasoline and demanded accountability from oil companies and refiners that do business in California. Since California's record-high gas prices of $6.42, the Governor's actions have reduced those prices to $4.95 most recently – a decrease of $1.47 since the peak.

In the third quarter of 2022, from July to September, oil companies reported record high profits:
The text of the Governor's proclamation convening a special session can be found here.