LA Times: Leaked audio of city council members being racist
The audio recordings were posted to Reddit by an anonymous user who has deleted the post & has been suspended by the social media platform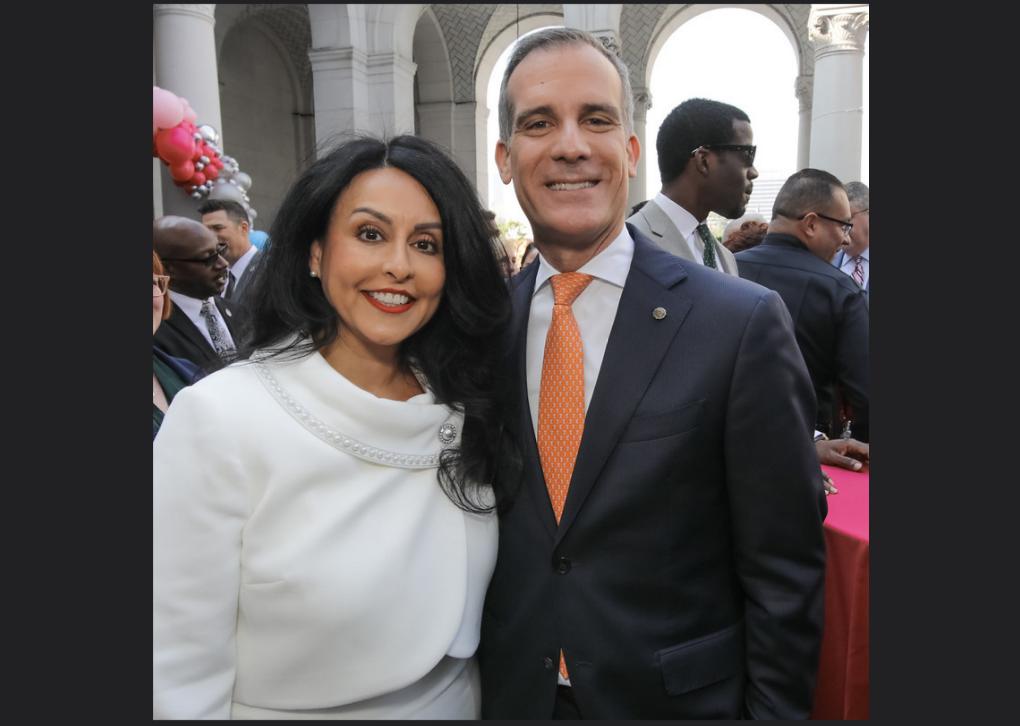 LOS ANGELES – Audio recordings from the Fall of last year reveal Los Angeles City Councilmembers Nury Martinez, Gil Cedillo, and Kevin de León in conversations with LA Labor Federation President Ron Herrera, where racist and disparaging comments are made.
According to reporting from the Los Angeles Times and LA independent media outlet Knock LA on Sunday, the recordings seem to contain the voices of Council President Nury Martinez, Councilmembers de León and Cedillo, with Herrera discussing a wide range of topics including redistricting and being incredibly racist while doing so.
The Los Angeles Times notes: Council President Nury Martinez is heard saying a white councilman handled his young Black son as though he were an "accessory," according to a recording of the meeting reviewed by The Times.
Martinez referred to the councilman's child as "ese changuito," or that little monkey, soon after.
During the conversation with Councilmembers Gil Cedillo and Kevin de León and Los Angeles County Federation of Labor President Ron Herrera, Martinez also described Councilmember Mike Bonin at one point as a "little bitch."
De León appeared to compare Bonin's handling of his child to Martinez holding a Louis Vuitton handbag. He also referred to Bonin as the council's "fourth Black member."
"Mike Bonin won't fucking ever say peep about Latinos. He'll never say a fucking word about us," he said.
Knock LA reports that Martinez says of Los Angeles District Attorney George Gascón, "Fuck that guy, he's with the Blacks."
The audio recordings were post to Reddit by an anonymous user who has since deleted the post and according to the Times has been suspended by the social media platform.
On Sunday, after the LA Times article was published online, Martinez issued a statement apologizing for her comments, saying, "In a moment of intense frustration and anger, I let the situation get the best of me and I hold myself accountable for these comments."
"The context of this conversation was concern over the redistricting process and concern about the potential negative impact it might have on communities of color," she added. "My work speaks for itself. I've worked hard to lead this city through its most difficult time."
De León released a statement of his own, in which he voices his regret for participating and at times condoning the remarks.
"There were comments made in the context of this meeting that are wholly inappropriate; and I regret appearing to condone and even contribute to certain insensitive comments made about a colleague and his family in private. I've reached out to that colleague personally," the statement reads. "On that day, I fell short of the expectations we set for our leaders — and I will hold myself to a higher standard."
Bonin released a statement Sunday afternoon in which he says he and his husband were "appalled, angry and absolutely disgusted" by the comments made toward their son.
"We love our son, a beautiful, joyful child, and our family is hurting today. No child should ever be subjected to such racist, mean and dehumanizing comments, especially from a public official," Bonin's statement reads in part. "It hurts that one of our son's earliest encounters with overt racism comes from some of the most powerful public officials in Los Angeles."
Bonin has since called on Martinez, de León and Cedillo to resign from the City Council, as did Councilmember Nithya Raman.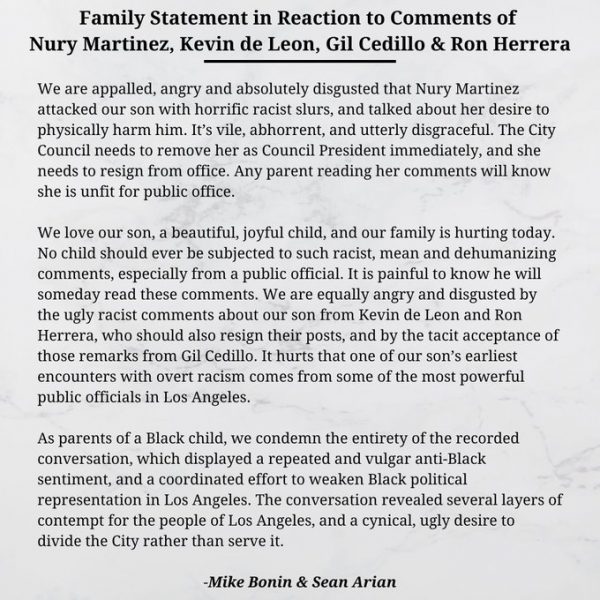 Incoming Councilmember Eunisses Hernandez, who will replace Cedillo after defeating him in an election earlier this year, called on Martinez to resign and for de León and Cedillo to be removed from committees.
Councilmember Mitch O'Farrell, who serves as president pro tempore, which is second only to the council president, called for Martinez to step down from her council leadership post.
O'Farrell in an emailed statement late Sunday evening said:
"Tomorrow we commemorate Indigenous Peoples Day in Los Angeles. This day is all about reconciliation, healing, and bringing greater understanding of the hundreds of years of atrocities committed against the indigenous people of this land after first contact.
The tragic and unconscionable remarks that came to light today are a reminder of how harmful words can be when they are directed toward any one individual or group of people, especially when it involves a child. These words have no place anywhere. Words that dehumanize are soul-destroying even when they are uttered from the mouths of friends, loved ones, or colleagues.
So on this Indigenous Peoples Day, may we all rise to our better angels and reflect on how we treat others and how we refer to others when they are not present. This is another time of reckoning, and there is only one conclusion: that the people involved in these transgressions atone for what was said and take the action that this moment requires of them. That includes stepping down from any privileged position, including that of City Council President, and to take the time required to regain the trust needed in order to carry on and find a way to recapture the remarkable credibility they've all maintained over the years that has resulted in so much good. That is the only path forward."
Sunday afternoon, Los Angeles Mayor Eric Garcetti released a statement, saying he was "saddened" by the comments.
"There is no place in our city family for attacks on colleagues and their loved ones, and there is no place for racism anywhere in LA," Garcetti said.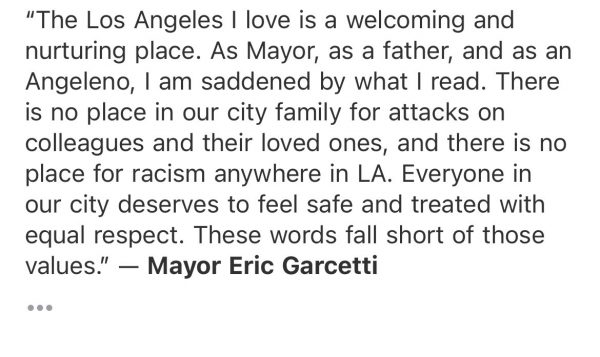 Both of the candidates in the mayoral race to replace the outgoing Mayor Garcetti weighed in late Sunday. Rep. Karen Bass tweeted her statement:
My statement regarding the recording released today. pic.twitter.com/WEkTusf70D

— Karen Bass (@KarenBassLA) October 10, 2022
The other mayoral candidate, Billionaire real estate developer Rick Caruso, released the following statement:
"First and foremost, my heart goes out to Mike Bonin and his family. I can only imagine the pain this has caused Mike and his family. I've disagreed with Mike on much regarding public policy, but as a father I stand with him and his family and vehemently denounce this hate speech against his son. I hope others will join me in supporting Mike in this difficult time.
This entire situation shows that city hall is fundamentally broken and dysfunctional. In a closed door meeting, leaders at the highest levels of city government used racial slurs and hate speech while discussing how to carve up the city to retain their own power. This is a clear example of hypocrisy, racism, and crude power politics.
Everyone involved in this should be held accountable. I have now and will always have zero tolerance for hate speech and this situation is beyond the pale. I denounce everything in these recordings and call on all to be held accountable.
Los Angeles can't have leaders who call children racial epithets and names. I know this is one thing we can all agree on. Most of the people involved in this ugly episode have endorsed Karen Bass, I hope she'll do the right thing and demand for their accountability and renounce the endorsement of those who used hate speech. As your Mayor, I will work to unite us, not divide us the way this ugly episode has."
Read the LA Times story here: (Link)
Listen to portions of the recordings at the Knock LA here: (Link)
21 years in prison for gunman who shot gay dogwalker
"You shot me and left me to die, and both of our lives have changed forever. […] but I do forgive you and everyone involved with the attack"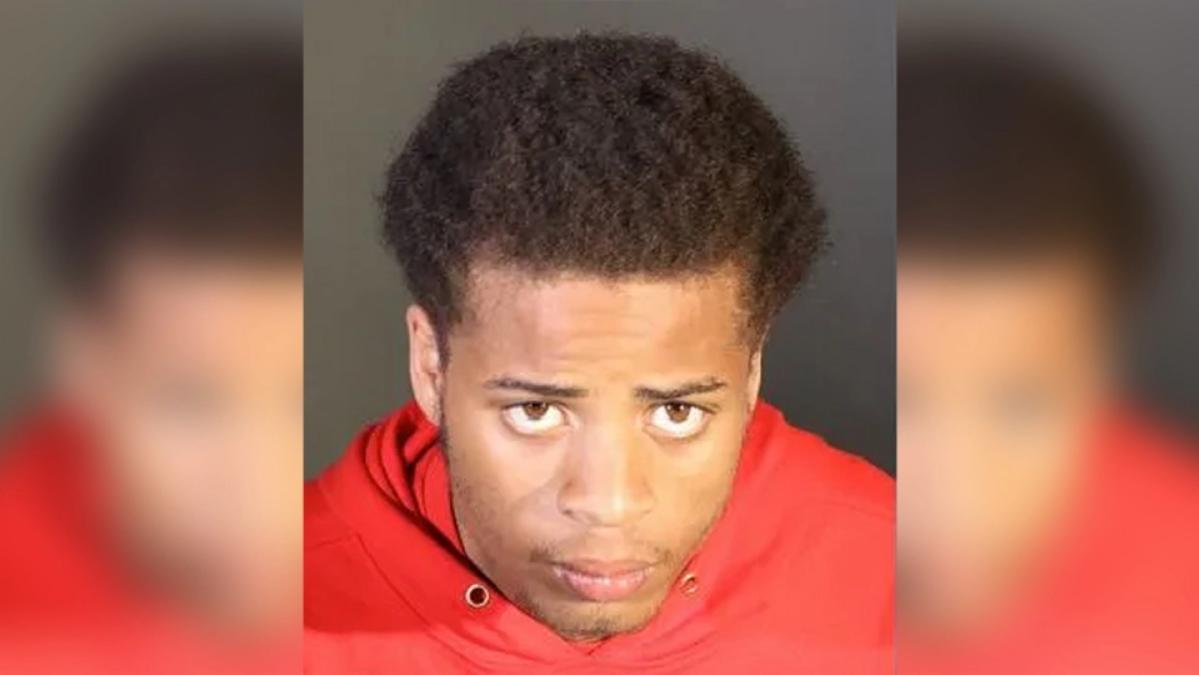 LOS ANGELES – A Los Angeles County Superior Court judge handed down a sentence of 21 years in a California prison to James Howard Jackson, who had shot then thirty-year-old Ryan Fischer, a gay professional dog walker in Hollywood on Feb. 24, 2021.
The robbery/dognapping made global headlines after it was revealed that the two French Bulldogs taken were owned by Oscar and Grammy award winning singer Stefani Germanotta, known as Lady Gaga.
Fischer was walking three of the singer's dogs when Jackson shot him during a struggle and then along with an accomplice grabbed two of the dogs in the 1500 block of N. Sierra Bonita Avenue just off Sunset Blvd, taking off in a late-model white Nissan Altima 4-door sedan.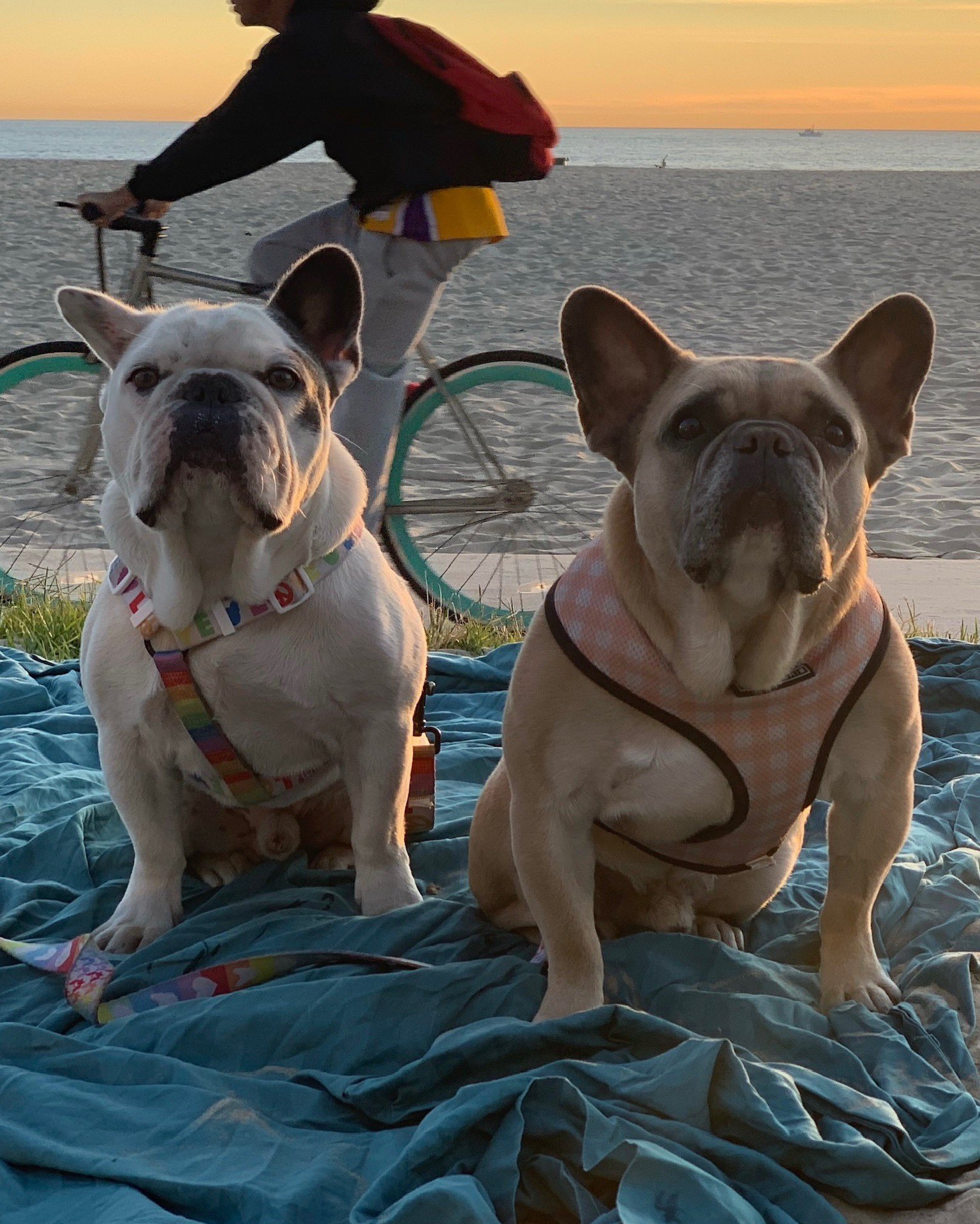 The Lady Gaga connection was a coincidence, authorities told KTLA/Associated Press. The motive was the value of the French bulldogs, a breed that can run into the thousands of dollars, and detectives do not believe the thieves knew the dogs belonged to the musician.
According to the Los Angeles County District Attorney's Office, the sentence handed down was part of a plea deal.
"The plea agreement holds Mr. Jackson accountable for perpetrating a coldhearted violent act and provides justice for our victim," the office said in a statement. Howard had been charged with attempted murder, conspiracy to commit a robbery and assault with a semiautomatic firearm.
In a victim's impact statement made prior to Jackson's sentencing, Fischer said:
"Your honor, thank you for the opportunity to give my impact statement here in court, and for everything you, Michele Hanisee [Deputy LA District Attorney] and the DA's office, and detectives and law enforcement have done to bring these cases to completion. It's hard to believe that it's nearing 2 years since I was taking Asia, Koji and Gustav out for an evening stroll when – in an instant – I suddenly found myself fighting with everything I had to protect those dogs from being stolen. But it wasn't enough: I was beaten, strangled, shot and left to die bleeding out on a sidewalk and gasping for my life. And Koji and Gustav were gone.
In some ways that night and everything that followed: from hospital stays, lung collapse after lung collapse and eventual surgery and partial removal- physical therapy that I'm still in to get mobility and sensation fully restored in my shoulder, chest and hand, the media storm that made me terrified to even go back to my home or walk on the street, the loss of a career, friendships, sense of self and savings and then aimlessly traveling this country for over a year as I went into debt, contemplated suicide, and struggled – and continue to struggle – with my identity and how to move past such a life-changing, earth-shattering event…
Sometimes it feels like all that happened to someone else, and other times it feels like I never left that sidewalk. A part of me is still trying desperately to save those dogs knowing you were going to shoot me. I'm sure it feels the same for you, Mr. Jackson. I imagine you're on that sidewalk sometimes too. You shot me and left me to die, and both of our lives have changed forever. A limbo neither of us asked to be in.
In my darkest hours, when I feel lost and abandoned and mourn a life and those dogs I sacrificed myself for, a life I've accepted – through a lot of therapy – I've accepted I'll never see again, I try to focus on what I've gained:
A deeper love for friends and family that have shown up and continue to show up even when I'm still such a mess. I love you and thank you.
That, despite everything and the trauma I still work through in regards to them, I love dogs so so much and look forward to continue bringing them back into my life.
Gratitude for strangers that became family and have supported me in countless ways.
And that I finally feel healthy enough to stop running from my problems.
Forgiving myself for not being able to save those dogs that night and falling down again and again these last two years.
Forgiving friends who didn't and don't know how to be there for me in the lengthy recovery process this continues to be.
And forgiveness for you. It's something I'm still working on but I do forgive you and everyone involved with the attack. You completely altered my life, and I know I can't fully move forward from the night you shot me until I said those words to you.
My hope for you is the same for me: to live a life of purpose and grow from what happened that night. Moving forward, it's going to be a hard road for both of us, and I know from prison it won't be easy. But I do hope you find a calling there as I continue to search for my own and live life contributing to others. It's the only way to heal from this experience.
I also wanted to give gratitude, to thank you for not killing – for not harming – the dogs after everything and the media storm. They were returned and returned to their mom. I don't think I could have lived with myself if they died.
And, in general, I just wanted to say how guns have impacted my life and countless others and continue to harm our society. I look forward to contributing to a future that doesn't destroy so many lives and so many people in this country. It doesn't make sense to fear for your life at school, places of worship, clubs, or when you're taking dogs out for an evening stroll.
Thank you all for your time today."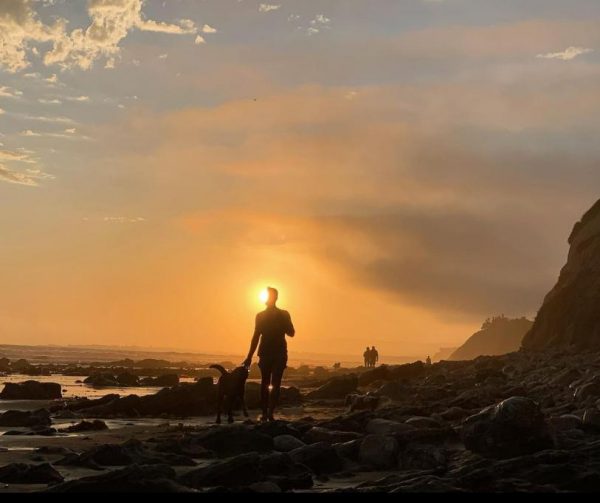 KTLA/AP also reported that another accomplice, Harold White, pleaded no contest Monday to a count of ex-convict in possession of a gun. White, who was in a relationship with McBride at the time, will be sentenced next year.
The couple had allegedly tried to help White's son, Jaylin White, avoid arrest in the aftermath of the shooting.
Jaylin White and Lafayette Whaley earlier this year pleaded no contest to robbery.