#DeleteGrindr trending over incoming CEO's past right-wing tweets  
Arison identified himself as a 'conservative' supporting some Trump policies in a tweet he deleted, in a 2020 thread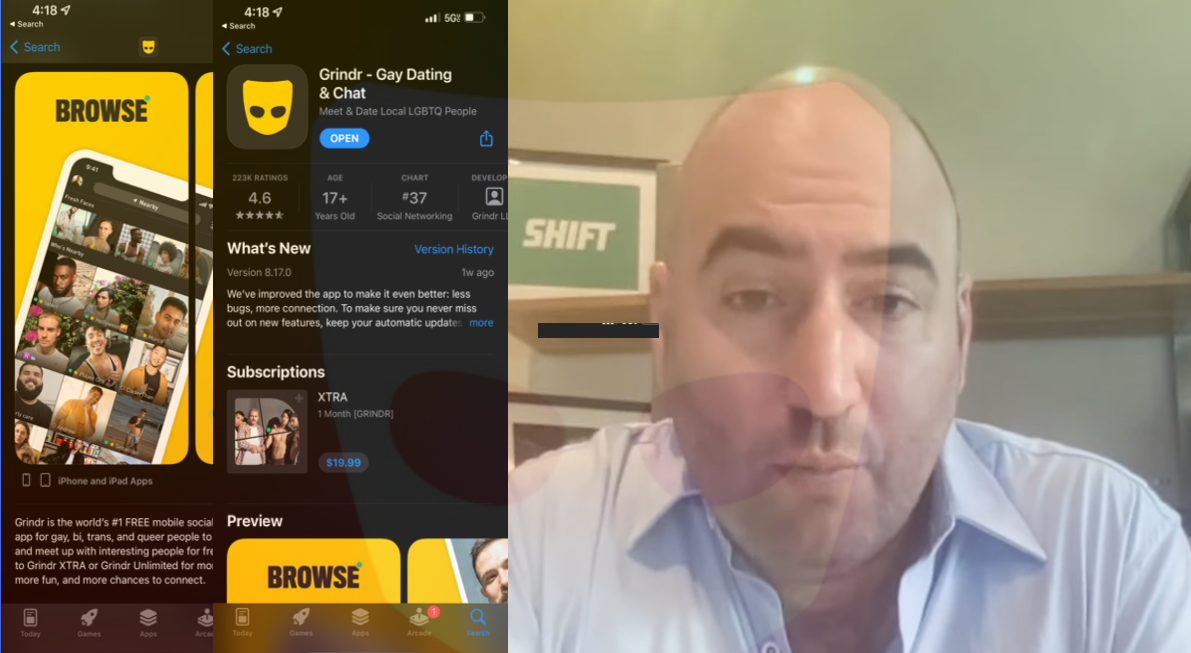 WEST HOLLYWOOD – Some LGBTQ+ Grindr users are advocating people delete the popular dating app after old Twitter posts surfaced supporting anti-LGBTQ right wing politicians by the new incoming openly gay Grindr Chief Executive Officer George Arison were shared and retweeted.
Arison, 44, identified himself as a 'conservative' supporting some Trump policies in a tweet he deleted, in a 2020 thread that appeared to show support for former New York Mayor Mike Bloomberg in the presidential race that year.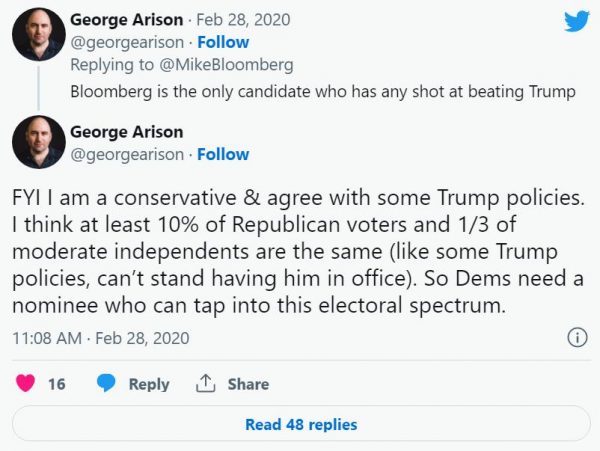 Grindr which boasts about 11 million gay, bisexual, transgender and queer users per month around the world, is preparing to go public this fall with a $2.1 billion valuation. Arison is slated to take over as CEO on October 19.
The contreversary over Arison's right-wing leaning support, which extended to Florida Republican Governor Ron DeSantis and Virginia's Republican Governor Glenn Youngkin who have anti-LGBTQ+ records, comes on the heels of controversy stemming from Facebook posts published by former Grindr CEO Scott Chen:
"Some think marriage is between a man and a woman. I think so, too, but it's a personal matter," he wrote. "Some people think the purpose of marriage is to have your own biological children. It's a personal matter, too."
In another tweet earlier this year as well Arison signaled apparent approval of Governor Ron DeSantis:
He also voiced support this past February for Virginia's Republican Governor Glenn Youngkin as the war in Ukraine commenced: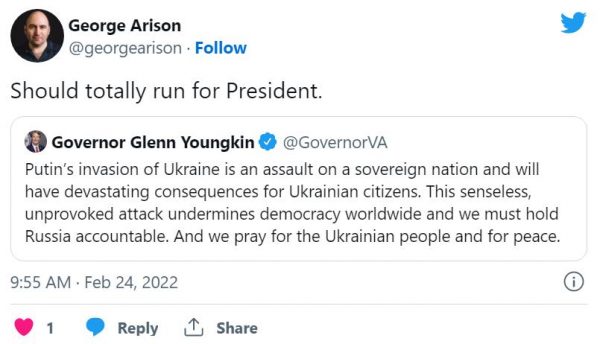 Arison, the openly gay founder and former CEO of Shift Technologies, takes over as the app continues revamping its help center, community guidelines, and safety tips. Grindr has also worked to fight the sexual exploitation of minors and mitigate instances of bullying on the app.
In the months since the conservative leaning tweets Arison has also retweeted a mixture of progressive posts and voicing support for Ukraine.
Ahead of its merger with a special purpose acquisition company (SPAC), and as it is preparing to go public, Grindr in addition to naming Arison CEO, also formed a board comprised of 60% LGBTQ+ members.
A spokesperson for the company referring to the online outrage over the past tweets and right-wing leaning retweets and tweets by Arison in a statement to media outlets said:
"George [Arison] is an out gay man, proudly married to his husband and the father of two children," Grindr said. "George is passionate about fighting for the rights and freedoms of LGBTQ people around the world." 
Meta allowing misinfo & hate speech to proliferate on Threads
Meta released a statement admitting its not extending its fact-checking- users have flooded Threads with racist & anti-LGBTQ hate speech


By Ethan Collier | WASHINGTON – Since its launch on July 5, Meta's Threads has surpassed 100 million users, including far-right figures and extremists, and the platform quickly became rife with harmful content as Meta carved out exceptions to its community guidelines.
As Media Matters previously reported, Meta launched Threads without the fact-checking program that aims to prevent the spread of misinformation on Facebook and Instagram and seemingly abandoned hate speech policies. The company even succumbed to complaints from right-wing users such as Ian Miles Cheong and Donald Trump Jr., dropping warning labels the platform initially placed on accounts with a history of spreading misinformation and restoring a post from anti-LGBTQ social media account Libs of TikTok that was previously removed as hate speech.
Since Media Matters last documented misinformation and hate speech on Threads, top right-wing accounts have posted harmful content dozens more times — which Meta has not moderated.
Meta has allowed right-wing accounts to continue posting election and health misinformation, as well as conspiracy theories about Hunter Biden
Right-wing users on Threads have been able to peddle unchecked misinformation about the "rigged" 2020 election, COVID-19 vaccines, and abortion.
Despite a lack of evidence, right-wing figures baselessly claimed that a small amount of cocaine recently found in an area of the White House frequented by visitors and tour groups really belonged to Hunter Biden.
Threads still isn't enforcing the hate speech policies that govern Instagram, allowing users to post anti-LGBTQ, racist, and anti-immigrant rhetoric
Anti-LGBTQ attacks on Threads often include transphobic rhetoric and the "groomer" slur, as well as dangerous claims that the LGBTQ community is trying to "sexualize, sterilize and butcher" children.
Racist, anti-immigrant, and xenophobic hate speech on the platform have included fearmongering about an "invasion" of "illegal aliens," the uncensored use of racial slurs, including the N-word, and attacks on diversity, equity, and inclusion initiatives and representation.
******************************************************************************************
The preceding article was previously published by Media Matters for America and is republished by permission.