Arkansas Attorney General Leslie Rutledge & her "experts"
It seems telling that Rutledge relied on numbers from a largely discredited book on homosexuality written over 35 years ago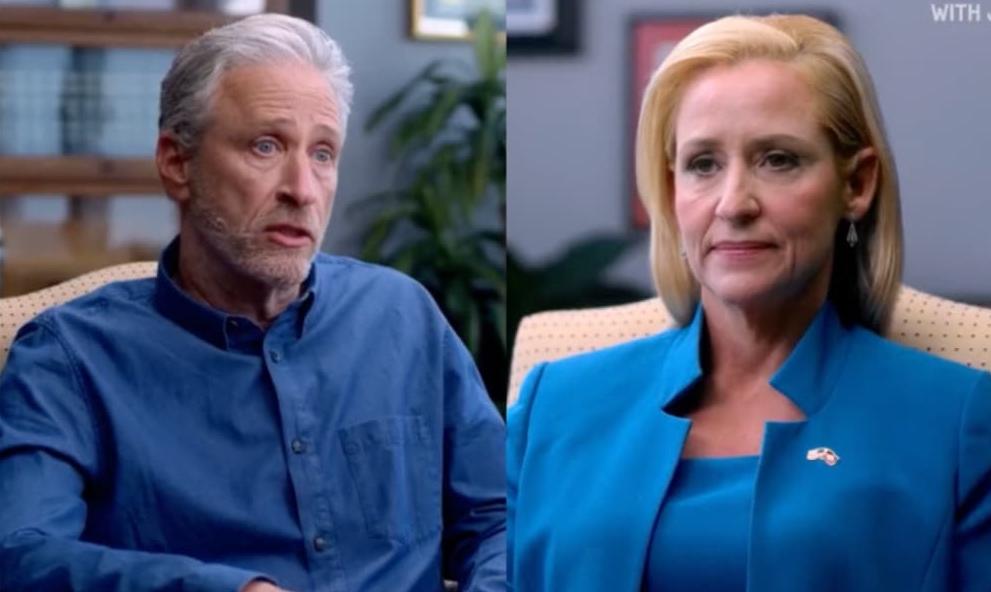 By Eric Tannehill | FAIRFAX COUNTY, Va. – In a recent video clip that has gone viral, former Daily Show host Jon Stewart interviewed Arkansas Attorney General Leslie Rutledge regarding the state's ban on all health care for trans minors, and their defense of it in court.
Rutledge attempts to defend her position by claiming that for every expert who supports access to care, "there's an expert that says we don't need to allow children to be able to take those medications." She also claimed that "98 percent of the young people who have gender dysphoria… are able to move past that and once they had the help that they need no longer suffer from gender dysphoria. 98 percent without medical treatment."
Stewart challenges her on both these assertions, and calls them out as "an incredibly made up figure." However, he (rightly) doesn't dive down the rabbit whole of who the state's "expert" witnesses were, or where that 98 percent figure came from, and why it's completely non-credible.
First, there's the "experts". In the state's court filings they cited only four: Dr. Stephen Levine, Dr. Mark Regnerus, Dr. Paul Hruz, and Dr. Patrick Lappert. All of them have clear biases, mostly based on religion.
Dr. Stephen Levine is an octogenarian professor emeritus who has never treated trans children. He makes his money acting as a hired gun for states that don't want to provide health care to transgender prisoners. Some of the prisoners he denied care to have killed or castrated themselves using improvised implements.
In his credentials he claims to be an expert based on working with the World Professional Association of Transgender Health; the truth is that he left the organization 20 years and 3 standards of care ago, because he didn't like the fact that trans people demanded a say in their own health care.
Dr. Paul Hruz is a pediatric endocrinologist, but has no experience with trans youth. He is a member of the American College of Pediatrics, a small SPLC designated hate group masquerading as a medical organization.
He is also affiliated with the Alliance Defending Freedom, a powerful religious-right legal organization that opposes gay marriage, abortion, and the decriminalization of homosexuality. Hruz is an active member of the Catholic Medical Association and has received certification in Healthcare Ethics from the National Catholic Bioethics Center, both of which oppose all health care for trans people on religious grounds.
He's also said in the past that he's okay with trans kids being hurt by the positions he takes because, "some children are born in this world to suffer and die." Courts have rejected his testimony previously, finding him, "not qualified to offer expert opinions" on the matter.
Dr. Mark Regnerus is a sociologist notorious for producing deliberately biased, low-grade research published in low-end journals meant to sway courts against gay marriage, which was paid for by hate groups. He has zero experience working with trans youth. Courts have found his work "entirely unbelievable and not worthy of serious consideration". He too has no experience whatsoever working with trans youth.
Finally, there's plastic surgeon Dr. Patrick Lappert. He is no longer certified to practice medicine. He does, however, "run a Botox clinic in a strip mall in Alabama next to a Pizza Hut." He has never worked with trans youth, nor published peer reviewed articles on them. He has, however, endorsed a book on how to perform do-it-yourself home conversion therapy on your trans child until they either pretend not to be trans or kill themselves.
None of these "experts" work with trans youth, and none of them have produced peer reviewed research on trans youth. They're simply people who happened to have a medical license at some point in their lives and object to trans people in general, usually on religious grounds. They also get paid to do so. Thus, Rutledge saying "experts disagree", is no different than Exxon or Chevron hauling in "scientists" from the American Petroleum Institute (API) to claim that there's broad disagreement about climate change.
Then there's Rutledge's claim that 98 percent of trans youth desist without intervention. This is an oddly specific number that she doesn't cite, because she'd look even worse if she did.
The source of the 98 percent figure comes from Dr. Richard Green's 1987 book, "The Sissy Boy Syndrome: The Development of Homosexuality." It's every bit as bad as it sounds. Green always had a fascination with curing "Sissy boys" dating back to 1961. He was George Reker's supervisor in the 1970s when Rekers was torturing gay boys to make them stop acting gay, in the belief that it would make them straight.
Later, it turned out his "success stories" ended up killing themselves, while still being very much gay. For those who don't remember, Rekers was one of the leading proponents for conversion therapy on gays for decades, right up until he got caught on vacation with a rent boy.
Green didn't make much distinction between gender and sexual orientation at the time. His 1987 book was basically a continuation of Reker's work, endorsing parents enacting strict gender roles for gender variant children in hopes of making them "normal acting".
Green's book was written back in the days of the DSM-III, when the diagnosis of juvenile gender identity disorder was ill-defined. Under older editions of the DSM a diagnosis of gender identity disorder didn't actually require a cross-sex identity. Playing with dolls, wearing tutus, and playing with girls was sufficient. Green and his ilk also mostly ignored girls who exhibited generally masculine traits. Thus, the 98 percent figure wouldn't apply to trans men anyway.
The 98% figure in the book comes from the fact that based on one cohort of the 44 pre-pubertal "Sissy boys" brought in for "treatment", only one ended up trans. Green's book looked at 44 feminine acting kids, but didn't account for whether or not they identified as trans, and pronounced all but 98% cured.
This is like taking 44 people with a stomachache, giving them some Tums, and declaring that Tums cured cancer 98% of the time because only one of the people died of stomach cancer, when in reality only one of them had it to begin with. Later desistance research by Kenneth Zucker suffered from the same methodological flaws. 
It is also worth noting that the Arkansas law applies to medical care. Only teens receive blockers or hormones. Green and Zucker's deeply flawed research applies to pre-pubertal youth, not to teens. Even Zucker admitted that if dysphoria lasts past the onset of puberty, it is unlikely to go away.
Thus, Rutledge either had zero idea what the research really said or was lying. Neither of which help her defense of the law. Rutledge also ignored the fact that the Endocrine Society considers blockers "completely reversible", and that these are only administered after the onset of puberty and in the presence of persistent gender dysphoria, yet banned them anyway.
It seems telling that Rutledge relied on numbers from a largely discredited book on homosexuality written over 35 years ago, rather than far better research published last year. A 2021 study with a large cohort found that when modern diagnoses are applied using the DSM-5, and an insistent, consistent, and persistent cross gender identity is present, only 2.5% of trans youth patients end up identifying as cisgender.
Similarly, the idea that regret is common is not supported. Meta-studies put the long-term regret rates for adults at about 0.2-0.3%. This compares VERY favorably with basically every other sort of medical intervention. Rutledge also conveniently ignored the overwhelming body of legitimate experts and peer reviewed research in support of access to care, resorting to creating a false "both sides" argument.
Thus, both the experts and the 98% figure are complete nonsense, just as Jon Stewart said (but with more explanation). Using the climate change analogy again, it's as if Rutledge had used experts from the American Petroleum Institute, who pointed to data from the 70s & 80s to say the science isn't completely in yet, and that there's lots of disagreement on whether anthropogenic climate change is even real. But, instead of killing the planet, she's content to keep her goals more manageable and settle for transgender children.
**********************
Eric Tannehill is a twenty-something queer activist and university student.
The end comes soon: Drums, drums in the deep
"We cannot get out. The end comes. Drums, drums in the deep. They are coming." – J.R.R. Tolkien, The Fellowship of the Ring
By Brynn Tannehill | FAIRFAX COUNTY, Va. – To be trans in the US is to know fear. It is a companion that travels with us constantly: from the moment we realize we are trans, to coming out, to transitioning, and now into our lives long past the point where we should have faded away into anonymity in days past.
We are in the midst of a second Lavender Scare, and in many ways this is far more dangerous: even Christine Jorgenson wasn't barred from receiving hormones or being within 2500 feet of children simply for being transgender. 
I have been called a doomsayer who profits from prognosticating an inevitable end. This is not precisely true: there is hope, if precious little of it. We can all clearly see the situation deteriorating rapidly in red states, with (at best) spotty resistance from the Democratic Party as a whole. We can see the effects of this deterioration as transgender people not only ask how to flee, but actively do so now. But most in a poverty-stricken community, however, lack the money or resources to flee.
There's an eerie similarity to 1933, when people sold everything they owned, with no job waiting for them, just to get away from what they saw happening and coming. Others look at what it will take to get to another country, even as those countries are not yet ready to grant trans people asylum or refugee status. Most can only tell you that it's getting bad, and that they're afraid of what their government is preparing to do to them, even if they don't know exactly what that will be. However, with nowhere to go, and no country particularly wanting transgender people, I find myself dreading another S.S. St. Louis moment in history.
There's an authoritarian party in permanent power in half of the U.S. They're making it clear that intend to seize permanent federal control and bring their vision of a shiny, Godly America to the rest of the country by any means necessary. They're ready to destroy the Union and our democracy to save it from "wokeness". And they have sold their base on the idea that the number one threat that the country must be saved from is transgender people.
State level anti-transgender bills are becoming both more numerous and draconian year after year. The Overton Window of anti-trans legislation keeps shifting further and further to the right. For example, first they wanted to ban transition-related health care for everyone under the age of 18. Then the bills started putting the age at 21. Then, this year, we saw Oklahoma propose banning it for anyone under 26. Texas followed by passing a resolution condemning it for people of all ages.
Now, Oklahoma has proposed a law that would ban providers who take state or federal money of money of any sort (e.g. Medicare or Medicaid) from providing transition-related care to anyone of any age. This means thousands of people who transitioned years ago will no longer be able to refill their prescriptions. Access to medical care will become a right that exists in theory but not in practice, like suffrage in the Jim Crow South.
It's not just medical care. It's sports, bathrooms, birth certificates, driver's licenses, bans on "drag", required misgendering, and forced outing. The creativity of this performative cruelty seems endless. Of these though, the "drag" bans are the most devastating. These laws are deliberately written as to be so vague and overly broad that a symphony orchestra with a transgender 2nd clarinet, or a family with a trans child doing a sing along in the car would be considered obscene. In West Virginia, SB252 and 278 single out transgender people (and not just drag performers) to declare that their mere presence in public is obscene.
Not only are the scope of laws increasing; the sheer number is growing exponentially. In 2018, there were 19 anti-trans bills proposed in state legislatures. By 2020 it was 60. Last year it was 155. Now, in 2023, we surpassed the 2022 total by the middle of January and are well on our way to more than 200. Even so, these numbers don't tell the full tale.
In years past, only perhaps 10% of these bills would pass, usually after opposition and debate. Now, we're seeing bills introduced, sent to committee, debated, and sent to the floor in 24 hours. There is simply so much happening so fast that trans people cannot put together opposition in time to speak against these bills, whereas conservative legislators coordinating with religious legal groups always have "experts" lined up and ready, since they know exactly when and where the bills will be heard ahead of time. The result is that in a year where a record number of anti-transgender bills are introduced, a record percentage, and a record total, will be passed.
Trans people are not doomed, but we're clearly on an accelerating trajectory to the end of the community in at least half of the US. Reversing these trends, and preventing a nation-wide destruction of the community, requires numerous highly improbable things to happen. This includes Republicans moving on from the moral panic about trans people, deciding that they've gone far enough already with their oppression at the state level, or the courts overturning anti-trans laws. None of these seems likely.
Additionally, there remains the fear that even states with sanctuary laws, like California, will not remain safe forever. Republicans in Congress have made it clear that should they take power in 2024, they intend to pass nationwide laws similar to those at the state level. The odds of the GOP taking full control are frighteningly high: the Senate map in 2024 for Democrats is very bad, Biden's net approval is where Trump's was in 2020, and gerrymandering makes taking back the House difficult.
Masha Gessen's rules for surviving autocracy state that "your institutions will not save you." This is true for trans people now in several ways: neither courts, the Democratic party, nor the media seem prepared to stand up for us as the situation goes from hostile to non-survivable. There's the open question of whether the courts will uphold sanctuary laws. When Texas demands the arrest and extradition of trans people (or parents of trans youth) who have fled to a sanctuary state, it seems unlikely that the current Supreme Court will do anything but what their Christian Nationalist masters tell them to. It's also unknown whether a state like California would defy the courts and break the union over trans people or women seeking an abortion.
Then there's the news media, the fifth estate that is supposed to be the light of truth shining on darkness. Instead, half of the media ecosystem is leading the charge to brand transgender people as an existential threat to women, children, and society. The other half, like Reuters, The New York Times, and The Atlantic, produce poorly thought out "both-sideism" and concern troll pieces that amplify and reinforce the narratives of the side that believes the ideal number of transgender people in the US is zero.
Trans people have precious few people that they know will go to the mattresses for them. We're already seeing who on the left and center is stepping aside, or even joining in, to let self-proclaimed Christian fascists like Matt Walsh have their way. Not only can it happen here, but it is happening now, at this very instant, to the sound of deafening silence from the people who swore without irony "never again."
The American public, for their part, either doesn't know or doesn't care. It's just happening to "those people". Most trans people cannot enunciate all the factors that have them afraid, and why they form an interlocking system of failures that make recovery from the trajectory we're on improbable. They just know that things are getting worse, and they don't see how it will get better. Like animals before an earthquake, they know something is very wrong, even if they can't explain why, or get anyone to listen.
All they know is that they cannot get out, the unstoppable power of the government is coming, and no one is coming to the rescue. For those who cannot flee, and cannot survive the laws about to be passed, the end comes soon. Drums, drums in the deep.
*******************************************************************