Queer family-friendly Halloween event causes uproar in Encinitas 
The homophobic and anti-trans/queer backlash against the event was spread online and across multiple social media platforms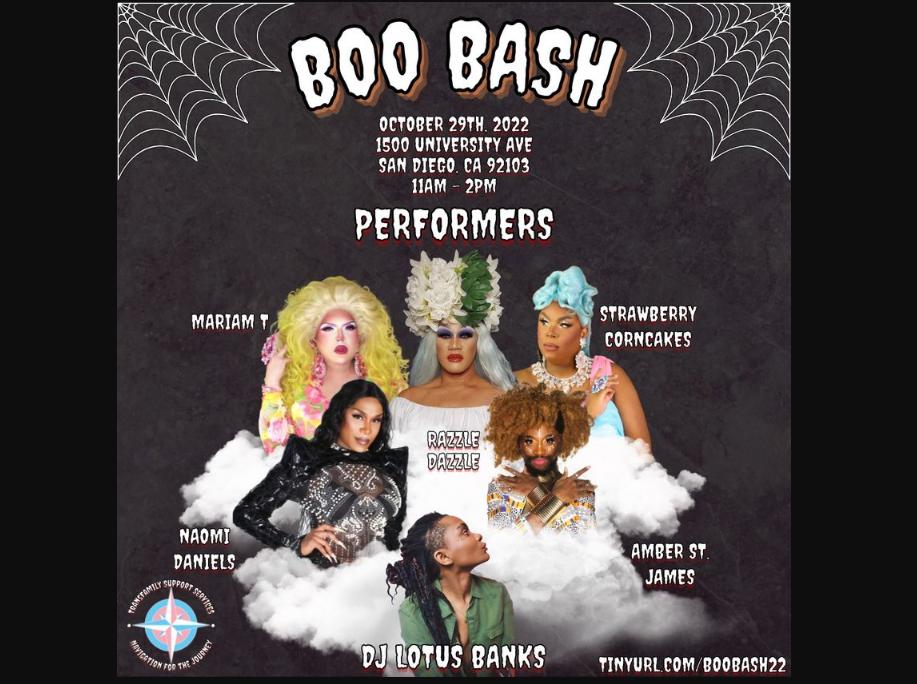 ENCINITAS, Ca. – A Halloween event, "Boo Bash," billed as the "queerest free Halloween party for youth and families," sponsored by the TransFamily Support Services, which is hosting the event, has one North San Diego County school district in an uproar.
The controversy started last month when a flyer advertising the event, described as a "Spooky Block-Style Party" with food trucks, trick-or-treating down businesses and a Disney villain drag show was posted to the Encinitas Union School District's PeachJar platform webpage.
The flyer was pulled down but a group of conservative parents, anti-LGBTQ+ activists and a couple of candidates running for seats on the school board protested Tuesday including parent Joleene Burts, who told NBC's KNSD 7 San Diego: "It is very clear what the agenda is, it is not a family-friendly event and the district is lying to our children and these are our children."
The director of TransFamily Support Services told NBC 7 the advertisement wouldn't have appeared on the PeachJar platform without the district's permission. The district however, released a statement Tuesday saying that it was actually pulled from PeachJar three weeks ago because it did not meet approval criteria. The district gave no further explanation.
The homophobic and anti-trans/queer backlash was spread online and across multiple social media platforms.
Then on Friday, Andrée Grey, Ed.D. the Superintendent of the Encinitas Union School District issued a statement on the EUSD webpage, part expressing sorrow and support for the District's LGBTQ+ students and their families.
"Although this flier was approved in error and we regret this mistake, we are especially saddened that the situation has negatively impacted families of gender diverse children. It is our intention to always be safe and inclusive spaces for all children and families. EUSD continues to be steadfast in our commitment to be a supportive district for all students regardless of race, ethnicity, linguistic background, economic class, religion, gender, sexual orientation, and physical and cognitive ability."
Grey also addressed the reactions from some in the community:
As someone who is deeply proud to work in Encinitas, I have been saddened to see how our district has recently been portrayed in the media. I know many of you have reached out with these concerns as well. Unfortunately, there has been inaccurate information spread via television and social media. I would like to provide accurate information:
An EUSD staff member did allow a flier to be posted in Peachjar advertising a Boo Bash event put on by TransFamily Support Services, a nonprofit regional support agency for gender diverse children and families.
EUSD is not hosting the event. This is NOT a district event.
Peachjar is an optional information hub containing community events and opportunities for adults/families within the district. None of these fliers were sent to children and adults are charged with determining what is relevant for their families. All fliers are stamped with the words, "distribution of this flier does not imply endorsement by the Encinitas Union School District, its schools or staff and is distributed in compliance with federal and state law."
Unfortunately, our district criteria for approving fliers was not followed, so therefore the flier was taken down almost 4 weeks ago shortly after it was distributed. Based on the error in approving the flier, we have adjusted our procedures to ensure fliers have a second review by a manager. This issue has been corrected with staff.
Over the past 4 weeks, individuals have altered the flier to make it look like EUSD was the host, however, the actual flier notes the location of the event in downtown San Diego. It was also altered to remove the language that says it is not endorsed by EUSD. It was altered to include some school phone numbers as well which resulted in harassing calls to school sites.
Additionally, there have been statements made that the Board approved the flier, this is inaccurate as this is a staff function. The Board does not approve any fliers.
I personally heard from families and outside individuals regarding their concerns or support for the inclusion of the flier. Please know we welcome opinions and feedback and hope that it is provided in ways that are productive and respectful.
TransFamily Support Services has continued its efforts to ensure the event is a success noting on its Facebook page;
Shhh… it's not a secret but it's definitely something to get excited over! The lineup for Boo Bash, our Halloween event for Queer families and youth, will feature a Disney Villain-themed performance & music by DJ Lotus Banks.
Visit tinyurl.com/BooBash22 for +info!