L.A. City Council selects Paul Krekorian as new Council president
10 members voted unanimously for him to take over the council presidency after former council president Nury Martinez resigned in disgrace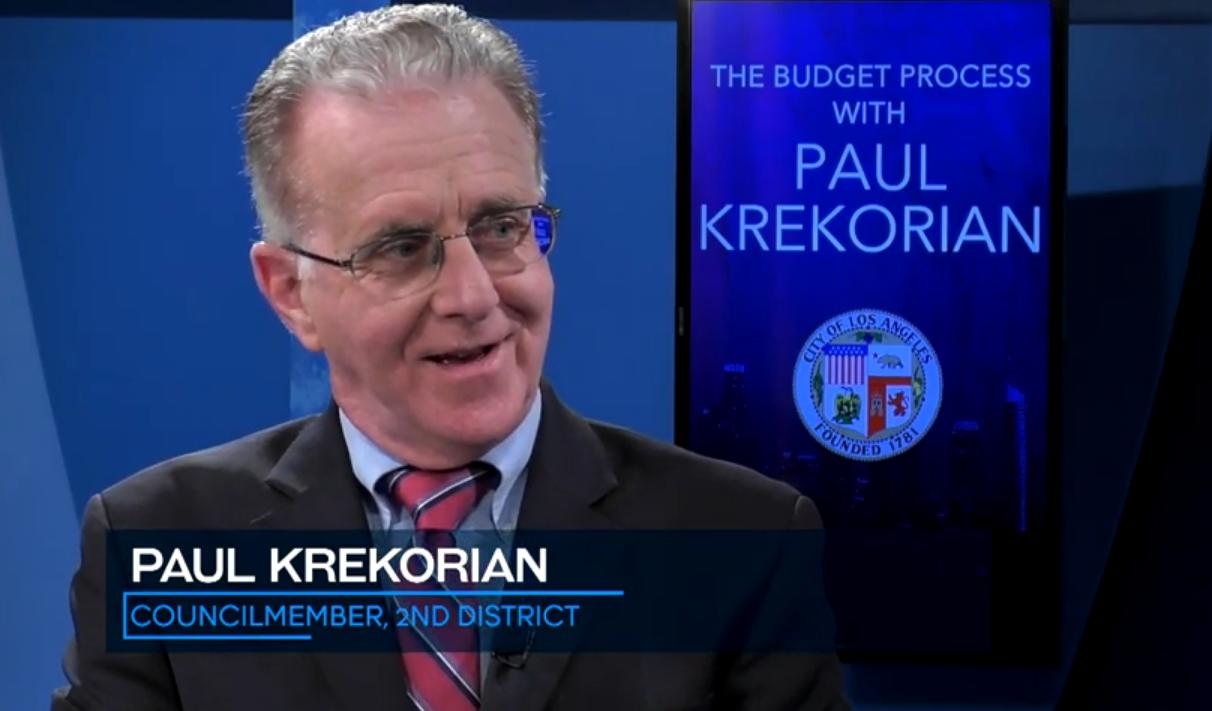 LOS ANGELES – The Los Angeles City Council has selected 2nd District councilmember Paul Krekorian as its next president, with the 10 members present voting unanimously for him to take over the council presidency after the resignation of former council president Nury Martinez who resigned in disgrace last Wednesday.
"I congratulate Councilmember Paul Krekorian on his election as the first Armenian American to serve as President of the Los Angeles City Council. As I hand the baton to Council President Krekorian, I have full faith and confidence that he will help guide our city with the experience, steady hand, and unifying voice that these challenging times require," councilmember Mitch O'Farrell who had been the Acting Council President said in a statement.
"With today's unanimous vote to move forward with my Charter reform initiative that will increase representation and redistricting that is completely independent of this elected body, I know the Council President will help ensure we directly address the very issue that has caused such devastation and harm. I am eager to work with Council President Krekorian and all of my colleagues to expeditiously move this imperative forward." 
A leaked audio recording of a meeting reported on by The Los Angeles Times two weeks ago that has plunged the Los Angeles city council into chaos and is being met with outraged Angelenos calling for the resignations of Kevin de León and Gil Cedillo, who are also heard on the recording with along with former councilmember Nury Martinez and former labor leader Ron Hererra making racist and homophobic remarks, that has now also triggered an investigation by California Attorney General Rob Bonta over redistricting which was the reason for the meeting.
From KTLA:
Trans remembrance vigil held at LA LGBT Center
"We refuse to let violence rob us of the possibility to gather, to love each other, and to dream together in solidarity"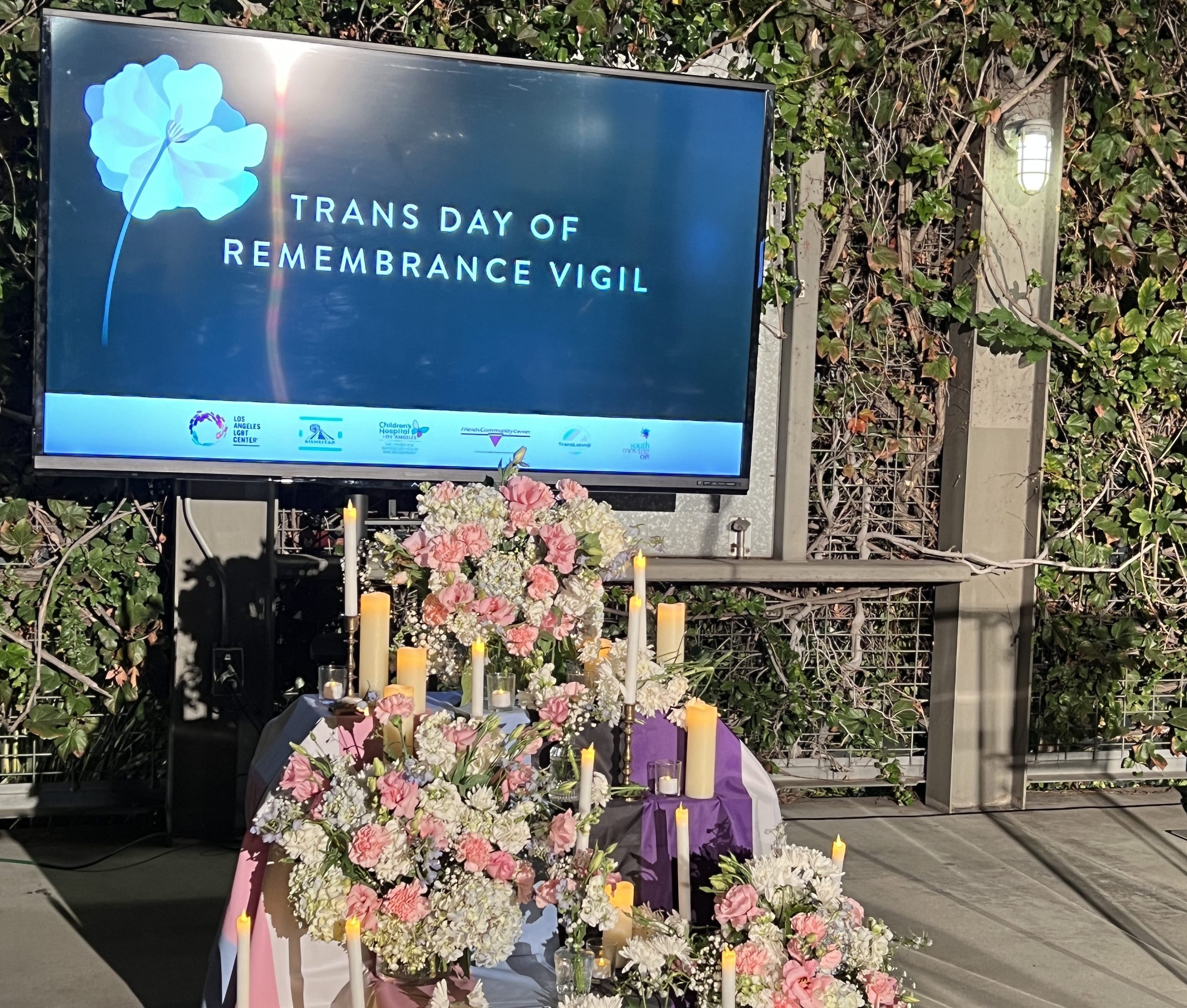 HOLLYWOOD – A Trans Remembrance Vigil was held at the Los Angeles LGBT Center on Monday, November 21st.
Candles and white, pink, and lavender flowers mounted on tiers draped by a trans flag adorned the center stage. A large monitor served as the focal point of the evening above the memorial display.
The Trans Chorus of Los Angeles started the ceremony with an acapella performance. Following the song of hope and redemption, opening remarks were given at the pulpit by the Anti-violence project manager for the LGBT center, Mariana Morroquin, and representatives from the Trans Wellness Center, Bienstar Human Services, Children's Hospital of Los Angeles, Friends Community Center, APAIT, and [email protected]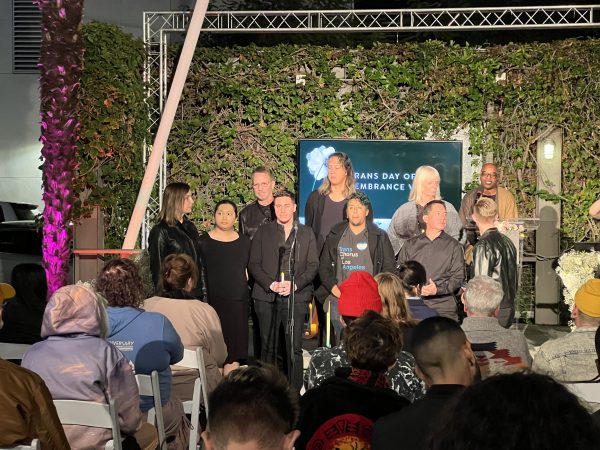 "I think it is very important to acknowledge our partners," said Morroquin, somberly addressing the seated audience of about one hundred and fifty. "We know that hate is real. A lot of us have seen hate pretty close. We are very grateful to have you. We open our arms to receive your love and your support. The way we support each other is by providing jobs, providing spaces for us, and providing opportunities. Because hate is out there. We need this space. We need to welcome everyone. I want you to keep that in your heart. And tomorrow, when we get back to work, let us open our hearts and our minds. Don't make decisions for us. Invite us to those tables. We know what we need. We've been doing this forever. We are going to keep fighting because this is what we do." 
She then added, "We refuse to let violence rob us of the possibility to gather, to love each other, and to dream together in solidarity. We gather because we must remember what is worth fighting for. For now, we commemorate. We tell the stories of the ones we lost. For tonight, that will be enough." 
One by one, members of the audience approached the pulpit to read the names and stories of a multitude of trans people whose deaths were the tragic result of hate crimes. The photos, names, and ages of the victims were displayed on the center-stage monitor.
"My name is Nikai David," said one speaker, the photo of a pale, curly-haired young lady displayed behind them. "I am a model and social media influencer who aspired one day to own my own clothing boutique. I had just celebrated my birthday a week before I was shot in Oakland California, on December 4th, 202. I was thirty-three years old."
Stories of these deaths included shootings by assailants, police, and family members, brutal beatings, and stabbings. The bodies of these victims were found in their homes, in garbage cans, and on streets where they were left, still dying, among other locations.
The final name read was Daniel David Aston, who died in the recent Club Q mass shooting.  This year, TDOR came on the heels of the senseless massacre in Colorado Springs that left five members of the LGBTQ+ community dead and 25 injured. 
Reverend Valerie Spencer gave an impassioned closing speech, first inviting the audience to take several deep breaths in unison.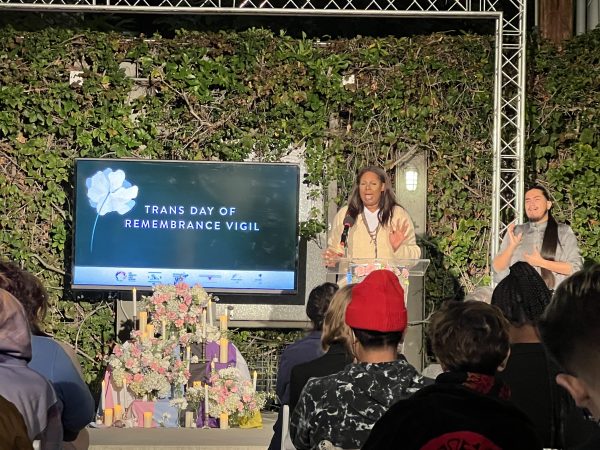 "We will mourn our family, our siblings," said Reverend Spencer, "but we are not having our primary focus on the violent conclusion of their life. We are choosing to see them and know them and celebrate them in the full context of their living. For they were fierce and powerful people."