Hate on full display in Los Angeles. This is NOT acceptable period!
The 'Goyim Defense League' headed by Minadeo dropped vile banners over the busy 405 freeway in Los Angeles Saturday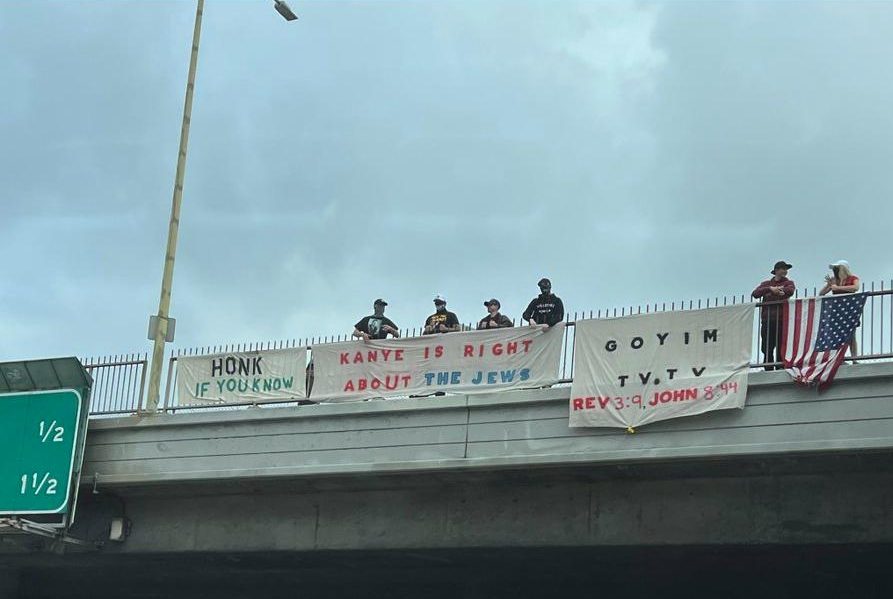 LOS ANGELES – Yesterday a group of white neo-Nazi white supremacists led by the hate speech purveyor Jon Minadeo II, a person who was arrested for vile displays of antisemitism at the Auschwitz concentration camp museum memorial in Oświęcim, Poland just this past summer, has now brought his hate and racism to LA.
The 'Goyim Defense League' headed by Minadeo dropped vile banners over the busy 405 freeway in Los Angeles Saturday.
Minadeo and his band of hate mongers were acting in "support" of Rapper Kanye West, also known as Ye.
West has engaged in several hateful intolerant rants on podcasts and social media posts in which he has made comments about supposed Jewish people's collective power and control.
In West's recent appearance on the Drink Champs Podcast, he blamed "Jewish Zionists" for the reports that his ex-wife Kim Kardashian and her then-boyfriend Pete Davidson had sexual intercourse next to a fireplace, claimed that "Jewish people have owned the black voice," and described Disney as a Jewish platform.
In the same Drink Champs podcast, which was removed from Youtube, West also claimed that Jewish people "came into money through the lawyers" divorcing Christians because Catholics refused to do so.
This newspaper strongly condemns Minadeo's actions along with members of his white supremacist group 'Goyim Defense League.' As is with transphobia, homophobia and xenophobia, racist hate has no place in a civil society and most assuredly cannot be tolerated. Angelenos and their elected officials must work harder to stop this incessant flow of absolute garbage that infects out Southern California home.
Like the most recent examples of West's remarks coupled with the horrible racism and scandal on the City Council of Los Angeles, which this newspaper has also strongly condemned, this yet another reason this type of hate must be condemned, countered, and answered with messages of tolerance and acceptance celebrating the diversity among the human species- not attacking the differences.
The Los Angeles Times on Sunday published: More antisemitic hate seen in L.A. after Kanye West's remarks– Fears that antisemitic remarks by Kanye West would spur additional bigotry came to fruition in Los Angeles on Saturday when a well-known hate group held a demonstration in support of the rapper on a 405 Freeway overpass.

Demonstrators gave Nazi salutes as they stood behind a large banner that read, "Kanye is right about the Jews," according to images collected by antidiscrimination organizations and Jewish residents appalled by the group's message.
The following thread documents this display of ignorance and depravity:
"Kanye is right about the Jews" – white supremacist group 'Goyim Defense League' headed up by Jon Minadeo II dropped vile banner on the busy 110 highway in Los Angeles today.

Minadeo is a well known neo-Nazi that was recently arrested while visiting Auschwitz. pic.twitter.com/BCQqRHTpr7

— StopAntisemitism (@StopAntisemites) October 23, 2022
Police were dispatched; Minadeo began yelling at one of the officers who spoke only English about "diversity hires" and immigrants taking over America thanks to Jewish laws. pic.twitter.com/NrjJXXscz4

— StopAntisemitism (@StopAntisemites) October 23, 2022
Jon Minadeo II was arrested – along w/Robert Frank Wilson – for displays of hate while visiting the Auschwitz concentration camp in Poland earlier this summer.

Wilson is currently charged with aggravated assault on a gay man. https://t.co/xJUAzYDw2D

— StopAntisemitism (@StopAntisemites) October 23, 2022
.@Cloudflare refuses to remove their website, despite videos posted by Minadeo in which he threatens the Jewish people.

Cloudflare also hosted 8chan, the neo-Nazi website used by the 2018 Treen of Life synagogue shooter Robert Bowers.

BUT Cloudflare didn't terminate 8chan then

— StopAntisemitism (@StopAntisemites) October 23, 2022
Cloudflare waiting until MORE fatal mass shootings happened and gave 8chan a year later!

Their outragous statement here: https://t.co/LUyAdquobO

— StopAntisemitism (@StopAntisemites) October 23, 2022
Correction – location was the 405 not 110

— StopAntisemitism (@StopAntisemites) October 23, 2022
*********************
Troy Masters is publisher and Brody Levesque is editor of the Los Angeles Blade
Supporting the community, Transgender Awareness Week 2022
This week, let us rededicate ourselves to committing to supporting our trans siblings making sure their voices are heard & shared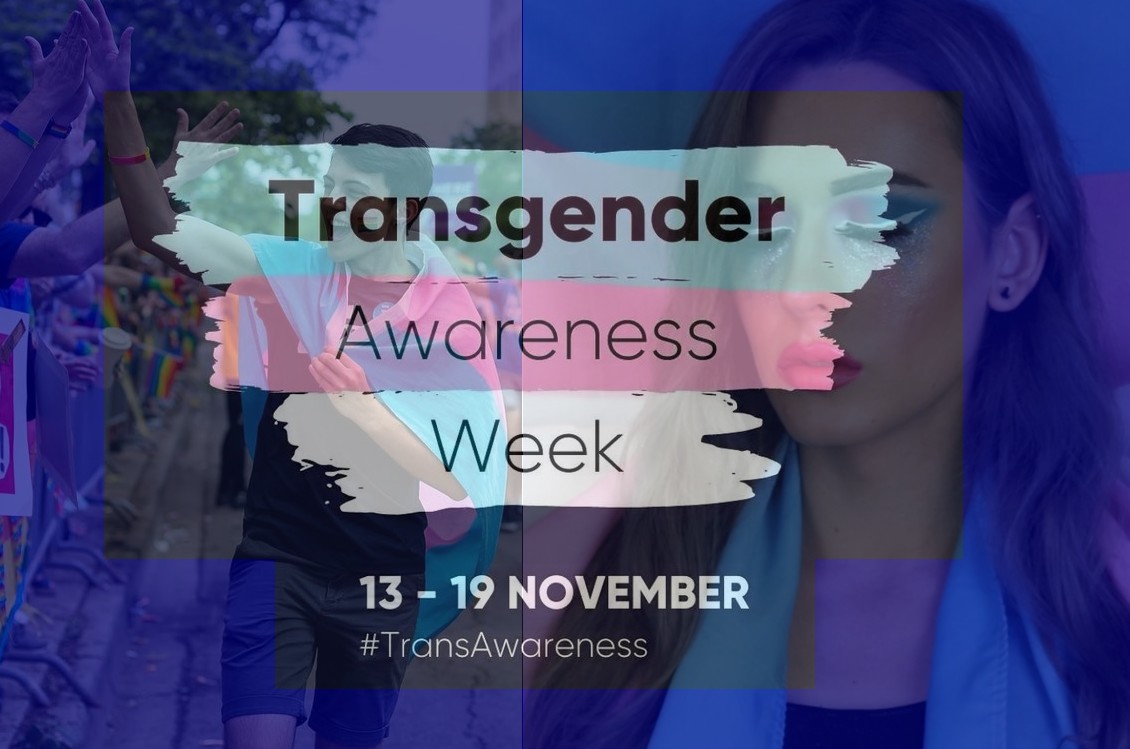 LOS ANGELES – Transgender Awareness Week, observed November 13 to November 19, is a one-week celebration leading up to the annual International Transgender Day of Remembrance (TDoR), November 20, which memorializes victims of transphobic violence.
It must, however, represent more than just a journalistic or even an activist/advocacy organization's effort to support and sustain the trans, queer, gender non-binary or gender non-conforming global community. This week needs to be so much more than perfunctory acknowledgement of this misaligned and persecuted segment of humanity.
This week, this publication and others in queer and mainstream media must tell the stories outlining the very humanity of trans people and urge others to celebrate the diversity and the impact of the significant contributions that trans people make for the betterment of all globally.
Trans people are human- period, or "full stop." Look at the incredible contributions that trans people make to enhance the lives of humanity on this planet that we all share. Just a short list of a few examples:
Dr. Rachel Levine, Admiral, U.S. Public Health Service and the 17th Assistant Secretary for Health for the U.S. Department of Health and Human Services. Dr. Levin has spent her entire career as a physician focused on the opioid crisis, adolescent medicine, eating disorders, and LGBTQ medicine.
Laverne Cox, actress, model, and LGBTQ+ equality rights activist. One of the most well-known trans actors and Black transgender celebrities, Cox has 'kept it real' as demonstrated by her words and public advocacy serving as a role model for youth.
Patricio Manuel, boxer and champion athlete. Manuel long struggled with his gender identity, rejecting the many ways society and his family forced him to live as a girl and in the end he overcame his gender dysphoria.
Elle Hearns, a transgender rights activist and the co-founder of the Black Lives Matter movement. Elle serves as a visible reminder of the power of advocacy at a grass-roots level.
Abel Liu, an accomplished student at the University of Virginia who is an Echols Scholar as well as a Truman Scholar. Abel is the first openly transgender and first Chinese-American student to be elected as Student Council president at a major institution of higher education.
Sarah McBride, Sarah was just reelected as Delaware's Senator from the First State Senate District. She's spent her life fighting for dignity, equality, and a level playing field for everyone as human beings.
These are just but a few limited choices of the literal tens of thousands of noteworthy Trans people whose lives and talents enrich this nation and globally making a difference every single day. Trans people are sheriffs, EMTs, firefighters, pilots, teachers, comedians; they are parents, grandparents, uncles, aunts, brothers, sisters, nephews, nieces, sons and daughters. Every single one a vital part of the whole.
Here on the staff of the Los Angeles Blade, journalist Dawn Ennis and LA Blade columnist and political analyst Brynn Tannehill lend their voices reporting and commenting on issues that impact all of us.
The bottom line is that without the contributions of transgender people, there would be a gap, a virtual emptiness in the rich diversity of humanity if you will. This week we need to celebrate, uplift, and yes, also mourn the lives of trans people lost to murder or suicide because of the promise that might have been.
We must fight against those who work to strip trans people of their dignity and their very right to exist. These last few years has seen a litany, a plethora of legislative efforts to erase trans rights from healthcare, sports, and even banning books that dare to mention trans people.
This week, let us rededicate ourselves to committing to supporting our trans siblings, making sure their voices are heard and shared. Trans rights ARE human rights.
*********************
Troy Masters is publisher and Brody Levesque is editor of the Los Angeles Blade