Hollywood talent agency CAA cuts Kanye West over antisemitism
West has engaged in hateful intolerant rants on podcasts and social media posts ranting about Jewish people's collective power & control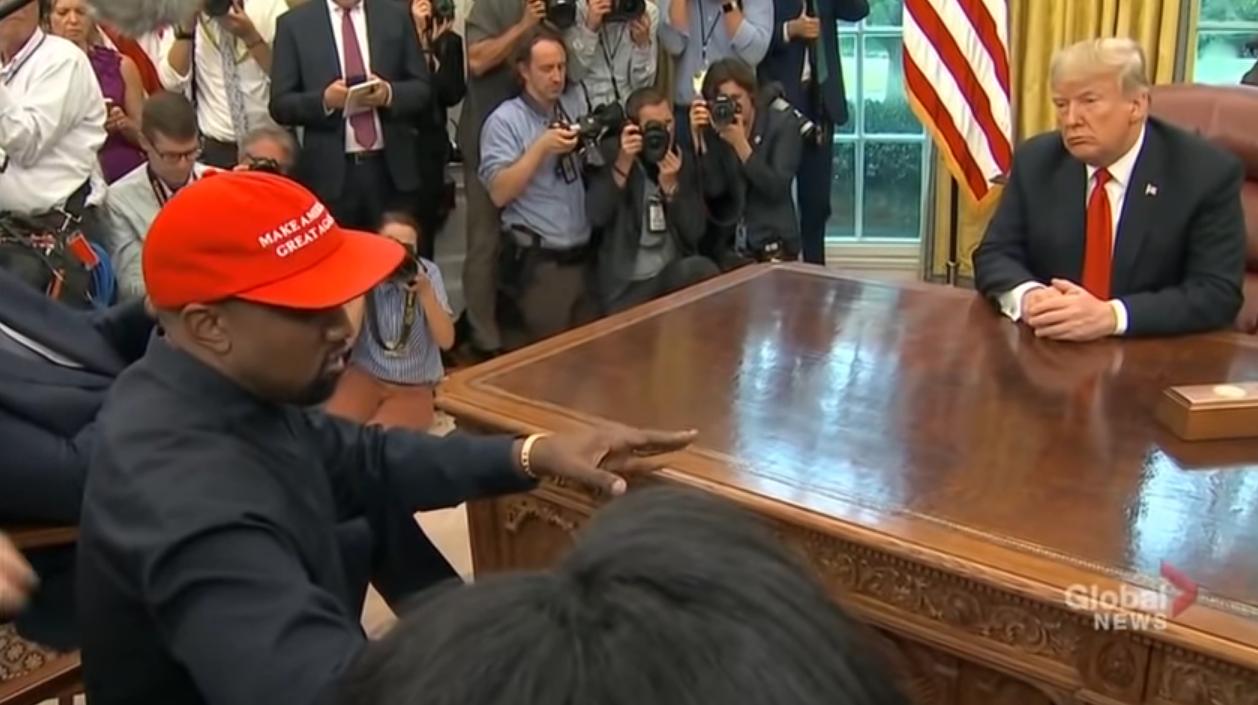 LOS ANGELES – Fallout from the display of antisemitic hatred on banners suspended over the 405 freeway Saturday by the 'Goyim Defense League,' a group of white neo-Nazi white supremacists led by the hate speech purveyor Jon Minadeo II, continued Monday.
Minadeo and his group told media outlets that they were acting in "support" of Rapper Kanye West, also known as Ye. The group gave Nazi salutes as they stood behind a large banner that read, "Kanye is right about the Jews," according to images collected by antidiscrimination organizations and Los Angeles Jewish residents appalled by the group's message and shared on Twitter and other social media platforms.
West has engaged in several hateful intolerant rants on podcasts and social media posts in which he has made comments about supposed Jewish people's collective power and control.
In West's recent appearance on the Drink Champs Podcast, he blamed "Jewish Zionists" for the reports that his ex-wife Kim Kardashian and her then-boyfriend Pete Davidson had sexual intercourse next to a fireplace, claimed that "Jewish people have owned the black voice," and described Disney as a Jewish platform.
In the same Drink Champs podcast, which was removed from Youtube, West also claimed that Jewish people "came into money through the lawyers" divorcing Christians because Catholics refused to do so.
On Monday, CAA, the prominent Hollywood talent agency, stopped representing Ye amid growing calls to boycott the rapper formerly known as Kanye West. The agency ended its relationship with Ye following his recent antisemitic outbursts in various interviews, according to a person with knowledge of the situation speaking to the Los Angeles Times.
Reaction to the hate-filled display included the White House Press Secretary Karine Jean-Pierre earlier on Monday who tweeted:
.@POTUS ran to heal the soul of the nation after years of hate and division. As part of this healing, we need to call out antisemitism everywhere it rears its ugly head. These actions in LA are disgusting and should be condemned.https://t.co/6B3TpLRqiT

— Karine Jean-Pierre (@PressSec) October 24, 2022
California Assemblymember Jesse Gabriel (D-Woodland Hills) and State Senator Scott Wiener (D-San Francisco), Chair and Vice Chair of the California Legislative Jewish Caucus issued a statement Monday saying: "Words have consequences. Kanye West threatened Jews, and now other extremists are openly threatening our Jewish community with hateful banners on the 405 freeway and distributing appalling antisemitic propaganda in our neighborhoods.
"We are proud to be Jewish and we will not remain silent when hatred and bigotry are openly directed at our Jewish community or any other community in California.
"Any company—including Adidas—that continues to do business with Kanye West is party to this attack on Jews. It is morally indefensible to turn a blind eye to antisemitism and to put profits over the safety of Jews or others targeted by hate.
"We are grateful to those who have spoken out in solidarity with our Jewish community. Together, we will build a stronger and safer state."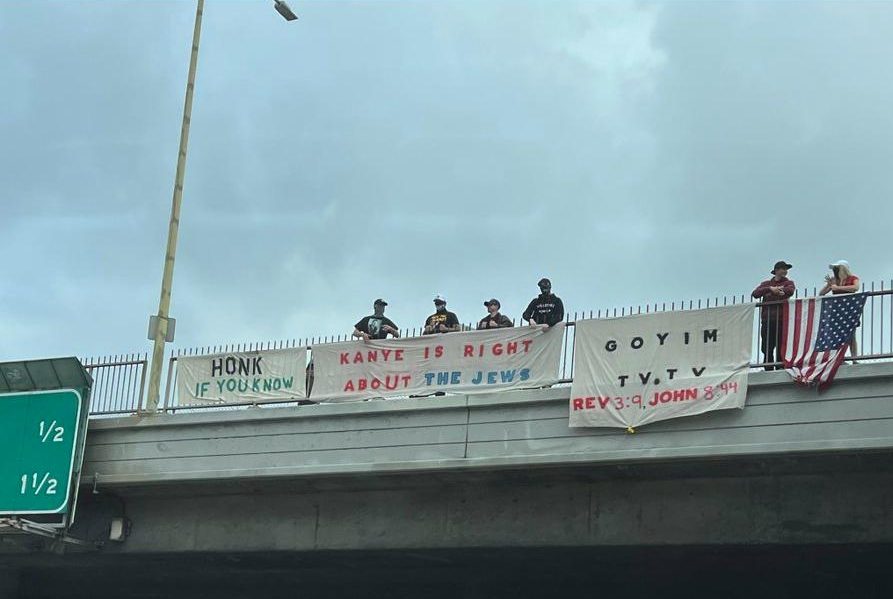 Governor Gavin Newsom reacted to Saturday's incident and the ongoing acts of antisemitism:
"This weekend's public display of anti-Semitic hate is another wake-up call to all of us that we must remain vigilant to protect our values and freedoms as Californians," said Governor Newsom. "The former President gave a platform to extremists spewing hate speech and we continue to see the dangerous consequences – from the insurrection on January 6th to Nazi salutes and anti-Jewish signs over the 405 freeway here in California. Our state is committed to protecting our diverse communities and will continue to lead the fight against racial, ethnic, and religious hate wherever it rears its ugly head."
In Los Angeles Out City Councilmember Mitch O'Farrell in an emailed statement noted:
"The poison of hate has no place anywhere, and the rise in anti-Semitism in so many places, including Los Angeles, is deeply disturbing. It's hard to fathom the malevolence required to put such vile words and gestures on public display, as well as the bigoted mindset required to think this way in the first place.
These acts are part of an alarming trend of abhorrent verbal and literal attacks against Jews here and everywhere. History has shown that ignorance, bigotry and hatred begets violence. Those of us who believe in and celebrate our pluralism and diversity must speak loudly against this. We absolutely cannot be silent."
Speaking with reporters Monday during the daily briefing the subject came up as the White House Press queried the Press Secretary:
Q    With the Israeli President coming for a visit, it comes at a time when there has been a notable uptick in some prominent antisemitism and some questions about how Republicans are responding to that, how the culture is responding to that. 
 
What is the President's view of how that might even influence the visit or be a subject of the visit or how he believes the country should be responding to that?  Kanye West has been a part of it.  Others have been asked to respond to the corporate side of those sort of notable instances. 
 
MS. JEAN-PIERRE:  So I could — I could just speak for the President and how he feels.  And he feels that our administration and himself should respond to this. 
 
Let's not forget the President ran on — on healing — on healing the soul of our nation — right? — after years of — of just years of division, years of hatred. 
 
And so, he's very, very — been very clear on that and how important it is to make sure that he does that in this administration.
 
So, when racism or antisemitism rears its ugly head, he is going to call that out.  And he has called it out.  We should not allow that conversation to be existing — not just in the political discourse but in our — in our everyday lives. 
 
And so, that is something that we're going to continue to — to call out, that the President is going to call out.  It is ugly.  It is dangerous.  It is despicable. 
 
And he believes that — that we should con- — we should, as leaders — leaders in the political party, leaders — it doesn't matter if you're — which side of the aisle that you sit in, you should — we should be calling this out.  And that is something that, again, he's going to condemn.  And he's going to be very, very clear to call this out in the strongest terms.
 
Q    Does he think others have been timid in that area?
 
MS. JEAN-PIERRE:  Look, I've talked about this before, when we saw the situation in Los Angeles and I was asked about the city council members, specifically in Los Angeles.  And they were Democrats, and we were very clear: It doesn't matter if there's a "D" or an "R" after your name, but that we should call this out. 
 
And what is sad about this is you see Republicans — Republicans in Congress who — who make these horrific — and not just in Congress, but, you know, across — across the — across the spectrum, make these really vile and dismi- — despicable comments about racism and antisemitism.  And they don't call — they don't call it out. 
 
And that — and that is going to be — that is not going to be how the President is going to handle situations like this.  He is going to call it out, regardless of what side of the aisle you sit on, regardless of, again, if there's a "D" or an "R" after your name.
 
There is no place — no place at all for that type of vile belief or language in our political discourse.
Out voice actor Kevin Conroy, the voice of Batman has died
Conroy was able to use his theater background to manifest one of the most memorable voices in cartoon history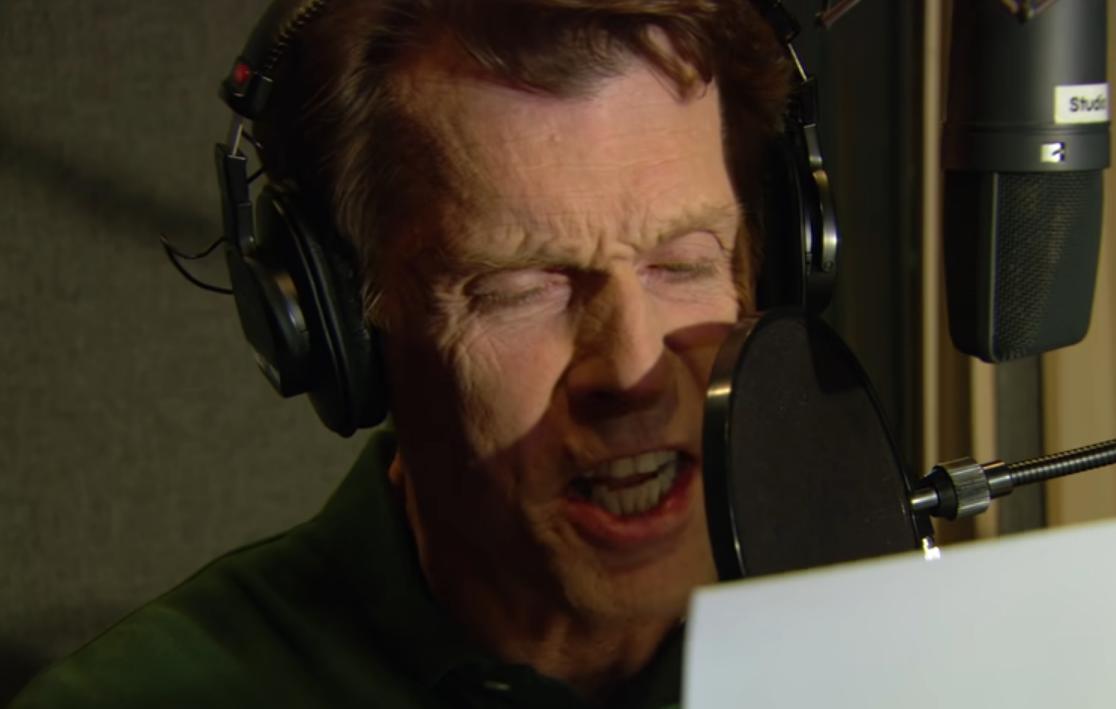 NEW YORK – Kevin Conroy had been the voice of (animated) Batman for nearly three decades, voicing almost every iteration of Batman in cartoons, animated movies or video games. In recent years he was a fan favorite on the Con circuit.
Conroy died Thursday after a short battle with cancer, his representative confirmed. He was 66.
Great meeting you and what a big turn out for Terrificon. https://t.co/RnNYAYoCwJ

— Kevin Conroy (@RealKevinConroy) July 30, 2022
Learning of his passage, actor Mark Hamill, known as the voice of the Joker appearing oft times opposite Conroy, released a statement saying:
"Kevin was perfection. He was one of my favorite people on the planet, and I loved him like a brother. He truly cared for the people around him – his decency shone through everything he did. Every time I saw him or spoke with him, my spirits were elevated."
Conroy began his career as a theater actor, attending Julliard, a prestigious acting school in New York City. He studied alongside heavyweights Robin Williams, Kelsey Grammer and more.
Conroy would go on to perform on Broadway and off-Broadway when his agent called him about auditioning for the role of Batman in a new animated show. During the audition he was able to use his theater background to manifest one of the most memorable voices in cartoon history.
Conroy is survived by his husband Vaughn C. Williams, his sister Trisha Conroy, and his brother Tom Conroy.
Memorial services are pending.
In August of 2020, 'Great Big Story' on its YouTube channel profiled Conroy titled: Meet the Voice of Batman.