Race to Midterms: Christy Smith & Alex Padilla closing arguments
"Please don't sit this one out. Your vote is your voice. It is your power. We know that if the Republicans were to regain the majority…"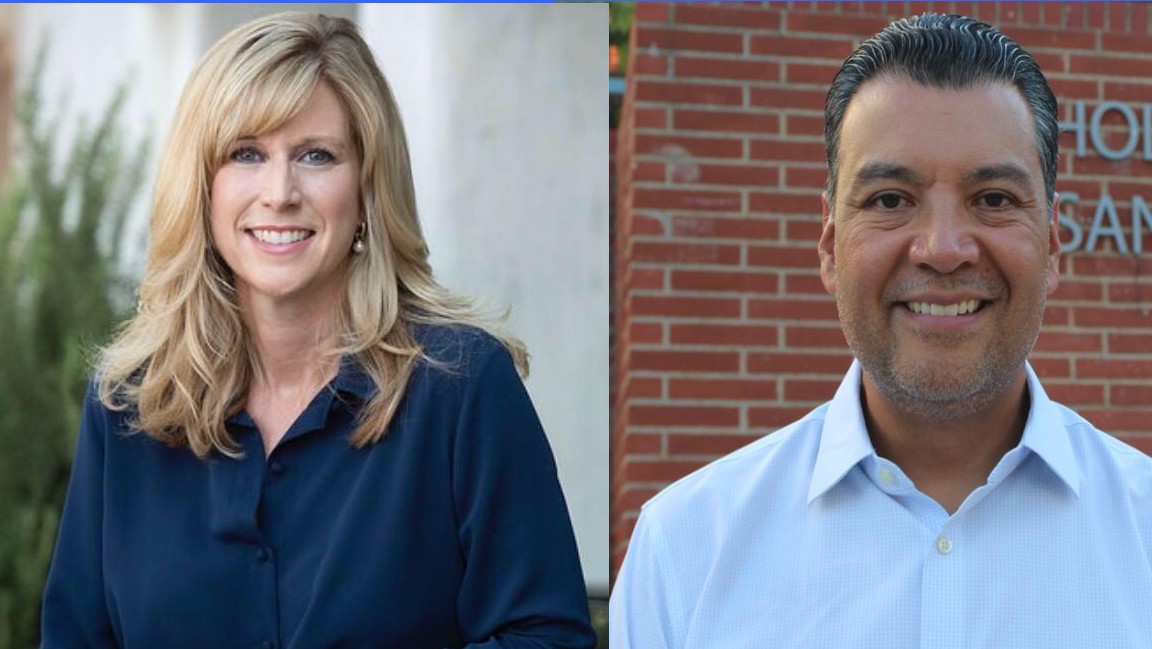 By Karen Ocamb | WEST HOLLYWOOD – This is it. This is the moment when your voice and your vote can impact American history. More than ever before, democracy is on the line; women's reproductive health is on the line; justice and fairness are on the line — our very existence as LGBTQ people is on the line.
The direction and character of this country progressing forward toward a more perfect union – or regressing to 1950s strict conformity to the paradigm of "normality" as defined by white straight men — is on the line in this election.
Max Huskins and I – partnering with the Los Angeles Blade — have tried to introduce you to candidates and politicos who are trying to make a difference and want you to make a difference, too.
In this final episode of our Race to the Midterm series, Christy Smith, a strong LGBTQ ally running against Stop the Steal Trump cultist Rep. Mike Garcia – reaches out to the trans community in her district offering help if they are too afraid to vote. She also talks about how global inflation is impacting her district through high gas prices for the commuting community and about the importance of preventing more school shootings, as noted by a pro-Christy Smith video produced by Saugus High School shooting survivor Mia Tretta.
Sen. Alex Padilla is on the ballot twice – to fulfill Vice President Kamala Harris' Senate term to which he was appointed by Gov. Gavin Newsom and to win his own term as California's junior Senator, endorsed by senior Sen. Dianne Feinstein in whose office Padilla once served. Padilla talks about calling for the resignation of his friends Kevin de Leon and Gil Cedillo, with whom he shares the history of fighting against the racist Prop 187 initiative in 1994. He also talks about supporting LGBTQ+ rights and expanding the Supreme Court, which heard oral arguments about banning affirmative action as part of the school admission policies. Padilla says he benefitted from affirmative action.
Please take a moment to get to know Christy Smith and Sen. Alex Padilla and then please help them secure seats in Congress to represent us in this ongoing civil war-like struggle with MAGA Republicans who are pledging a coup and a disruption of the electoral and governing process in order to bring Donald Trump back to power in 2024.
But we don't have to wait that long to lose our democracy if Democrats lose these midterms.
Here's some of what Christy Smith and Alex Padilla told us.
KO: Let's start talking about inflation. Why is everybody so concerned about inflation without realizing what this Congress has already done to fight inflation?
Christy Smith, candidate for CA-27: "It's certainly a challenge. And in districts like mine where we've got commuters who have the longest commutes in the state, some even in the country, it's going from the Antelope Valley — the price of gas, when you've got a round trip daily, that's an hour and a half — it's tough. It is tough on families, pocketbooks.
But, you know, there is a real disconnect between the Republican messaging, which blames President Biden right now for this when the Democratic House, a slim majority in the Senate and this president have put the American people front and center of doing everything they can to tackle inflation from reducing prescription drug costs, capping the price of insulin. Now they're situated and ready to go after gas price gouging, making sure that we got baby formula back on the shelves so that that cost wasn't out of control.
We are in this kind of global moment of inflation. But here at home, it's literally the Democrats who are doing everything that we can to make sure that families can continue to get by. So, raising and protecting wages and holding the line on corporate greed is really what's going to get us through to the next phase as globally prices start to come down.
And the argument that [Republicans are] better on the economy just simply doesn't wash. You know, these are the same people — six Republican states are the ones suing to stop student loan forgiveness. Those are Republican states doing that. And again, these are the people who have voted time and again against investments in the American people that help American families get through this inflationary moment.
So, I know that our voters see it in this district. We're having really good conversations at the doors about that. They know that [MAGA Republican Mike] Garcia is simply paying lip service to the issue, but isn't really doing anything about it.
We also talked about the 2019 shooting at Saugus High School where Christy ran to the school and Garcia didn't even show up. Christy's campaign just released a video (embedded in our show) about how Garcia takes money and does the bidding of the NRA.
Christy: "I want to give credit, first of all, where it's due to Mia Tretta, who is the young woman speaking in that video. She actually, with her parents, helped produce that video herself because her story is so important for her to tell. And she has been an incredible young leader and activist across the country for sensible gun reforms and really speaking out against gun violence in this country.
And what she highlights, though, is that virtually, sadly, there are fewer communities untouched by the pandemic of gun violence across the country. We also see statistically, increasingly, those are in red states and red cities where there are very lax and lenient gun laws. And so, for me, though, really horrifically on the day of the Saugus shooting here, I was serving in the California state legislature.
But I'm a mom in this community. I'm a former school board member in this community. And my first thought was get to where I could be most helpful to the young people and the families who wanted to be reunited and then figuring out what we could do to aid the victims and their families and help the whole school community recover, which is what we focused on.
My opponent, on the other hand, has been standing in lockstep with the NRA, taking tens of thousands of dollars of their money and making sure that people who shouldn't have them have access to AR-15s and all kinds of weapons that were intended as weapons of war. They weren't intended for use by civilians and for the next generation we cannot leave them a country where we're more willing to protect someone's right to have a gun than we are to protect who they love and when they want to have a family.
We're just we are so backwards in this moment on which rights and freedoms matter. And it's the ones that are fundamental to people's well-being that should matter more than people's right to cause mass destruction with a gun."
KO: So, how will you stand up for us in Congress, if elected?
Christy Smith: "LGBTQ rights are civil rights, and we have a proud, long history in this country of a civil rights movement that was most recently in the hands of our LGBTQ brothers and sisters who fought very hard for marriage equality and for rights. And so, in a moment like this now, to see the gay and trans community, in particular, being called out, being marginalized by that extremist movement as a means to further drive wedges between communities — to embolden and to empower people with that really extremist agenda — is something we have to push back against harder.
It is a disgrace to our country. It is discrimination against our LGBTQ brothers and sisters. It's a rise of anti-Semitism, it's a rise of misogyny. And so, in this election, we all need to be arm in arm in saying we will stand for the hard-fought freedoms and protections of the entire civil rights movement, our brothers and sisters of color. It's incredibly important because the other side is literally using this as a wedge to amass political power. And we've all thought too hard to go back….
So please, please be a voter by November 8 at 8 p.m. We're counting on you. Future generations are counting on you — so please be a voter."
Sen. Alex Padilla also talks about the importance of this election – and the difficulty of calling for his friends' resignations as members of the Los Angeles City.
Sen. Padilla: "We're so close to yet another consequential election, so much on the ballot, not just candidates, not just propositions here in California, but frankly, the future of the country, the direction and our very democracy itself, if you want to talk about voting rights and disinformation.
But, you know, the adage goes, all politics is local. And that's where we're starting with the heartbreak of what we heard from some city leaders not that long ago. That audiotape of a of a private meeting that was disclosed that had some horrific and appalling commentary, some anti- LGBTQ language that we heard, obviously anti-black language that we heard, even anti-Hispanic coming from the mouths of Latino leaders was on that tape.
I think for me it was initial heartbreak because I knew the people in that meeting, considered some of them friends and never imagined those words coming out of their mouth like that. So as hard as it was, I was one of the first officials, I believe, to publicly denounced the language and called for resignations. And not to split hairs of who said more, who said less — they were all in the room, they all participated, and nobody shut it down. And so there have to be consequences.
And why did I do that? Not just because of the substance of the language that they were using, but, in the Senate, I'm a member of the Judiciary Committee. And I hear way too often some divisive rhetoric and some conspiracy theories and hate from some of my colleagues. And if we are to be able to genuinely denounce and hold accountable when extremist Republicans used this language then we have to call out Democratic friends when they use it too. We have to be consistent in standing up against hate, standing up against discrimination. And to me, that's what it boiled down to."
KO: How can we regain our trust and especially at this critical moment when we need all hands on deck?
Sen. Padilla: "The contrast couldn't be clearer, I think, between political parties and candidates and the vast majority of races — who has stood with the LGBTQ-plus community, fighting for not just marriage equality, but frankly, equality and rights in all aspect, whether it's in the workplace, whether it's in housing, whether it's access to health care, a spouse's benefits, all those sorts of things — and which party hasn't or doesn't? Republicans, to the contrary, are trying to take away your rights, just like they did with — at the Supreme Court level in the undoing of the Dobbs decision. You know, whether it's a bathroom bill here, whether it's what's in textbooks over there, conversion therapy, whether where it's advocated, where is banned — it's absolutely clear we need Democrats in office, Democrats in the majority to continue to make progress for the LGBTQ plus community….
(A)s big of a moment that marriage equality was when it was upheld or at least not overturned by the Supreme Court, we knew that wasn't the finish line. It's great to be able to love who you love and love how you love. But that's just in a romantic relationship between two individuals. That did nothing to insure against discrimination in the workplace. That did nothing to insure against discrimination in housing. We just talked about university admissions in the affirmative action debate or discussion….
Recognition of LGBTQ individuals is one thing. Respect for the diverse community is another. But really integrating that [LGBTQ] data, gathering that — not just at the Census but especially at the Census, helps inform policymaking, which is good for everybody….
Please get out there and vote because the contrast couldn't be clearer. We know that if the Republicans were to regain the majority, the Dobbs decision, the undoing of reproductive rights is just the beginning. You know, whether it's an agenda that wants to take our country backwards on LGBTQ rights, on immigration and diversity when it comes to labor protections, environmental protections, or war, if they were to take over, we cannot afford that. And the only way we overcome that is by making sure every eligible person can register and get out there and vote, because we made a significant amount of progress these last two years."
Please watch the interviews with these two remarkable allies. Then VOTE!
Thank you!
Zbur hits the ground running: Appoints staff & introduces first bills
"I look forward to working with the community and all stakeholders as well as my colleagues and Governor Newsom"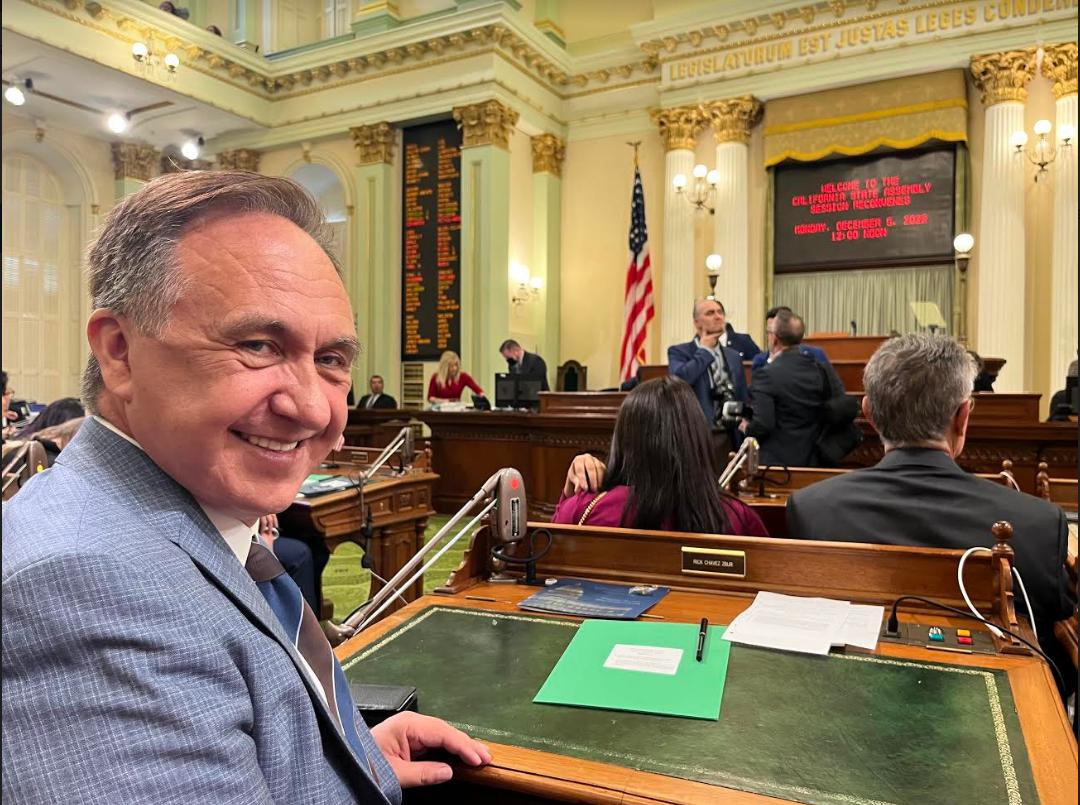 SACRAMENTO – Out Assemblyman Rick Zbur (D-51, West Los Angeles) along with the rest of the incoming freshmen California Assembly lawmakers was sworn in Monday at half past noon- then immediately announced the appointments of his key staff and then introduced his first two pieces of legislation.
Introducing his new staff that he has hired to serve the constituents of Assembly District 51 in his Capitol and District Offices Zbur said in an emailed statement to the Blade:
"These dedicated public servants have the knowledge and skills to deliver on my promise to provide top quality constituent services and legislative proposals for my district. Both of my offices are open and ready to serve on day one, with highly trained professionals who understand the district and the Capitol." 
Zbur's key legislative staff include:
Bob Hartnagel, Chief of Staff – Bob was Mark Leno's Chief of Staff in the State Senate for 8 years and in the State Assembly for 6 years, and Assemblymember Carole Migden's District Director for 3 years. Most recently he was Chief of Staff for Government Relations at the University of California's Office of the President for 5 years. He has a bachelors degree in Communication Studies & International Relations from Northwestern University.
Tami Martin, J.D., Legislative Director – Tami has a distinguished career fighting for civil rights as Legislative Director for Equality California (EQCA). She holds a bachelors degree in Government from Dartmouth College and both a law degree and a masters degree in Law and Government from American University Washington College of Law.

Jane Park, Ph.D., Senior Assistant – Dr. Park previously worked for Assembly Speaker pro Tempore Kevin Mullin where she leveraged her research experience to create groundbreaking new policy addressing climate change. She holds a bachelors degree in Biological Sciences from Wellesley College and a Doctorate in Integrative Genetics and Genomics from the University of California, Davis.

Alex Mehlbrech, Scheduler – Alex worked as a key member of Assemblymember Zbur's campaign team for almost three years, where he cultivated a deep understanding of the concerns and issues facing local residents. He holds a bachelors degree in Communication Studies from California State University, Long Beach.

Robert Oliver, District Director – Robert has worked as a field representative in the district offices of  U.S. Senator Dianne Feinstein and L.A. City Councilmember Paul Koretz. He also worked as a Community Liaison for the Jewish Federation of Greater Los Angeles. A graduate of UC Santa Barbara, he grew up in Los Angeles. He and several of his family members currently live in AD-51, where he developed a keen first-hand knowledge of the issues affecting constituents.
Zbur also noted that his office is currently accepting applications for a Field Representative in his District Office, which serves the cities and communities of Beverly Hills, East Hollywood, Hollywood, Hollywood Hills West, Santa Monica, West Hollywood, West Los Angeles, and Westwood Village. 
Editor's note: (Interested applicants can send a resume and cover letter to Robert Oliver at [email protected]. Diverse candidates are encouraged to apply.)
In his first actions as a legislator Zbur introduced AB 3, the California Offshore Wind Energy and Jobs Act, to facilitate and expedite offshore wind energy projects necessary to combat climate change while at the same time protecting the environment and assuring that thousands of high paying jobs remain in California.
AB 3 aims to accelerate the approval, implementation, and operation of offshore wind energy projects necessary to meet California's climate action goals and the transition to a clean energy economy. It will clarify the authority of California governmental agencies related to wind energy projects along the California Coast, require expedited procedures, and specify criteria for the selection of port and transmission alternatives related to offshore wind energy projects. The criteria will ensure that the environment and sensitive habitats and cultural resources are protected, community participation and comment is robust, that the maximum number of jobs related to offshore wind energy projects are created and remain in California, and that those jobs advance environmental justice and improve the lives of all Californians.
 
"We are decades behind in taking the steps necessary to protect our kids and our planet from the growing crisis of climate change," said Zbur. "If we do not expedite the approval, construction and operation of offshore wind energy projects along the California Coast, we will not meet our climate change goals. I am confident that we can build consensus to accelerate offshore wind, and at the same time protect our coast and sensitive habitats and assure that the thousands of high wage jobs are created and remain in California. California has the opportunity to demonstrate that bold climate action is the economic engine that can power a robust and socially just economy," he said.
 He also introduced AB 5, the Safe and Supportive Schools Act, which will assure that teachers and school staff are better equipped to support LGBTQ+ and all students.
AB 5, the Safe and Supportive Schools Act, will help equip teachers and school staff with the tools and training they need to support LGBTQ+ students and make California schools safer and more supportive for all students, teachers, and school staff. 
The bill will specify a timeline for implementation by all California schools of LGBTQ+ cultural competency training for teachers and certificated staff currently under development by the California Department of Education.
This is the result of a budget proposal advanced by Equality California and Superintendent of Public Instruction Tony Thurmond and approved in 2021 by the Legislature and Governor Newsom in AB 130 and SB 129. AB 5 is sponsored by Equality California.
 
"Every student deserves a safe and supportive learning environment," said the Assemblymember.
"Improving our schools is a key part of the strategy we need to reduce the high dropout rates that lead to a cycle of homelessness, poverty and health & wellbeing disparities experienced by the LGBTQ+ community. Our teachers and school staff want to support their students, and this bill will better equip them to help LGBTQ+ and all students reach their highest potential," he added.
 
"These bills are among my top priorities as I honor the trust that the people of Assembly District 51 placed in me to improve the lives of all Californians and tackle our toughest challenges. I look forward to working with the community and all stakeholders as well as my colleagues and Governor Newsom on these proposals and many others in the months ahead," Zbur noted.