The First Lady hits campaign trail in Virginia for Jennifer Wexton
Biden framed the decision facing voters as "a choice to make between two drastically different visions of the future"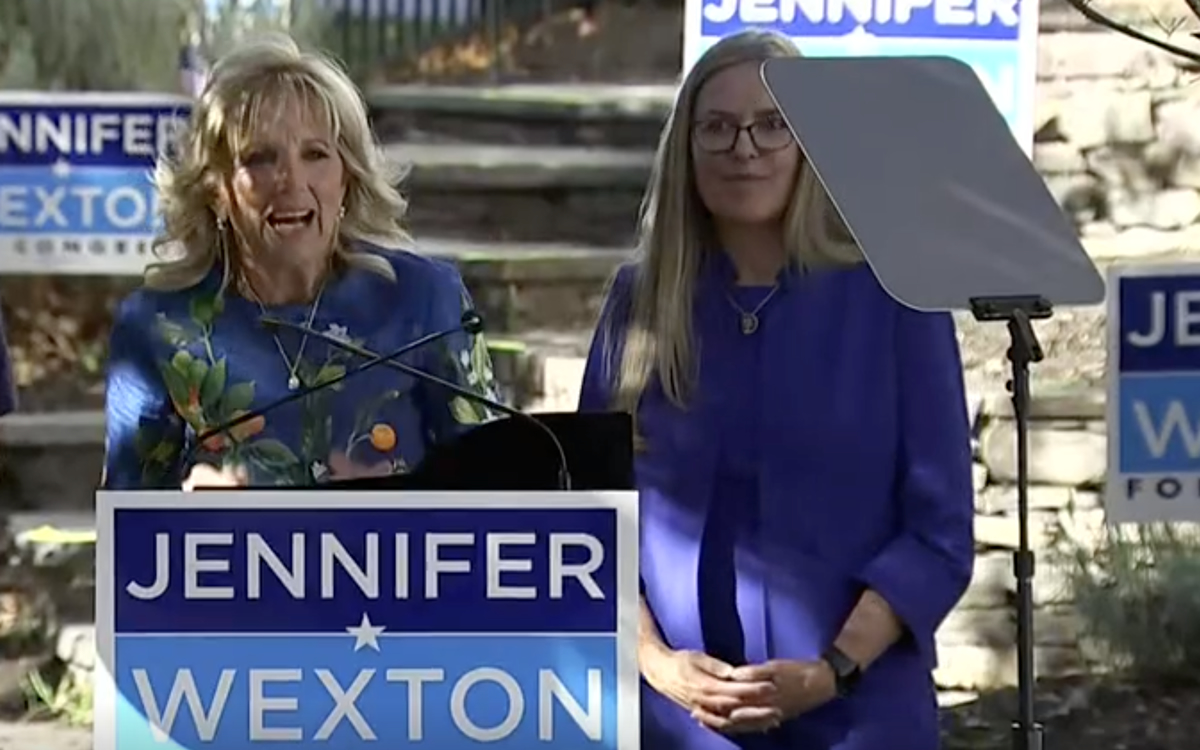 ASHBURN, Va. – First lady Jill Biden addressed a crowd of supporters in Ashburn on Monday for U.S. Rep. Jennifer Wexton (D-Va.)'s "get out the vote rally and canvass kickoff" event. 
Urging Virginians to reelect Wexton "to continue the progress we've made," Biden framed the decision facing voters during tomorrow's midterm elections as "a choice to make between two drastically different visions of the future."
Hung Cao, Wexton's Republican challenger in the close race for Virginia's 10th Congressional District, would put "Social Security and Medicare on the chopping block," Biden said. "A Republican majority will attack women's rights and affordable healthcare" while cutting taxes for major corporations and the wealthiest Americans.
Taking the stage before the first lady, Wexton hailed the accomplishments of the Biden-Harris administration with Democratic majorities in both chambers of Congress. She cited the bipartisan infrastructure law and the Inflation Reduction Act, particularly its provision capping insulin costs for Medicare patients.
Voters "restored the soul of America by electing Joe Biden in 2020," Wexton said. "It is thanks to you that we'll hold our seat and retain our majority in Congress to defend against discrimination and efforts to strip away our fundamental rights."
U.S. Sen. Tim Kaine (D-Va.) also headlined Monday's event, delivering remarks in praise of Wexton's record, which includes LGBTQ rights, before and during her tenure in Congress.
Wexton's race is among the most anticipated of this election cycle, with strategists looking to Virginia's three close House races as a possible harbinger for how Democrats will fare more broadly.
Republican Virginia Gov. Glenn Youngkin will join Cao for a rally later this afternoon in Purcellville before heading to campaign events for Yesli Vega and Jen Kiggans — who are, respectively, locked in high-stakes races to unseat Democratic Virginia Congresswomen Abigail Spanberger and Elaine Luria.
Meanwhile, in Maryland, Jill Biden and President Joe Biden are slated to take the stage today at Bowie State University in Prince George's County with House Majority Leader Rep. Steny Hoyer (D-Md.) and U.S. Sen. Chris Van Hollen (D-Md.) to support the state's Democratic gubernatorial candidate Wes Moore and Congressman Anthony Brown's bid for Maryland attorney general.
Rep. Frost talks gun control on anniversary of March for Our Lives
"10 years ago I became an Organizer because of Sandyhook. 3 years later, I'd become a survivor myself. That same year, Pulse"
Editor's note: The full interview with Congressman Frost will be published next week.
WASHINGTON – U.S. Rep. Maxwell Frost (D-Fla.), after a week of making headlines for his gun violence prevention advocacy, sat down with the Washington Blade for an exclusive interview on Friday, which marks the five-year anniversary of the founding of March for Our Lives.
The 26-year-old freshman Congressman, who before his election was national organizing director for the student-led gun control group, had just introduced his first piece of legislation Tuesday with U.S. Sen. Chris Murphy (D-Conn. that would establish an Office of Gun Violence Prevention within the U.S. Department of Justice.
The proposal's aim, in part, is to better facilitate the implementation of last year's Bipartisan Safer Communities Act by establishing a singular office to coordinate that work.
And on Thursday, Frost captured and tweeted a video of a confrontation between U.S. Capitol Police and Patricia and Manuel Oliver, gun control advocates who lost their son Joaquin in the 2018 Parkland, Florida high school shooting.
Manuel and Patricia Oliver were just kicked out of this committee hearing on gun violence. Patricia said one thing and the chair escalated the entire situation. Then, Police arrested Manuel Oliver who lost his son in the Parkland shooting.

His son was shot to death.

— Maxwell Alejandro Frost (@MaxwellFrostFL) March 23, 2023
Here is @manueloliver00 being arrested for speaking out at a committee hearing. His son, Jaoquin, was shot to death in Parkland, Fl.

MANNY IS A HERO. He didn't deserve this. The Republican Chair of this committee just called him a narcissist. Disgraceful. pic.twitter.com/6jccYvesHb

— Maxwell Alejandro Frost (@MaxwellFrostFL) March 23, 2023
The couple had been removed by police from the House Oversight and House Judiciary Committees' gun rights hearing at the request of GOP Reps. Andy Biggs (Ariz.) and Pat Fallon (Texas).
Frost, who was in attendance, told the Blade the conflict started when Patricia Oliver "just stood up and she said, 'you took my son' and she sat down," but "instead of moving on, the Chair [Fallon] escalated things."
The Congressman said hearing itself was "a sham" convened for the purpose of attacking the Biden administration's Bureau of Alcohol, Tobacco, Firearms and Explosives (ATF), the entity within the U.S. Justice Department that investigates violations of laws governing the manufacture, possession, and use of guns.
"The real story here," said the Congressman, "is the fact that there were two parents who lost their son who was in high school, because he was shot to death and died in a pool of his own blood, and now they're going to spend the rest of their lives fighting for a world where it doesn't happen to anybody else."
Frost noted the Olivers were joined at the hearing by other families, activists, and organizers – all of whom were gathered in Washington, D.C. to advance the mission established by the group of teenaged Parkland survivors who founded March for Our Lives five years ago.
Among these student activists were Cameron Kasky, who identifies as queer, and X González, who is bisexual and uses they/them pronouns.
Frost has repeatedly said he ran for Congress because of his involvement in the gun violence prevention advocacy movement, which began with his volunteering on behalf of the Newtown Action Alliance, a group formed in the wake of the 2012 Sandy Hook Elementary School shooting.
The Congressman told NPR the 2016 shooting at Pulse, the gay nightclub in Orlando "where 49 angels were murdered right here because they're queer" marked one of the most significant moments of his life.
That same year and in that same city, Frost himself survived a gun violence incident.
During his congressional campaign, on the heels of last year's elementary school shooting in Uvalde, Texas, Frost tweeted: "10 years ago I became an Organizer because of Sandyhook. 3 years later, I'd become a survivor myself. That same year, Pulse. Now I'm running for Congress and 15 lives were taken at another Elementary school. I will not stop until the endless shootings do."