Annual Garras fashion show & fundraiser held
The transgender organized and run event was hosted by President and Chief Executive Officer of the Trans Latina Coalition, Bamby Salcedo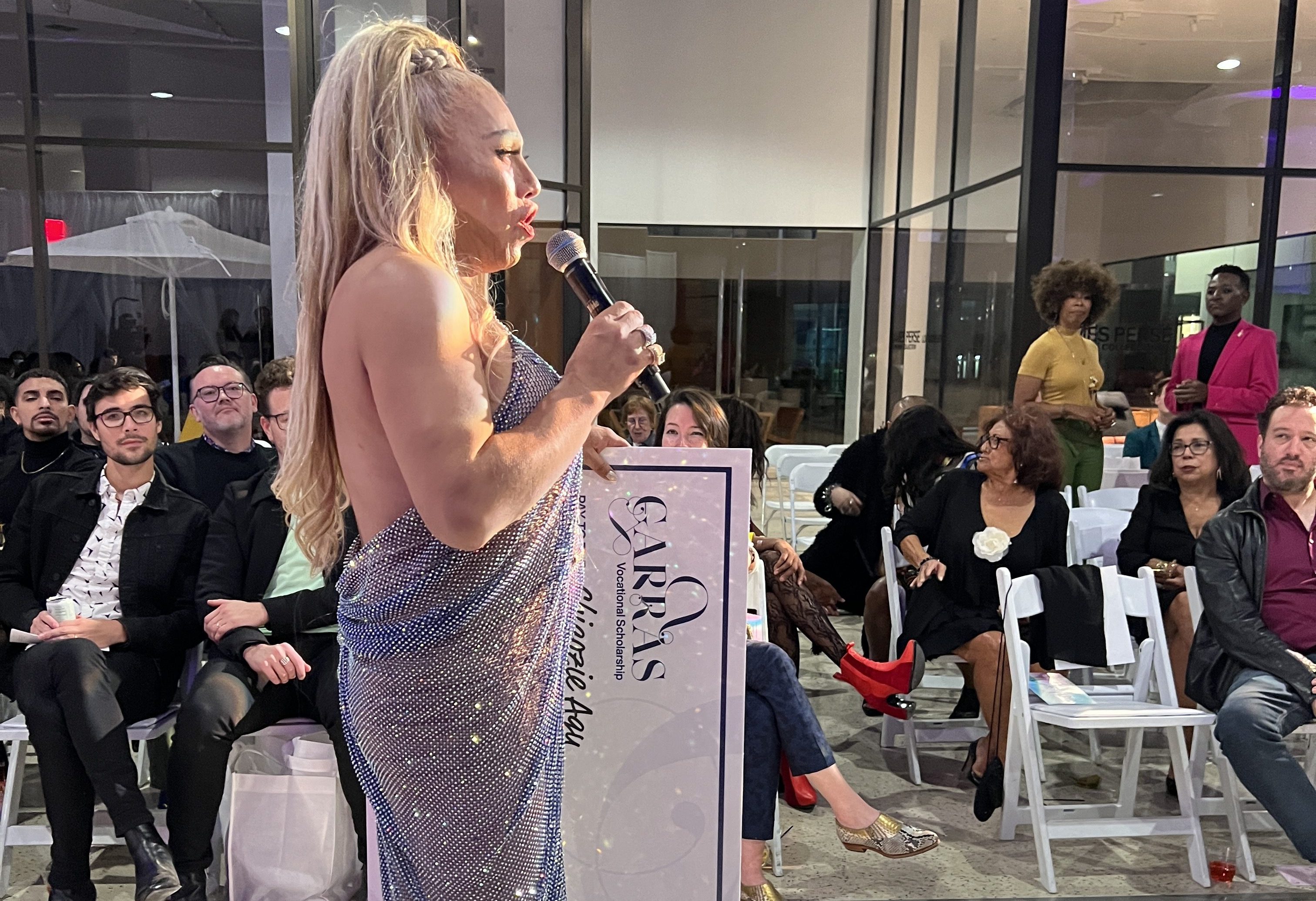 WEST HOLLYWOOD – The annual Garras fashion show fundraiser took place Saturday, November 19th, at the Pacific Design Center to benefit The Center for Violence Prevention and Transgender Wellness, a program of The [email protected] Coalition.
Throngs of glamorously-dressed members and allies of the queer community gathered on the plaza of the modern blue building, a Los Angeles staple known for boasting over one hundred showrooms for events like this one. People from all walks of the entertainment, design, and media industries gave filmed statements of support for the event and the transgender community at large.
The VIP reception featured two red carpets, passed hors doeuvres, two cocktail bars. Some VIP guests seated in the fashion show's front rows along the glistening white runway included a myriad of TLC sponsors, including Bank of America, Keck Madicine of USCm, Gilead, SoCal Gas, Glamazon, Amazon, Kaiser Permanente, Glux, Loud, Walmart, and City of West Hollywood.
The show featured designers Yaisel, Mars Wright, Elder Patricio Arita Perex, Gaby Garcia and TLC Board Members, Cecilia Martinez, Jessie Alvarado, Claudia Abundis, Jose Huizar, Robert Oriz, Eruvey Tapia, Lluvia Guzman, Fernando Vasquez, and Lidia Talavera and their transgender models and muses. Collections included everything from haute couture to streetwear to shoes.
The transgender organized and run event was hosted by President and Chief Executive Officer of the Trans Latina Coalition, Bamby Salcedo, and Vice President & Chief Operation Officer Maria Roman. Both ladies wore a variety of couture gowns throughout the evening and called for continued support for the [email protected]'s mission to support and amplify the voices of transgender and gender nonconforming people.
The Garras Vocational Scholarship of ten thousand dollars was also awarded to a student in the medical field to support their continued academic ventures.
"To those of you who purchased tickets," said Salcedo, addressing the audience, "to those of you who believe in our work and sponsor us, thank you."
Millions wear purple today to stand up to bullies
Spirit Day started in 2010 by Canadian Brittany McMillan who created the event in memory of LGBTQ+ youth who lost their lives to suicide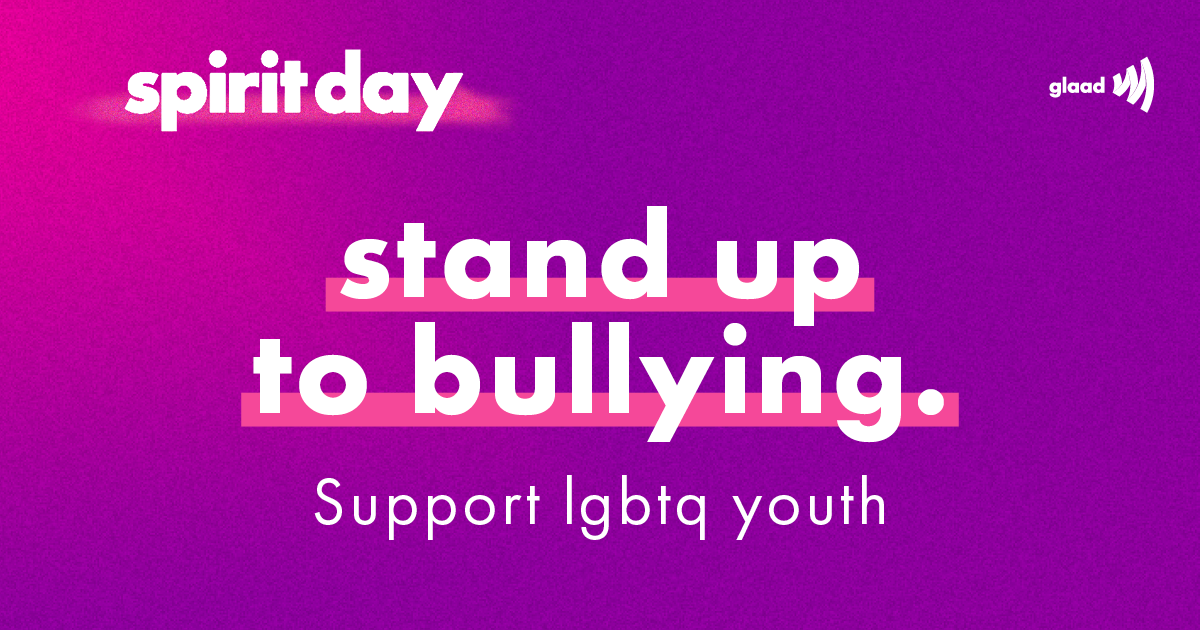 NEW YORK – From celebrities, politicians and big-name brands to TV news people, pro athletes and their teams, people are putting their purple on today, to mark Spirit Day. The annual event, organized by GLAAD for more than a decade, provides visible support for LGBTQ+ youth in what the group calls the world's largest anti-bullying campaign.
The reason Spirit Day is so named and marked by wearing the color purple, or changing a brand logo to purple, is because of the purple stripe among the rainbow colors of the LGBTQ+ Pride flag, symbolizing "spirit." Like the color purple, its message is bold and clear: We support LGBTQ+ youth and oppose bullying.
Happy #SpiritDay! Thank you @glaad for everything you do for our community! pic.twitter.com/W5jgMD98v8

— Jack Petocz (@Jack_Petocz) October 20, 2022
According to GLAAD, the annual tradition was started in 2010 by a Canadian high school student, Brittany McMillan. She created the event with a post on Tumblr, in memory of the LGBTQ+ youth who lost their lives to suicide. McMillian encouraged her friends to wear purple on the 20th of October to send a message of support. 
The celebration kicked off Wednesday night with GLAAD's Spirit Day Benefit Concert in Los Angeles, sponsored by Ketel One, M&M's and the WWE.
Jujubee of RuPaul's Drag Race leads a Who's Who of famous names taking part, from the cast of The L Word: Generation Q to Margaret Cho, Wilson Cruz, Adam Rippon, Wanda Sykes, Jeopardy! champion Any Schneider and more.
Even New York City's most iconic landmark skyscraper, the Empire State Building, is getting in on the act; Jujubee will flip the switch Thursday night to bathe the tower in bright purple light.
According to The Hollywood Reporter, Country Music star Maren Morris is doing her part for Spirit Day by selling a shirt bearing the slogan "You Have a Seat at This Table." All the proceeds support GLAAD's work with LGBTQ+ youth.
Some other notables taking part this year include Chris Mosier, Jason Collins, Aly & AJ, Ben Aldridge, Louis Van Amstel, Jonathan Bennett, Mayim Bialik, Sterling K. Brown, Kristin Cavallari, Shannon Dang, Ken Jeong, Carson Kressly, Idina Menzel, Netta, Jim Parsons, DJ "Shangela" Pierce, Jai Rodriguez, Jake Wesley Rogers, Lily Rose and the list goes on.
Advocacy groups GLSEN, The Trevori Project, +Life and GSA clubs in schools across the country will take part as well.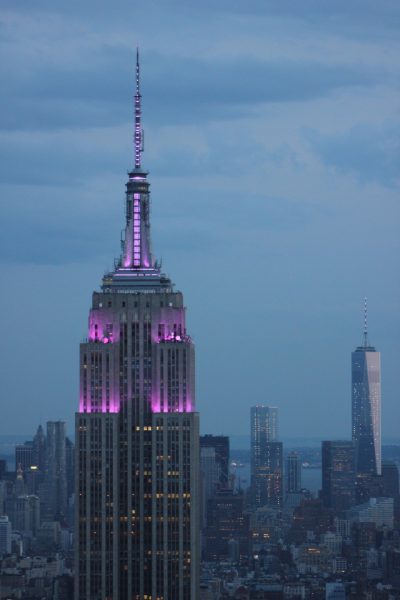 On Broadway, the casts of Moulin Rogue! The Musical, Into the Woods and 1776 are participating. iHeart Media will support Spirit Day with PSAs on its stations for the sixth consecutive year.
Other corporate sponsors include Kellogg's, Sally Hansen, Target, Visible, Amazon Corporate Security, Kirkland & Ellis, L'Oreal/ Viktor & Rolf, the MLB, the NBA, the WNBA, the NFL, Skittles and Taimi.
Landmarks besides the Empire State Building include Chicago's Mars Wrigley Building, Mars buildings in Newark, N.J., the Spheres at Amazon's Seattle campus and HQ2 in Arlington, Va., the Stonewall National Monument Visitor's Center, the ViacomCBS headquarters in Times Square as well as the NASDAQ, M&M's, Skittles and American Eagle billboards there.
Other participants include Athlete Ally, Spanish-language channels and programs including The Q Agenda, Despierta América, Hoy Día, Telemundo, TelevisaUnivision and Pantaya. ABC and ABC Owned Television Stations, CBS, PBS and the NBCUniversal networks, including hosts of the TODAY show will join with Hulu, National Geographic and the Freeform network are partners with GLAAD for this event.
Faith organizations and individuals including the United Church of Christ, the Naming Project and Affirming Youth Ministries, Rev. Mark Fowler, Fr. James Martin, Deacon Ross Murray, Bishop Kevin Strickland, among others, will also participate.

Find out more about Spirit Day by clicking here.