Trans remembrance vigil held at LA LGBT Center
"We refuse to let violence rob us of the possibility to gather, to love each other, and to dream together in solidarity"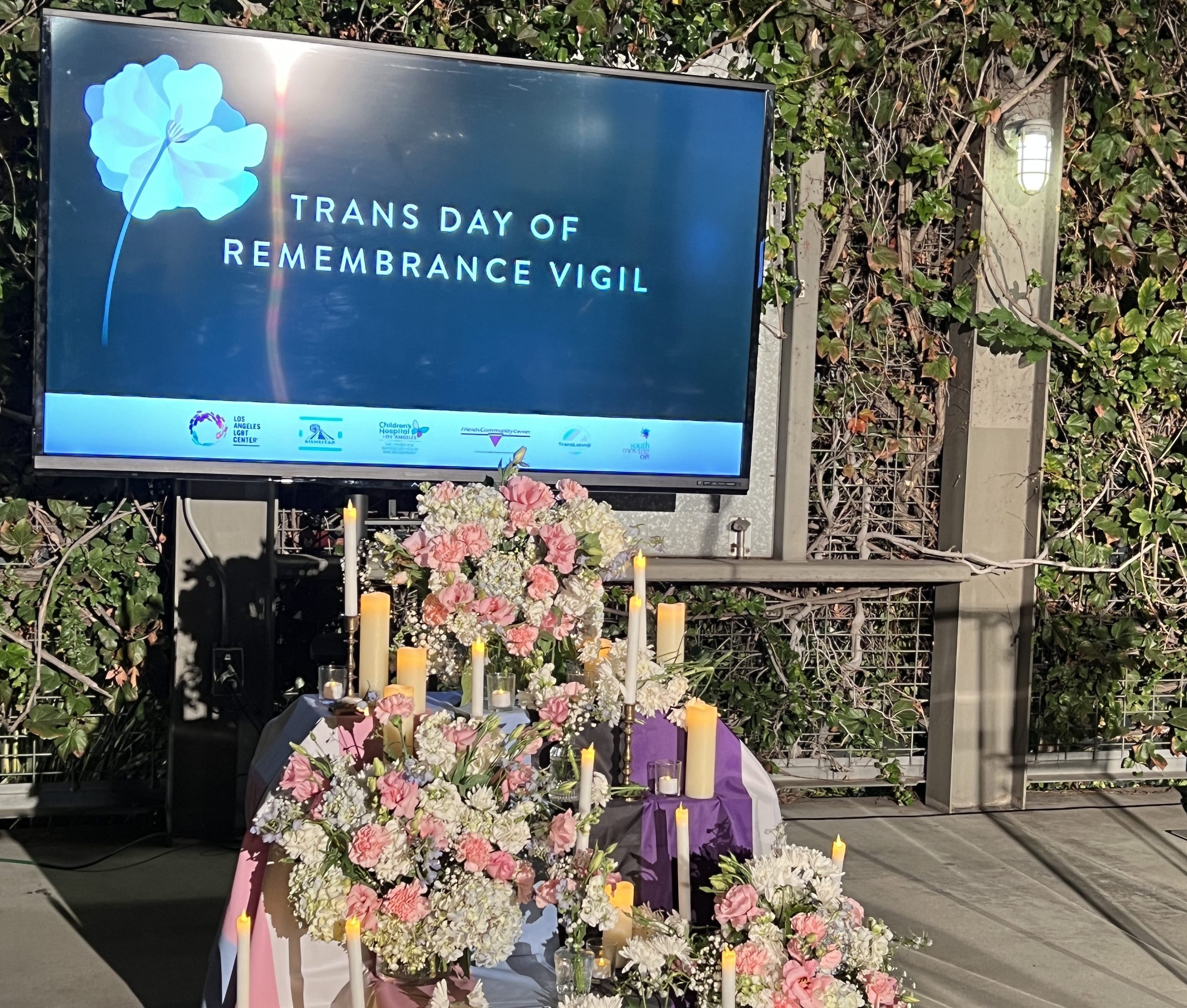 HOLLYWOOD – A Trans Remembrance Vigil was held at the Los Angeles LGBT Center on Monday, November 21st.
Candles and white, pink, and lavender flowers mounted on tiers draped by a trans flag adorned the center stage. A large monitor served as the focal point of the evening above the memorial display.
The Trans Chorus of Los Angeles started the ceremony with an acapella performance. Following the song of hope and redemption, opening remarks were given at the pulpit by the Anti-violence project manager for the LGBT center, Mariana Morroquin, and representatives from the Trans Wellness Center, Bienstar Human Services, Children's Hospital of Los Angeles, Friends Community Center, APAIT, and [email protected]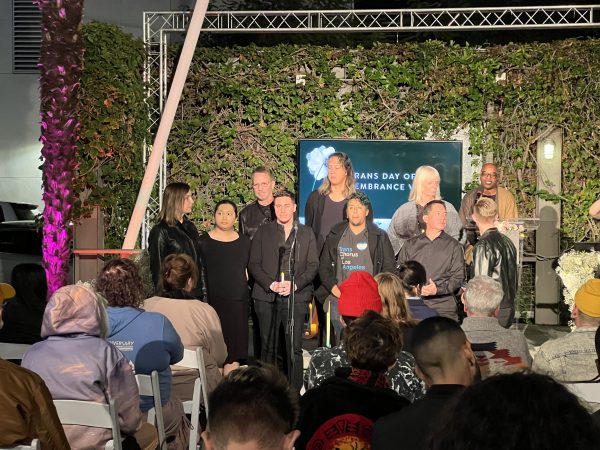 "I think it is very important to acknowledge our partners," said Morroquin, somberly addressing the seated audience of about one hundred and fifty. "We know that hate is real. A lot of us have seen hate pretty close. We are very grateful to have you. We open our arms to receive your love and your support. The way we support each other is by providing jobs, providing spaces for us, and providing opportunities. Because hate is out there. We need this space. We need to welcome everyone. I want you to keep that in your heart. And tomorrow, when we get back to work, let us open our hearts and our minds. Don't make decisions for us. Invite us to those tables. We know what we need. We've been doing this forever. We are going to keep fighting because this is what we do." 
She then added, "We refuse to let violence rob us of the possibility to gather, to love each other, and to dream together in solidarity. We gather because we must remember what is worth fighting for. For now, we commemorate. We tell the stories of the ones we lost. For tonight, that will be enough." 
One by one, members of the audience approached the pulpit to read the names and stories of a multitude of trans people whose deaths were the tragic result of hate crimes. The photos, names, and ages of the victims were displayed on the center-stage monitor.
"My name is Nikai David," said one speaker, the photo of a pale, curly-haired young lady displayed behind them. "I am a model and social media influencer who aspired one day to own my own clothing boutique. I had just celebrated my birthday a week before I was shot in Oakland California, on December 4th, 202. I was thirty-three years old."
Stories of these deaths included shootings by assailants, police, and family members, brutal beatings, and stabbings. The bodies of these victims were found in their homes, in garbage cans, and on streets where they were left, still dying, among other locations.
The final name read was Daniel David Aston, who died in the recent Club Q mass shooting.  This year, TDOR came on the heels of the senseless massacre in Colorado Springs that left five members of the LGBTQ+ community dead and 25 injured. 
Reverend Valerie Spencer gave an impassioned closing speech, first inviting the audience to take several deep breaths in unison.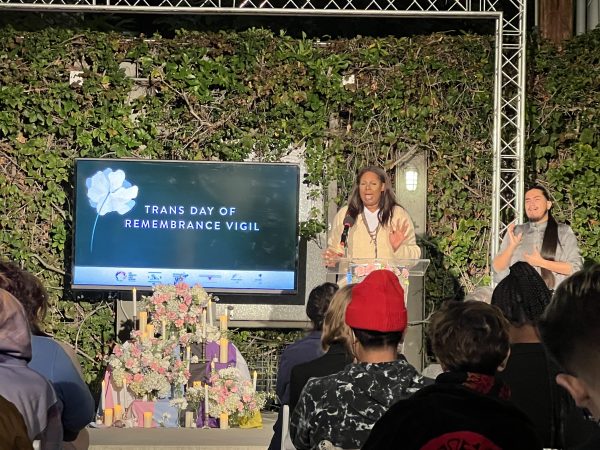 "We will mourn our family, our siblings," said Reverend Spencer, "but we are not having our primary focus on the violent conclusion of their life. We are choosing to see them and know them and celebrate them in the full context of their living. For they were fierce and powerful people."
LA City Council bans Styrofoam, plastic bags, & have "Zero Waste"
"There is no place in the City of Los Angeles for harmful environmental products like Styrofoam, & today we are making that a reality"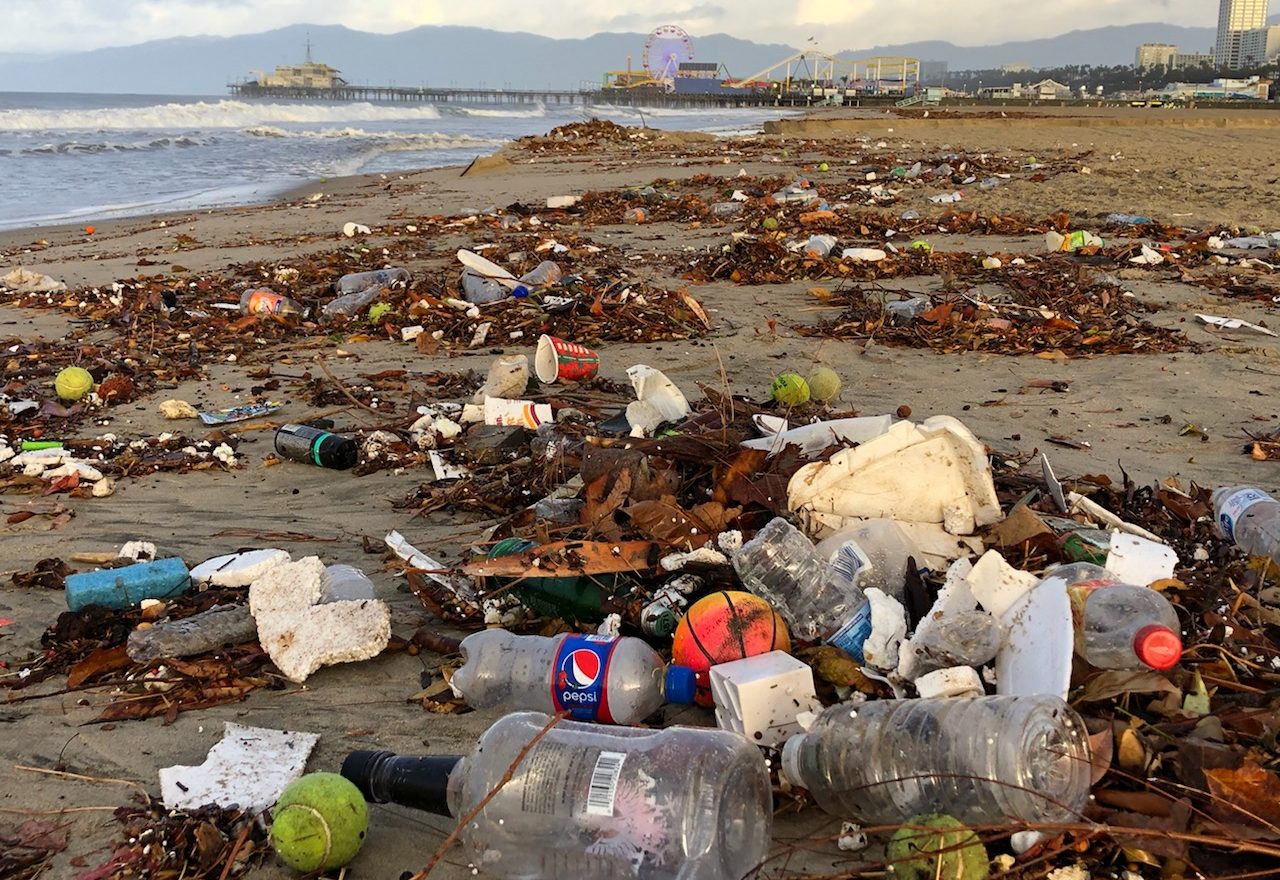 LOS ANGELES – In a unanimous vote, the Los Angeles City Council today approved an ordinance that will prohibit the distribution and sale of Expanded Polystyrene (EPS) products, commonly referred to under the trade name Styrofoam, in the City of Los Angeles.
"I am pleased that we were able to advance yet another transformative environmental policy with unanimous support of the City Council," said Councilmember Mitch O'Farrell, the chair of the Energy, Climate Change, Environmental Justice, and River committee. "Angelenos want to be good stewards of the environment, and this legislation is reflective of that value – as well as the urgency with which it must be implemented. There is no place in the City of Los Angeles for harmful environmental products like Styrofoam, and with today's decisive action we are making that imperative a reality. I hope that future Councils, along with other jurisdictions across the country and the world, follow our lead on environmental justice and the elimination of products that degrade public health."
"Our world is drowning in plastic. To the point where, in any given week, each of us ingests enough plastic from our food and water to make a credit card," said Council President Paul Krekorian.  "The petrochemical industry is lying to the people of the United States by trying to convince them that somehow it's OK to use these products because they're recyclable. They're not. Almost no plastic ever gets recycled and styrofoam definitely does not.  The steps that we're taking today are an important part of changing industries, changing consumer behavior and educating the public about the harm that this is causing them,"  Krekorian said.
"EPS foam, also known as Styrofoam, is toxic from production to usage to landfill. The Styrene and Benzene in EPS are both known carcinogens and can also negatively affect workers inside EPS factories. The manufacturing process can contaminate neighborhoods outside EPS factories. The toxins can leach into hot drinks and food as people use cups and food containers. And then EPS ends up as little white bits marring our world-class beaches," said Councilmember Paul Koretz, the author of the original legislation. "Even worse, the manufacturing process releases significant amounts of hydrofluorocarbons, which are massively potent greenhouse gasses. It's way past time for Styrofoam to go away forever."
The Council also approved an additional ordinance that adds to the Los Angeles Municipal Code a section promoting the use of reusable bags and regulating the use of plastic and paper single-use carryout bags at apparel stores, farmers' markets, food or beverage facilities, hardware stores, and open air markets. In addition, the Council approved instructions to LA Sanitation and Environment (LASAN) requiring reports back to the Council, by April 2025, regarding compliance with these new policies. The Council also instructed LASAN to prepare outreach programs to educate stakeholders on both ordinances.
Additionally, the Council requested that all proprietary departments, along with their respective boards, adopt and implement the ordinance requiring "zero waste" at City facilities and events, along with a direction to LASAN to prepare an outreach program and further instruction to all departments to report back on progress with this ordinance, which was passed earlier this year.
"LA Sanitation and Environment (LASAN) has a unique responsibility when it comes to protecting public health and the environment," said Alex Helou, LASAN Assistant Director. "We do that through the hard work of collecting, recycling and composting materials, but also through the much less visible work of educating residents on what can and can't be recycled. Items like expanded polystyrene, plastic bags and single-use foodware accessories do not belong in the blue bin."
"For more than 30 years, Heal the Bay has conducted thousands of cleanups, removing millions of pieces of plastic off of our beaches and out of our waterways. It is clear that cleanups will never solve the issue of plastic pollution. To truly protect public health, we need aggressive and responsible solutions like today's unanimous vote by the Los Angeles City Council to ban polystyrene addressing upstream sources and slowing the production and sale of plastic products, said Tracy Quinn, President and CEO of Heal the Bay. "We commend Councilmembers Koretz, Krekorian, and O'Farrell for their leadership on this issue and look forward to helping put these laws into effect in the new year."