The 'Spoiler' is you're going to cry
Films like these don't play their big moments for drama, or even for laughs, to keep us involved – they play for truth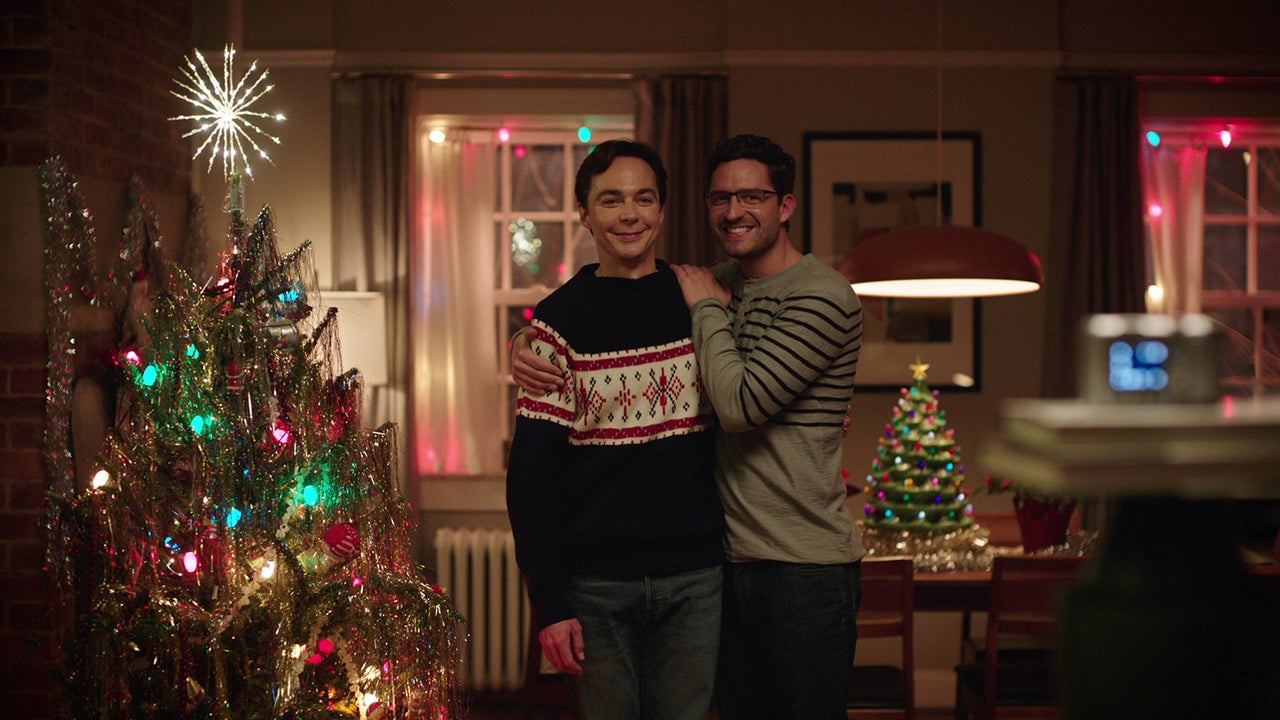 It's been a refreshing year for LGBTQ love stories on the screen. From "Fire Island" to "Bros," from "Crush" to "Anything's Possible," we've seen narratives that offer up hopeful and positive alternatives to the gloomy outcomes presented by movies of the past. Instead of stories that reinforce the tired trope of doomed queer romance, we're finally seeing ourselves get the same chance at a happily-ever-after ending as everybody else. 
It's been a welcome change – but just when Hollywood finally seems to have finally figured out that all our relationships don't have to end in tragedy, "Spoiler Alert" has come along to remind us that sometimes they still do.
Based on the best-selling memoir by Michael Ausiello ("Spoiler Alert: The Hero Dies") and directed by Michael Showalter from a screenplay by David Marshall Grant and gay blogger/author/pundit Dan Savage, it's the true story of a couple (Ausiello and his eventual husband, photographer Kit Cowan) who find love and build a relationship over the course of more than a decade only to face the heartbreak of Kit's diagnosis of – and his (SPOILER ALERT, hence the title) premature passing from – a rare form of terminal cancer. Though It's not exactly a rom-com, it does try to keep things light-hearted, and it aims for the uplift despite its foregone tragic conclusion.
That's a tough tightrope to walk. The book, penned by veteran television and entertainment journalist Ausiello, pulled it off successfully, becoming a bestseller – and not just among queer readers – with its warts-and-all celebration of what it truly means to commit to love. After all, we may adore our fairy tale fantasies, but we all know that even a couple's best-case scenario is guaranteed a sad ending; Ausiello's first-person written narrative managed to get the point across that it's all worth it, anyway.
Sometimes, though, a literary device that works on the page doesn't translate easily to the screen, and on film, Ausiello's "we-already-know-the-outcome" premise faces a more resistant challenge.
In the first act of the film, which details the meeting and early romance of its two lead characters (Jim Parsons and Ben Aldridge as Michael and Kit, respectively), our knowledge of the ending becomes an obstacle. This may be particularly true for more jaded viewers, who are apt to be keenly aware of the emotional payoffs being set up in advance. Heartwarming moments can easily come off as deliberate, even manufactured, and one might sense an obvious bid to force our identification with the characters in the movie's deployment of all the standard "new gay relationship" tropes. In reading, it's easy to personalize such universal moments through our own imaginations, which can fill in the spaces (and the faces) in a way that rings true for us. On film (this film, at least), such communally identifiable experiences run the risk of feeling manipulative: a little too perfect, a little too pat, a little too "meet-cute," and a little too… well, precious.
The dissonance between formulaic fantasy and genuine lived experience is sometimes made even more obtrusive by occasional flashbacks to Michael's childhood, framed as excerpts from an imagined 90's sitcom, which distance us further from the story – a stylistic ploy which seems intended to keep the tone of the narrative as far from tragic as possible.
When it's time to get real, however, Showalter's film lands on more solid ground. Once the blissful "happy-ever-after" couple-hood of the two men is established, the movie takes us into deeper, more mature – and therefore, less predictable – territory. Things don't end up being perfect in Michael and Kit's ostensible lover's paradise: jealousies, self-esteem issues, and the inevitable individual growth that sometimes drives wedges between us in our relationships take their toll. As any successful long-term couple – queer or otherwise – is bound to discover, relationships take a lot of work, and seeing the two protagonists confront that seldom-told part of the story goes a long way toward making their experience more relatable for those who are looking for more than mere aspirational fantasy.
So, too, does the acting from the two leads. Parsons, who struggles against the obvious artificiality of playing against being two-decades-too-old in the film's earlier scenes, blossoms once the story moves ahead in time to deliver an emotionally brave and affectingly authentic portrait of a man overcoming the baggage of his awkward and socially isolated youth (there's a Smurf addiction involved, need we say more?) and finding the resilience to weather a battle for his lover's life. Aldridge, a Brit flawlessly playing American, is perhaps even better – not that it needs to be a competition – as Kit, whose easy-going self-esteem masks a world of unresolved insecurities and makes an almost-too-good-to-be-true character endearingly real; perhaps more importantly, the emotional journey he's tasked with portraying requires an absolute dedication to unornamented truth, and he delivers it impeccably.
It helps that the two actors, who carry most of the movie's running time, have a convincingly natural chemistry together that gradually persuades us to invest in these characters even if we had resisted becoming invested in them before. Bolstering the emotional solidity even further is the presence of seasoned pros Sally Field and Bill Irwin as Kit's parents, who deepen this not-as-clueless-as-they-seem pair beyond the familiar stereotype they represent and raise them above the easy sentimentality they might otherwise have carried into the story's already-poignant mix.
These considerable advantages are enough to help us forgive the movie's contrived expository beginnings, though its ongoing sitcom conceit for childhood flashbacks – as well as its occasional fourth-wall-breaking interruptions from Michael's TV obsessed imagination – continue to feel a little gimmicky, especially after the plot has passed the point where such amusements are welcome or even necessary.
Still, the movie's fortunate choice to play against its tearjerker underpinnings – such as when it undercuts a particularly histrionic scene of hospital drama by calling itself out on its own shameless nod (which any gay movie buff will surely already recognize) to an iconic moment from a cinema classic – keeps the tears which finally come from feeling as though they've been shamelessly manipulated out of us. It's this quality that marks the best entries in the tearjerker genre; the thing that movies like "Terms of Endearment" and "Steel Magnolia" have in common (besides Shirley MacLaine) is their ability to lean fully into the artifice of their own weepy, sentimental style without sacrificing the sincerity of their emotional payoffs. Films like these don't play their big moments for drama, or even for laughs, to keep us involved – they play those moments for truth. "Spoiler Alert" clearly aspires to the same standard.


It mostly succeeds, after an awkward start; though some viewers might find its quirkier narrative conceits to be an overcompensation for its weepy ending, its characters are real enough to get past all that and win us over. And though it's hard to deny that it's ultimately another tragic gay love story, it manages to remind us that love is worth it even when you know it's going to end badly.
After all, just because a romance is doomed doesn't mean it has to be a downer.
Highways Presents
Behold!
Queer Film and Performances
All events are RSVP and pay what you can & in person at HIGHWAYS PERFORMANCE SPACE, 1651 18th St, Santa Monica, CA 90404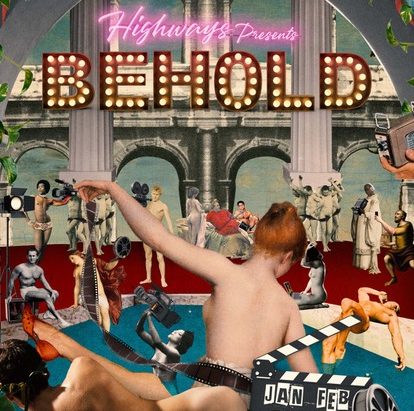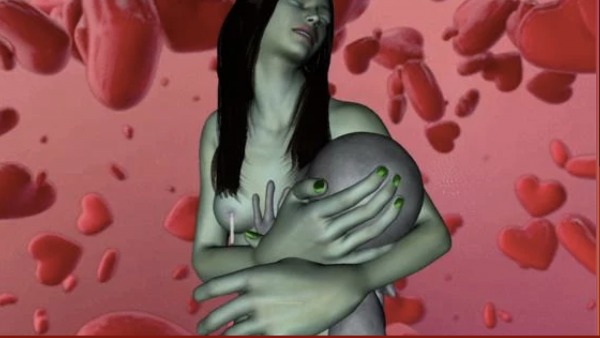 Friday, February 3rd, 8:30 PM
1-900-BODY-ON-THE-LINE (curated by Celeste Kamppila)
Curator Celeste Kamppila is a multidisciplinary artist based in Los Angeles. She is best known for her music project under the name of Celeste X, formally known as Celeste XXX. Celeste blends together a bedroom pop sound with harsh distortion and siren-like melodies. Her unforgettable live performances bring to life a raw display of the feminine experience, transmuting emotions ranging from distress to sensuality. She draws inspiration from horror and sexuality which blend together to make an interesting psychodrama visual, using images of prehistoric goddess to 1980s VHS adult films. She uses many mediums that range from music, video, and performance art to SFX make-up.
Untitled, Tita Cicognani,2023 United States
Turtledove, Chantel Beam 2021 United States 5:22
Hentai and Crack Vol 1, Nastya Valentine, 2023, 14:00
The Magician, Matthew Kaundart, 2016, 8:00
Ricochet, Daviel Shy & Valerie Whitehawk, 2022, 4:00
Untitled, Peter Kalisch, 2023, United States
Permanence is Only a Word , Kayla Tange, Chuck Hohng, Luka Fisher, 2020, 4:00, United States
Mz Neon (FOLLOWED WITH A LIVE PERFORMANCE BY MZ NEON)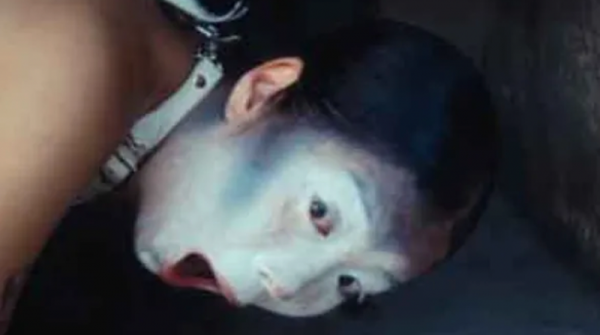 Saturday, February 4th, 8:30 PM
TIGHT: An exploration of the architectures of restriction (curated by Gina Young)

Confinement. Repression. Stress. TIGHT is an exploration of the architectures of restriction and how the body and soul respond. Our protagonists– many of them queer, nonbinary, trans– find themselves trapped by the limits of the gendered gaze, of memory, of the Covid-19 shelter-in-place lockdown, or of mysterious situations beyond their control. Whether they find their way to freedom or not? May vary.
gina young (she/they) is an award-winning writer, director, performer, and curator. Their stage work, screen work, and curated events have been presented nationally and internationally from The Hammer Museum and REDCAT to punk clubs and gay bars across the US and Europe. ROOM TONE, her screenwriting debut starring A League of Their Own's Roberta Colindrez and directed by Whitney White, is currently making the film festival circuit as part of the anthology film KEEP THIS FAR APART. gina is a winner of the Jane Chambers Award for Playwriting, the Humanitas/PLAY LA Prize, and a two-time finalist for the Sherwood Award for boundary-pushing artists. Connect with gina and her production company SORORITY at ginayoung.com or @ginagenius on Instagram.

Creature, María Silvia Esteve, 2021, 15:27, Argentina, Switzerland
Schindler House Haunting, jas lin, 2022, 17:00, United States
Safe at Home, Zoë DeLeon & Michelle Calderon, 2022, 4:00, United States
Room Tone, gina young, 2022, 9:00, United States
Suspension, Dulcinee DeGuere, 2022, 15:00, United States
Basic Needs, Karla Espino, 2022, 3:00, United States
Princess, Jason Vu & B Gosse,2021, 8:00, United States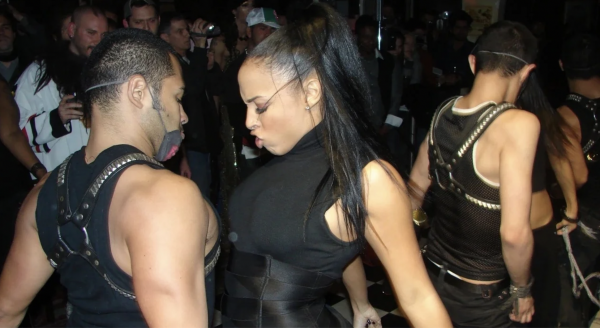 Saturday, February 11th, 8:30 PM
Ecstasy and Reminiscence: Nights Out in Los Angeles (curated by Dino Dinco & Juan Fernández)
Emerging with fits and starts from a prolonged, challenging quarantine and its social isolation, we celebrate the return to sharing physical space and intimacy by reflecting on Los Angeles nightlife and live performance, particularly the richness and vibrancy that live in the margins and fringe after dark. Tonight's works draw poignant threads that link Los Angeles dance floors, art galleries and artists, backyards, and dark rooms from the 1980s through present day, where ecstatic moments collide with mortality and for so many of us, "going out" was going home.
Pacoima Techno & Soltera 818 kick off the night with collaborative video work and live performance.
Pacoima Techno use their experience growing up in the San Fernando Valley, specifically Pacoima, as the basis for their music, live performance, and community organizing. https://www.instagram.com/pacoimatechno/ In addition to creating sultry, hard-edged dance music, Soltera 818 is the host of the online radio program Todo O Nada centralizing the roots and influences of electronic music across genres while featuring underrepresented artists globally and locally. https://www.instagram.com/soltera818/

A screening of Artbound: Mustache Mondays (directed by Marianne Amelinckx, 2021, PBS), 55 min.
"See how a roving LGBTQ night club event in Los Angeles called Mustache Mondays became a creative incubator for today's leading edge contemporary artists. This film examines the history of these spaces and how they shaped the Queer cultural fabric unique to Southern California." – PBS
A new performance work by Creepypasta Puttanesca (aka Alice Cunt):
"Creepypasta Puttanesca is a dish best paid for in advance as she is a hearty serving of a hauntingly delectable specter of the digital realm, a finger-licking ghost in the machine that comes with a complimentary order of all you can eat breadsticks and side salad. Beverage sold separately." – Creepypasta
An installation by the anonymously run social media account Noche de Jotiar, highlighting "joteadas y pendejadas estílo Los Ángeles."
The installation features a collection of candid photos and video (many of them previously unshared) along with flyers and music from inside and around queer Latinx/e nightlife in Los Angeles dating from the late 1980s to 2000s. The collection includes photos taken at Hollywood's Circus Disco, Arena Cafe, and backyard T-parties around the greater Los Angeles area.
Curators
Dino Dinco is a film and theater director, performance art curator and maker, writer, and lecturer in the Department of Visual Arts at UC San Diego. Based in Tijuana, México, his work has been exhibited in solo exhibitions in Paris, Los Angeles, and San Francisco, in group shows internationally, and is included in the collection of Le Fonds Régional d'Art Contemporain de Haute-Normandie, France, as well as private collections in Paris, Antwerp, Brussels, Los Angeles, Barcelona, New York and London.
Dinco's first feature length documentary film, Homeboy, explores gay Latino men who were in gangs. His award-winning short film, El Abuelo, with San Antonio poet Joe Jiménez, premiered at the Tate Modern, has screened internationally, and is included in the online LGBTQ film platform, Frameline Voices. Dinco co-founded You Wear it Well (2006-2008), the first traveling international film festival dedicated to short films on fashion.
He was a Consulting Producer on the Fall 2021 installment of KCET's Artbound documentary film series which profiled the itinerant Downtown Los Angeles queer dance party, Mustache Mondays (2007 – 2018), of which Dinco was a co-founder. www.dinodinco.com

Juan Antonio Fernández (He/Him) is a media scholar, cultural producer, and educator.  Juan has recently relocated to Los Angeles and has produced theater, art installations and performance in New York, Oakland, and San Francisco.
LISTING INFO:
IN PERSON AT HIGHWAYS PERFORMANCE SPACE,
1651 18th St, Santa Monica, CA 90404
Info at Highways.org
All events are Pay what you can with an RSVP https://www.highwaysperformance.org/shows
Fri-Sat. February 3-4 & Sat. February 11
BEHOLD! Queer Film and Performance Series, curated by Gina Young, Celeste Kamppila, Dino Dinco, and Juan Fernandez, featuring performance and multiple feature and shorts programs that showcase works from and about the LGBTQ+ and Latinx communities spread over three curated categories.

Friday, February 3rd 8:30 pm
https://www.highwaysperformance.org/events/1-900-body-on-the-line
1-900-BODY-ON-THE-LINE (curated by Celeste Kamppila)
An exploration into the nuanced realm of fantasy, love, and validation from the POV of todays' "public enemy" – the outcast, sex worker/symbol, the working artist, the queer.

Saturday, February 4th 8:30 pm
https://www.highwaysperformance.org/events/tight-an-exploration-of-the-architectures-of-restriction-curated-by-gina-young
TIGHT: An exploration of the architectures of restriction (curated by Gina Young)
Confinement. Repression. Stress. TIGHT is an exploration of the architectures of restriction and how the body and soul respond.

Saturday, February 11th 8:30 pm
https://www.highwaysperformance.org/events/ecstasy-and-reminiscence-nights-out-in-los-angeles
Ecstasy and Reminiscence: Nights Out in Los Angeles (curated by Dino Dinco & Juan Fernández)
Los Angeles dance floors, art galleries and artists, backyards, and dark rooms from the 1980s through present day, where ecstatic moments collide with mortality and for so many of us, "going out" was going home.