Queer to Stay grants announced, four LA businesses are recipients
"The Los Angeles Blade is honored to be one of these four grant recipients and we thank Showtime & HRC," said Troy Masters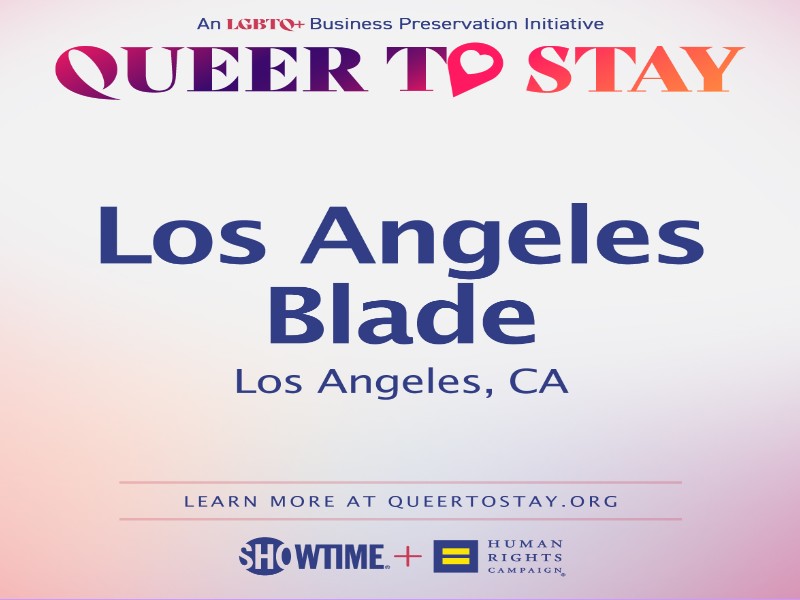 LOS ANGELES – The Human Rights Campaign (HRC), the nation's largest lesbian, gay, bisexual, transgender and queer (LGBTQ+) civil rights organization, and SHOWTIME announced Tuesday that four Los Angeles businesses, Detroit Vesey's, Los Angeles Blade, Salon Benders and Urbody, as recipients of "Queer to Stay: An LGBTQ+ Business Preservation Initiative" to support and uplift small businesses that focus on LGBTQ+ people of color, women and the transgender community who continue to be impacted by economic setbacks from the COVID-19 pandemic.
"This year, on top of economic setbacks from COVID, we've seen a disturbing rise in anti-LGBTQ+ rhetoric and attacks, including harm to some LGBTQ+ small businesses. That's why it is critical to uphold affirming, welcoming spaces and services for our LGBTQ+ communities," said Kelley Robinson, HRC President. "This initiative celebrates and supports our community by putting funds directly into the hands of multiply marginalized LGBTQ+ owned, and serving, small businesses around the country. We're excited to partner with SHOWTIME once again to ensure that LGBTQ+ patrons, employees and business owners continue to occupy spaces freely and without exception as their authentic selves."
The four Los Angeles businesses that will receive Queer to Stay grants are the following:
Detroit Vesey's – Erin Detroit Vesey is the owner and chef of Detroit Vesey's, a cafe designed with the intention of being a place for folks in LGBTQ+ and cycling communities." Erin wanted to create a "daytime space" for LGBTQ+ people that did not focus on nightlife, and was inspired by the community that they witnessed during AIDS Lifecycle, a "bike ride from San Francisco to LA that raises funds to fight HIV/AIDS and the stigma, where everyone is welcome to participate and work towards a common goal."
Los Angeles Blade – Troy Masters founded the Los Angeles Blade after realizing that LA was "a city that – despite its importance – had no LGBT newspaper." Masters had over two decades of LGBTQ+ journalism experience after founding Gay City News in New York during the height of the HIV/AIDS epidemic. Since its founding, the Los Angeles Blade has become one of the most well-respected sources for LGBTQ+ news.
Salon Benders – Jessie Santiago, co-owner and founder of Salon Benders, founded the salon to be a trauma-informed space for LGBTQ+ people after she had experienced working in a number of "toxic work environments that encouraged unhealthy habits" and took a toll on her physical and mental health. With encouragement from her partner and now co-owner of Salon Benders, Santiago created a salon "where people can come as they are and leave a better version of themselves."
Urbody – Mere Abrams and Anna Graham co-founded Urbody to be a high-quality, gender affirming underwear and activewear brand that will display "positive, humanized representations of gender diversity." Abrams and Graham wanted to create a "safe and affirming" shopping experience for all people that includes options for people across the gender spectrum, and they plan to use some of their grant money to continue designing pieces that accomplish that goal.
"The Los Angeles Blade is honored to be one of these four grant recipients and we thank Showtime & HRC," said the Blade's publisher Troy Masters.
During the height of the COVID-19 pandemic in 2020, the inaugural "Queer to Stay" initiative awarded funds to 10 LGBTQ+ businesses across the country. Since then, it's been reported that LGBTQ+ businesses were less likely to receive COVID relief funds. At the same time, some LGBTQ+ small businesses have been the target of outrageous, extremist anti-LGBTQ+ rhetoric and attacks. With many LGBTQ+ businesses continuing to struggle in the economic aftermath of the global pandemic, HRC and SHOWTIME scaled up the initiative to include 25 businesses this year – five more than in 2021 – with a funding pool of $250,000. Watch a video about Queer to Stay here.
The additional awardees of "Queer to Stay: An LGBTQ+ Business Preservation Initiative" include:
Dorothy Downstairs (Chicago, IL), Three Palms Bar & Grill (New Orleans, LA), Stag PDX (Portland, OR), Bake Me Happy (Columbus, OH), Queer Therapy Network (Houston, TX), Celebrate Therapy (Provo, UT), M-Care (Witchita, KS), Queer Kid Stuff (Portland, ME), Harana Market (Woodstock, NY), Urbody (Los Angeles, CA), Peachy Births (Kansas City, MO), PTSFeminist (Atlanta, GA), As You Are (Washington, DC), Santé Bar (Portland, OR), Coffee Mafia (Auburn, AL), Goldspot Brewing Company (Denver, CO), Queer Chocolatier (Muncie, IN), Mountainsong Expeditions (Worcester, VT), Womencrafts (Provincetown, MA), Queer Dance Project (Lakewood, CO), Euphoria (Denver, CO), and Franny Lou's Porch (Philadelphia, PA).
"I am so proud of SHOWTIME for extending its QUEER TO STAY campaign! Supporting LGBTQ+ businesses combined with all the LGBTQ+ representation in SHOWTIME programming, QUEER TO STAY has made a major impact all over the country," said actor Jamie Clayton, star of THE L WORD®: GENERATION Q. "I'm honored to star on a show that depicts a vital LGBTQ+ small business on television. Playing Tess, who manages the inclusive, queer space, Dana's Bar, on THE L WORD: GENERATION Q is such an exciting and vital thrill!"
HRC Foundation has published a research brief outlining the health and economic risks faced by the LGBTQ+ community during the COVID-19 pandemic. Key findings show that many LGBTQ+ people may lack the resources to effectively combat COVID-19; lack access to paid sick leave or live without health coverage; and are more likely to work in an industry that has been most affected by the pandemic, putting them in greater economic jeopardy or increasing their exposure to the virus. HRC Foundation research has also shown that LGBTQ+ people are more likely to be unemployed and to have lost work hours compared to the general population, with transgender people and people of color most at risk.
Season three of THE L WORD: GENERATION Q, the returning series based on the groundbreaking drama series THE L WORD®, is currently airing Friday nights on SHOWTIME. Packed with jaw-dropping surprises and guest stars, this season continues to follow the cast of characters as they struggle with secrets, old scars and new flames on their search for "The One."
Grindr goes public with new gay CEO & majority LGBTQ+ board
Arison's appointment to helm Grindr comes as the app has assumed a more active role in fighting the monkeypox virus (MPV) outbreak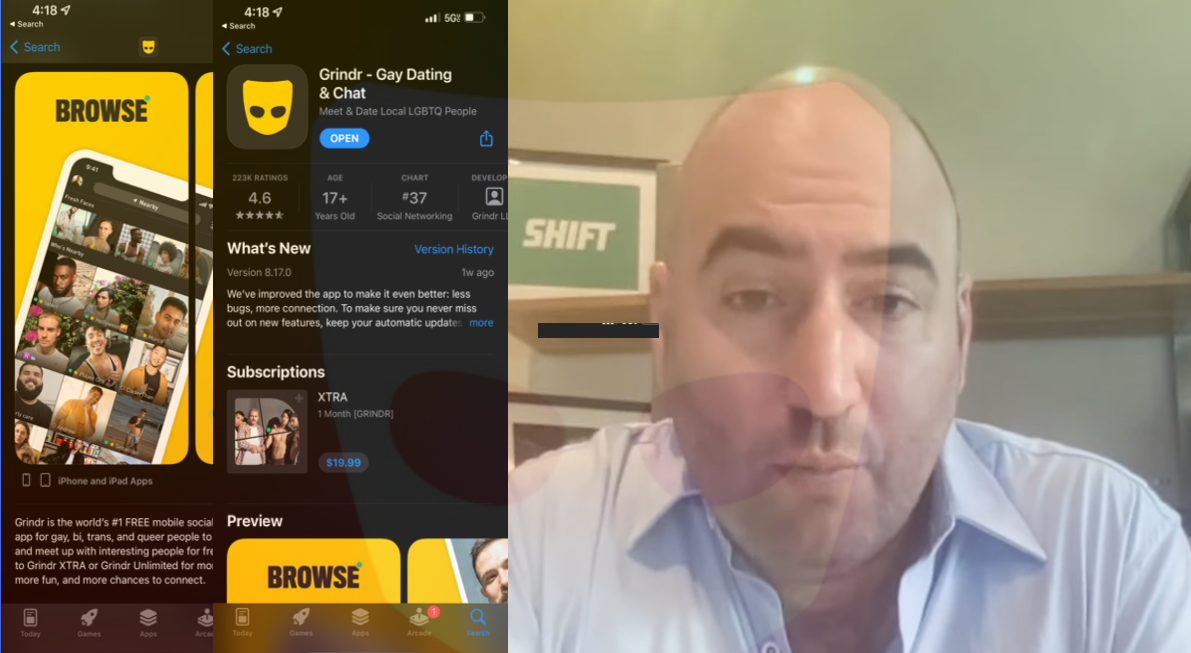 WEST HOLLYWOOD – Grindr, the dating and hookup app that boasts about 11 million gay, bisexual, transgender and queer users per month around the world, is preparing to go public this fall with a $2.1 billion valuation.
Ahead of its merger with a special purpose acquisition company (SPAC), the company formed a board comprised of 60% LGBTQ+ members and on Tuesday installed, as its new CEO, George Arison, the openly gay founder and former CEO of Shift Technologies.
The move marks the company's second attempt at going public, after hopes for an initial public offering (IPO) were dashed in 2016, when Chinese company Beijing Kunlun Tech divested its shares of Grindr over concerns by the U.S. government regarding the potential for blackmail or espionage by the Chinese Communist Party.
Arison's appointment to helm Grindr comes as the app has assumed a more active role in fighting the monkeypox virus (MPV) outbreak, which has overwhelmingly affected gay and bisexual men who have sex with men.
The news also arrives on the heels of controversy stemming from Facebook posts published by former Grindr CEO Scott Chen: "Some think marriage is between a man and a woman. I think so, too, but it's a personal matter," he wrote. "Some people think the purpose of marriage is to have your own biological children. It's a personal matter, too."
Some may have foreseen the change in leadership from the negative reactions to Chen's comments at the time from other CEOs of LGBTQ+ dating apps – CEOs who, unlike Chen, were members of the communities they served.
LGBTQ+ people serve as CEOs of some of the most powerful companies in the world. Tim Cook, for instance, has led Apple since 2011, and the tech giant now has the largest market cap at $2.4 trillion.
NASDAQ listed companies with one or more LGBTQ+ board members, meanwhile, include Apple, Google, Papa John's, and M&T Bank.
It is unusual, however, for a publicly traded corporation to be led by an LGBTQ+ CEO and majority-LGBTQ+ board of directors, as will be the case for Grindr if the acquisition is successful.
According to a press release from Grindr, LGBTQ+ identifying members of the company's board are: "former United States Ambassador to the Organization for Security and Co-operation in Europe, Daniel Baer; senior partner at Simpson Thacher, Gary Horowitz; CMO of Hootsuite, Maggie Lower; Investor and Tech Executive, Nathan Richardson; and SVP of Marketing and Communications at BigCommerce, Meghan Stabler."
They, along with Arison and Grindr's VP/Global Head of Communications, Patrick Lenihan, either declined to comment or did not immediately respond to requests for comment.
"Grindr is an unbelievable business and I am beyond excited to help them navigate through this next part of their journey. Their hard work and a laser focus on delivering great products to a starkly underserved market are inspiring, and deliver incredibly strong business results," Arison said in a statement that accompanied the company's announcement of his appointment as CEO.
Since it was launched in 2009, Grindr has faced criticism over its potential use for sexual exploitation, racism on the app, and concerns about its impact on mental health. A few years ago, the company was found to be sharing users' HIV statuses and locations to outside vendors.
Grindr sought to combat racism and other forms of discrimination with its Kindr initiative, introduced in 2018. "Everyone is entitled to their opinion," the company wrote. "Their type. Their tastes. But nobody is entitled to tear someone else down because of their race, size, gender, HIV status, age, or – quite simply – being who they are."
Revamping its help center, community guidelines, and safety tips, Grindr has also worked to fight the sexual exploitation of minors and mitigate instances of bullying on the app.
A CEO who has a record of prioritizing diversity
As CEO of Shift Technologies, an online marketplace for buying and selling used cars, Arison prioritized diversity when taking his company public and choosing members of its board. It was important for Arison, himself an immigrant from the Eastern European country of Georgia, because data shows companies do better with women serving on their boards. And more to the point, considering his leadership at Grindr, he wanted Shift to "represent all the people [the company] caters to."
Three of Shift's eight board members were women, as of the company's successful IPO via acquisition by a SPAC in 2020. "We've done our best to include men and women, straight and gay as well as immigrants and people of different ethnicities, heritages and races on our board," Arison told Market Watch.
It is not just Arison who is committed to diversity, equity, and inclusion when it comes to Grindr's forthcoming debut as a public company. Grindr will "continue to expand the ways it serves the LGBTQ+ community, from products, services to the philanthropic and advocacy work done through Grindr 4 Equality [G4E]," said Jeff Bonforte, the company's outgoing CEO, who will serve on the board.
The company's press release describes G4E as a program that leverages "the Grindr app's global reach and leadership to empower local LGBTQ+ activists, spread information, and empower our users in the fight for LGBTQ+ rights… Through G4E, we work with various groups worldwide to make HIV testing more accessible, encourage voting, and fight homophobia, biphobia, and transphobia."
Former hedge fund manager and Grindr board member G. Raymond Zage said, in the company's press release, "We are excited to bring this diverse and thoughtful board together with the talented Grindr team to grow the business and deepen its commitment to the LGBTQ+ community," which he noted has traditionally been underserved.
"On behalf of my community, I can't wait to work with this board and the impressive folks at Grindr to show up for even more LGBTQ+ people," Lower said.