Portrait of Matthew Shepard dedicated at National Cathedral
"It's amazing how similar & what a great job [the artist] has done to make it look like and showing the essence of Matt," said Dennis Shepard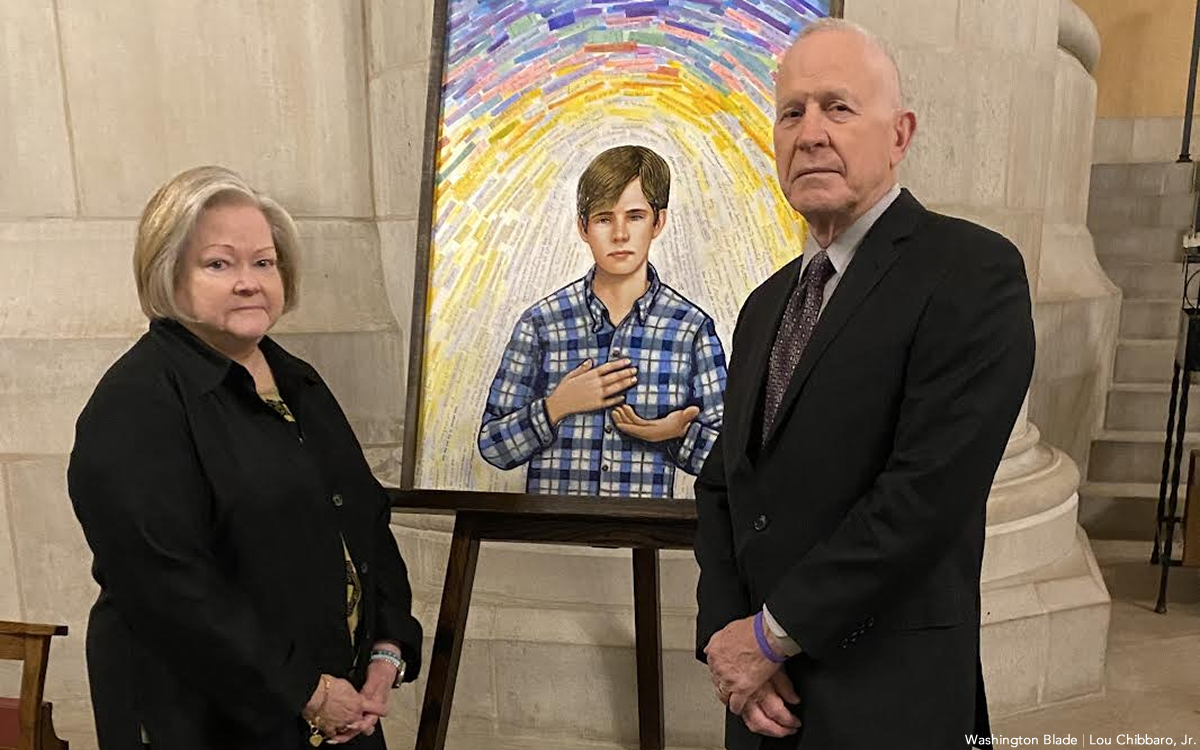 WASHINGTON – Matthew Shepard, the gay University of Wyoming student who was murdered in a 1998 anti-gay hate crime while tied to a fence outside Laramie, Wyo., will be honored at a ceremony on Thursday, Dec. 1, at Washington National Cathedral dedicating a newly commissioned portrait of Shepard.
Officials at the cathedral said the portrait by artist Kelly Latimore and commissioned by LGBTQ members of the Cathedral staff, is the only artistic image of Matthew Shepard created in collaboration with Shepard's parents, Dennis and Judy Shepard, who were present during the ceremony.
Matthew Shepard's ashes were interred at the Washington National Cathedral in 2018, 20 years after his death. The Cathedral announced in a statement this week that the Dec. 1 dedication of the Shepard portrait would also take place on what would have been Shepard's 46th birthday.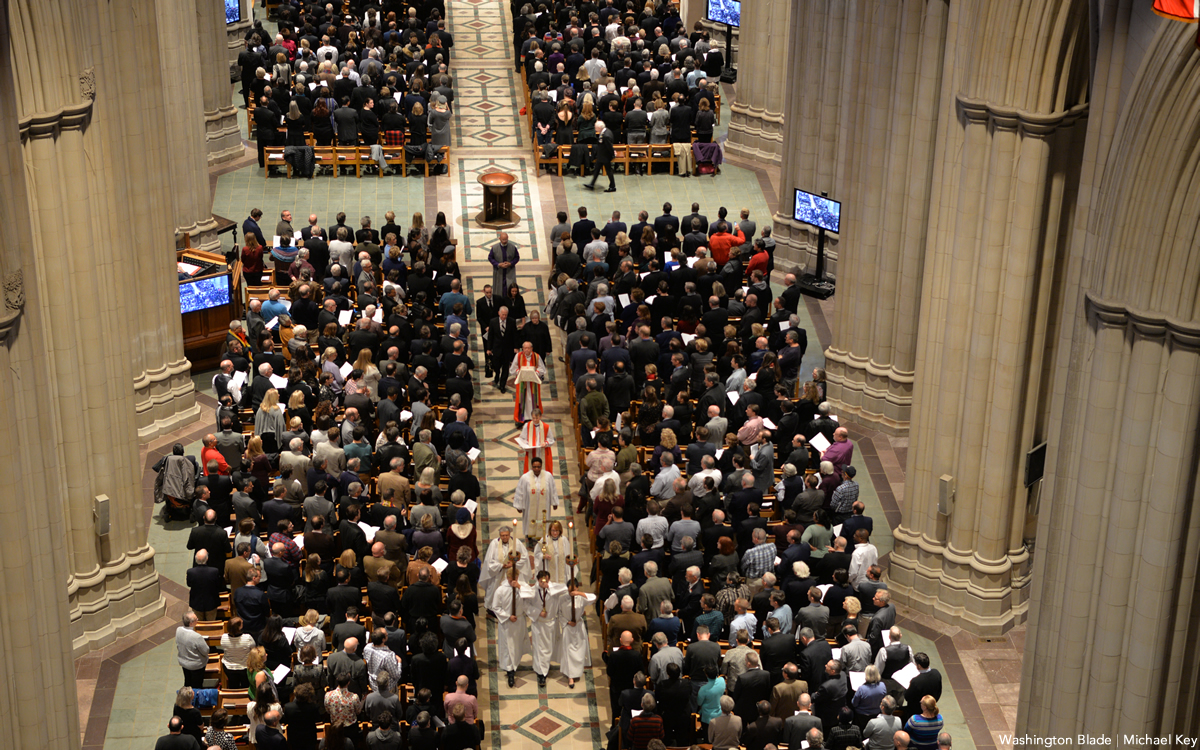 "The horrific murders at Club Q in Colorado Springs are a tragic reminder that our LGBTQ friends and family continue to be targeted for who they love, and Matthew Shepard's legacy reminds us of the urgency to confront bigotry and embrace people of all backgrounds, gender identities and sexual orientations," said The Very Rev. Randolph Marshall Hollerith, dean of Washington National Cathedral, in a statement.
Events surrounding the portrait dedication began with a 7 a.m. online prayer service "to celebrate and recall Matthew Shepard's life," the statement released by the Cathedral says. The service was led by Right Rev. V. Gene Robinson, the first openly gay priest to be consecrated as a bishop in the Episcopal Church.
The Cathedral next hosted a preview of the portrait for the news media at 10:30 a.m., where Dennis and Judy Shepard talked about the portrait and their son's life and the impact his death had on the nation's understanding of hate crimes.
"It's amazing how similar and what a great job that Kelly [Latimore] has done to make it look like Matt and showing the essence of Matt," Dennis Shepard told the Washington Blade while viewing the portrait in the Cathedral's St. Joseph's Chapel, where the portrait was on display.
Artist Latimore, who also spoke to reporters during the morning briefing at the chapel, said he was moved in his discussions with Judy and Dennis Shepard while getting ready to begin work on the painting by copies of dozens of letters they sent him that had been sent to the Shepards by people across the country after their son's death.
Latimore included written excerpts from dozens of those letters as the background to his portrait of Matthew Shepard, which can be seen and read when standing close to the portrait.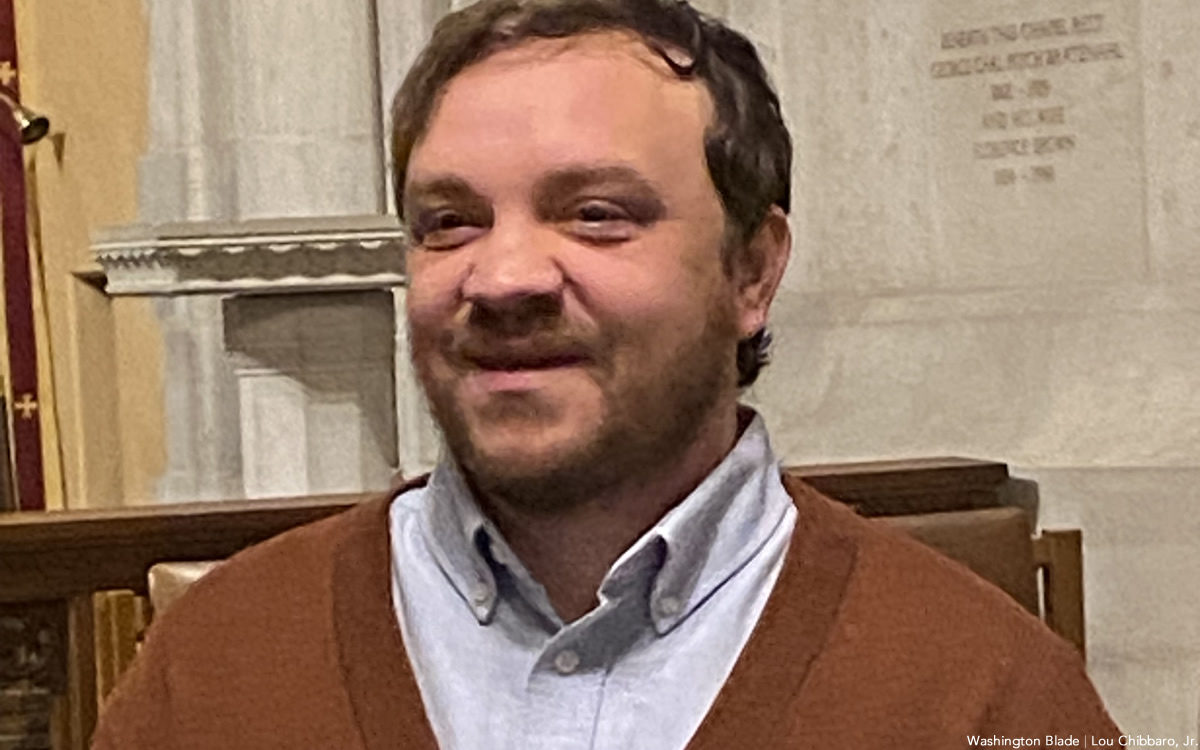 "Matthew will not be forgotten," an excerpt from one of the letters on the portrait says.
Dennis and Judy Shepard created the Matthew Shepard Foundation shortly after Matthew's death, which has been credited with playing a lead role in advocating for the passage by Congress in 2009 of the Matthew Shepard and James Byrd Jr. Hate Crimes Prevention Act. The measure was the first federal hate crime statute that expanded the coverage of the federal hate crimes law to include a victim's sexual orientation and gender identity as a protected class.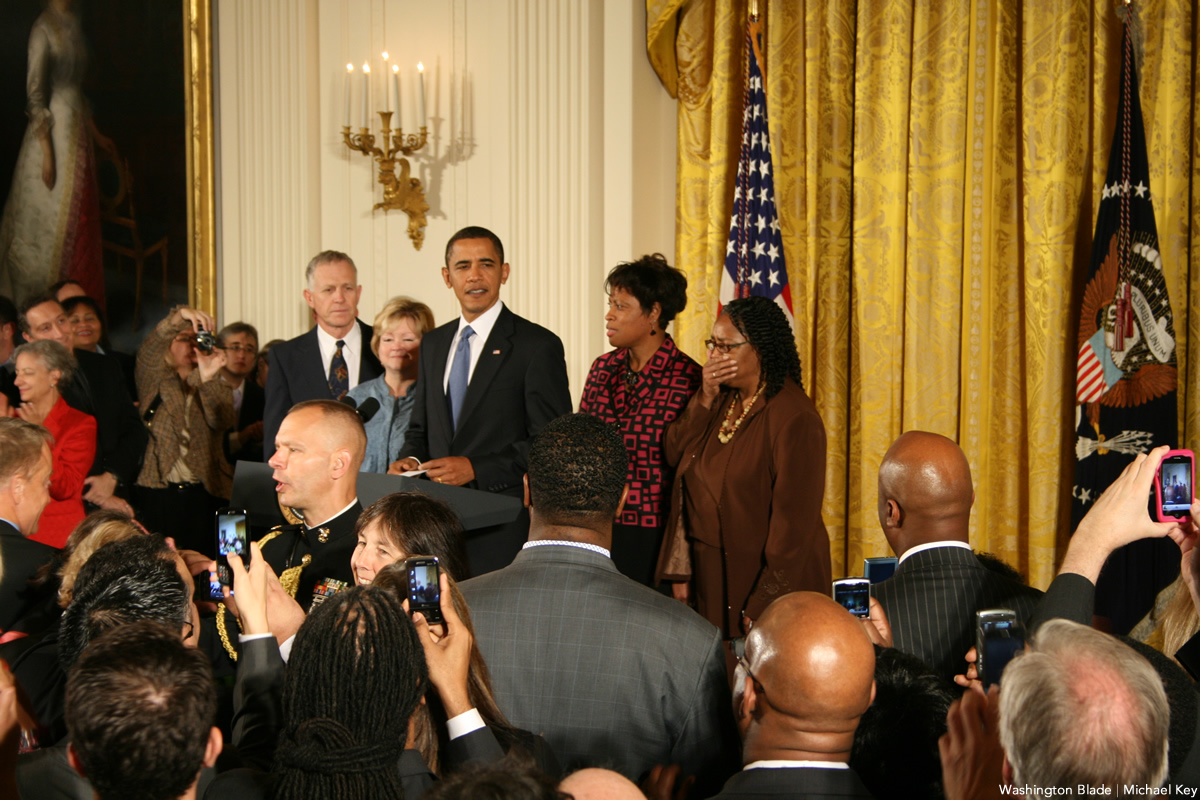 The Cathedral was to open its St. Joseph's Chapel from 2-5 p.m. on Thursday to visitors where the Matthew Shepard portrait was on display. Dennis and Judy Shepard were scheduled to be present to greet visitors.
According to the statement released by the Cathedral, later in the evening at 7 p.m., the portrait was to be officially dedicated in a private service in the Cathedral's crypt near the site where Shepard's ashes were interred.
"A longtime supporter of the full inclusion of lesbian, gay, bisexual and transgender people in the life of the church, the Cathedral considers LGBTQ equality one of the great civil rights issues of the 21st century," the statement released by the Cathedral says.
One of the two men charged with Matthew Shepard's murder, Russell Henderson, pleaded guilty to a murder charge in exchange for an agreement by prosecutors not to seek a death sentence. He was sentenced to life in prison.
The other man charged in the murder, Aaron McKinney, pleaded not guilty and went to trial, where he was convicted of murder by a jury. In a dramatic statement before the judge at the conclusion of the trial, Dennis Shepard announced and he and his wife had asked prosecutors and the judge to spare McKinney from being sentenced to death, something he said McKinney did not do while fatally striking his son in the head multiple times with the barrel of a gun after the two men tied him to a fence post in a remote field outside Laramie.
The judge sentenced McKinney to two consecutive life terms in prison without the possibility of parole.
Hundreds of thousands attend pro-Israel rally in Washington
A Wider Bridge members among participants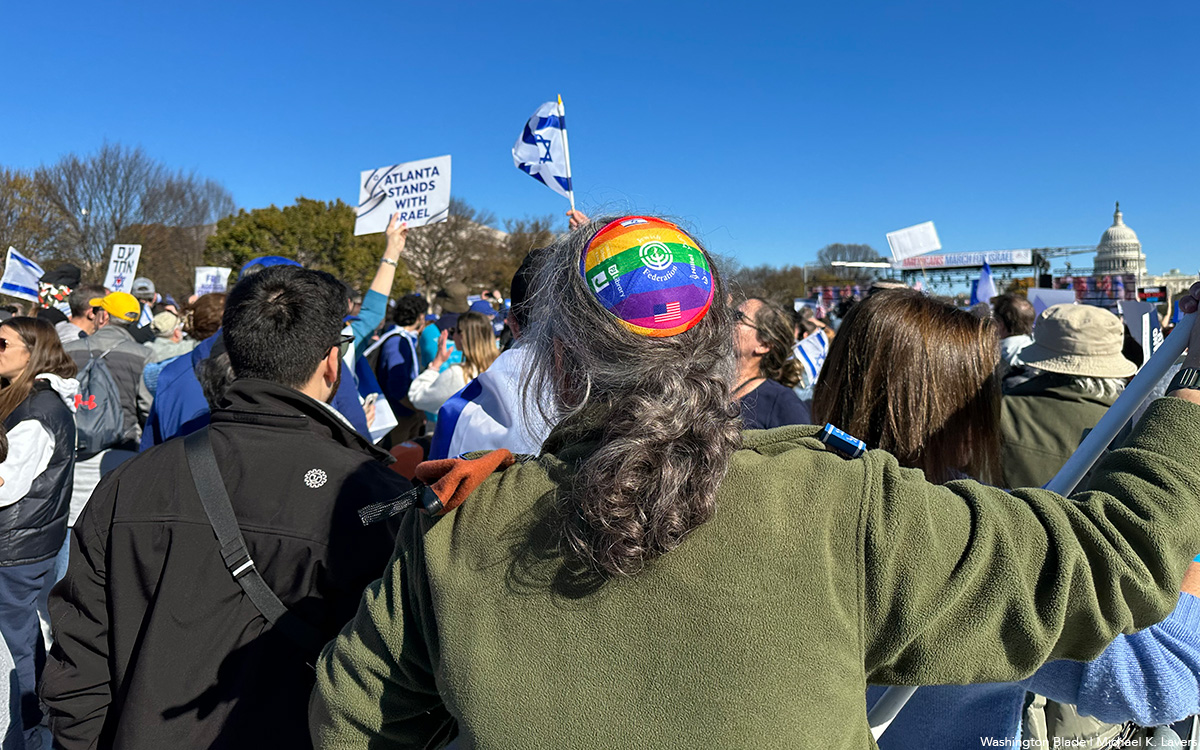 WASHINGTON — Organizers of a pro-Israel rally that took place on the National Mall on Tuesday said upwards of 290,000 people attended.
House Majority Leader Mike Johnson (R-La.); Senate Majority Leader Chuck Schumer (D-N.Y.); House Minority Leader Hakeem Jeffries (D-N.Y.); U.S. Sen. Joni Ernst (R-Iowa); U.S. Rep. Ritchie Torres (D-N.Y.), Deborah Lipstadt, the special U.S. envoy to monitor and combat antisemitism, actress Debra Messing, CNN's Van Jones, Israeli singer Omer Adam and relatives of some of the Israelis who militants from Hamas and other Muslim extremist groups kidnapped on Oct. 7 are among those who spoke at the March for Israel.
"Oct. 7 was a crime against the Jewish state, indeed against humanity, so barbaric that it cannot be ignored," said Torres. "It cannot go unpunished. Hamas must be brought to justice."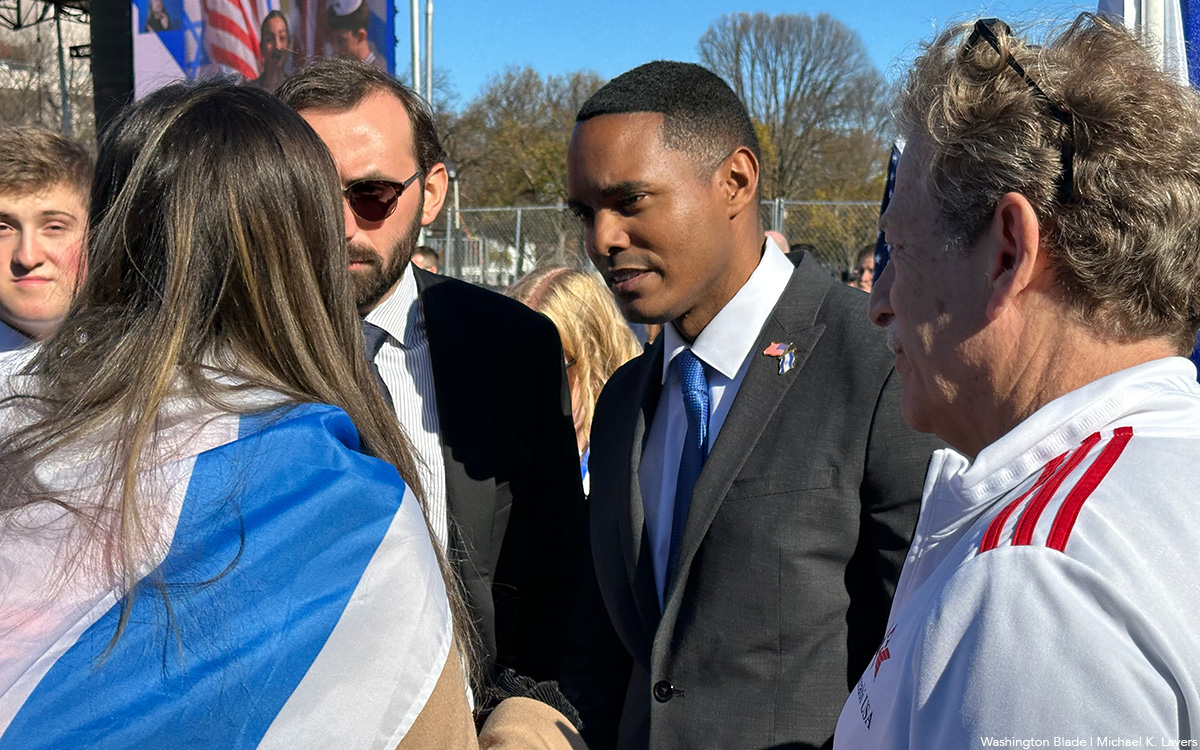 Israeli President Isaac Herzog spoke virtually from Jerusalem.
U.S. Sens. John Fetterman (D-Pa.), Bob Casey (D-Pa.) and Richard Blumenthal (D-Conn.) and U.S. Reps. Grace Meng (D-N.Y.), Ruben Gallego (D-Ariz.), Eric Sorensen (D-Ill.), Steny Hoyer, Norma Torres (D-Calif.), Jerrold Nadler (D-N.Y.), Debbie Wasserman Schultz (D-Fla.), Jim Hines (D-Conn.), Maryland state Rep. Joe Vogel (D-Montgomery County), former Arizona state Rep. Daniel Hernández, Rabbi Jake Singer-Beilin of Congregation Bet Mishpachah in D.C. and A Wider Bridge Executive Director Ethan Felson also attended the march that the Jewish Federations of North America organized.
"Today, the LGBTQ community marched with Israel in Washington, D.C.," said A Wider Bridge on its Facebook page.
Matt Adler, a Jewish Israeli American, attended the rally with A Wider Bridge. He was holding a sign with the slogans "we are one family" and a "special thank you to our brave Israeli Druze and Arab soldiers" written in English, Hebrew and Arabic when he spoke with the Washington Blade.
"It's really important to show that Hamas is bad for all peoples: Palestinian and Israeli," said Adler. "As an LGBTQ community member, I think it's important to stand on the side of peace for all, and Israel represents that peace for me."
The rally took place roughly five weeks after Hamas, which the U.S. and Israel have designated a terrorist organization, launched a surprise attack against communities in southern Israel from the Gaza Strip.
The Israeli government has said roughly 1,200 people have been killed, including at least 260 people who Hamas militants murdered at an all-night music festival in a kibbutz near the border between Israel and Gaza. The Israeli government also says more than 5,000 people have been injured in the country since the war began and Hamas militants kidnapped more than 200 others.
Hamas rockets have reached Tel Aviv, Jerusalem, Ben Gurion Airport and other locations in central and southern Israel. Israeli Defense Forces and Hezbollah, another militant group, have exchanged fire across the Israel-Lebanon border.
The Hamas-controlled Gaza Health Ministry says more than 11,000 people have died in the enclave since the war began.
The Israeli government has cut electricity and water to Gaza and has stopped food and fuel shipments.
The IDF on Tuesday entered Shifa Hospital in Gaza City. Israel has said it has "concrete evidence" that Hamas has operated out of the facility that is the enclave's largest hospital.
Pictures of IDF soldiers holding Pride flags inside Gaza circulated on social media on Sunday. Helem, an LGBTQ+ rights group in Lebanon, condemned them."Love doesn't manifest through genocide, occupation, colonization, killing, bombing and detention," said the organization in a post on its X account. "Not in our name!
Love doesn't manifest through genocide, occupation, colonization, killing, bombing and detention.

Not in our name! 🏳️‍🌈

الحب لا يترجم بالإبادة الجماعية والاحتلال والاستعمار والقتل والقصف والاعتقال.

ليس باسمنا! 🏳️‍🌈 https://t.co/3BCCcOFZDv

— Helem (@HelemLebanon) November 13, 2023
Tens of thousands of people took part in a pro-Palestine rally in D.C. on Nov. 4.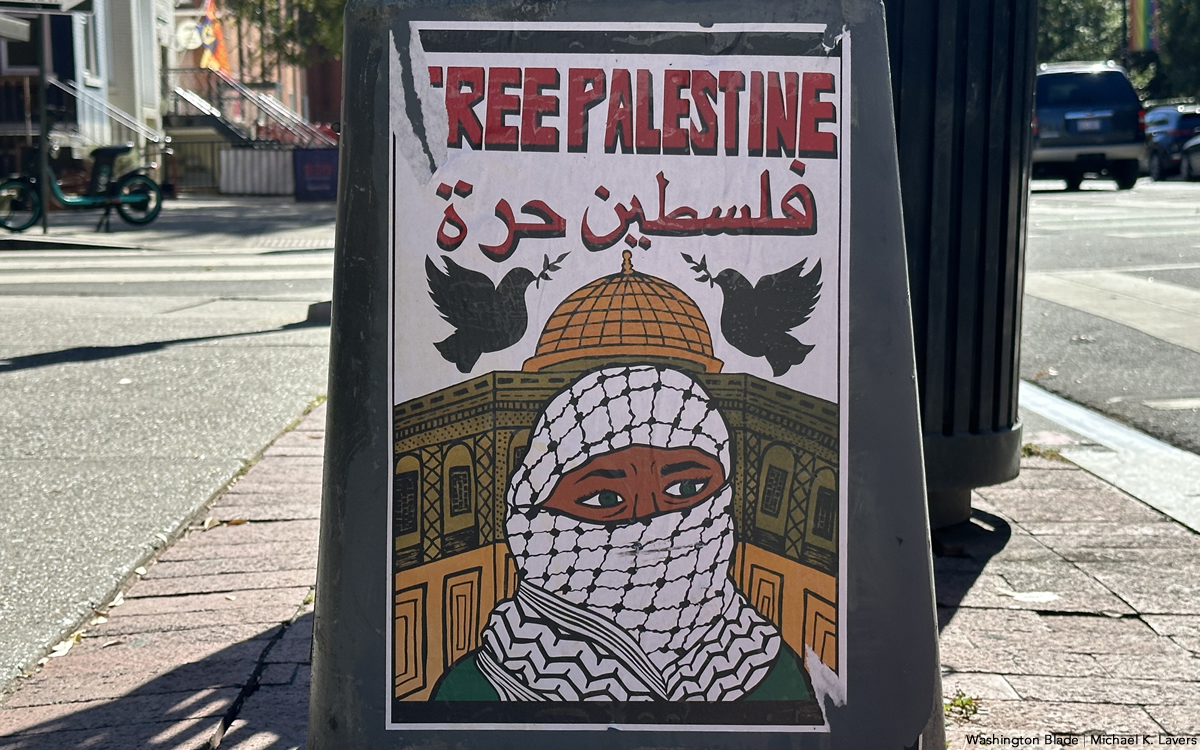 Israeli Prime Minister Benjamin Netanyahu has rejected growing calls for a ceasefire in Gaza. The Biden-Harris administration, meanwhile, has sought to address incidents of antisemitism and Islamophobia that have increased since Oct. 7.
"We need to hear more American voices, especially from the progressive left that I am a part of, speaking out for human rights for Jewish people in addition to all peoples in the region," Adler told the Blade. "We all deserve safety and security."