LAPD investigating physical fight between Kevin de León & activist
Police were dispatched after reports of the fight breaking out around 6:30 p.m. in the 3500 block of Valley Boulevard were received Friday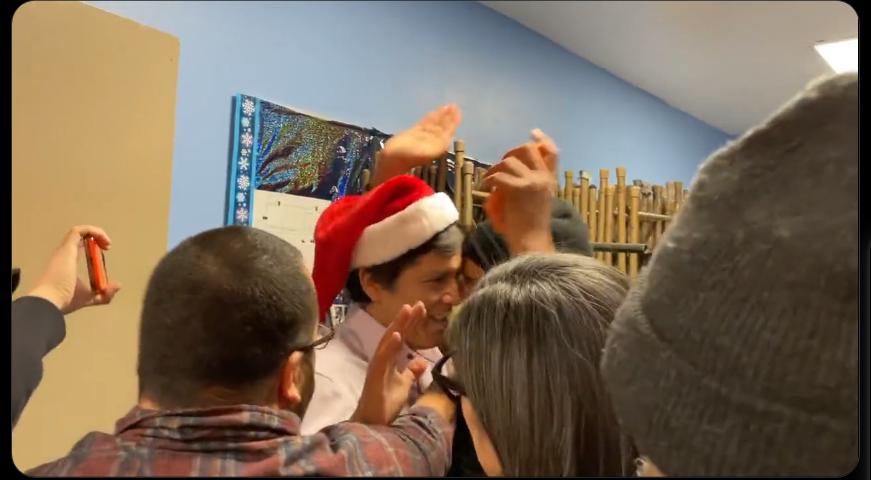 LOS ANGELES – Words exchanged between Los Angeles Councilman Kevin de León and an activist at a holiday toy giveaway and Christmas tree lighting event in Lincoln Heights on Friday night led to a physical altercation, a portion of which was caught on video.
That altercation is now under investigation by Los Angeles Police Department an LAPD spokesperson confirmed. Police were dispatched after reports of the fight breaking out around 6:30 p.m. in the 3500 block of Valley Boulevard were received Friday.
Video from local progressive activist groups RootsAction & J-Town Action と Solidarity on Twitter show de León aggressively manhandling a male who had gotten close to him knocking the man towards the ground and slamming him against a tabletop. The man was later identified as Jason Reedy.
RIGHT NOW:

Disgraced Los Angeles City Councilmember Kevin De Leon JUST assaulted local organizer Jason Reedy. @kdeleon is out here assaulting people AGAIN. He was caught on those racist anti-Black leaked tapes and now he's assaulting Black folks. ENOUGH IS ENOUGH! pic.twitter.com/BAhTvHIDlc

— RootsAction (@Roots_Action) December 10, 2022
The longer version, also posted to Twitter, shows the events leading up to the physical fight between the two men.
Full video of conflict Friday night involving Kevin De Leon.

Please ask @JTOWNACTION for permission to use. Please contact Jason Reedy's lawyer @sh4keer if you have any questions. pic.twitter.com/fDaVfsBSeZ

— RootsAction (@Roots_Action) December 10, 2022
De León's Communications Director Pete Brown issued the following statement regarding Friday's altercation:
"A group of so-called 'activists' – who have been harassing my staff and me for more than a year – cornered and physically assaulted me, a staff member, and a volunteer during a holiday event on Friday evening.
Jason Reedy and his accomplices started by shouting obscenities and disrupting a community toy giveaway and tree lighting ceremony already underway. I decided to try to exit the event to draw the disrupters away from the attending families and children and leave without further incident. Still, we discovered Reedy and others had blocked all available exits.
Once we were able to push open a door and try to get out, Reedy launched a pelvic thrust, followed by a headbutt to my forehead. My response, in defense of myself, was to push him off of me. In the ensuing struggle, Reedy struck me in the face with a closed fist, violently elbowed a female staff member, and injured a volunteer in front of horrified parents and children.
The escalating political rhetoric is beyond unacceptable, now turning verbal threats into physical acts of violence. It's a dangerous pattern that must end before more serious harm or loss of life occurs. Leaders must collectively step up to curb rising hostilities towards staff and elected officials. In no way is violence a form of free speech and acts like these have no place in politics or democracy."
While both men are accusing each other of assault, an attorney representing Reedy, issued a statement to the Los Angeles Times on Friday that called De León "a disgrace."
"Video footage clearly shows him and his supporters initiating this assault while Mr. Reedy stands prone," attorney Shakeer Rahman said. "Not only has Kevin de León lost all political legitimacy, his claims that he was the one attacked here simply underscores how he's lost touch with reality."
Upon learning of the violent altercation, L.A. Council President Paul Krekorian issued a statement condemning the ensuing violence, but Krekorian placed blame on the protestors.
"This kind of crime is intolerable in a free society, and the incident will be vigorously investigated by the Los Angeles Police Department.
"No matter what disputes we may have with elected officials or our fellow citizens, violence like this is completely unacceptable," Krekorian said. "In a free society political disagreements are unavoidable, and passionate discussion is necessary, but violence discredits the cause that employs it.
"This city has endured horrendous division and toxicity in recent months. We need to reject hatred in all of its forms, and we need to reject the atmosphere of intimidation, bullying and threats that have become all too commonplace in this city and across the country. Whatever position each of us takes on the controversies of the day, we need to reject violent words and especially violent acts, and we need to start treating each other with the same respect we want others to show us even when we disagree."
Hours earlier on Friday, de León returned to L.A. City Council chambers. His presence did not go unnoticed for long as minutes after he took his seat on the horseshoe shaped dais, the room descended into chaos, with about a dozen protesters screaming at De León and who have called for his resignation from the council, to leave and supporters of the embattled council member chanting "Kevin, Kevin, Kevin."
City Council President Krekorian called for a 10-minute recess and then got up to speak with de León who, after about 10 minutes, left the room. The recess ended up lasting 45 minutes as LAPD officers and staff regained control of the room.
Protestors are angered that de León and fellow councilman Gil Cedillo have defied widespread calls for their resignations after the Los Angeles Times published a leaked 2021 audio tape of them and former councilmember Nury Martinez with a former labor leader were heard making racist and homophobic comments.
Protesters have attended council meetings regularly since the scandal broke.
In October Councilmember de León told Univision's León Krauze that he intends to remain in office telling Krauze; "No, I will not resign because there is a lot of work ahead. I feel very bad, I feel very sorry for the damage, for the wounds that exist today in our communities."
De León's statement followed widespread calls for his resignation, including Los Angles Mayor Eric Garcetti, LA mayor-elect Karen Bass, President Joe Biden and councilmember Mike Bonin, who along with his minor son, was a target of the racist and homophobic comments on the audio recording released.
Wiener introduces legislation to protect LGBTQ+ foster youth
SB 407 ensures LGBTQ foster youth are raised in supportive environments by creating standard documentation for their needs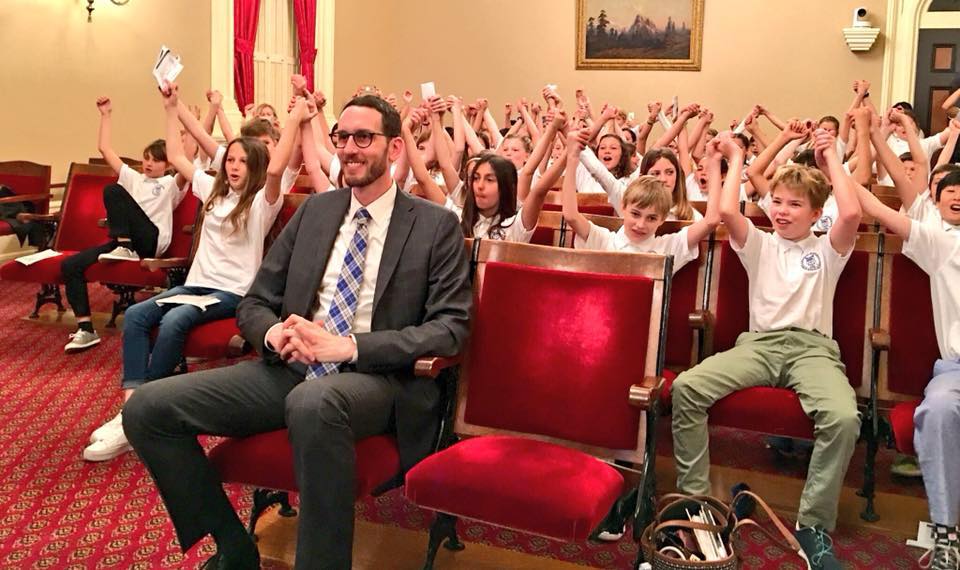 SACRAMENTO – Senator Scott Wiener (D-San Francisco) introduced SB 407, legislation to improve foster care conditions for LGBTQ youth. Nearly one third of foster youth identify as LGBTQ.
SB 407 ensures LGBTQ foster youth are raised in supportive environments by creating standard documentation for their needs, adding more follow-up from the Department of Social Services, and requiring LGBTQ youth's needs be specifically considered in at-home assessments – including clarifying that conduct that poses risk to the health and safety of LGBTQ youth is a valid reason to deny a family the right to host a foster youth. 
"Every child deserves to be one hundred percent supported at home," said Wiener. "SB 407 ensures that foster youth receive this essential support by specifically requiring LGBTQ acceptance be considered in the resource family approval (RFA) process, creating standard documentation for the assessment of LGBTQ youth needs, and ensuring more frequent follow-up. These youth are at high risk for homelessness, criminal justice involvement, and mental health issues, and we must do everything in our power to ensure they have a safe home in the state of California."
According to the California Child Welfare Indicators Project, there are 53,371 youth in foster care in California as of October 1, 2022. Youth who identify as LGBTQ+ are overrepresented in foster care, with at least three studies estimating about 30 percent of youth in foster care identify as LGBTQ.
The degree of support for their identity an LGBTQ child receives at home is a strong predictor of their mental health outcomes. According to the Trevor Project, teens who perceived parental support regarding gender identity were 93% less likely to attempt suicide than youth who did not perceive parents as supportive.
Data collected since the onset of the COVID-19 pandemic show LGBTQ youth are facing a crisis of mental health. Forty-two percent of LGBTQ+ youth—and 52 percent of trans youth—said they seriously considered suicide in 2021. This crisis may be related to the recent surge of anti-LGBTQ hatred in many states in recent years, which most LGBTQ youth are exposed to online. This year alone, more than 420 bills have been introduced in states across the country.
In 2019, California passed AB 175 (Gipson), which expanded the foster youth bill of rights to include rights to be referred to by the youth's preferred name and pronoun and maintain privacy of the child's sexual orientation and gender identity and expression. Under existing law, foster youth also have the right to have caregivers and child welfare personnel that have received instruction on cultural competency and best practices for providing care for LGBTQ+ youth in out-of-home care.
However, while the foster youth bill of rights is strong, it has not translated into the RFA process or into considerations made when approving caregivers. LGBTQ foster youth are still being placed in homes with families that discriminate against or are hostile toward them based on their sexual orientation and/or gender identity.
SB 407 will strengthen the resource family approval (RFA) process for LGBTQ foster youth by:
Requiring explicit consideration of LGBTQ youth in home and environmental assessments;
Creating standard documentation by the Department of Social Services for these assessments to include LGBTQ youth needs;
Reviewing county-approved resource families to evaluate if they are meeting the needs of LGBTQ youth and investigating related incidents as needed;
Ensuring that resource families have the necessary skills, knowledge, and abilities to support LGBTQ youth; and
Clarifying existing law that conduct that poses risk to the health and safety of LGBTQ youth is a valid reason for denial of a resource family.
SB 407 is sponsored by Equality California and the California Alliance of Child and Family Services.
"According to the Trevor Project, teens who have parental support regarding their gender identity were 93% less likely to attempt suicide than youth who did not perceive parents as supportive. Supportive and affirming homes for LGBTQ+ foster youth saves lives. The CA Alliance is excited to partner with Senator Wiener on SB 407 to ensure that all LGBTQ+ foster youth have affirming families and feel safe, supported, and cared for." –Christine Stoner-Mertz, CEO of the California Alliance of Child and Family Services
"LGBTQ+ foster youth experience violence and other stressors unique to the LGBTQ+ community, including homophobia or transphobia," said Tony Hoang, Executive Director of Equality California. "SB 407 protects LGBTQ+ foster youth from being placed in non-affirming homes by creating standard guidelines and criteria that carefully screens potential families. LGBTQ+ foster youth need a healthy environment that supports and embraces them as they explore their identity."