Bass sworn in as LA mayor, marking a triumph for women of color
"I call on the people of our city to not just dream of the L.A. we want, but to participate in making the dream come true"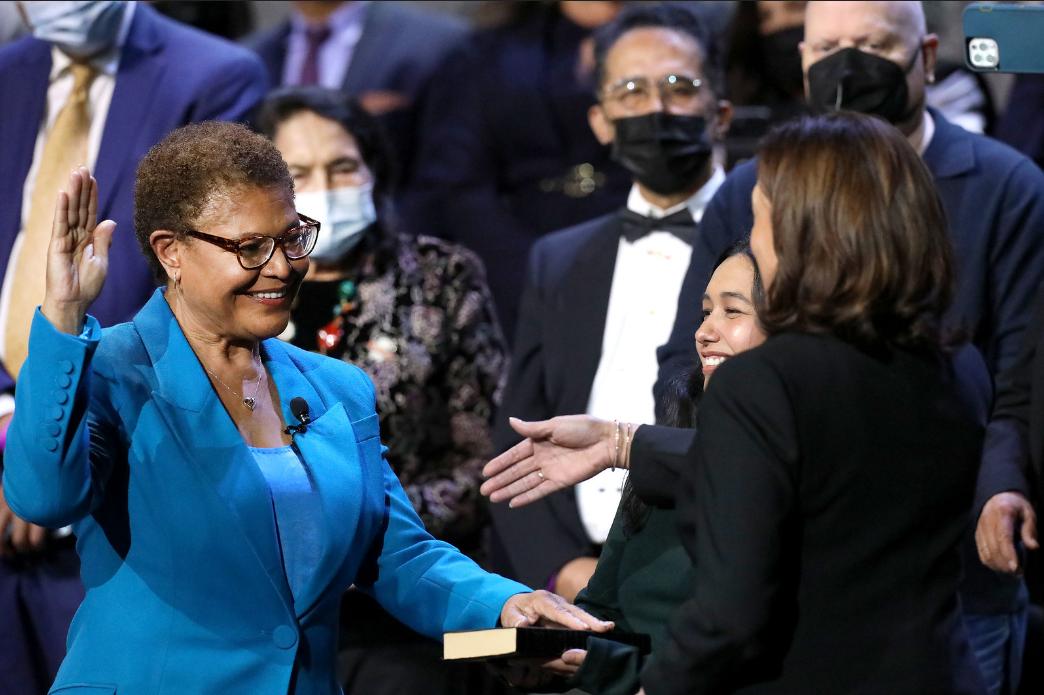 LOS ANGELES – Thousands gathered in downtown L.A. today at the Microsoft Theatre to witness the historic inauguration of Mayor-elect Karen Bass. Many danced in the aisles to the upbeat music pouring into the theatre through the loudspeakers.
Bass was sworn in by the Vice-President of the United States Kamala Harris, the first Black and first woman American ever elected to hold that office.
The celebratory energy carried through to the governor and members of the legislature sitting on stage in front of a backdrop of LA's city hall, some of them swaying and clapping along to the music as well. The ceremony had been moved inside due to the threat of rain and inclement weather.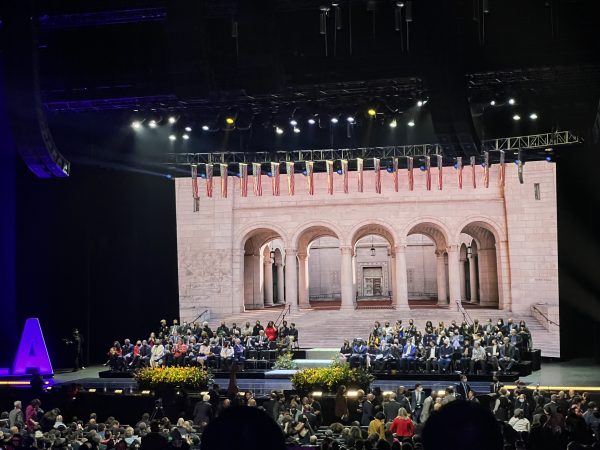 Bass, 69, no stranger to pioneering women's and African American rights, is now Los Angeles' 43rd mayor and the first woman and second African American to be elected to this position after the legendary Mayor Tom Bradley, in the City's two hundred and forty-one year history. She won the election against billionaire businessman and developer Rick Caruso in a neck-and-neck race.
"Making history with each of you today is a monumental moment in my life and for Los Angeles," said the new mayor in her inauguration speech and then in a nod to the L.A. County government added:
"And let's not forget our all-female County Board of Supervisors! We are all going to make so much history together in a state that has enshrined in our constitution a woman's right to decide what happens to her body!"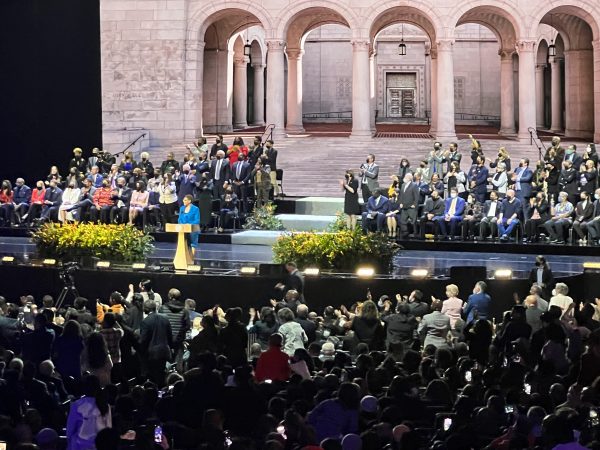 The daughter of a working-class father and stay-at-home mother, Bass earned her high school degree from Hamilton High School in Los Angeles. She then went on to earn her bachelor's degree in health sciences from CSU Dominguez Hills. She then graduated from the USC Kerk School of Medicine's Physician Assistant Program with a master's in social work.  
Bass started her career not working in politics, but as a nurse and Physician's Assistant. She went on to found the Community Coalition with the goal of helping South L.A. fight substance abuse and other issues that menace underserved neighborhoods, such as inadequate income and high crime rates.
She then went on to make history as the first Black Speaker in the California State Assembly. Her work there with managing state funds also earned her a John F. Kennedy Profile in Courage Award.
Bass was first elected to the U.S. House of Representatives in 2010. She represented California's 33rd congressional district during her first term, though redistricting moved her to the 37th district in 2012. As a member of Congress representing Los Angeles and Culver City, Bass was praised by the Los Angeles Times for creating "the most significant child welfare policy reform in decades." 
Her campaign for the office of Mayor of L.A. was largely focused on ending the homeless crisis — a promise the new Mayor addressed today. 
"Tragically, our city has earned the shameful crown as being home to some of the most crowded neighborhoods in the nation—Pico Union, South L.A., East L.A., the East Valley. We know our mission – we must build housing in every neighborhood."
As of tomorrow, Mayor Bass will declare a state of emergency on homelessness.
Today's inauguration ceremony commenced with the National Anthem, sung by US Navy Musician 3rd Class, Alexander Charles. Invocation speeches were then given by Rev. Norman Johnson, Rabbi Sharon Brous, Dr. Sadegh Namazikah, and Rev Rene Molina.
Rev. Johnson led a prayer in gratitude for this historic event. He then praised Bass for her integrity and her championing of multi-racial democracy, stating, "her journey has been long, but she has stayed true to the values taught to her by her parents."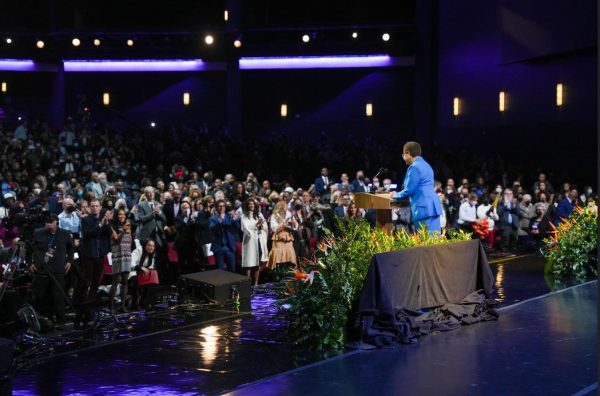 "My mother always taught me that it is so easy to be kind," said Bass in her speech, "and that having compassion and empathy is so much more powerful than self centeredness and self-promotion."
"My father taught me to be a critical thinker and to understand the historical context of national and international events — my daily conversations with him led me to make a lifetime commitment to do whatever I can to change the world," she added.
Rabbi Brous blessed L.A.'s new mayor for her ability to change the narrative of City politics and "whose own story is a redemption story." Dr. Namazikhah called for vision and wisdom to guide the new mayor to make decisions that lead to peace in Los Angeles. Rev. Molina delivered a prayer alternating between Spanish and English in which he prayed for the safeguarding of Mayor Bass' emotional, intellectual, physical, and spiritual states. 
Upbeat and soulful performances were scattered throughout the inauguration, including surprise performances by singer, songwriter, and actress Chloe Bailey and Grammy Award winning musical artist Stevie Wonder.
Amanda Gorman and Sophie Szew read their poems about change and female empowerment. Gorman, the first National Youth Poet Laureate, had also delivered a poem at the presidential inauguration of President Joe Biden on January 20, 2021.
The Hamilton High School Chamber Choir from her alma mater gave a performance that earned them a standing ovation.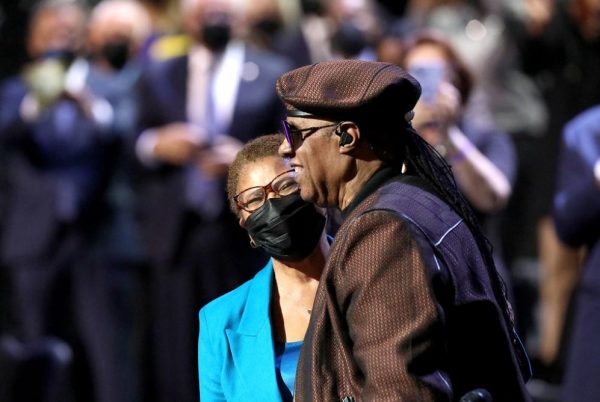 Director of UCLA Labor Center, Kent Wong, gave a speech in which he called Bass "my friend and my sister," stressing his support of her faith in nonviolent organization, which helps "ordinary people do extraordinary things."
California State Senate President pro-Tempore Toni Atkins, the first woman to serve in that role, then took the podium praising the Bass for continuing to make history. 
Bass also took a moment to thank outgoing Mayor, Eric Garcetti for his work.
"Mayor Garcetti – thank you for your 21 years of service to our city. When we light the Olympic Torch in 2028, when we take public transit to the airport, when we go to bed in apartments safer from earthquakes, and when we breathe in cleaner air, Angelenos will be benefiting from your legacy."
Garcetti and California Governor Gavin Newsom were among the numerous other dignitaries present on the stage for the ceremony today.
Finally, the new Mayor called upon the people of Los Angeles to join her in the fight to mend our city. 
"I call on the people of our city to not just dream of the L.A. we want, but to participate in making the dream come true. Please join me in this effort. A city where people are housed and tents are gone. A City where people are comfortable walking and shopping in all neighborhoods at all hours. A City where murals replace graffiti; A City where we lock arms with each other until we get the job done. That's the reality we can build, Los Angeles. Let's build it together. Thank you Los Angeles for the honor and the opportunity. Thank you."
Wiener introduces legislation to protect LGBTQ+ foster youth
SB 407 ensures LGBTQ foster youth are raised in supportive environments by creating standard documentation for their needs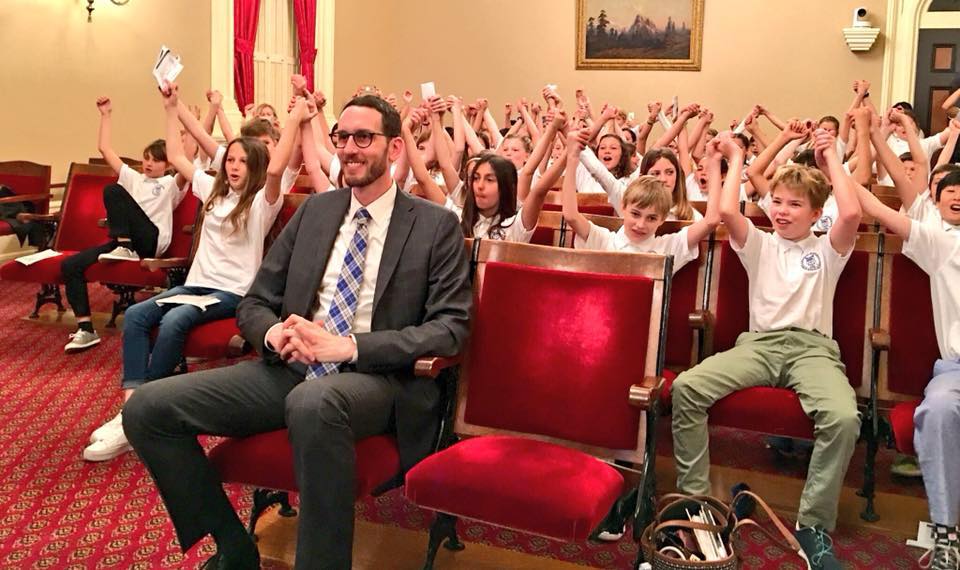 SACRAMENTO – Senator Scott Wiener (D-San Francisco) introduced SB 407, legislation to improve foster care conditions for LGBTQ youth. Nearly one third of foster youth identify as LGBTQ.
SB 407 ensures LGBTQ foster youth are raised in supportive environments by creating standard documentation for their needs, adding more follow-up from the Department of Social Services, and requiring LGBTQ youth's needs be specifically considered in at-home assessments – including clarifying that conduct that poses risk to the health and safety of LGBTQ youth is a valid reason to deny a family the right to host a foster youth. 
"Every child deserves to be one hundred percent supported at home," said Wiener. "SB 407 ensures that foster youth receive this essential support by specifically requiring LGBTQ acceptance be considered in the resource family approval (RFA) process, creating standard documentation for the assessment of LGBTQ youth needs, and ensuring more frequent follow-up. These youth are at high risk for homelessness, criminal justice involvement, and mental health issues, and we must do everything in our power to ensure they have a safe home in the state of California."
According to the California Child Welfare Indicators Project, there are 53,371 youth in foster care in California as of October 1, 2022. Youth who identify as LGBTQ+ are overrepresented in foster care, with at least three studies estimating about 30 percent of youth in foster care identify as LGBTQ.
The degree of support for their identity an LGBTQ child receives at home is a strong predictor of their mental health outcomes. According to the Trevor Project, teens who perceived parental support regarding gender identity were 93% less likely to attempt suicide than youth who did not perceive parents as supportive.
Data collected since the onset of the COVID-19 pandemic show LGBTQ youth are facing a crisis of mental health. Forty-two percent of LGBTQ+ youth—and 52 percent of trans youth—said they seriously considered suicide in 2021. This crisis may be related to the recent surge of anti-LGBTQ hatred in many states in recent years, which most LGBTQ youth are exposed to online. This year alone, more than 420 bills have been introduced in states across the country.
In 2019, California passed AB 175 (Gipson), which expanded the foster youth bill of rights to include rights to be referred to by the youth's preferred name and pronoun and maintain privacy of the child's sexual orientation and gender identity and expression. Under existing law, foster youth also have the right to have caregivers and child welfare personnel that have received instruction on cultural competency and best practices for providing care for LGBTQ+ youth in out-of-home care.
However, while the foster youth bill of rights is strong, it has not translated into the RFA process or into considerations made when approving caregivers. LGBTQ foster youth are still being placed in homes with families that discriminate against or are hostile toward them based on their sexual orientation and/or gender identity.
SB 407 will strengthen the resource family approval (RFA) process for LGBTQ foster youth by:
Requiring explicit consideration of LGBTQ youth in home and environmental assessments;
Creating standard documentation by the Department of Social Services for these assessments to include LGBTQ youth needs;
Reviewing county-approved resource families to evaluate if they are meeting the needs of LGBTQ youth and investigating related incidents as needed;
Ensuring that resource families have the necessary skills, knowledge, and abilities to support LGBTQ youth; and
Clarifying existing law that conduct that poses risk to the health and safety of LGBTQ youth is a valid reason for denial of a resource family.
SB 407 is sponsored by Equality California and the California Alliance of Child and Family Services.
"According to the Trevor Project, teens who have parental support regarding their gender identity were 93% less likely to attempt suicide than youth who did not perceive parents as supportive. Supportive and affirming homes for LGBTQ+ foster youth saves lives. The CA Alliance is excited to partner with Senator Wiener on SB 407 to ensure that all LGBTQ+ foster youth have affirming families and feel safe, supported, and cared for." –Christine Stoner-Mertz, CEO of the California Alliance of Child and Family Services
"LGBTQ+ foster youth experience violence and other stressors unique to the LGBTQ+ community, including homophobia or transphobia," said Tony Hoang, Executive Director of Equality California. "SB 407 protects LGBTQ+ foster youth from being placed in non-affirming homes by creating standard guidelines and criteria that carefully screens potential families. LGBTQ+ foster youth need a healthy environment that supports and embraces them as they explore their identity."