Exclusive: USA Cycling investigating trans cyclist in championship
Austin Killips, who placed 3rd in the Elite Women's Cyclocross, calls allegation 'ridiculous' USA Cycling staff is investigating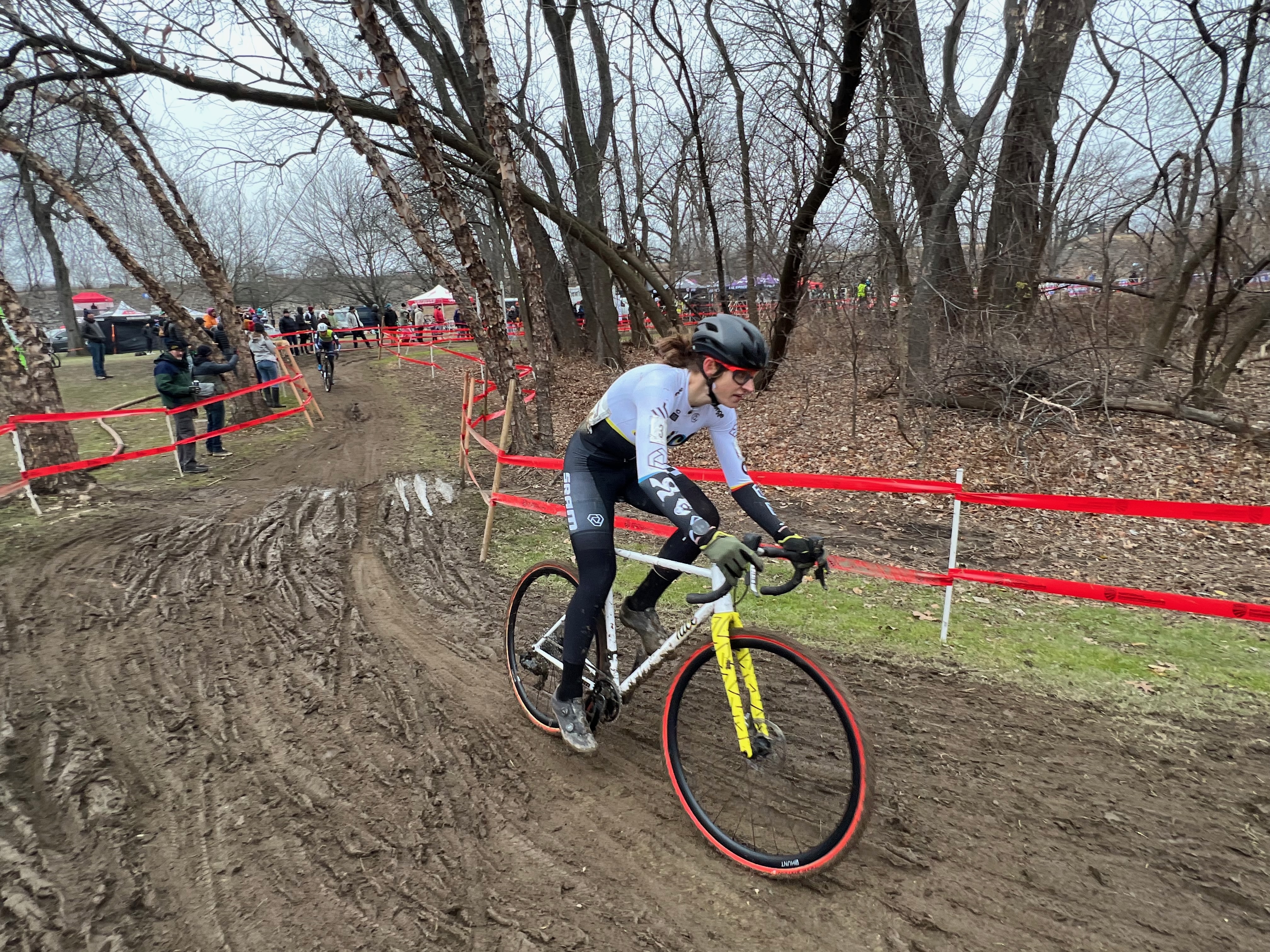 HARTFORD, Ct. – A spokesperson for USA Cycling tells the Los Angeles Blade officials are reviewing an allegation that an out transgender cyclist attempted to push a cisgender competitor off-course at the USA Cycling Cyclocross National Championships in Hartford, Conn, last weekend.
The accusation was made by father of a cisgender cyclist who claims officials should have disqualified the trans athlete, Austin Killips, who denied she made any such move in an exclusive statement to the Blade. 
The father of the cyclist, Tom Pearman of Charlotte, N.C., tweeted video on Dec. 11 that he says shows Killips, 26, making a "move which was only one of at least 3 attempts to put [Hannah] Arnesman [sic] into the tape. I was standing right there when one of the others happened."
Opponents of transgender inclusion and anti-trans activists have seized upon his tweet, in which Pearman called Killips transphobic slurs. Others have misgendered her, branded her a "cheater" and called USA Cycling "cowards."
Forget the fact that AK is a biological male. He/She should have been DQ for this move which was only one of at least 3 attempts to put Arnesman into the tape. I was standing right there when one of the others happened. You can do better. pic.twitter.com/pySpaOXnty

— Tom Pearman (@TomHPearman) December 12, 2022
"The incident in question has been brought to the attention of USA Cycling staff," spokesperson Tom Mahoney told the Blade in an email on Friday. "Staff is doing their due diligence and reviewing the situation with both athletes in question, as well as reviewing footage from the event. No action for the athletes is being taken at this time while in the incident is in review."
Killips told the Blade in a direct message via Instagram that the allegation is "ridiculous."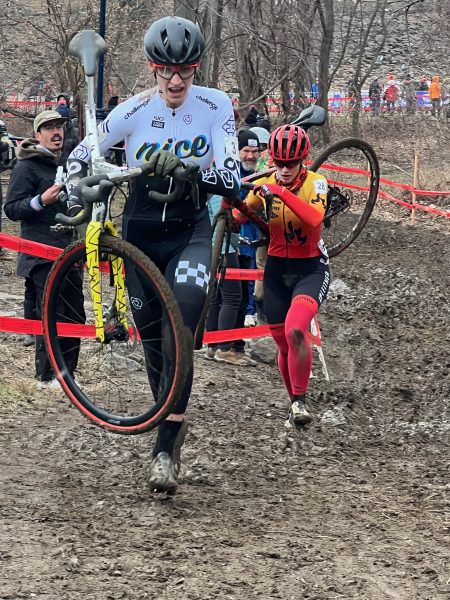 "I'm not sure what to say," Killips wrote. "I approached that feature in the same manner every single lap. There was one place to remount for those who ran and I was simply trying to get to that spot on a pitch that was incredibly steep and slippery. The idea that I would make a split-second decision to cause contact that could throw away both of our chances at winning the race in our group is ridiculous and at complete odds with how I have historically comported myself in races."
Killips shared with the Blade a YouTube video from that same day, on the same muddy course, where conditions were so horribly slippery that even the Elite Men had difficulty navigating, with many of these athletes not only making contact but landing in a pile-up.
Killips is one of two trans women athletes who competed in last week's championships, and unlike in 2021, the race went on without a single protester at the finish line.
Anti-trans demonstrators not only targeted trans competitors last year, there were ugly instances of anti-LGBTQ attitudes among athletes, promoters and even officials, according to an open letter signed by dozens of USA Cycling members. New leadership at USA Cycling took steps to prevent a repeat of that harassment of athletes along the course, and to publicize those steps with a new fan code of conduct.
The result was a total absence of protests and an abundance of support, with spectators waving Pride flags, trans inclusive signs and the blue, pink and white Trans Pride flag designed by activist Monica Helms.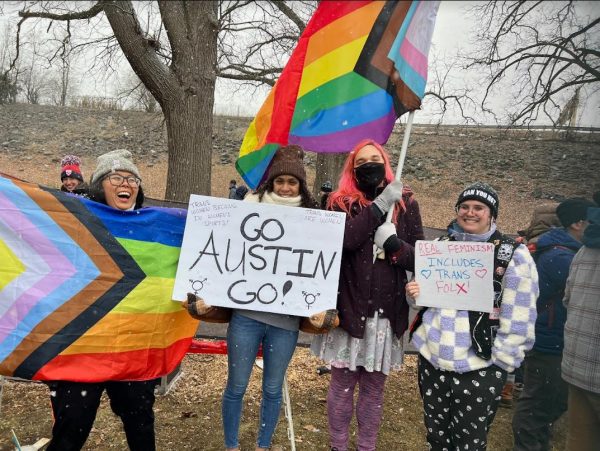 "They know there are more of us, more people to show love and affection for trans and queer and nonbinary folks than all the haters combined," said Tara Seplavy, deputy editor of Bicycling Magazine, a trans woman and a competitive cyclocross rider herself. "They're probably sitting at home, watching us on the internet and getting all pissy on Twitter."
Despite the fact that neither one of the two out trans cyclists finished first or second, anti-trans Twitter has been flooded for more than a week with transphobic hate, complaining that those two women placed among the top five elite women competing in the slippery mud and falling snow.
"I played by the rules," Killips told the Blade following her race on Saturday. "I just want the sport to be fun and accessible. I care about my competitors. I care about women's cycling. I'm just trying to grow the sport and be a positive influence, and do what I can to bring resources and support."
Killips finished 3rd in the Women's Senior 18-22 category, with a time of 52:24, four minutes behind champion Clara Honsinger, who won her third-straight elite title at 48:58 and second-place finisher Raylyn Nuss, at 50:35.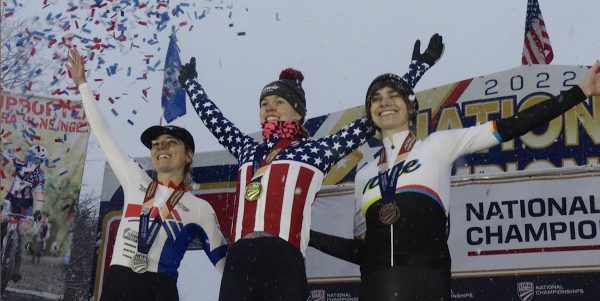 Two seconds behind Killips and right on her heels was Arensman, 25, of Brevard, N.C., which is about 120 miles from where the father who tweeted, Tom Pearman, lives.
Jenna Lingwood, 41, of Portland, Ore. finished in 5th place. She's the other trans woman who competed last week, with her two children cheering her on.
On Dec. 8 Lingwood won the Master's Women 40-44 race with a time of 45:01, just 37 seconds ahead of second-place finisher Erin Feldhausen of Madison, Wis.
Also last week, USA Cycling held the first-ever Nonbinary National Championship race. Summer Newlands of Portland, Ore. finished first on Dec. 10, with a time of 34:29, followed by Kristin Sundquist of Burlington, Vt. In second place with 35:16. Henrietta Watts of Bellingham, Wash. secured the bronze medal with 47:43 as her time. Newlands is now one of the first nonbinary national champions in the world.
NY Rangers forgoes Pride jerseys & stick tape for team Pride night
"NYC Pride was not made aware in advance of our participation in last night's ceremonial puck drop that Pride jerseys would not be worn"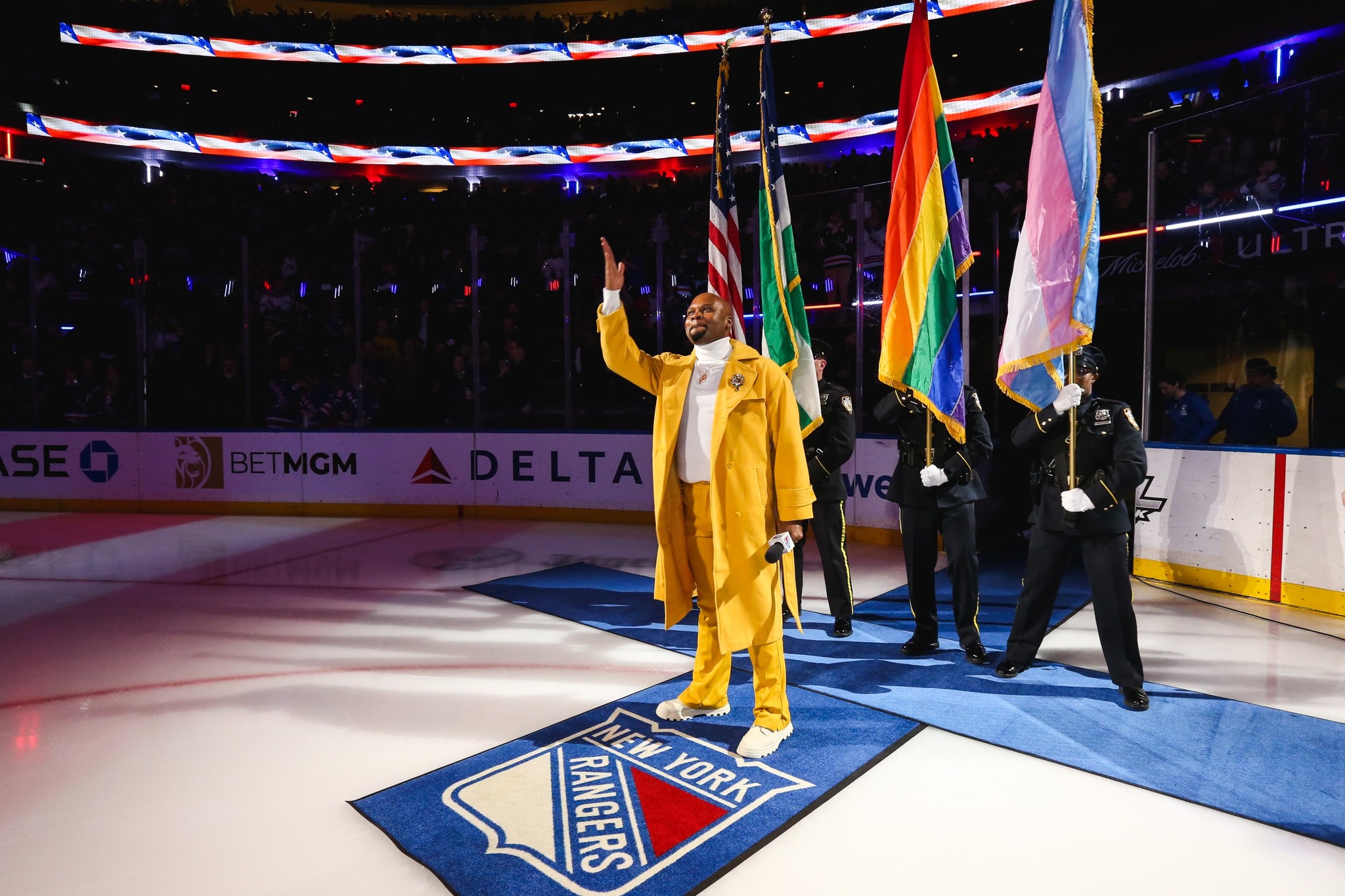 NEW YORK CITY – New York LGBTQ+ Rangers fans were disappointed after the National Hockey League team forwent wearing the team's special warm-up jerseys and using Pride stick tape during the team's 7th annual Pride Night Friday.
The Rangers had promoted Friday night's Madison Square Garden home game against Vegas Golden Knights, saying players "will be showing their support by donning pride-themed warm-up jerseys and tape in solidarity with those who continue to advocate for inclusivity."  But ultimately the team wore their "Liberty Head" jerseys in warmups instead.
The Rangers scrapped plans to wear rainbow-themed warmup jerseys for Friday's "Pride Night" at Madison Square Garden, prompting confusion and disappointment from the LGBTQ community. https://t.co/8vQEkz838f

— 97.1 The Ticket: (@971theticketxyt) January 29, 2023
After the game, a 4-1 win over the Vegas Golden Knights, the Rangers released a statement: "Our organization respects the LGBTQ+ community and we are proud to bring attention to important local community organizations as part of another great Pride Night. In keeping with our organization's core values, we support everyone's individual right to respectfully express their beliefs."
In an emailed statement to the Blade Sunday Dan Dimant, Media Director for NYC Pride | Heritage of Pride, Inc. said:
"In recent years, numerous National Hockey League (NHL) franchises including the New York Rangers have introduced a series of "Pride Nights" to engage the LGBTQ+ community. NYC Pride has been honored to take part in these celebrations, including as recently as last night at Madison Square Garden.
NYC Pride was not made aware in advance of our participation in last night's ceremonial puck drop that Pride jerseys and rainbow tape would not be worn as advertised. We understand and appreciate that this has been a major disappointment to the LGBTQ+ community in New York and beyond. We are communicating these concerns with NY Rangers and NHL leadership as we continue to discuss the ways these organizations can work toward inclusion.
NYC Pride has a duty to both support our partners and hold them accountable. We are committed to continuing our relationships with the NY Rangers and the NHL and maintaining substantive dialogue with them about meaningful allyship with the LGBTQ+ community."
ESPN reported that the team's annual Pride Night was celebrated throughout the game in other ways. Fans were given a pride-themed fanny pack as a giveaway. The exterior and interior lights at Madison Square Garden were illuminated in rainbow colors. The Rangers also made a charitable donation to the Ali Forney Center on Pride Night, the largest agency dedicated to LGBTQ+ homeless youths in the country.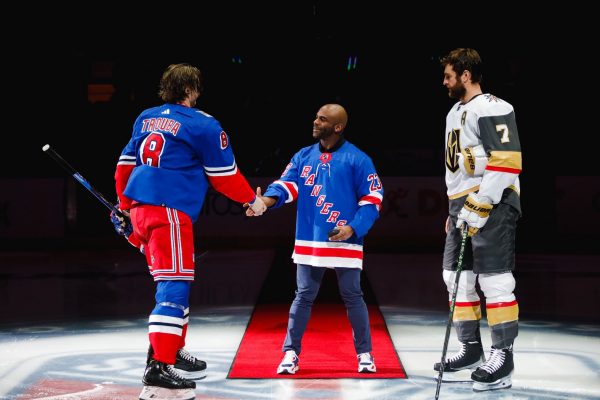 The Rangers' Pride Night was held 10 days after Ivan Provorov, the alternate captain for the National Hockey League's Philadelphia Flyers, opted out of participating in the team's Pride Night charity event before the game Tuesday, claiming a religious exemption based on his Russian Orthodox faith.
Provorov, 26, was the only member of the Flyers to not take part in the pre-game exercise on the ice. A video tweeted by the team's official account shows the rest of the players wore special Pride Night-themed black jerseys with the traditional Flyers logo on the front and rainbow-colored names and numbers on the back; Many of the players practiced using hockey sticks wrapped in rainbow-colored tape known as Pride tape. Both the sticks and the jerseys were auctioned off after the game with the Anaheim Ducks, to raise money for local LGBTQ+ charities.
The defenseman, who was born in Russia, told reporters after their victory, "I respect everybody and respect everybody's choices," adding that he declined to take part in the warmup "to stay true to myself and my religion." 
After Provorov opted out of participating in the Flyer's Pride Night charity event the NHL put out a statement that said players can decide which team and league initiatives to support.
"Hockey is for Everyone is the umbrella initiative under which the League encourages Clubs to celebrate the diversity that exists in their respective markets, and to work to achieve more welcoming and inclusive environments for all fans," the league said. "Clubs decide whom to celebrate, when and how — with League counsel and support. Players are free to decide which initiatives to support, and we continue to encourage their voices and perspectives on social and cultural issues."
New York Rangers: Sights and Sounds | Jan. 24 2022 Pride Night: