Newsom again trolls right-wing extremists
During his first gubernatorial inauguration Newsom used the occasion to also send a message, one directed at Trump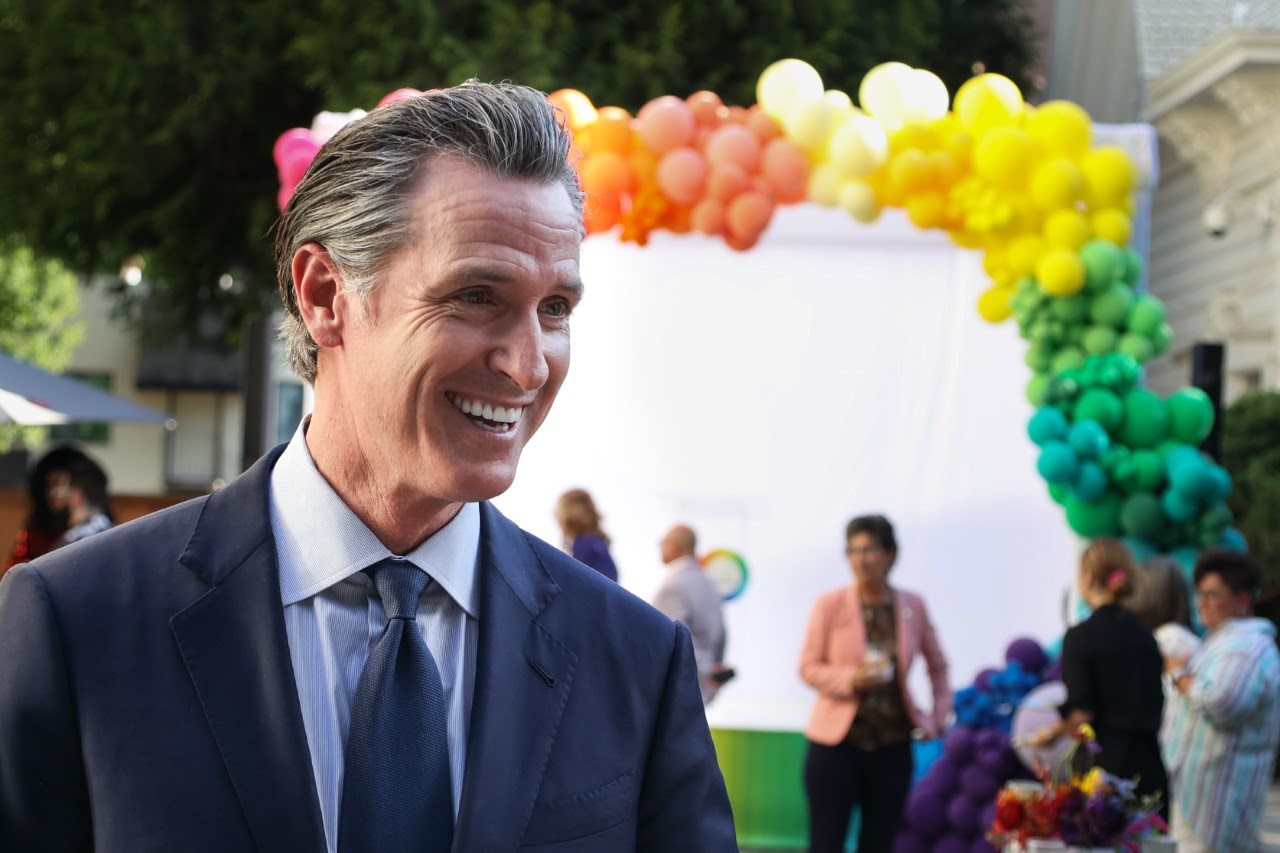 By Matthew S. Bajko | SACRAMENTO – Ever since California Governor Gavin Newsom easily defeated a right-wing backed recall against him last year, he has been on a roll trolling his conservative detractors and transphobic Republican counterparts in other states.
Now comes word that the Democratic leader will use his 2023 inauguration to further present himself as a counterpoint to the extremism and illiberal democratic ideas that have risen across the country in recent years and been embraced by many GOP leaders.
He has chosen Friday, January 6, as the date for when he will be sworn into his second and final four-year term leading the fifth-largest economy in the world. It will coincide with the second anniversary of when supporters of former President Donald Trump broke into the U.S. Capitol Building in a failed attempt to overturn the results of the 2020 presidential election that swept Trump out of the White House.
"Friday January 6. Mark it down. It's not only Governor Newsom's Inauguration Day, but it's also the two year anniversary of the far-right's insurrection and failed attempt to topple American democracy," noted Newsom's gubernatorial campaign in an invite emailed to his supporters December 15.
The plans for the gubernatorial ceremony sound like a near mirror image of what occurred in Washington, D.C. two years ago when Trump held a rally on the National Mall where he repeated his lies about the 2020 election being stolen from him. His backers then marched to the building that houses Congress, which was certifying the election results that Wednesday, attacked law enforcement officers and desecrated the symbol of the country's democracy.
According to the invite from Newsom's campaign, it is "starting the day with the governor leading a march of Californians from every corner of the state through downtown Sacramento. It ends at the Capitol, where the governor will be sworn in."
It will not be the first time that Newsom has used the bully pulpit that comes with his elected office to highlight issues of democracy and freedoms for citizens. He ran advertisements in Texas and Florida critical of those state's Republican governors, Greg Abbott and Ron DeSantis, respectively, who have both enacted anti-LGBTQ policies and laws. Both men were easily reelected in November.
Facing an easy path to reelection this year, Newsom used his campaign funds to put up billboards in seven different states that have restricted abortion access following the U.S. Supreme Court's rescinding a federal right to abortion earlier this year. The outdoor advertisements promoting California's abortion services went up in Texas, Indiana, Mississippi, Ohio, South Carolina, South Dakota, and Oklahoma.
And in his signing message for a bill this year that makes the Golden State a place of refuge for transgender youth and their parents fleeing persecution in their home states, Newsom called out those states that have passed laws "to demonize the transgender community, especially transgender youth and their parents." In contrast, California believes "in equality and acceptance," wrote Newsom in his letter to members of the state's Senate.
State governments, such as those of Alabama, Idaho, and Texas have adopted laws that call for prosecuting parents who allow their trans children to have gender-affirming care. Families in the Lone Star State have already found themselves being investigated by state agencies and facing the possibility of being prosecuted and seeing their trans children placed in foster care.
In Alabama, parents and physicians face being imprisoned for up to 10 years for either allowing their trans kids or providing their trans patients gender-affirming care. Both laws have been put on hold by judges as LGBTQ advocates challenge them in state and federal courts.
Newsom has long led on LGBTQ issues, such as when he was mayor of San Francisco and bucked state law by ordering city officials to marry same-sex couples in February of 2004. It supercharged the fight for marriage equality and led to successful state and federal court challenges that won the right for people of the same sex to wed in California.
During his first gubernatorial inauguration Newsom used the occasion to also send a message, one directed at Trump. In his speech, Newsom said his administration would "offer an alternative to the corruption and incompetence in the White House."
Those interested in attending Newsom's second inauguration and marching with him that day can RSVP online here.
********************************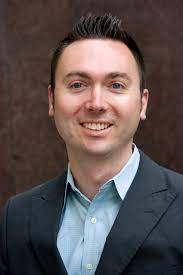 Matthew S. Bajko is the Assistant Editor of The Bay Area Reporter
The preceding article was previously published by the Bay Area Reporter and is republished by permission.
Wiener introduces legislation to protect LGBTQ+ foster youth
SB 407 ensures LGBTQ foster youth are raised in supportive environments by creating standard documentation for their needs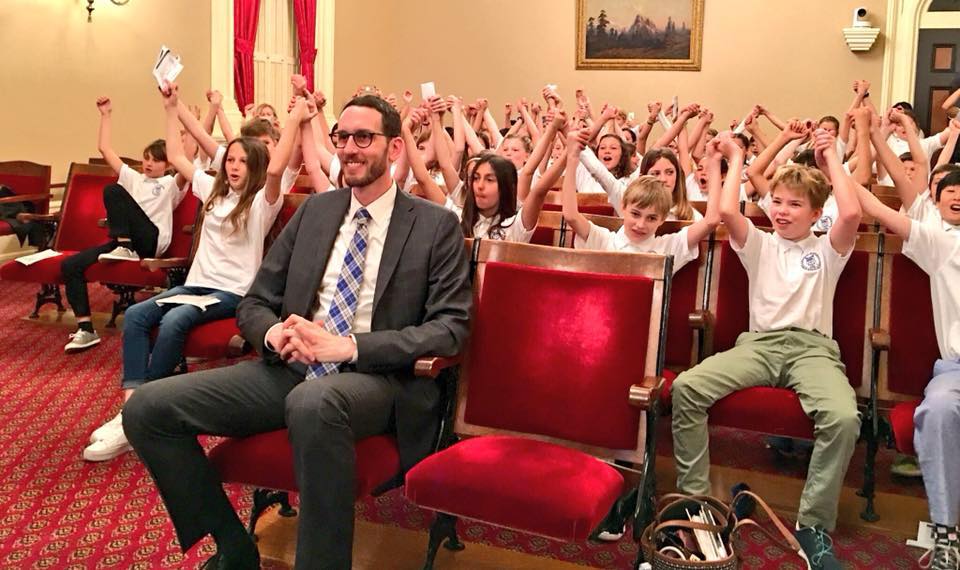 SACRAMENTO – Senator Scott Wiener (D-San Francisco) introduced SB 407, legislation to improve foster care conditions for LGBTQ youth. Nearly one third of foster youth identify as LGBTQ.
SB 407 ensures LGBTQ foster youth are raised in supportive environments by creating standard documentation for their needs, adding more follow-up from the Department of Social Services, and requiring LGBTQ youth's needs be specifically considered in at-home assessments – including clarifying that conduct that poses risk to the health and safety of LGBTQ youth is a valid reason to deny a family the right to host a foster youth. 
"Every child deserves to be one hundred percent supported at home," said Wiener. "SB 407 ensures that foster youth receive this essential support by specifically requiring LGBTQ acceptance be considered in the resource family approval (RFA) process, creating standard documentation for the assessment of LGBTQ youth needs, and ensuring more frequent follow-up. These youth are at high risk for homelessness, criminal justice involvement, and mental health issues, and we must do everything in our power to ensure they have a safe home in the state of California."
According to the California Child Welfare Indicators Project, there are 53,371 youth in foster care in California as of October 1, 2022. Youth who identify as LGBTQ+ are overrepresented in foster care, with at least three studies estimating about 30 percent of youth in foster care identify as LGBTQ.
The degree of support for their identity an LGBTQ child receives at home is a strong predictor of their mental health outcomes. According to the Trevor Project, teens who perceived parental support regarding gender identity were 93% less likely to attempt suicide than youth who did not perceive parents as supportive.
Data collected since the onset of the COVID-19 pandemic show LGBTQ youth are facing a crisis of mental health. Forty-two percent of LGBTQ+ youth—and 52 percent of trans youth—said they seriously considered suicide in 2021. This crisis may be related to the recent surge of anti-LGBTQ hatred in many states in recent years, which most LGBTQ youth are exposed to online. This year alone, more than 420 bills have been introduced in states across the country.
In 2019, California passed AB 175 (Gipson), which expanded the foster youth bill of rights to include rights to be referred to by the youth's preferred name and pronoun and maintain privacy of the child's sexual orientation and gender identity and expression. Under existing law, foster youth also have the right to have caregivers and child welfare personnel that have received instruction on cultural competency and best practices for providing care for LGBTQ+ youth in out-of-home care.
However, while the foster youth bill of rights is strong, it has not translated into the RFA process or into considerations made when approving caregivers. LGBTQ foster youth are still being placed in homes with families that discriminate against or are hostile toward them based on their sexual orientation and/or gender identity.
SB 407 will strengthen the resource family approval (RFA) process for LGBTQ foster youth by:
Requiring explicit consideration of LGBTQ youth in home and environmental assessments;
Creating standard documentation by the Department of Social Services for these assessments to include LGBTQ youth needs;
Reviewing county-approved resource families to evaluate if they are meeting the needs of LGBTQ youth and investigating related incidents as needed;
Ensuring that resource families have the necessary skills, knowledge, and abilities to support LGBTQ youth; and
Clarifying existing law that conduct that poses risk to the health and safety of LGBTQ youth is a valid reason for denial of a resource family.
SB 407 is sponsored by Equality California and the California Alliance of Child and Family Services.
"According to the Trevor Project, teens who have parental support regarding their gender identity were 93% less likely to attempt suicide than youth who did not perceive parents as supportive. Supportive and affirming homes for LGBTQ+ foster youth saves lives. The CA Alliance is excited to partner with Senator Wiener on SB 407 to ensure that all LGBTQ+ foster youth have affirming families and feel safe, supported, and cared for." –Christine Stoner-Mertz, CEO of the California Alliance of Child and Family Services
"LGBTQ+ foster youth experience violence and other stressors unique to the LGBTQ+ community, including homophobia or transphobia," said Tony Hoang, Executive Director of Equality California. "SB 407 protects LGBTQ+ foster youth from being placed in non-affirming homes by creating standard guidelines and criteria that carefully screens potential families. LGBTQ+ foster youth need a healthy environment that supports and embraces them as they explore their identity."