Meet the bisexual wife of Pennsylvania's new U.S. senator
When the Washington Blade caught up with Gisele Barreto Fetterman this month, she was looking forward to some upcoming travel plans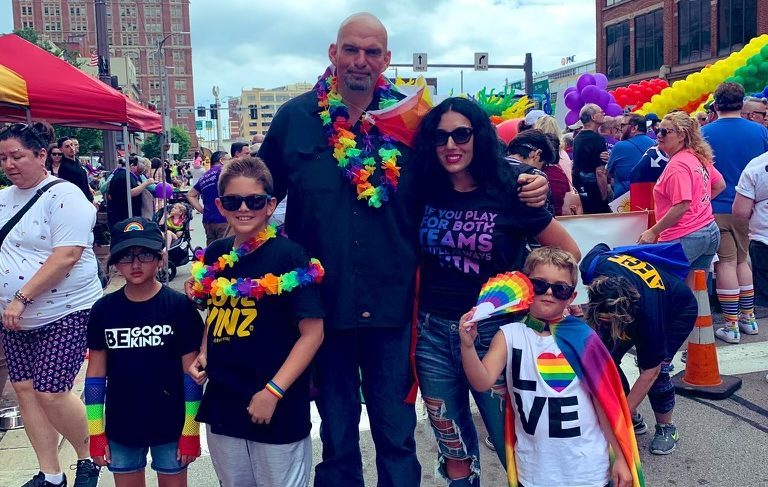 BRADDOCK, Pa. – When the Washington Blade caught up with Gisele Barreto Fetterman this month, she was looking forward to some upcoming travel plans.
First up is a trip to Washington in January to witness the swearing-in ceremony for her husband, Pennsylvania Lt. Gov. John Fetterman, who was just elected to represent the Keystone State in the U.S. Senate after one of the year's most hard-fought midterm races.
Then, in March, she plans to visit family in Brazil for the first time since travel to her native country was restricted in the early days of the pandemic, and just in time to celebrate another electoral victory as Brazilian voters have ousted their far-right President Jair Bolsonaro.
Luiz Inácio Lula da Silva ("Lula") will assume office on Jan. 1.
Travel of the more rote and routine variety also lies ahead for Fetterman and the senator-elect, who will be dividing their time between Washington and the couple's home with their three children in Braddock, Pa.
Gisele Fetterman is eager for the opportunity to better acquaint herself with the nation's capital. Having already met some very nice people in the city, she told the Blade, "I'm so excited to make some more fun memories and get to know D.C. better."
It is difficult to imagine she will have trouble making friends. Even over the phone, she is disarmingly funny, sensitive, and kind; unflinchingly sincere in her dedication to service on behalf of those in need.
At the same time, because the breathless and exhaustive press coverage of her husband's race against Republican opponent Dr. Oz sometimes included unwarranted scrutiny and criticism of the Democratic candidate's wife, some folks who were not previously familiar with her might have been left with an incomplete or distorted picture.
Gisele Fetterman was under the microscope as much for her sartorial choices (almost all thrifted), as for her stalwart presence as one of the Fetterman campaign's most effective surrogates.
Regarding the right-wing attacks that were focused on her identity as a bisexual woman and immigrant from Latin America, she jokes, "they made me sound like a superhero."
Still, this type of partisan rancor, mean spiritedness, cynicism, and guilefulness are so anathema to Gisele Fetterman's character and core values that you are left with the impression that she would probably prefer to keep politics at an arm's length but for her marriage to an incoming U.S. senator.
Leading by example with love and unconditional acceptance
Children are a comforting reminder that human beings are not predestined to fear or harbor prejudice against each other, she said, recalling a memorable exchange that happened as her family was hosting a wedding for a gay couple.
She had rushed to Costco to pick up a big rainbow cake and was fastidiously preparing their home for the ceremony when one of her boys asked what the fuss was about. "Daddy marries people all the time," he said. "What's the big deal?"
"This time it's two boys who are getting married," Gisele Fetterman said. For her son, it was still just another wedding. "Oh my God, it was just such a sweet and normal and beautiful reaction," she said, "but that's all he knows."
John Fetterman has married same-sex couples for years, including when such unions were illegal under Pennsylvania law during his tenure as mayor of Braddock. Raising children to be "loving and accepting and non-judgmental is really easy if we live that example for them," Gisele Fetterman said.
She would know, having grown up around LGBTQ people who were embraced unconditionally. After moving with her family to New York at the age of eight, a gay couple who lived nearby stepped in to help care for Gisele and her brother when their mom had to work long hours, she said. The neighbors "became like uncles."
"My best friend in middle school was gay, my best friend in high school was gay, and I consider myself a member of the community, too, so it's always just felt very natural" to enjoy the company of other LGBTQ people, she said. "I always choose them."
More broadly, she said she has always felt closest to "those who have been underrepresented, or historically ignored," a personal ethos that has informed her work as an activist, philanthropist, and founder-director of mission-driven nonprofit organizations.
A nutritionist by trade, 10 years ago she launched a program to cut down on food waste while helping people who are experiencing hunger. More than 24 million pounds of good, safe-to-eat food from retailers, wholesalers, and grocers has since been rescued from landfills and rerouted to help feed people who are food-insecure.
Gisele Fetterman also leads initiatives to provide those in need with other essential items, support services, and emergency funds, including through the organizations that she founded or co-founded, Free Store 15104, For Good PGH, and 412 Food Rescue.
Along with her nonprofit work, she said the way in which she has approached her role as a politician's wife has also been influenced by her memories of and experiences with financial hardship in both Brazil and the United States.
For instance, in 2019 when her husband was elected to become Pennsylvania's lieutenant governor after 13 years as Mayor Fetterman, the new house that came with his new job, complete with a swimming pool, made her uncomfortable. "I would never want to live in a mansion that taxpayers are paying for," she said. "It just felt wrong."
Ultimately, the family opted not to live in the lieutenant governor's mansion. The pool, however, was a different story.
She knew that generations of Black people in America have been denied access to swimming pools through segregation, redlining, and other racist policies, suffering consequences like higher rates of accidental drowning as a result. So she decided to open the pool for public use.
"I really believe you have to see yourself in places to know that you belong in them," she said. Welcoming historically excluded people to learn about water safety and enjoy themselves in a space that otherwise would be reserved for the couple and their three children made for some "amazing summers," she said.
In October, a Fox News columnist characterized as "bizarre" Gisele Fetterman's rationale for opening the swimming pool for public use, writing that Pennsylvania's second lady had called the act of swimming itself "racist."
Was it possible that the author had not understood her words rather than deliberately mischaracterizing them and the context in which they were delivered to make a bad-faith attack with Election Day less than two weeks ahead?
Gisele Fetterman appears to think so, as she did not entertain the notion that perhaps the columnist should be tossed into an outdoor pool in December. Instead, she suggested a history book, adding that America's record of racism and segregation is "really painful, and it can be ugly, but it's really important to know."
Asked how she might advise her husband on the challenge of dealing with difficult colleagues in Congress, particularly the senator from Texas whom former GOP House Speaker John Boehner memorably called "lucifer in the flesh," she again urged patience and understanding.
"The way I work with difficult or unkind people," she said, is to make up a narrative, a story about something or someone that may have caused the poor behavior because imagining there is an underlying reason can help lower the temperature.
At the same time, she said, while it's true that hurt people hurt people, everyone is capable of reflecting, consulting a therapist, and otherwise doing whatever it takes to forge a different path.
There may be a dearth of kindness and empathy in Washington's political circles, but there is certainly no shortage of self-aggrandizement or inflated egos.
Here, too, she may be able to offer some guidance, given her habit of never taking herself too seriously or missing the opportunity for a self-deprecating joke (often directed at her husband).
For instance, after becoming the second lady of Pennsylvania, she shortened her title to its acronym, preferring instead to call herself and be known by others as "the SLOP."
She also shares photos on social media with her 6-foot-8 husband's head partially cropped out so that her shoes are visible in the frame, and insists that their marriage operates with the unspoken understanding that Gisele is always right when there are differences of opinion.
On that latter point, should anyone long for the same dynamic with their spouse or significant other, Gisele Fetterman offers the following advice: "You just have to be really confident in your truth," she said, adding, "then you just, like, ignore him when he's speaking."
Tennessee drag performers brace for 'drag ban' law
Gov. Bill Lee signed the so-called "drag ban," into law on March 2, setting fines and even jail time set to take effect on April 1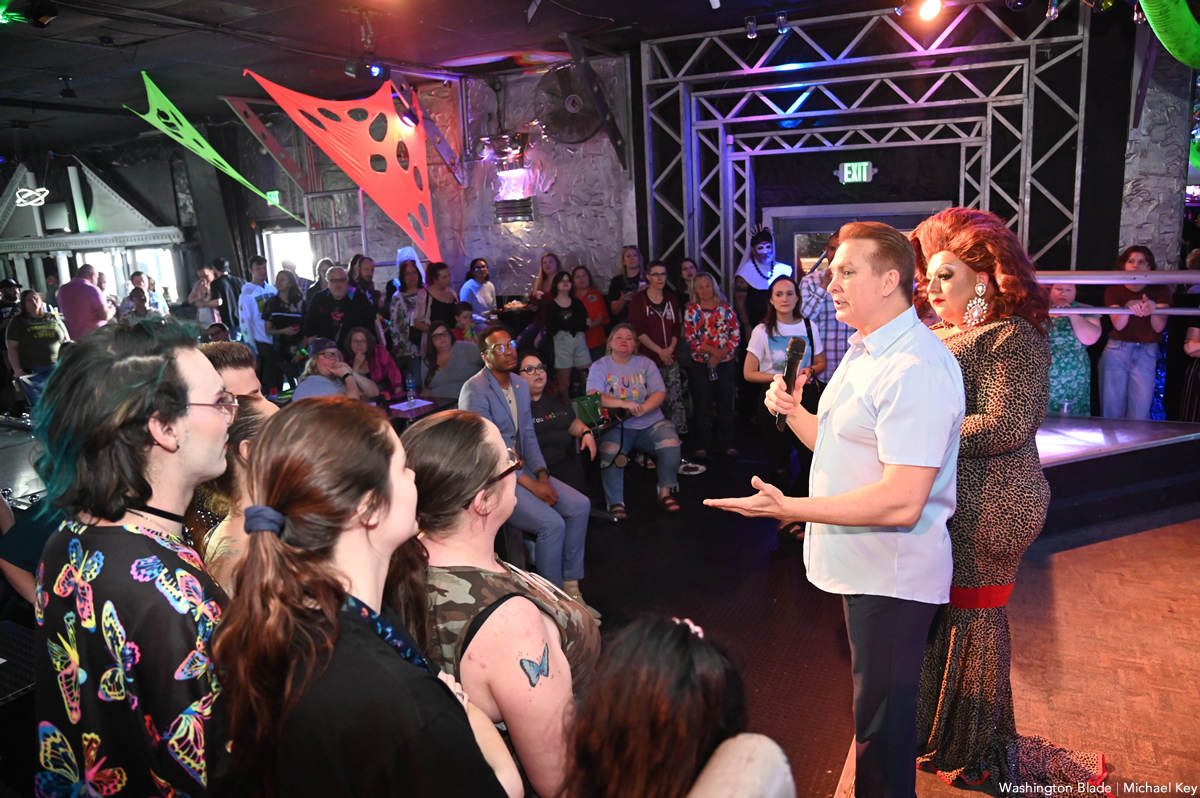 JOHNSON CITY, Tenn. — Tennessee has passed a number of anti-LGBTQ bills this year, including a measure that criminalizes gender-affirming care for transgender youth and a law that could be used to stop all drag shows on public property or in the presence of anyone under the age of 18.
In response to the anti-drag law, the owner and staff at the Tennessee gay bar New Beginnings held an all-ages drag brunch fundraiser on Sunday, raising $3,500 to combat gun violence in schools.
Republican Tennessee Gov. Bill Lee signed Senate Bill 2, the so-called "drag ban," into law on March 2, setting fines and even jail time for "male or female impersonators who provide entertainment that appeals to a prurient interest" in the presence of minors or on public property. The vague language of the new law, set to take effect on April 1 has advocates, business owners and entertainers concerned about how the law might be enforced.
"We don't view the language of the bill as banning all public drag," Tennessee Equality Project Executive Director Chris Sanders told the Washington Blade. "But with that said, it is restrictive and it will embolden those who want to police and harass drag performances outside 18+ clubs. The implementation will be in the hands of law enforcement and district attorneys across the state and that is really where the potential for arbitrary enforcement comes in. In some of the larger cities, I do not believe that law enforcement or the district attorneys will view a drag brunch as a violation. I don't speak for them, though. But in other parts of the state, the matter could be more complicated. Regardless of how one reads the text of the law, it will embolden groups who go around filming drag performances and take segments out of context."
New Beginnings is a 'safe space'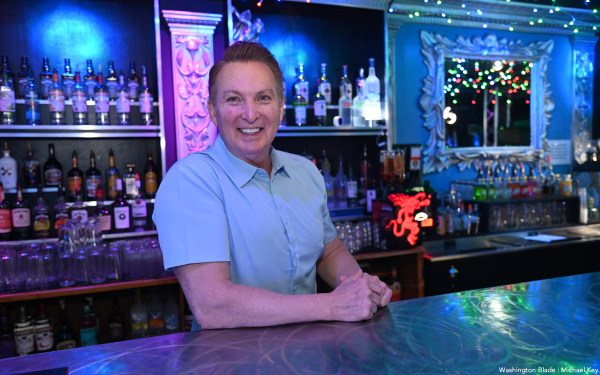 One place where drag thrives in the state is New Beginnings, a sprawling nightclub located in Johnson City. New Beginnings, founded in 1987, is the only full-time LGBTQ venue currently in operation in the Tri-Cities area that includes Johnson City and Kingsport, Tenn., as well as Bristol, Va.
"We try to give the young people who come here something nicer than the circumstances they live in," Mark, a New Beginnings bartender, told the Blade. "Many of these kids have never been on a plane, have never left the Tri-Cities area. We provide them with a safe space to be who they are and to experience the world: To see something of New Orleans or places outside."
New Beginnings faces regular protesters and had an inauspicious beginning, according to Michael Trivette, who owns New Beginnings with his husband and extended family. He recounted to the Blade, "When we first opened up here in 1987, I was in the back parking lot painting stripes because they had to be marked for permits and a police officer came through and said, 'I understand that you are putting a gay bar in here . . . you can just tell whoever that there's not going to be no gay bar in my district.' He said, 'I'll close it down.' and this was before we even opened."
Things have changed over the years as both New Beginnings and the LGBTQ community as a whole have gained wider acceptance, according to Trivette.
Trivette tells the Blade that New Beginnings often holds a drag brunch around the time of TriPride, an annual event that rotates between Bristol, Kingsport and Johnson City. The TriPride drag brunch is now in jeopardy given concerns around the enforcement of the new law.
"When TriPride had pitched [having Pride in Johnson City in 2023] to the city commissioners and the mayor, they spoke so eloquently of an event to bring all of the people of the Tri-Cities together in a unified moment where they could celebrate the diversity of different people. The mayor wrote this glowing letter," Trivette recounted. "It's just so wonderful to think of, this is where we were and now this is where we are."
"But now, this is where we're going back to," Trivette added.
Trivette said there was even talk of moving TriPride from Johnson City to nearby Bristol, Va., across the state line, just to be safe. However, TriPride told the Blade they resolve to continue with plans for a September parade and festival in Tennessee.
"As it stands currently, TriPride intends to continue with the parade and festival in Johnson City," TriPride Board President Melody Taylor said. "We will continue to have open communication with the city as well as monitoring how the new law is being interpreted and if or when anyone is charged. TriPride has always prided itself on being an all-ages friendly event and our festival entertainment has never been obscene and this year will be no different."
Tenn. anti-drag law goes into effect on April 1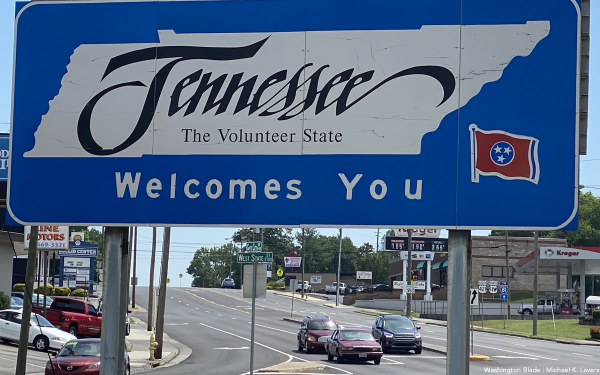 "Of course we think it's ridiculous," Trivette said when asked what he thought of the new drag law. "I just truthfully have to wonder who saw what that made them feel compelled to go back to their offices and write this law about drag queens."
Trivette continued, "You take a bunch of middle-aged, middle-class people and you talk about the good old days and how much better it used to be and you point your finger at a group of people and you blame them for your problems. And when you have an enemy, you have a focus."
Kyelee Moffatt, mother, social worker and self-described "jack of all trades" at New Beginnings was blunt about her feelings concerning the anti-drag law: "I think it's bullshit."
Moffett elaborated, "I think it's a lot of white, old men in Nashville making laws about things they know nothing about because they are being told things from people who are ignorant. They aren't educated as to what drag is: it is a form of art. It is a wonderful form of entertainment. These people making these laws are afraid of them, the drag performers, because they are different."
"I have fear for this law being interpreted in different ways to affect our trans community, especially," she continued. "Especially with the recent ban on gender-affirming care for our trans youth in the state, I think that this is another way for politics and law enforcement to persecute our trans community. I'm afraid that law enforcement is going to target the trans community as well."
"For me, it is reflective of laws in the 50s," Moffett cautioned. "It's just a huge red flag that our civil rights are being violated. I think we're going backwards instead of forwards because, again, because people are afraid of what they don't know."
Odessa Mann, a drag artist who headlines alongside a large troupe of performers in the only regular drag show in the Tri-Cities, met with the Blade before hosting Saturday night's drag show at New Beginnings. Mann, a spirited performer who is equally animated when talking about the importance of drag, explained, "Drag has been such a part of everybody's culture: Not just queer culture. It's been a part of theater and entertainment culture for as long as entertainment has been a thing. And so, it just feels that it is very convenient that now they want to bring up an issue with it all of the sudden."
"Queer celebration and queer joy has always been a riot and has been a political movement in and of itself," Mann said. "You can marginalize us and push us to the outsides of the community if you would like to but we're still going to celebrate and we're still going to find joy in ourselves. And now they have a problem with that again. So it's even more important to stay louder in our celebration, louder in our joy and make sure that those people know that we're not going anywhere. You can make as many bills as you want to, but we're going to still be right here."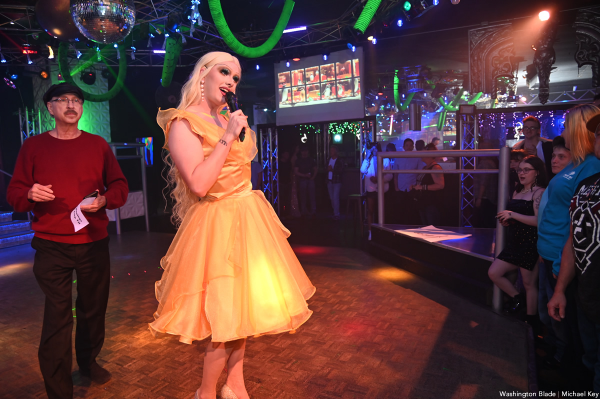 "With the current rhetoric being lobbed at the LGBTQ+ community not only in Tennessee but across the country we at TriPride feel our mission of providing a safe environment for our community to rejoice in being their authentic selves is more important than ever," TriPride Board President Taylor elaborated in an email. "These hateful messages are intended to incite fear and push the LGBTQ community back in the closet, so to speak. TriPride refuses to simply disappear and will continue showing the love, kindness, and pride that our community has. Our community has been fighting for our right to exist for generations and we will continue that fight as long as necessary."
"Every week of the legislative session, we have published campaigns against the discriminatory bills and we continue to do that," Sanders of Tennessee Equality Project told the Blade. "We have helped numerous people meet with their legislators and helped people prepare testimony against the bills. We have to continue doing that because we still face an anti-trans student pronoun bill, a new anti-trans amendment to a bill about camps, and much more. In my 20 years of working on anti-LGBTQ legislation in Tennessee, this is the worst year yet. But the community has stepped up and keeps coming back to fight the bills."
The all-ages drag brunch at New Beginnings completely filled the cavernous club with supporters on Sunday. Children danced alongside drag queens at the G-rated show. Singers serenaded the patrons with live music and a "wilderness fairy" read a story to the youth. It was a bittersweet gathering, as it was perhaps the last of its kind to be had for a while.
Mann thanked the audience.
"I really appreciate you seeing us for what we are. We're entertainers, we're here to bring joy, we're here to bring light. That's all it is," Mann said. "And I'd like to bring a little light to the stage right now. All the spotlight has been on us and I'd like to put the spotlight on these little baby drag queens we got. I've seen some younguns' and they've been dancing with us, honey. I know they want the spotlight."
Mann then led a group of parents and children in a dance to the popular kids' song, "Baby Shark."
Covering for @WashBlade New Beginnings in Johnson City, Tennessee defying the state at an all-ages drag brunch. Here is baby shark: pic.twitter.com/Z9iyY7zTO8

— Michael Patrick Key (@MichaelKeyWB) March 26, 2023
"We want to talk to you for a minute about what's going on in our country, specifically our state," Sister Lolo of the Little City Sisters told the crowd.
Sister Lolo, a member of newly formed local chapter of the Sisters of Perpetual Indulgence drag order, continued, "This is the last time under the new law that we as drag entertainers are allowed to interact with some of you. And they say that this law is designed to protect you, but we know that's not the truth."
"Now, we're going to follow the law, because as good citizens we have to," said Sister Lolo. "But we know the truth and you know the truth. We're going to work together to change these laws. We're going to stand for the truth. We are not going to be afraid. Because when we are afraid, they win. And when we stand up for ourselves, we stand up for the truth, we will prevail."
At the conclusion of the brunch, Trivette announced that more than $3,000 was raised to combat gun violence in schools. He beamed, "there was a bar in New York that was being hassled by the police department there: They didn't want to have a gay bar in their district. So they started harassing them. And at some point, a drag queen . . . and leave it to a drag queen . . . picked up a brick and threw it at the police officers. That was the beginning, that was Stonewall in New York and that's what started gay Pride. And now today ladies and gentlemen . . . and children, we just threw a rock."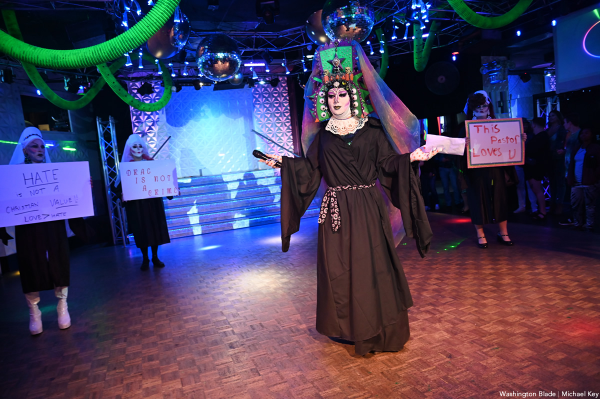 CLICK HERE to see more photos from the all-ages drag brunch at New Beginnings.