State of Hate: Out California State Senator Scott Wiener
"California will never be a 'don't say gay state. There are laws in place that would stop that from happening, and they are holding strong"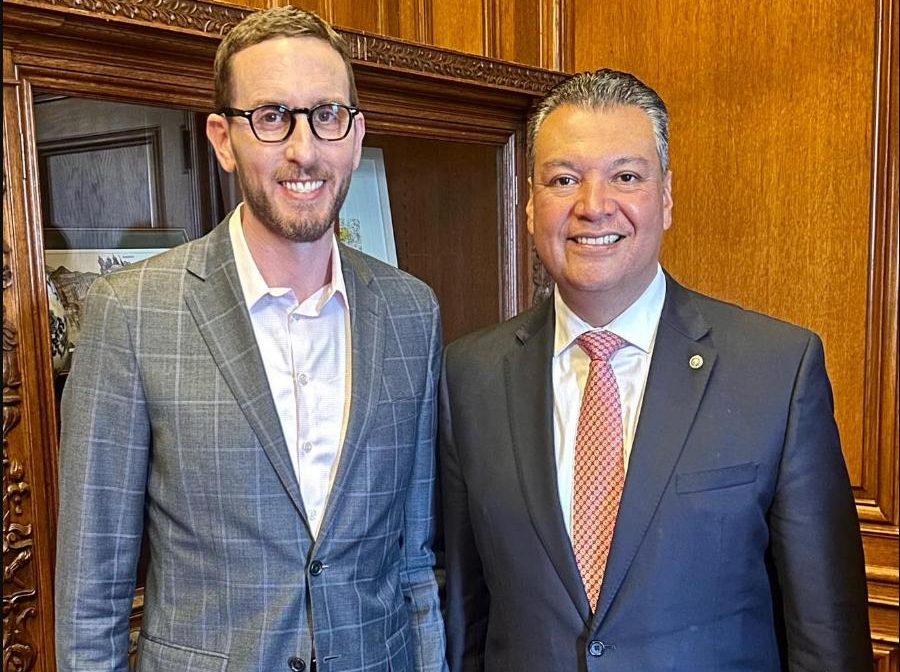 The following is part of an ongoing new series titled 'State of Hate' by Los Angeles Blade diversity reporter Simha Haddad. This series is part of the state-wide California Stop the Hate Initiative and is funded with a grant from the California State Library.
SAN FRANCISCO – Calif. State Senator Scott Wiener is an openly gay champion for queer rights, who represents San Francisco's Senatorial District 11 in Sacramento, and constantly suffers from a tsunami of hatred directed at him by right wing-extremists and homophobes.
The most recent example occurring on December 6th, when San Francisco police responded to a bomb threat at the Senator's home. This also marks the second time this year that a bomb threat targeting him resulted with police searching his residence and professional workspaces. Both times the threats were laced with profanities that denigrated his sexuality.
"Early this morning, I was informed by the San Francisco Standard and the police that someone had issued a bomb threat against me, listing my specific home address and also threatening to shoot up my Capitol office. The email said 'we will fucking kill you' and called me a pedophile and groomer," Wiener wrote in an emailed statement to the Blade.
"I will always fight for the LGBTQ community — and for the community as a whole — and will never let these threats stop that work," Wiener added.
"I've been targeted and attacked for being gay my whole life," the 52-year-old lawmaker said in a lengthy phone interview with Blade earlier this month. Indeed, Wiener's lifelong prolific progressive political work has often cost him his sense of safety.
He has received death threats from QAnon adherents, those associated with far right extremist groups like the Proud Boys and has been made the subject of numerous homophobic and anti-Semitic messages and posts on social media platforms.
Wiener had also received a death threat from a man for the Senator's pro stance on vaccines. The man was found with two homemade ghost guns and then arrested.
A Contra Costa County Superior Court jury this past September convicted a 51-year-old San Ramon man for threatening the life Wiener and on state weapons charges.
Erik Triana was convicted guilty of threatening the life of the senator, two counts of possessing assault weapons (an AR-15 rifle and a privately made 9mm pistol), two counts of manufacturing or assembling unregistered firearms (commonly known as ghost guns), and two counts of having a concealed firearm in a vehicle, according to the Contra Costa County District Attorney's Office.
Even within his own LGBTQ+ community and some California progressive political circles, Wiener can occasionally be a lightning rod for critique.
During his tenure on the City and County of San Francisco's Board of Supervisors for example, Wiener, who represented District Eight- the area once represented by iconic Supervisor Harvey Milk who was assassinated in office, had some critics in the city's LGBTQ+ community who felt that Wiener was tone-deaf to the community's needs. There were those who expressed that it seemed that he was more pro-business than paying attention to the needs of the community especially those less fortunate.
A journey begins
As a proud gay Jewish man in politics, the road has never been easy for Wiener.
Wiener, born in Philadelphia, grew up in neighboring Southern New Jersey where he graduated from Washington Township High School in Gloucester County, one of the largest public high schools in South Jersey.
His father was a small business owner, and his mother was a teacher.
He received a bachelor's degree from Duke University in Durham, North Carolina and a law degree from Harvard Law School in Cambridge, Massachusetts. After law school, Wiener conducted historical research in Chile under a Fulbright Scholarship. He later clerked for Justice Alan B. Handler on the New Jersey state supreme court.
"I got involved in politics as a teenager in the 1980s," Wiener told the Blade. "I was a Jewish kid in a very non-Jewish community and experienced a lot of antisemitism. I was also a closeted gay man. I learned early on that, for marginalized communities, politics isn't just about policy choices; rather, it's a matter of life and death."
"When I first came out, as a college student at Duke, I was called a faggot various times," said Wiener.
"It was a scary time to be a gay man in the South. I then did a Fulbright in Chile, and once, when I was at a gay nightclub, we got rounded up on the dance floor by local police. That was terrifying," he reflected.
Back in the states Wiener moved to San Francisco in 1997 to work as a litigation attorney at Heller Ehrman White & McAuliffe, an international law firm of more than 730 attorneys with 15 offices in the United States, Europe, and Asia.
Politics and elected office: The City & County of San Francisco Board of Supervisors
In 2002, he went to work as a deputy city attorney, under San Francisco City Attorney Dennis Herrera. Then politics beckoned him again and Wiener served as chair of the San Francisco Democratic County Central Committee until he was elected to the City and County of San Francisco Board of Supervisors on November 2, 2010.
When asked why he decided to run for office, Wiener responded, "Although I knew there was a possibility I'd eventually run for office, I also knew there were significant costs to doing so. It wasn't until my mid 30s that I decided to run — because I had a sense that I could make a real contribution in elected office. To me, serving in elected office is simply an extension of community work."
His election also brought forth a burgeoning reputation for being a legislative workhorse as he introduced measures that addressed San Francisco's public transportation, measures to allow the construction of new in-law units, and he authored legislation to make San Francisco the first city in the country to require water recycling in new developments.
He also acquired some detractors which included the San Francisco Fire Department, after Wiener advocated against widening streets. In 2014, this led to a public disagreement with the SFFD around street design at new developments.
Wiener also fought to to streamline pedestrian safety projects, supported expanding access to car-share programs such as Uber and Lyft, and authored legislation to make it easier for businesses to get permits for DJs, and to offer a new permit to allow for live music in the city's plazas.
Working on LGBTQ+ specific legislative efforts, Wiener in a September 2014 commentary piece essay at the Huffington Post, revealed that he was taking Truvada, a pre-exposure prophylaxis (PrEP) that reduces the risk of HIV infection.
He advocated for HIV/AIDS services and in 2016, he helped secure funding for San Francisco's Getting to Zero effort, which aims to end all new HIV infections in the City. That same year he he authored a bill barring the city from doing business with companies based in states that have laws that bar policies banning discrimination against LGBTQ+ people which was passed by the full Board of Supervisors.
Heading to Sacramento
California State Senator Mark Leno, an openly gay lawmaker who represented San Francisco's Senatorial District 11 in Sacramento, was termed limited in 2016 and Wiener threw his hat in the ring.
Since San Francisco has a significant number of Chinese-American residents- 17% of the city's population speak Chinese, the ballot is required to be available with candidate's names in the written Chinese logosyllabic form. The lanky 6 foot 7 inch politician settled on the name 'Wei Shangao,' meaning "bold, majestic, charitable, and tall."
That 2016 campaign also pitted Wiener against the Los Angeles-based AIDS Healthcare Foundation (AHF) and its controversial president, Michael Weinstein. Wiener was opposed to Proposition 60, which would require porn actors to wear condoms when filming a movie anywhere in the state.
AHF's Weinstein lent the initiative enough support to make it onto the ballot that November. However there was very public sparring between the two men over the issue.
In a press release by Wiener, he stated he was being attacked in a series of ads by AHF and Weinstein because of his opposition to Prop 60 and his support of PrEP.
"Michael Weinstein's tactics are predictable given his long record of sex-shaming his own community," said Wiener. "I'm proud to stand on the side of my community and smart public health policies like increasing access to PrEP and not driving the adult film industry underground, where workers will be less safe. In the state senate I will fight back against the regressive and harmful policies pushed by Weinstein and fight for progressive, safe healthcare policies that protect our community."
After a hard fought campaign he ultimately defeated fellow Supervisor Jane Kim in the November general election. Once elected however, like his previous record on the Board of Supervisors, Wiener commenced cranking out multiple legislative efforts on a dizzying array of topics and political issues.
"I will never stop fighting for my community, no matter what. There is so much more work to do."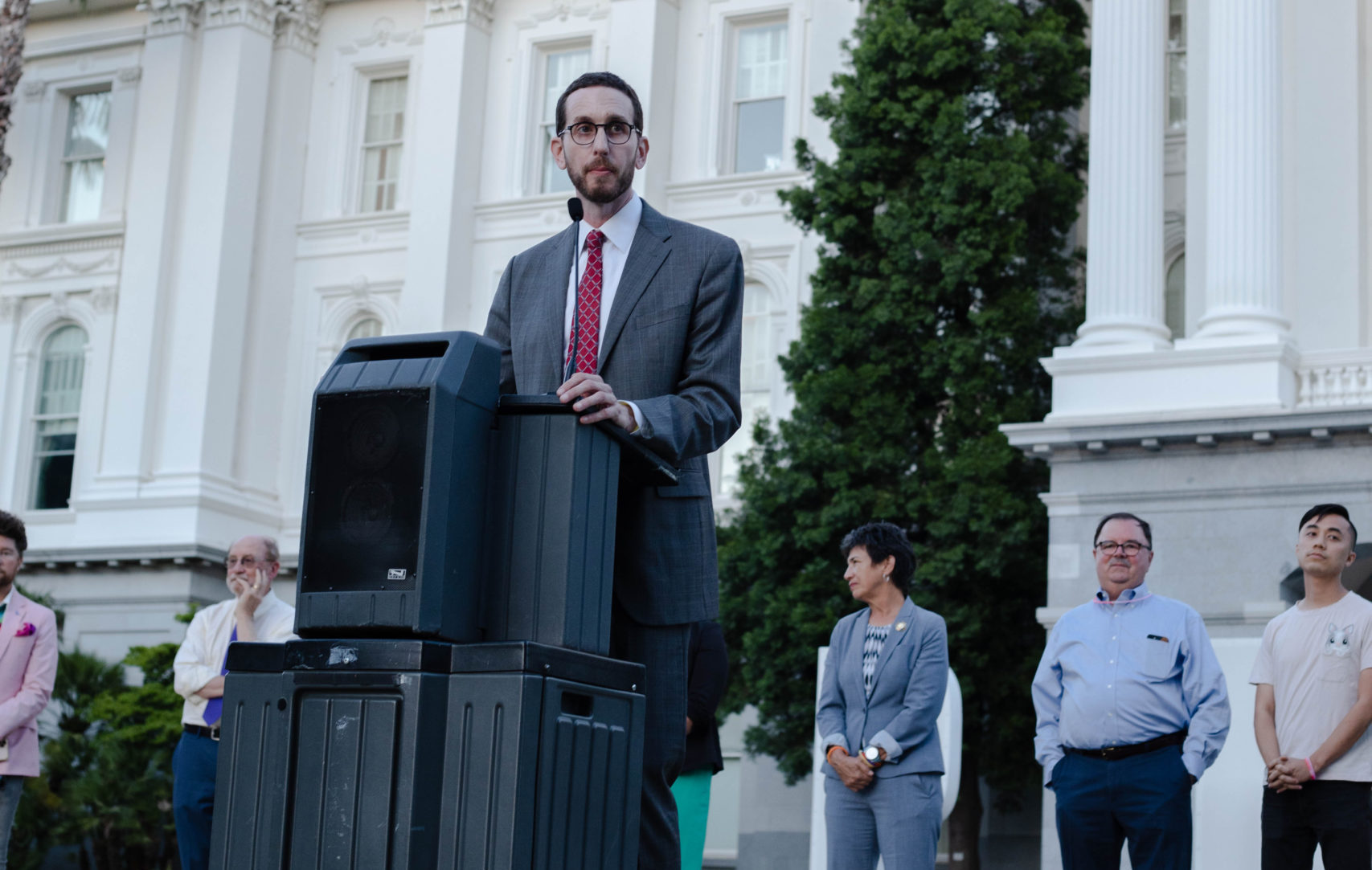 The long list of LGBTQ rights the senator has championed for makes him somewhat of a hero in the community. His legislative track record's achievements however, have brought notoriety and intense scrutiny from conservatives and particularly from far right elements.
"Over the past several years, I've received thousands of death threats," wrote the Senator in Technology Review, "overwhelmingly on or stemming from social media, largely in response to my work advancing LGBTQ+ civil rights, with a secondary source being my work to expand vaccine access."
Wiener, reelected in 2020, has authored sixty-five bills that have been passed into law, a large majority of them dealing with taboo topics for the right-wing political sphere such as trans children's rights.
"Unfortunately," he reflected, "due to my LGBTQ civil rights work, I am constantly targeted. A lot of this hate starts online, with people falsely accusing me and other LGBTQ people of being pedophiles or groomers. It's scary and it's unacceptable, and I worry about what could happen. But I will never stop fighting for my community, no matter what. There is so much more work to do."
Last month for instance, there was a Twitter uproar over Georgia Republican United States Representative Marjorie Taylor Greene tweeting Wiener is a "communist groomer."
"Pass my Protect Children's Innocence Act to stop communist groomers like this from using state government power to take children away from their parents to allow a for-profit medical industry to chop off these confused children's genitals before they are even old enough to vote," Greene wrote.
The tweet came days after the Club Q mass shooting in Colorado Springs that killed five people. The shooting was a direct hate crime against the LGBTQ community. In spite of the tragic and unnecessary deaths, some right-wing parties justify the shooting as an act of defense against child molestation and corruption. These child endangerment claims were made because of an all-ages drag show the club was hosting on the evening of the shooting.
"The word 'groomer' is highly offensive," Wiener explained to the Blade. "It is homophobic and perpetuates this idea that all gay people are pedophiles."
'Grooming,' or the act and process of preparing a child for molestation, abuse, and or/rape by a pedophile, is a term used both by Greene and by those openly in favor of the mass shooting.
Wiener tweeted: "Per Marjorie Taylor Greene, I'm a 'communist groomer' Pretty deft blending of McCarthy red-baiting & gay-baiting. For the record, her "Protect Children's Innocence Act" comes pretty damn close to banning trans people from existing. Oh & Kevin McCarthy is going to re-empower her."
The Senator followed up with a photo of the trans bartender who was murdered in the shooting, stating: "Let's talk about "groomer," a word totally co-opted by the homo/transphobic MAGA right to slander LGBTQ people & their allies. Ex A: The reply below to an @HRC tweet about a murdered trans bartender at Club Q: 'And yet, he supported the grooming of children. Hard to feel bad.'" The tweet highlighted the right's lack of empathy and compassion for queer lives.
The Senator's tweet about "banning trans people" and Greene's claim that the Senator's policies are in favor of taking confused children away from their parents and mutilating them directly relate to bills SB 107 and SB 255, which he has fought relentlessly to pass and remain active.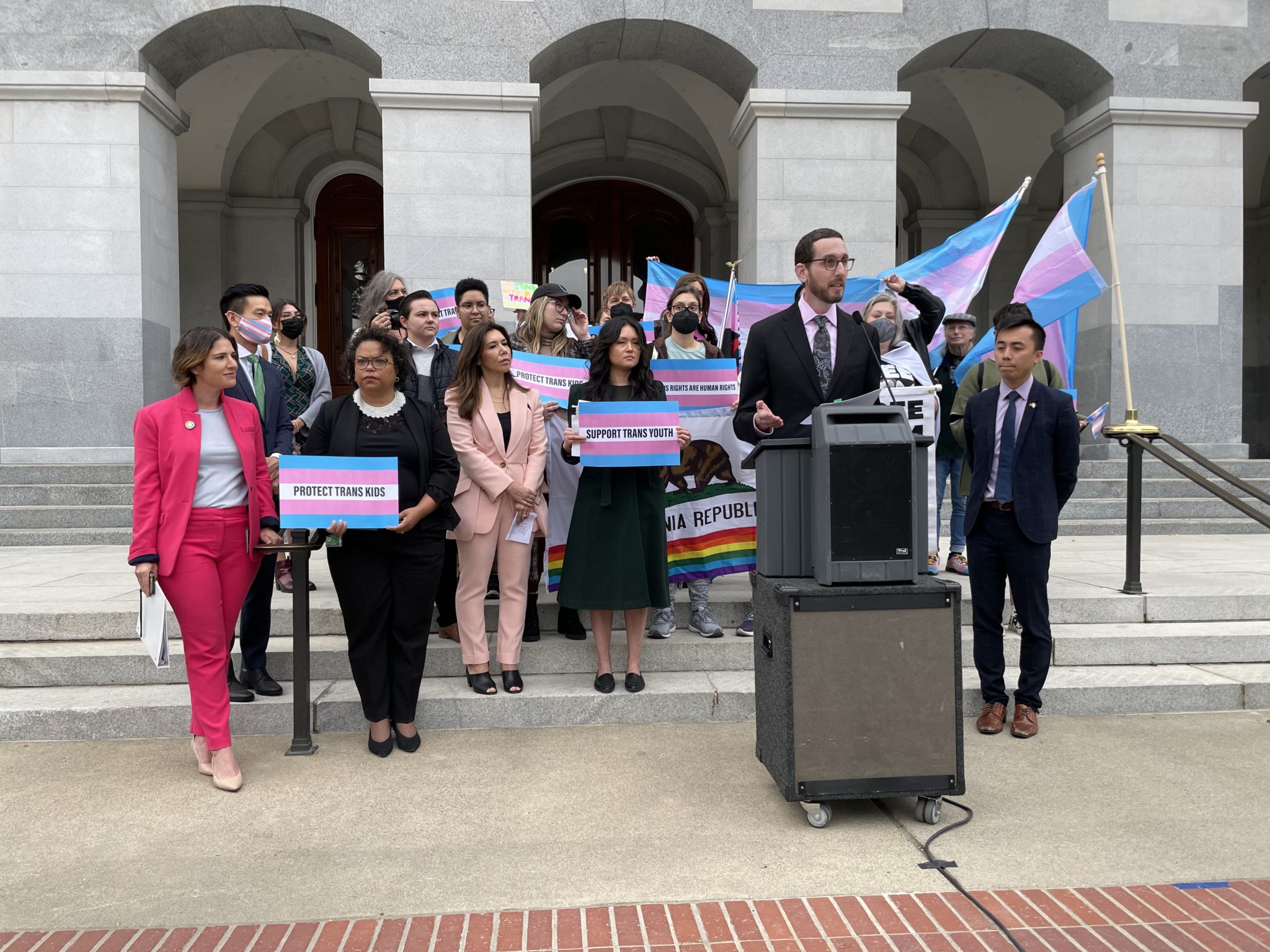 SB 107 "Provides refuge for trans kids and their families in California so they can avoid criminal prosecution for seeking or allowing gender-affirming care in states like Texas." SB 225 "Provides children (some of whom may identify as intersex) and their families a chance to make informed decisions about major surgeries to change variations in the appearance of genitalia and other sex characteristics."
In other words, the bills ensure that children get the care they need in California and, indeed, do not get stripped from their parents if they come to seek gender-affirming care here. This is a stark contrast to states like Texas where parents can be investigated and charged with child abuse for allowing their children to get treatment.
Allowing children to receive gender-affirming care is a sore spot for many on the fence about queer rights. The far right continues to vehemently oppose this treatment.
"What a lot of people don't understand," said Wiener, "Is that actual surgery in trans children is extremely rare. More often, it's hormone treatment and puberty blockers. But the right wing makes it sound like all of these children are having surgery. We want to protect their rights to gender-affirming care."
Greene's misconstruing of SB 107 is not new to Wiener. The right wing often neglects the nuance of the Senator's bills, favoring fear-mongering that fosters confusion, making it difficult for those who are unfamiliar with the Senator's bills to weed through the homophobic rhetoric.
Far-right extremist radio chat show host and avid Trump supporter Charles J. Kirk attacked Wiener in a tweet, saying: "Thousands of pedophiles in California are going free after just a few months in jail, thanks to the state's radically reduced penalties for child molestation. One reason so many of these predators are going free so early is California lawmaker Scott Wiener."
Kirk, loosely channeling an InfoWars host Alex Jones style-attack went after Wiener implying that the veteran lawmaker endorses and supports child molestation
Kirk's comments refer to Senator Wiener's bill SB 145- "Ending Discrimination Against LGBT People Regarding Sex Offender Registration," which was "Sponsored by Equality California and the Los Angeles County District Attorney, SB 145 puts a stop to LGBT young people going on the sex offender registry, when similarly situated young straight people do not."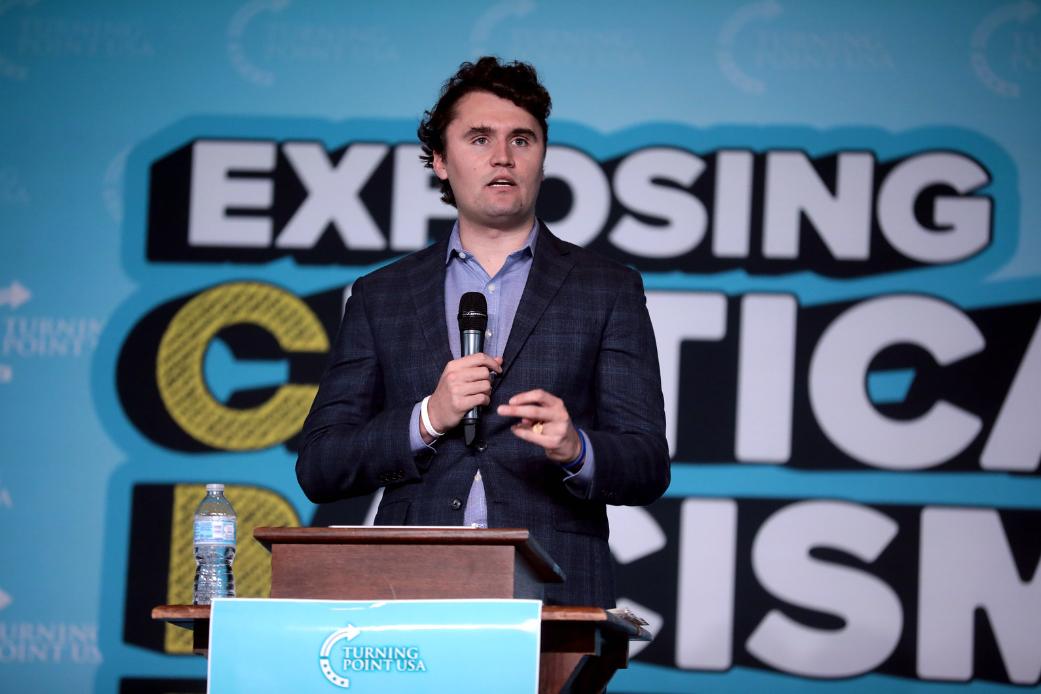 When asked about the neglect of nuance and the defamation perpetuated by Kirk, Wiener said, "All we are asking is for gay people to be treated the same as straight people. Until that bill was passed, in this case, they were not."
In spite of Kirk's claims, child molestation penalties have not been reduced in California. In fact, Kirk's comments that 'Senator Wiener condones child molestation' are somewhat outshined by him being named Legislator of the Year by the California Sexual Assault Investigators Association and California Attorneys for Criminal Justice in 2018.
"This type of language is incredibly dangerous," said Wiener, who advocates strongly for the abolition of using words like 'groomer; to inaccurately describe a gay person. "Words become actions. Once someone believes these lies as true, then they might act on them, like with the Club Q shooting."
"While Twitter is a small platform compared with other major social media, this shift matters tremendously," said the Senator writing in Technology Review.
He was referencing billionaire Elon Musk's takeover of the platform, and the detriment of the hate speech like Greene's that is being allowed to flow freely throughout the platform.
"Twitter punches way above its weight class. It is an incredibly important platform for our democracy—a place where ideas and information germinate, spread, and break out of Twitter itself into broader media and public perception. Whether for politics, media, science, medicine, history, or pretty much any other subject area, Twitter has become an epicenter of public discourse in American life," Wiener stressed.
Other notable LGBTQ+ legislation the Senator has managed to pass includes a bill to protect the rights to treatment of LGBTQ+ seniors living in long-term care. This bill helps to stop discrimination against queer seniors and seniors living with AIDS. He has also ensured that PrEp and PEP (HIV preventative drugs) are available without a prescription and that incarcerated transgender individuals are housed in prison according to where they will be safest.
Wiener has been a driving force in creating more accessible and affordable housing. So much so that he received an Annie B. Stanton Award for combatting youth homelessness from Larkin Street Youth Services.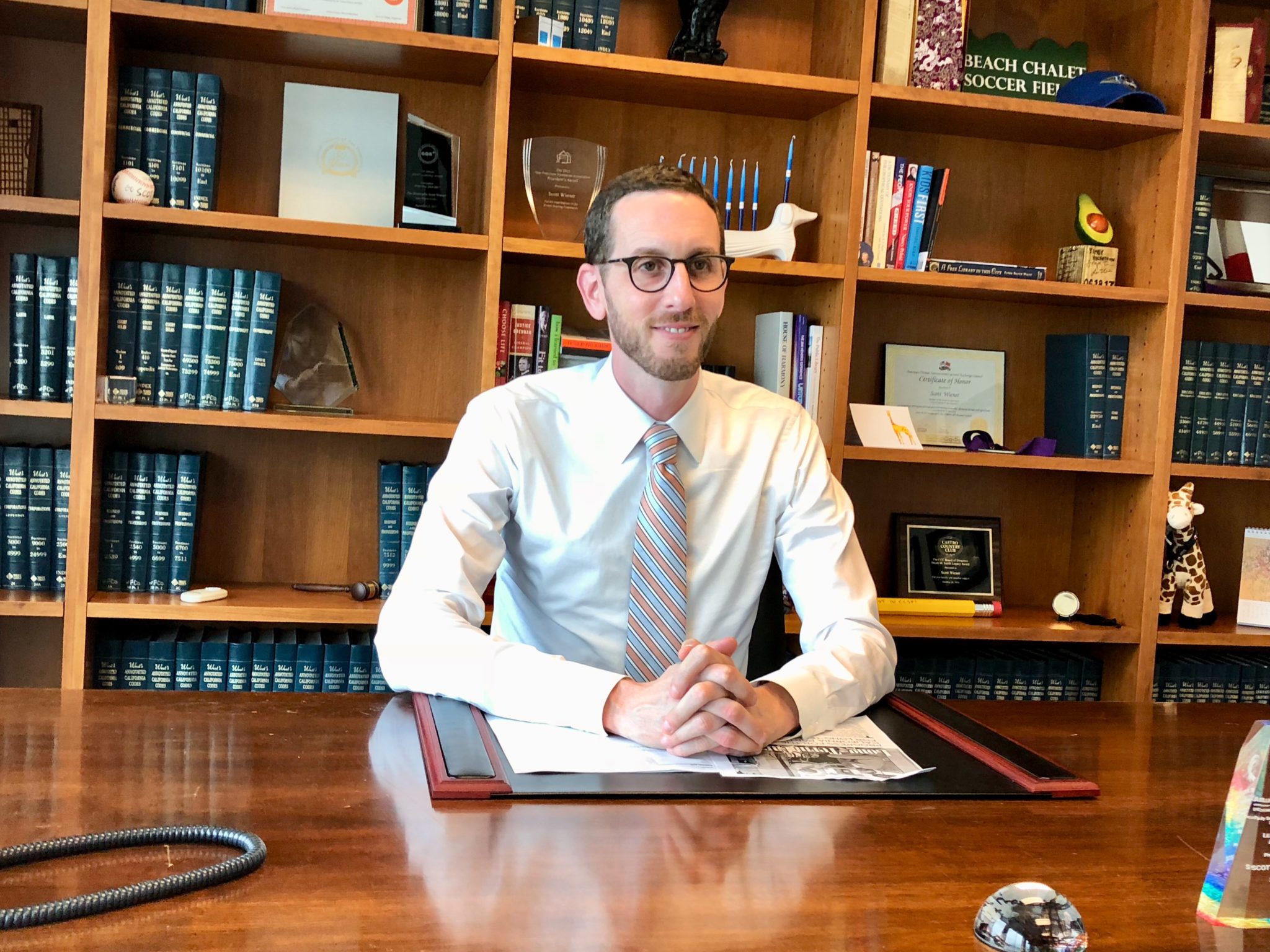 Wiener's Homeless Youth Act has made it possible for many homeless LGBTQ+ youths under the age of twenty-five to get back on their feet. The act's main goal is to end youth homelessness altogether. It aims to do this through increased funding both through the state and fundraising and analysis and implementation of set goals and programs to end homelessness.
"There are so many homeless LGBTQ+ youths," said Wiener when asked about temporary and transitional housing. "Some of them are kicked out of their homes. Some have nowhere to go after foster care. We work to get them housing."
He also created a "$100 million forgivable loan program to fund new housing, or acquire existing housing, for transition-age youth between ages 16 and 26." In addition to youths who are homeless, this funding is mainly allocated toward those exiting foster care or the criminal justice system.
This is hugely beneficial as a disproportionately large number of those exiting government institutions such as foster care and prison often end up homeless. He also helped pass a "right to shelter" bill giving even more displaced individuals, and families access to shelter.
In addition to providing transitional housing and resources to the homeless, Wiener has had a huge impact on housing in California. He has increased data intake on housing so that analysis of state housing laws and understanding of that data is more accurate and beneficial to California. He increased the availability of multi-family housing, which directly benefits those who are consistently out priced by California's aggressive housing market.
He made affordable housing more available to low-income families and has challenged zoning laws that make many vulnerable to displacement. He also made student and faculty on-campus housing more available so that neither students nor faculty has to commute to school.
Wiener also champions mental health reform and advocacy, ensuring that health insurance covers the cost of medically necessary mental wellness treatment.
Yet, with all the positive change as a Senator he has been able to implement, the homophobia hurled at him by the right continues to resonate with many. When asked why, Wiener responded, "Because people are brainwashed. If they hear it enough times, they become afraid, and that fear is what leads to brainwashing by these super right-wing QAnon fanatics."
When asked whether this homophobia will work its way into state law, he replied confidently: "California will never be a 'don't say gay state,' said Wiener. "Never. There are laws in place that would stop that from happening, and they are holding strong."
Seeding a gay community in LA, the gay liberation revolution
1970 was an incredible year of achievement for GLF in LA.  Marches, protests, & a broad range of other militant, highly visible actions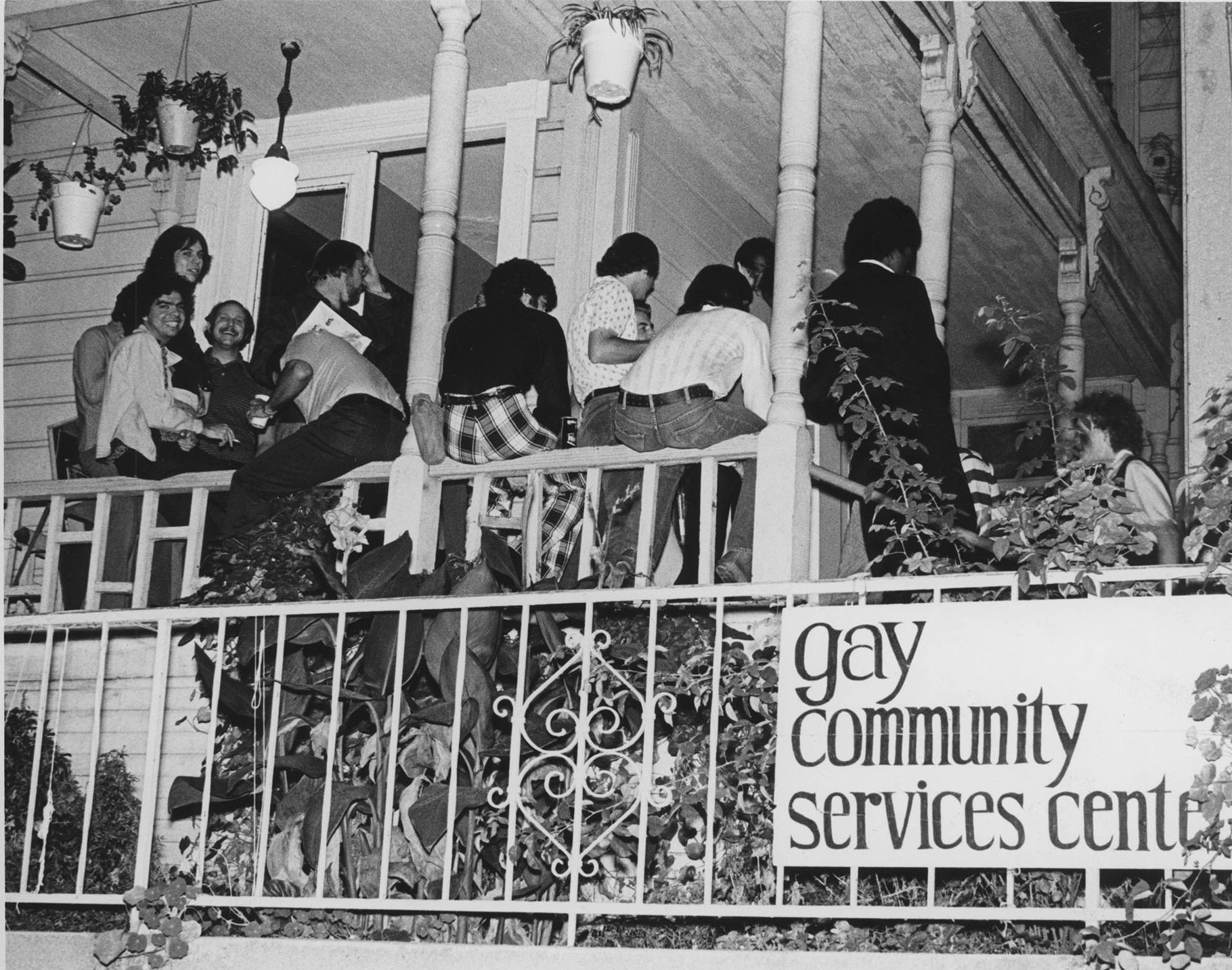 By Don Kilhefner | LOS ANGELES – There is a big difference in magnitude between a liberation movement and a civil rights movement. Often, the terms "Gay Liberation" and "Gay Civil Rights" are used synonymously. Those terms, however, are very different in meaning.
A liberation movement involves an oppressed group seizing power by its own militant efforts and includes a change in consciousness by an oppressed people about its alleged inferiority, restructures economic and educational systems, and claims or reclaims the group's history and culture. The central organizing principle of a civil rights movement is lobbying the dominant power structure over time to grant new laws—like voting rights—which gives more equal rights to a minority or majority historically discriminated against without any fundamental changes or threats to the power, economic, or educational systems in place.
Power structures try to destroy liberation movements, as in South Africa in 1961 when Nelson Mandela and others created the paramilitary Spear of the Nation, turning the African National Congress from a civil rights movement into a liberation movement. On the other hand, civil rights movements are easily pacified by political posturing and pretending and assimilated by elite capture without posing much of a threat to the basic power structures of society. Liberation movements are also susceptible to elite capture.
Author's Note You are advised to remember as you read the following article that all of the Gay Liberation organizing being described was done within a context of 1,000 years or more of hetero supremacy in the West in which all religions declared lesbians and particularly gay men to be subhuman and an abomination in the eyes of God; all national and local laws declared them to be illegal and a crime against nature, with police and vigilante groups hunting them down and killing such deviants, often burning them alive at the stake; and in the 20th century the new science of psychology declared them a severe psychopathology and a threat to society. Gay men and lesbians internalized that hetero supremacist, genocidal ideology, turning it into self-hate, and turning that debasement into fear of being found out, some in fear for their very lives. And so, in 1969, still being officially labeled sick, sinful, and against the law and against the laws of nature, a new, revolutionary narrative unfolded in Los Angeles.
Central to the development of a radical, militant Gay Liberation revolution in Los Angeles was the L.A. Gay Liberation Front, which was called into being in August 1969 by Morris Kight, an anti-Vietnam War activist. GLFs were also organized in other major U.S. cities in the aftermath of the 1969 Stonewall Rebellion, a single spark that caused a prairie fire. A gay revolution ensued—a revolution defined as "sudden, radical, complete change."
For months, GLF meetings were held every Sunday afternoon in random, obscure locations, until, on January 1, 1970, I secured a GLF office at 577 ½ North Vermont Ave. in East Hollywood, formerly occupied by the Hollywood contingent of the Peace and Freedom Party. Using basic organizing skills learned as a volunteer at the Peace and Freedom Party office in Venice while a UCLA doctoral student in history, I became GLF's around-the-clock, sleep-in office manager, creating a GLF infrastructure for the first time, including a telephone number, mailing address, bank account, and a stable meeting and organizing space.
The office was located on the second floor of a graceful dowager of a fourplex next to the Hollywood Freeway. Soon after GLF left the space, the building was demolished and replaced by a series of gas stations (southwest corner of Vermont and Clinton). [If anyone out there has a photo of the building, please contact me.]
The GLF office became a beehive of gay political organizing that propelled the Gay Liberation movement in Southern California forward rapidly (more about all that activity in the future). In a recent event at USC-ONE Archives, Dr. Craig Loftin, Lecturer in gay history at California State University (Fullerton), described that year as follows, "…1970 was an incredible year of achievement for GLF in Los Angeles. They staged marches, protests, 'zaps,' interventions, and a broad range of other militant, highly visible actions. They fought back. They led the march out of the shadows, out of the closets."
On 9/18/1970, GLF staged a "Touch-In" in a popular WeHo bar, The Farm; at 10 p.m. gay men reached out and hugged each other; L.A. Sheriffs arrived and were warned by GLF: if you arrest one of us, you'll have to arrest all of us; men continued to show affection for each other; chanting began: "Ho-Ho, Ho Chi Minh, GLF is going to win;" Sheriffs retreated; the beginning of the end of police raids of gay bars in L.A. was upon us.
While Kight and I played a leadership role in those developments, let me make this clear: a handful, then scores, then hundreds of gay and lesbian people—all voluntarily engaged activists—collectively and constructively made it happen, a record of accomplishment probably unmatched by any other GLF in the country.
In this essay, I will focus on one of those 1970 activities, the GLF Gay Survival Committee and the subsequent Hoover Street Commune because there is a clear path, through thick and thin, from that Committee to the Commune to the October 1971 opening of the Gay Community Services Center in Los Angeles (now called the L.A. LGBT Center), the first and, then as now, the largest in the world. GCSC also seeded what grew into a world class gay community in Los Angeles.
The Gay Survival Committee, the name tells you where gay people were at that time, was created in the Spring of 1970 when I proposed the idea to GLF which approved it unanimously. The Committee's primary purpose was to begin exploring the possibility of offering—out of the GLF office and by referral—services specifically designed for gay and lesbian people suffering from oppression sickness (peer counseling, consciousness raising groups, Vietnam War draft and military resistance counseling, and medical and legal referrals). A Los Angeles Free Press article in August 1970 caught the zeitgeist of that GLF effort.
By the end of 1970, L.A. GLF was beset by a mostly friendly, fundamental debate as to which direction to go in 1971, either in an evolving liberation direction or a more social direction by opening a Gay Coffee House with entertainment. After much internal discussion and to resolve the tension, I made a proposal in December 1970 that the GLF office be closed and that GLF financial resources, totaling about $900, be turned over to the Gay Coffee House project. GLF members agreed.
Early in 1971, a Gay Coffee House was opened by GLF stalwarts John Platania, Jim Kepner, and others in a storefront on Melrose Ave., a site where the Continental Baths subsequently stood (western corner of Melrose and Kenmore). After several months it devolved into a crash pad, could not pay its rent, and closed.
During 1970, my thinking had also evolved considerably from the Gay Survival Committee's idea of providing limited services out of the GLF office to contemplating a more substantial, comprehensive, freestanding operation providing direct services and infused with the radical spirit and methodology of Gay Liberation. Also, during that year, I grew by leaps and bounds, transforming from a somewhat quiet, introverted academic type into an articulate, assertive community organizer because of GLF's one-after-the-other successes.
The more I read, dialogued with others, and self-reflected, it was gradually becoming clearer to me that if we were going to succeed as a liberation movement, it was critical that we enlarge our GLF agenda from merely a reactive strategy of fighting back against hetero supremacy into an enlarged, transforming proactive strategy of building a visible, organized, self-accepting, and defiant gay community where none had ever existed.
This new way of thinking began a first level of envisioning that a gay center might be the vehicle around which such a gay community could coalesce. I did not know exactly how GLF could make that happen. As it turned out, I became the vision carrier for such a project, although at that time I did not know that term nor understand what it meant. I just did what I did from a deep well of caring and intense gay liberation motivation. I did know, however, from my many learning experiences as I matured during my 20s, that the path forward reveals itself as we walk the path not as we think about it or discuss it. And it worked.
[I want to acknowledge the important work done by Rev. Troy Perry, whom I admire, in founding in 1968 in Los Angeles the Metropolitan Community Church
which became an important part of the gay community in L.A. and elsewhere. The roots of MCC were in evangelical Christianity and the Society for Individual Rights, a conservative homophile organization started in 1964 in San Francisco. The roots of the Gay Liberation movement, however, were in the 1969 Stonewall Rebellion.]
On January 1, 1971, a year after opening the GLF office on North Vermont Ave., a contingent from GLF consisting of Randy Schrader, Steve Beckwith, Stan Williams, Rod Gibson and me, members of GLF's Gay Survival Committee, moved into the newly created Hoover Street Commune which became the relocated activist center for Gay Liberation militancy in L.A. Morris Kight and others became an essential part of the organizing activities taking place there.
Thus, began the second phase of the pioneering work of the L.A. Gay Liberation Front.
Hoover Street Commune (1971-1973): GLF Implements a Strategic Plan for a Gay Community Center
One of the important gay historical sites in Los Angeles is located at 1500 North Hoover Street (at Sunset Dr.), right behind the then KCET public television studios (now the Scientology Media Production Studios) on Sunset Blvd. in Silverlake. It was the home of the Hoover Street Commune, which existed from 1971 until 1973—the place from which the building of the gay community center and, by extension, a gay community in Los Angeles emerged.
[Community organizers today have many exquisite organizing tools that we did not have in the 1960s and 1970s; however, missing today is the communal living that focused and magnified our effectiveness. When I dialogue with young activists today, the absence of such an essential tool in their organizing efforts is glaring.]
The house, built as a duplex, had been turned into one large house with five bedrooms, two bathrooms, a small kitchen, a dining room, and a living room. The original communards included very creative Stan Williams, a former Sonja Henie and Ice Capades skater; Steve Beckwith, a suit-and-tie businessman; Randy Schrader, a recent UCLA Law School graduate studying for the California Bar exam; Rod Gibson, a young GLFer; and me. Occupancy was a bit fluid at first, but then stabilized. Gibson soon moved out and was replaced by Ray Powers, a Hollywood actors' agent, and Beckwith and his lover, Van Brown, a student at UC Santa Barbara, needed more privacy and moved elsewhere, replaced by John Platania.
GLF members Llee Heflin, Dexter Price, and Bruce Cristoff lived right next door at 1502 N. Hoover St. In and out on a regular basis were Morris Kight, Tony DeRosa, June Herrle, Howard Fox, David Backstrom, John Coffland, Justin Dangerfield, John Murphy, my beloved Luke Johnson, and many more. The door was always open.
For me, living there was like being in an always-in-session Graduate School for Advanced Gay Studies, intellectually and spiritually stimulating like nothing I had known before. I was being introduced to gay-centered films, books, art and artists, poetry, ideas, music, personages, spiritual lineages, inventive gay Kama Sutra positions, and much more that were all new to me.
Williams had created a large, low dining table and we sat on the floor to eat; once a week each member prepared supper. Virtually every evening there would be eight to ten people sitting around our large communal table for supper—visiting gay liberationists, soon-to-be-famous filmmakers, writers, and poets, grifters, lovers du jour, the Marlboro Man, mystics, future judges—a gay Noah's Ark—engaged in animated and liberating discussions.
Sometimes Lucy would come down from the sky with her diamonds to visit. Williams and Platania would put their long hippie hair up into elegant beehive hairdos to go shopping at the local Safeway grocery store, an aspect of Gay Liberation's political fight against rigid hetero gender norms. GLF called it "Gender Fuck," a militant precursor of "Gender Fluid." Williams created a High Tea which was poured many afternoons at 4 p.m. with rolled joints on a silver platter. Spirited political discussions would go into the night. And so it went.
In this exhilarating and creative gay-centered vortex at the Commune, sight was never lost as to why I was there—transforming the work of GLFs Gay Survival Committee into a gay community center. At both the GLF office and the Commune, the Committee's composition was fluid with people coming and going. However, a more or less stable core group formed over time consisting of Beckwith, Kight, Platania, Williams, Schrader, Herrle, and Howard Fox among others. My role as the Committee's founding chairman was to provide the leadership and glue to hold things together and guarantee there was forward movement by calling and chairing meetings every two weeks, preparing agendas, facilitating discussion, and ensuring continuity and follow through between meetings.
A revolutionary opening of historic proportions was being created by GLF in L.A. and we collectively leapt through that opening with the most serious intentions and joyful exuberance. Among the critically important developments that grew out of the Hoover Street Commune during those years were the following:
Development of Content Architecture of a Gay Community Center: Every two weeks, I called a working meeting of the Committee at the Commune where contours and content of the groundbreaking gay center were collectively discussed and agreed to.
After each meeting, Platania and I would meet for an extra hour writing down what we had heard and agreed to in the meeting. Platania had worked as a grant writer for the City of Los Angeles' Community Development Department and TELACU (The East Los Angeles Community Union). I typed up our writings, and by May 1971, an impressive looking, forty-page, bound proposal emerged from the Committee's collective work that delineated the reasons for such a gay center, described the comprehensive human services to be provided in a community-based context, and laid out a timetable for implementing each component.
That document became an invaluable organizing tool because it clearly described what we planned to do and how we planned to do it. The proposal clearly sent a powerful message that these gay liberationists were very serious about their intentions, with a blueprint and hammer and nails in their hands, and ready to go to work. The name: "Gay Community Services Center." Words never seen before anywhere.
"Gay" because we were totally in your face about who we were, not hiding behind camouflage words as was done prior to Gay Liberation. "Community" because of the core values implied in that word: (1) a community is a unified body whose members assumes responsibility for each other, meaning everyone, and (2) a community was what we were trying to call into being. "Services" because we were planning to deliver services specifically designed to meet the needs of gay, lesbian, and trans people, mending the deep woundings caused by hetero supremacy and invoking the new possibilities of gay empowerment. "Center" because of our intention that it be a center around which a gay community would coalesce.
Creation of a Non-Profit, Tax-Exempt Organization: This idea was particularly advocated for by me and resulted in several people leaving the Committee, feeling that GLF was changing into an establishment organization, which was a foolish thought given how outcast and vilified gay people were at the time. No establishment would touch us, even most so-called homosexuals at that time avoided us and were afraid that GLF's radical ideology and fighting back through direct action would get us all in more trouble.
My position was that we were attempting to create a gay community center and a gay community, both ideas revolutionary developments for our people at that time. GLF was building something that would hopefully outlive all of us and a community called for solid community institutions serving the people.
Moreover, one of the successful tactics of the Gay Liberation movement was keeping the hetero supremacists off balance. They never could conceive of gay and lesbian people developing self-respect after the centuries of violent intimidation and instilling of fear. They never expected the audacity of gay liberationists in L.A. creating a community center and envisioning an actual gay community that was real, substantial, and angry, that fought back and thumbed its nose at their supremacist proclivities and actions.
Beginning in April 1971, attorney Allen Gross and I began the grunt work of incorporating the proposed community center in California. Gross, an important hetero ally and lifelong friend, had founded the Legal Aid program in Oregon and served as legal counsel for L.A. GLF. He would serve for 25 years as legal counsel to the Center. We prepared Articles of Incorporation and By-Laws to submit to the State of California and could not read how the documents would be dealt with by the newly elected California Secretary of State, a young fellow named Jerry Brown. The documents were returned approved in two weeks and Brown became a dependable ally of gay people in California.
The same could not be said for the federal IRS tax exemption process, which routinely should have taken a few months, but in our case took five years. Gross prepared the IRS application with great care and attention to all possible traps that could be used to deny us. Decades later, I was informed privately that the Nixon White House had instructed the Secretary of the Treasury to put our application in his desk drawer and not act on it.
In 1972, I was summoned to Washington, D.C., for a special interrogation by Frank Cerny, head of the exempt branch of IRS, in a bizarre scene that unfolded in a majestic hall that was truly a surreal experience. With Gross on one side of me and attorney Ed Dilkes of L.A. Legal Aid on the other side, and me resembling a hippie Hasidic rabbi, I recited calmly over and over again what Gross had skillfully written in our application—we would serve anyone who asked for our philanthropic services and we would turn no one away, which were the exclusivity grounds on which IRS planned to trap and deny us tax-exemption. In 1976, our relentless perseverance and political pressure finally forced the White House and IRS to approve our tax-exemption application. GCSC was the first openly gay organization to secure IRS non-profit, tax-exempt approval—a singular achievement then.
Opening First Liberation House. By mid-1971, the search began in earnest to find a location to open the Center, but initially nothing suitable could be found. That did not stop us. In August, Platania found a house on North Edgemont Ave. in East Hollywood, just south of Sunset Blvd., where the newly formed Center opened a Liberation House, the first of many in its Liberation House program over the years. Ralph Schaefer, a core GLF member, became its resident manager.
The Edgemont Liberation House provided free housing primarily to young gay men, often runaways who were homeless. From 9 a.m. until 4 p.m. residents were out of the house looking for employment, getting back into school, or whatever. When the residents returned to the house at 4 p.m., under Schaefer's supervision, they collectively made supper for the house.
The key words for living in a Liberation House, as in organizing the Center
itself, were "mutuality" and "cooperation." Evening activities at the Edgemont house included a group discussion led by Schaefer or another GLF member that amounted to a gay consciousness-raising group, something the residents had never experienced before—gay and lesbian people viewed in a positive, constructive light. The residents blossomed. After breakfast in the morning, residents headed out to lean into their goals for the day.
Opening of the L.A. Gay Community Services Center
In September 1971, Platania found a possible site for the Center in an old Queen Anne style home at 1614 Wilshire Blvd. at Union Ave., just east of MacArthur Park. Committee members looked at the house and all agreed—yes, let's do it. I was the full-time+ founding executive director and Kight, Herrle, and Platania became members of the first Board of Directors.
After a bit of cosmetic fix-up, the installation of telephones, and a big sign in front emblazoned with the words "Gay Community Services Center," the year and a half of relentless organizing work by GLF members led to fruition. The story of that Center and the gay community it facilitated in Los Angeles, including the role of the Highland Park Collective, will be told later, but this was how GLF got that far.
To give you an idea how revolutionary this community organizing was in the lives of gay people, after the sign was hung on Wilshire Blvd., a call was received at the Center from an important gay figure telling us, "You must take that sign down immediately! You people are going to get all of us arrested!" Then, most gay people rightfully lived in fear.
The Gaywill Funky Shoppe: The story of the Hoover Street Commune would not be complete without mentioning the Gaywill Funky Shoppe, a thrift store the Center opened in 1972 in Silverlake.
Amazingly, all the organizing and sustaining of the Center was accomplished with little money or no money at all. The organizers were fueled by something much larger than money. What little funds the early Center did operate on came from three primary sources: (1) Friday night Gay Funky Dances in Hollywood, open to all ages, which were started in 1970 by GLF, went on hiatus when the GLF office closed, and were started up again in August 1971 sponsored by the Center. After expenses, the dances generated about $150 a week; (2) donations at the Center raised about $150 weekly; and (3) after expenses, the Gaywill Funky Shoppe brought in about $200 weekly.
Central to the Shoppe was Commune member Stan Williams assisted by young GLF members Dexter Price and Bruce Cristoff. Using a gift possessed by many gay men of being able to transform ordinary junk into objets d'art, the thrift shoppe thrived. It was located at 1531 Griffith Park Blvd., where that street meets Sunset Blvd. in Silverlake, occupied today by the Pine and Crane Restaurant. When Williams left for San Francisco, Ralph Schaefer took over as manager.
One day early in 1973, after not hearing from Schaefer for several days and hearing that the Shoppe seemed closed, Kight and I went to check it out. We found Schaefer dead in the bathroom with a bullet hole in the back of his head. He had been executed. Robbery was not a motive since a visible cash box was untouched. The murder of gay men occurred often then with assailants rarely looked for or apprehended by the LAPD. One less fag was a blessing for hetero supremacists.
The LAPD Rampart Division called Kight and me in for questioning and tried to pin the murder on us, demanding that we take polygraph tests.
We gave the LAPD the middle finger, telling the investigators to arrest us if they wanted to, but we refused to play their disrespectful game regarding someone we valued so dearly, and walked out. The LAPD was not heard from again regarding Schaefer's murder, even after numerous requests for information.
The Gaywill Funky Shoppe was permanently closed immediately as a show of respect for Schaefer.
At the beginning of this article, you were advised to remember that all this GLF organizing was being done under the most difficult community organizing conditions imaginable. Even under those horrendous conditions, however, you can clearly see that something historically significant had occurred in Los Angeles that took place nowhere else in the same way in the lives of gay and lesbian people, facilitated by a vanguard of young gay liberationists.
By October 1971, with the opening of the Gay Community Services Center, with much more revolutionary struggle ahead, a whole new realm of possibilities and ways forward began opening up for gay and lesbian people in Los Angeles. The GLF Gay Survival Committee and Hoover Street Commune had done their early community organizing work impeccably.
A unique revolution in consciousness and liberation unfolded in Los Angeles, radically changing the quality of gay people's lives and welfare, instilling a new, life enhancing identity and birthing an exciting, emerging community where we learned to value and take care of each other. The ripples of that Gay Liberation revolution wash over us still today.
******************************************************************************************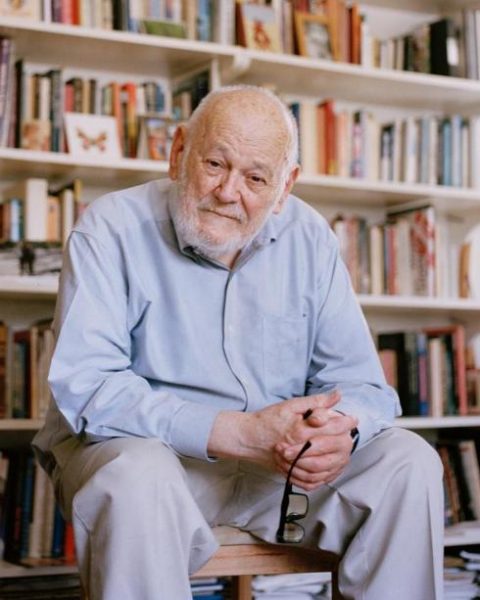 Don Kilhefner, Ph.D., played a pioneering role in the creation of the Gay Liberation movement and is co-founder of the L.A. LGBT Center, Van Ness Recovery House, Radical Faeries, and has been a gay community organizer for 55 years in Los Angeles and nationally. [email protected]