Republican U.S. House leadership was aware of Santos deceptions
Republican awareness of the deceptive résumé of Santos treated it as a "running joke" within the party's congressional leadership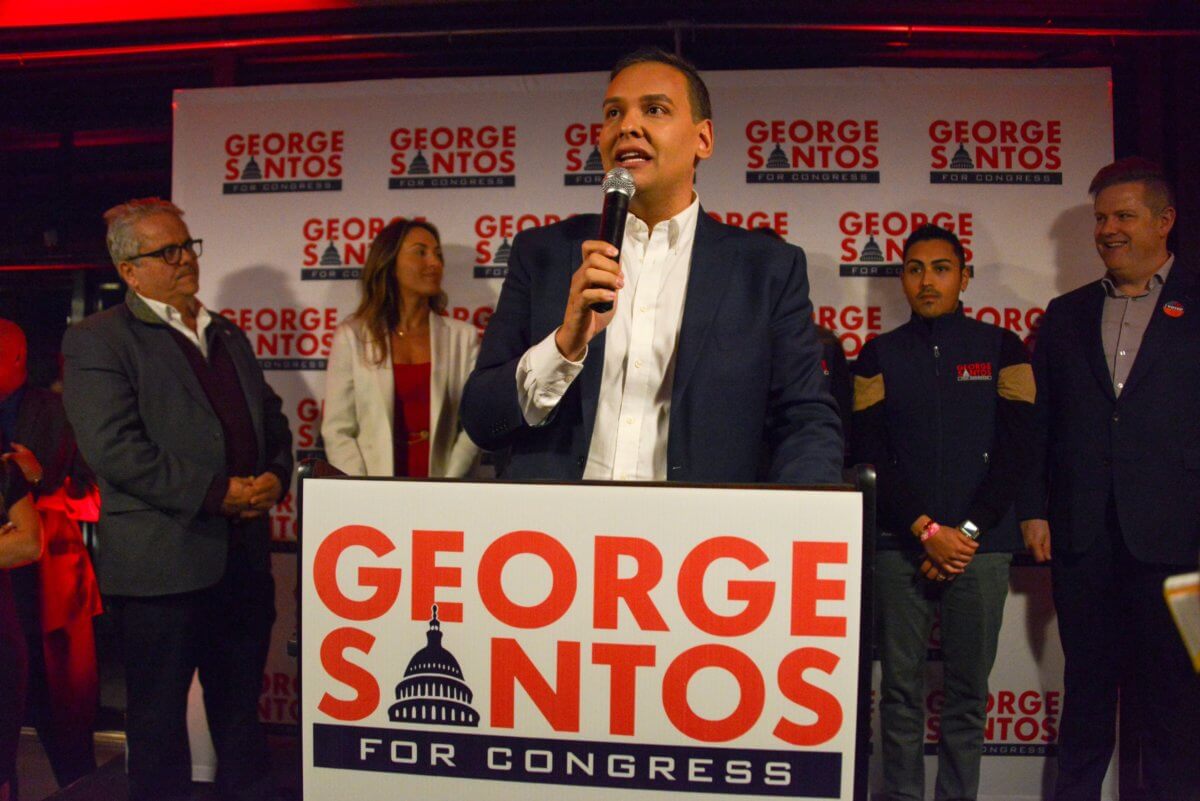 WASHINGTON – In a published account Christmas Eve in the New York Post, and in several phone calls Saturday with the Los Angeles Blade, sources knowledgeable confirmed U.S. House Republican leadership's awareness of the deceptive political and personal résumé of Congressman-elect George Santos (R-NY). Sources also noted that the topic became a "running joke" within the party's congressional leadership.
Santos, who ran as an openly gay candidate in New York's Third Congressional District, beat another openly gay candidate, Robert Zimmerman in a first-of-its kind House race in the Empire State. New York's Third Congressional district encompasses northwestern Suffolk County and northern Nassau County on Long Island and the northeast neighborhoods in Queens.
Santos has been embroiled in a pile-on of negative revelations as journalists continue to dig deeper into his professional and personal biography that he ran on. The controversy escalated after the New York Times published an article accusing Santos of lying about several aspects of his past, including his education and work history.
"As far as questions about George in general, that was always something that was brought up whenever we talked about this race," one senior GOP leadership aide told the New York Post. "It was a running joke at a certain point. This is the second time he's run and these issues we assumed would be worked out by the voters."
"When the story dropped everyone was like well yeah that makes sense. That's all what we kind of thought," the aide added, noting that his financial and biographical details didn't always add up.
A second insider close to GOP leadership called the allegations against Santos "mostly stuff we already knew," adding that "there were questions. Things weren't adding up."
Multiple media outlets started digging into Santos' past
A Daily Beast article released this past Thursday revealed that Queens County, New York court records show that Santos, who has claimed to be openly gay, divorced from a woman named Uadla Santos in 2019.
Queens New York media outlet QNS was able to confirm with the Queens County Court that George and Uadla Santos got divorced in September 2019.
Requests for comment from both George and Uadla Santos have gone unanswered.
Santos had previously stated he had long been confident about his sexuality. In October, he told USA Today that he had not had any issue with his sexual identity over the last decade.
The Long Island Press and New York City-based The Forward, formerly known as The Jewish Daily Forward, reported that in his online biography, Santos claims that his grandparents fled Jewish persecution in Ukraine, and then in Belgium during World War II to avoid the Nazi Holocaust. The Forward investigated these claims and found that Santos' grandparents were born in Brazil and seem to be Catholic.
Nassau County Legislator Joshua A. Lafazan (D – Woodbury Dist.18) from the Nassau County Legislature denounce the alleged falsehoods about Santos' claims of Jewish heritage, labeling the falsified biography as antisemitic to lie about having ancestors who survived the Holocaust.
"After multiple days of continued breaking news regarding Congressman-elect George Santos' fraudulent past, it is now being nationally reported that he lied regarding his grandparents fleeing the Holocaust," Lafazan said. "Exploiting the murder of 6 million Jews to win an election is arguably one of his most egregious acts yet. He must resign his election to the United States Congress immediately."
The office of New York Attorney General Letitia James is looking into issues with the 2022 congressional campaign run by Santos (Ny.), the Washington Blade's White House reporter has learned.
This week's reporting on Santos yielded calls for the Congressman-Elect to be investigated by U.S. Attorney's office in New York, the Federal Election Commission, Congressional House Ethics officials, and other legal actors.
On Thursday, the New York AG's office did not confirm whether it had formally begun an investigation.
Santos, who so far has not responded publicly except through an attorney, tweeted on Thursday that he would "address questions" next week:
"To the people of #NY03 I have my story to tell and it will be told next week. I want to assure everyone that I will address your questions and that I remain committed to deliver the results I campaigned on; Public safety, Inflation, Education & more."
New York Democratic Rep. Alexandria Ocasio-Cortez responded, "Why do you need a full week to confirm if you live where you said you did, worked where you said you did, went to school where you said you did…?"
Joe Murray, Santos's attorney, released a statement on Monday casting blame at The New York Times: "After four years in the public eye, and on the verge of being sworn in as a member of the Republican led 118th Congress, the New York Times launches this shotgun blast of attacks." Murray also defended Santos with a false quote from iconic British Prime Minister Winston Churchill.
Rep. Frost talks gun control on anniversary of March for Our Lives
"10 years ago I became an Organizer because of Sandyhook. 3 years later, I'd become a survivor myself. That same year, Pulse"
Editor's note: The full interview with Congressman Frost will be published next week.
WASHINGTON – U.S. Rep. Maxwell Frost (D-Fla.), after a week of making headlines for his gun violence prevention advocacy, sat down with the Washington Blade for an exclusive interview on Friday, which marks the five-year anniversary of the founding of March for Our Lives.
The 26-year-old freshman Congressman, who before his election was national organizing director for the student-led gun control group, had just introduced his first piece of legislation Tuesday with U.S. Sen. Chris Murphy (D-Conn. that would establish an Office of Gun Violence Prevention within the U.S. Department of Justice.
The proposal's aim, in part, is to better facilitate the implementation of last year's Bipartisan Safer Communities Act by establishing a singular office to coordinate that work.
And on Thursday, Frost captured and tweeted a video of a confrontation between U.S. Capitol Police and Patricia and Manuel Oliver, gun control advocates who lost their son Joaquin in the 2018 Parkland, Florida high school shooting.
Manuel and Patricia Oliver were just kicked out of this committee hearing on gun violence. Patricia said one thing and the chair escalated the entire situation. Then, Police arrested Manuel Oliver who lost his son in the Parkland shooting.

His son was shot to death.

— Maxwell Alejandro Frost (@MaxwellFrostFL) March 23, 2023
Here is @manueloliver00 being arrested for speaking out at a committee hearing. His son, Jaoquin, was shot to death in Parkland, Fl.

MANNY IS A HERO. He didn't deserve this. The Republican Chair of this committee just called him a narcissist. Disgraceful. pic.twitter.com/6jccYvesHb

— Maxwell Alejandro Frost (@MaxwellFrostFL) March 23, 2023
The couple had been removed by police from the House Oversight and House Judiciary Committees' gun rights hearing at the request of GOP Reps. Andy Biggs (Ariz.) and Pat Fallon (Texas).
Frost, who was in attendance, told the Blade the conflict started when Patricia Oliver "just stood up and she said, 'you took my son' and she sat down," but "instead of moving on, the Chair [Fallon] escalated things."
The Congressman said hearing itself was "a sham" convened for the purpose of attacking the Biden administration's Bureau of Alcohol, Tobacco, Firearms and Explosives (ATF), the entity within the U.S. Justice Department that investigates violations of laws governing the manufacture, possession, and use of guns.
"The real story here," said the Congressman, "is the fact that there were two parents who lost their son who was in high school, because he was shot to death and died in a pool of his own blood, and now they're going to spend the rest of their lives fighting for a world where it doesn't happen to anybody else."
Frost noted the Olivers were joined at the hearing by other families, activists, and organizers – all of whom were gathered in Washington, D.C. to advance the mission established by the group of teenaged Parkland survivors who founded March for Our Lives five years ago.
Among these student activists were Cameron Kasky, who identifies as queer, and X González, who is bisexual and uses they/them pronouns.
Frost has repeatedly said he ran for Congress because of his involvement in the gun violence prevention advocacy movement, which began with his volunteering on behalf of the Newtown Action Alliance, a group formed in the wake of the 2012 Sandy Hook Elementary School shooting.
The Congressman told NPR the 2016 shooting at Pulse, the gay nightclub in Orlando "where 49 angels were murdered right here because they're queer" marked one of the most significant moments of his life.
That same year and in that same city, Frost himself survived a gun violence incident.
During his congressional campaign, on the heels of last year's elementary school shooting in Uvalde, Texas, Frost tweeted: "10 years ago I became an Organizer because of Sandyhook. 3 years later, I'd become a survivor myself. That same year, Pulse. Now I'm running for Congress and 15 lives were taken at another Elementary school. I will not stop until the endless shootings do."