Racial & identity profiling of Black teens 6X greater says new report
The predominant police contact is with young Black & Hispanic males, who experience stark differences from White peers in how they're treated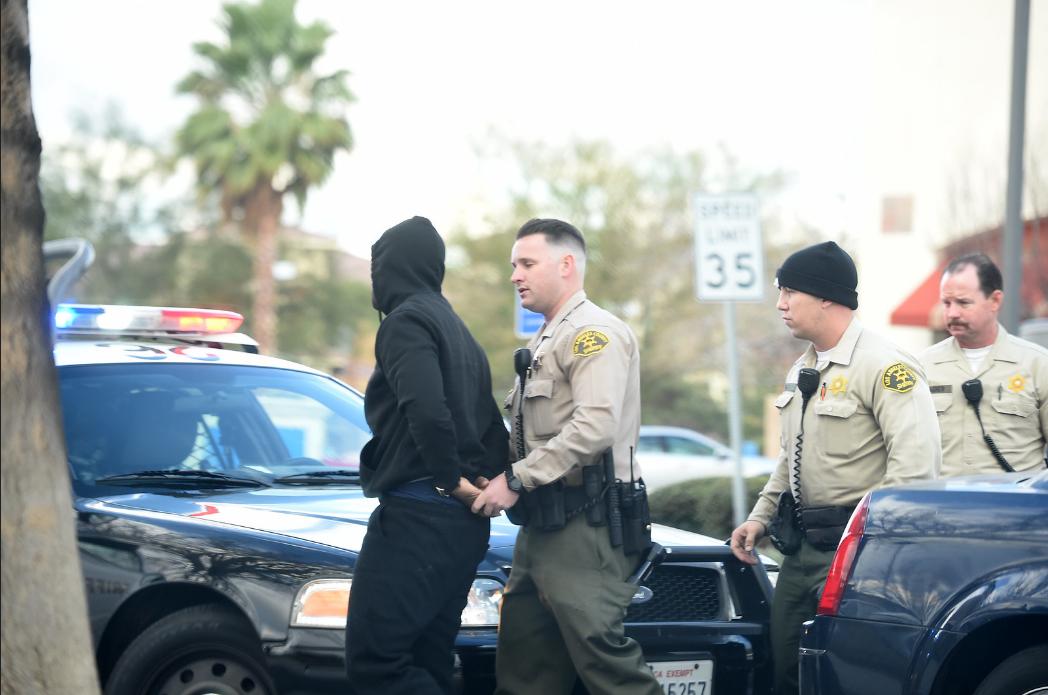 SACRAMENTO – The California Racial and Identity Profiling Advisory Board released its 2023 Annual Report Tuesday, covering a wide range of issues related to racial and identity profiling in policing and recommendations on how to eliminate this unlawful practice.
Over the past four years, the data collected under the Racial and Identity Profiling Act ("RIPA") has provided empirical evidence showing disparities in policing throughout California the report found.
The data reviewed by the board for the calendar year 2021 revealed that statewide, 58 California law enforcement agencies searched teenagers whom officers perceived to be Black at nearly six times the rate of teens believed to be white during vehicle and pedestrian stops.
The 58 agencies — which include the 23 largest departments in the state — collectively made more than 3.1 million vehicle and pedestrian stops in 2021. By April, all of California's more than 500 law enforcement agencies must submit their data.
The data includes how officers perceive an individual's race or gender, even if it's different than how the person identifies, because the officer's perception is what drives bias. The board's work informs agencies, the state's police office training board and state lawmakers as they change policies and seek to decrease racial disparities and bias in policing.
The Report also explores the negative mental health impacts of adverse law enforcement interactions on individuals and communities and contains a new focus on youth interactions with law enforcement both inside and outside of school. Additionally, the report continues to examine the data and research on pretextual stops and consent searches.
Key Findings:
• Agencies reported over 3.1 million stops during the data collection period, with the California Highway Patrol conducting the most stops of any single agency (54.9%).
• Individuals perceived to be Hispanic/Latine(x) (42.4%), White (30.7%), or Black (15.0%) comprised the majority of stopped individuals.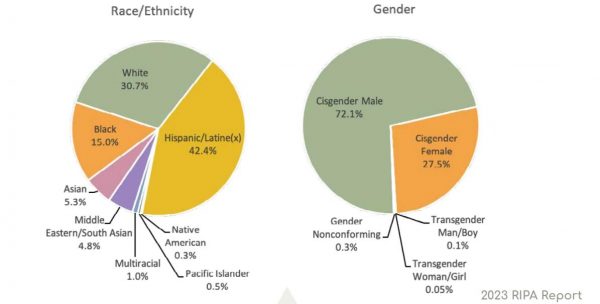 • The majority of stopped individuals were perceived as either (cisgender) male (72.1%) or (cisgender) female (27.5%), together accounting for 99.7 percent of individuals stopped.
• Officers perceived 1.2 percent of the individuals they stopped to have one or more disabilities. Of those perceived to have a disability, the most common disability reported by officers was a mental health condition (75.1%).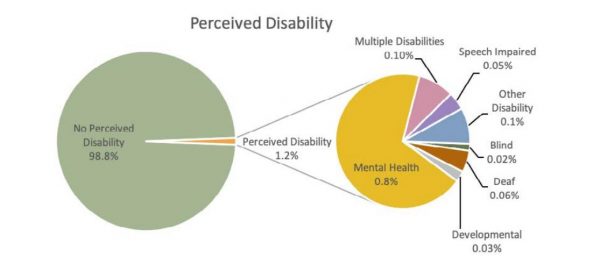 The most commonly reported reason for a stop across all racial/ethnic groups was a traffic violation (86.8%), followed by reasonable suspicion that the individual was engaged in criminal activity (10.5%). Relative to other racial/ethnic groups, Black individuals had the highest proportion of their stops reported as reasonable suspicion (16.2%) and the lowest proportion of their stops reported as traffic violations (80.5%).

• To provide context for the racial distribution of stops by the reporting agencies, the Board
compared the stop data to residential population data from the American Community Survey that was weighted to correspond with the jurisdictions of the reporting agencies. Black and Hispanic/Latine(x) individuals represented a higher proportion of stopped individuals than their relative proportion of the weighted California residential population.
The Associated Press noted:
In more than 42% of the 3.1 million stops by those agencies in 2021, the individual was perceived to be Hispanic or Latino, according to the report. More than 30% were perceived to be white and 15% were believed to be Black.
Statewide, however, 2021 Census estimates say Black or African American people made up only 6.5% of California's population, while white people were about 35%. Hispanic or Latino people made up roughly 40% of the state's population that year.
"The data show that racial and identity disparities persist year after year," the report said. "The Board remains committed to analyzing and highlighting these disparities to compel evidence-driven strategies for reforming policing and eliminating racial and identity profiling in California."
For example: Police handcuffed, searched or detained — either curbside or in a patrol car — individuals whom they believed to be Black youths between 15 and 17 years old during a higher percentage of traffic stops than any other combination of perceived race or ethnicity and age groups.
Law enforcement also searched people who were perceived to be Black at 2.2 times the rate of people thought to be white, the report said. And police were more than twice as likely to use force against people they thought were Black, as compared to people whom officers believed to be white.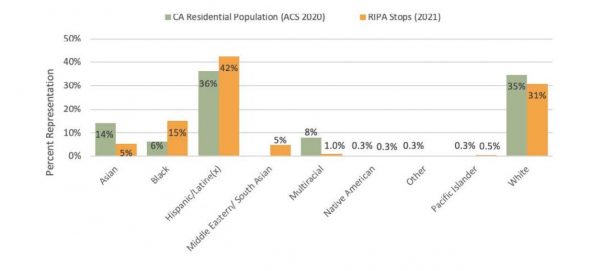 "Based on the research, the Board believes that public health officials and policymakers should treat racial and identity profiling and adverse policing as significant public health issues," according to the report. "It is imperative to recognize that police interactions can negatively affect the mental and physical health of individuals who are Black, Hispanic/Latine(x), Indigenous, and people of color."
Mental Health impact:
The Board examined recent research showing that police interactions can negatively impact the mental and physical health of individuals who are Black, Indigenous, Hispanic/Latine(x) and other people of color. Research shows that the types of contact and frequency of involuntary contacts with law enforcement may have a harmful impact on the individual stopped, triggering stress responses, depressive symptoms, anxiety, and other related negative mental health impacts.
This research suggests that racial and identity profiling goes beyond the criminal legal system and policing; it is also a critical public health issue. Urban policing practices over recent decades has experienced a movement toward a proactive or aggressive policing approach, wherein officers employ active engagement tactics with individuals in "high crime areas" to discover "imminent" criminal activity.
The predominant police contact in large cities is with young Black and Hispanic/Latine(x) males, who experience stark differences from their White peers in how they are treated during law enforcement encounters. The threat or act of calling the police on Black and Hispanic/Latine(x) individuals can expose them to risk of a range of serious, negative psychological effects.
Research shows that bias-based calls to law enforcement – also known as bias by proxy – can be weaponized against innocent people of color as a form of racial intimidation that can cause terror in the victim, given the history of police brutality and use of force against Black, Hispanic/Latine(x), Indigenous, and other people of color.
Read the full report: (Link)
If Temecula school board won't do its job, state will says Newsom
"State will deliver the books — and we'll send the district the bill and fine them for violating state law"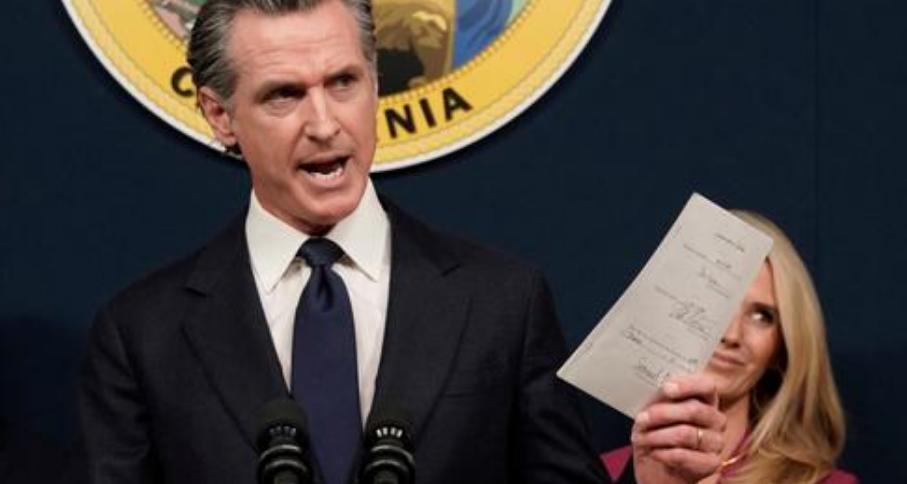 SACRAMENTO – Governor Gavin Newsom, joined by Superintendent of Public Instruction Tony Thurmond, Senate President pro Tempore Toni G. Atkins, Assembly Speaker Robert Rivas, and Assemblymember Dr. Corey Jackson today announced the State of California will begin the process of securing textbooks for students in the Temecula Valley Unified School District and enact legislation to fine school districts for failure to provide adequate instructional materials.
Elementary students in Temecula are slated to begin the school year on August 14, 2023, without enough textbooks for every student because of the school board's decision to reject a widely used social studies curriculum. 
"Cancel culture has gone too far in Temecula: radicalized zealots on the school board rejected a textbook used by hundreds of thousands of students and now children will begin the school year without the tools they need to learn," said Newsom. "If the school board won't do its job by its next board meeting to ensure kids start the school year with basic materials, the state will deliver the book into the hands of children and their parents — and we'll send the district the bill and fine them for violating state law." 
"I am glad to join in this action with Governor Newsom today and thank him for his leadership in calling for Temecula's school board to reverse course to prevent further harm to students," said State Superintendent Thurmond. "Inclusive education promotes the academic achievement and social development of our students.  School Districts should not ban books in California, especially as it harms students of color and LGBTQ+ youth.  AB1078 lays out the structure for today's action and I am proud to have sponsored this bill to protect our students from the harmful effects of book banning, exclusion of inclusive textbooks and discrimination." 
"Censoring learning materials based on bigotry and ignorance prevents our students from getting a good education," said Senate President pro Tempore Toni G. Atkins (D-San Diego). "Culture war extremism doesn't belong in the debate of how to teach our children and school districts should always put students first. That's why I'm pleased the Governor is stepping in to make sure the children in Temecula have textbooks to start the year, and I look forward to working with the Governor and the assembly on a clear legislative solution. We have a duty to help eliminate ignorance in all its forms."
"The antics of the Temecula Valley Unified School District are intolerable and damaging to its students' opportunities to grow, prosper, and succeed," said Assembly Speaker Robert Rivas. "Book bans betray the most basic of California's core values. I hope the members of the school board are able to reflect on their decisions and come to make better decisions for our children's futures."
"Book banning is not acceptable and will not stand in California," said Assemblymember Dr. Corey Jackson. "It is my honor to have the Governor's support of Assembly Bill 1078. This sends a clear message that such actions will not be tolerated. We stand united in our commitment to protect our students' access to diverse educational materials and ensure an inclusive educational environment. We will not go backward. We will meet this historical moment."
Temecula Valley Unified School District's current curriculum is outdated and in violation of state law. Students in the district are forced to use a textbook published in 2006. In the process of acquiring updated textbooks for students in grades one through five on May 16, 2023, school board President Joseph Komrosky asserted false claims about the instructional materials. The board voted by a 3-2 majority to reject the adoption of the new social studies curriculum that was recommended by teachers representing every elementary school in the district and overwhelmingly supported by parents and community members. The textbook, one of four standard programs approved by the state, is routinely and widely used across hundreds of school districts in California.
Following the school board's decision, Governor Newsom and state leaders wrote a letter to school districts statewide highlighting the legal obligations of districts and joined California Attorney General Rob Bonta in demanding information and answers from the board. The administration also began working with the Legislature and Superintendent Thurmond to advance AB 1078 (Jackson) to strengthen state law to ensure students in California have access to adequate instructional materials. Among other provisions, AB 1078 would:
Require a two-thirds supermajority vote for a school board to remove instructional materials or curriculum;
Establish a process for the California State Department of Education to purchase adequate standards-aligned instructional materials for a district, if the district has failed to provide them for students; and
Institute a funding penalty for school districts that do not sufficiently provide standards-aligned instructional materials.
California provides instruction and support services to roughly 5.9 million students in grades transitional kindergarten through twelve in more than 1,000 districts and over 10,000 schools throughout the state. Under Governor Newsom's leadership, education funding is at a record high in California, totaling $129.2 billion in the 2023-24 budget.
Governor Newsom released a video to Temecula parents that can be viewed here. 
Temecula's school board rejected a textbook used by thousands of students & now kids will begin the school year without the tools they need.

If the school board won't do its job, we'll get the book to kids & parents – then bill the district & fine them for violating state law. pic.twitter.com/gpN1TT7AVp

— Office of the Governor of California (@CAgovernor) July 13, 2023
Related: