Trans journalist who enlisted in Ukrainian military wounded
Shrapnel from a Russian artillery shell struck Sarah Ashton-Cirillo on Thursday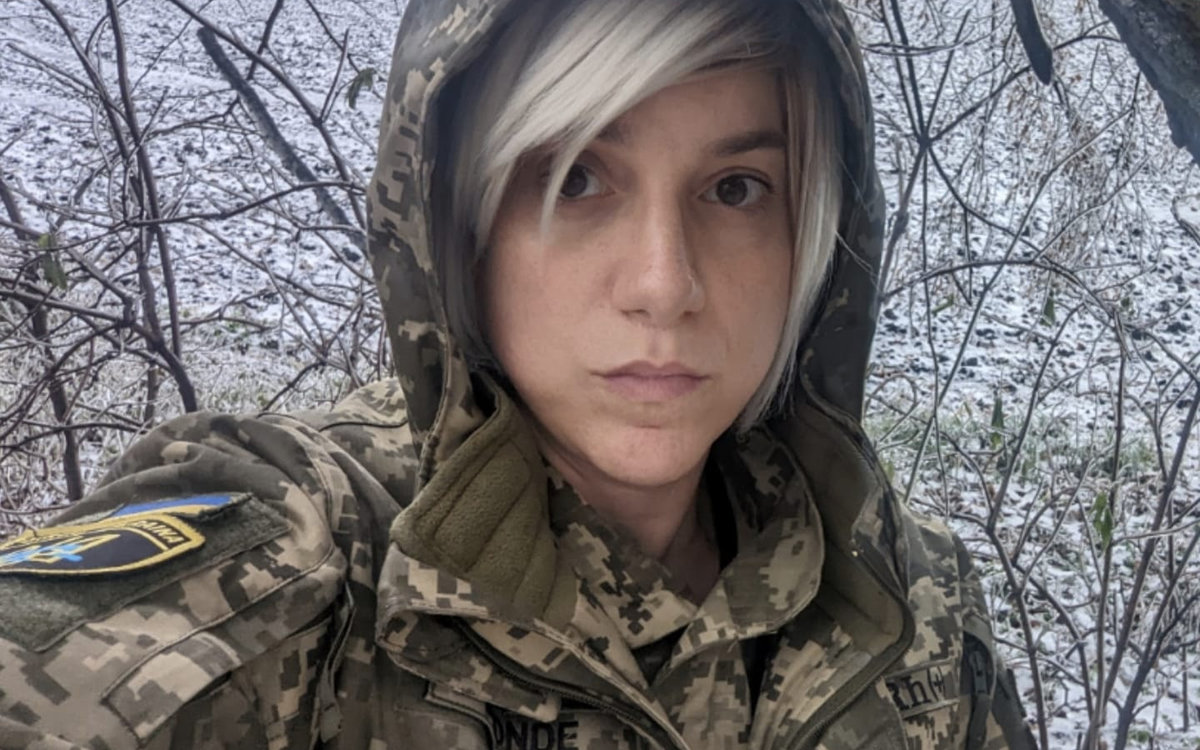 EASTERN UKRAINE — Shrapnel from a Russian artillery shell on Thursday wounded a Transgender woman from Las Vegas who is serving in the Ukrainian military.
Sarah Ashton-Cirillo told the Washington Blade that part of the artillery shell hit her in the head and right hand while her unit, the 209th Battalion of the 113th Brigade in the Donbas, was on the frontlines in eastern Ukraine's Donbas region.
"I was hit this morning," she wrote in a tweet. "My injuries are permanent. I've lost part of my hand and have scarring on my face."
A video that Ashton-Cirillo posted to Twitter shows a fellow soldier bandaging her hand.
Explosions can be heard in the distance as Ashton-Cirillo speaks.
"They can't kill us. They can't hurt us. Victory is ours. It doesn't fucking matter. Why? Because we're Ukraine," she said. "Ultimately Putin is going to be the one dead … and this is the small price for liberation and freedom. Slava Ukraini! (Glory to Ukraine!)"
I was hit this morning.

My injuries are permanent.

I've lost part of my hand and have scarring on my face.

We won the battle, though.

And here was my message in the immediate aftermath. pic.twitter.com/2mXFTQ3Cak

— Sarah Ashton-Cirillo (@SarahAshtonLV) February 23, 2023
Friday marks a year since Russia launched its war against Ukraine.
Ashton-Cirillo enlisted in the Ukrainian military after she covered it.
"I want to serve this fight for freedom, this fight for liberty, this fight for all of us," she told the Blade last December while she was in D.C. to speak with lawmakers on behalf of the Ukrainian Defense Ministry about continued support for Ukraine.
Ashton-Cirillo on Wednesday sent the Blade pictures of her "from the trenches" where she and her unit are fighting. Ashton-Cirillo said "this act of war by Putin has set in motion a timely and irreversible civil rights movement in Ukraine, one that has been extraordinarily beneficial to the LGBTQ community."
"From hundreds of openly queer men and women serving in the Armed Forces of Ukraine to President Zelenskyy's positive statement about civil partnerships and human rights as applied to the community, what Putin has done has allowed freedom to bloom in Ukraine."
LGBTQ+ activists in Ukraine remain defiant
Friday marks a year since Russia launched its war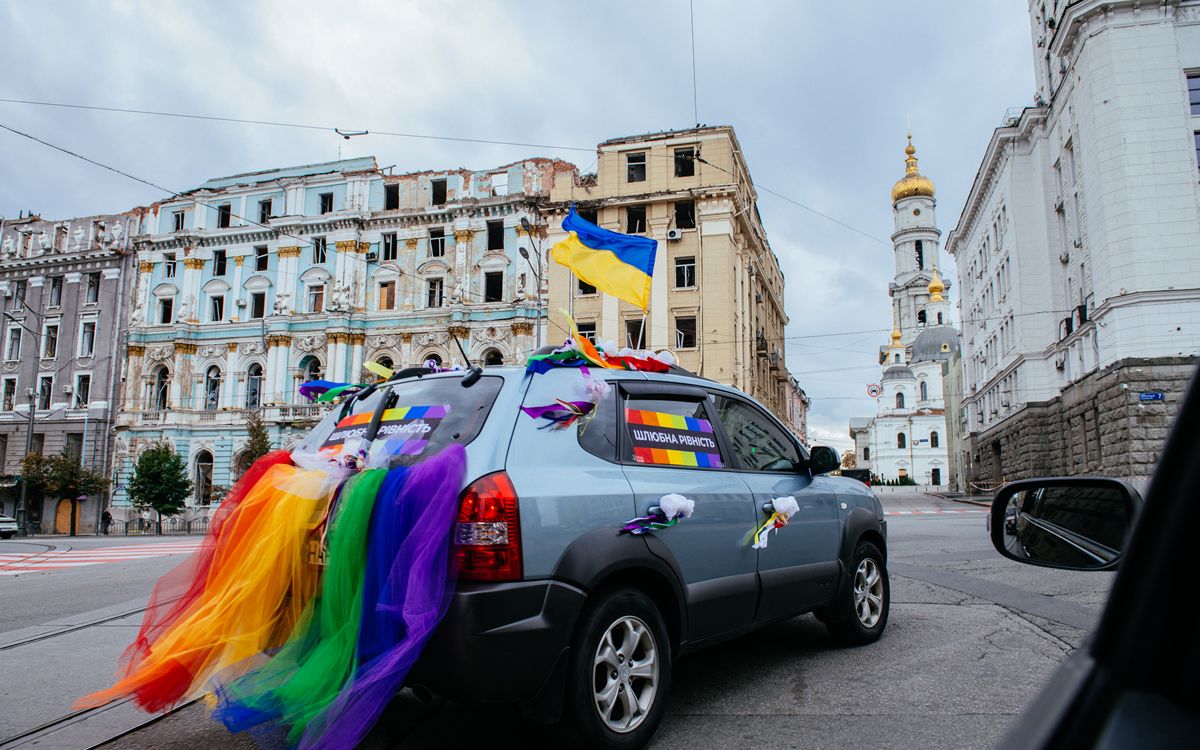 KHARKIV, Ukraine — Anna Sharyhina, co-founder of the Sphere Women's Association, a group that promotes LGBTQ+ and intersex rights in Ukraine, on Sept. 25, 2022, led a Pride march in a subway station in Kharkiv, the country's second-largest city that is less than 30 miles from the Russian border in eastern Ukraine.
Kharkiv Pride took place during the Ukrainian military's counteroffensive against Russian troops in Kharkiv Oblast. Sphere Fundraising Manager Ruslana Hnatchenko on Tuesday told the Washington Blade during a Zoom interview the subway was the only safe place for the event to happen, but she said it was "very important for us to have it in Ukraine and have it in Kharkiv."
"Kharkiv carries a significance of being at the frontline and it is so close to Russia," said Hnatchenko. "It was great to have it there."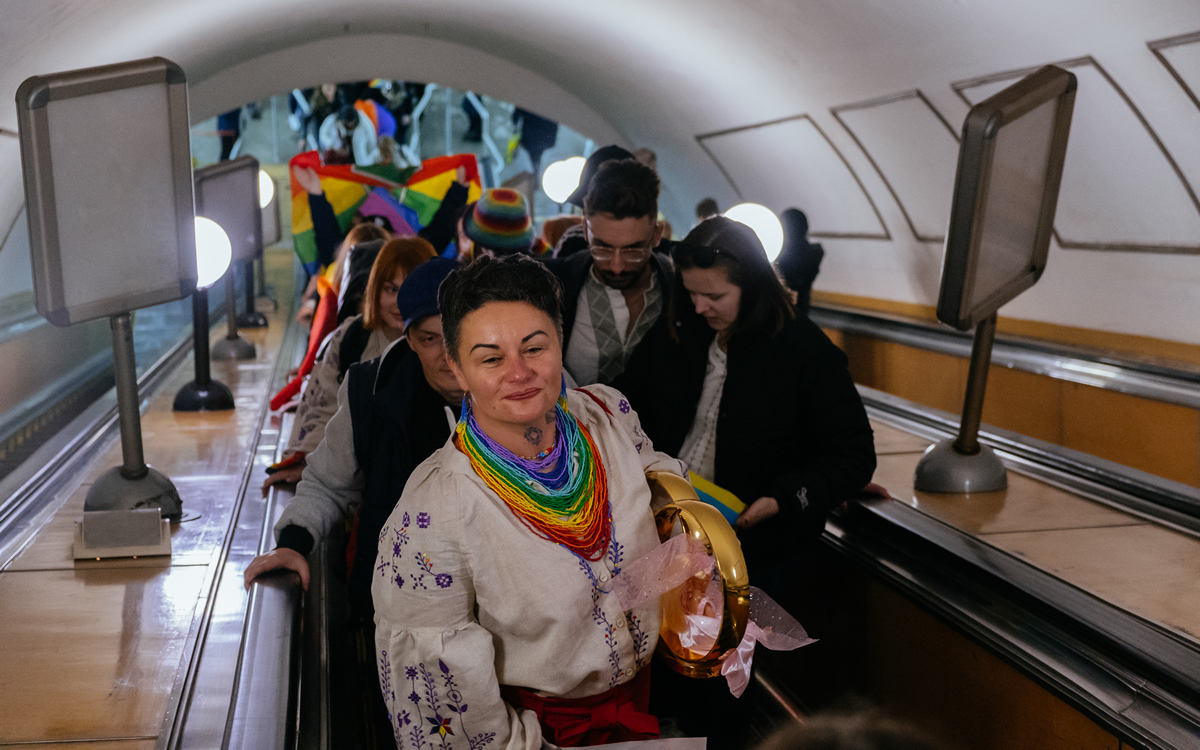 Friday marks one year since Russia launched its war against Ukraine.
Dmitry Shapoval, a gay man with HIV from Kyiv, the Ukrainian capital, and Anastasiia Baraniuk and her partner, Yulia Mulyukina, who were living together from Dniptro, a city on the Dnieper River in central Ukraine, are among the millions of people who have left Ukraine over the last year.
Hnatchenko was in Budapest, Hungary, studying for her master's degree when the war began, and she spoke with the Blade from there. She visited her family over the Christmas holidays, but they met in Lviv, a city in western Ukraine that is close to the country's border with Poland, because it was safer than Kharkiv.
"It was unsafe for me to come to Kharkiv," said Hnatchenko. "It would be better for everyone to meet in the west."
A Russian airstrike on March 1, 2022, killed Elvira Schemur, a 21-year-old law school student who was a volunteer for Kharkiv Pride and Kyiv Pride. Schemur was volunteering inside Kharkiv's regional administration building when she was killed.
Hnatchenko said activists in Kherson, a city that Ukrainian forces liberated last November, told her Russian soldiers "were aware of where people from vulnerable groups (LGBTQ+ and intersex people and Roma people) lived." Hnatchenko told the Blade people who identified as LGBTQ+, intersex or nonbinary did not go outside during the occupation because they were afraid of being forcibly conscripted, attacked or sexually assaulted.
"A lot of LGBT people just tried not to go outside … and obviously not to expose anything about their identity," she said.
Hnatchenko also told the Blade women and girls in Kherson tried to dress in a "non-attractive way" in order "to make themselves look ugly, so the troops would take less interest in them."
'We help our soldiers'
Activists and advocacy groups remain defiant. They also continue to support LGBTQ+ and intersex Ukrainians who remain inside the country and servicemembers.
Hnatchenko said Sphere has provided humanitarian assistance and psychological support to more than 1,500 people.
Outright International, RFSL (the Swedish Federation for Lesbian, Gay, Bisexual, Transgender, Queer and Intersex Rights), Hivos and private donors inside Ukraine and elsewhere have donated funds that have allowed Sphere to purchase generators, clothes and blankets that it has distributed to Kharkiv's LGBTQ+ and intersex residents during blackouts that Russia's attacks against Ukrainian infrastructure have caused.
The U.S. Agency for International Development and the President's Emergency Plan for AIDS Relief over the last year have delivered millions of doses of antiretroviral drugs for Ukrainians with HIV/AIDS. Then-Kyiv Pride Executive Director Lenny Emson last month during a photo exhibit at Ukraine House in D.C. that highlighted Ukrainian LGBTQ+ and intersex servicemembers noted the organization continues to purchase basic supplies for them.
"We buy shoes. We buy underwear. We buy socks. We buy heaters," said Emson. "We help our soldiers."
Ukrainian President Volodymyr Zelenskyy over the last year has indicated his support of LGBTQ+ and intersex rights.
Zelenskyy last summer said he supports a civil partnerships law for same-sex couples.
Ukrainian lawmakers late last year unanimously approved a media regulation bill that will ban hate speech and incitement based on sexual orientation and gender identity. The measure passed days before Zelenskyy, a former actor and comedian, met with President Joe Biden at the White House and addressed Congress.
Zelenskyy last month made a broad reference to LGBTQ+ and intersex rights in a virtual Golden Globes appearance. Ukrainian Ambassador to the U.S. Oksana Markarova during the Jan. 26 event in D.C. applauded Kyiv Pride and other LGBTQ+ and intersex rights groups in her country.
"Thank you for everything you do in Kyiv, and thank you for everything that you do in order to fight the discrimination that still is somewhere in Ukraine," said Markarova. "Not everything is perfect yet, but you know, I think we are moving in the right direction. And we together will not only fight the external enemy, but also will see equality."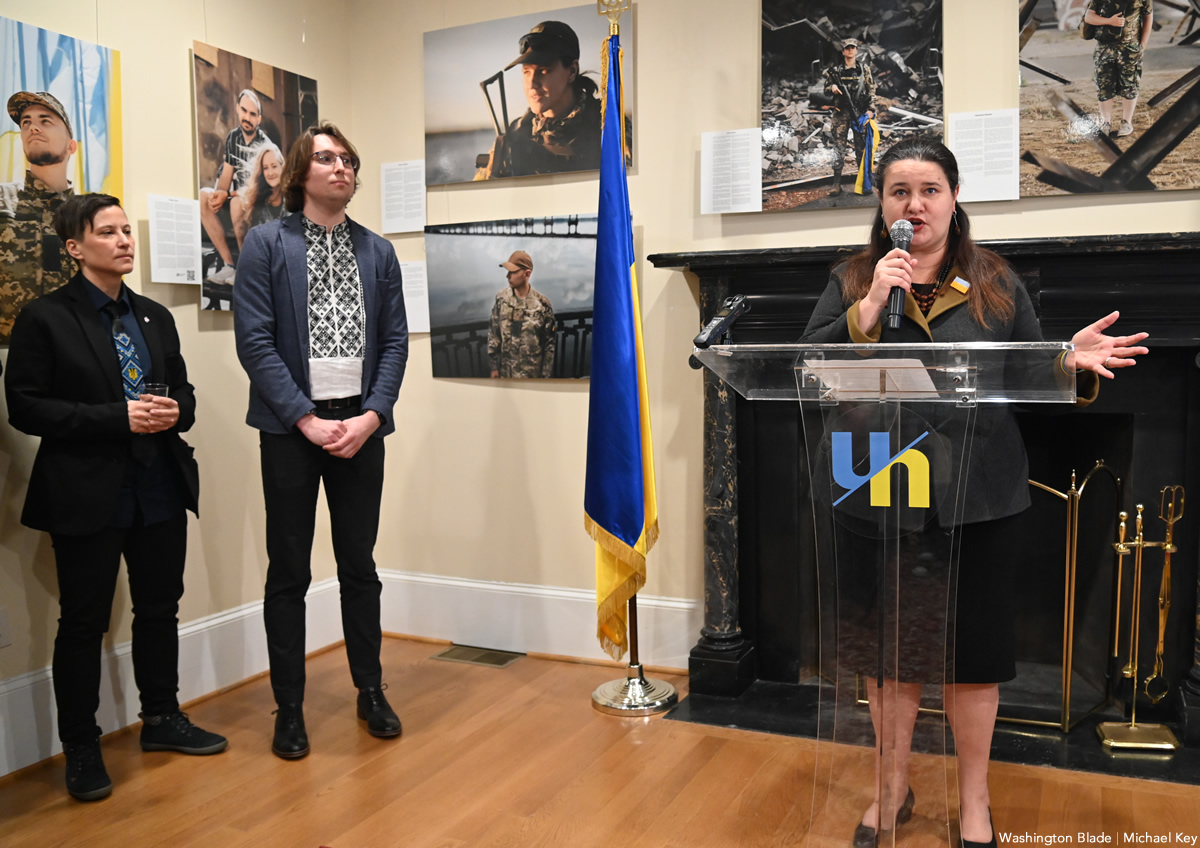 Biden on Feb. 20 met with Zelenskyy in Kyiv.
Hnatchenko told the Blade she thinks Zelenskyy "does believe in human rights."
"Maybe he's not a full-blown ally, yet, but I think he believes in human rights," she said, while noting she was sharing her personal thoughts about Zelenskyy. "He's not only doing that because of the pressure from partners, but there's pressure from within Ukraine to not do that."
Hnatchenko further acknowledged conservative politicians, prominent figures within the Ukrainian and Russian Orthodox Churches and many Ukrainians themselves remain opposed to LGBTQ+ and intersex rights.
"He (Zelenskyy) is kind of between a rock and a hard place in that sense, but I believe that human rights in Ukraine will overcome, especially after our victory," said Hnatchenko. "We will make progress."
Helen Globa, co-founder of Tergo, a support group for parents and friends of LGBTQ+ and intersex Ukrainians, on March 2, 2022, left her apartment in the Kyiv suburb of Bucha. She lived in New York with her son, Bogdan Globa, and his husband until she returned to Ukraine last August.
Helen Globa, like Hnatchenko, acknowledged many Ukrainians remain opposed to LGBTQ+ and intersex rights, but she said Zelenskyy's support of civil unions for same-sex couples and LGBTQ+ and intersex Ukrainians in the country's armed forces are two tangible results of activists' work in the country. Helen Globa also said one of the reasons she decided to return to Ukraine was to continue her support of these efforts.
"I love Ukraine and my life, my activities," she told the Blade on Wednesday. "I do believe in our victory and further opportunities to finish my LGBTQ human rights activities by pushing our government to adopt same-sex partnership and marriages."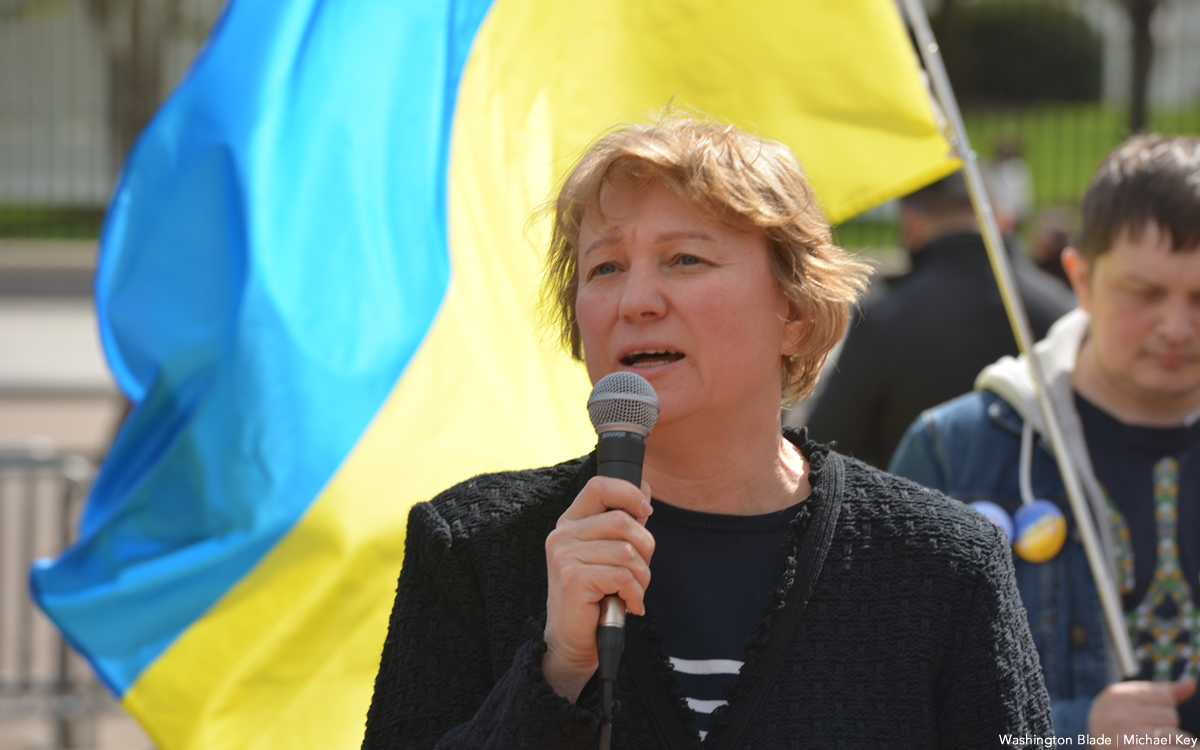 Sarah Ashton-Cirillo, a Transgender woman from Las Vegas who enlisted in the Ukrainian military after she covered the war, echoed Helen Globa.
"This act of war by Putin has set in motion a timely and irreversible civil rights movement in Ukraine, one that has been extraordinarily beneficial to the LGBTQ community," Ashton-Cirillo told the Blade on Tuesday from the frontlines where she is fighting with the 209th Battalion of the 113th Brigade in the Donbas. "From hundreds of openly queer men and women serving in the Armed Forces of Ukraine to President Zelenskyy's positive statement about civil partnerships and human rights as applied to the community, what Putin has done has allowed freedom to bloom in Ukraine."