Proud Boys skip planned Drag Story Hour protest in D.C.
"We've been doing the Story Hour for six months," said Shane Mayson, owner and operator of Crazy Aunt Hellen's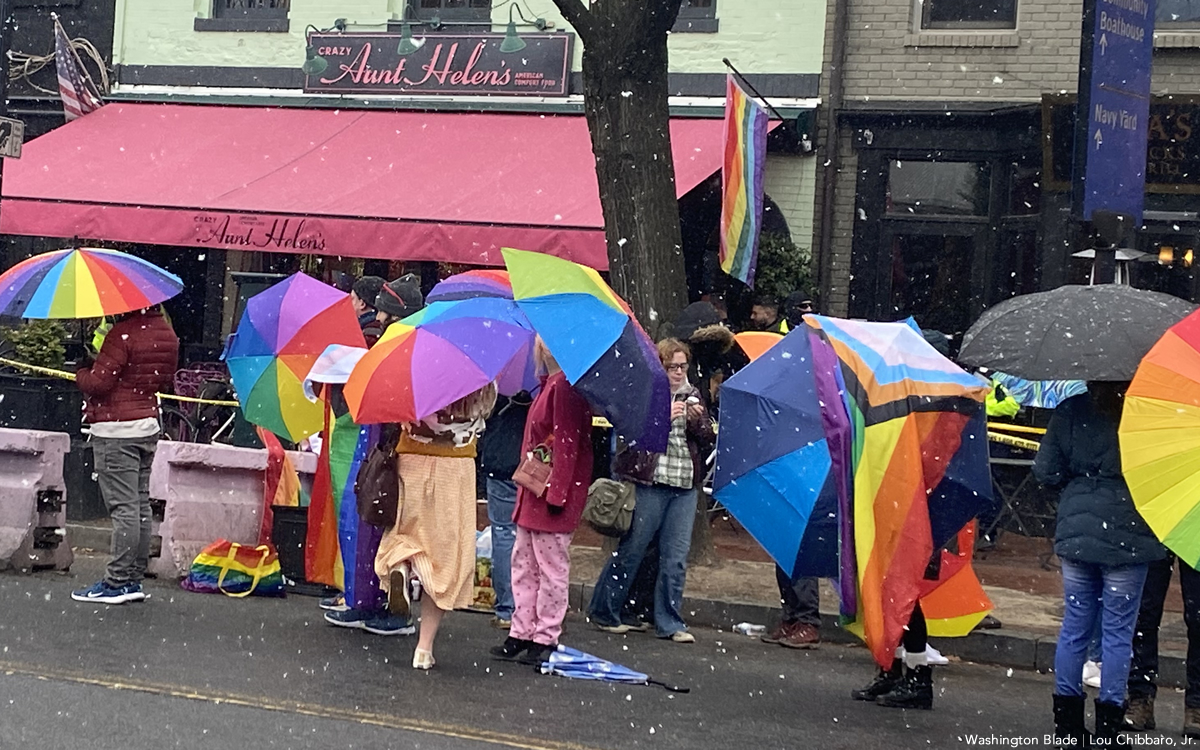 WASHINGTON – Dozens of supporters turned out Saturday morning outside the Crazy Aunt Hellen's restaurant on 8th Street, S.E., in the Barracks Row section of Capitol Hill in anticipation of a planned protest by the far-right group Proud Boys against a reading of children's stories by D.C. drag performer Tara Hoot to children and their parents at the restaurant.
But D.C. police, who closed the one-block section of 8th Street in anticipation of the protest, said the Proud Boys never showed up, and the street closing evolved into a makeshift block party celebrating an event known as a Drag Story Hour.
The Barracks Row Drag Story Hour event took place one week after a similar event at the Loyalty Bookstore in Silver Spring, Md., became the target of a protest by Proud Boys members. 
Silver Spring police said they dispersed the Proud Boys members and supporters of the Drag Story Hour event after the two groups shouted at each other and reports surfaced that at least one Proud Boys member assaulted one of the supporters. No arrests were made, and no injuries were reported, the police said.
"We've been doing the Story Hour for six months," said Shane Mayson, owner and operator of Crazy Aunt Hellen's, which is located at 713 8th St., S.E., across the street from the U.S. Marine Barracks.
Mayson told the Washington Blade an organization called the Parasol Patrol, which provides support for Drag Story Hour events across the country and which attended the Silver Spring event, informed him that Proud Boys had placed his restaurant on a protest list that called on opponents of the Drag Story Hour events to show up at the event, which began 10 a.m. Saturday.
He then contacted the D.C. police LGBTQ Liaison Unit, which immediately arranged for the police presence at the time of the event, Mayson said. Among those who came to the location were members of the police LGBT Liaison Unit along with a contingent of 20 or more police officers led by Assistant D.C. Police Chief Jeff Carrol.
"Overall, I think everything went well," Carrol told the Blade. "The business was able to have their story time, and everyone was able to come out here and peacefully support the business," Carrol said. "And we didn't have any incidents. So, I think overall everything went very well."
Mayson said the children and their parents, who turned out in sizable numbers for the event, enjoyed the story readings by drag performer Hoot.
"It was fabulously fun and gorgeous and filled with fun and love," Hoot told the Blade after the event. "And having all these supporters out here means the world to me," Hoot said. "I was saying to other people that I wish LGBTQIA people across the country were feeling this love and support.
Hoot was referring to the protests against drag shows in general and against Drag Story Hour events that have taken place in recent months across the country, including some protests led by the Proud Boys group.
Asked if she had any message for the Proud Boys and others who have attempted to disrupt the Drag Story Hour events, Hoot said, "At the end of the day love is going to win. And the joy, that's what I focus on at all my events,"
Among those standing outside the restaurant as Hoot finished reading stories to the children and parents inside was Salah Czapary, the recently appointed director of the Mayor's Office of Nightlife and Culture. Czapary, who ran unsuccessfully last year as an openly gay candidate for the Ward 1 D.C. Council seat, said he turned out for the event to show support from the city.
"Any time our community and our constituent who is a business owner here and members of the LGBTQ community ask for government support, we're out here," he said. "So, we're happy to see a robust security presence and an even more robust community presence," he told the Blade. "And we're here just to assure people that we're here to support the community and to have a good time at this drag story time."
Hundreds of thousands attend pro-Israel rally in Washington
A Wider Bridge members among participants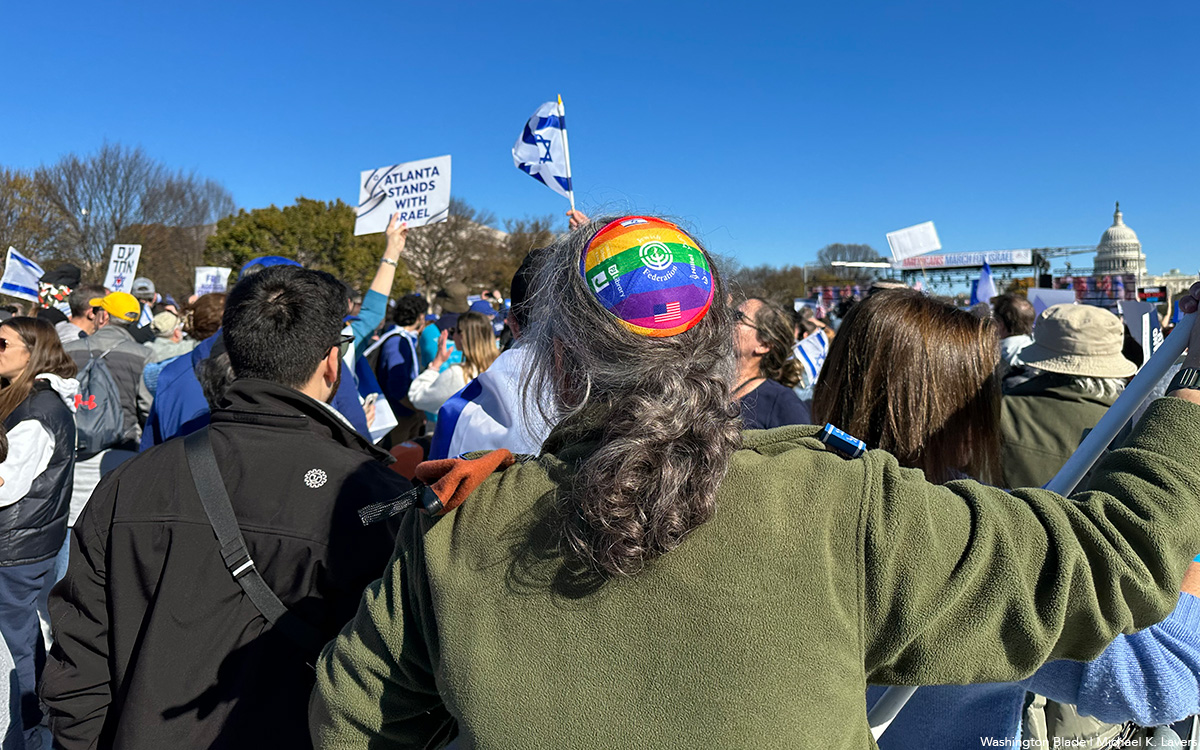 WASHINGTON — Organizers of a pro-Israel rally that took place on the National Mall on Tuesday said upwards of 290,000 people attended.
House Majority Leader Mike Johnson (R-La.); Senate Majority Leader Chuck Schumer (D-N.Y.); House Minority Leader Hakeem Jeffries (D-N.Y.); U.S. Sen. Joni Ernst (R-Iowa); U.S. Rep. Ritchie Torres (D-N.Y.), Deborah Lipstadt, the special U.S. envoy to monitor and combat antisemitism, actress Debra Messing, CNN's Van Jones, Israeli singer Omer Adam and relatives of some of the Israelis who militants from Hamas and other Muslim extremist groups kidnapped on Oct. 7 are among those who spoke at the March for Israel.
"Oct. 7 was a crime against the Jewish state, indeed against humanity, so barbaric that it cannot be ignored," said Torres. "It cannot go unpunished. Hamas must be brought to justice."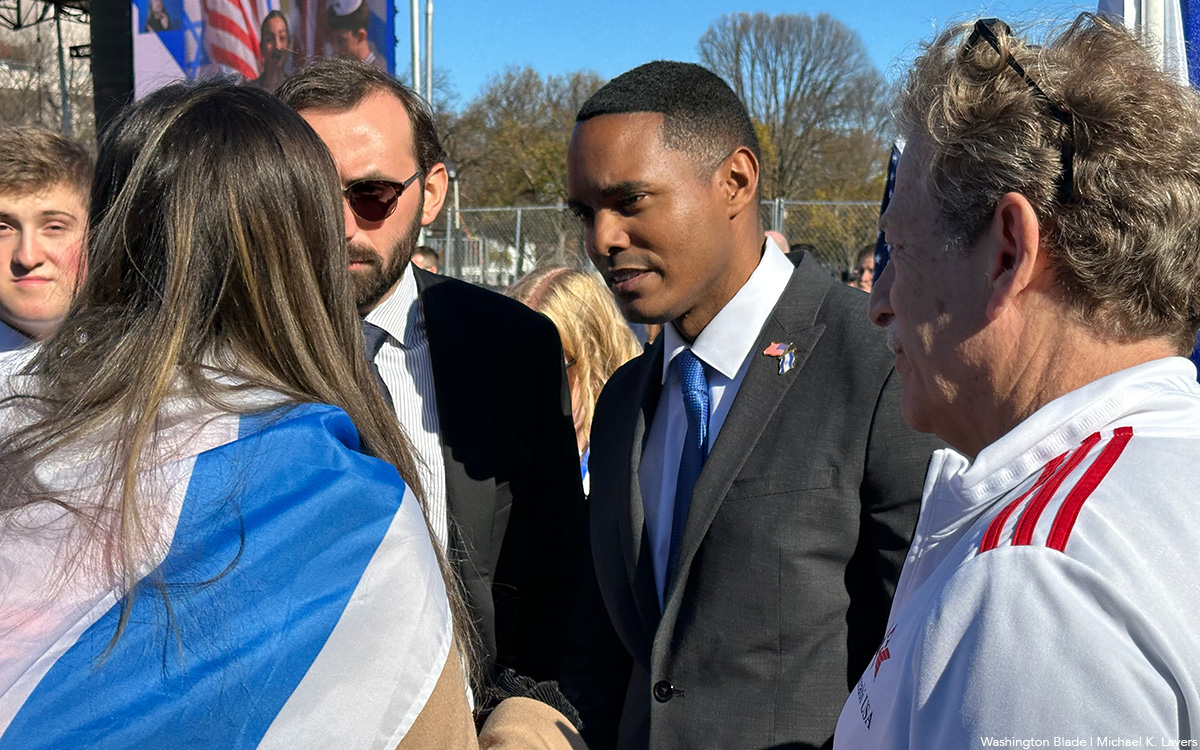 Israeli President Isaac Herzog spoke virtually from Jerusalem.
U.S. Sens. John Fetterman (D-Pa.), Bob Casey (D-Pa.) and Richard Blumenthal (D-Conn.) and U.S. Reps. Grace Meng (D-N.Y.), Ruben Gallego (D-Ariz.), Eric Sorensen (D-Ill.), Steny Hoyer, Norma Torres (D-Calif.), Jerrold Nadler (D-N.Y.), Debbie Wasserman Schultz (D-Fla.), Jim Hines (D-Conn.), Maryland state Rep. Joe Vogel (D-Montgomery County), former Arizona state Rep. Daniel Hernández, Rabbi Jake Singer-Beilin of Congregation Bet Mishpachah in D.C. and A Wider Bridge Executive Director Ethan Felson also attended the march that the Jewish Federations of North America organized.
"Today, the LGBTQ community marched with Israel in Washington, D.C.," said A Wider Bridge on its Facebook page.
Matt Adler, a Jewish Israeli American, attended the rally with A Wider Bridge. He was holding a sign with the slogans "we are one family" and a "special thank you to our brave Israeli Druze and Arab soldiers" written in English, Hebrew and Arabic when he spoke with the Washington Blade.
"It's really important to show that Hamas is bad for all peoples: Palestinian and Israeli," said Adler. "As an LGBTQ community member, I think it's important to stand on the side of peace for all, and Israel represents that peace for me."
The rally took place roughly five weeks after Hamas, which the U.S. and Israel have designated a terrorist organization, launched a surprise attack against communities in southern Israel from the Gaza Strip.
The Israeli government has said roughly 1,200 people have been killed, including at least 260 people who Hamas militants murdered at an all-night music festival in a kibbutz near the border between Israel and Gaza. The Israeli government also says more than 5,000 people have been injured in the country since the war began and Hamas militants kidnapped more than 200 others.
Hamas rockets have reached Tel Aviv, Jerusalem, Ben Gurion Airport and other locations in central and southern Israel. Israeli Defense Forces and Hezbollah, another militant group, have exchanged fire across the Israel-Lebanon border.
The Hamas-controlled Gaza Health Ministry says more than 11,000 people have died in the enclave since the war began.
The Israeli government has cut electricity and water to Gaza and has stopped food and fuel shipments.
The IDF on Tuesday entered Shifa Hospital in Gaza City. Israel has said it has "concrete evidence" that Hamas has operated out of the facility that is the enclave's largest hospital.
Pictures of IDF soldiers holding Pride flags inside Gaza circulated on social media on Sunday. Helem, an LGBTQ+ rights group in Lebanon, condemned them."Love doesn't manifest through genocide, occupation, colonization, killing, bombing and detention," said the organization in a post on its X account. "Not in our name!
Love doesn't manifest through genocide, occupation, colonization, killing, bombing and detention.

Not in our name! 🏳️‍🌈

الحب لا يترجم بالإبادة الجماعية والاحتلال والاستعمار والقتل والقصف والاعتقال.

ليس باسمنا! 🏳️‍🌈 https://t.co/3BCCcOFZDv

— Helem (@HelemLebanon) November 13, 2023
Tens of thousands of people took part in a pro-Palestine rally in D.C. on Nov. 4.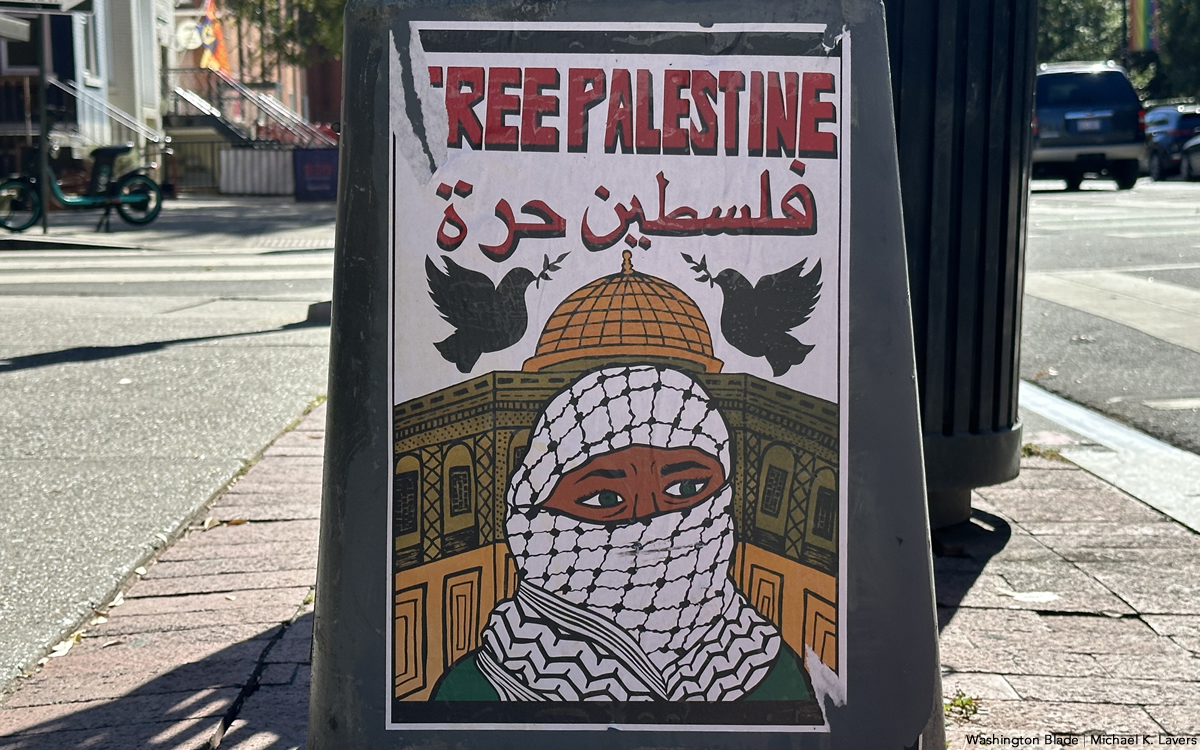 Israeli Prime Minister Benjamin Netanyahu has rejected growing calls for a ceasefire in Gaza. The Biden-Harris administration, meanwhile, has sought to address incidents of antisemitism and Islamophobia that have increased since Oct. 7.
"We need to hear more American voices, especially from the progressive left that I am a part of, speaking out for human rights for Jewish people in addition to all peoples in the region," Adler told the Blade. "We all deserve safety and security."