ACT UP/LA's Mary Lucey & Nancy MacNeil's legacy of compassion
Mary and Nancy used their "outside" activism to impact "inside" policy- the devoted couple died hours apart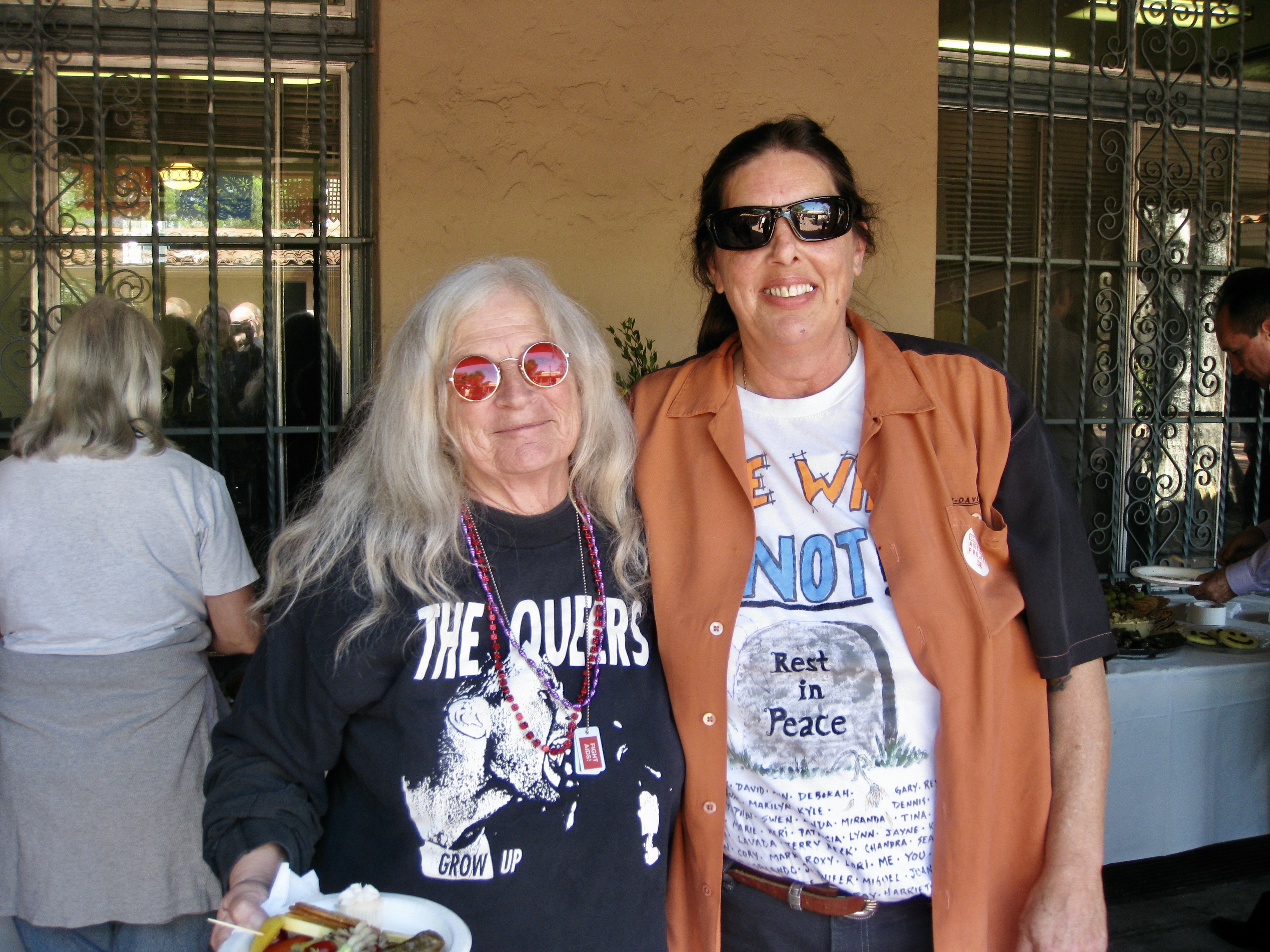 By Karen Ocamb | WEST HOLLYWOOD – Mary Lucey's eyes told all. ACT UP/LA's firebrand was grounded, determined but deferred to Judy Cagle, the trembling center of the April 1, 1992 news conference at Being Alive's Silver Lake headquarters. Cagle's compassionate release from the California Institute for Women in Frontera five days earlier enabled the 37-year-old mother of a 16-year-old son to go home to die of AIDS.
Mary, also formerly incarcerated and diagnosed with HIV/AIDS, had been fighting for Cagle's freedom for two years. Listening to Cagle beseech the public to care about women inmates, Mary's eyes betrayed the moral burden she bore with anger, anguish, love and compassion.
"I want people I left behind to know I love them," Cagle, who would die six months later, told reporters. "Just don't give up. You've got to fight. You've got to know your lives are important."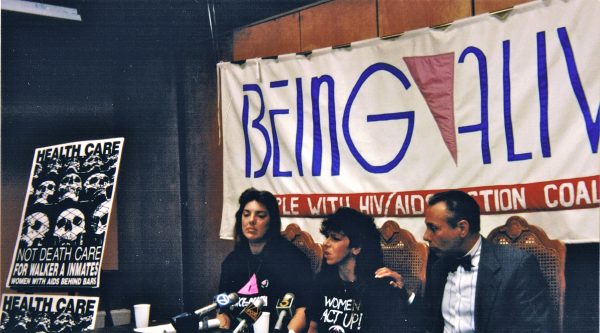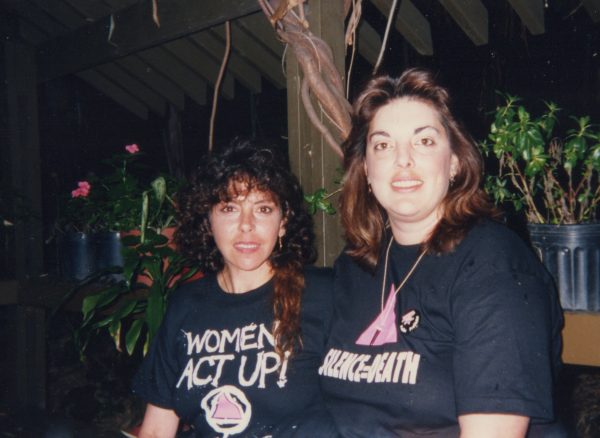 Mary felt the same, as she shared with HIV Plus magazine: "After I was released from prison, I felt I could not turn my back on women who still suffer behind bars. It is our responsibility to continue to bring attention to the cruelty that people with HIV/AIDS face in the prison system."
That was the Mary Lucey I met in 1990 after she joined ACT UP/LA (the Los Angeles branch of the AIDS Coalition to Unleash Power) and fell in love with Nancy MacNeil, the HIV-negative leftist AIDS activist who became her constant companion and future wife. Though I thought Nancy eyed me with suspicion and enjoyed the dyke art of intimidation, I was taken by their love story. Like Paul Monette and Stephen Kolzak (and later, Winston Wilde) and Jeff Schuerholz and Pete Jimenez, the ACT UP/LA couple defied death and danced with delight in a civil rights and healthcare minefield.
For Mary and Nancy, the dance ended unexpectedly on Saturday, Feb. 11. Mary got up and started to prepare breakfast, letting Nancy sleep in as usual, close friends say. But when she checked on Nancy, she found her beloved unresponsive. Nancy had died.
Mary called her neighbor and Jeff Schuerholz, her very close friend from ACT UP/LA. Jeff immediately called another close friend, Keiko Lane and the two promised to speed up to Oceano in San Luis Obispo County, 174 miles north on US-101 from Los Angeles. Mary was excited for them to come up. However, when Keiko and her partner Lisa picked Jeff up, a family member called to say Mary had also suddenly passed away.
Both women had complicated health issues. After one accidental bone-breaking fall and several back surgeries, Nancy was fighting back with physical therapy, though she had become noticeably quieter. Mary — who was in constant pain — was her stubborn, brave primary care provider. Nancy died of natural causes. The cause of Mary's death is still undetermined.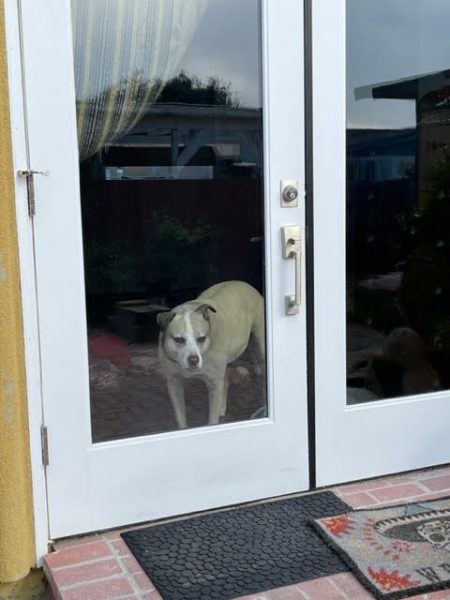 Timer, their old mixed boy, looked for them after almost everyone left. The sweet animal orphan is being cared for by a member of Mary and Nancy's community."
Learning how to be there for people with AIDS (PWAs) was terrifying, loving, infuriating and ultimately, spiritual. After I left the mainstream press in 1984 and started getting involved in the West Hollywood community, I noticed that some of my gay 12 Step friends were getting sick and disappearing. I found them isolated in hospitals where nurses left food outside and we were forced to wear masks and gowns and not touch them. I felt powerless. I didn't know what to do except not judge and be of service. I took people to doctors' appointments. I cleaned up messes, consoling friends deeply ashamed about their uncontrollable vulnerability and loss of dignity. I sat at bedsides. I learned that if a friend lashed out in anger it was because he trusted that I wouldn't leave. I learned to talk about death and how to help my friends die. And like so many others, I searched for spiritual meaning in this ignored growing decimation of human beings.
I longed for a storm of rage from which an army of ghost-bearers would arise to confront this casual hate spewing from government to next door neighbors. Finally, in March 1987, a phalanx of the first wave of ACT UP resisters emerged in New York, harangued into being by curmudgeon playwright Larry Kramer.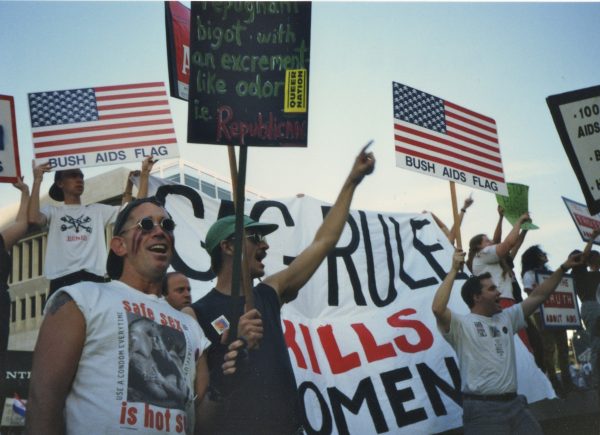 ACT UP/LA, founded in December 1987, held meetings in Plummer Park, West Hollywood. I thought about joining, but decided I could best serve as an eyewitness to history with the gay press instead. My first freelance story for Frontiers Newsmagazine was "Ten Days that Shook the FDA," focused primarily on the hunger strike by PWAs Wayne Karr and Lou Lance in August 1989 at Crescent Heights and Santa Monica Boulevard. The Coalition for Compassion urged the Food and Drug Administration to add a parallel track to their glacier testing procedure and release experiential drugs to PWAs as compassionate triage. Luckily, writer Bruce Mirken joined ACT UP/LA and reported for the LA Reader on activism, scientific developments, and the pharmaceutical alphabet of AIDS drugs like AZT and ddi. I wrote about policy, politics and events that challenged and deepened our humanity in the face of death.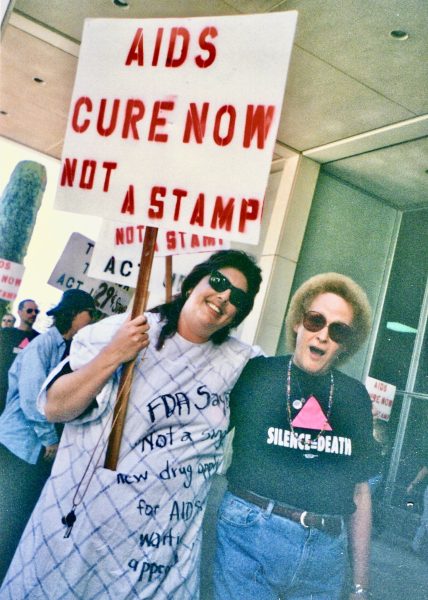 ACT UP/LA's trans AIDS Diva Connie Norman taught me about the range of AIDS issues. Mary Lucey was my second teacher, stressing the invisibility of women and lesbians with AIDS – something I missed because of the active leadership of Connie, Mary, Nancy, Judy Ornelas Sisneros, Patt Riese, Helene Schpak, Keiko Lane, Terry Ford, Mary Nalick, Cindy Crogan, Robin Podolsky, Stephanie Boggs, and Roxy Ventola McGrath, whose remembrance was written by her friend Nancy with whom she, Mary and others co-founded Women Alive, an empowerment organization for women with HIV/AIDS.
"Roxy made us promise to keep fighting. She told Mary to continue to be loud and rude and in people's faces! She told her to keep doing AIDS activism and AIDS work in whatever capacity that she could be effective for as long as she is healthy enough," wrote Nancy, Women Alive's founding executive director. "She told me to keep writing, to tell the women's stories and give them information about the disease, and try to inspire women into action. She asked me to write about courage and foresight, and to keep trying to give women the incentive to fight back. 'You'll write the story, won't you, Nan?' Yeah, Rox, I'll write it. But, you gotta tell it, OK? 'No,' she says, 'I lived it, you tell it.'"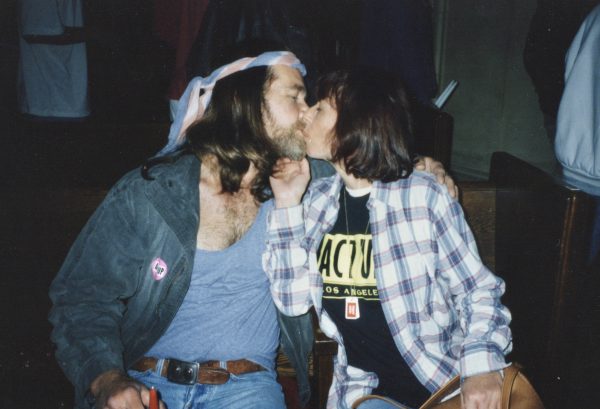 A native Angelino, Nancy Jean MacNeil was both a street and information activist. Schooled by police brutality during student protests against the Vietnam War and as a member of the Black Panther Party, Nancy attended the Institute for The Study of Nonviolence in Palo Alto and became an activist and organizer in the gay, lesbian, women's and Lavender Left movements of the 1970s and 1980s. In 1982, she lost her first friend to AIDS. Julian Turk had been diagnosed by Dr. Michael Gottlieb at UCLA, one of the first identified with the mysterious new disease.
In 1990, after attending the first Women's Caucus meeting, Nancy joined ACT UP/LA and applied her organizing and protest skills to fighting AIDS. She and Mary advocated for women prisoners and shouted at the CDC, the FDA, the National Institutes for Health and medical researchers to wake up and recognize that their government-funded treatment studies barred women of childbearing age from participating in clinical trials — thus ignoring how women's bodies might react differently to dosages and drug treatments. Additionally, the exclusion of women in the CDC's definition of AIDS meant women could not get insurance coverage or qualify for Social Security disability.
Nancy shrugged off living in Mary's media shadow, such as when Mary was dubbed "The Woman Warrior" by the Washington Post in an Oct. 1, 1991 story about ACT UP and the march on Congress as part of the second AIDS Treatment Activists Conference (ATAC2).
"The Woman Warrior Mary Lucey, 32, a former bus driver and blacksmith and ex-con from Los Angeles, woke up to the fight against AIDS two years ago when she was six months pregnant and learned she was HIV-positive. She couldn't find a doctor to deliver her baby. Not in Riverside County, where she lived then, or in all of L.A. What she found instead were doctors who prescribed huge doses of AZT that made her lose 50 pounds during her pregnancy. She also found a cause," the Post wrote. "(Worried by the probability that she had only a few years to live and wouldn't be able to raise her child, she gave up her baby, who was born in San Francisco, to a couple who have other foster children.)
"'A lot of women don't have the inner strength to fight…But I don't take no for an answer. So, I became an activist,'" Mary told the Post. 'We don't know how many women have AIDS. Doctors say you're not at risk. They don't even include us in AIDS death statistics. My main concern is to get them treated.'"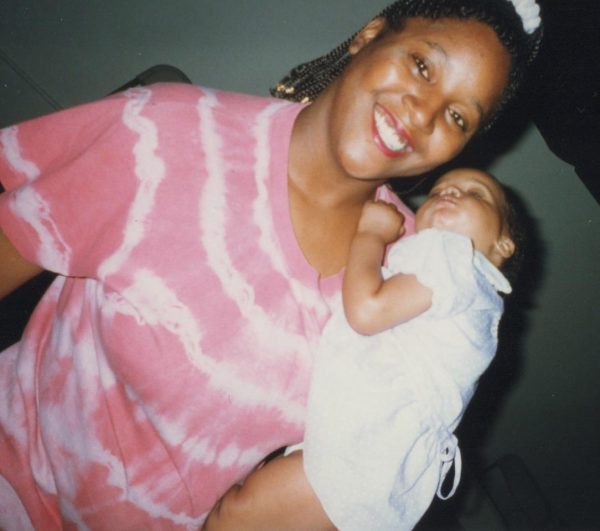 Mary and Nancy were in Washington DC on Sept. 30, 1991 when Republican Gov. Pete Wilson vetoed AB 101, the gays rights bill he had promised to sign. Though the streets of LA were strewn with thousands of LGBTQ activists, PWAs and HIV-positive protesters, AIDS had taken a back seat to the politics of the time though Democratic presidential nominee Arkansas Gov. Bill Clinton talked about ending the AIDS crisis in challenging Republican President George H.W. Bush, branded with the Reagan-Bush stain of death.
Then came the unexpected. On Nov. 7, 1991, LA Lakers superstar Earvin "Magic" Johnson, 32, held a press conference announcing that he was HIV positive. The world gasped. Magic didn't look gay or sick — which meant women could "catch" AIDS, too. Suddenly, the "Women and HIV: Facing the Epidemic" conference at UCLA two days later was packed.
Dr. Julian Falutz told the UCLA conference that AIDS had become one of the top five causes of death for women between the ages of 20 and 40 and the leading cause of death among Black women in that age range.
"We've been ignored," Mary told the LA Times. "Women are starving for information. It's been a need for a long time."
Nancy and Mary were also members of the ACT UP National Women's Committee and Nancy – hired by ACT UP/LA member and Being Alive executive director Ferd Eggan to work for the AIDS organization — used her highly regarded Women Alive newsletter to push issues and actions, including forcing the CDC to change their AIDS definition to include women-specific diseases, opportunistic infections and medical ailments.
In New York, Katrina Haslip, a formerly incarcerated Black Muslim woman, was also a strong voice demanding a new CDC definition, according to ACT UP/NY historian Sarah Schulman. A direct action campaign organized by Haslip and a slew of others "lasted for four years," Lux Magazine reported in a story about Sarah's monumental book, "and was led by women of color, poor women, formerly incarcerated women, and lesbians who rallied together under the slogan, 'Women Don't Get AIDS, We Just Die from It.'"
On Jan. 1, 1993, the CDC officially revised their AIDS definition, adding, among other symptoms, cervical cancer, cervical dysplasia, pelvic inflammatory disease, and infections such as vaginal candidiasis or chronic yeast infections.
Three months later, during the April 1993 March on Washington, Mary and Nancy were among 19 members of ACT UP Network's Lesbian Caucus who met with Health and Human Services Secretary Donna Shalala who forms lesbian AIDS task force. The CDC subsequently funds lesbian-specific prevention programs and NIH finally studies lesbians.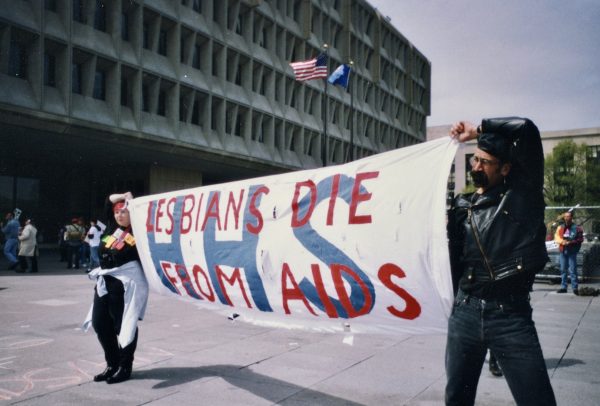 In the late 1980s and early 1990s, ACT UP/LA brought urgent visibility to the dire need for expanded hours, rooms and services at LA County's horrendously overcrowded AIDS Outpatient Clinic known as 5P21 and for an AIDS unit at County USC Hospital. "We are tired of government bureaucracy telling us it doesn't matter. We are tired of government genocide," Connie Norman told the LA Times.
Deemed "militant" because of their rude, in-your-face tactics, ACT UP/LA and Queer Nation organizers frightened producers of the March 25,1991 Academy Awards at the Shrine Auditorium and the 1992 Oscars at the Dorothy Chandler Pavilion but most of the AIDS and gay media visibility resulted from attendees wearing the new AIDS Red Ribbons created by Visual AIDS.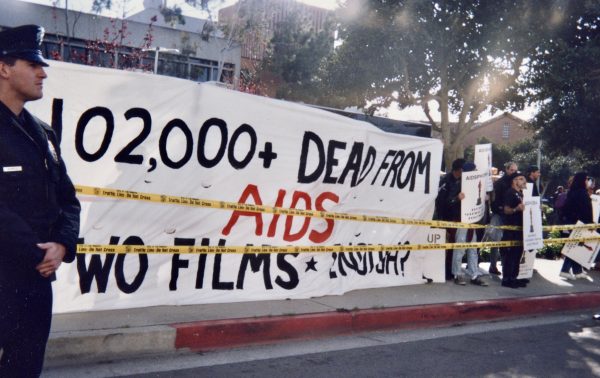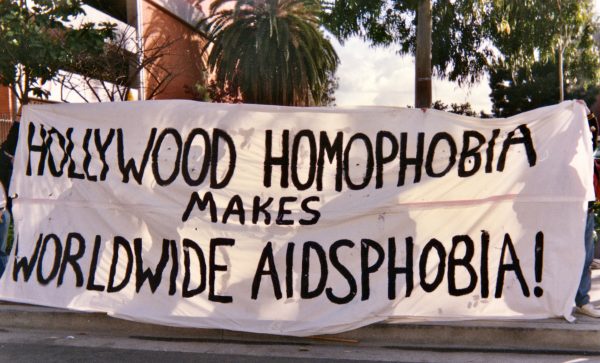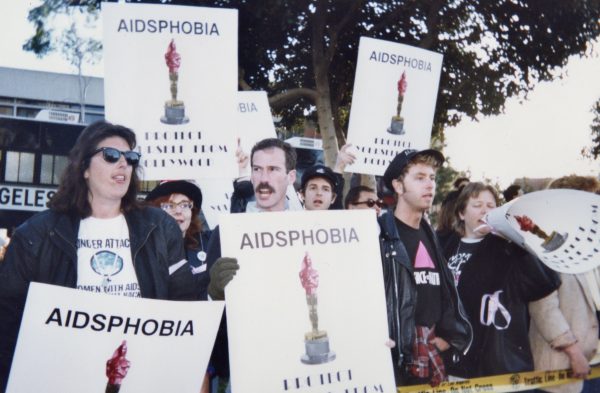 Meanwhile, in 1991 another hidden group — injection drug users sharing dirty needles — was starting to draw attention within ACT UP/LA. "Initially the needle exchange committee attracted people from different committees, including novelist Steven Corbin" from ACT UP's People of Color Caucus. The committee "as founding member, visual artist Renée Edgington, recruited more volunteers to launch (Clean Needles Now)," reported X-traonline.org.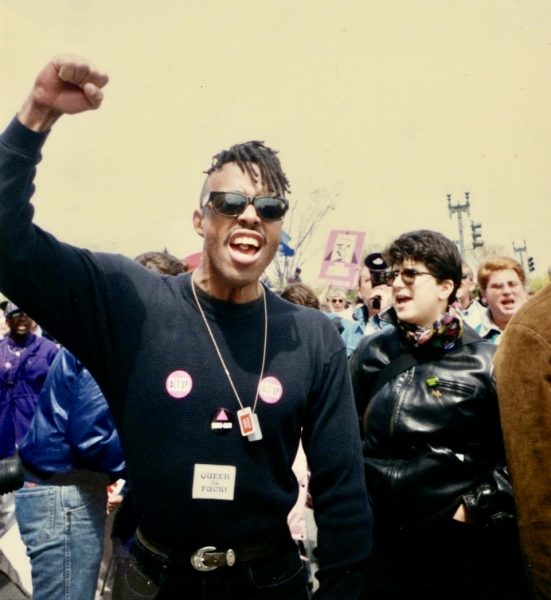 But California's drug paraphernalia laws made possessing and distributing syringes a crime. Assembly Speaker Willie Brown and LA State Senator Diane Watson passed two bills in the California Legislature to decriminalize needle exchange – but Gov. Pete Wilson vetoed both, claiming the programs would become "a magnet for IV drug users."
Additionally, there was concern that the needle exchange committee pulled money for syringes and other supplies out of the general fund, cutting into money available for other ACT UP/LA actions such as the huge bus trip to Frontera women's prison on Nov. 30,1990 to protest the segregated substandard AIDS ward, Walker A. Mary spent 18 months at Frontera and was keenly aware of the lack of proper nutrition, medications and qualified medical staff. On May 4, 1992, ACT UP/LA organized a statewide protest at the California Department of Corrections in Sacramento which mainstream media ignored.
In 1993, new LA Mayor Richard Riordan appointed Ferd Eggan as the city's third AIDS Coordinator. Ferd brought Nancy with him and hired Mary as a City AIDS Policy Analyst. By then, Mary had become adept at public hearings, including one before the CDC in 1992 on changing the definition of AIDS that was turned into a play in 2020 entitled "I, of Course, Was Livid."
"The outcome of this hearing will have a profound impact on my survival. And yet, a more offensive and revolting fact is that we die without even being counted, as if our lives didn't mean anything. Don't our lives count? Then count our deaths," writer Terri Wilder recalled Mary as saying. The play's author, Valerie Reyes-Jimenez, noted that the CDC cut off Mary's mic in the middle of her speaking. "She was telling the truth, and the truth was really uncomfortable," she said. Nancy plugged the mic back in.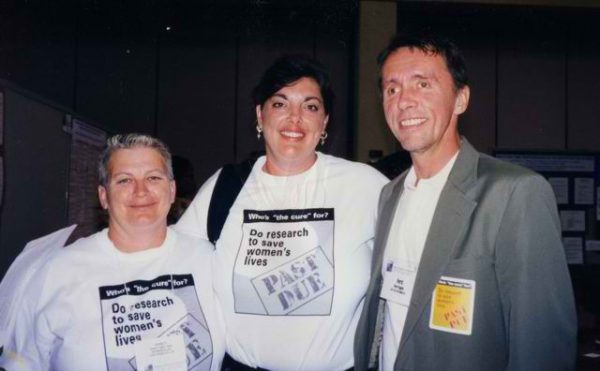 Ferd, Mary and Nancy used their "outside" activism to impact "inside" policy, including launching of the first intergovernmental AIDS Policy Committee in 1996, pooling resources of 40 city governments within LA County and organizing a national conference on Women with HIV/AIDS at the Staples Center in 1997 featuring women of color with HIV/AIDS. And officially being a government official under a Republican mayor didn't stop Nancy from stopping traffic at Wilshire Boulevard and Veteran in Westwood on Dec. 1, 1994 by sitting in the streets around burning coffins representing the AIDS dead — before being yanked away by her hair by an LAPD cop.
One of Ferd's greatest achievements was convincing Mayor Richard Riordan that he should declare a state of emergency for the City of Los Angeles to suspend the drug paraphernalia law and to fund and enable Clean Needles Now to operate without harassment from law enforcement. By Ferd's death in July 2007, the LA Times reported that CNN, "which annually serves about 12,000 people, removed more than 1 million potentially lethal syringes off the streets last year, according to figures from the city's AIDS coordinator's office."
"There is no question in my mind that the program saved thousands and thousands of lives," Mary told The Times.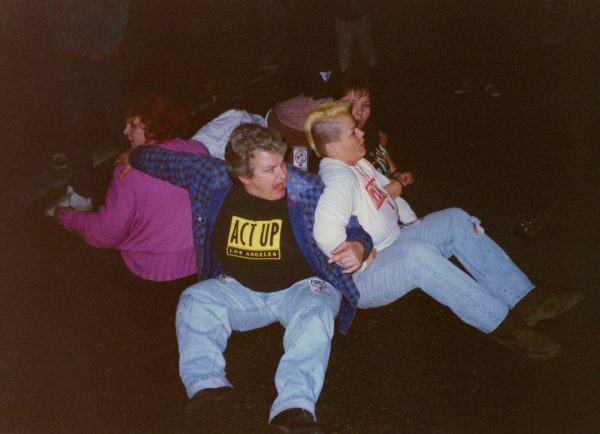 Mary took over as Interim City AIDS Coordinator for two years after Ferd retired on disability in 2001. She was the first woman to hold the job. (See a White Paper on the City's AIDS efforts here.) As the City noted in their statement on her passing: "She used tactics that confronted power outside of the system as part of ACT UP that carried on for the rest of her life. In 2002, she participated in a hunger strike to demand the lifting of federal prohibitions on the use of medical marijuana in the state of California. Yet at the same time, she worked within the government to ensure government responses had people like her in mind, and took her seat at the table to represent women like her in AIDS policy and planning."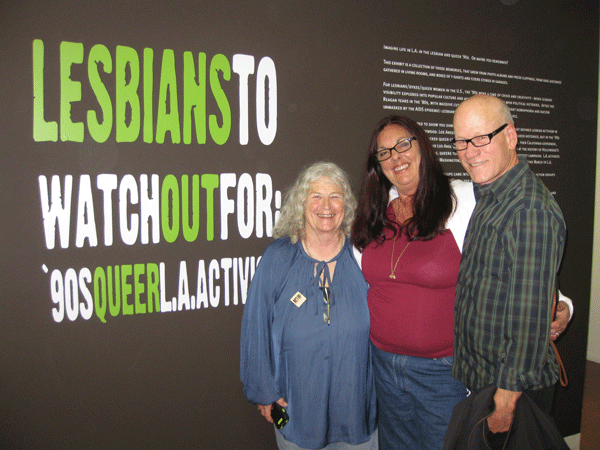 Mary and Nancy moved to Oceano where Mary's vociferous challenging of town officials won her a spot on the local community services board where she served two terms. In 2021, the couple joined Jordan Peimer, Helene Schpak, and Judy Ornelas Sisneros in creating the ACT UP LA Oral History Project (see ACTUPLA.org). Meanwhile, Mary continued to participate in panels and Mary and Nancy occasionally ventured back to LA/WeHo for events such as "Lesbians to Watch Out For: 90s Queer L.A. Activism."
My last message from Mary was on Feb. 8 with a Facebook note after the death of my little dog Keely. "What a beautiful relationship the 3 of you had. Our hearts go out to you. Its hard to let go when you have the perfect team. Were thinking of you and Pepper."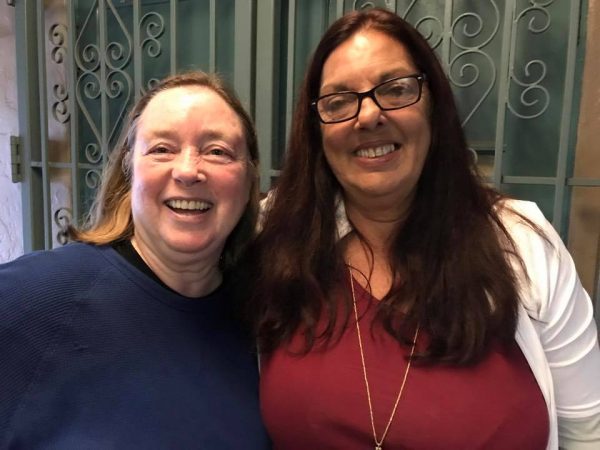 What a beautiful relationship you and Nancy had, as well. And here, look at us. We're happy. Thank you for being my friend.
**********************************************************************************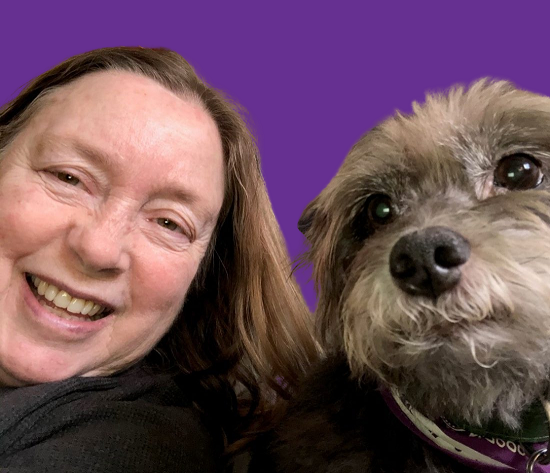 Karen Ocamb is the former news editor of the Los Angeles Blade. She is an award-winning journalist who, upon graduating from Skidmore College, started her professional career at CBS News in New York.
Ocamb started in LGBTQ media in the late 1980s after more than 100 friends died from AIDS. She covered the spectrum of the LGBTQ movement for equality until June 2020, including pressing for LGBTQ data collection during the COVID pandemic.
Since leaving the LA Blade Ocamb joined Public Justice in March of 2021 to advocate for civil rights and social, economic, and racial justice issues.
She lives in West Hollywood, California with her rescue dog Pepper.
APAIT: Positively impacting LA's underserved communities
One of the main functions of APAIT dealing with sex trafficking is not limited solely to members of the LGBTQ+ community
LOS ANGELES – A beacon of hope for underserved vulnerable communities of LGBTQ+ adults in LA can be found in a non-descript almost fortress looking concrete high-rise office building located at 3055 Wilshire overlooking Koreatown.
The offices of the Asian Pacific AIDS Intervention Team (APAIT), whose stated mission is to positively impact the quality of life for those medically underserved communities, is a labyrinth of meeting and counseling rooms, art therapy spaces, offices, and a large, private, outdoor patio for events. The walls are lined with posters of inspirational banners like "Heroes Work Here," as well as breakdowns of case studies on sex trafficking, mental health, and addiction.
With the Koreatown location plus offices in Orange County, APAIT's work focuses on the quality of life for vulnerable people experiencing behavioral health challenges, housing insecurity, and who are at-risk for HIV/AIDS.
"I know the lingo everyone uses is BIPOC," Jury Candelario, a licensed clinical social worker and the Executive Director told The Blade. "But for us, we say communities of color. Even in our staffing, we try to reflect our consumers. This is how we roll. This is our mission and we have to reflect the community that we serve."
Candelario explained that APAIT started thirty-five years ago with a focus on the HIV/AIDS crisis.
"We started out really grounded in the work of HIV/AIDS primarily addressing grief counseling for gay Asian men," said Candelario. "Many of these men died alone from HIV/AIDS because most of their families didn't even know they were gay let alone they were dying from the disease."
Overtime, APAIT expanded their services not just to HIV/AIDS, but to a broader range of sexual health issues. APAIT deals with a range of issues not just impacting gay men but those that impact the larger queer community.
"The core pillars of APAIT services are sexual health, behavioral health, housing, forensic treatment, which is basically for folks who are coming out of jails in prison, and human trafficking," Candelario emphasized.
A Broken system
Even with four different offices and seven different housing sites, the organization often has to outsource resources due to the high need for their services. Jazzmun Nichcala Crayton, Associate Director, told the Blade that the American socio-economic system is in large part to blame.
"They say the system is broken," said Crayton, "but no one really knows how to navigate the system. Plus, the system was never designed with people of color in mind, so you are asking us to perform at a level and to perform in ways that we were never trained or designed or had the opportunity to. We were never given access to that information."
Crayton explained that the system often produces broken homes, especially within at-risk communities of color, leading to a cycle that can often feel impossible to break.
"If your mother was in survival mode, and she was a single parent, and you are coming up through that system and that way of life, the only way you're going to break the chain is to break the chain yourself. It is very difficult for a child to make that shift. Already they are familiar with poverty, they are familiar with not having. That's not the story for everybody, but that's the story for a lot of people. You see it a lot," Crayton noted.
"If you don't have all those dynamics like a mother and father, making a certain amount of money to provide for a family, that causes a lot of problems. A lot of times, you see Caucasian counterparts where the mother does not work, and she gets to stay home and be the caregiver and nurture the children. But even that is changing in our society. More and more often, the parents are out of the home. Children end up raising themselves and end up fending for themselves because everyone is trying to make money so that they can live a certain way."
"But can you imagine people of color with more than one child? Often, especially in Black families, the father is absent for whatever reason, so the mother is the matriarch, running the entire household, trying to work and go to school and provide for children."
"People use this term 'strong Black woman,' but Black women don't want to be strong all the time. Women don't want to be strong all the time," she added.
According to a pre-COIVD survey by the Williams Institute at the UCLA School of Law on Victimization Rates and Traits of Sexual and Gender Minorities (SGMs) in the United States, SGMs are at greater risk of experiencing violent crime than their white cisgender heterosexual counterparts.  
The Williams study showed that LGBTQ+ people were nearly four times more likely than non LGBT people to experience violent crime. The odds of experiencing a violent victimization were higher for SGMs than non-SGMs .
SGM persons experienced more criminal victimization than non-SGM persons. SGMs experienced 71.1 violent victimizations per 1,000, compared to 19.2 per 1,000 among non-SGM persons.
SGMs had a higher rate of serious violence, defined as rape or sexual assault, robbery, or aggravated assault, than non-SGMs, including higher rates of violence involving a weapon and violence resulting in serious injuries. 
"There have been increased attacks in the Asian community," acknowledged Candelario. "Unfortunately, I would say hatred got bigger with COVID-19 and how it was blamed essentially on the Chinese community by the last administration. It [coronavirus] was called 'the China flu,' so there's definitely a lot of that influence in that." 
APAIT offers self-defense classes as part of their program to help women who find themselves the victims of attacks. The staff are also encouraged to take these classes. As Candelario pointed out, "No one is safe. We are all at risk."
While the rise in hate crimes has propelled the self-defense program, the classes initially started after a group of trans women were conducting a makeup class for gender representation at APAIT. The class itself was broken into and robbed, leaving the women defenseless and scared. 
When asked why queer people of color are so often particularly affected in statistics like those from the UCLA study, Crayton said that she blames the social dehumanization of queer people within society. 
"We get dehumanized on a daily basis," said Crayton. "Our humanity is laughed at. It is ridiculed. There are policies in place all over America to prevent us from even trying. We don't even get a chance to try as a whole."
"We are very special here in California. We have different dynamics, but some of our siblings in other states are limited by the law. They can't do a Drag show anymore in Tennessee. I mean, what is that? Why is that important? Our purpose is to educate to bring these people up so that they can go out in the community and provide for themselves."
Candelario added that words like "faggot" and "groomer" which are deeply ingrained in right-wing rhetoric, help to propel this dehumanization and so should be eradicated.
"I think we have to watch trauma informed language," said Candelario. "The words that we use impact how people are perceived."
Sex Trafficking
One of the main functions of APAIT dealing with sex trafficking is not limited solely to members of the LGBTQ+ community. The organization often serves cisgender women in an industry that is notorious for acting as a sex trafficking cover.
"About two decades ago, we got into working with massage parlor industry," said Cadelario.
According to a 2019 survey by APAIT, women often chose illicit massage parlor work from a very small number of employment options. Some women described being coerced or deceived into this work, but most women said that they chose this work as their best alternative.
Among limited options on the positive side, the pay was higher than in other industries, and could provide opportunities for self-employment. On the negative side, they were at risk for physical abuse, HIV and other STI's, and mental health problems such as isolation arising from stigma. The risk of violence from clients and owners and robbery in this cash-based industry and possible arrest fines and jail were also threats, as was deportation in the case of undocumented immigrants.
Human Trafficking Indicators according to the U.S. State Department include:
Living with employer.
Poor living conditions.
Multiple people in cramped space.
Inability to speak to individual alone.
Answers appear to be scripted and rehearsed.
Employer is holding identity documents.
Signs of physical abuse.
Submissive or fearful.
Fear of arrest stops many women from coming forward. Fear of arrest almost always superseded fear of robbery or assault in a pre-Covid study. Many women were reluctant to seek police protection. Women who did not read or speak English were often unaware of what was happening after their arrest, leaving them vulnerable to predatory laws or those posing as lawyers, both in their criminal proceeding as well as their immigration cases.
Nan Ding, the Senior Clinical Program Manager runs the APAIT pilot related to sex trafficking alongside Candelario. She is a also a licensed clinical social worker.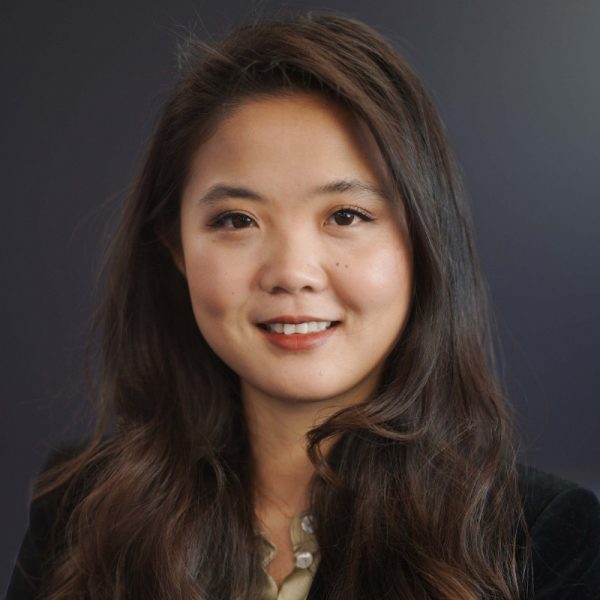 "It started out with a court order program," she explained. "This is mainly for people who work in massage parlor work, who were given a citation for suspicion of prostitution."
This citation is part of what is known as a diversion program. Pretrial diversion programs in the state of California allow defendants who are eligible to avoid serving jail time as long as they complete treatment and education courses.
"We provide sexual health education and resources and mental health," Ding told the Blade. 
English lessons are also crucial to rehabilitating these women.
"Given the demographic of people who come to us through this program, many of them do not have the ability to speak English. All of them are immigrants, so we connect them to one of our social services which help them to live sustainably on their own."
While some success stories do exist, Ding explained that it can often be years before these women are properly rehabilitated. 
"To be honest with you, it has been quite challenging," said Ding. "Because they don't have degrees and they don't speak English. We encourage a lot of them to go through cosmetic training so that it's less risky for them, and it brings better income for them. A lot of them end up doing administrative work. One of my clients is now working at an acupuncture clinic at the front desk."
Ding said that many of these women come here under false pretenses in hopes of a better life, only to be duped and stuck as pawns in sex trafficking rings. 
Ding gave an example of one client in particular: "She went through trafficking in Taiwan through here she tried to escape. She came here, thinking she was going to be put her through nursing school to be an RN but the moment she landed here she was sent to be a sex worker."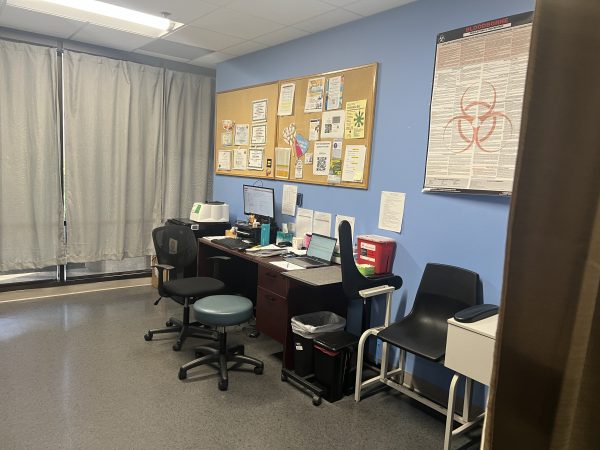 "This happens more often than you think," said Candelario. "The sad part is this is a whole international syndicate of illegal organizations that run this human trafficking. We are definitely not saying all massage parlors are, but many are fronts for human trafficking not just human trafficking in the sense of sex work and/or labor trafficking. A lot of these people are recruited under the pretense that they are going to have work or schooling here. They prepare all their paperwork and documentation to get here legitimately, but once they land here, those documents are still with the syndicates not with those folks who were brought here. Essentially, they are trapped."
"They are trapped once they get here. They don't have any other recourse because this is their livelihood now. This isn't just isolated in Asian communities it's happening in central American communities too. It's everywhere. Eastern European communities as well. Unfortunately, we also see these horrible stories of fourteen and fifteen-year-old children, young girls, being kidnapped here as well. Colored communities and foreign communities are vulnerable too as are communities without privilege and opportunities and education. The people who brought you here are the people you are supposed to be trusting for this 'American dream,' which ends up being an American nightmare,"  she added.
Candelario also made it clear that APAIT does not condemn sex work as a legitimate form of employment. The problem lies in deceit and forced labor.
A Success Story
Those seeking help come to APAIT through a variety of ways. Many are found by APAIT  on the streets through their grassroots program "Midnight Stroll."
The Midnight Stroll and After Hours Café was launched by the Asian Pacific AIDS Intervention Team in January 2017 in collaboration with the Los Angeles Transgender Advisory Council and The Wall Las Memorias Project, along with support from then LA Councilman Mitch O'Farrell, the Los Angeles Police Department and several community partners.
Under the program, volunteer outreach workers walk along Santa Monica Boulevard, from Vermont Avenue to La Brea Avenue, to provide water, food, and clothing vouchers, while also promoting HIV testing and other services. The program also provides some emergency shelter beds.
"When I started," said Candelario, "I remember doing this kind of outreach and grassroots work. At the time, our main focus was ending the crystal meth epidemic. We were health educators, promoting health reduction systems to reduce crystal meth use. It's about meeting the clients where they are."
Many clients come to APAIT when they have nowhere else to turn. 
"We had a client come in off the street with a sheet on her head and dirt on her face," said Crayton. "She came from Alabama. She was ostracized and criminalized for being trans there. She had been kicked out of her home. She made her way up to California, which was complicated because she had no support system. She came here just hoping that the community would be able to guide and support her."
"When she came to us, she had nowhere to go and she didn't want to sleep between the buildings anymore. We were able to house her through a private organization immediately in South Los Angeles. Mr. Jury was generous enough to pay for her to stay there where she developed under our care."
"She kept coming back to the office and participating in our programs. She had access mental health with her behavioral health counselor. She actually started interning somewhere at some point and from there she did so well she was able to obtain and sustain her own apartment. Because we were able as an organization to come together and surround this particular client with support and guidance and love, she was able to stand on her own two feet."
"Now she is providing services for the community. She is going the kind of work that we are doing, and she is back in school studying to be a therapist. She was even honored by Laverne Cox, who gave her an award saying that she was a pillar in the trans community coming from such extreme circumstances in life."