Newsom: SoCal city's Pride flag ban "rank," Walsh: a hate symbol
Newsom weighs in on decision by Huntington Beach City Council MAGA majority ban on LGBTQ Pride Flag- far right host says flag is a hate symbol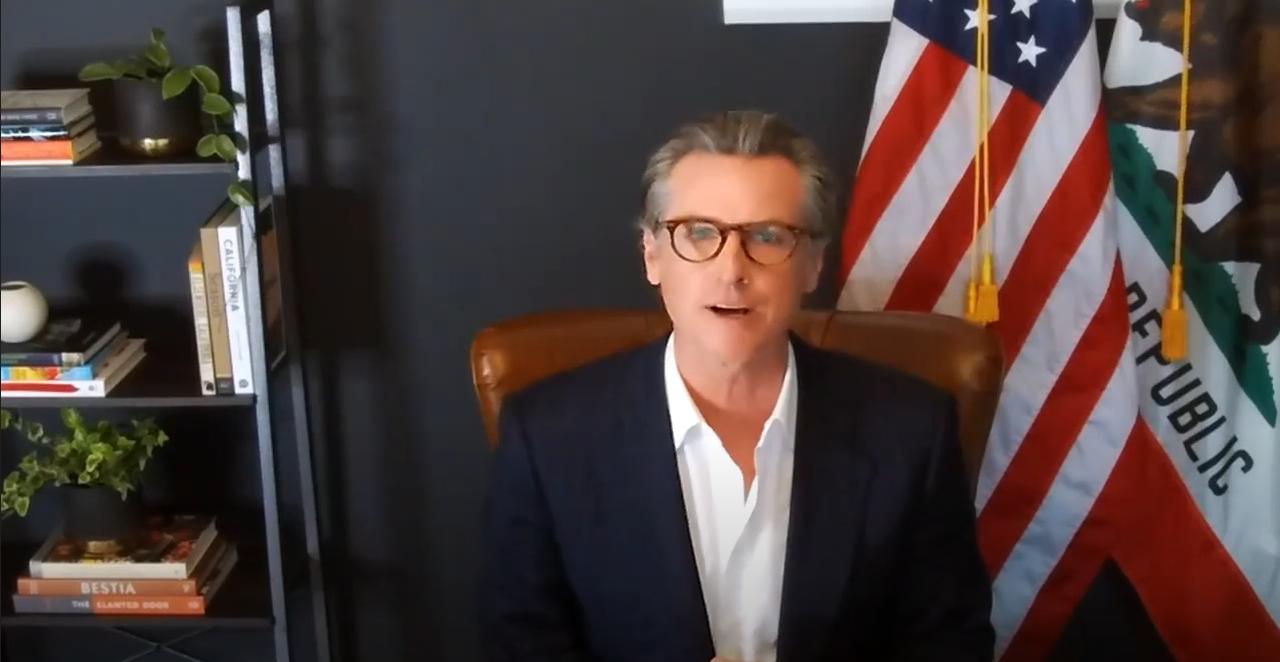 SACRAMENTO – During a press conference Thursday that announced the filing of a lawsuit and a motion for preliminary injunction against the City of Huntington Beach for violating state housing laws, during the question and answer period, Governor Gavin Newsom in response to the Blade's question, ripped Huntington Beach over another decision to ban the LGBTQ Pride Flag.
"What a disgrace to take down the Pride Flag," Newsom said. The Governor then went on to lament the reversal of progressive gains over the past several decades. He then called the actions by the city council "jaw dropping." He then noted, [the decision to ban the flag] "whether it is legal or not it's wrong and it's shameful- these attacks, these assaults on the LGBTQ community."
Newsom then stressed that [Californians] " we have an obligation to call out the city council, call out that action- disgraceful, insulting, we are better than that. This state stands firmly behind the LGBTQ community and will continue to fight against homophobia and this kind of discrimination and just rank, rank, performative politics."
A local Orange County political activist tweeted the governor's answer to the Blade's question:
Gov Gavin Newsom weighs in on a "rank" decision by the newly elected Huntington Beach City Council MAGA majority banning the LGBTQ Pride Flag on City property

TY @GavinNewsom 🏳️‍🌈🏳️‍⚧️

h/t @LosAngelesBlade's @BrodyLevesque for asking the right questions pic.twitter.com/6TrLgAEbvt

— 𝙻𝚊𝚛𝚛𝚢 𝚃𝚎𝚗𝚗𝚎𝚢 • #GoodTrouble (@LarryTenney) March 9, 2023
On Thursday morning during his regular radio show on far-right extremist media outlet The Daily Wire, anti-LGBTQ+ host Matt Walsh told his viewers that the LGBTQ+ Pride flag is a hate symbol.
"We should treat it as a hate symbol because that's what it is. They fly the flag, that flag, because they hate you and your values and what you believe and everything you stand for," Walsh said.
From the March 9, 2023, edition of The Daily Wire's The Matt Walsh Show
Transcript:
MATT WALSH (HOST): Let's just put this plainly. The Pride flag does not deserve our respect.
In fact, it deserves our disrespect. It deserves our contempt and mockery. It is not the flag of gay people. Okay? That's not what it is. Gay people in America, they already have a flag. It's called the American flag. It's the flag we all share or are supposed to share.
The Pride flag, which was invented by a far-left activist drag queen, represents not a person or a people or a community, but an agenda, a political and cultural agenda. It always has. It has from the very beginning. It still does now. And today, nearly all of the most depraved and perverse attacks on children, on tradition, on decency, on common sense are waged under this banner. That's what it signifies. Okay?
The gay pride flag signifies drag queens dancing for toddlers, males invading women's bathrooms. It signifies castration drugs given to children. It signifies the destruction of the nuclear family. When government officials send that thing up the flagpole or paint its ridiculous colors in the street, that is what they're promoting. It's what they're advertising. It is the cause they want us to salute.
Not only should we should we refuse to salute it, but we should treat it with disdain. We should treat it as a hate symbol because that's what it is. They fly the flag, that flag, because they hate you and your values and what you believe and everything you stand for.
And so we should respond in kind to this symbol. In other words, we should give the Pride flag all of the respect that the left shows the American flag. Let's just put it that way.
On Tuesday, March 7,  State Senator Dave Min issued the following statement regarding the Pride Flag ban in Huntington Beach:
"Tonight, the Huntington Beach City Council will have one final opportunity to vote in support of flying the LGBTQ+ Pride Flag on city properties from City Hall to the world famous Huntington Beach pier. The Pride Flag is not only a statement of our values of diversity and inclusion, it is a powerful symbol that Surf City is a place that welcomes everyone.
The Pride Flag's removal sends the wrong message to our residents and to the millions of tourists who visit each year. Its removal validates the rise in anti-LGBTQ+ hate that has become all too common in Orange County in recent years. Not only is this the wrong, it is an irresponsible move for Huntington Beach taxpayers given the swift economic fallout from companies seeking to do business in Surf City.
As a representative of Huntington Beach and 1.1 million Californians in the State Senate, I urge the City Council not to divide our communities when we have a responsibility to ensure everyone feels safe and valued."
Legislators, Capitol community to celebrate Trans visibility week
Trans Visibility Week and the International Transgender Day of Visibility, acknowledge and uplift the societal contributions of trans+ people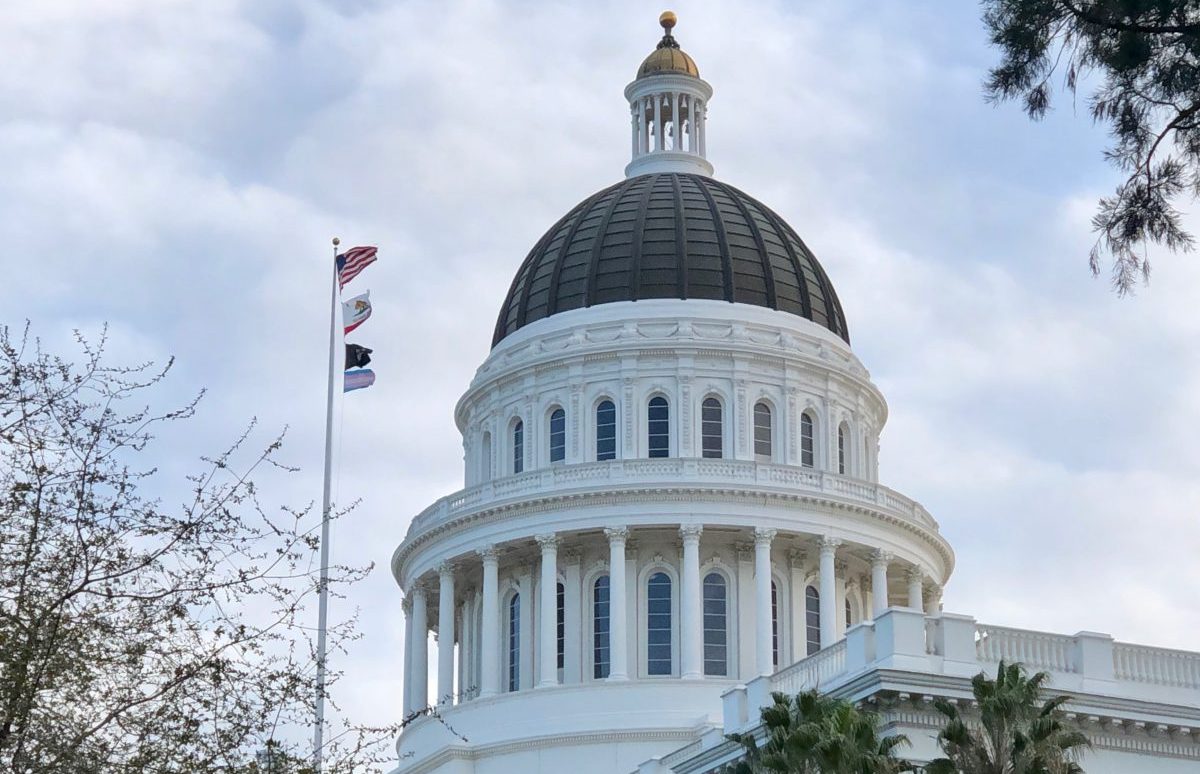 SACRAMENTO — On Monday, March 27, California legislators, Capitol staff, and community advocates will join trans+ community members to celebrate Transgender Week of Visibility, a series of celebrations leading up to International Transgender Day of Visibility on March 31. 
Legislators will wear buttons declaring "trans people belong" and spread their message of solidarity and inclusion for trans+ Californians across social media channels. The message will be echoed by leaders in the executive branch, labor, and advocacy organizations who are working to create a more just world for transgender, non-binary, and gender non-conforming people.
"Across the country and even right here in California, trans people's lives are being used for political purposes. These attacks bring real harm to our trans+ friends, colleagues, and loved ones, particularly our children," said LGBTQ Caucus Chair Susan Talamantes Eggman. "It's up to all of us to stand together with trans, gender non-conforming, and non-binary people to create communities that are safe for trans+ people to thrive."
Trans Visibility Week and the International Transgender Day of Visibility, acknowledge and uplift the societal contributions of trans+ people. The week also raises awareness of widespread discrimination and violence that the community faces in the United States, around the world, and sadly, right here in California.
Trans visibility is more important than ever, as 429 bills attacking LGBTQ+ rights have been introduced in state legislatures across the nation, a record number, many particularly targeting transgender youth. Some of these proposals would force teachers to out trans students, deny trans youth the right to participate in sports and other activities, and deny affirming health care.
"Trans people shouldn't have to fight just to exist or live safely in our communities," said Evan Minton (he/they), a former Capitol staffer and national transgender advocate. "Trans visibility is an opportunity to celebrate the joy of being who we are."
"The trans community deserves to live their authentic lives without the fear of harassment or violence. We are proud to join community advocate Evan Minton, state legislators, staffers, and the Capitol community to send a strong message that trans people belong and will never be erased," said Equality California Executive Director Tony Hoang. "Now more than ever taking a unified stance against LGBTQ+ hate is imperative. Equality California remains committed to achieve full, lived LGBTQ+ equality for all." 
Monday's Capitol events come after several historic actions this week in support of the trans+ community. Earlier this week, the Sacramento City Unified School District board held its first annual trans pride flag raising, sending a powerful message of inclusion to trans students, teachers, and the entire school community. Last week, the District also passed a strong resolution affirming the rights of trans students and encouraging classroom discussion on the importance of trans visibility. On Tuesday, the Sacramento City Council adopted a resolution declaring an annual Transgender Week of Visibility in the city. Sacramento County is considering a similar resolution on March 28.
For more information, follow @eqca, #transpeoplebelong #TransgenderDayofVisibility