Silence and complacency are not an option for Israel's LGBTQ+ community
Proposed reforms of country's judiciary have sparked widespread protests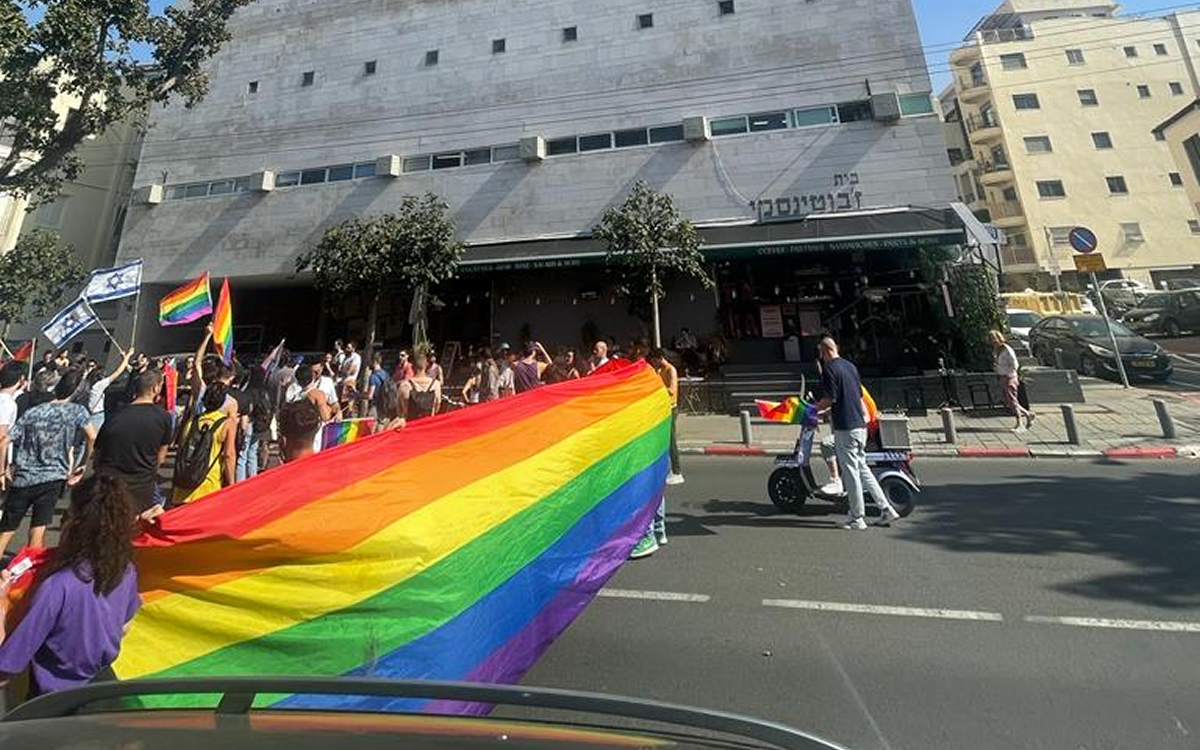 WDG is the Washington Blade's media partner in Israel.
TEL AVIV, Israel — Thursday was another record day for the protests against the legal revolution that members of Prime Minister Benjamin Netanyahu's government are trying to carry out. High-tech employees and business owners, doctors and nurses, professors, teachers and students, economists and intellectuals, parents and children, security personnel and activists have united in the protest movement and the number of weekly demonstrations against the coup d'état have increased.
What began as a single demonstration in Tel Aviv 10 weeks ago turned into a huge demonstration of about 300,000 people in front of the Knesset in Jerusalem about a month ago. This movement two weeks ago turned into a Day of Disruption throughout the country and reached its peak on Thursday with the declaration of a National Day of Resistance.
LGBTQ+ and intersex people and organizations have joined the struggle.
LGBTQ+ and intersex organizations on Thursday morning held their own protest in Tel Aviv's Culture Square before they marched with Israeli and Pride flags and joined other protest groups in front of the city's government building.
These organizations took part in the first demonstrations that took place more than two months ago. They formed a larger LGBTQ+ group and marched together as one, with gay party promoters joining them later. The Aguda, Hoshan, IGY (Israel Gay Youth), the Gila Project and Maavarim rented buses for LGBTQ+ and intersex people who wanted to go to Jerusalem and demonstrate in the capital.
Next step: Cancelling the right to LGBTQ+ parenthood
One of the largest protests to date is the Day of Disruption that took place on March 1.
The day, which began as protests that took place in dozens of cities across Israel as MKs passed bills, for the first time during the protest movement saw violent scenes between protesters and police officers, who used stun grenades to disperse them.
The Aguda and Hoshan before the Day of Disruption hung signs in the train stations that simulated a train route. Bills that would discriminate against the LGBTQ+ and intersex community and simulating life after the legal revolution's approval in the Knesset were written in place of station name: The first stop was the cancellation of Pride parades, followed by the cancellation of Transgender pregnancies, a ban on discussing LGBTQ+ and intersex issues in schools and in the media, repealing the discrimination ban removing children from same-sex households and approving so-called conversion therapy.
"The State of Israel is speeding down a path of direct discrimination, and that is our red line. When the first stop is crushing the justice system, the next stops are canceling the right to gay parenthood and allowing discrimination in businesses, just like what happened in Hungary and Poland," wrote the Aguda and Hoshan in their campaign. "This is exactly the time for everyone to ask themselves where his red line cross — because when the legal revolution leaves the station, it will be very difficult to stop the violation of the rights we fought for years."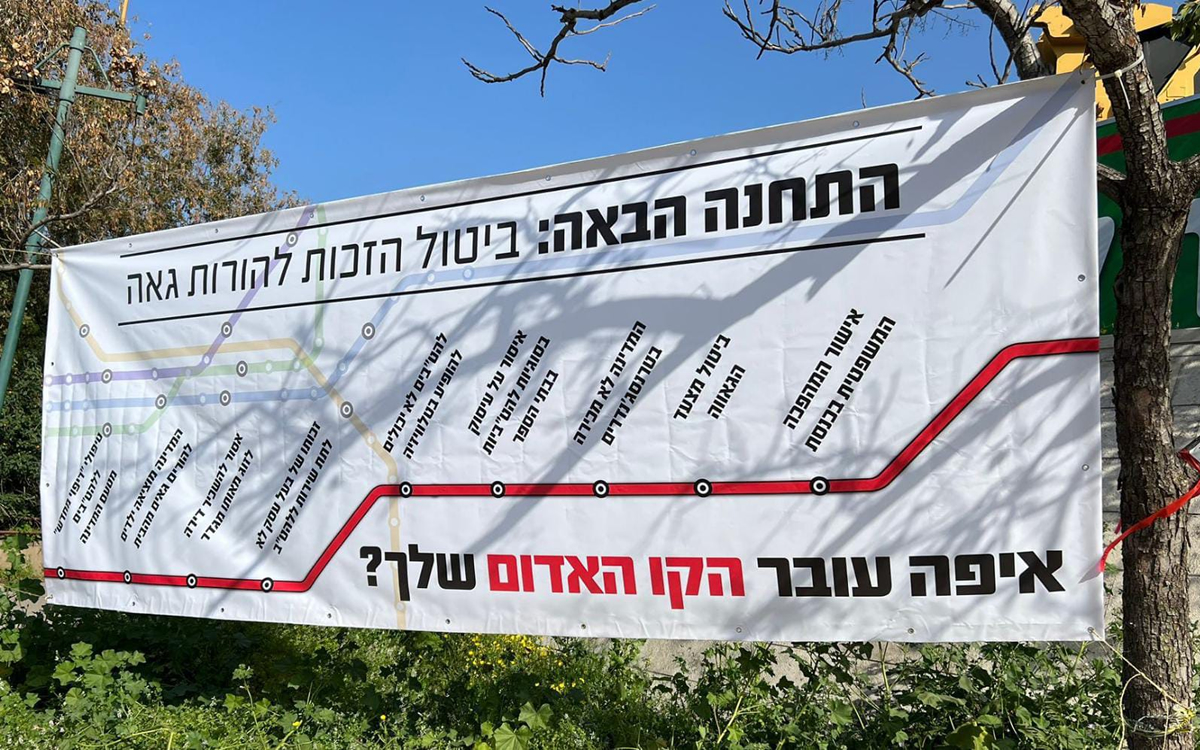 Lesbians on motorcycles at the beginning of the Day of Disruption blocked traffic throughout Ramat Gan and Tel Aviv while on their way to Jerusalem. The Israeli "Pride and Ride" Dykes on Bykes movement led the protest. Dykes on Bykes has existed since 1976, and has emerged as a significant part of the country's LGBTQ+ and intersex rights movement and as a symbol of female strength and Pride for every lesbian woman.
At the same time in Jerusalem, writer Ilan Scheinfeld arrived at the Western Wall plaza with his two sons who were born by surrogacy and waved a large pride flag in front of the Western Wall.
Israel's LGBTQ+ and intersex families have launched a campaign aimed at Knesset Speaker Amir Ohana, a proud father of twins, in which they tried to appeal to his heart as a gay person who started a family thanks to Supreme Court rulings, and to explain to him what the consequences of a political revolution might be on gay parenting.
Aguda Chair Hila Peer in the evening spoke at the central demonstration in Tel Aviv.
"They think they will push us back into closets. This government has a clear agenda and the LGBTQ community is one of the first in line. This is not legal reform, it is a gun that is being held to the head of the LGBTQ community. They are destroying the only body that protects human rights, so that later they can enact whatever they want against us," said Peer. "This government has brought up the worst haters of freedom, of equality and of the LGBTQ community, It gave them power over our families, over our rights. We faced crazier, meaner, more violent and broke every closet they ever dared to try build for us."
"The year is 2023 and we are going nowhere but forward," added Peer. "Even if you take the court, even if you threaten us in the streets. Even if you deny us right after right, we will not stop. We will not disappear. The LGBTQ community was born out of a revolution, and the LGBTQ community will bring the next revolution."
Opposition community representatives also tried to disrupt the Constitution Committee's proceedings, or at least create actions that would cause them to become illegitimate. MK Yorai Lahav Hertzno from Yesh Atid party during one of the debates came up to the table and began chanting "shame" while pointing an accusing finger at MK Simcha Rotman, who chairs the committee The demonstration caused a lot of criticism and the Knesset's Ethics Committee punished Hertzno.
Why is the LGBTQ+ and intersex community afraid?
The absolute majority of the rights of the LGBTQ+ and intersex community in Israel today came from Supreme Court rulings. From treatments for HIV carriers to surrogacy and parentage registration, all achievements were achieved as a result of battles waged in court against the decisions of the government and the Knesset.
The regime change that includes the weakening of the Supreme Court's power and allows the Knesset to overrule any Supreme Court ruling with a simple majority allows the cancellation of any Supreme Court decision with relative ease. Although laws against the LGBTQ+ and intersex community are not currently on the agenda, the potential for change is clear such possibility.
If the legal revolution passes, the government will be able to enact laws that directly harm LGBTQ+ and intersex people — and without an independent court there will be no one to protect them or the rights we have already received.
Already now, under the auspices of the public atmosphere, there is an increase in the number of reports of cases of discrimination and violence against LGBTQ+ and intersex people in businesses and in the public sphere. This discrimination would be legal if some extreme MKs succeed in their efforts. LGBTQ+-phobic members of Knesset are already spreading their dangerous agenda today and promote bills that will harm LGBTQ+ and intersex youth and the creation of safe spaces in schools.
The LGBTQ+ and intersex community and its rights are under attack, and LGBTQ+ and intersex people will be among the first groups to be harmed when the checks and balances are removed from the government. Silence and complacency are not an option for Israel's LGBTQ+ and intersex community.
George Avni is the editor of WDG, an LGBTQ+ and intersex media outlet in Israel.
Judy Heumann helped so many of us with disabilities to be out and proud
'Like the color of my eyes or the color of my hair, it is a part of who I am'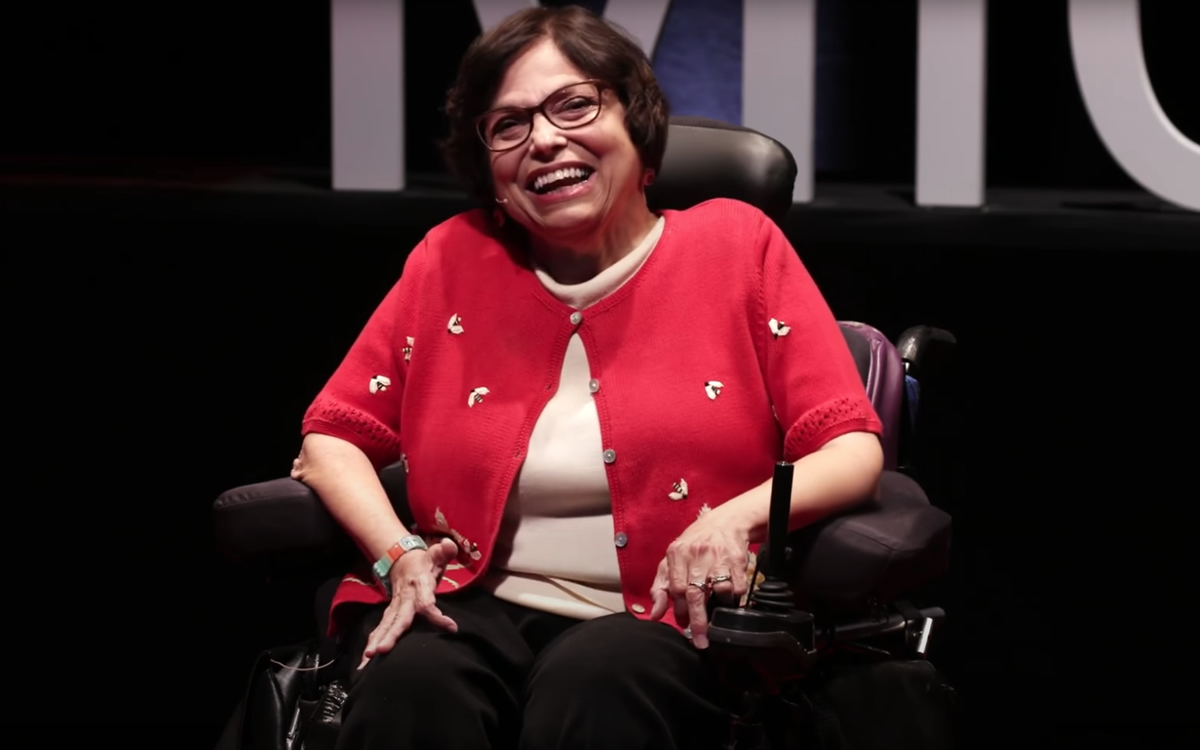 When I was growing up, people like me, who were disabled, were usually met with scorn, pity and exclusion.
On March 4, Judith (Judy) Heumann, a founder of the disability rights movement, died at 75 in Washington, D.C.
For decades, Heumann, who contracted polio when she was 18 months old, was a leader of a civil rights movement that changed the lives of millions of folks like me.
Judy (so many of us, whether we knew or not, connected with her on a first-name basis), was known as the "mother" of the disability rights movement. She was the Harvey Milk of our struggle.
You might think: why should LGBTQ people care about the passing of a disability rights leader?
Here's why: Nearly, 20 percent of people in this country have a disability, according to the U.S. Census Bureau. This includes LGBTQ+ people. An estimated three to five million people are queer and disabled.
Studies, including a study by the Map Advancement Project, reveal that queer people are more likely than non-queer people to become disabled. We face the double-whammy of anti-queer and disability-based discrimination. The MAP study reported that of the more than 26,000 transgender people surveyed, 39 percent reported having a disability.
If you're queer and have a disability (blindness, epilepsy, cerebral palsy, psychiatric disorder, etc.), you've likely run up against employers who don't want to hire you or restaurants who don't care to serve you. If you're a queer parent of a disabled child, you've probably had to fight to get your kid the education they need.
These battles are hard. But, thanks to Heumann and the movement she led, there are ways — from the Americans with Disabilities Act to working the media — to fight this injustice.
Heumann, who at 29 led a month-long protest that was the Stonewall of the disability rights movement, and in her 70s was the star of the fab, Oscar-nominated documentary "Crip Camp," was a powerhouse of energy, discipline, hard work and humor. She was a quintessential bad ass who worked for justice 24/7, and kicked your butt if you didn't."Kathi, get your self together!" commanded the voice over the phone, "or you won't get anything done."
It was 1987, and I was writing my first news story. I was interviewing Heumann about an historic protest that she'd led a decade earlier. It was the 10th anniversary of what is believed to be the longest non-violent sit-in a federal building.
In April 1977, more than 100 disabled people took over the (then) Health, Education and Welfare building in San Francisco. President Richard Nixon had signed the Rehabilitation Act into law in 1973. But, regulations, known as "504," a section of the Act that prohibited discrimination against disabled people by institutions (schools, hospitals, etc.) receiving federal funding, hadn't been signed. After protesting in the San Francisco building for a month and in Washington, D.C. (including at then President Jimmy Carter's church), the "504″ regulations were signed.
Heumann, who was an official in the Clinton administration and a special adviser in the Obama State Department, was tough, kind, and proud of herself and the movement that she founded.
For Heumann, who is survived by her husband and brothers, disability was a normal part of life, not a tragedy.
"I never wished I didn't have a disability," Heumann wrote in her memoirs "Being Heumann: An Unrepentant Memoir of a Disability Rights Activist."
When Heumann was a child, disabled children were often institutionalized. Like being queer, being disabled wasn't considered to be normal then.
Doctors advised Heumann's parents to send Judy to an institution when she was a child. But her parents, who were Jewish and had fled Nazi Germany, refused. This experience turned her mother and father against institutionalizing her, Heumann wrote in her memoir.
"If I'd been born just 10 years earlier and become disabled in Germany, it is almost certain the German doctor would also have advised that I be institutionalized," Heumann wrote, "The difference is that instead of growing up being fed by nurses in a small room with white walls and a roommate, I would have been taken to a special clinic, and at that special clinic, I would have been killed."
Just as it is if you're queer, if you're disabled, if you want to respect yourself, you need to be out and proud.
Judy more than anyone I've ever known, helped so many of us with disabilities to be out and proud. She taught us that being disabled isn't something to be ashamed of. That it's an important aspect of who we are.
Her disability, Judy often said, is, "Like the color of my eyes or the color of my hair, it is a part of who I am."
I knew Judy only from interviewing her over the years and being on an episode of her podcast "The Heumann Perspective." But Judy, whether you'd known for decades or just a few months, made you feel like you were a friend. She'd advise you, cheer you on and challenge you over the phone, in texts and on Zoom.
She almost got me, a non-make-up wearing lesbian, to wear lipstick (so I wouldn't look like a ghost on her podcast). Earlier this winter, Judy wondered why I didn't put my disability on my resume. Being nervous could be good, she said, when I was scared of reading at a poetry festival.
"If you don't respect yourself and if you don't demand what you believe in for yourself, you're not going to get it," Judy said.
Thank you, Judy for teaching us to respect ourselves and to demand our rights! R.I.P., Judy!
Kathi Wolfe, a writer and a poet, is a regular contributor to the Blade.