Kentucky Republicans pass extreme anti-trans youth healthcare bill
"This is a sissy bill. I voted yes but I wanted more teeth in it." Kentucky Republican State Rep. Richard White (Dist.99)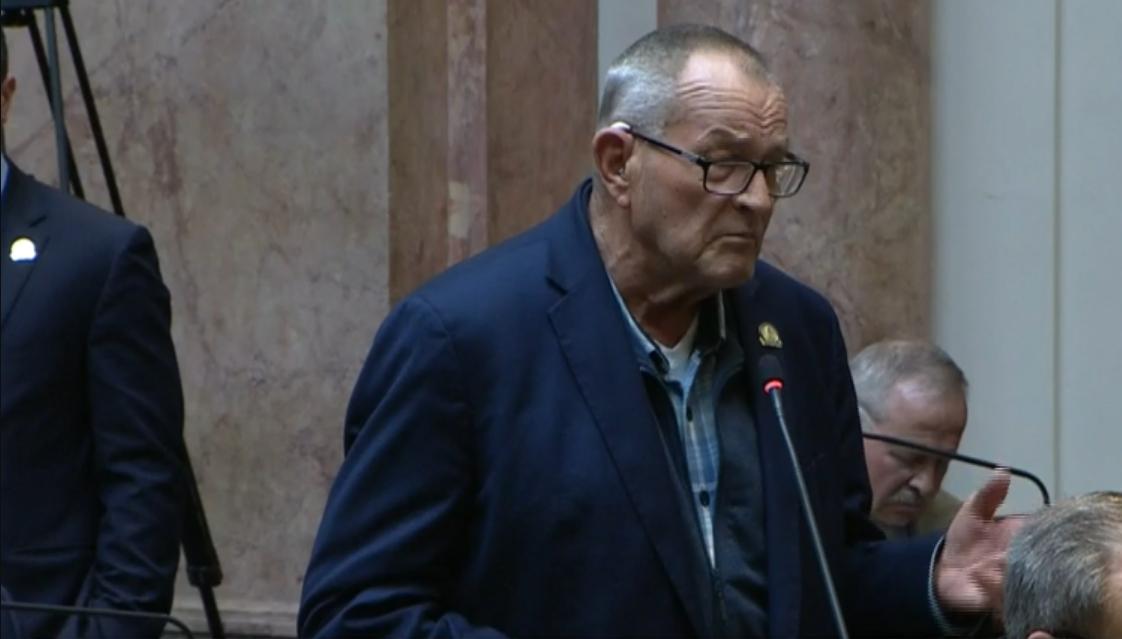 FRANKFORT, KY. – In a maneuver LGBTQ+ activists and Democrats called deceitful, Kentucky's Republican-led legislature rushed through Senate Bill 150 Thursday, an anti-transgender measure first in an unannounced House Education Committee meeting in a 16-5 vote and then to the House floor where it again passed along party lines 75-22 and limited debate before moving the legislation to the Senate where it passed 30-7 on a nearly party line vote.
The initial legislation, HB 470 had been effectively tabled Wednesday night as the result of discord among the Republicans. In Thursday's limited debate on the House floor, Rep. Keturah Herron, a Black LGBTQ lawmaker decried the fact that there was no notifications which made it appear as though Republicans were jamming the bill through without the Democrats present.
Journalist and columnist Erin Reed noted that the bill itself contains several provisions and combines many anti-trans bills into a single, all-encompassing piece of legislation that targets many aspects of the lives of trans youth.
One provision states that schools cannot adopt policies that "keep information confidential from parents," a policy which will be used to forcibly out transgender students. Another states that school districts can't require students to use any pronouns for trans students that do not conform to that student's "biological sex."
The bill contains teaching bans on LGBTQ+ topics similar to Don't Say Gay bills, would force schools to turn over student's answers to private questionnaires and surveys, bans students from bathrooms not matching their gender identities, calls trans students in locker rooms "unsafe," and bans gender affirming care for trans youth.
The Louisville Courier-Journal reported that schools would not be allowed to discuss sexual orientation or gender identity with students of any age – a key provision of "Don't Say Gay" bills across the country. Schools would not be allowed to talk about sexually transmitted diseases or human sexuality before sixth grade and would need to require parental consent in sixth grade and up.
Another provision requires school districts to craft bathroom policies that, "at a minimum," will not allow trans kids to use the bathroom tied to their gender identities.
The Courier-Journal also noted that
SB 150's initial provisions, including one allowing teachers to misgender their students, remain intact. A new section added a ban on gender-affirming medical care for trans youths, despite medical experts and their professional associations saying such care is safe and effective treatment for children with gender dysphoria.
Doctors would be required to set a timeline to detransition children already taking puberty blockers or undergoing hormone therapy. They would be allowed to continue offering care as they taper a child's treatments, if immediately taking them off the treatment could harm the child, the bill says.
"It is appalling to see Kentucky lawmakers work so hastily on dangerous legislation that will only put young LGBTQ Kentuckians in harm's way. In the last year, nearly half of LGBTQ youth in Kentucky seriously considered suicide — alarmingly, nearly 1 in 4 transgender and nonbinary youth in the state made a suicide attempt. Our leaders are pushing political wedge issues and sidestepping the real challenges like addressing the youth mental health crisis," said Troy Stevenson, Director of State Advocacy Campaigns for The Trevor Project.
"The Kentucky Legislature should not be inserting itself into critical decisions best left to parents and doctors by imposing a blanket ban on best-practice medical care. They should be working to increase access to essential care and creating safer, more affirming spaces for LGBTQ Kentuckians — not further stigmatizing or endangering an already marginalized group of young people. We urge the Governor to reject this harmful legislation and send a message to the young LGBTQ Kentuckians watching these debates that they belong in this state."
Local media reported that the moment the SB150 officially cleared the Senate, spectators in the gallery opposed to the anti-LGBTQ measure screamed and shouted expletives at the lawmakers on the floor below.
The bill now heads to Democratic Governor Andy Beshear, who has ten days to either veto or sign the measure into law. The governor is widely expected to veto the bill.
The Republican-led legislature, however, will be able to override his veto when it returns for the final two days of the legislative session on March 29 and 30.
The ACLU of Kentucky called the bill "unconstitutional," vowing legal action should it become law.
Kentucky Gov. vetoes sweeping anti-transgender youth bill
The Kentucky Legislature's GOP supermajorities have enough power to override Beshear's veto. The ACLU has said it will sue if that happens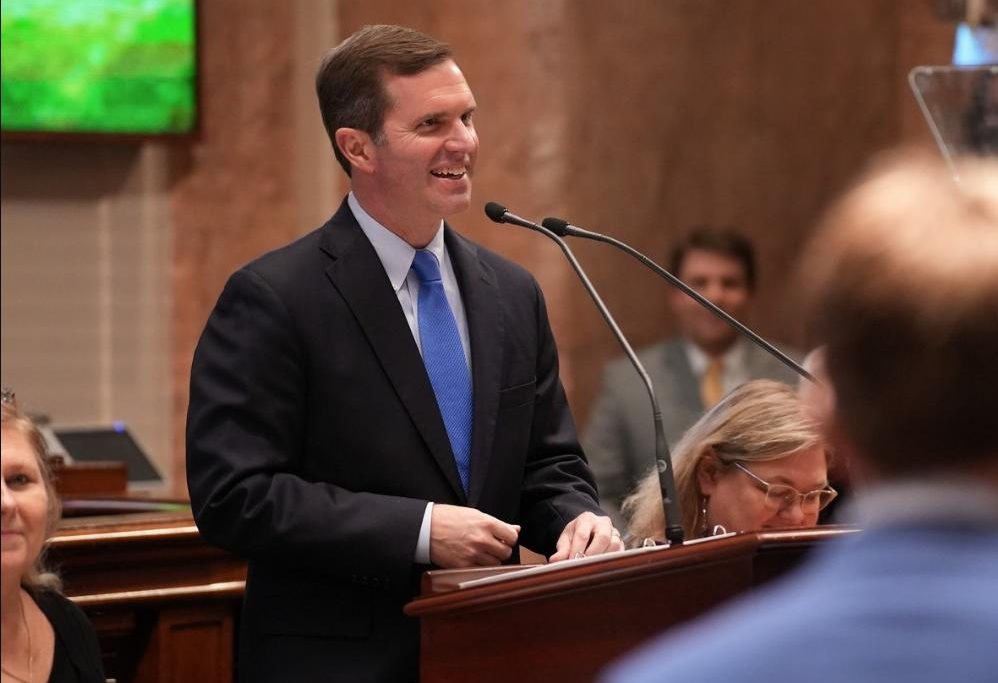 FRANKFORT – The Democratic governor of Kentucky vetoed a sweeping bill that would severely restrict the lives of trans youth in the state calling it, "too much government interference in personal healthcare issues and rips away the freedom of parents to make medical decisions for their children."
Governor Andy Beshear also stressed that the bill conflicted with his faith and noted the bill's repercussions would include an increase in LGBTQ+ youth suicides: "My faith teaches me that all children are children of God and Senate Bill 150 will endanger the children of Kentucky."
The Kentucky Legislature's GOP supermajorities have enough power to override Beshear's veto. The ACLU of Kentucky has said it will sue in Federal court to try to block the measure from becoming law.
The bill would:
Ban gender-affirming medical care, including treatments that delay puberty, other forms of hormone therapy and surgery, for trans and nonbinary people under 18 years old.
Require revoking the licenses of doctors who provide such services.
Tell public schools to block trans students from using bathrooms and locker rooms that match their gender identity.
Allow public school teachers to misgender trans students.
Prevent public schools from allowing educational presentations that study gender identity or sexual orientation.
Rebuking the Governor's veto, state Republican Party spokesperson Sean Southard issued a statement saying: "Andy Beshear thinks it's okay for children to have access to life-altering sex change surgery and drugs before they turn 18. Today, he revealed how radical he truly is."
In an emailed statement Fairness Campaign Executive Director Chris Hartman wrote:
"We are so grateful Governor Andy Beshear chose to stand with Kentucky kids and their families today by vetoing Senate Bill 150. He has once again solidified his legacy as Kentucky's most pro-equality governor. Labeled the "worst anti-trans bill in the nation," SB150 allows the government to overrule parental rights at every turn. It denies parents the right to provide medically-supported healthcare for their kids. It allows teachers and school administrators to disrespect students by ignoring their names and pronouns, despite a parent's wishes. It bans the discussion of LGBTQ topics in the classroom and forces transgender kids into unsafe restrooms at school. SB150 will only lead to disaster and despair for transgender Kentucky kids and their families. That's why thousands of Kentuckians sent messages opposing SB150 and countless Kentucky doctors showed up in Frankfort to testify against it. We urge state lawmakers to read the governor's veto message, listen to medical professionals, and sustain Governor Beshear's veto."