Rachel Maddow: Trump inciting fears of another potential January 6
"He's trying to make it so that there is a threat of uncontrollable political violence in this country that is triggered"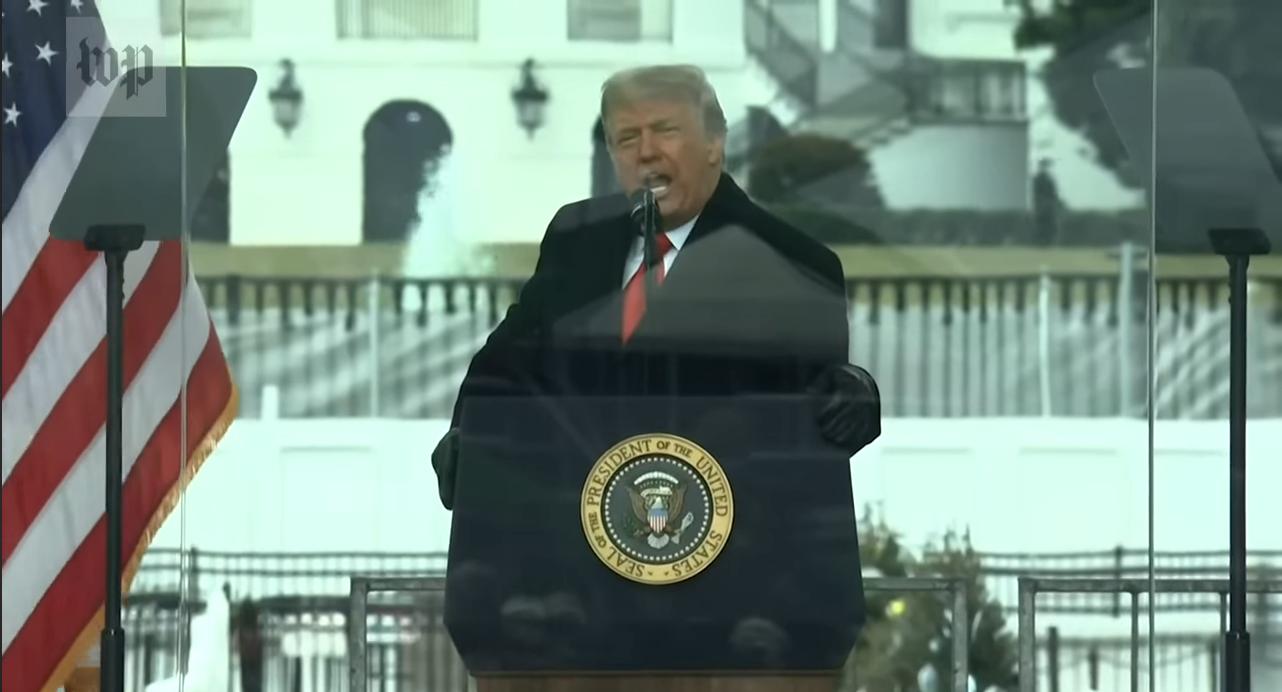 NEW YORK – Speaking by phone on Saturday morning with MSNBC's weekend anchor and Washington Post columnist Jonathan Capehart, MSNBC journalist and anchor Rachel Maddow reflected on the plea by former President Donald Trump, in a social media post, to 'protest' his impending arrest.
In a post on the Trump owned TRUTH social, the former president implied that his indictment and arrest on corruption charges in New York were imminent and that his followers should stage protests to "Take our nation back" employing the same rhetoric he used that eventually led to the Capitol insurrection. He had called for his followers to protest the certification of President Joe Biden's victory in the 2020 presidential election by Congress meeting on January 6, 2021.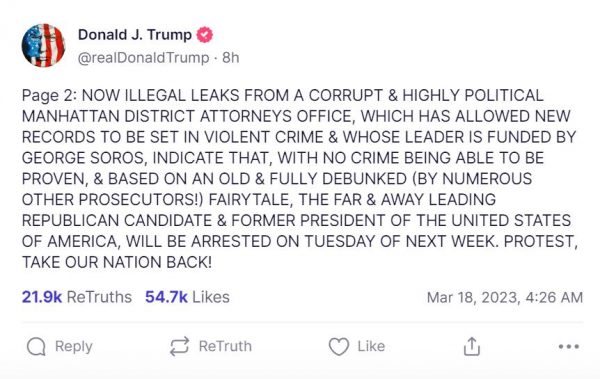 NBC News reported Friday that the New York Police Department (NYPD) and New York State Court Officers, along with Homeland Security, the FBI and the U.S. Secret Service were quietly preparing for potential demonstrations from Trump's supporters and counterprotests from those opposed to the former president opponents and the potential of the two groups violently clashing each other.
A spokesperson for Trump told CNN Saturday that the former president has not received a notification from the Manhattan District Attorney's Office regarding any potential indictment, but was "rightfully highlighting his innocence" in his post.
Trump is under criminal investigation by the Manhattan District Attorney's Office in connection to a hush money payment his former personal attorney Michael Cohen made to porn star Stormy Daniels shortly before the 2016 presidential election, CNBC reported noting Trump's lawyer, Joseph Tacopina, spoke on the heels of the report by NBC News that federal, state and local law enforcement agencies are preparing for the possibility that Trump will be indicted as early as next week.
Maddow told Capehart:
"[…] I don't think we've had a clear view of what his legal defense is going to be, but his overall defense is going to be to try to raise the civic cost of indicting him. He is trying to bring intimidation and pressure to bear against the prosecutors who are considering right now whether to indict him. And he's hoping to create fear that there'll be another January 6 type event or, you know, his followers are going to show up another FBI office or, you know, something else that he could he could cause to happen by asking his followers to go into the streets in his defense."
Capehart responded noting: "I'm glad you brought that up. And I love that phrasing, raise the the civic cost of indicting him. And I'm just wondering, the it's hard not to recall January 6th when you read a post like the one he put out this morning. And I want you to talk further. How concerned are you and should people be concerned that that Trump supporters will see this as a call to action?"
In answer Maddow said: "Well, he's trying to make it that.
"Getting arrested, getting indicted, even going to jail isn't the end of the line. It isn't the end of the world. But Trump is trying to make it that. He's trying to make it so that there is a threat of uncontrollable political violence in this country that is triggered, that would be triggered by any, any act of the legal system against him. It's his effort. There's nothing intrinsic about him getting in trouble as a potentially publicly corrupt, public, corrupt figure that should cause violence. But he's trying to make sure that it does. And the question is, whether his followers do."
Capehart then asked: "And, you know, to that point, you anticipated the next question I was going to ask you, given this long history of public officials up and down, up and down the roster being arrested and some of them viewing viewing it as a good thing, using the number of times they've been indicted as a punchline in in campaign speeches. Is this good for Trump politically because he is right now a declared candidate for president?"
"Yes. I mean, I think that he's banking on it being something that helps him. But he is playing with a fire that he doesn't know how to contain and that nobody knows how to contain," Maddow said adding: "Right. I mean, I think it is a little unnerving that his first political campaign appearance for his 2024 run is in Waco, Right. We're at the 30th anniversary of the Waco standoff, Right. You're talking about trying to trying to engender militant consciousness among Americans about the need to fight the federal government with violence. Well, Waco was a nice place to try to do that from. That's a nice resonant place to try to do that from.
I mean, him being indicted on, you know, on a charge related to campaign finance tax and business fraud, again, doesn't have to be the end of the world for him and could potentially be a positive for him. But if he's asking for a militant racially, racially tinged violent response from his followers, that's something that won't be good for him. You know, January 6 is not good for Trump's political legacy, for all the other things that it is, for all the other things that means for our country. It didn't make him more electable for coming back as another term as president.
And so he's he's trying to start something that I don't think he can, I don't think he can take responsibility for how it will finish. And so I just I don't I just don't think it's wise on his part. Just in political strategy, for him to be calling for what he's calling for."
Watch:
Rep. Frost talks gun control on anniversary of March for Our Lives
"10 years ago I became an Organizer because of Sandyhook. 3 years later, I'd become a survivor myself. That same year, Pulse"
Editor's note: The full interview with Congressman Frost will be published next week.
WASHINGTON – U.S. Rep. Maxwell Frost (D-Fla.), after a week of making headlines for his gun violence prevention advocacy, sat down with the Washington Blade for an exclusive interview on Friday, which marks the five-year anniversary of the founding of March for Our Lives.
The 26-year-old freshman Congressman, who before his election was national organizing director for the student-led gun control group, had just introduced his first piece of legislation Tuesday with U.S. Sen. Chris Murphy (D-Conn. that would establish an Office of Gun Violence Prevention within the U.S. Department of Justice.
The proposal's aim, in part, is to better facilitate the implementation of last year's Bipartisan Safer Communities Act by establishing a singular office to coordinate that work.
And on Thursday, Frost captured and tweeted a video of a confrontation between U.S. Capitol Police and Patricia and Manuel Oliver, gun control advocates who lost their son Joaquin in the 2018 Parkland, Florida high school shooting.
Manuel and Patricia Oliver were just kicked out of this committee hearing on gun violence. Patricia said one thing and the chair escalated the entire situation. Then, Police arrested Manuel Oliver who lost his son in the Parkland shooting.

His son was shot to death.

— Maxwell Alejandro Frost (@MaxwellFrostFL) March 23, 2023
Here is @manueloliver00 being arrested for speaking out at a committee hearing. His son, Jaoquin, was shot to death in Parkland, Fl.

MANNY IS A HERO. He didn't deserve this. The Republican Chair of this committee just called him a narcissist. Disgraceful. pic.twitter.com/6jccYvesHb

— Maxwell Alejandro Frost (@MaxwellFrostFL) March 23, 2023
The couple had been removed by police from the House Oversight and House Judiciary Committees' gun rights hearing at the request of GOP Reps. Andy Biggs (Ariz.) and Pat Fallon (Texas).
Frost, who was in attendance, told the Blade the conflict started when Patricia Oliver "just stood up and she said, 'you took my son' and she sat down," but "instead of moving on, the Chair [Fallon] escalated things."
The Congressman said hearing itself was "a sham" convened for the purpose of attacking the Biden administration's Bureau of Alcohol, Tobacco, Firearms and Explosives (ATF), the entity within the U.S. Justice Department that investigates violations of laws governing the manufacture, possession, and use of guns.
"The real story here," said the Congressman, "is the fact that there were two parents who lost their son who was in high school, because he was shot to death and died in a pool of his own blood, and now they're going to spend the rest of their lives fighting for a world where it doesn't happen to anybody else."
Frost noted the Olivers were joined at the hearing by other families, activists, and organizers – all of whom were gathered in Washington, D.C. to advance the mission established by the group of teenaged Parkland survivors who founded March for Our Lives five years ago.
Among these student activists were Cameron Kasky, who identifies as queer, and X González, who is bisexual and uses they/them pronouns.
Frost has repeatedly said he ran for Congress because of his involvement in the gun violence prevention advocacy movement, which began with his volunteering on behalf of the Newtown Action Alliance, a group formed in the wake of the 2012 Sandy Hook Elementary School shooting.
The Congressman told NPR the 2016 shooting at Pulse, the gay nightclub in Orlando "where 49 angels were murdered right here because they're queer" marked one of the most significant moments of his life.
That same year and in that same city, Frost himself survived a gun violence incident.
During his congressional campaign, on the heels of last year's elementary school shooting in Uvalde, Texas, Frost tweeted: "10 years ago I became an Organizer because of Sandyhook. 3 years later, I'd become a survivor myself. That same year, Pulse. Now I'm running for Congress and 15 lives were taken at another Elementary school. I will not stop until the endless shootings do."