NY Attorney General hosts drag story hour- Proud Boys chased off
Approximately 200 attendees enjoyed the read-a-thon, led by the Drag Kings, Queens and Royalty of Drag Story Hour NYC at the center
MANHATTAN – Far-right extremists clashed with LGBTQ+ activists and supporters outside outside the LGBTQ Community Center on W. 13th St. in Greenwich Village Sunday, as inside New York State Attorney General Letitia James hosted a Drag Queen Story Hour event.
Approximately 200 attendees enjoyed the read-a-thon, led by the Drag Kings, Queens and Royalty of Drag Story Hour NYC at the center, a resource hub for New York City's LGBTQ+ community.
As families arrived with excited smiles, a group of protesters assembled across the street — many of them brandishing Trump signs and wearing garb supporting White Supremacist groups like the Proud Boys, AM New York reported.
Protestors were separated by barricades on either side of West 13th along with a heavy New York Police Department presence with dozens of uniform and plainclothes officers to maintain calm.
Independent freelance videographer and photojournalist Oliya Scootercaster captured the protests as one member of the Proud Boys was led away with blood and scrapes on his face by another Proud Boy after an apparent altercation.
Another far-right protestor, who had covered his face and head with a golden Guy Fawkes mask and USA flag headscarf, was seen being arrested by NYPD officers after he confronted protesters and members of the press, knocking things out of their hands.
Proud Boys Bloody Fight at Protest of Attorney Generals Drag Story Hour in Manhattan via FNTV Freedomnews.tv videographer Oliya Scootercaster:
GLAAD leads second protest outside New York Times
GLAAD leads coalition in second protest of New York Times still asking after two months: "Why won't you meet with trans community leaders?"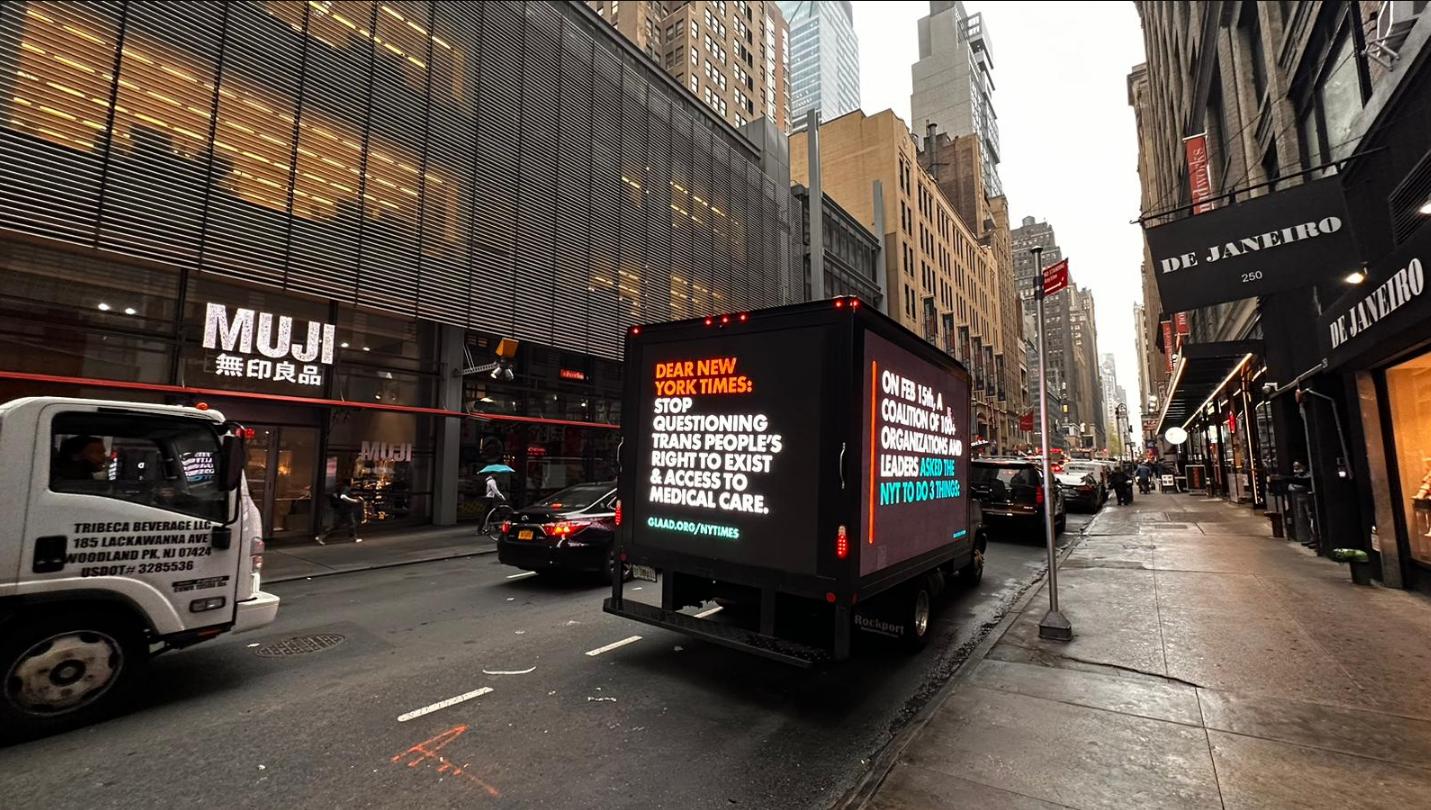 NEW YORK CITY – The billboard truck is back. Hired by GLAAD, the vehicle blasting neon messages criticizing The New York Times for its coverage of the transgender community returned to the newspaper's Manhattan headquarters Monday. 
The LGBTQ+ media advocacy organization leads a coalition of more than 100 advocacy groups, transgender journalists and allies demanding the paper's editors and leadership "stop printing biased, anti-trans stories," meet with members and leaders in the trans community, and hire at least four trans writers and editors as full-time members of its staff.
It's been two months since we delivered our letter with other organizations and leaders demanding @nytimes stop printing inaccurate and harmful misinformation about transgender people and issues.

We're back outside the Times building this morning. https://t.co/IkQocps8fS pic.twitter.com/sCHI9GTyJJ

— GLAAD (@glaad) April 17, 2023
Although the Blade received a response from Charlie Stadtlander, the Director of External Communications for the Times, following the first protest on Feb. 15, GLAAD's president and CEO says the newspaper has yet to respond to an open letter released on that date, or to its demands. 
"It is outrageous and disrespectful that New York Times leadership continues to ignore the voices of trans community leaders, who have been sounding the alarm about the newspaper's irresponsible, inaccurate coverage for over a year," said Sarah Kate Ellis in a statement to the Blade. "Trans people deserve to be respected and have their voices heard. Mainstream media publications, including the Times, have a responsibility to their readers to cover trans people and issues in a fair, accurate, and inclusive way.
"Our coalition of more than a hundred organizations and leaders asked that the Times meet with trans community leaders within two months. Two months have come and gone without a word from the Times. What are they afraid of?" said Ellis. "It is beyond unacceptable for the Times to use sensational, inaccurate stories about trans people for clicks, yet refuse to speak with leaders in the trans community."
GLAAD's coalition letter was released the same day as another letter co-authored by contributors to the newspaper. "Some of us are trans, nonbinary, or gender nonconforming, and we resent the fact that our work, but not our person, is good enough for the paper of record. Some of us are cis, and we have seen those we love discover and fight for their true selves, often swimming upstream against currents of bigotry and pseudoscience fomented by the kind of coverage we here protest."
"I am forever inspired by how generous and courageous NYT contributors and employees involved with the letter have given of their time, energy, heart, and belief of potential that our media landscape can serve as a catalyst for change," said one of the signatories, writer and activist Raquel Willis. "I am also grateful for the numerous organizations that have bolstered the efforts of our journalists in a time when not just facts, but empathy continues to be left on the cutting room floor."
"I have tracked 430 bills targeting the trans community this year, and I have seen New York Times articles referenced in numerous hearings," said journalist and researcher Erin Reed. Just last week, Missouri's attorney general cited a Times article in banning gender affirming care for all transgender people, including adults.  
This follows the Missouri AG directly citing Emily Bazelon's New York Times Magazine article to ban gender affirming care for trans adults. pic.twitter.com/fFMVg8gqgn

— Alejandra Caraballo (@Esqueer_) April 14, 2023
"Accurate and sensitive coverage from the New York Times is of paramount importance," said Reed. "They need to hire more trans staff, allow trans people to cover the biggest stories that relate to our care, and take responsibility for ensuring their coverage is respectful and accurately portrays the scientific consensus around gender affirming care. I hope to see a real commitment to engaging with the community in the coming days."
"Their reporting on the transgender community has been anything but accurate and fair," said Jay Brown, HRC's senior vice president for programs, research and training. "Gender affirming medical care is widely supported by every major medical association — representing more than 1.3 million doctors — but they're platforming anti-trans extremists whose only goal is to push us all back into the closet. They aren't experts and shouldn't be treated as such. This isn't a matter of giving equal time to two sides of an issue. It's about giving radicals a platform that has been used by politicians to harm transgender people — and trans youth in particular. The Times must do better and they should listen to those of us who are transgender when we are telling them their reporting is dangerous."
In his Feb. 15 statement emailed to the Blade, Stadtlander had this to say in response to the coalition, the open letter and the protest:
"We received the open letter delivered by GLAAD and welcome their feedback. We understand how GLAAD and the co-signers of the letter see our coverage. But at the same time, we recognize that GLAAD's advocacy mission and The Times's journalistic mission are different.
"As a news organization, we pursue independent reporting on transgender issues that include profiling groundbreakers in the movement, challenges and prejudice faced by the community, and how society is grappling with debates about care.
"The very news stories criticized in their letter reported deeply and empathetically on issues of care and well-being for trans teens and adults. Our journalism strives to explore, interrogate and reflect the experiences, ideas and debates in society — to help readers understand them. Our reporting did exactly that and we're proud of it."