6 killed in shooting at Christian school in Nashville
The shooter was identified as Audrey Hale, 28, of Nashville who, according to police, identifies as transgender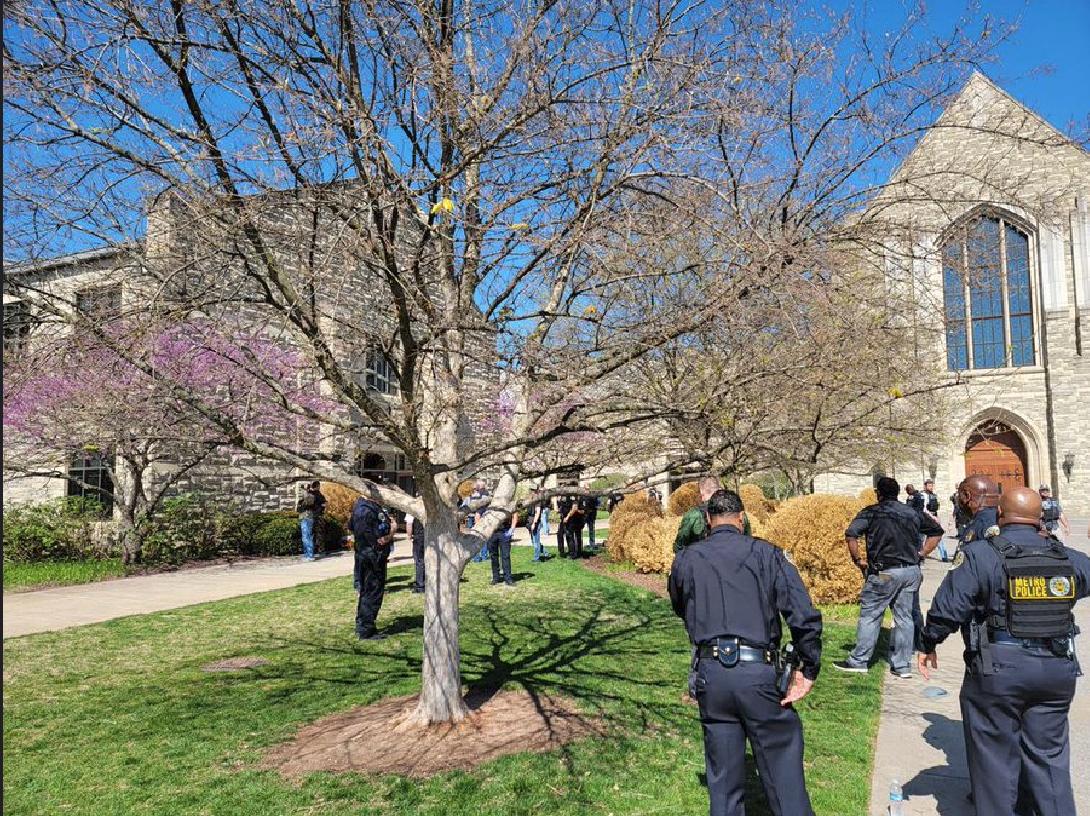 NASHVILLE – In a press conference Nashville Police Chief John Drake told reporters that earlier Monday morning a 28-year-old local female armed with two "assault-type rifles and a handgun," was killed by responding officers.
"At one point she was a student at that school," Chief Drake told reporters hours after the shooting at The Covenant School. "But unsure what year […] but that's what I've been told so far."
The shooter was identified as Audrey Hale, 28, of Nashville, who according to the chief, identifies as transgender.
According to Drake three children and three adults were killed in the shooting at The Covenant School on Burton Hills Boulevard, a private Christian school.
Children's Hospital Vanderbilt University Medical Center spokesperson John Howser told reporters "We can now confirm 3 children and 2 adults from the school shooting were transported to our Adult Emergency Department (The 2 adults) and (The 3 children) to the Pediatric Emergency Department at Monroe Carell Jr. Children's Hospital," Howser said adding "All 5 patients have been pronounced dead."
Police identified the three slain students as Evelyn Dieckhaus, Hallie Scruggs, and William Kinney, all age 9.
The three faculty members killed were Cynthia Peak and Mike Hill, both 61, and school head Katherine Koonce, 60.
At his only scheduled public event at the White House, President Joe Biden called the shooting "sick" and renewed his call for Congress to ban assault weapons.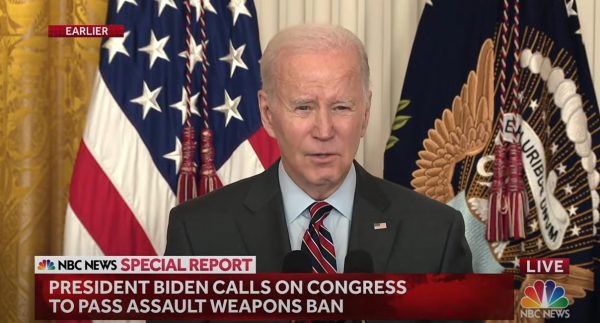 Chief Drake noted that the shooter was killed on the school's second floor by his officers acknowledging that the victims were students and staff members of the school.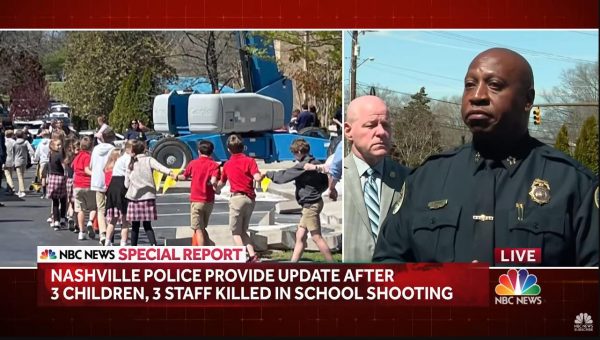 The school has students from preschool through sixth grade and on a normal day has about 200 students and 40 staff members on campus.
In a statement, Tennessee Gov. Bill Lee tweeted: "I am closely monitoring the tragic situation at Covenant. As we continue to respond, please join us in praying for the school, congregation & Nashville community."
I am closely monitoring the tragic situation at Covenant, & the @TNDeptofSafety & @TNHighwayPatrol are assisting local law enforcement & first responders at the scene.

As we continue to respond, please join us in praying for the school, congregation & Nashville community.

— Gov. Bill Lee (@GovBillLee) March 27, 2023
NBC News reported that just days ago, a 17-year-old suspect wounded two administrators at a Denver high school before he was found dead.
In February, three students were gunned down at Michigan State University. And in January, two students were fatally shot at a charter school in Des Moines, Iowa.
The Washington Post and other media outlets reporting that Rep. Andrew Ogles (R-Tenn.), who represents the Nashville district where the Covenant School is located, said Monday in a statement that he was "utterly heartbroken" by the mass shooting.
Gun reform activists including Fred Guttenberg, whose daughter Jamie was killed in the mass shooting at Marjory Stoneman Douglas High School in Parkland, Florida, on February 14, 2018, have called out Ogles for his hypocrisy posting tweets of Ogles posing with his children all carrying assault rifles in a 2021 family Christmas card photo:
The tragedy of the latest mass shooting is listening to Tennessee politicians who refuse to call it a shooting but who engaged in behavior that caused this to be more likely when they glorify guns. Tennessee Rep @AndyOgles, is this you with your family? pic.twitter.com/LJGnUKqJdA

— Fred Guttenberg (@fred_guttenberg) March 27, 2023
Pride on display in Tennessee's more than 100 Kroger stores
"I watch the news, usually with my jaw on the floor. They have lost their minds and they don't represent this state anymore"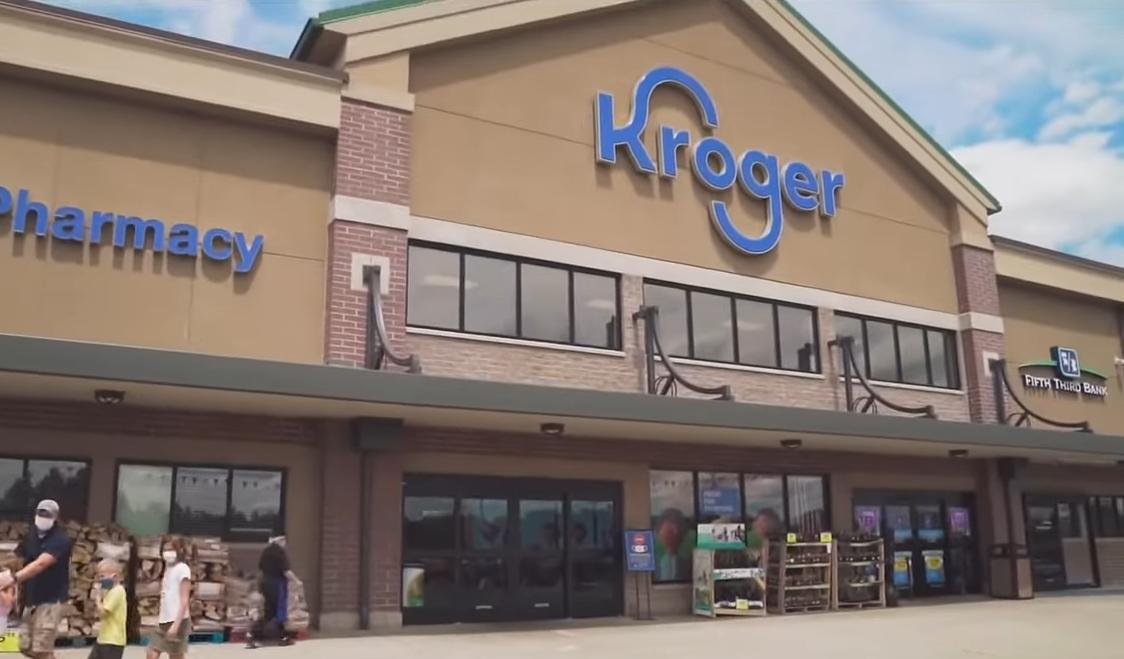 GREENBRIER, Tn. – As Tennessee lawmakers go nuclear attacking LGBTQ rights- attempting to mute drag queens and their shows, preventing trans youth from getting supportive transition care, barring LGBTQ school groups, banning books with LGBTQ themes from public libraries and allowing discrimination against same sex couples seeking to adopt a child- Some small but powerful pushback gestures are popping up all around the state, with rainbow stickers on business doors, bumper stickers on cars, and Love Wins posters in yards. 
But perhaps the most visible and daring show of support is from Kroger, the grocery store chain that has more than 115 locations in 56 cities throughout the state.
At one Kroger store in Greenbrier, a two-stoplight town in rural Robertson County situated about 30 miles north of Nashville on the Kentucky border, Jaxon, who requested that their last name not be used, was seen re-stocking the store's Pride Merch display.
"This stuff sells quite a bit, but it's just a little expensive for most people. They look at it and see $18 T-shirts and walk away, but I've noticed kids my age buy it anyway," said the 17-year-old grocery worker.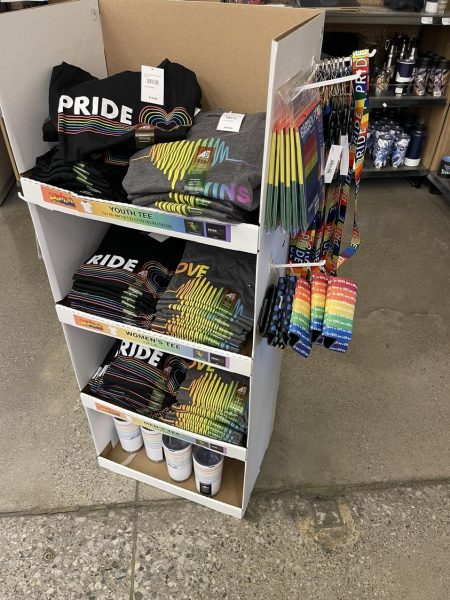 A store manager, who also asked for anonymity said: "I don't know if these are out in every store or not, but I know we have plenty of customers who are gay and lesbian. I see them here and I want them to feel happy." He added, "things are hard enough here for them so this is a little reminder that there is some love for them here."
"I'm Christian, you know," he said, looking away briefly "but I know God welcomes everybody." When asked what he knew about the Tennessee's legislative actions against trans youth, drag and LGBTQ+ people, he said "I watch the news, usually with my jaw on the floor. They have lost their minds and they don't represent this state anymore."
The likelihood of pushback will be difficult for Kroger, but it's inevitable.
Alice T. lives in nearby Springfield said; "I am not a homophobic person, but I have 3 children who don't need to see this stuff. I don't want to explain it to them, either, and I shouldn't have too," she said as the Blade interviewed her by a stand in the store's pharmacy area that displayed Magnum condoms and several lube options.
Another Greenbrier Kroger shopper, Marqus E. expressed a more neutral sentiment, saying he didn't think the display should be removed. "I ain't bothered by it. I don't understand homo life, but they probably don't understand rednecks either," he laughed. "We ain't botherin' nobody, you know."
He compared it to other things the store does to mark occasions. "Hell, I bought a Lily here a couple of weeks ago for Easter."
"It's not holiday," said Lisa G. as she stood by eavesdropping. "It's grooming. These people need to be stopped," she said as she stormed out of the store, kids in tow.
It's unlikely Kroger would remove the displays, however.
The Cincinnati-based grocery chain has taken a stand against Tennessee's local LGBTQ+ community previously and learned a painful lesson.
In 2007, Nashville's LGBT newspaper, Out and About, was told by its distributor that Kroger would no longer allow the paper to be distributed in its 34 local Kroger stores and three of the company's (now closed) Harris Teeter stores. The move dealt a major blow to the newspaper's distribution, impacting advertising revenue and readership.
"I believe there has been a call from some people in the religious community who have said take it out or they're going to make waves," Out & About wrote in reporting the story, quoting an executive who negotiated the contract for distribution at the two grocery chains.
The newspaper was shocked by Kroger's response.
Kroger's Nashville spokeswoman Melissa Eads said at the time. "We have had a long-standing policy in place that prohibits the third party from distributing publications that promote political, religious or other specific agendas. If a publication is offered that does not meet the guidelines mentioned above, we do ask the distributor to remove it. That is what recently happened when this publication was placed on our free rack."
The publisher of the country's then largest gay newspaper, New York City's Gay City News, who happens to be a native Nashvillian, emailed Kroger representatives to dispute the claim that company policy prohibits publications that push a particular point of view on social issues. He cited articles in several newspapers the stores distribute that violated their policy, yet distribution of those publications continue.
After receiving no response from Kroger, he contacted New York City's comptroller's office, which has a policy prohibiting the city from investing in any company that engages in discrimination.
The comptroller's office contacted Kroger executives informing them that the New York City's teacher's union had a $90,000,000 stake in their company that they may be forced to sell unless distribution of the newspaper was allowed.
Within days Kroger executives flew out on the company jet from Cincinnati to Nashville to apologize to Out and About' publisher Jerry Jones and to inform him that the publication was welcome in all Kroger stores.
Back at the Greenbrier Kroger, Laurence W. from Gallatin, said he was in town to help his best friend prepare for a drag show. "This means so much to me. You know, Tennessee is not such a bad place. What's happening here is old people shit. They can't stand our entire generation or new comers. But soon they will find out we are the majority, I hope."
A 2022 Vanderbilt graduate, he winced a little and clarified: "Well, it will take a while and there's going to be a lot more shit to come down."
When asked if he thought the Kroger display was something to be proud of, he said. "It is but I am also surprised by it. It means so much to me that in this storm we have powerful allies."