Cyd Zeigler picks priorities & LGBTQ kids didn't make the cut
We in the LGBTQ community have an editor power-player embracing the political mastermind of transphobic and LGBT erasure politics
HOLLYWOOD – Many of us have lived the contradiction. We have had friends and/or family members loving and supporting us to our faces, but facing a ballot box, vote for someone eager to do us harm. Do they really love us?
We are collectively experiencing such a situation as a community, a back-stabbing characteristic of when Julius Caesar uttered "E Tu Brutus," as his best friend's knife came hurling towards him.
This time the victim is not some classical politician however, it is a group of our most vulnerable — our LGBTQ kids who are getting the steely betrayal.
American conservatism has been incredibly callous towards children in general. When three Christian kids were gunned down recently, leading conservatives publicly shrugged their shoulders and said the silent part out loud, "We are not going to help you." They have made it clear that in a choice between guns and children, guns win.
It is in this crucible of priorities that current conservative strategists live, and within their strategies, a distracting scapegoat has needed to be found and opportunistically vilified.
For this brand of American conservatives, that group of scapegoats is transgender kids. Certainly the conservatives are after people of color, women, immigrants, the LGBTQ community as a whole, but are deadlocked most severely on the transgender teen, and if that teen is athletic – they receive the pinnacle of ire.
Conventional thought would assume that the targeted teen transgender athletes might find their greatest safe harbor and advocacy in a publication called Outsports.
Outsports is the premier LGBTQ news website that deals with issues and personalities in amateur and professional sports. With articles boasting titles such as "Sports need to discuss cisgender discomfort over transgender athletes winning", a teen feeling bullied and beaten by the reigning Republicans in transphobic state houses might feel at home.
Don't get comfortable.
Cyd Zeigler, co-founder and editor of Outsports has announced "I just registered as a Republican for the first time in 20 years." ("He's ALWAYS been "a Republican" philosophically," one source who works closely with him reports.)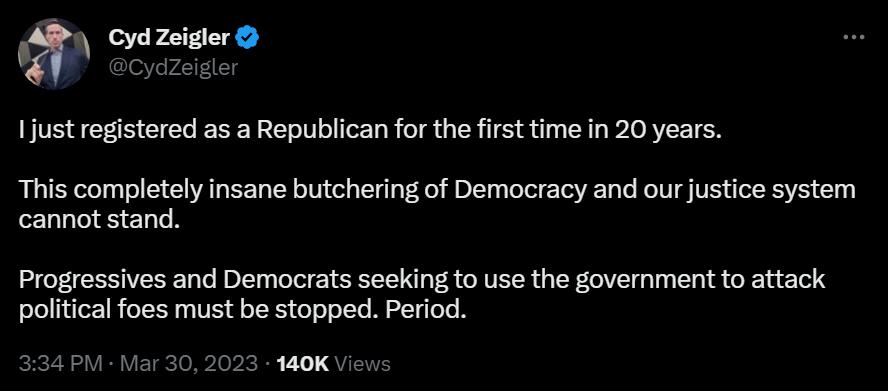 Zeigler's excuse for aligning with a party that has made transphobia a platform, is the indictment of Donald Trump. He fumes the Republican talking point that the Democrats are "seeking to use the government to attack political foes." This motivation alone calls into question Zeigler's competency in leading a transgender affirming publication. The discussions around trans rights are to educate with facts to offset Republican's vapid transphobic sound bite talking points. That he embraces such thin politically manipulative talking points around a judicial case, of which no one has yet seen the specifics and cannot sincerely evaluate, let alone judge, makes him a slave to politics and a betrayer of principle.
To add further insult to injury to the trans community, and to be, as athletic rights expert Dr. Veronica Ivy calls him, "a danger to trans people," Zeigler has aligned himself with probably the most transphobic wing of Republicans he can. "Thank you @GovRonDesantis," he tweets.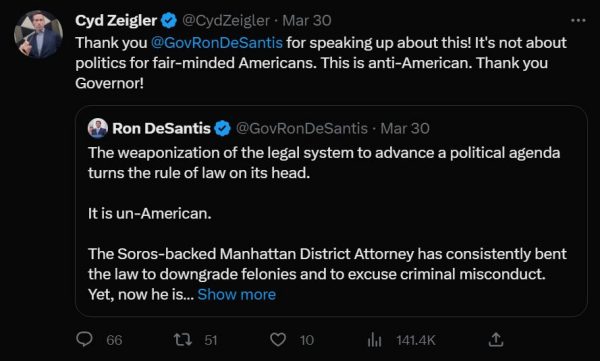 Thanking Ron DeSantis, the governor who spent the first day of Pride month in 2021 signing one of the first anti-trans athlete bills into law. Jaw drop. Thanking Ron DeSantis, not only an American conservative adhering to the plan to scapegoat LGBTQ kids and erase them, but who is arguably the architect of that plan.
It might be one thing if Zeigler had aligned himself with a Republican governor who vetoed a transphobic bill like Utah's Republican governor Spencer Cox, but no, Zeigler opted to go full traitor.
Being asked to trust a media player who in secret does not have your best interest at heart, is possibly becoming "normal." We in the LGBTQ community have an editor power-player embracing the political mastermind of transphobic and LGBT erasure politics, and the conservatives? Well, they have Tucker Carlson who secretly "hates Trump passionately."
While Trump-ian Richard Grenell and Zeigler's sister "Jess Z" applaud him, "So proud of my brother!" car dealer Jess exclaims, we have to send deep condolences to his staff, none of whom deserve this disrespect.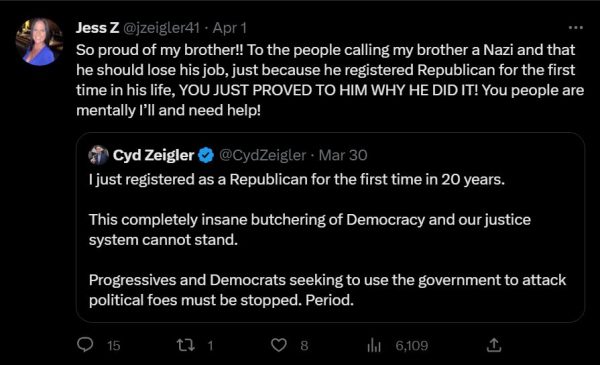 As for the LGBTQ community, and our teens in particular, John Casey of the Advocate asks, "Does Zeigler honestly have your best interests at heart? Does he truly represent what it means to be queer? Would you feel safe going to Zeigler?"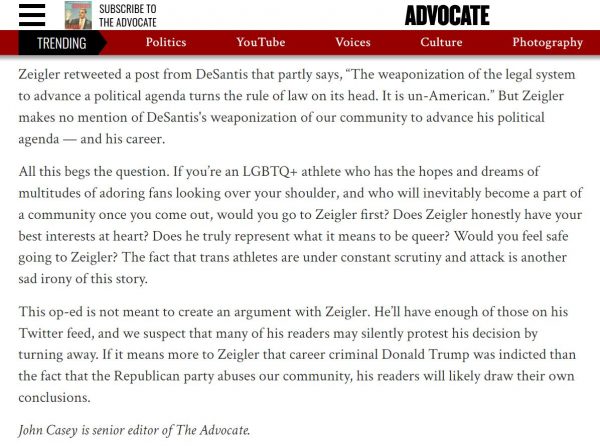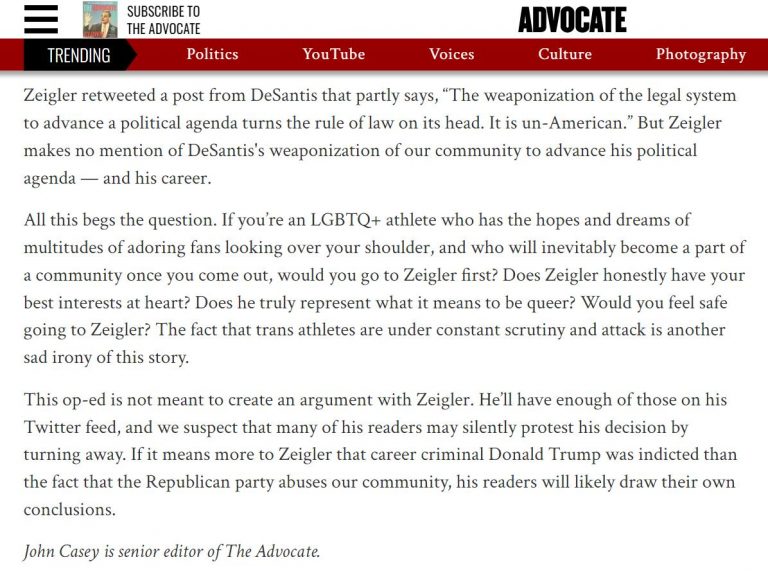 Richard Grenell tweeted his critique of the Advocate opinion editorial Sunday: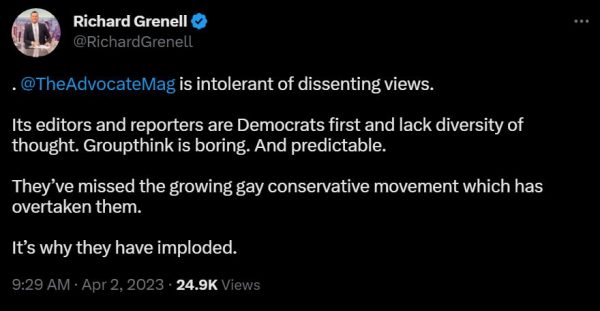 Our teens need, nay, they crave a hero who unflinchingly has their backs. Zeigler likes to cite his "many many years of advocating for trans people," as his defense.
Yeah, well, that was then. This is now.
You, Mr. Zeigler, are no hero. You are a Tucker.
**************************************************************************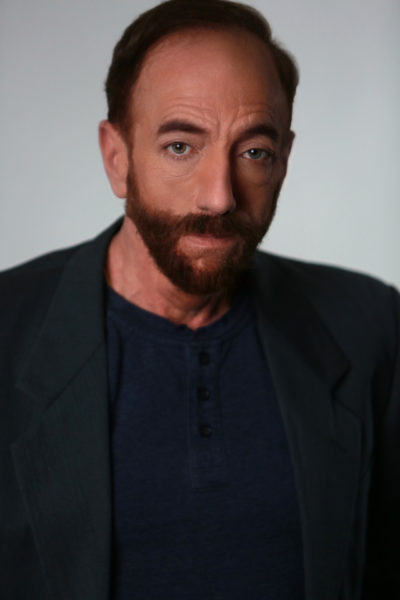 Rob Watson is the host of the popular Hollywood-based radio/podcast show RATED LGBT RADIO.
He is an established LGBTQ columnist and blogger having written for many top online publications including The Los Angeles Blade, The Washington Blade, Parents Magazine, the Huffington Post, LGBTQ Nation, Gay Star News, the New Civil Rights Movement, and more.
He served as Executive Editor for The Good Man Project, has appeared on MSNBC and been quoted in Business Week and Forbes Magazine.
He is CEO of Watson Writes, a marketing communications agency, and can be reached at [email protected] .
South Africa's non-alignment costing Africa's human rights discourse
Country must take stronger stance against Uganda's anti-homosexuality law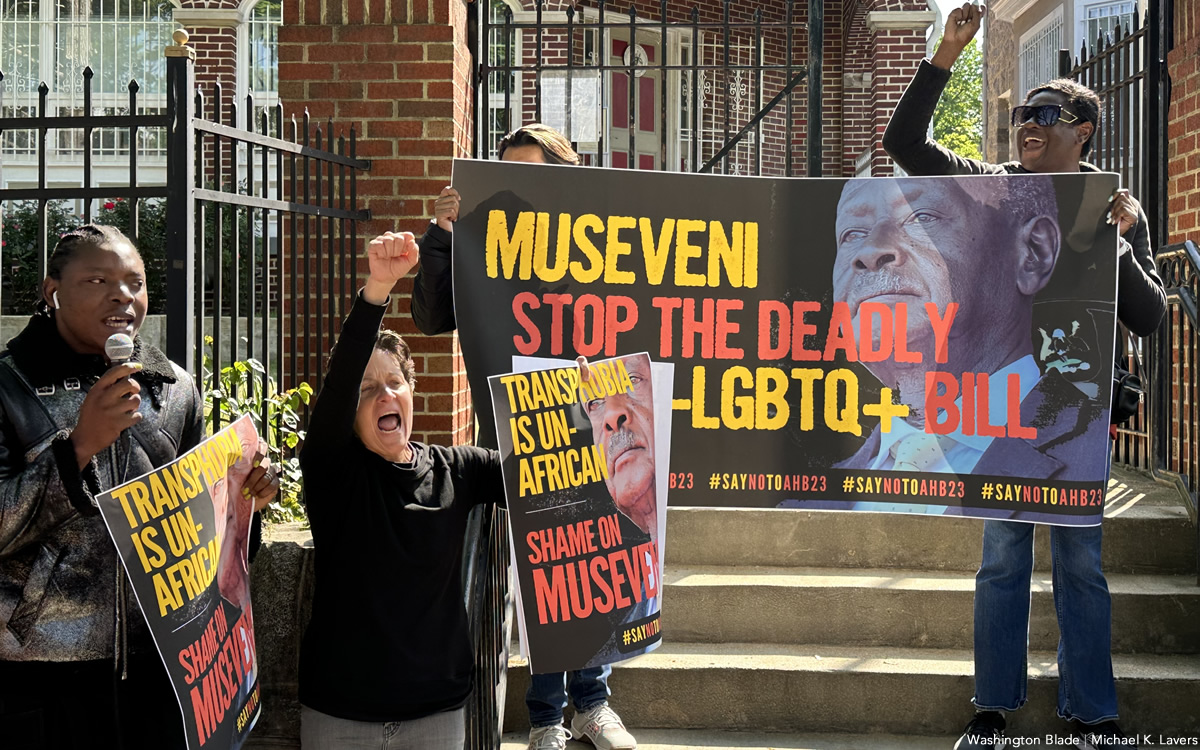 In the past several months, South Africa's foreign policy has been in the spotlight for essential and existential reasons that significantly impact geopolitics and the continent's stability.
The foreign policy for South Africa discussion document by the Department of International Relations highlights the "advancement of human rights and the promotion of democracy" as the pillars on which South Africa's foreign policy rests. This document emphasizes the role that South Africa is expected to play in the "promotion of human rights and democracy."
Minister Pandor echoed this document in her 2022 end-of-year remarks.
"We will continue with our unwavering position to advocate for a balanced Sustainable Development Program within the human rights framework as underlined in the Vienna Declaration and Program of Action (VDPA). In this regard, South Africa will be one of the chief proponents of a balanced agenda of the HRC, which reflects, among others, the primacy of achieving the realization of the right to development as well as moral human rights issues such as the eradication of poverty and underdevelopment."
South Africa has long been known for its commitment to human rights and its leadership in the fight against apartheid. However, its foreign policy continues to be viewed as ambiguous and nonresponsive to developments in African affecting the growth of the continent.
In 2021, President Ramaphosa — as chair of the SADC Organ Troika — committed to a national political dialogue in Eswatini to resolve the political killings in that country. However, the South African government has never followed up or called on the Eswatini government to adhere to its commitment, even as renowned human rights lawyer Thulani Maseko was mercilessly assassinated in January 2023. At the very least, this has not been seen publicly, which would be comforting to those political activists and citizens constantly living in fear in Eswatini.
On May 29, the president of Uganda enacted the draconian Anti-Homosexuality Act. The new law is a throwback to colonization, where religious fanatism was the basis for the persecution and killing of many Africans. While Africa seems to take the posture of "fighting against imperialism," it is saddening that this law is the brainchild of American zealots funding hate across Africa, whether it is in Uganda, Ghana, Kenya, Malawi or Namibia. These zealots, the Fellowship Foundation and many others, are well coordinated in their attacks on the judiciary and the African human rights framework, backed by the 75-year-old Universal Declaration of Human Rights.
In an era where Africa is seen to be taking a stance against imperialism, I shudder to contemplate that hate may be the only imperialist agenda Africa is not actively standing up against. We know the history of petty offences like homelessness and loitering, sedition laws, and anti-LGBTI laws. These are remnants of colonization to keep Africa inferior and the colonial masters superior. Today, the hate continues through repressive and backwards sentiment being paraded as religious values. Uganda's anti-homosexuality law criminalizes what it calls "aggravated homosexuality" with the death penalty. It would be hard to imagine what "aggravated homosexuality" even means.
This is another opportunity where South Africa's posture and foreign policy must be spotlighted. With the growing conversation about the ICC arrest warrant of President Putin, South Africa has reiterated its foreign policy as non-alignment and non-interference.
However, when the question of human rights and democracy is at play, all must take a stand. This law has been widely criticized by human rights organizations and the international community for violating the rights of LGBTIQ+ individuals and hindering the fight against HIV. It further impedes what Minister Pandor called the "balanced agenda of the HRC," which speaks to sustainable development within the human rights framework.
It should be worrying if South Africa continues to maintain a policy of non-alignment and non-interference in the face of the new law in Uganda. While this policy may have its merits, it raises questions about South Africa's commitment to human rights and its role as a leader in Africa. A foreign policy that neglects the promotion of human rights and democratic principles is hypocritical. On the one hand, South Africa is seen as a leader in promoting LGBTIQ+ rights and has one of the most progressive constitutions in the world regarding protecting the rights of LGBTIQ+ individuals. However, on the other hand, it has failed to take a strong stance against Uganda's anti-homosexuality law, which is a clear violation of human rights.
By maintaining this policy, South Africa is essentially condoning Uganda's anti-homosexuality law and undermining the fight for human rights in Africa. This is particularly concerning given South Africa's leadership role in the African Union and its commitment to promoting human rights and democracy.
South Africa's foreign policy regarding Uganda's anti-homosexuality law raises questions about its commitment to non-alignment and human rights in Africa. While non-interference may have its merits, it should not come at the expense of human rights and the fight for equality and justice.
South Africa must take a stronger stance against Uganda's anti-homosexuality law and work towards promoting human rights and democracy in Africa.
Melusi Simelane is the Southern Africa Litigation Center's Civic Rights Program Manager.