'Sylvia' summons queer horror comedy at its comedic best
Something refreshing while we wait for summer movie season to arrive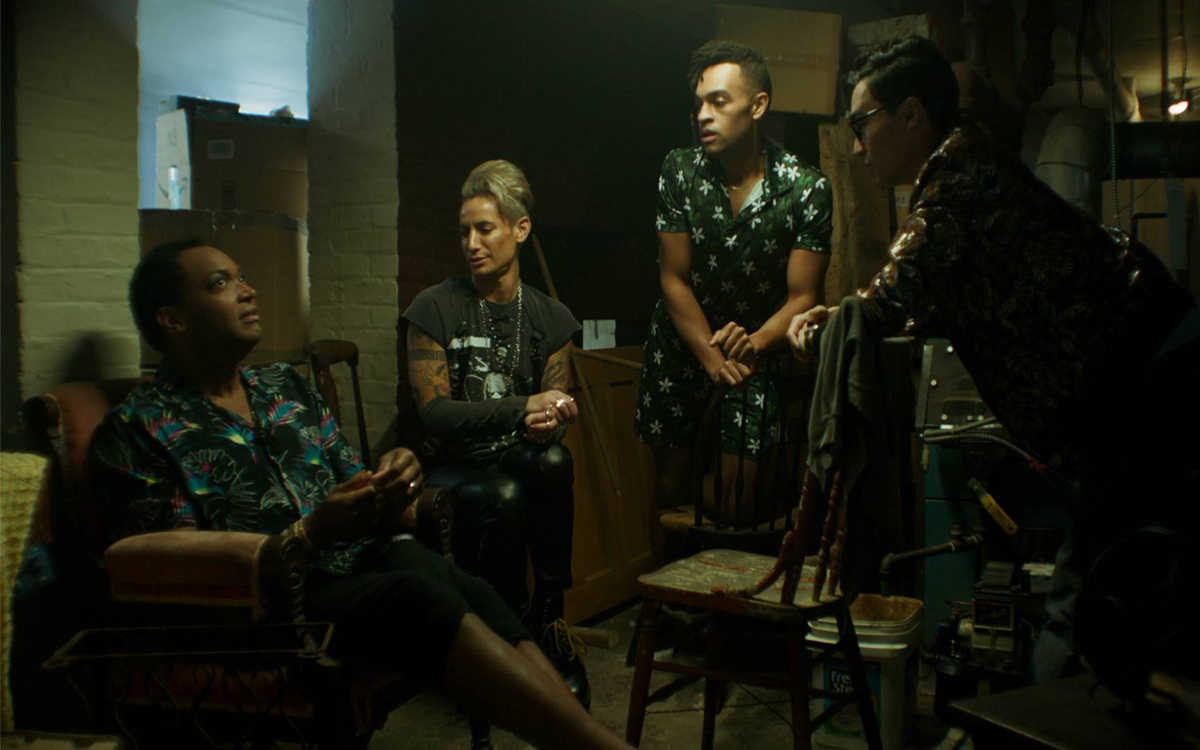 There was a time when the words "straight-to-video" carried an unspoken implication of mediocrity, at best – but that was before a massive shift in the film industry, accelerated but perhaps not solely driven by the pandemic and the need it created for "watch at home" options – changed the game when it comes to judging a movie by its viewing format.
Consider "Summoning Sylvia," a campy horror comedy that made its VOD premiere on April 7, in which all but one of the characters (two if you count dead people) are queer. It's safe to say that it's definitely a "niche" film, and despite being granted a brief-and-perfunctory theatrical run – presumably, like most non-mainstream movies of similar ilk, for the purposes of awards consideration – it's not the kind of thing that might have gotten a wide big screen release at any point in the history of the American film industry. At first assessment, it might seem like a rollicking, raunchy and VERY gay piece of fluff; it's all those things, but it has a lot more imagination and ambition behind it than meets the eye from scrolling past the trailer on social media.
Written and directed by Wesley Taylor and Alex Wyse, it's an absurdly farcical yet genuinely hair-raising adventure in which Larry (Travis Coles), on the eve of being "gay-married," is kidnapped by his groomsmen (Frankie Grande, Troy Iwata, and Noah J. Ricketts) for a bachelor party weekend at a country house in upstate New York, reputedly haunted by the ghost of a woman (the titular Sylvia, played by Veanne Cox) who murdered her own son (Camden Garcia) before being killed herself by an angry mob 100 years ago. Naturally, the queer quartet tries to unravel this century-old mystery by holding a séance, but the unforeseen addition to the mix of future brother-in-law Harrison (Nicholas Logan) – an ex-soldier with clearly antisocial and possibly homophobic personality issues – turns their tongue-in-cheek party game into a terrifying-yet-hilarious battle with the dark forces that seemingly rule over their fashionably rustic Airbnb.
It's all very silly, of course, and anyone hoping for hardcore horror featuring malevolent ghosts and demonic possession are likely to be sorely disappointed; what's surprising is how often it manages to supersede its silliness to deliver more than just the occasional cheap jump scare, and how well it frames its madcap scenario through a perspective that, incredibly, makes everything feel a lot weightier – or at least, more meaningful – than its campy comedic tone invites us to expect.
Some background on the film's creators quickly offers a possible explanation for why that might be so. Taylor and Wyse, Broadway stalwarts both onstage and off, come at their material from a theatrical tradition that includes such absurdist queer playwrights as Joe Orton, Christopher Durang, Paul Rudnick, and others whose work use pointedly nonsensical contrivances to poke fun at socially relevant themes that might otherwise not be so amusing. Their film is rife with that same surrealist spirit, while still evoking the old-fashioned pleasures of such humorously macabre classics as "Blithe Spirit" or "Arsenic and Old Lace" – a good-natured blending of styles that goes a long way toward opening audiences up to its familiar premise. To put it more simply, if a bit poetically, there is an unmistakable method to the madness.
If references to 20th-century absurdist theater don't ring a bell for you, it might be more appropriate to draw parallels from a cinematic angle; it's impossible not to notice how strongly "Summoning Sylvia" evokes the non-stop, throw-it-at-the-wall-and-see-what-sticks comedic milieu of filmmakers like Mel Brooks, whose anything-for-a-laugh style never got in the way of a respectful and proficient cinematic style nor precluded the possibility for scathingly candid cultural commentary, or even the self-aware "meta" sensibilities of someone like Guillermo Del Toro, whose understanding of horror is deeply intertwined with an recognition of the genre's potential for underscoring fear with a humanistic streak that makes it a vehicle for transcendence as well as for terror.
Still, such comparisons don't quite capture the exact nature of this unabashedly nonsensical movie's charms – it's neither as anarchic as a Mel Brooks film nor as melancholy as a Del Toro – but they approximate the space in which it stakes its claim; it should be obvious to any seasoned film buff that "Summoning Sylvia" carefully aligns its supposedly otherworldly sense of menace with an all-too-realistic fear of violent homophobia, and that its insinuation of an apparently angry straight man with seemingly toxic views about sexuality and gender as a potential existential threat to its queer band of determined-but-daffy protagonists has a lot more significance than a mere plot device. To put it simply, it's a movie that never tries too hard to drive home its allegorical story arc, which it highlights as much by sending up as by serious contemplation, but it also never tries to pretend that it doesn't have one, and in serving both ends at once it succeeds in proving that a film can be purely entertaining and still have the kind of substance that keeps it from being simply a guilty pleasure.
It should go without saying that much of its success comes from the ability of its cast to walk the thin line required of them by the material. Though the film's most recognizable star is arguably out Tony-winning actor Michael Urie, who delivers little more than a cameo performance – albeit a solid and likable one – as Larry's husband-to-be, it's up to the rest of the cast to do the heavy lifting; they're more than capable, with Coles standing out as a strong lead in a diverse ensemble of players, and Grande surpassing expectation with a show-stealing turn as the fiercely femme and unapologetically over-the-top Nico, whose self-proclaimed witchiness and unrestrained libido play a big part in making Larry's bachelor party a weekend to be remembered, for better or for worse. Even Sean Grandillo, whose short appearance as an unexpected interloper into the weekend's events adds a memorable dash of winking, trope-twisting humor to the program, makes an impression on the strength of his sheer, joyful goofiness alone.
All of this is not to say that "Summoning Sylvia" is the kind of cinematic masterpiece that makes a whole industry stand up and take notice; while its unpretentiousness allows us to absorb its higher points without heavy-handed obviousness, its messaging is hardly anything new. Even so, any movie that addresses the specter of homophobia – especially in an age when even the comparatively innocent phenomenon of drag, given suitably elevated status by Taylor and Wyse in a highly entertaining climactic sequence, is under attack from bigots desperate to turn the tide of growing queer acceptance – is a welcome addition to our must-see list, and this one manages to do so without sacrificing its sense of humor or its commitment to entertaining us.
It may not change your life, but it's sure to provide a fun 75 minutes' worth of viewing pleasure – and that's more than enough to earn our recommendation for any queer movie fan looking for something new and refreshing while we wait for the summer movie season to arrive.
Summer brings major dose of new queer film, TV content
New book awash in crazy action, humor, and superheroes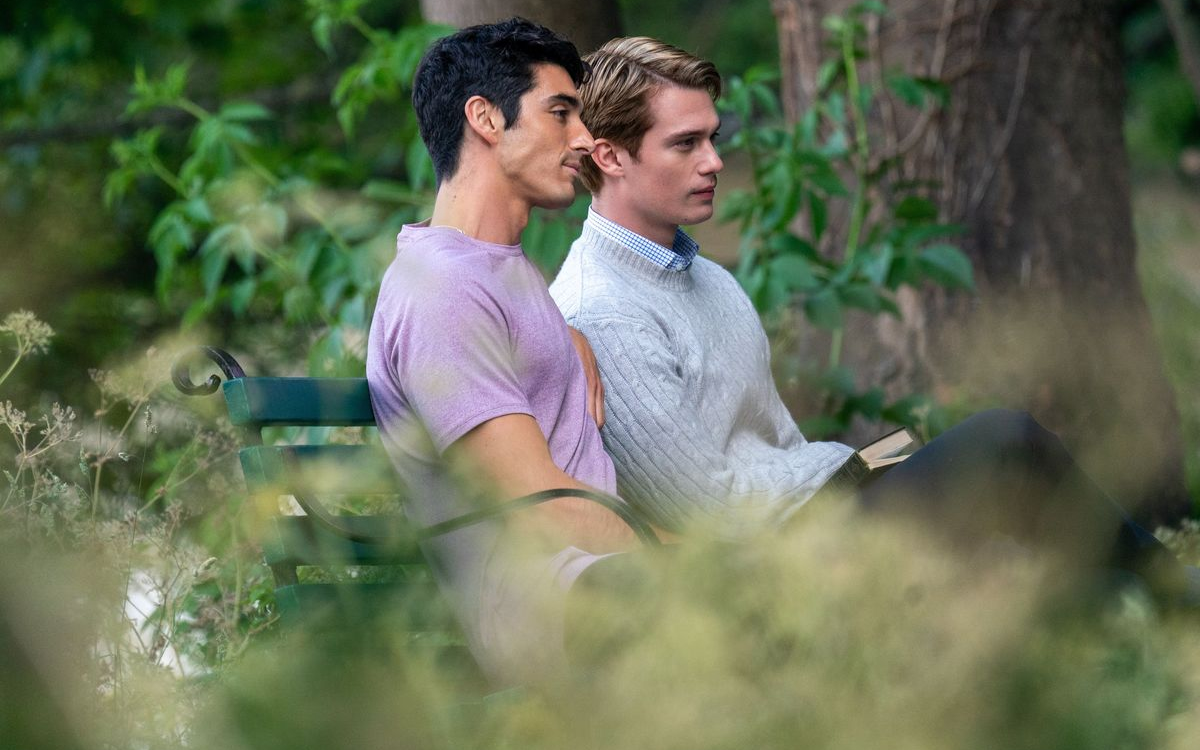 There's no season quite like the summer when it comes to having fun outdoors, for obvious reasons – but unless you want a nasty sunburn, you need to spend time indoors, too. Luckily, the Blade is here for our readers with our picks for the most promising new movies and shows coming to our various screens over the coming season, so you'll have something good to watch while you're recovering from all that shiny Vitamin D.
JUNE
THE NEIGHBOR (Limited theaters 6/2, Digital & DVD 6/6) – From Italian director Pasquale Marrazzo comes this fresh-from-the-festivals LGBTQ drama about two young men who begin an intense romance after having a terrifying experience together, and the parental hate and homophobia that comes to light in the face of their newfound love. It sounds grim, but it comes with a string of strong reviews to recommend it and acclaimed performances from Michelle Costabile and Jacopo Costantini, plus a score by prizewinning composer Teho Teardo ("House of Gucci," "Il Divo").
HORSEPLAY (Limited theaters 6/2, Digital & DVD 6/13) – Another queer LGBTQ film fest darling, this one a thriller from Argentina, about a group of friends at a summer get together; their hard-partying fun leads to horseplay (naturally), which (also naturally) stirs up other issues – and submerged secrets, feelings, and jealousies begin to push tensions toward a violent breaking point. Directed by acclaimed filmmaker Marco Berger and described as "a boundary-pushing look at masculinity, homophobia and sexuality," it stars Bruno Giganti, Agustín Machta, Franco De La Puente, and Ivan Masliah Taekwondo. It also looks very sexy, which makes us look forward to it that much more.
THE IDOL (HBO, 6/4) – "Euphoria" creator Dan Levinson is also behind this much-anticipated new series, which stars Lily-Rose Depp as a rising pop star who falls under the spell a Svengali-like self-help guru played by none other than The Weeknd (aka Abel Tesfaye). It also stars queer fan favorite and "Schitt's Creek" co-creator Dan Levy, along with Jane Adams, Hari Nef, and Troye Sivan, among others. Already controversial thanks to a behind-the-scenes whistleblower who told Rolling Stone that it "borders on sexual torture porn," you can bet there will be a lot of eyes – queer and otherwise – streaming this one.
ALL MAN: THE INTERNATIONAL MALE STORY (Digital, 6/6) – For a certain generation of gay men, the words "International Male" evoke memories of rushing home from high school to grab that precious sexy catalogue out of the mailbox before their parents got home. Now, this long-awaited documentary – which was an Official Selection at both the Tribeca and Outfest Film Festivals – finally arrives to bring the story of this iconic touchstone of queer history to light, by charting "the journey of an unlikely band of outsiders" who "designed one of the most sought-after mail-order catalogues of the '70s and '80s, forever changing the way men look at themselves, at each other, and how the world would look at them." Matt Bomer, Simon Doonan, and Carson Kressley are among the participating talking heads, but the real attraction is the wealth of archival imagery showing some of the most outrageously gay (and irresistible) fashion ever created.
BLUE JEAN (In Theaters, 9/9) – UK filmmaker Georgia Oakley won high praise for this 2022 slice-of-history drama, now making its official U.S. debut. Set in 1988 England as the conservative Thatcher government is poised to pass stigmatizing legislation against gays and lesbians, it features a powerhouse performance from Rosy McEwen as a gym teacher whose closeted double life is threatened by the arrival of a new student. BAFTA-nominated, this one won the Venice Film Festival's People's Choice Award and four British Independent Film Awards, making it both a heavy-hitter and a must-see.
WHAT WE DO IN THE SHADOWS (FX, 6/13) – The popular vampire mockumentary – along with its breakout star, queer fan favorite Harvey Guillén – returns for a fifth season.
JAGGED MIND (Hulu, 6/15) – Directed by Kelley Kali and inspired by her own short film "First Date", this feature-length queer thriller follows a woman (Maisie Richardson-Sellers) who, plagued by blackouts and strange visions, finds herself stuck in a series of time loops that may or may not be connected to her mysterious new girlfriend (Shannon Woodward). This one will have its world premiere at the American Black Film Festival in Miami Beach the day ahead of its streaming drop.
AND JUST LIKE THAT… (Max, 6/22) – The Samantha-less reboot of "Sex and the City" brings back the rest of the scandalous cadre for a second season.
EVERY BODY (In theaters, 6/30) – Julie Cohen directed this revelatory doc, which investigates the lives of intersex people, telling the stories of three individuals who have risen above childhood shame, secrecy, and non-consensual surgeries to thrive as adults after coming out as their authentic selves; it also weaves in a "stranger-than-fiction" tale of medical abuse, told in exclusive footage from the NBC News archives, which helps shed some light on the modern-day treatment of intersex people. We are definitely on board for anything that brings visibility to one of the most invisible sectors of our community – especially when it also aims to reduce stigma.
JULY
THEATER CAMP (In theaters, 7/14) – Sure to be a big draw for film fans who also love musical theater, this new movie from co-directors Molly Gordon and Nick Lieberman is an original comedy starring Tony-winner Ben Platt ("Dear Evan Hansen") opposite Gordon as a BFF pair of instructors at the rundown titular institution, who join forces with their loyal production manager (Noah Galvin, Platt's real-life boyfriend) to rescue it from the clueless tech-bro (Jimmy Tatro) that has been brought in to run it. How? Why, with a musical, of course! Written by Platt, Gordon, Galvin, and Leiberman, it also stars Patti Harrison, Nathan Lee Graham, Ayo Edebiri, Owen Thiele, Alan Kim, Alexander Bello, Bailee Bonick, Kyndra Sanchez, Donovan Colan, Vivienne Sachs, Quinn Titcomb, Caroline Aaron, and the always hilarious Amy Sedaris. Sign us up.
BARBIE (In theaters, 7/21) – Let's face it, this wickedly campy-looking, over-the-top comedy from the brilliant Greta Gerwig is probably going to be the film of the year – at least for a solid percentage of the queer audience, who are certain to be passing the popcorn on opening weekend as they watch Margot Robbie's Barbie and Ryan Gosling's Ken visit the real world together. And since collections have always been part of the "Barbie" game, Gerwig's satirical joyride offers an assortment of other Kens and Barbies, including Kingsley Ben-Adir, Simu Liu, Ncuti Gatwa, and Scott Evans as Ken, Hari Nef, Issa Rae, Kate McKinnon, Dua Lipa, Emma Mackey, Ana Cruz Kayne, Sharon Rooney, Alexandra Shipp, and Nicola Coughlan. Truthfully, if they throw in a Barbie camper set, we will be in heaven.
KOKOMO CITY (In theaters, 7/28) – Lena Waithe executive produced this "wildly entertaining and refreshingly unfiltered" documentary that follows the lives of four Black transgender sex workers in Atlanta and New York City. Winner of Sundance's NEXT Innovator Award and NEXT Audience Awards, it gives its quartet of subjects ample opportunity to spill the tea on their profession, and they do not hold back. As a bonus, it's the directorial debut of producer/singer/songwriter D. Smith, who made history as the first trans woman cast on a primetime unscripted TV show.
AUGUST
HEARTSTOPPER (Netflix, 8/3) – The eagerly awaited return of Nick and Charlie (Kit Connor and Joe Locke), the most irresistibly adorable pair of young teen boyfriends ever, for a second season of this beloved UK series that will likely have everyone immediately clamoring for a third.
ONLY MURDERS IN THE BUILDING (Hulu, 8/8) – Another returning favorite, the third season of this deliciously charming confectionary blend of characters, comedy and crime podcasts comes with the addition of a new premium ingredient – Meryl Streep (real, not imitation) – for extra delectability. Who could resist?
RED, WHITE & ROYAL BLUE (Prime, 8/11) – "Heartstopper" fans who have binged through the new season in one sitting and are hungry for more might find a suitable fix when this Greg Berlanti-produced, Matthew Lopez-directed film adaptation of nonbinary author Casey McQuiston's YA bestseller drops a week later. It's an implausible but infectiously sweet rom-com that imagines a same-sex romance between America's First Son and the heir to the British throne, with young newcomers Taylor Zakhar Pérez and Nicholas Galitzine taking on the leading roles; also starring are Clifton Collins Jr., Stephen Fry, Sarah Shahi, Rachel Hilson, Ellie Bamber, Aneesh Sheth, and Polo Morín, but we are frankly most excited to see Uma Thurman playing America's first female president. Let's hope that plot detail isn't such an implausible premise.