Low-priced, high-value rides: Kia Sportage, Nissan Rogue
Finally, car buyers are paying less than the sticker price for a new car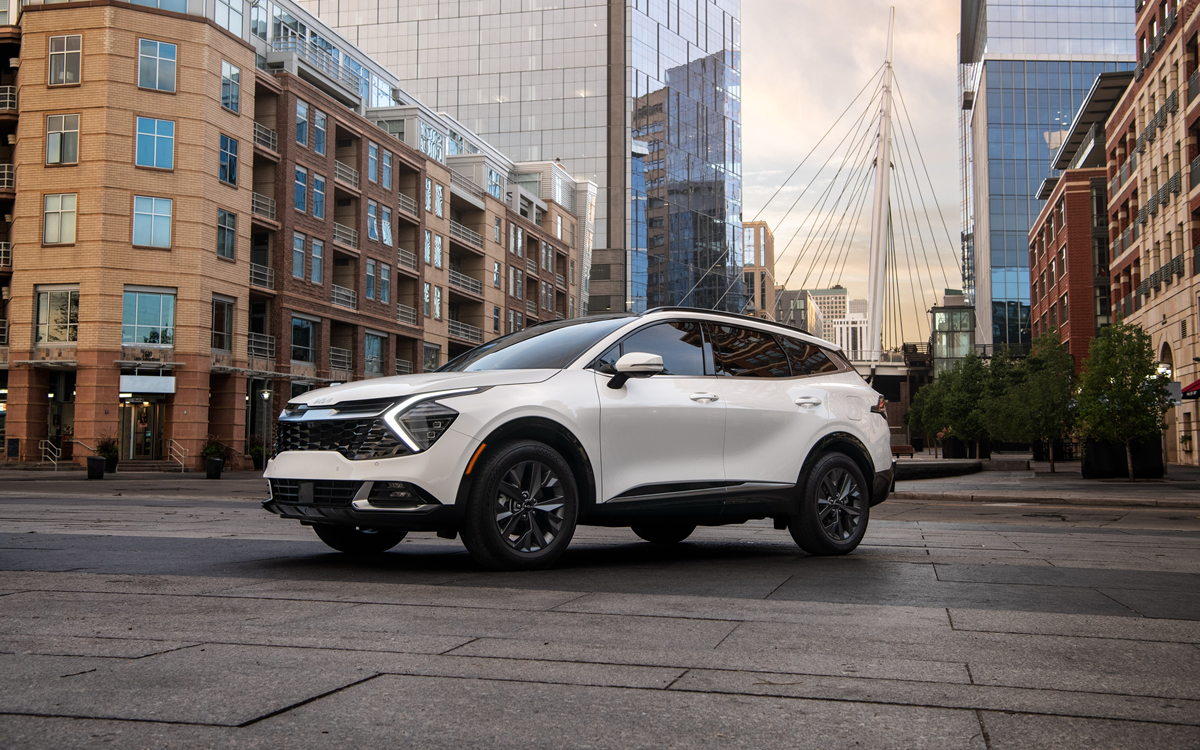 Hallelujah! For the first time in two years, car buyers are paying less than the sticker price on a new car. After a years-long economic rollercoaster — driven by the pandemic, the war in Ukraine and a gaping shortage of microchips needed to produce cars and trucks — vehicle inventory is finally up. And automaker incentives—those much-touted discounts and cash-back offers—are back, too.
But lest you think we've returned to the days of pre-COVID pricing, here's a reality check: The average price for a new vehicle in 2019 was just shy of $39,000, while this year it is expected to top—yikes!— $50,000.
That's why the two compact crossovers reviewed here are so appealing. Both look sassy, handle sharply and are chock-full of standard gear. Best of all, sticker prices on these rides start below $30,000.
KIA SPORTAGE
$28,000
MPG: 25 city/32 highway
0 to 60 mph: 9.3 seconds
Think of the Kia Sportage as Dorian Gray: an alluring crossover that never gets old. The popular Sportage is the automaker's longest-running nameplate in America, arriving here in the mid-1990s. But this fifth-gen version—completely redesigned for 2023—mirrors the edgy, come-hither look of a luxe-laden Lexus NX. There's a slightly obnoxious, wraparound grille, which caused more than a few raised eyebrows each time I zipped around town. And don't ask me why, but the design of the hiked-up rear-end reminded me of a buff Tom of Finland character wearing spikey heels—those would be Jimmy Choo or Christian Louboutin pumps, of course, not any of that clunky Naturalizer stuff. In other words, the Sportage could easily set tongues wagging at your next drag story-time event. Inside, the hedonism continues, with an obscenely wide digital monitor that stretches almost fully across the dashboard. This includes a 12.3-inch instrument panel and 12.3-inch touchscreen infotainment system. Even the base model gets heated seats, and the rear seats both slide and recline. Remote keyless entry, smartphone integration and Wi-Fi hotspot are standard. So are various safety features, such as forward-collision warning, lane-departure warning, lane-keeping assist and a driver-attention system that can sense if you are getting drowsy. But trust me, with all the sybaritic delights—including heated steering wheel, premium stereo, panoramic sunroof, and satin chrome accents—there is plenty here to keep you awake. There are also a dozen trim levels, with three priced below $30,000. This includes a fuel-friendly hybrid, with up to 44 miles per gallon on the highway. My test vehicle was the X-Pro Prestige, which was fully decked out. My only complaint was the tepid engine, which is pokey compared with the hybrid and some other highly competitive crossovers. Luckily, I really enjoyed the capable handling and braking. And overall, it would be hard to resist the class-leading warranty and passenger room in the Sportage, as well as that tantalizing design.
NISSAN ROGUE
$28,000
MPG: 30 city/37 highway
0 to 60 mph: 8.4 seconds
The iconic Nissan Rogue was completely redesigned in 2021. As with the Kia Sportage, this means snazzier styling—inside and out—as well as improved handling and a quieter interior. But there also are some key differences. The Sportage flaunts a more in-your-face exterior, has better towing capacity, and is available as a hybrid or plug-in hybrid. Kia also offers a better warranty, and its vehicles have higher reliability ratings. Yet while the Sportage has more rear-seat legroom, the Rogue boasts more front-seat legroom and headroom. The Rogue also has a larger fuel tank, so fewer stops at the gas station, as well as better horsepower and torque. And the Rogue is a bit narrower and has a smaller turning radius, which makes it somewhat easier to maneuver. I enjoyed testing the Sportage, as noted above. But the Rogue was just as delightful in its own way. While the exterior design may be more sedate on the Rogue, it is still beguiling. Yes, the interior is low-key, but it echoes the restrained cabin of a sporty BMW. This included a simple-yet-refined dashboard, upscale trim and pleasing soft-touch materials throughout. There is no ginormous, IMAX-like digital display as in the Sportage, but the sleek easy-to-use infotainment touchscreen does sit prominently atop the dash. Acceleration, cornering and braking were all sure and capable, and standard safety features included automated emergency braking with pedestrian detection as well as blind-spot monitor with rear cross-traffic alert. Choosing either the Sportage or the Rogue is like choosing between, say, the sparkly RuPaul or the spellbinding actress Daniela Vega. Personally, it would be a thrill to drive anywhere with either one.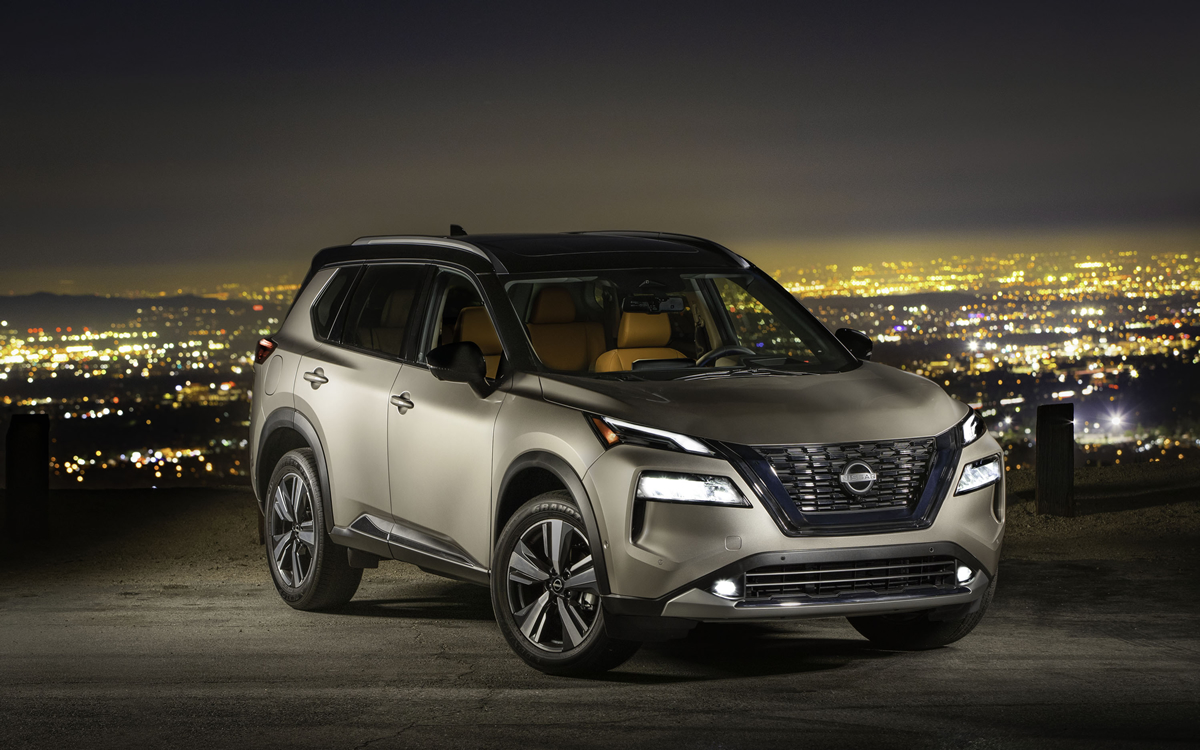 All charged up: Ford Mustang Mach-E, Mercedes EQB
Move over, Tesla!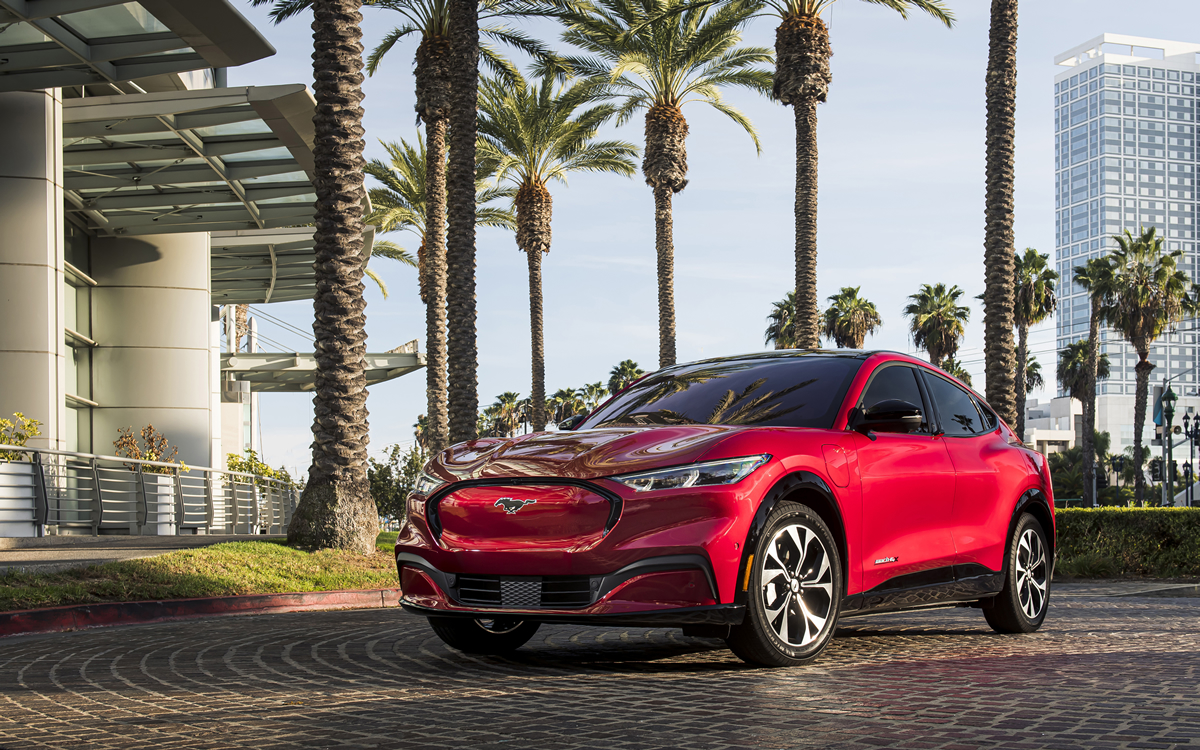 Move over, Tesla! Elon Musk may have delivered a record number of electric vehicles last year, but rivals are certainly nipping at his heels. Robust demand for the all-electric Mustang Mach-E, for example, has helped make Ford the second-best EV producer in the U.S. And global EV sales for Mercedes more than doubled in 2022, thanks in part to the automaker's all-electric crossover: the EQB. Motorheads like me are all charged about such electrifying rides, and for good reason.
FORD MUSTANG MACH-E
$46,000
Battery range: 270-312 miles
0 to 60 mph: 5.1 seconds
OK, fine, Ford sold fewer than 62,000 EVs in the U.S. last year compared with over 522,000 cars sold by Tesla. Yet while Tesla sales were up 40%, Ford EV sales skyrocketed a whopping 126%. Yes, Tesla sold an impressive 1.3 million-plus vehicles worldwide in 2022, but Ford expects to sell 2 million EVs by 2026. The Mustang Mach-E—first introduced as a 2021 model—shows you one way Ford expects to get there.
For 2023, Ford knew better than to mess with the winning design of the Mach-E, which is at once futuristic and timeless. My fave styling cue is the clever use of flush-mounted buttons on the outside door frames instead of clunky conventional door handles.
Inside, with the battery placed under the floor, there's oodles of room for passengers and cargo—including 60 cubic feet of stowage with the rear seats folded. Beneath the center console, there's enough space for a handbag or small computer case.
The wide dashboard has a built-in soundbar, as well as large vertical touchscreen for the infotainment system. An active-safety system—with forward-collision alert, emergency braking, evasive steering and such—is now standard across the lineup.
This year the battery range can reach up to 312 miles, which outpaces much of the competition—including the Hyundai Ioniq, Volkswagen ID.4 and Volvo C40 Recharge. Another plus: Mach-E sticker prices have been reduced between $400 and $5,700, depending on trim level. Pricing also has been slashed for the extended-range battery, from $8,600 to $7,000.
Sure, there's still a big difference between the $46,000 base model and $65,000 high-test GT. But trust me, the thrill of that GT is hard to resist. Stomp on the accelerator, enjoy the excitement as your body is thrust back against the driver's seat, and be prepared to achieve warp speed. Rocketing from 0 to 60 mph in just 3.5 seconds took my breath away—literally. Many auto aficionados were skeptical when Ford first gave this EV the seemingly bait-and-switch moniker of a "Mustang," but the GT version of the Mach-E comes closest to feeling like a true pony car.
One side note: With so much emphasis on EVs today, it's easy to forget how much of a gamble it was for Ford to create the Mach-E. After all, this was not the automaker's first electric-car rodeo. Henry Ford built a prototype for a low-cost battery-powered vehicle in 1913, then opted for the internal combustion engine. Other experimental EVs came and went, including the quirky 1966 Ford Comuta minicar and an all-electric 1998 Ford Ranger pickup, which lasted only four years.
Lucky for Ford, it looks like the Mustang Mach-E is a keeper.
(For more on the Ford Mustang Mach-E, read "One Lean, Mean Green Machine.")
---
MERCEDES EQB
$54,000
Battery range: 205-243 miles
0 to 60 mph: 5.6 seconds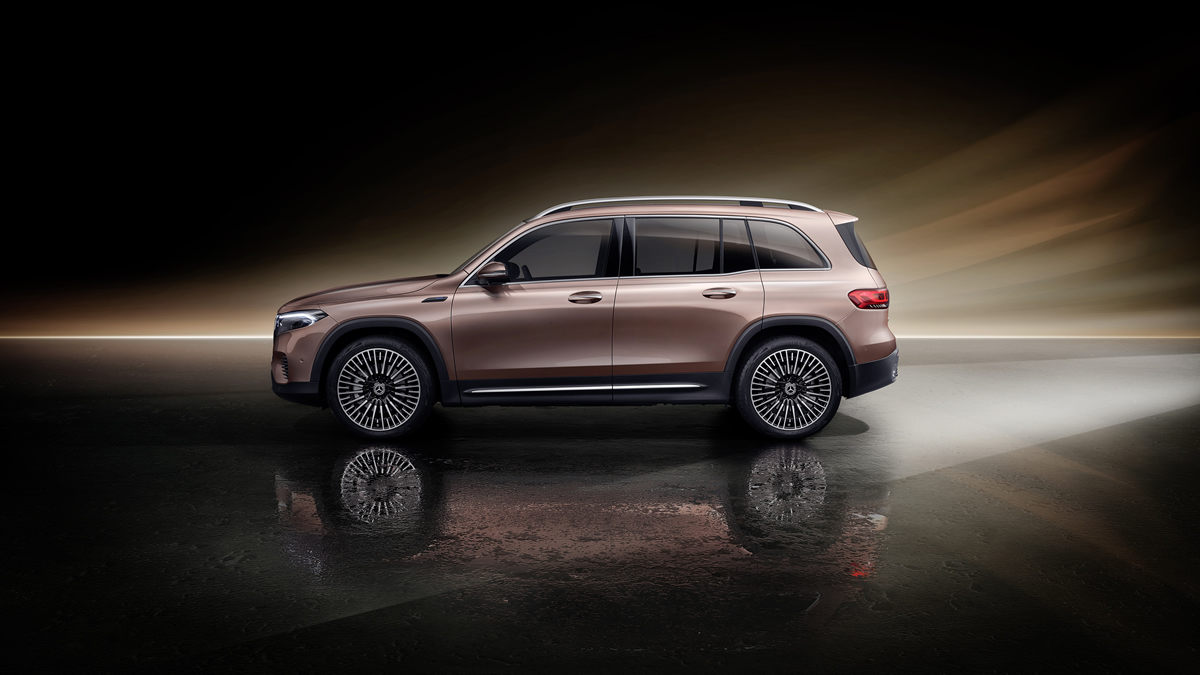 My, how time changes things. As recently as 2020, Mercedes said that its diesel-powered cars were here to stay. But within a year, Mercedes announced it would go all-electric by 2030.
Enter the Mercedes EQS. This flagship sedan debuted last spring in the U.S. and was followed by the seven-passenger EQS SUV. Both EVs are exquisite, oozing luxury and overflowing with techno gadgetry. But—ouch!—pricing for these beauties starts at $105,000 and tops out at close to $170,000.
Fortunately, for those of us on a plebian budget, there's the new Mercedes EQB. At half the price of its larger EQS siblings, the all-electric EQB is built on the same platform as the gas-powered GLB compact crossover. And except for minor styling tweaks and a bit quicker acceleration, the EQB looks and handles like the GLB. That's a good thing for anyone needing some reassurance when making the leap to their first EV.
Despite the low price on a base-model EQB, standard features include power liftgate, dual-zone climate control, automated parking, ambient interior lighting and other niceties. There's also the MBUX infotainment system, which comes with 10.25-inch touchscreen, voice-recognition technology, smartphone integration and a navigation system.
While the EQB does seat seven, third-row legroom is extremely tight. Best to leave those seats folded flat, unless carting around kids—and only for short distances.
Comparing the Ford Mustang Mach-E and Mercedes EQB is easy: Both have similar pricing and amenities. The Mach-E is certainly faster and has more of a space-age ambiance, but the traditional driving experience of the EQB is comforting on long drives. And, well, the EQB also has that coveted three-point star found only on a Mercedes.