"Terminating Hate" Schwarzenegger leads panel on extremism
During the discussion, Schwarzenegger preached collectiveness in the fight against hate, echoing his message of hope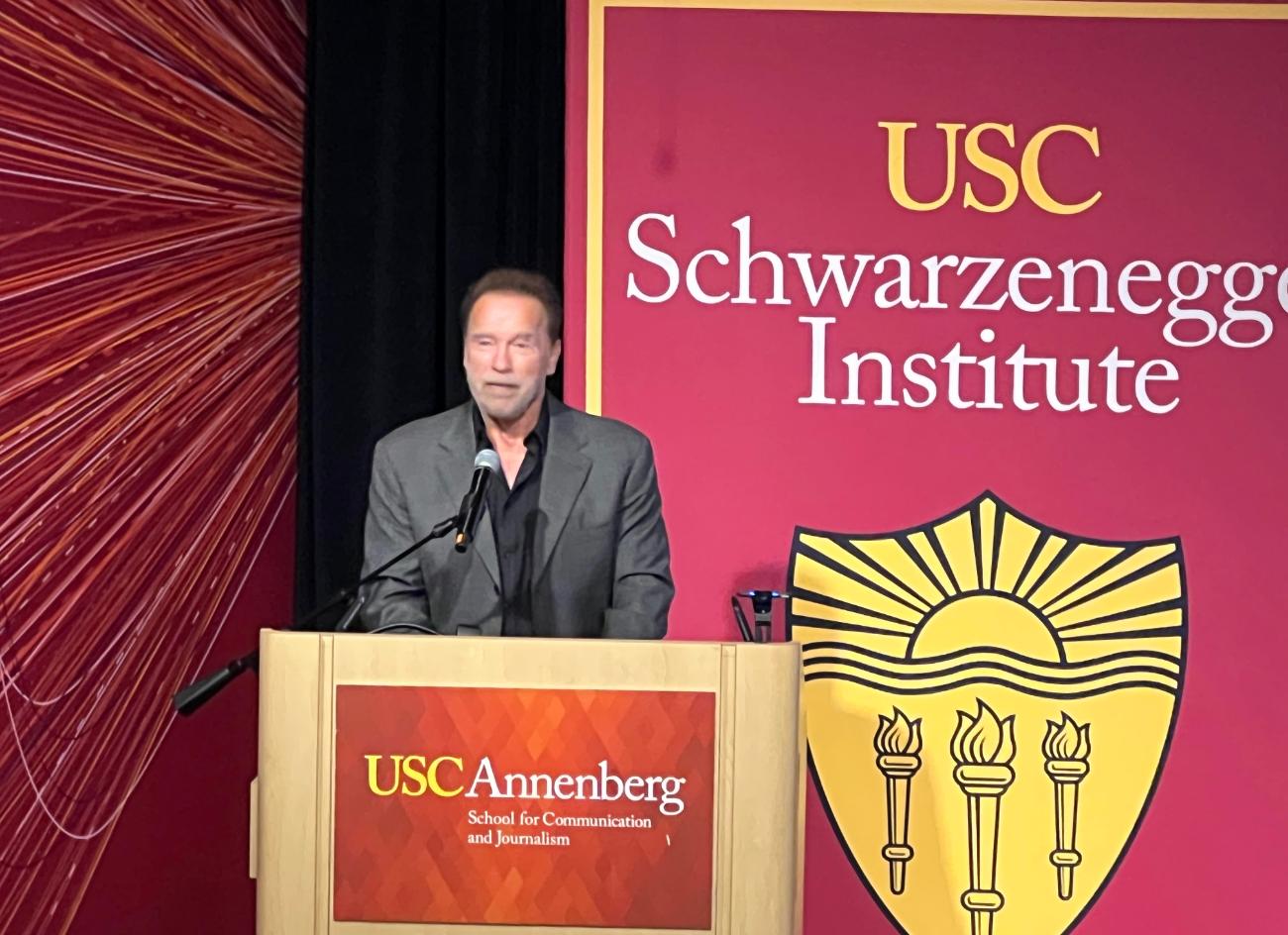 LOS ANGELES – Former Republican Governor of California Arnold Schwarzenegger, led a discussion on ending the cycle of extremism Wednesday. The event was hosted by the University of Southern California Schwarzenegger Institute for State and Global Policy at the USC Sol Price School of Public Policy.
Students, journalists, and reporters filled the auditorium for the panel discussion meeting titled "Terminating Hate" – a nod to the actor's former role as a cyborg assassin in Director James Cameron's successful 'Terminator' film franchise.
The meeting came on the heels of a viral video posted by the former governor on YouTube, outlining his recent trip to Auschwitz. In the video, Schwarzenegger urged extremists to change hateful ways and offered a message of hope that there can, indeed, be a bright future for those who choose a better path.
Speakers and panelists included CNN Chief Political Correspondent Dana Bash, the Dean of the USC Annenberg School for Communication and Journalism Willow Bay, Erroll Southers, USC Associate Senior Vice President of Safety and Risk Assurance, USC Shoah Foundation Finci-Viterbi Executive Director, Dr. Robert Williams, Rabbi Sharon Brous, Founder and Senior Rabbi, IKAR, Chuck Leek, Exit Specialist, Life After Hate, John Turtletaub, renowned film director, and Myrieme Nadri-Churchill, Executive Director, Parents for Peace.
"Hate crimes have increased to record levels," said Dean Bay, opening the discussion with some startling statistics.
Los Angeles reported a total of 643 hate crimes just last year, marking a 13% increase since the year before. Nationally, hate crimes rose 31%, while antisemitic hate crimes rose to their highest levels since the Anti-Defamation League started keeping track in 1979.
The league was founded in 1910 with the mission to stop the defamation of the Jewish people and to secure justice and fair treatment for all.
"America is facing a level of extremism arguably unseen since World War II," said Bay. "The difference between now and World War II is that this is a threat we are facing from within."
During the discussion, Schwarzenegger preached collectiveness in the fight against hate, echoing his message of hope for those who wish to change the narrative of the hate they have been exposed to.
"I was born to a father who was a Nazi," said Schwarzenegger, recounting the emotion he felt during his first visit to Auschwitz, the infamous concentration camp complex of over 40 concentration and extermination camps operated by Nazi Germany in occupied Poland, "and look where we are one generation later. This is how we can change. I don't have to copy my father. We can change."
Leek is a proponent of this change. A former white supremacist for twenty years, he now assists ex-members of radical groups re-acclimate as positive members of society.
Leek's work is mainly through Life After Hate, an organization committed to helping people leave the violent far-right to connect with humanity and lead compassionate lives. Armed with a team of experts and led by a licensed clinical psychologist, Life After Hate's vision is a world that allows people to change and contribute to a society without violence Leek noted.
In a separate but related manner, Nadri-Churchill works to empower families, friends, and communities to prevent radicalization, violence, and extremism through the non-governmental public health nonprofit Parents for Peace. The nonprofit provided guidance and early intervention; to raise public awareness among parents who suspect their child is being radicalized.
"No one is going to call the cops on their kids," said Nadri-Churchill. A psychotherapist with 30 years of experience, she works with families to coach them on the best steps to tackle this issue while maintaining safety as a priority for all involved.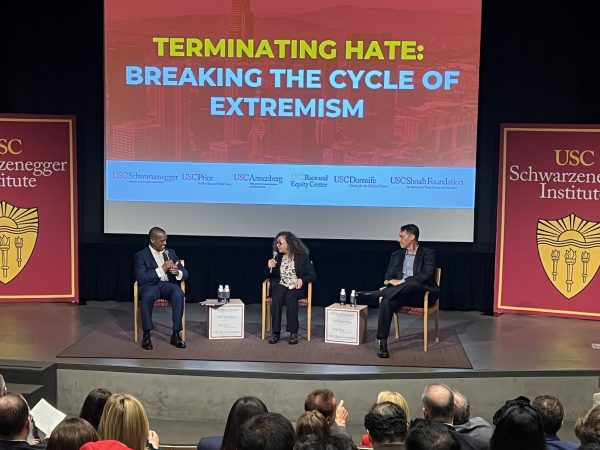 Rabbi Brous later praised Schwarzenegger for his opening, saying, "Standing up here and saying, 'I am the son of a Nazi,' was incredibly powerful." She stressed how shame and isolation were key factors that can lead to extremist mindsets and asked, "How can we own the truth and not be ashamed of it?"
Schwarzenegger has historically been very open about his past and origins. In addition to advocating against hate, the former Republican California Governor continues to be an advocate and activist for children's education, arts, and societal betterment in general.
During the "Terminating Hate" discussion, he shared that as a celebrity, he feels it is his responsibility to use his platform for good: "I am very much into giving back and not just taking. I thought it was important to talk about this issue."
Schwarzenegger also stressed the importance of movies for their reach and influence, calling on directors like Turtletaub to use his influence to spread messages against hate.
"Communication is the number one issue here," said Schwarzenegger. "This is why it was so important for me not to attack the other side. Hate, in the end, never pays off. Often, those who were fueled by hate become the losers."
Schwarzenegger recounted a story from the eighties when he asked his father-in-law, Sargent Shriver, how he was able to go into enemy Soviet Union territory and negotiate for oil, when the Russians considered him an enemy. Shriver replied telling him, "Well, you have to find some common ground."
Shriver would spend a day eating and talking but never discussing negotiations or the real reason he was there. He would find common ground in everything from family to fishing so that by the second day of his trip, he was able to secure what he needed from people who hated him when he arrived.
This is the philosophy Schwarzenegger hopes more people adopt when trying to solve the problem of hate, striving to "solve this problem without just accusing the other side."
Schwarzenegger also said he hoped that more scientists and researchers would get involved in studying the human brain and hate throughout history to get to the bottom of what causes hate in the first place.
"We know the human race has always had prejudice," said Schwarzenegger. "How does the brain really work? Why is the brain functioning this way?"
Finally, Schwarzenegger reiterated his desire for all people to come together to end hate.
"Even though people say this can never be solved, I say, yes we can!"
The Blade attempted to ask the former governor about his stance on anti-LGBTQ+ hate and transgender rights but was, however, turned away by Schwarzenegger's chief of staff.
In an interview with CNN's Dana Bash, former California Gov. Arnold Schwarzenegger calls out hate speech:
Rubio bashes LA Dodgers over honoring drag group, Dodgers fold
LA LGBT Center Removes Itself from the Dodgers' 'Pride Night,' To our Sisters of Perpetual Indulgence, we say: Thank you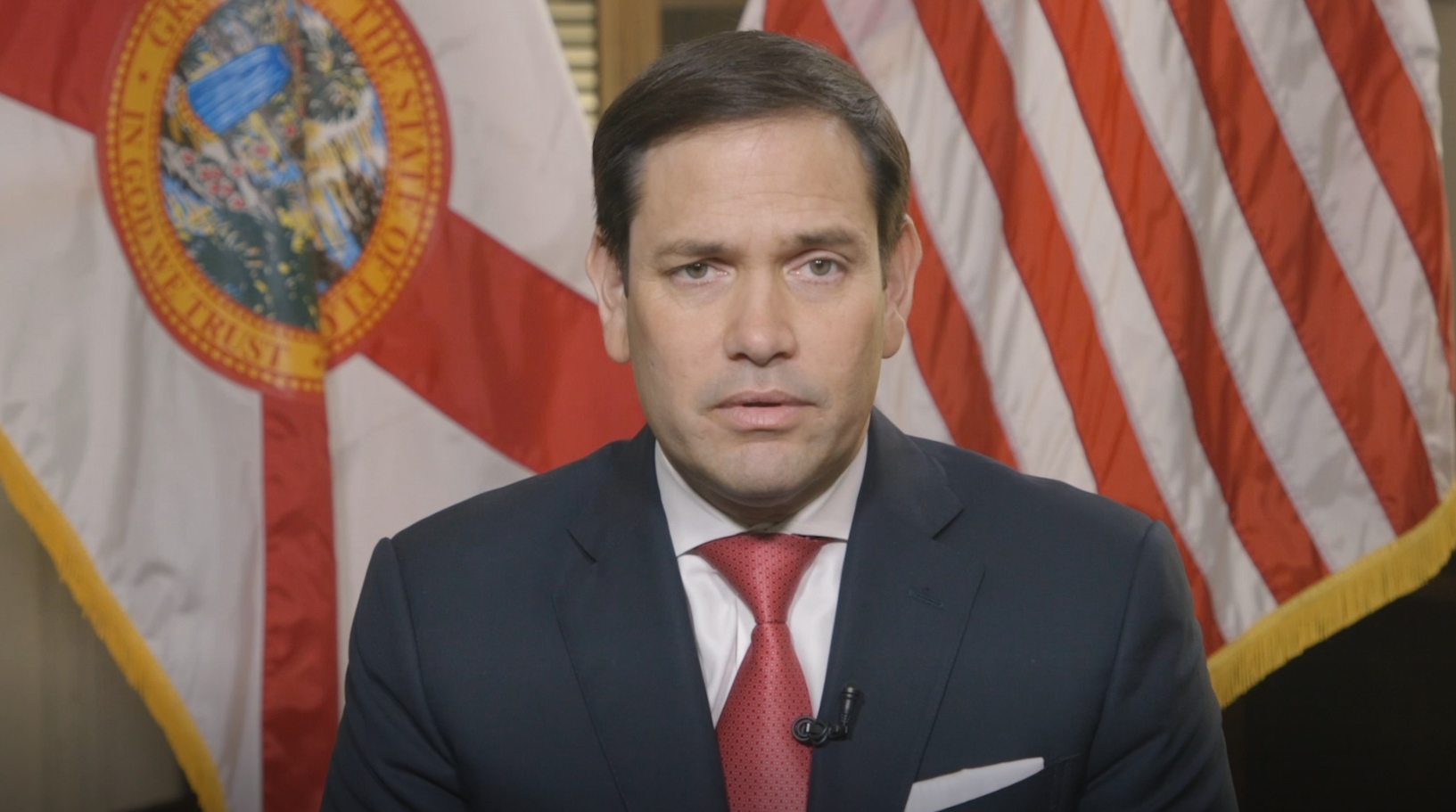 WASHINGTON – Florida Republican U.S. Senator Marco Rubio issued a statement Monday that condemned the Los Angeles Dodgers Major League Baseball franchise for a scheduled "Community Hero Award" to be given to the LA Chapter of The Sisters of Perpetual Indulgence drag group during Pride month in June.
The Florida Republican alleges that honoring the group "mock(s) the faith with the motto with "Go forth and sin some more!" Rubio sent a letter to Major League Baseball (MLB) Commissioner Rob Manfred stating that he is questioning whether the League is "inclusive and welcoming" to Christians.
Rubio cited the following:
"The 'sisters' are men who dress in lewd imitation of Roman Catholic nuns. The group's motto, 'go and sin some more,' is a perversion of Jesus's command to 'go, and sin no more.' The group's 'Easter' ceremony features children's programming followed by a drag show where adult performers dress in blasphemous imitation of Jesus and Mary. The group hosts pub crawls mocking the Stations of the Cross and even the Eucharist, the sacrament that unites more than one billion Catholics around the world."
"Do you believe that the Los Angeles Dodgers are being 'inclusive and welcoming to everyone' by giving an award to a group of gay and transgender drag performers that intentionally mocks and degrades Christians—and not only Christians, but nuns, who devote their lives to serving others?"
The New York City-based anti-LGBTQ+ Catholic League, headed by Bill Donohue who has a years-long lengthy record of anti-LGBTQ+ animus tweeted:
The Los Angeles Dodgers have besmirched their legacy of combating bigotry by partnering with LA Pride in awarding this year's Community Hero Award to an obscene anti-Catholic group, the Sisters of Perpetual Indulgence.https://t.co/LoR3TtwRAJ pic.twitter.com/n0VQ3NFXAT

— Catholic League (@CatholicLeague) May 16, 2023
In his letter to the MLB Commissioner, the Senator writes:
"On June 16, 2023, the Los Angeles Dodgers will host "LGBTQ+ Pride Night" at Dodgers Park. As part of the pre-game ceremony, the Dodgers will give its "Community Hero Award" to the Los Angeles chapter of the Sisters of Perpetual Indulgence, a self-described "order of queer and trans nuns" that has mocked and degraded Christians, and especially Catholics, since its founding on Easter Sunday in 1979.
The "sisters" are men who dress in lewd imitation of Roman Catholic nuns. The group's motto, "go and sin some more," is a perversion of Jesus's command to "go, and sin no more." The group's "Easter" ceremony features children's programming followed by a drag show where adult performers dress in blasphemous imitation of Jesus and Mary. The group hosts pub crawls mocking the Stations of the Cross and even the Eucharist, the sacrament that unites more than one billion Catholics around the world."
The Blade has reached out to the Dodgers for comment but as of time of publication the team hasn't responded. However in a tweet issued by the Dodgers Wednesday, on the globally recognized International Day Against Homophobia, Biphobia, and Transphobia, (IDAHOBIT), the baseball franchise backed away from honoring the drag group.
Tony Hoang, the Executive Director of Equality California, issued a statement on the Dodgers backtracking and caving-in to anti-LGBTQ+ groups and Rubio:
"At a moment in time when drag performers are under attack across the country — including in stage legislatures and in some cases needing armed escorts to protect them from far-right extremists — the Dodgers' actions are disappointing and let down thousands of LGBTQ+ fans that have supported them throughout the years.
"As longtime community leaders, The Sisters of Perpetual Indulgence have raised millions of dollars for causes including HIV/AIDS healthcare, affordable housing, violence prevention, and drug abuse prevention in addition to offering grants to direct-service organizations and small businesses that support underrepresented communities.
"The anti-LGBTQ+ extremists who advocated for the removal of the Sisters from Pride Night are the very same people who are trying to erase the rights of trans kids and their families, criminalize drag performance and roll back equality for LGBTQ+ people across the country — we cannot and will not let them win.
"We call on the Dodgers to reinstate The Sisters as an honoree for Pride Night and works towards strengthening their commitment to unity."
Out California State Senator Scott Wiener wrote on Twitter:
Really sad to see the Dodgers cave to pressure & kick drag queens out of a Pride celebration. The Sisters of Perpetual Indulgence do amazing, life-saving work in the community.

We expect more from our sports teams — even the Dodgers. https://t.co/TFsesI2C7F

— Senator Scott Wiener (@Scott_Wiener) May 17, 2023
Los Angeles County Supervisor Lindsey Horvath tweeted:
If they're not invited, I'm not going. Celebrating Pride is about inclusion. Do better. https://t.co/Pc3ZRgZf0Y

— Lindsey P. Horvath (@LindseyPHorvath) May 17, 2023
Assemblymember Rick Chavez Zbur (D-51) added his disappointment over the Dodgers decision on Twitter:
LGBTQ+ lives, families, love, & existence have long been characterized as offensive & controversial, but we do not give in to those calls. I urge the Dodgers to reverse this decision & ensure our home team reflects the true Los Angeles values of inclusion & acceptance. (2/2)

— Assemblymember Rick Chavez Zbur (@AsmRickZbur) May 17, 2023
"I feel angry and disappointed that the @dodgers have caved into the rising hate and anti-lgbtq rhetoric happening across our Country but driven by an extremist minority in power. Having Pride night while at the same time removing @sfsisters @ladragnuns from the evening is a blatant slap in the face to our community at a time when we need true allies and not performative ones. Los Angeles County has the largest LGBTQ+ community in California and likely the nation and we deserve better. I call on Dodgers to do the right thing. Step up, apologize and reverse course," City of West Hollywood Mayor Sepi Shyne told the Blade.
The California Legislative LGBTQ Caucus released the following statement in response to the Los Angeles Dodgers decision to rescind an invitation to honor the Sisters of Perpetual Indulgence with its Community Hero Award: pic.twitter.com/RSSq3ceQr2

— California Legislative LGBTQ Caucus (@calgbt) May 19, 2023
The City of West Hollywood issued a statement:
"As the City of West Hollywood gets ready to kick-off WeHo Pride on Harvey Milk Day, we're excitedly looking forward to the Los Angeles Sisters of Perpetual Indulgence participating in the WeHo Pride Parade during WeHo Pride Weekend on the first weekend of June.
Pride is deeply rooted in West Hollywood's history and culture. The City of West Hollywood has advocated for nearly four decades to support LGBTQ people. In our community's ongoing fight for equality, the Los Angeles Sisters of Perpetual Indulgence have marched in unity at every step.
To those who draw lines that divide groups within our LGBTQ community, the City of West Hollywood emphatically says: this is not acceptable. We call on the Los Angeles Dodgers to reconsider its decision not to honor the Los Angeles Sisters of Perpetual Indulgence as part of its Pride Night. Inclusion and acceptance are at the heart of Pride. Pride is for everyone.
We applaud the Sisters for their passionate dedication to the LGBTQ community, for tireless AIDS and HIV activism, for unequivocally crusading for the rights of all people, and for the love, laughter, and flair they inspire.
The City of West Hollywood looks forward to celebrating WeHo Pride with the Los Angeles Sisters of Perpetual Indulgence and with everyone who celebrates under the diverse and beautiful rainbow of Pride."
In response to the Dodgers Foundation rescinding their invitation to recognize the Sisters of Perpetual Indulgence at next month's Pride Night, Los Angeles LGBT Center CEO Joe Hollendoner issued the following statement:
"We are deeply disappointed that the Dodgers, an organizational partner that has made significant strides towards dismantling anti-LGBTQ+ bias in sports and long-standing supporter of our mission, has decided to revoke their invitation to honor the Sisters of Perpetual Indulgence at their upcoming Pride Night.
Buckling to pressure from out-of-state, right-wing fundamentalists, the Dodgers caved to a religious minority that is perpetuating a false narrative about LGBTQ+ people. They have been fed lies about the Sisters of Perpetual Indulgence, and have therefore contributed to the ongoing, anti-LGBTQ smear campaign happening in this country. In a year where over 400 pieces of anti-LGBTQ+ legislation are on the books—many of them targeting freedom of speech, expression, and the bodily autonomy of our community—the fight for LGBTQ+ rights is as critical as ever, and unfortunately the Dodgers chose to bow to the religious right rather than stand with our LGBTQ community.
We at the Center know that the religious right—a minority aligned with white supremacy and attacks on reproductive justice—does not speak for all people of faith, including the many people of faith within the LGBTQ+ community. We know that the Sisters of Perpetual Indulgence have reclaimed religious imagery, garb, and symbolism to advocate for LGBTQ+ equality; through their protests, they have exposed the hypocrisy of the churches that demonized gay people during the AIDS Crisis; challenged faith institutions to stand with queer and trans people; and raised valuable resources for our community as we were turned away from services elsewhere.
We call on the Dodgers to reconsider their decision, honor the Sisters, and bring the true spirit of Pride back to Dodgers Stadium. If the decision is not reversed, we strongly encourage the Dodgers to cancel Pride Night. Any organization that turns its back on LGBTQ+ people at this damning and dangerous inflection point in our nation's history should not be hoisting a rainbow flag or hosting a 'Pride Night.' We want the Dodgers ally ship to be consistent with our experience partnering with them over the past many years. The people of Los Angeles County have consistently and overwhelmingly shown up for LGBTQ+ equality. If one of our most beloved institutions—the Dodgers—refuses to stand by us at this moment, we are terrified of what will come next. Los Angeles is a leader—not a follower. We call on the Dodgers to set an example.
To our Sisters of Perpetual Indulgence, we say: Thank you. You will always have a place to be honored at the Los Angeles LGBT Center."