Online hate, bullying worsens amid empty promises to stem flow
"I always tell people online hate is death by a thousand papercuts. It's all the little things. You're old. You're ugly. Go kill yourself"
This is part two of a series looking at the cyberhate and bullying from a queer perspective. To read part one click here: (Link)
LOS ANGELES – Amid empty promises by social media companies to create safer and more inclusive platforms, online hate and harassment rates continue to rise to record levels.
Nearly half of all Americans having experienced some kind of online harassment and hate, many find themselves frustrated by a lack of government anti-hate legislation and enforceable social media guidelines to help eradicate this ever-growing problem. 
What's worse is that online hate speech has now been linked to physical hate crimes, with many physical and illegal acts of violence starting as seeds in the comment section.
According to the Council on Foreign Relations:
Hate speech online has been linked to a global increase in violence toward minorities, including mass shootings, lynchings, and ethnic cleansing.
Policies used to curb hate speech risk limiting free speech and are inconsistently enforced.
Countries such as the United States grant social media companies broad powers in managing their content and enforcing hate speech rules. Others, including Germany, can force companies to remove posts within certain time periods.
A 2019 study by academics from Cardiff University's HateLab has concluded that there is a direct correlation between social media hate against minorities and physical acts of hate and violence. 
These studies and reports are among the many highlighting the real dangers of cyberhate lie beyond the platforms themselves, begging the question, what can be done to stop this?
Sepi Shyne, The first Queer Iranian female mayor of West Hollywood, told The Blade that two things need to happen to make the Internet a safe place again: Social media platforms need to take firmer action against hate, and laws on inciting violence need to be rewritten to consider online hate as a direct threat to a victim's safety.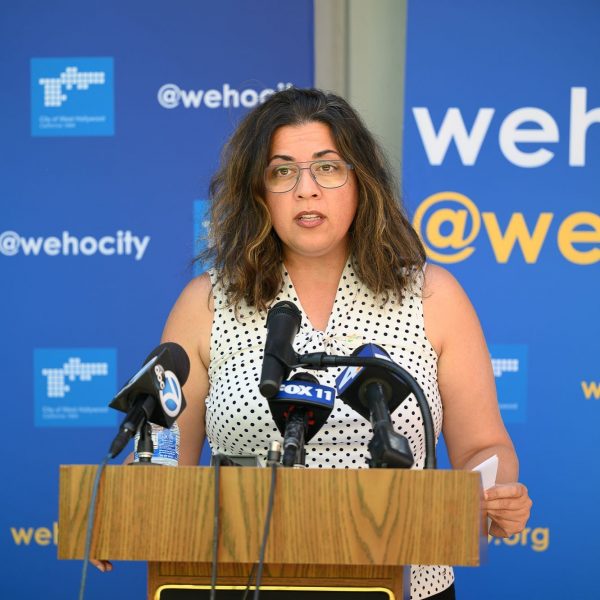 "I think these platforms need to come out very strongly against hate speech," said Shyne. "It is very simple. Just take a stand for people. If their lawyers are saying this is protected speech, then as a corporation, they can take a stance. They can use their algorithms and all their technology and institute their community standards."
"We also have to reconsider our laws about what is considered inciting violence because those laws didn't consider social media at the time. When those laws were created, they were about people saying things in person and then asking whether or not it is probable that violence will ensue from that interaction. But now we have people on social media saying horrible things that do lead to violence."
One small step in the right direction came in September 2022, when Governor Gavin Newsom announced that he signed a social media transparency bill (AB 578) by Assembly Member Jesse Gabriel, which will require social media companies to publicly post their policies regarding hate speech, disinformation, harassment, and extremism on their platforms, and report data on their enforcement of the policies. However, the bill is still in it's early stages of implementation so it has not yet made a notable change in online hate regulation.
A Private Investigator's Take on Cyber Hate:
ERIC NATHANS
Eric Nathans is CEO of Nathans Investigations, a Miami, Florida-based private investigation agency that focuses on cybercrime and cyber harassment.
He has gained his reputation from assisting a lengthy list of high-profile clients, tracking down harassers and stalkers who, at first, are able to hide their identities behind false usernames and email addresses.
People who turn to Nathans are often frustrated with social media platforms.
"You'll go around in circles with Facebook or Instagram because they don't really take it seriously just because of how much it is happening. It happens so often," Nathans said.
When asked about the uptick in cybercrime, keeping PIs busy, Nathans told the Blade, "Between emails and phone calls, I probably get about twenty a week with the same exact issue. This is really a big issue."
From cyber stalking to harassment to defamation from anonymous emails, Nathans has investigated the gamut of mysterious, aggravating and unpredictable cases around the globe. 
"We deal with things on a daily basis that no one would believe," said Nathans.
As an example, Nathans recounted the case of one particular OnlyFans model who was being harassed online. The male perpetrator would send this model everything from lewd remarks to graphic photos of his body. The model's boyfriend enlisted Nathans help to find and stop these disturbing messages.
"Do you know how it turned out to be?" said Nathans. "It was the female's father that was harassing her."
Shocking stories like this one naturally spark many, many questions. The most obvious being how did the father think he could get away with something like this?
"People think they can be whoever they want," said Nathans, explaining that the main issue with online harassment nowadays is that people find it easy to assume a new identity under fake usernames and what they think are anonymous email addresses.
However, in spite of these efforts at anonymity, Nathans has built a business on sniffing out these cybercriminals. While he would not disclose his methods for security reasons, he did say that he has found alternative and sometimes nontraditional means of identifying the guilty party.
"Things that people don't usually think about is how I usually find them," he noted. 
Nathans explained that those who turn to him often know that cyber hate can lead to cybercrime.
"A real stalking will start online. I'm not a psychiatrist or a doctor, but I do believe mental illness is often involved. They want more and more of a response. They want a reaction. If they aren't getting that online, they might show up in person."
"I think it's important to ask why this person has become a stalker. Often it is because they want a reaction because they are so awfully controlling."
Of course, once a stalker does commit a physical act, different departments of the police get involved.
"My personal feeling is if there were stronger laws against all of this craziness, it would put a stop to some of these people."
Queer influencers as prime targets
According to a study at the Williams Institute at UCLA, members of the LGBTQ+ community are nine times more likely to experience hate speech than non-LGBTQ+ people. 
In a comment on GLAAD's report on social media's failure to stop anti-LGBTQ hate speech, Jenni Olson, GLAAD's director for social media safety and author of the report, said, "The reality is, there's very little transparency and very little accountability. And people feel helpless."
With the evident targeting of LGBTQ+ people on social media and the nature of the platforms providing a deep window into the lives of internet celebrities, now is one of the most dangerous times to be an openly queer influencer. But it is also one of the most important times to stand out and stand up against homophobia and transphobia.
In light of the rising dangers for LGBTQ+ people around the world, three queer influencers shared their struggles with cyberhate with The Blade.
AMIR YASS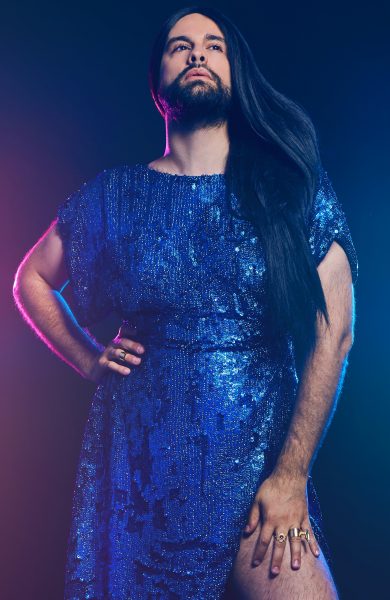 Amir Yass is a queer Muslim influencer who found his calling on TikTok when he started posting funny videos of himself over COVID. An avid advocate for queer rights, Yass often takes part in well-attended panels at the LGBT center and popular podcasts.  
Yass has received a flurry of cyber hate, from messages shaming him for being queer and Muslim to comments telling him he will burn in hell.
"I will never forget one comment I got that said, 'I can't wait for you to come to the Middle East so I can throw you off the roof.' I was in shock. I didn't even know that was a thing."
Sadly, Yass told the Blade that the ignorance and prejudice he experienced as a young Mulsim growing up in the conservative town of Orange County, CA, somewhat prepared him for this onslaught of hate.
"When I was in school, and 9-11 happened, they asked me to talk to the whole school about it. I was like, 'I'm fifteen. What do I know about this?'"
"I developed a hard shell because that was the only way to deal with this. I'm a Persian, gay, fat Muslim. Growing up, my mom had a Hijab. I grew up fasting and praying. That all 'othered' me in so many ways. In a weird, very warped way, all of the prejudice I got growing up prepared me for all the hate I got on TikTok."
Prepared by childhood though he might be, Yass admitted that the comments do get to him sometimes.
"I always tell people online hate is death by a thousand papercuts. It's all the little things. You're old. You're fat. You're ugly. You're gross. Go kill yourself. They start to add up."
"People assume I'm a celebrity when they see a video of mine get 13 million views and Will Smith duetting it. But I'm not. And regardless, I'm still a human being."
When asked whether or not he reports the haters, Yass explained why he found appealing to the platforms themselves futile.
"I stopped reporting because nothing ever really happens. I notice that when I do report something, I get shadow banned. I'm not getting the views I should."
Editor's note: Shadow banning is a colloquialism for when a social media platform adjusts the algorithm so that any particular account does not appear in the feeds of as many viewers as before the ban. This results in content going unseen and is potentially harmful to those who rely on likes and views to maintain their brand, image, or message. 
"I've responded to hate videos, and they (the social media platform) took my video down, saying it was me bullying that person. But the hate video was still up."
Yass told The Blade that he, like Weho's Mayor Shyne, wished the platforms would be more proactive about removing hate speech. 
"I shouldn't have to block someone who threatens to slit my throat. This should be taken down."
But, ultimately, Yass has had to find the strength within himself to overcome the hate.
"In a video of four thousand comments, there will be one thousand hateful comments. I just stopped looking for the hateful comments. I used to look for them and actively pursue them. I would get into these battles of thirty-five comments. But now I just respond with, 'Thank you so much,' or 'I love you so much.' That kind of humor kind of works. Sometimes my other followers will step in to defend me too."
Yass also said that while he sometimes is negatively affected by cyberhate, he refuses to allow haters to discourage him from being present and visible online.
"I've wanted to delete my account so many times. But why do I have to leave? Sometimes I think it's important to take up space."
MARSHA MOLINARI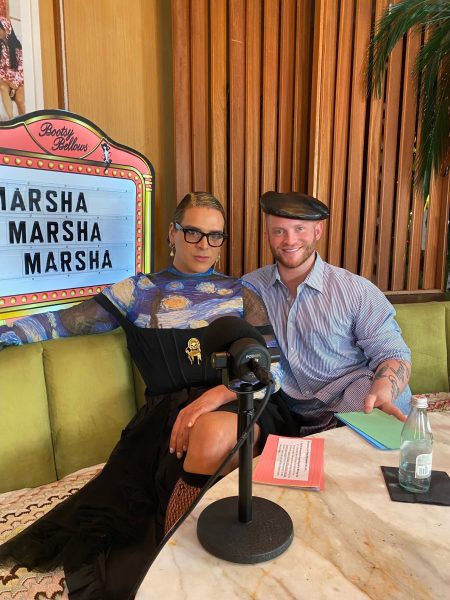 Marsha Molinari is a transgender activist, actress, prominent restauranteur, and the host of the award-winning podcast Marsha! Marsha! Marsha! She uses her platform to interview prominent public figures and to spread messages of love and inclusivity. 
Molinari has also been the victim of cyber hate, doxing (sharing of her address without her consent), and physical stalking.
"I always try to take it with a grain of salt, but it still gets to you," said Molinari. "Words are energy, and they hurt. When someone is constantly hit with negative comments, that hurts. It just has to."
"Even this morning, I was looking at a couple of posts, and they were saying things like, 'Is this a man?' and 'You are a man.' Just being hateful."
Molinari told The Blade that a lot of this hate also comes from within the LGBTQ+ community. "It's a form of self-hate," she said.
"When someone has so much hate towards what you are doing, that might actually be a mirror for themselves and a hatred for themselves."
Molinari shared a story of one cyberhater who harassed her for years with anti-trans slurs and DMs telling her that her way of life was "wrong." This person then messaged one day out of the blue, apologizing and saying that they realized that they, too, had been LGBTQ+ all along but had not had the courage to admit it to themselves.
"They said they saw me living authentically, and that scared them. Later, after they had bullied me for so long, the way I live became an inspiration."
"We see this with anti-LGBTQIA+ government leaders who pose these laws against the community, but meanwhile, they are messaging gay men online and dressing in drag. It's apparent why these people are coming after the community. Their hate comes from a deep hatred within themselves."
Molinari shared another story of her friend who identifies as a gay man but drew the line at supporting Molinari's journey when she came out as transgender.
"He told me the way I was living was unnatural and wrong," said Molinari. "I told him that is exactly what they used to say about gay men like him. I told him he needed to get on the right side of history."
Over time though, Molinari learned to let the majority of hateful comments go.
"I used to feel the need to defend myself or explain myself. That caused me to be drained and to be thinking about those comments throughout the day. I don't do that anymore. People will have their own opinions, and people will be awful."
"Sometimes though, if it is someone who is consistent in their bullying, then they need to be exposed."
In these cases, Molinari screenshots and reposts the hateful messages on her story for hundreds of thousands of people to see.
"Whenever I've reposted these comments, people have messaged me saying that they, too, have been bullied by this person. Or some people saying they know this person and never thought that they were like this."
Molinari agreed that while self-love and advocacy are important, social media platforms could be doing more to keep their users safe.
"I think when people are telling you to kill yourself, that needs to be regulated more by social media platforms. There needs to be a higher authority that stops this from happening." 
GIGI GORGEOUS GETTY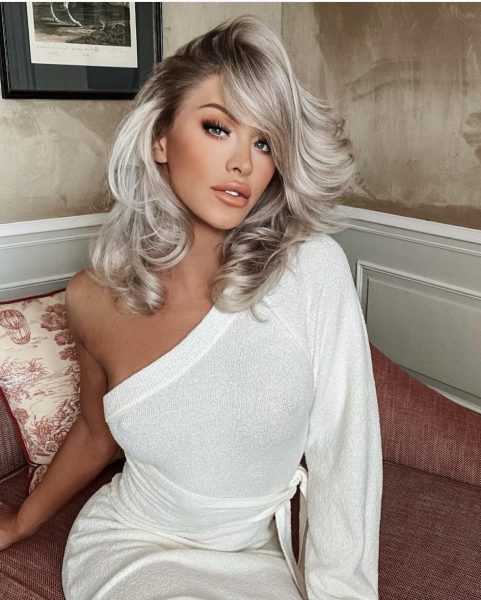 Gigi Gorgeous Getty is a Canadian transgender YouTuber, socialite, actress, and model. On her channel, Gigi shares everything from personal anecdotes about her transition, marriage, and social life to her favorite hair, makeup, and fashion tips. Through her personability, she continues to be a relatable role model for many young transgender people.
Unfortunately, opening portions of her life to the public has also opened Getty up to hate.
"I think it's inevitable when you put yourself out there and you are living authentically. This is especially true when you are sharing things that are unconventional. You get a lot of hate and ignorance directed at you."
Getty told The Blade she was swatted at the age of twenty while living at her father's house in Canada. 
Editor's note: "Swatting" is the act of prank calling the police as if someone were in direct danger either to themselves or others, thereby causing the dispatch of armed officers to the scene. The prank is far from harmless as it wastes valuable police resources and time, leaving the police unable to care for others who are in true distress. Swatting is a crime punishable by heavy fines and/or even jail time. 
"Someone had called the cops and said I had a gun," said Getty. "The police arrived, and I was handcuffed to the bed while they searched my room. It was horrible."
After an investigation, they found the perpetrator – a fan of Getty's who lived in a rural part of America and had no affiliation with Getty whatsoever.
"It's really important to prioritize what you post," warned Getty. "If you post where you are while you're there, people will know where you are. If you can, try to post after the fact."
"Just always be aware, maybe even hyperaware, that you are being watched. We all post for our friends and families, but at the end of the day, there could always be someone hateful watching."
When asked how she deals with all the haters, Getty said that she has learned to ignore the bad and focus on the good.
"I used to be a big fan of blocking anyone who posted something negative about me. But now, after being openly trans for almost ten years, I just find that it's mind over matter. You have to look at the positive. There could be one hundred positive comments and one negative one. It's better to focus on all the good."
"People can be so hateful. My husband sometimes takes healthy breaks from social media. I think that's beautiful because he has the confidence to live his life happily and privately without needing the validation that social media gives to so many of us."
Getty also shared a final message to anyone thinking of creating a hateful message or post.
"Just remember there are real people on the other side of that hate. Before you hit send, ask yourself if you could turn that hateful message into the opposite message of love. That is the message worth sending." 
******************************************************************************************
This is part two of a series looking at the cyberhate and bullying from a queer perspective. To read part one click here: (Link)
Social media spreads homophobic bullying both online & in-person
A 17-year-old girl became a victim of constant- often violent harassment, resulting in 18 restraining orders & thoughts of suicide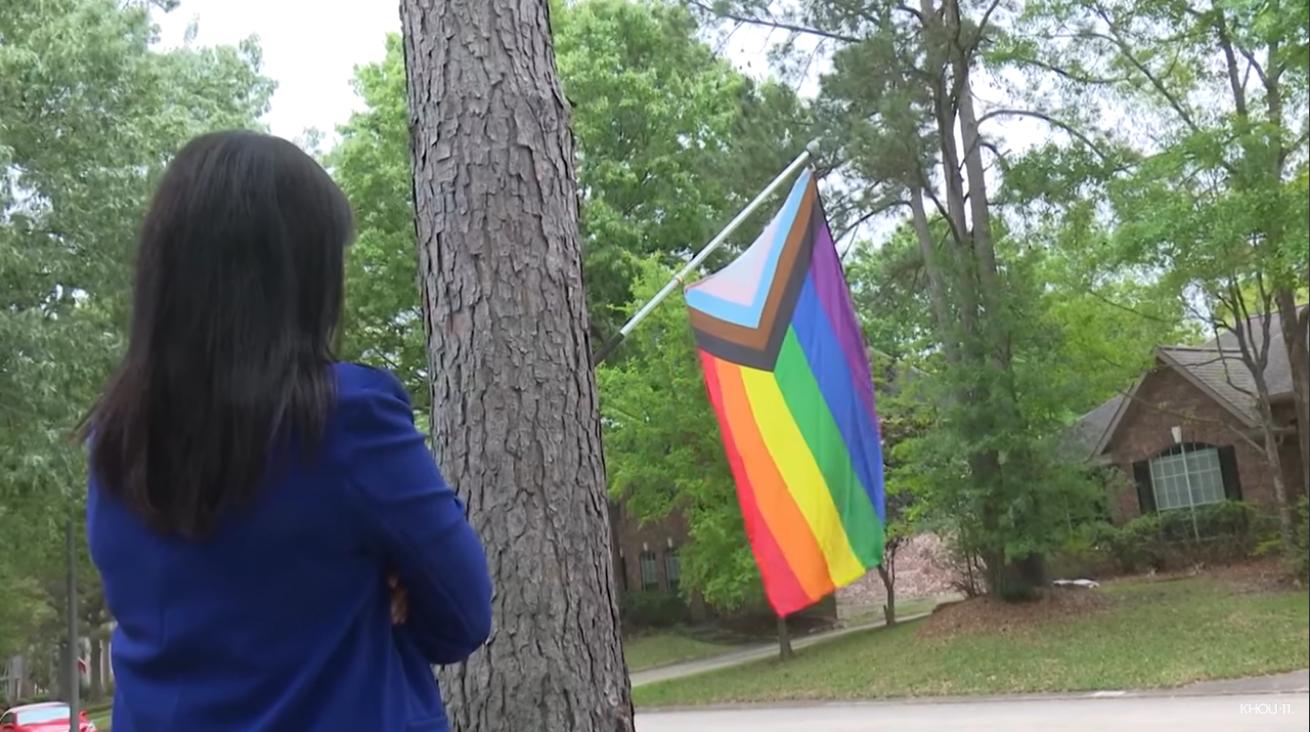 Editor's note: LA Blade journalist Simha Haddad details the ongoing oft times traumatic effects of social media's impact on LGBTQ+ kids, profiling a client of The Rainbow Youth Project a nonprofit based out of Indiana. At her and her family's request, the Blade is not identifying their exact city of residence nor their last name to protect their privacy and mitigate further homophobic hate-filled attacks.
LOS ANGELES – How did one seventeen-year-old child suddenly become the victim of constant and often violent harassment resulting in over 18 restraining orders, virtual home imprisonment, serious thoughts of suicide, and a forced move to a new town? Simple, she came out as a lesbian to her friends.
In another case, a suburban Houston family had put up the LGBTQ+ Progress Flag in October last year in a show of support for their trans and non-binary teens and immediately the harassment started and escalated to physical acts of violence.
CARRIE
Carrie is a self-proclaimed art nerd who loves making ceramics and painting in vivid and bright pastels. She lived at home with her loving mother, father, older brother, and baby sister. Prioritizing love and loyalty, Carrie kept her friend group small and intimate.
"My grandma used to tell me that if you can count your true friends on more than one hand, you need to recount," Carrie told the Blade.
One day, ready to open up to those closest to her, Carrie came out to her best friend. Supportive, the best friend accompanied Carrie to come out to her parents, who accepted their daughter's sexuality with openness and love.
Finally, armed with this love and support, Carrie was ready to broaden her circle of trust. She invited about six friends over for a sleepover, where she confided in them, asking for their support and discretion.
Moments later, as the teenagers lounged on the floor watching a movie, one of Carrie's so-called "friends" created a Facebook post that would alter the course of Carrie's life forever.
"I went from not being popular to being the most popular person but for the wrong reasons," said Carrie.
TOWN vs. GIRL
The Facebook post, outed Carrie as lesbian and mocked her sexuality, but worse, instantly went viral within Carrie's small town outside of Houston.
"It was hell," said Carrie. "I wasn't ready for how quickly it spread. Within 24 hours, it was literally all over town. People had posted it on everything from Instagram to Facebook to TikTok. They were making videos about my weight, saying how that was why I was a lesbian, because I could never get a guy because I was fat and ugly. It was things like that all the way to saying I was a dike who is going to die."
Carrie said that for months, there was no respite from the taunting and harassment.
"Every time I turned around, someone was tagging me and sending me videos or sending me posts that people had made about me."
"I became the target of the town," Carrie continued. "They put stuff in our mailboxes. They would put pictures of transgender surgeries in the mailbox. We even had somebody put female condoms in the mailbox. There was always something."
"Kids at school even sent my phone number through the school email system, saying, 'This is where you can harass her.'
While Carrie's school did step in to stop this unlawful use of the school email system, the damage had already been done. The harassment escalated to physical altercations, making Carrie feel unsafe whenever she stepped outside.
"One day, I was walking my dogs to the park," Carrie recounted emotionally, "and some kids were calling me a carpet-muncher and queer, and all these things. I was just trying to walk home. Then they actually went to the store to buy eggs. They came back and started throwing eggs at me and my dog."
While her peers made many attacks on Carrie, school parents, and other adults also began to join in making her life a living hell.
"Sometimes they would get physical. If I tried to build a shield around myself and ignore it, they would grab my arm and turn me around to make me talk to them," said Carrie.
"One time, a woman grabbed my arm and turned me around, and said that I needed to get right with God. I remember being so scared that I started laughing. It feels stupid to say now, but I was only laughing because I didn't know what else to do. I was so scared. That made her more angry. I don't know who she is to this day."
"I've even had people at Walmart go and buy me a Bible and come up to me and tell me I needed to read it because I'm going to hell," she said.
"One of the hardest things is to realize that these were all adults," Carrie lamented. "How could they walk up to a kid and say the things that they have said?"
Adding to her nightmarish experience, Carrie's harassers made a public game of harassing her, bragging about their encounters with Carrie on Facebook.
"After these things would happen, people would actually go on Facebook and write about the fact that they ran into 'that little lesbian' at Walmart and had to 'tell her all about herself.' I thought, why are you bragging about this? You are a grown person."
"Facebook became like a scoreboard. Every time somebody would do something to me, they would post about it like they were trying to win an award or something. Then somebody else would see it, and they would confront them, saying, 'Well, I can outdo that,' and then they would try. They were building up ideas of what to do to me together on Facebook."
Unsafe both in her home and outside of it, Carrie became more and more isolated, depressed, and afraid. Her parents insisted on going everywhere with their daughter, never wanting to leave her alone for fear of another attack.
"I was like a pet on a leash," recalled Carrie. "I had to rely on my parents for everything. If I wanted to go to the store or the library, they had to stop what they were doing and come with me."
Unable to find respite from the torrent of hate at school, Carrie left to instead use online learning courses to complete her high school education.
A FAMILY UNDER ATTACK
Carrie is grateful for her parents, brother, aunts, and other family members who continue to emotionally support her to this day.
"I'm so proud to have the people in my life support me," Carrie told the Blade. "Without them, I don't think I could've made it."
But, this support came at a price, especially at the height of the harassment over her coming out.
"When people found out that my family was supportive, they would drive by our house yelling things like queer and dyke and lesbo," said Carrie.
Carrie's brother, a popular jock, was harangued constantly by his peers.
"They started attacking him because he was standing up for me," Carrie explained. "He was playing on our football team and our baseball team. His teammates would test him and call me a dyke, and he would almost get into physical altercations. For example, he would be playing a scrimmage game, and if he struck out, they would yell things like, 'Your dyke sister could hit better than you.' They were always name-calling me to him to try to test him."
Carrie shared how the constant taunting almost made her brother give up sports altogether.
"It got to the point where he did not even want to go to practice anymore. But I told him he had to because that was his life. Now he is getting ready to go to college on a baseball scholarship, so that was important for him, but it was hard on him. I've never seen him cry, but he cried to me one night because he was so hurt that they were just constantly shaming it one way or the other."
As they did to Carrie, adults and children alike joined in to make her brother's school life almost unbearable. Carrie recalled one time when a teacher cornered her brother to make comments about the "shame" his sister must feel because of "who she is."
"I think the kids saying those things was one thing. But having a teacher saying that to him, I mean, that was really hard for him."
Carrie's parents also faced attacks by the community. Her father faced discrimination and aggression at work, and her mother was regularly on guard whenever she stepped out of their home.
"My mama almost got in a fight at Walmart," recalled Carrie. "We were in Walmart, and we walked by one of the girls from school was there with her mom, and I heard her tell her mom, 'She's a lesbian,' and the mother said to my mother, 'How can you let your kid be like that?' Well, my mother just blew up. My mother called her every name in the book and was ready to fight. That is not an exaggeration. She was literally ready to fight. At that point, she had seen what my brother and I were going through, and that was just a breaking point.
Carrie felt overwhelming guilt over what her family was going through.
"I felt like that was my fault, and even though my mama would tell me every day, and my daddy would tell me every day, that these people were just ignorant, it still didn't make it better because I saw how it affected them. They felt like they couldn't even leave the house because of me.
"My brother had to close his Facebook account. My mother had to close her Facebook account. She is one of those that used to stay on Facebook all the time. You know how they have all those little bingo games? She used to play those, and she loved it, but she had to close her Facebook account because anytime she posted something, somebody would leave a comment, and she would block them and then somebody else would leave a comment and she would block them. It literally got to the point where instead of playing games and having fun, she was just blocking people all the time."
When advised to file restraining orders against the adults who were targeting her, Carrie hesitated at first.
"I was scared to do that because I thought if I did something like that, what would they do to me then? Then I realized I was just one of the kids being harassed, and if it wasn't me, it was going to be somebody else one day. So, I decided I would try," she said.
"One of the lawyers came down and spent the whole day with me talking about how the trial would go. They said I couldn't use just the screenshots of the harassment because those could be fabricated. I would have to actually go in and tell the stories behind them."
Carrie said that the retelling of those stories is what terrified her the most.
"It wasn't reliving what they did that was the hardest. It was having to sit there and tell the stories to someone in front of everyone. The looks that the courtroom gave me were awful."
The judge sympathized with Carrie's traumatic experience and issued 18 restraining orders against the adults who terrorized her.
"I remember the judge looked at me, and he said, 'Young Lady, don't let these people destroy your heart or who you are. Always be who you are, and know that these people have no power over that unless you give it to them. Do not give it to them.'"
Carrie teared up as she related the judge's support. "That really meant a lot because I was not expecting that."
CARRIE NOW
Carrie now lives with her aunt in a different town closer-in to Houston. She explained that she felt that her new town is much more open, liberal- more accepting of LGBTQ+ people, than the small town she grew up in. When she saw two girls walking down a street holding hands, her jaw dropped and she had to sit down from the powerful feeling of being overwhelmed.
While she is happier and feels more relaxed in her new environment, Carrie is still traumatized by her recent past.
"I wish it was a situation where I don't have to worry about if someone is walking up to me as a friend or if they want to attack me because that's really how it was last year. Every person that approached me is an enemy."
Carrie, who last year often contemplated suicide, is working with a therapist from Rainbow Youth Project to open herself up again and she is no longer suicidal.
The Rainbow Youth Project a nonprofit based out of Indiana, serves as a godsend for many of these LGBTQ+ youth. The organization provides mental health, financial, housing, services, and counseling assistance to homeless LGBTQ+ youth under the age of eighteen across the nation. Without RYP, Carrie's medical needs would be unattainable.
Carrie also hopes to get back to a happier and brighter mental space so that she can start creating the vibrant pastel art that she so loves.
"My art took a turn last year. It started being more reflective. I used to love bright, abstract paintings and pastels, but after last year it took a dark turn. It was more reflective of my mood. It became much darker. I had never used grays or charcoals before that. But everything was all dark colors. Until I get that motivation back for the brightness, I don't want to do art right now."
Carrie is currently working while taking classes at community college. She hopes to eventually enroll in a 4-year college and to one day help other kids like herself.
"I don't know exactly how, but I would love to help other kids in my situation. I don't think I have it in me to be a counselor, but I know Rainbow Youth has an art therapy program. I'd maybe like to work in something like that. I would love to do something to let them know that they are not alone because that loneliness feeling is overpowering."
Finally, Carrie shared a message to those who might be going through something similar to what she had experienced in high school.
"If there is anybody out there who is going through what I did, I want you to reach out to somebody. There are people who will help. There are people who will not only help but will stay with you every step of the way. I thought I was all alone even though I was surrounded by love and support. But there are people out there who are good. It's going to get better. Just please, reach out to somebody."
KINGWOOD, TEXAS
On March 21, 2023, Houston CBS affiliate KHOU 11 reported on a suburban Houston family in Kingwood, Texas, that were being terrorized at their own home due to a flag they have flying outside their house. It's not the flag, in particular, that's causing them to be targeted, rather, it's what the flag represents.
They said they fly the LGBTQ flag to show support for their children, but it has instead led to attacks, vandalism and name-calling by a gaggle of teens.
Dr. Luisa Montoya, the mother of a 12-year-old trans boy and a 17-year-old who's non-binary, had put up the LGBTQ+ Progress Flag in October last year in a show of support for her kids. She told KHOU's Lauren Talarico and Cory McCord that instead it led to attacks, vandalism and name-calling by a group of teens. Dr. Montoya said that the harassment is consistent and has turned violent lately. Some of the acts have been caught on video.
WATCH: