Homophobic school assault: family seeks justice & accountability
Some of those attackers had returned to school after serving their brief suspensions. The rest remain unpunished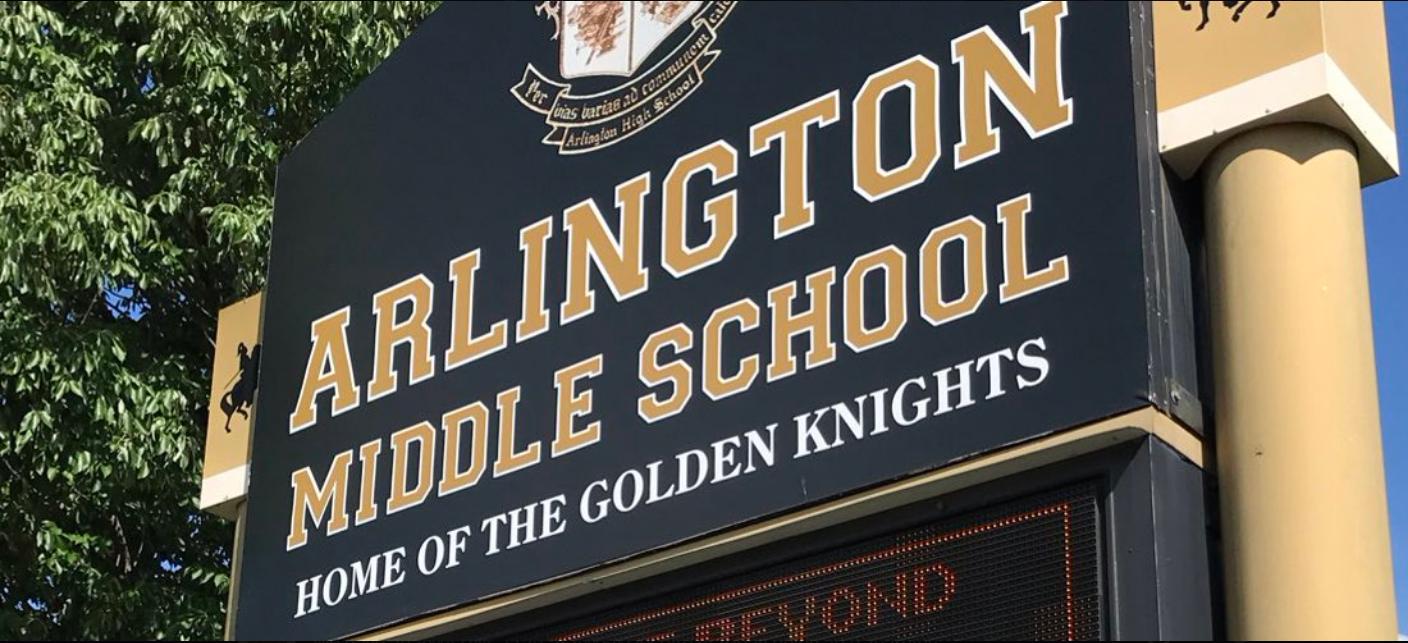 INDIANAPOLIS – Officials at Arlington Middle School in northeast Indianapolis repeatedly failed to intervene when presented with reports that a group of boys had been targeting a 13-year-old lesbian student with homophobic harassment, the girl's mother told the Washington Blade.
Jessica Todd said her daughter, Nadia, had been suffering this abuse for months when, on April 19, those boys — more than 5 but fewer than 10 — physically assaulted her at school, one warning: "you're not gonna do nothing about it, we're gonna do it again."
Upon receipt of an incident report, no action was taken by adults at the school that might have prevented the subsequent attack on April 20, which sent Nadia to the emergency room and was committed in the same exact place on campus, a stairwell landing located outside the view of surveillance cameras.
Indianapolis Public Schools communications director Alpha Garrett, disputed the claims in an emailed statement: "Indianapolis Public Schools (IPS) has investigated this incident and has determined — based on witness statements and facts discovered, which are much different than what had been alleged — that disciplinary action was not warranted. IPS affirms its support for all students and staff, ensuring a safe and inclusive environment."
Contrary to the school district's claim that no disciplinary action was taken, Todd said three of her daughter's attackers were given brief out-of-school suspensions and kicked off the football team, punishments she believes were far too lenient.
The IPS Code of Conduct states that bullying, when a "Level 3" offense, may be handled with a range of actions including in or out-of-school suspensions, the latter to be followed with "a written corrective action plan that will include methods for changing behavior and the necessary supports to remedy the problem behavior."
When bullying rises to a "Level 4" offense, reserved for "violations that seriously affect the learning environment or the safety of the student and/or others in the school and/or are legal violations," options on the table include extended suspensions and referrals for expulsion and/or referrals to law enforcement.
By phone, Garrett told the Blade she was not in a position to provide any information on the attacks against Nadia beyond what was included in the statement and declined to address questions about exactly which claims the district disputes, the facts supporting its decision to not pursue disciplinary action, and whether punishments were, in fact, administered to the students involved in the attack.
She pointed the Blade to a school board policy adopted on April 27, "Reaffirming Support of the LGBTQIA+ Community," which stipulates that "all people, particularly all students, must be protected by schools from bullying and discrimination based on their gender identity and sexual orientation. No student should experience any form of harassment or any unfair treatment while in the care of Indianapolis Public School District."
Arlington Middle School's Principal John Edge, Counselor Carole Stacker, and Title IX Coordinator Gradis did not respond to inquiries from the Blade about their handling of the bullying reports, nor did they address questions about how long they have been unable to monitor the space where Nadia was attacked, or the existence of possible plans to install an additional camera in the stairwell to better protect the students.
Clearly, Todd said, the students (including, of course, her daughter's assailants) have long known, just as the school's faculty and staff have known, that the area is unsupervised.
Today, Nadia's right arm remains in a full cast to repair hairline bone fractures sustained during the assault, and she will soon begin treatment with a counselor to work through the trauma, which has left her withdrawn and unable to return to school.
"It's heartbreaking, I look at her every day knowing that she's been stagnant right now, not moving around, not even wanting to leave the house, because she doesn't want people to ask her, 'why's your arm in a cast?'" Todd said.
"She's avoiding everybody and I don't like that. But I can't rush my baby — I have to do it on her time."
With the end of the school year approaching, "We're definitely changing schools," said Todd, whose added that her elder daughter was also bullied at Arlington. The family is now in the midst of moving out of the Indianapolis Public Schools (IPS) district, she said. Nadia "will not be returning to an IPS school."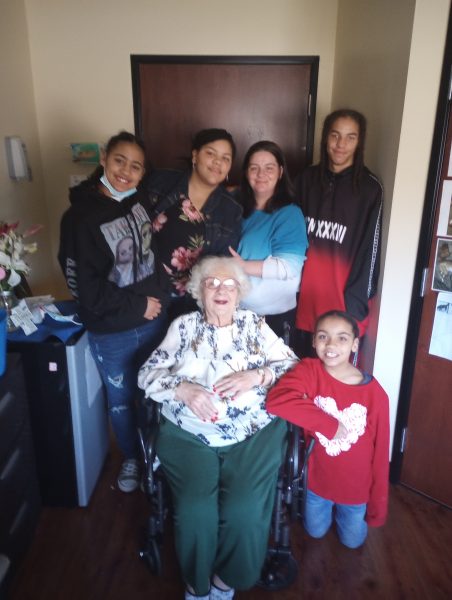 Due to her injuries, Nadia was pulled from the school sports teams where she had competed with some of the boys who for months had targeted her with homophobic verbal abuse on and off the field before attacking her in the stairwell.
"I think they were jealous, too, because my baby can catch a ball and run around," Todd said, adding, "Hopefully, by taking time and healing, she'll be able to return to sports next year."
In the meantime, it was only because she refused to back down that Todd said school officials eventually ceded her request, or demand, that Nadia be allowed to take end-of-year exams in a classroom by herself rather than with the boys who assaulted her.
Some of those attackers, the boys whom Nadia was able to name, had returned to school after serving their brief suspensions. The rest, to her knowledge, remain unpunished, despite Todd's suggestion for the administration to try identifying the other boys from surveillance footage of the top and bottom of the stairwell.
School officials did not respond to questions about whether the punishments administered to the boys who attacked Nadia were in line with those proscribed in official policy.
Even in the presence of an Indianapolis Public Schools coordinator, who was summoned for a sit-down with Todd, Nadia, and officials from Arlington a week after the attacks, Todd said the school failed to take even a modicum of accountability.
After walking them through the violent beating of her daughter, Todd said that Stacker, the school's counselor, dismissively responded, "you know how kids are, they horseplay."
Todd remembers, "I took my glasses off and I looked at her and I was like, 'really?! That's what we're doing?!'"
Stacker did not respond when asked about her remarks.
During that meeting — which remains the only communication between the Todds and the school since Nadia's assaults — Todd tried to explain that her daughter "cannot return back to the school, because if she does, she will be different. She will not be able to concentrate. She will be looking over her shoulders."
Nevertheless, and notwithstanding the severity of the physical injuries she sustained, Todd said they told her Nadia's absences would not be excused, that "every day she's [not in school] will be counted against her."
The Rainbow Youth Project joins their fight for justice and accountability
Todd said she informed an IPS school resource officer of her intentions to file charges against, at least, the attackers whom her daughter was able to identify.
He "did not take me serious at all," she said telling her, that "he's never been in this situation before."
"And I was like, well, I'm sorry about that. But I take this very seriously." she told the Blade she had responded.
With the formal complaint already filed with IPS police, even if the department continues to do nothing, the Indianapolis Metropolitan Police Department is prohibited from running parallel investigations or otherwise pursuing any law enforcement action in connection with the matter.
But a social worker on staff at the hospital had referred Nadia and Todd to the Rainbow Youth Project, which has since been providing and coordinating services for Nadia including legal counsel and mental health counseling. The Indianapolis- based national group works with LGBTQ youth under 19 and their families who are in need of assistance on a variety of fronts.
The group's founder Lance Preston told the Blade, "when you see this child" and the injuries she sustained from this group of at least five boys, "it will break your heart," he said. "She is a little girl."
Christopher Cooper, an attorney on staff at the organization who serves as its director of legal and legislative initiatives, is working with the Todds and will be representing Nadia as they explore possible avenues for action on a number of fronts.
Cooper told the Blade that among these, "of course," is the question of whether "these juveniles that did this should be charged" with a crime. "There's always a lot of consideration that goes into that simply because you're dealing with juveniles," he said.
"But these injuries were so severe, requiring two trips to the ER, that I think that that action, you know, might be warranted."
Separately he said, they may look at whether the school should have "stepped in and taken care of" the medical expenses to treat Nadia's injuries at the hospital, which instead were paid by Todd and her ACA state-sponsored health insurance plan.
"Number one for us, though, from the legal side, is policy changes — implementing policies that are enforcing the alleged anti bullying policies of the IPS. If Indiana Public Schools had an anti bullying policy as strong as it is on paper, it needs to be that strong" in enforcement and effect," Cooper stressed.
"Make sure that the school has cameras in the appropriate places because if you have more than one incident report in in one area, you might want to do something," he added.
These measures could go a long way toward helping to reduce the likelihood that other vulnerable students, including those who are LGBTQ, will not experience the same abuse to which Nadia and her older sister were subjected at Arlington, Preston noted.
Rainbow Youth Project has worked with a number of kids from that same school, he said, LGBTQ students who were subjected to verbal harassment, including within earshot of teachers who in some cases did nothing to intervene or even laughed.
Asked to respond to the statement from IPS, Cooper said, "during my 27 years of practice, I have represented young people in 57 claims against public school administrations regarding serious allegations of bullying and the response from the school district is typical."
"I have found it way too common for school systems to have a very strong anti-bullying policy on paper, but not in practice," he said, adding, "Far too often the school staff will file these incidents as 'confrontation' or 'horseplay' or even 'student conflict' rather than what it actually is – bullying."
Healing from the trauma of the bullying and physical assaults will be a process, a journey, for Nadia, but "she's a powerhouse," Preston said. "Yesterday, when I was talking with her, I told her, 'I want you to understand you got a whole army behind you now.'"
Nadia's mother, Preston said, "is relentless in her pursuit of justice for her daughter and relentless in making the school protect other kids." He added, "I wish every mom in these situations were like her."
Social media spreads homophobic bullying both online & in-person
A 17-year-old girl became a victim of constant- often violent harassment, resulting in 18 restraining orders & thoughts of suicide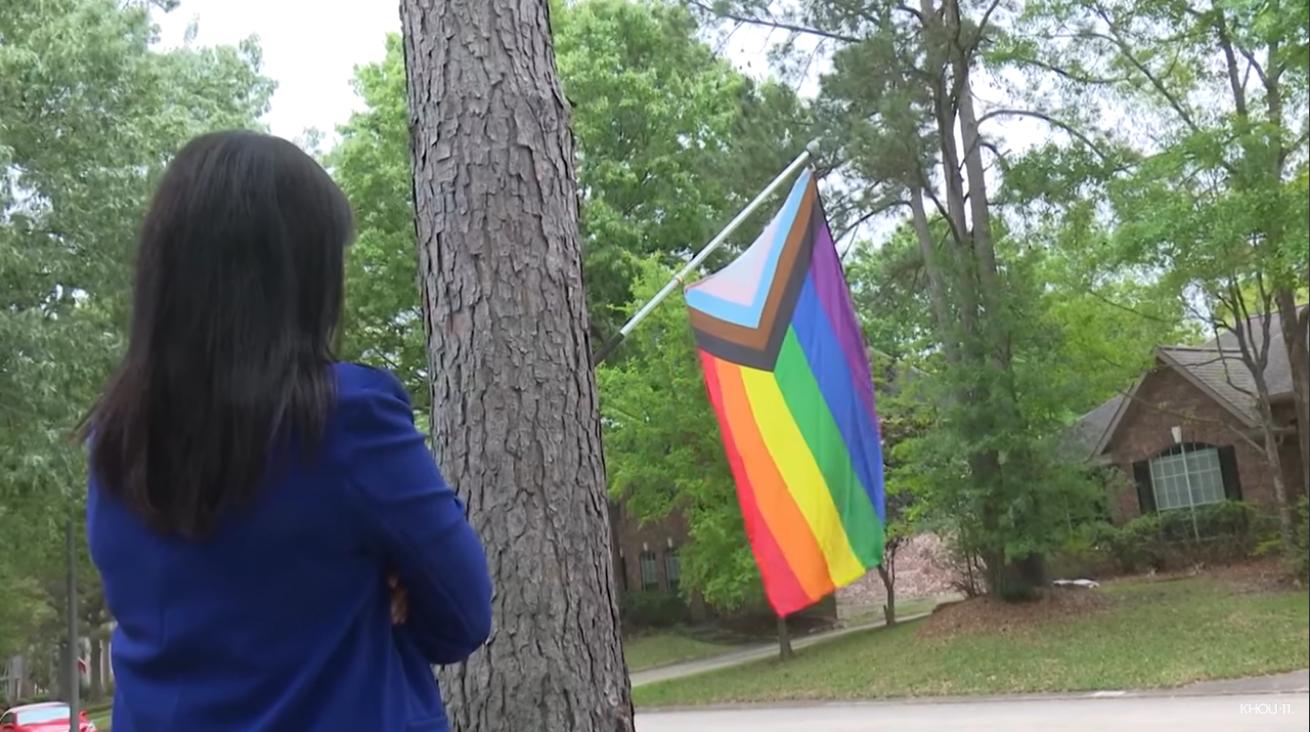 Editor's note: LA Blade journalist Simha Haddad details the ongoing oft times traumatic effects of social media's impact on LGBTQ+ kids, profiling a client of The Rainbow Youth Project a nonprofit based out of Indiana. At her and her family's request, the Blade is not identifying their exact city of residence nor their last name to protect their privacy and mitigate further homophobic hate-filled attacks.
LOS ANGELES – How did one seventeen-year-old child suddenly become the victim of constant and often violent harassment resulting in over 18 restraining orders, virtual home imprisonment, serious thoughts of suicide, and a forced move to a new town? Simple, she came out as a lesbian to her friends.
In another case, a suburban Houston family had put up the LGBTQ+ Progress Flag in October last year in a show of support for their trans and non-binary teens and immediately the harassment started and escalated to physical acts of violence.
CARRIE
Carrie is a self-proclaimed art nerd who loves making ceramics and painting in vivid and bright pastels. She lived at home with her loving mother, father, older brother, and baby sister. Prioritizing love and loyalty, Carrie kept her friend group small and intimate.
"My grandma used to tell me that if you can count your true friends on more than one hand, you need to recount," Carrie told the Blade.
One day, ready to open up to those closest to her, Carrie came out to her best friend. Supportive, the best friend accompanied Carrie to come out to her parents, who accepted their daughter's sexuality with openness and love.
Finally, armed with this love and support, Carrie was ready to broaden her circle of trust. She invited about six friends over for a sleepover, where she confided in them, asking for their support and discretion.
Moments later, as the teenagers lounged on the floor watching a movie, one of Carrie's so-called "friends" created a Facebook post that would alter the course of Carrie's life forever.
"I went from not being popular to being the most popular person but for the wrong reasons," said Carrie.
TOWN vs. GIRL
The Facebook post, outed Carrie as lesbian and mocked her sexuality, but worse, instantly went viral within Carrie's small town outside of Houston.
"It was hell," said Carrie. "I wasn't ready for how quickly it spread. Within 24 hours, it was literally all over town. People had posted it on everything from Instagram to Facebook to TikTok. They were making videos about my weight, saying how that was why I was a lesbian, because I could never get a guy because I was fat and ugly. It was things like that all the way to saying I was a dike who is going to die."
Carrie said that for months, there was no respite from the taunting and harassment.
"Every time I turned around, someone was tagging me and sending me videos or sending me posts that people had made about me."
"I became the target of the town," Carrie continued. "They put stuff in our mailboxes. They would put pictures of transgender surgeries in the mailbox. We even had somebody put female condoms in the mailbox. There was always something."
"Kids at school even sent my phone number through the school email system, saying, 'This is where you can harass her.'
While Carrie's school did step in to stop this unlawful use of the school email system, the damage had already been done. The harassment escalated to physical altercations, making Carrie feel unsafe whenever she stepped outside.
"One day, I was walking my dogs to the park," Carrie recounted emotionally, "and some kids were calling me a carpet-muncher and queer, and all these things. I was just trying to walk home. Then they actually went to the store to buy eggs. They came back and started throwing eggs at me and my dog."
While her peers made many attacks on Carrie, school parents, and other adults also began to join in making her life a living hell.
"Sometimes they would get physical. If I tried to build a shield around myself and ignore it, they would grab my arm and turn me around to make me talk to them," said Carrie.
"One time, a woman grabbed my arm and turned me around, and said that I needed to get right with God. I remember being so scared that I started laughing. It feels stupid to say now, but I was only laughing because I didn't know what else to do. I was so scared. That made her more angry. I don't know who she is to this day."
"I've even had people at Walmart go and buy me a Bible and come up to me and tell me I needed to read it because I'm going to hell," she said.
"One of the hardest things is to realize that these were all adults," Carrie lamented. "How could they walk up to a kid and say the things that they have said?"
Adding to her nightmarish experience, Carrie's harassers made a public game of harassing her, bragging about their encounters with Carrie on Facebook.
"After these things would happen, people would actually go on Facebook and write about the fact that they ran into 'that little lesbian' at Walmart and had to 'tell her all about herself.' I thought, why are you bragging about this? You are a grown person."
"Facebook became like a scoreboard. Every time somebody would do something to me, they would post about it like they were trying to win an award or something. Then somebody else would see it, and they would confront them, saying, 'Well, I can outdo that,' and then they would try. They were building up ideas of what to do to me together on Facebook."
Unsafe both in her home and outside of it, Carrie became more and more isolated, depressed, and afraid. Her parents insisted on going everywhere with their daughter, never wanting to leave her alone for fear of another attack.
"I was like a pet on a leash," recalled Carrie. "I had to rely on my parents for everything. If I wanted to go to the store or the library, they had to stop what they were doing and come with me."
Unable to find respite from the torrent of hate at school, Carrie left to instead use online learning courses to complete her high school education.
A FAMILY UNDER ATTACK
Carrie is grateful for her parents, brother, aunts, and other family members who continue to emotionally support her to this day.
"I'm so proud to have the people in my life support me," Carrie told the Blade. "Without them, I don't think I could've made it."
But, this support came at a price, especially at the height of the harassment over her coming out.
"When people found out that my family was supportive, they would drive by our house yelling things like queer and dyke and lesbo," said Carrie.
Carrie's brother, a popular jock, was harangued constantly by his peers.
"They started attacking him because he was standing up for me," Carrie explained. "He was playing on our football team and our baseball team. His teammates would test him and call me a dyke, and he would almost get into physical altercations. For example, he would be playing a scrimmage game, and if he struck out, they would yell things like, 'Your dyke sister could hit better than you.' They were always name-calling me to him to try to test him."
Carrie shared how the constant taunting almost made her brother give up sports altogether.
"It got to the point where he did not even want to go to practice anymore. But I told him he had to because that was his life. Now he is getting ready to go to college on a baseball scholarship, so that was important for him, but it was hard on him. I've never seen him cry, but he cried to me one night because he was so hurt that they were just constantly shaming it one way or the other."
As they did to Carrie, adults and children alike joined in to make her brother's school life almost unbearable. Carrie recalled one time when a teacher cornered her brother to make comments about the "shame" his sister must feel because of "who she is."
"I think the kids saying those things was one thing. But having a teacher saying that to him, I mean, that was really hard for him."
Carrie's parents also faced attacks by the community. Her father faced discrimination and aggression at work, and her mother was regularly on guard whenever she stepped out of their home.
"My mama almost got in a fight at Walmart," recalled Carrie. "We were in Walmart, and we walked by one of the girls from school was there with her mom, and I heard her tell her mom, 'She's a lesbian,' and the mother said to my mother, 'How can you let your kid be like that?' Well, my mother just blew up. My mother called her every name in the book and was ready to fight. That is not an exaggeration. She was literally ready to fight. At that point, she had seen what my brother and I were going through, and that was just a breaking point.
Carrie felt overwhelming guilt over what her family was going through.
"I felt like that was my fault, and even though my mama would tell me every day, and my daddy would tell me every day, that these people were just ignorant, it still didn't make it better because I saw how it affected them. They felt like they couldn't even leave the house because of me.
"My brother had to close his Facebook account. My mother had to close her Facebook account. She is one of those that used to stay on Facebook all the time. You know how they have all those little bingo games? She used to play those, and she loved it, but she had to close her Facebook account because anytime she posted something, somebody would leave a comment, and she would block them and then somebody else would leave a comment and she would block them. It literally got to the point where instead of playing games and having fun, she was just blocking people all the time."
When advised to file restraining orders against the adults who were targeting her, Carrie hesitated at first.
"I was scared to do that because I thought if I did something like that, what would they do to me then? Then I realized I was just one of the kids being harassed, and if it wasn't me, it was going to be somebody else one day. So, I decided I would try," she said.
"One of the lawyers came down and spent the whole day with me talking about how the trial would go. They said I couldn't use just the screenshots of the harassment because those could be fabricated. I would have to actually go in and tell the stories behind them."
Carrie said that the retelling of those stories is what terrified her the most.
"It wasn't reliving what they did that was the hardest. It was having to sit there and tell the stories to someone in front of everyone. The looks that the courtroom gave me were awful."
The judge sympathized with Carrie's traumatic experience and issued 18 restraining orders against the adults who terrorized her.
"I remember the judge looked at me, and he said, 'Young Lady, don't let these people destroy your heart or who you are. Always be who you are, and know that these people have no power over that unless you give it to them. Do not give it to them.'"
Carrie teared up as she related the judge's support. "That really meant a lot because I was not expecting that."
CARRIE NOW
Carrie now lives with her aunt in a different town closer-in to Houston. She explained that she felt that her new town is much more open, liberal- more accepting of LGBTQ+ people, than the small town she grew up in. When she saw two girls walking down a street holding hands, her jaw dropped and she had to sit down from the powerful feeling of being overwhelmed.
While she is happier and feels more relaxed in her new environment, Carrie is still traumatized by her recent past.
"I wish it was a situation where I don't have to worry about if someone is walking up to me as a friend or if they want to attack me because that's really how it was last year. Every person that approached me is an enemy."
Carrie, who last year often contemplated suicide, is working with a therapist from Rainbow Youth Project to open herself up again and she is no longer suicidal.
The Rainbow Youth Project a nonprofit based out of Indiana, serves as a godsend for many of these LGBTQ+ youth. The organization provides mental health, financial, housing, services, and counseling assistance to homeless LGBTQ+ youth under the age of eighteen across the nation. Without RYP, Carrie's medical needs would be unattainable.
Carrie also hopes to get back to a happier and brighter mental space so that she can start creating the vibrant pastel art that she so loves.
"My art took a turn last year. It started being more reflective. I used to love bright, abstract paintings and pastels, but after last year it took a dark turn. It was more reflective of my mood. It became much darker. I had never used grays or charcoals before that. But everything was all dark colors. Until I get that motivation back for the brightness, I don't want to do art right now."
Carrie is currently working while taking classes at community college. She hopes to eventually enroll in a 4-year college and to one day help other kids like herself.
"I don't know exactly how, but I would love to help other kids in my situation. I don't think I have it in me to be a counselor, but I know Rainbow Youth has an art therapy program. I'd maybe like to work in something like that. I would love to do something to let them know that they are not alone because that loneliness feeling is overpowering."
Finally, Carrie shared a message to those who might be going through something similar to what she had experienced in high school.
"If there is anybody out there who is going through what I did, I want you to reach out to somebody. There are people who will help. There are people who will not only help but will stay with you every step of the way. I thought I was all alone even though I was surrounded by love and support. But there are people out there who are good. It's going to get better. Just please, reach out to somebody."
KINGWOOD, TEXAS
On March 21, 2023, Houston CBS affiliate KHOU 11 reported on a suburban Houston family in Kingwood, Texas, that were being terrorized at their own home due to a flag they have flying outside their house. It's not the flag, in particular, that's causing them to be targeted, rather, it's what the flag represents.
They said they fly the LGBTQ flag to show support for their children, but it has instead led to attacks, vandalism and name-calling by a gaggle of teens.
Dr. Luisa Montoya, the mother of a 12-year-old trans boy and a 17-year-old who's non-binary, had put up the LGBTQ+ Progress Flag in October last year in a show of support for her kids. She told KHOU's Lauren Talarico and Cory McCord that instead it led to attacks, vandalism and name-calling by a group of teens. Dr. Montoya said that the harassment is consistent and has turned violent lately. Some of the acts have been caught on video.
WATCH: